Cleaning, Organizing, & Eco
Apparently gathering over 100 things to get rid of didn't take as long as we thought (see the full list of purged items here), so we got all crazy and decided to host a last-minute moving sale this past Saturday (just to get rid of stuff while we still had that no nonsense iron will- you know, before we caved and decided to keep a few things around). We took about two weeks to plan our last yard sale, so making the decision to hold this one just two days out was a bit nerve-wracking, but the days aren't getting any warmer, so we figured why waste time? Plus, hosting a yard sale isn't rocket science – especially once you've gathered all of your "merchandise" and mentally decided to pull the trigger. Plus with the weather channel calling for sunny skies and 69 degree weather we figured it was a sign.
So we placed a free ad on Craigslist and drew up some neon-tacular directional posters to hang around the neighborhood. You can read more tips for actually hosting a sale here in this post of yore.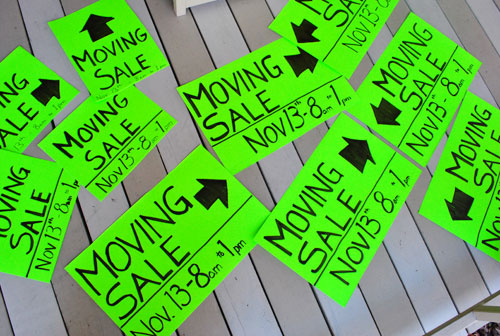 Despite our fears that no one goes yard-sale-ing in mid-November, the sale was GREAT. We had lots of steady traffic, Clara napped through the first two hours of the sale (when we were busiest), and we made over $300. Three hundred beans are great, but the best part of the sale is that we got rid of about 85% of our stuff. And that's stuff we now don't have to pack up and move. Which means more energy for unpacking, painting, and all that much more fun stuff (yes, that stuff is fun to us- we're weird).
Here's what our driveaway looked like towards the beginning of the sale (I didn't snap a true "before" shot because early bird shoppers kept us too busy for a while).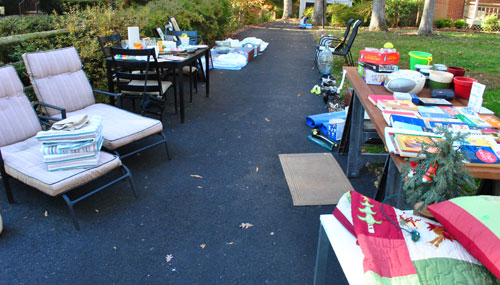 Here's all that was left by the end of the sale. And every item made its way to be donated within an hour or so that afternoon (we had a strict nothing-goes-back-into-the-house policy).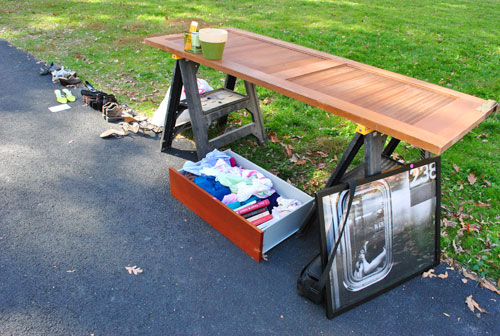 We were also reminded that hosting a yard sale can be quite entertaining. Here are a few highlights:
The only shoes Sherry sold were to an 11-year-old girl. Yep, apparently Sherry has pre-teen feet (size 5.5 for the most part).
A pack of neighborhood kids showed up on their bikes towards the end of the sale and bought a random assortment of knick-knacks, half of which we're not sure they knew what to do with (for instance, they were convinced a glass spoon rest was a shoehorn).
We met the new neighbors who bought the "bed-and-breakfast" house that we've always admired (shown here). But at least now our patio furniture will get to live there.
We got to chat with two blog readers who were pleasantly surprised about stumbling upon our moving sale (we don't share our address for obvious reasons, which is why we didn't post about the sale beforehand).
Not knowing our names but recognizing us from our nightly walks, one neighbor called us "the baby-chihuahua family" – which we wish would stick. Gotta love a good neighborhood nickname.
We learned from one customer about the Book Exchange in Midlothian, where we later exchanged our unsold books for a credit… that we immediately used to buy two new books for Clara. New obsession? Check.
The sale eventually turned into an impromptu neighborhood party where we got to catch up on the latest gossip from everyone around the block (thanks to the sunny skies and mild temps, it ended up being such a nice day).
Just like last time, a random dog-on-the-loose came to visit. Luckily this one was a bit less rambunctious than the one from our past sale (who ended up taking a swim in the small pond that we once had in the backyard).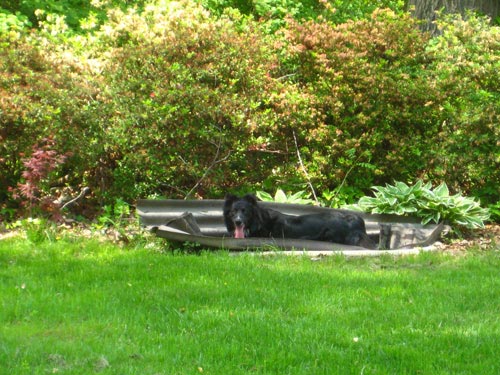 Ok, so that's the tale our little moving sale. Feels good to have that stuff out of our lives (and to have a bit more money in our pockets). It'll probably be a while until we need to host another yard sale, but feel free to drop some tips for others (or fun stories from your own yard sale-ing experience). Anyone else always get visited by a random pooch? Or have freakishly small feet that make selling shoes to adults a challenge?
Psst- We're talking about how we recently revamped our dirty diapers & wipes routine right here on BabyCenter. Sounds fun right?
&nbsp&nbsp&nbsp
Nothing lights a fire under your arse like making a public proclamation that you're going to get rid of 100 things. So even though we're not moving until mid December, we made our way from room to room paring down every single thing that we don't love/need/use. The mantra as we went? No mercy. Because nothing is worse than packing, moving, and unpacking things that aren't worth the time they took to transport or the space they're eating up in the new place.
Here's our getting-rid-of-it office pile: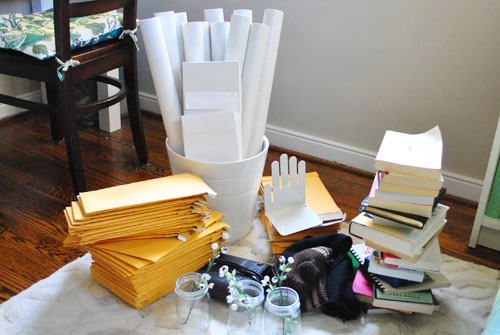 Then we tackled the kitchen (Clara helped):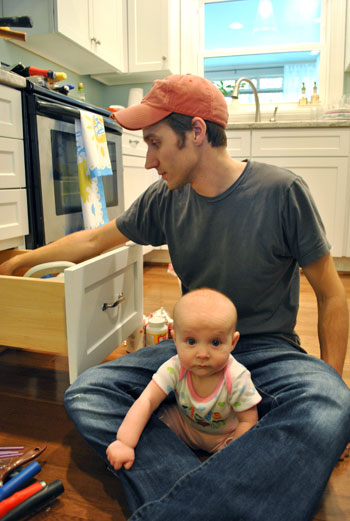 Here's our outgoing kitchen pile (what you don't see are a bunch of baskets and towels on the floor):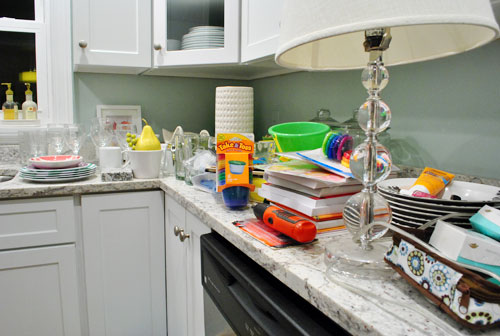 And here's our den's see-ya-later pile (cry not for the board games, they were doubles so we still have a copy of each one):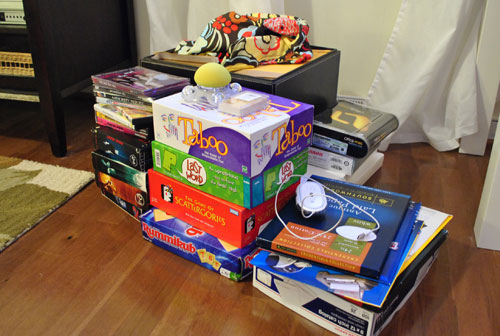 Our garage to-go pile: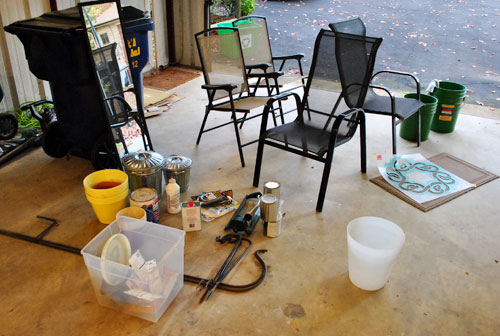 Our basement done-zo pile: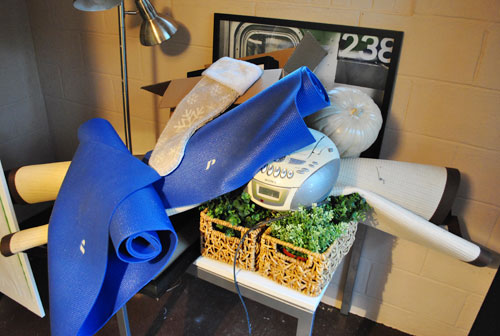 And our big bedroom buh-bye pile (minus the baby and the dog of course- they stay):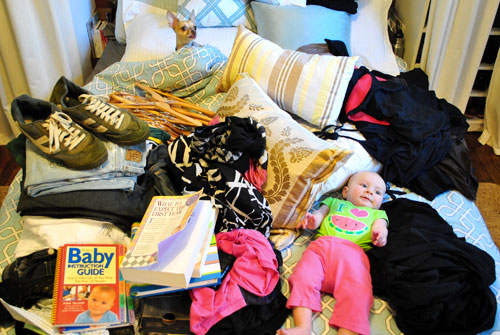 And now for the full list of purged items:
11 pairs of shoes (10 of mine, one of John's)
36 books (10 of which were cookbooks)
10 video tapes & DVDS
1 alarm clock
1 computer mouse
countless padded envelopes & mailing tubes (from the days of our online print shop)
6 board games (some of which we had two identical versions, so we got rid of one)
2 yoga mats
1 radio
1 stocking
2 faux pumpkins
1 lamp
4 pillows
1 mirror
5 frames
54 items of clothing (including coats, hats, ties, tees, jeans, shirts, socks, etc)
4 plastic plates
6 ceramic plates
1 power screwdriver
4 outdoor chairs
2 welcome mats
1 rug
2 baskets of faux plants (they lived in the not-sunny-enough-for-real-plants basement)
1 floor lamp
4 plant pots
6 garden hooks
1 stencil
1 frisbee
4 old quarts of paint
2 buckets
2 metal tins (we came up with a new diaper & wipe disposal system- more details soon)
1 sprinkler
1 trash can
1 fabric basket
1 dark wicker basket
5 bath towels
1 nursing cover
8 baby toys & feeding supplies
4 glass cups
3 vases
4 pieces of faux fruit
8 wine glasses
8 mugs
GRAND TOTAL: 222 items
Saweeeeeeeet. I mean on one hand it's kind of embarrassing to admit that we were storing all that excess but boy does it feel good to get rid of it. Yup, that's right. It's all out of our house already – thanks to donating and selling every last item (we had an impromptu moving sale this weekend while we still had some steam and that no mercy attitude). We feared if things sat around for a while before we had a chance to donate or sell them we might have changed our minds and kept things that we didn't need. And you know I have the patience of a 5 year old, right? More of those get-it-gone details coming soon.
What have you guys been purging? Have you identified any problem areas? We definitely held onto lots of books and clothes that we had no need for, but we were also surprised how many unnecessary kitchen items we were hoarding (many of which we had used exactly zero times).
&nbsp&nbsp&nbsp