Budget Blooms
I'm back to share my monthly grocery store bouquet (a super sweet Christmas present from the hubs), and this time our $4 flower purchase coincided with a photoshoot that took place at our house for our regular column in Richmond's R. Home magazine (stay tuned for the latest link in a few weeks).
We needed small green and pink blooms for the shoot (which we brutally cut off right near the flowerhead for the photos) so although you may notice that we've purchased these types of flowers before, after the shoot we resorted to displaying them in a totally different way (since they were sans stem).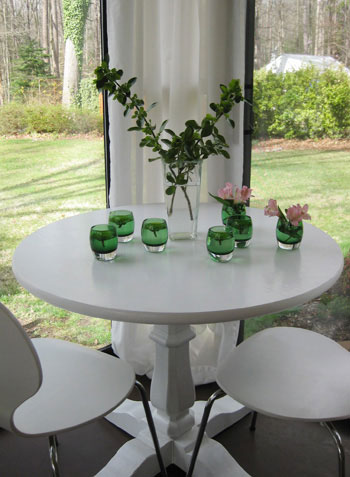 That's right, we floated those babies in some small votive candle holders in our sunroom.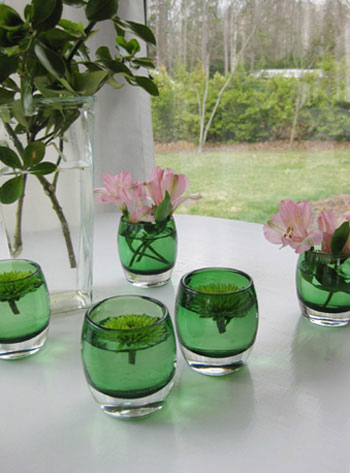 And they're such a sweet little sight to see when we're running in or out of the house (or even enjoying dinner alfresco).
How are you guys ringing in April? Any new blooms poking up in your garden? Our daffodils came and went and we're anxiously awaiting some fresh raspberries thanks to a little bush that we planted in our soon-to-be edible garden. Is everyone that you know preggers? A ton of our friends and family members have buns in the oven (and we're excited to be aunts and uncles – no, not parents yet, sheesh!). I guess the birds and the bees are all a-buzz this April… what's new with you guys this month?
I'm back to share my cheap-o monthly bouquet (a super sweet Christmas present from the hubs). This time to usher in March I grabbed a mixed bunch: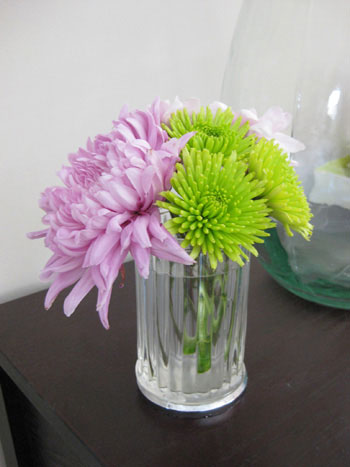 One of the fun things about a varied assortment means the scenery changes when you spin the vase (or the old-bathroom-drinking-glass-turned-vase). Here's the same arrangement from another angle.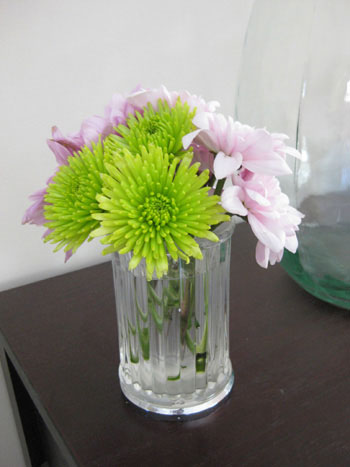 One big pink beauty plus some fun lime colored blooms along with some smaller pink cuties = love.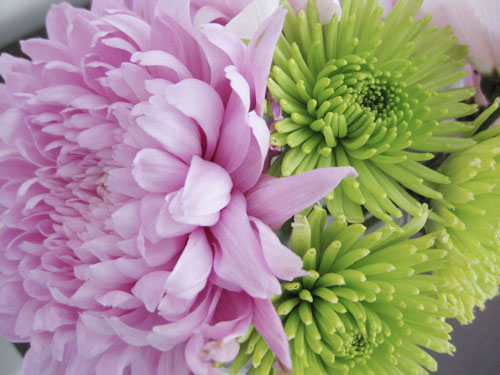 But you know we love to get at least two arrangements out of one $4.99 grocery store bouquet (making each arrangement less than $2.50). Here's the other half: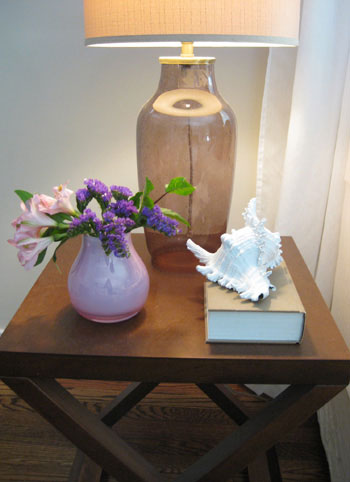 Look at those fun purple flowers. The flowers have flowers! Little white blooms erupting like barnacles.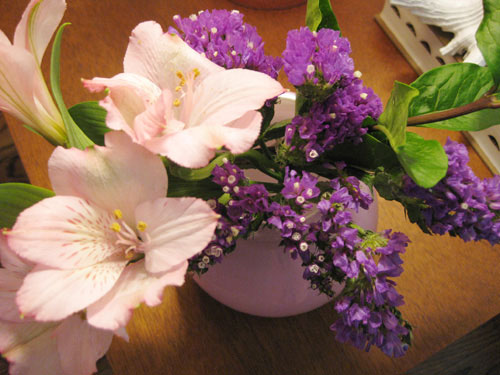 What do you guys think of my March mix? Do you know what kind of flowers they are? The thing about getting two flower arrangements for under five beans is that they don't really come with any information at all. And my flower knowledge is seriously limited.
The biggest surprise so far in our cheap grocery store bouquet "experiment" is how long they last. Each month's bouquet always looks lovely for at least three weeks (changing the water every few days and recutting the stems once a week seems to help). Both my January and February flowers went strong for over 21 days each. Here's to my March mix taking me all the way into April!
And speaking of April, has spring sprung for you guys? Anything you're doing to usher in the warmer weather? From spring cleaning to annual planting, we'd love to hear what you're up to!
There's nothing like a fistfull of blooms to make a gray winter day feel downright cheerful. True to his word, John reminded me that the beginning of January kicked off his promise to get me one bouquet of flowers per month. Who knew standing in line at our local grocery store (Kroger) with a three dollar bouquet of pink frilly flowers would make me feel so tickled?
And John actually confessed that he thought flowers would be a lot more, so in light of the three dollar price tag he even offered to up his promise to two bouquets a month. Isn't he the best?
For now we'll just see how long these babies last and go from there. But it really is nice to know that such a small purchase (cheaper than almost everything else in our shopping cart) could make our home feel so warm and alive in the dead of winter. And we actually got two arrangements for the price of one…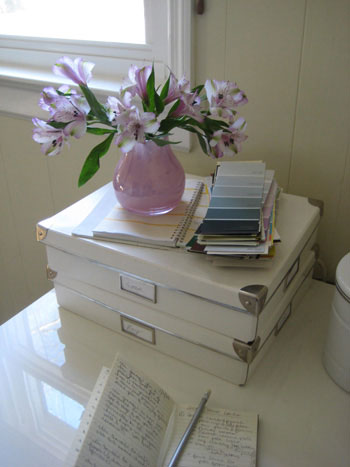 I plopped half of the bouquet into an old pink vase from Crate & Barrel on my desk so I can admire them all day long (I love how the pink flowers look with the similarly toned vase) and the other half of them into a glass bathroom cup on our console table (which used to hold toothbrushes back in the day- gotta love repurposing).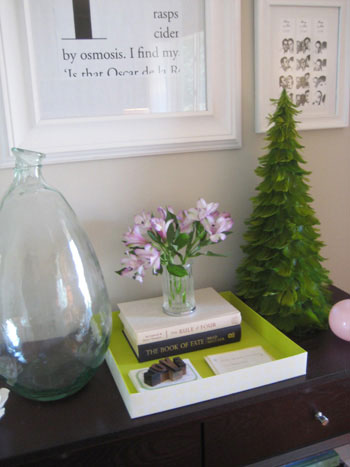 Splitting the bouquet made each arrangement just $1.50 and worth every penny. A girl could get used to this! What about you guys? Do you have any flower buying rituals or bloom arranging tips? We'd love to hear if flowers rock your wold as much as they're rocking ours. And while you're at it, what are your favorite types? We don't even know what these pink lovelies are, so we figure we should bone up on our blooms for our year of flowers.