Blogging
Despite the recent heat and humidity, we're happy to be tackling a ton of sweat-inducing projects here on the homefront. And we're also happy to have such wonderful supporters of our little place in the blogosphere. So we'd like to take a moment to toss out a heartfelt "thanks" to all of you lovely folks for reading as well as send some serious appreciation out to our awesome sponsors in this monthly shout-out post (after all, they make the other 40+ posts that we write each month possible). So feel free to take a peek at all they've got to offer… along with a few exclusive YHL discounts for you guys to cash in on.
Name Your Design may ring a bell since they hosted a fun giveaway last summer. And to celebrate their grand re-opening they've added items like custom growth charts and coasters to their repertoire of modern personalized artwork. Don't forget to enter the code "freeship" to get (surprise) free shipping through August.

Saffron Marigold is another name you may recall, most likely from the gorgeous hand-printed linens that they gave away just last month. Whether you're in the market for a meticulously designed tablecloth or an intricate bedspread, they're an authentic source for luxurious Indian linen.

Design for Less (aka: The Glass Mosaic Outlet or The Natural Stone Outlet) has updated their site- so if you haven't dropped by recently it's definitely worth a trip. Be sure to find your way to their inspiration galleries, videos, and blog for even more glass, metal, and stone tile to drool over. Oh, and feel free to catch a discount on their daily deal.

Z Gallerie is one of our go-to spots to shop for chic but affordable home accessories. Their new Graham Slipcover collection continues this week's theme of lounging around since it looks incredibly comfortable without sacrificing an ounce of style. And when it comes to casual and easy living, you really can't beat slipcovers.

The Tile Shop is obviously a great source for tiling tools, tips, and of course tile. And when we clicked the word "recycled" while recently on their site, it took us to a page of gorgeous glass mosaics that we drooled over for longer than we care to admit. And yes, you can still score 10% off when you use the code YHL10.

Shades of Light may sound like it's just a spot for pendants, sconces, fixtures, and lampshades. But as you can clearly see from their stunning catalog covers below (which you can browse online or get delivered to your door) they're far more. Furniture, mirrors and rugs abound. So feel free to take a look-see, even if you're all set in the lighting department.

Heart & Stone represents the work of Julie Booras who handcrafts custom silver jewelry using recycled materials with a specialty in meaningful charm necklaces. And not only can you get 10% off with the code YHL10, many of the gemstone drops are on sale through today only!

Vol. 25 designs graphics and prints that just make you feel all warm and fuzzy inside. Which is why for this month I just "borrowed" the header from her Etsy page to pass that feeling on to you (even if it meant not showing my favorite robot lovebirds print). Btw, the phrase below also comes as a print in her shop. Oh happy day.

Smock Paper is another "green" sponsor in that they are a sustainably printed source for beautifully designed stationery, invitations, and more. By more I mean things like double-sided wrapping paper, gift tags, business cards, and… well, you'll have to head over there to see the rest.

Etsy Kids is celebrating summer with their summer shopping guide (which helps you wade through the Etsy ocean for the coolest finds for babies, toddlers, kids, and even parents). And navigating the waters is even more fun and easy thanks to their handy A-to-Z site organization.

Lisa Leonard Designs' latest creation comes from her craving for caffeine (as well as the Nat King Cole lyric "You're The Cream In My Coffee"). Share it with your favorite coffee addict, or check out the rest of Lisa's handmade sterling silver necklaces, bracelets, and charms.

Hoot Design Co. creates all sorts of colorful designs in the form of posters, stationery, and invitations. There's lots to love – like their signature Simply Baby poster, but we have to admit that their "Midwest Is Best" print almost sparked a friendly debate. But then we realized "Mid-Atlantic Is Frantic" doesn't quite have the same ring… so we decided to let it slide.

Quirk is an appropriately named gallery and gift store here in Richmond that we love to frequent. It's not only a great place to find art inspiration (say, if you need something for an in-progress office makeover) but they're also a great spot for fun items like ice cream cone postcards and fabric covered thumbtacks.

Frame The Date will take any date worth remembering and make it stylishly memorable with their black & white photos and custom wood frames (you can also include a picture of your special date). And all you parents out there can also check out there special Frame The Date Baby section. Fun!

WallQuotes.com has a bunch of pre-designed vinyl wall decals ranging from quotes and monograms to floral patterns and cityscapes. And as if that's not enough to spark an entire room makeover, you can even design your own custom version if you'd like. Plus you can get 15% off of any order with the code YHL15.

Ruby Plaza, a new spin on its counterpart Ruby Lane, is a virtual marketplace where individuals can sell everything from vintage items to contemporary, new, and reproduced pieces for your home and you (i.e. jewelry). It's a great spot to hunt for unique items that you might not find anywhere else- and you know what they say about the thrill of the hunt…

Now that we've worked up a sweat saying all of these "thanks" we're gonna kick back with a glass of lemonade and brace ourselves for a sweltering (and DIY filled) weekend. But not before we sling one last big THANK YOU to you guys – for reading, commenting, and joining in on the home-related hijinx that make YHL one of our favorite places to be. You're the best.
&nbsp&nbsp&nbsp
Ok, so this is right up there with the weirdest thing we've ever seen in our past almost-three-years as bloggers. Recently a reader (thanks Sara!) wrote alerting us that she had seen photos of our living room and guest bedroom on a vacation rental site called Airbnb. And apparently the "landlord" was claiming that they were photos of their house in Pasadena- and charging $48 a night with priority to anyone who booked it for one or two weeks straight (to the tune of $336 to $672) since they "received so much interest."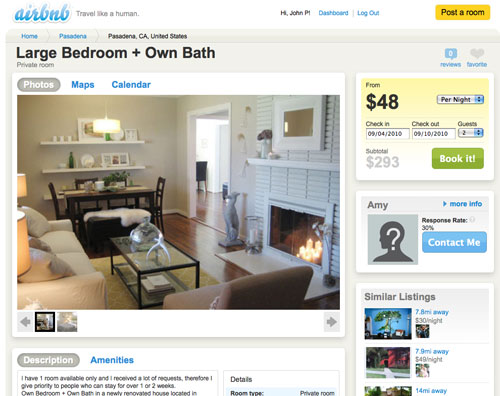 Isn't that weird???? What happens when people get there and it doesn't look like that? Or maybe it doesn't get that far because it's all a scam and this person takes the money and runs without providing an address? Either way we were adequately skeeved out. And of course we contacted both the webmaster of the site along with the "landlord" to let them know that those images were ours and they were firmly planted in Richmond and not for rent. Pretty soon thereafter they were removed. Whew. But so odd right?!
It ranked up there with the time that another reader (thanks Michael!) wrote to us shortly after our big bathroom reveal to tell us that they saw some girl named Amber on Rate My Space claiming our bathroom after photos as hers.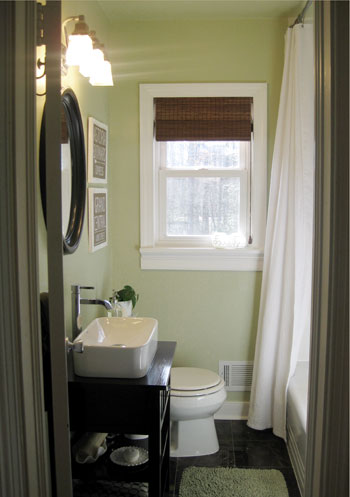 The good news is that it was getting great feedback. But the bad news was that it wasn't her bathroom! The funniest thing about that situation was that Amber was answering questions about the paint color and where she got things (all of which were wrong, so we were totally confused to see her claim that our $100 Overstock sink was a $400 splurge from Kohler and that the walls were some shade called Cucumber Dream instead of the actual Dune Grass hue that we used). Isn't that weird? Of course we just commented under the post with a link to our site saying "Wait- that's actually our bathroom! You can see where we got everything and how it all came together by following this link." Literally within a minute the post was removed.
Actually now that we think about it, the Rate My Space thing might have been stranger than the room rental incident because the room rental person seemed to be in it for the money, so the idea of a scammer stealing a photo and trying to make some loot with it kind of makes sense. But isn't it odd that someone found a photo of our bathroom and thought it would somehow be rewarding to claim it as their own on Rate My Space (where there's no dough on the line)? Maybe she didn't feel like redoing her bathroom so she thought using our photos would be a shortcut? Or she thought it would be funny? Consider us stumped.
Thank goodness for all of our lovely readers who have eagle eyes and thoughtfully email us every time they see our casa somewhere that it doesn't belong. We're used to hearing that our pictures are on eBay or Craigslist when someone's trying to sell an identical rug or duvet. And we even saw before and after photos of our front yard on some landscaping guy's website in Texas (so crazy, right?!). But the latest Rate My Space and vacation rental listing have been the most odd by far. What do you guys think? Can you figure out some ulterior motive for the Rate My Space thing? Have you ever seen your photos somewhere they didn't belong? Do tell.
&nbsp&nbsp&nbsp