Blogging
And now for just a bit of shameless self promotion. We just had to mention that we've added some fun new items to our shop in the form of some sweet little pet silhouettes of specific breeds (no need to submit a photo for a $35 custom print if a portrait that resembles your pooch already exists for just $20). To date we've created a Rottweiler, a Maltese, a Dachshund, a Greyhound, a Pug, a Pekingese, a Boxer, a Chihuahua, a Great Dane, and even a cutie pie cat for all the feline lovers out there. They're available in 10 different colors so there's still a degree of customization, and they're just $20 with free shipping.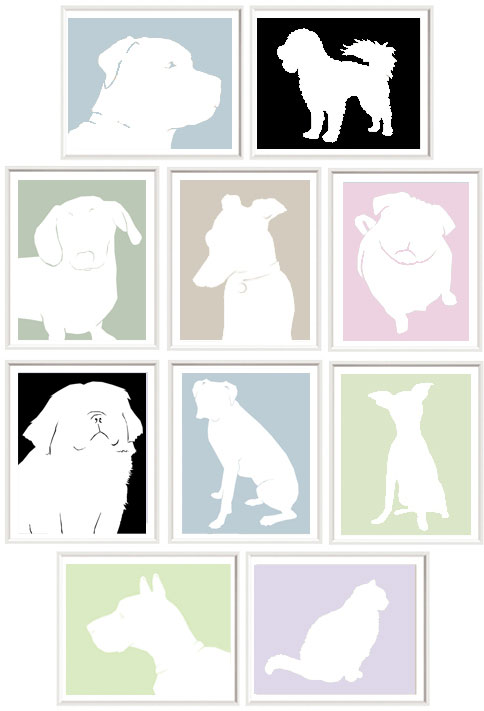 We also wanted to encourage those who are ordering shop items as holiday gifts to do so asap, so we can be sure to get them out to you guys in time! And thanks so much to everyone who has helped make our little print shop such a success. We appreciate each and every order (and of course love seeing pictures of our prints hung up in your home). Ho, ho, ho… happy shopping!
Before and after!
Ok, so we're not so good at the knock-knock jokes. Sheesh. But we do have an exciting new tab below our header labeled "Our Portfolio". And what perchance do you think is on that new page? Why oodles of before and afters of course!
That's right, we've finally compiled a collection of every decorating project that we've consulted on to date (from mood board makeovers to in the flesh consultations). And we've wrangled them into one easy to peruse place for your viewing pleasure. Low budget mini makeovers? Check. Total room overhauls? Affirmative. Bedroom redos? Yuppers. Kitchen transformations? Absafreakinlutely.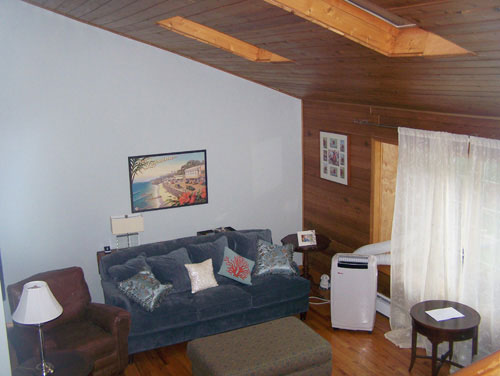 So click on over and have a look around (and enjoy the after that goes with the blah before pic above). And remember to check back every now and then for even more makeovers as they continue to roll in…
Our house.
That's right a crew of ten is currently here shooting another exciting glossy magazine feature about our home. And this time there's even a hair & make-up lady and a wardrobe stylist. We've never felt so important… or self conscious (here's hoping we don't look like giant nerds on film!). The rest of the mob consists of an assistant to the wardrobe stylist, the photographer of course, his two assistants, the creative director, the prop stylist, his assistant, and a videographer. Of course Burger's making lots of friends and faithfully following all the people whizzing around with reflectors, tripods, and pillows. In short: it's chaos. Beautiful, orchid-riddled chaos. As proof, check out this shot of our sunroom chock full of props and equipment: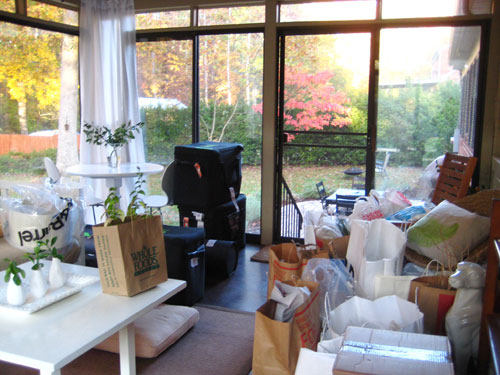 And we wouldn't have it any other way. It's honestly more fun than a barrel of monkeys. We'll tell you guys more when we can, but for now we'll just have to leave you a hint about which mag we'll be in next April. Here's your clue: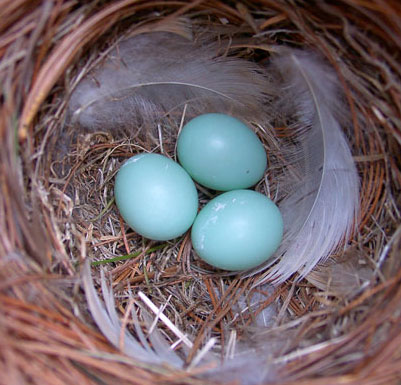 Feel free to guess, and stay tuned for all the details as soon as we're allowed to spill the beans…
Image found here.
Update: For the big photoshoot reveal, check out this post and this post.