Blogging
Yesterday started off like any other day. John went off to work, I published the morning post and started working on a design dilemma, Burger chased a few bugs on the back patio. Then John called me to say that we were just on CNN.
WHHHHHHHHHHHHAAAA?????
It turns out that they liked our bench makeover so much that not only was it featured on the top of CNN's homepage, but our names and website were actually mentioned in a live broadcast on CNN along with the before & after bench pictures. Needless to say it was no longer a normal day.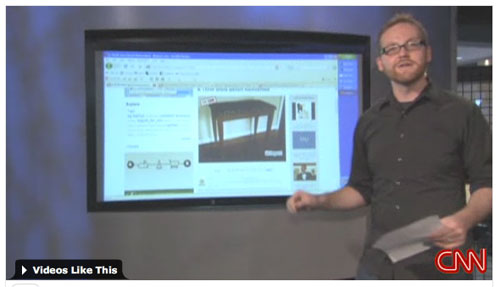 One of the kind folks over at CNN had actually contacted us on Tuesday to ask a few follow up questions about the project, so we had an inkling that we might get a random mention on their website in the coming week, but little did we know it would be a shout out on live TV less than 24 hours later. How crazy is that??!! And John wasn't calling me because he'd seen it (contrary to popular belief, people in advertising do more than play pool, drink brandy, and watch TV). He actually found out about it because one of his coworker's husbands had called his wife to tell her he'd seen it. We heard it through the grapevine. Insane! Anyway, here's the link to our little CNN appearance (that's a sentence I never thought I'd write).
So a huge wet smooch goes out to the bench-makeover-loving peeps at CNN! Thanks so much for the mention. And thanks for making just another ordinary day… not so ordinary at all. We're still pinching ourselves.
&nbsp&nbsp&nbsp
If you've got a room that looks like it was lifted from the pages of Domino Magazine, then head on over to We Love Domino's new "Domino Inspired My Home" contest. They're giving away a bunch of great prizes for people who've designed an entire room (or even just a small vignette) based on the dearly departed mag's approachable aesthetic. Just submit your pics by March 15th, along with details about which issue or story in Domino inspired your design. Yup, it's that easy. Check out the full deal over at We Love Domino to enter.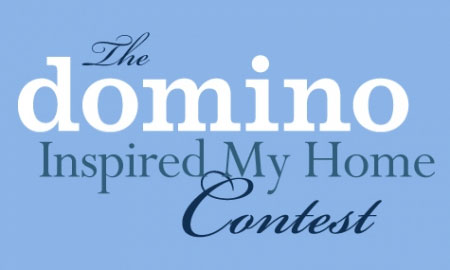 Be sure to let us know if you submit your space so we can all keep an eye out for it. Good luck!
In case you missed it, check out Sherry's guest post on We Love Domino last month. Image courtesy of We Love Domino.
&nbsp&nbsp&nbsp