Blogging
Here's a little behind the scenes Friday bid-ness. Remember us saying how we recently debated how to best share our house hunting experience while still respecting the privacy of the sellers' homes we were critiquing? And how we finally opted to share only a doctored image of the exterior, like this one below?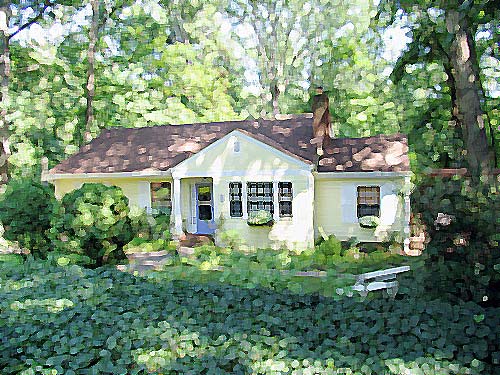 Well, we actually came to that solution only after this sad first attempt to disguise each home occurred: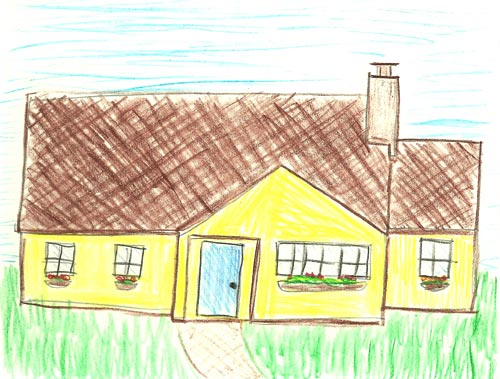 I love my wife. And I think she's very talented. Really. Especially with her cute drawings of our home's floor plan and our lot (both of which came out really well). Which is why it wasn't easy to look her in the eye and tell her that I didn't think her crooked colored-pencil "interpretations" were, uh, the way to go.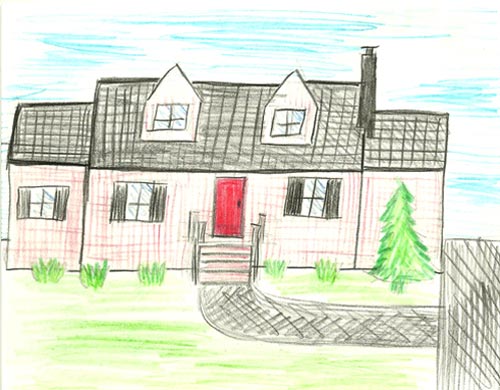 Luckily for me, Sherry took one more look at them and cracked up. Then we turned to our trusty friend (you may know him as Photoshop) for the job. Oh and we used the Paint Daubs filter to work our blur magic. As for how it all went so terribly wrong, Sherry blames Danielle Staub (she was catching up on some Real Housewives reruns while getting her colored pencil on). That beeyotch ruins everything.
So that's our little behind the scenes Friday outtake for you. Have any of you had to resort to Plan B after Plan A was an epic fail?
&nbsp&nbsp&nbsp
You guys know that we like to take a moment each month to thank our sponsors (you know, the people who help keep our site up and running… and make the other 40+ posts possible). But over the last two months we've been channeling Dwight Schrute from The Office (and listing things that we're loving, like "bears, beets, Battlestar Galactica"). So instead of just doing a sponsor roll call, we're giving you a snapshot of one thing that we're digging from each of them (in a quick thumbnail & bullet breakdown). Call it getting a bit more personal if you will. And doing a little virtual window shopping, which you know we're always up for.
Oh and at the very bottom of this post we've also collected all of the discounts they're offering into one quick spot, so you can scroll down to save some moolah:
And now for the JUICY DISCOUNTS:
&nbsp&nbsp&nbsp