Blogging
In case you missed the orange button that screams (begs?) "VOTE FOR ME!" on our sidebar, then you wouldn't know that we're entered in RemodelingMySpace.com's "Remodel, Blog and Win" contest. Their esteemed panel of experts will award the $5,000 Grand Prize to the bloggers demonstrating the most home improvement AND blogging prowess.
But another esteemed group of experts – you the people – will award the $1,000 People's Choice Award by casting your vote by November 30th. (I'll take care of that brown on my nose once I've finished buttering up you beautiful, beautiful people.)
If your love of voting for things (or earning compliments) isn't enough, your vote will also make you eligible for the $250 Random Voter Award. They're not giving anything away for prettiest or smartest voter because you'd take both by a landslide.
For those who have already voted – THANKS! But be sure to go back and read the article they just wrote summarizing our blog. Here's our favorite excerpt:
"In a refreshing twist, the blog post writing on Young House Love is shared by both John and Sherry. Regardless of who writes the posts, they are entertaining and well written! House renovating with a sense of humour – it's the only way to fly."
And, in the interest of fairness, check out the other entries here. We especially enjoy Becoming-Home and Our New Old House.
&nbsp&nbsp&nbsp
If we were really on top of our game, we would've started this blog 16 months ago when we bought our beautiful, one-story brick ranch here in Richmond, Virginia. But I guess we were too caught up with home work (literally) to even think about recording our progress online.
When we bought the place in May of 2006, we were its 3rd owners in its 50 year old history. We were completely charmed by its strong bones, and happily challenged by its complete lack of style (the beautiful backyard was also a plus). We moved in with big dreams of what it could become. And a mere 12 hours after closing, it was already on its way…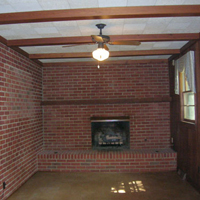 Just to get a sense of where we were starting – check out this shot of our old den. No wonder we often referred to that room as the hunting lodge in the first few weeks of homeownership. But if there's anything we've learned throughout the process of making our old house a home, it's that you should never underestimate the power of a few coats of paint.
&nbsp&nbsp&nbsp