Author Archive
(You'll get the meaning of that post title in a minute)
Exciting news, guys – we finally found something to take the spot of our too-small pedestal table in the eat-in part of our kitchen.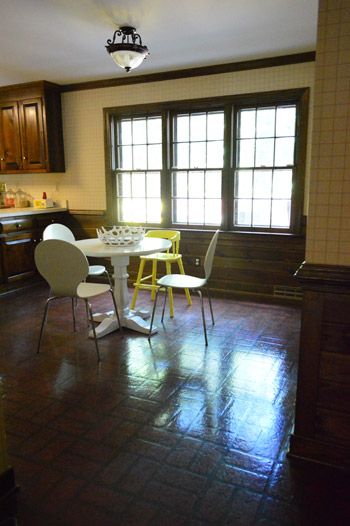 And we're happy to report that it's a lot more proportionate – and functional! – for the space. Now we can seat six or even eight people in a pinch, which has already proven to be useful with our big families (and my spread-out-all-the-tear-sheets propensities). Of course we're still on the hunt for dining chairs so these are just for the meantime, but man, it's such an upgrade to have room for adult sized plates again.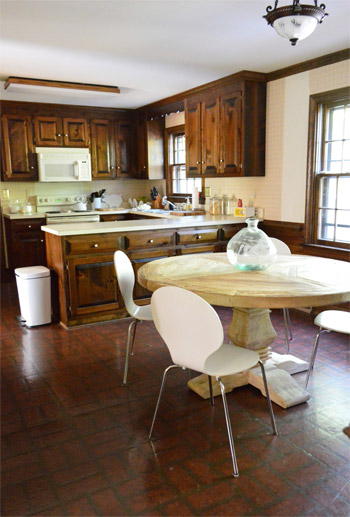 Just try not to stare too hard at pretty much anything except for the table. So ignore the faux-brick vinyl flooring, all that wood everywhere, and that graph-tastic wallpaper (I've already stripped about half of the room- so I owe you a post about that). Let's just say that when we're done with this kitchen, the table should make a lot more sense "in context." In fact, here's a similar table in a pretty BHG kitchen. Nice, right?
And you'll never guess where this baby is originally from. I'll give you a hint. It rhymes with Festoration Blardware.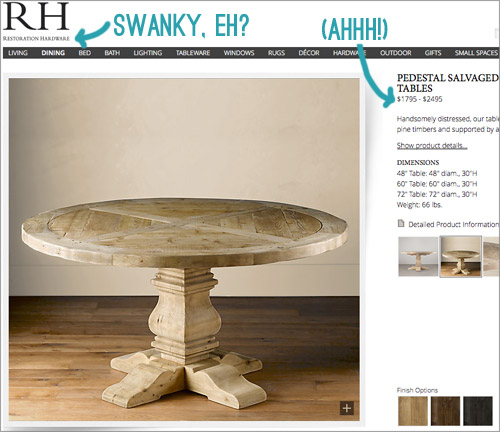 But we didn't pay $1795 – $2495 for ours. It actually turned up at one of our favorite local shops called The Decorating Outlet (which is the outlet for Shades of Light). It's where a lot of returned merchandise or used-once-for-a-catalog-shoot items end up – so it's an awesome place to score a deal (we bought the pendants in our last house's kitchen and our old bedroom rug that now lives in Clara's room there). Turns out this 60″ table hails from Restoration Hardware (where it's sold for $2095) and it was just used a few times in some catalog shots before it sat in a storage room for a while and eventually ended up at the outlet… priced at a cool $650 (a 70% markdown!).
The top is awesomely weathered and the whole thing is made of reclaimed wood (so no two are ever alike). As a mom I like that Clara and the bun can beat on this table until the cows come home and all of those dents will be filed under "character." See, when I was growing up we had a shiny lacquered table and it was waaaay too precious (there was a certain especially intense spirographing incident where I scratched it and never lived to hear the end of it).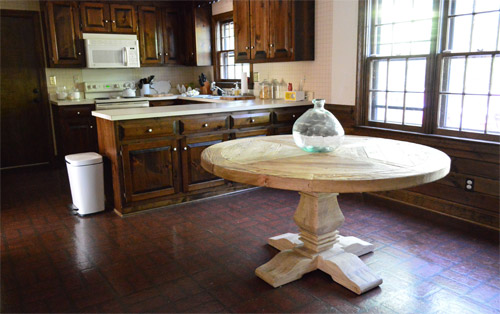 It's nice to know that now I can spirigraph my little heart out without fear of marring some perfectly smooth surface. And really, isn't that the definition of happiness?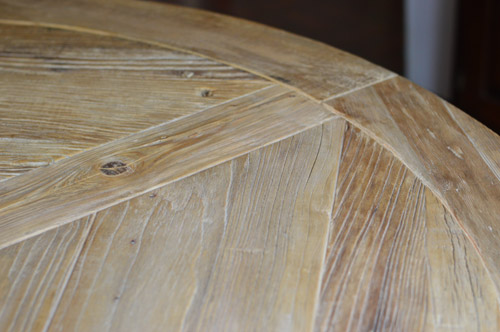 The fact that it's such a well-made, solid piece makes us so happy (it's crazy heavy! there's nothing hollow or veneered about it). I'm hoping it will be one of those hand-down-to-your-kids pieces that outlives me and John. Who knows, maybe in 2113 our great great grandkids will be spirographing the days away on it. Sigh. Update: We've had a few questions about where our dining table from our previous house is, and the answer is that it's in the dining room. The reason we didn't contemplate bringing that into the eat-in kitchen area is because it's around a foot wider (70?) and has larger chairs, so it works better in there and would be too cramped for the kitchen.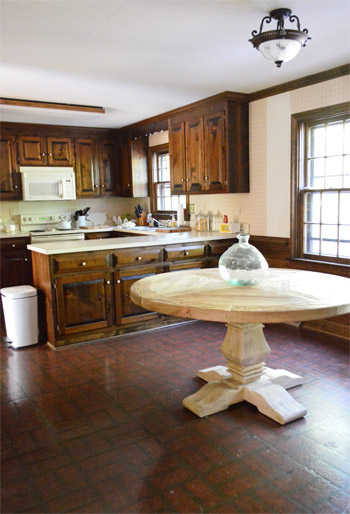 So that marks the second piece of furniture we've purchased since moving in around four months ago (which seems to be our pattern since we moved into our second house and bought our sectional and our dining table within a few months). Between our new West Elm dresser and this score of a table, so far we've spent $750 less than we did on those two initial purchases for our last house – but since our sunroom makeover is going to come in a bit higher than our patio project (which was the first big DIY undertaking that we tackled four months into that house) we're most likely going to be on exactly the same track with the ol' bank balance. Isn't it funny how these things seem to have a pattern?
All mathy comparisons aside, we're psyched to have two well-made furniture additions in our new house – especially since slowly acquiring more quality pieces was our goal here (we'll always love thrift stores and Ikea along with building stuff, but we hope to have a nice mix of things in this forever home of ours). Now if only we could get the chairs for this table right on the first try. If our former dining room chair debacle is any indication, it might be a long road…
But at least our table is pretty. Even with our shinnnny fake brick floors. Just focus on this still life with lemon. Don't look down.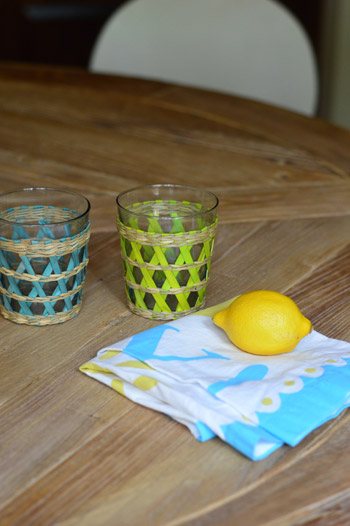 Anyone else buying furniture? Or saving up for something solid and beat-up-able?
&nbsp&nbsp&nbsp
This is a heartwarming story featuring Ethan Hawke and Gwyneth Paltrow about getting crafty with a pillowcase, some fabric paint, and a metal grate, hence that pun-tastic title.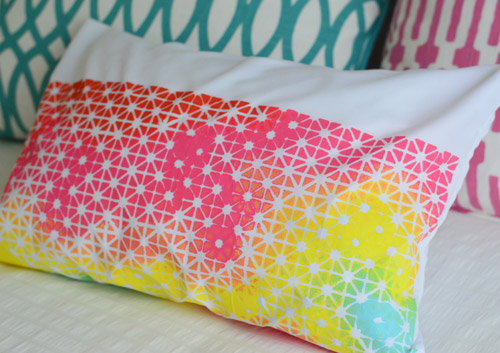 I don't know about you, but I always seem to have one or two extra pillowcases around. We only have one set of sheets per bed, but I think since I buy two extra pillows for every bed (and therefore need extra pillowcases) I must see them on sale and grab them without making sure I really need them (hence the over-abundance). Really, it's sort of a mystery to me since I'm the girl who won't buy tomato sauce or toothpaste unless I'm sure I'm out, but maybe in another life I was short a pillowcase and it ruined my day so now I hoard them. Truly, it's weird.
But anyway, I had this extra pillowcase so I thought it would be fun to use it as spare fabric and get a little crafty. And thus this project was born. First I taped it off in a rectangular shape using painter's tape to hold the fabric taut. Oh and I slipped a piece of cardboard inside the pillowcase to keep it from bleeding or sticking together before taping it down.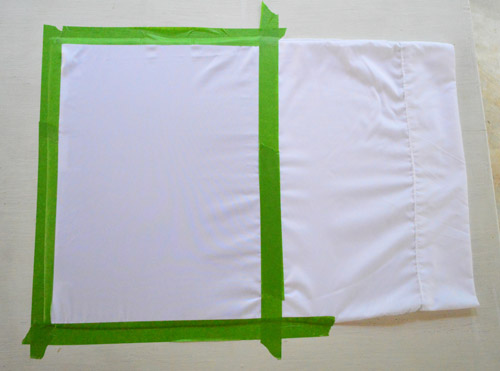 Then I taped this cute metal grate over it that I picked up at Home Depot for $9, which I immediately looked at and my brain said "um – STENCIL!" At first I debated doing this on paper to make some frame-able art, so you can go that route too, but then I thought using fabric paint on a pillowcase and stitching that up to make an easy little bolster could be fun, so I veered that way at the fork in the road that is Craft Street.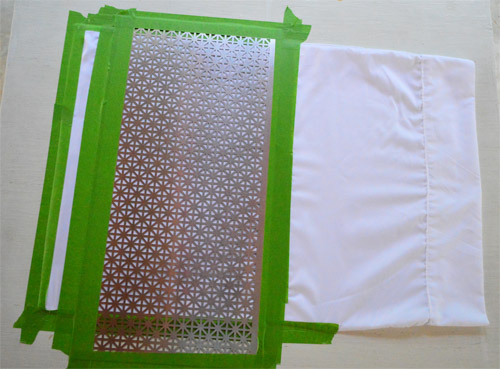 I raided my supply drawer for some Martha Stewart craft paints (they say right on the label that they work on fabric – and they're only a few bucks a pop so I grab them in colors that I like whenever I see them on sale). I also had these stencil brushes (the ones in the blue package) in my craft basket after using a coupon to get them almost free a little while back from Michaels, so I was happy to finally put them to good use. All told, the only thing I bought for this project was the $9 grate, but if you had to pick up the paint and the brushes and the grate it would probably be around $20 as long as you have some fabric on hand. The good thing is that the grate is reusable, so you could make a few pillows or even a table runner and matching napkins and then make some art/stationery/gift tags with it. Oh man, now I'm thinking about the holiday-gift potential…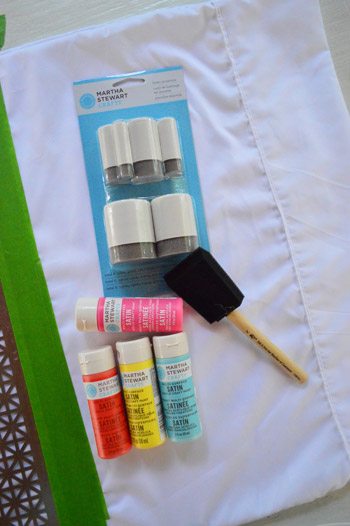 Next it was stamping time. I tried not to load my brush up too much (I worried from the start that things could bleed under the grate – and thick paint applications can make fabric crunchy) so I dabbed it on a paper towel a few times to get rid of excess paint before tap-tap-tapping my way around the grate. I tried to do sections of colors in sort of an irregular wave shape, just so nothing looked like obvious stripes and dots, but had more of a sand-art feeling. Oh yeah, who remembers sand art?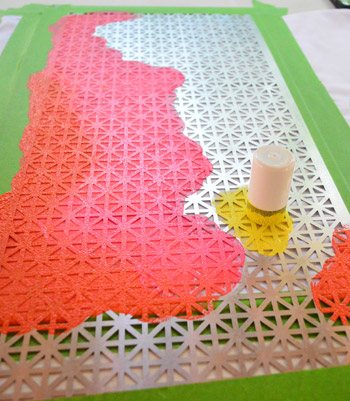 Occasionally I blended stuff using a bunch of extra dabs. This is what the blue did on top of the yellow after some extra pats in that area (see how it mixed to create sort of a yellow to green to blue gradient there?).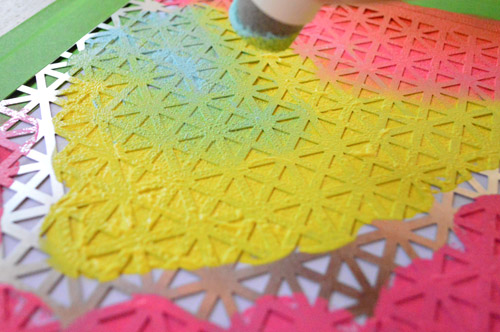 In other places I went with less of a blended edge and more of a defined color-meets-another-color border. It was fun and loosey-goosey and the whole thing probably took me around twenty minutes.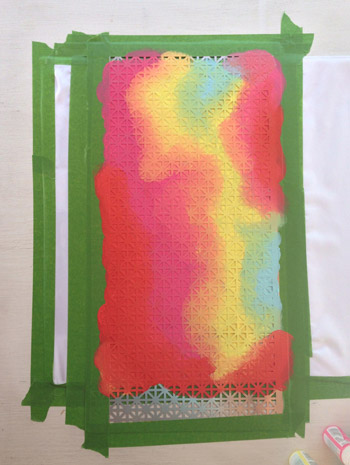 I waited a little while to remove the grate (maybe an hour?) just because I worried I'd shift it slightly while ripping off the tape and smear the whole thing. When it dried and I finally removed it… welp, there was some bleeding in a few areas. At first I was sad, but the more I looked at it, the more I liked the varied/imperfect pattern. It almost reminded me of constellations.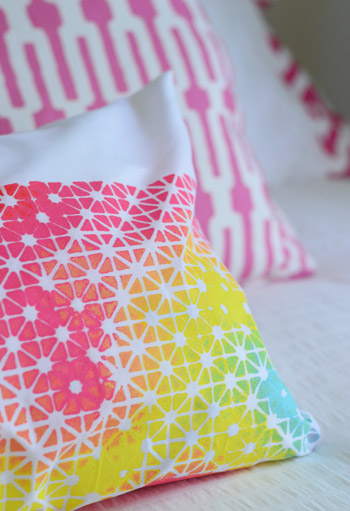 I think if you were going for a perfectly clean-lined look at home, using some stencil adhesive to stick the grate to the paper/fabric might result in a crisper edge, and using even less paint on your brush (and just dabbing it suuuper lightly) would probably cut down on the bleeding issue as well.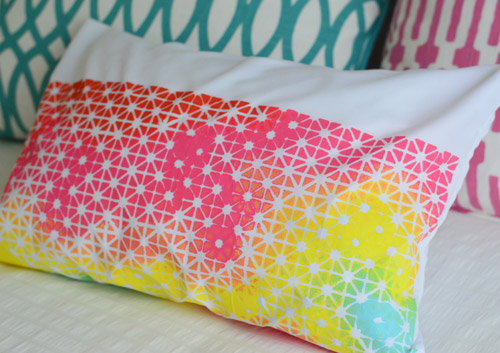 But in the end, I'm calling those imperfections a happy accident. Sort of like how you pay the big bucks for those hand stamped block printed fabrics that are cool and irregular… but that's the charm. At least that's what I'm telling myself.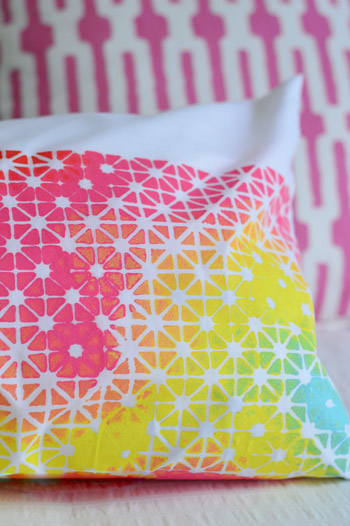 Update: For those asking if this is washable, someone commented to say they had luck washing fabric that they painted with the same Martha Stewart product by following the directions on the container, so it looks like it can work! I'd just read the label first to find out what you're dealing with if you plan to wash the item often (like cloth napkins for example) because other fabric paints might have simpler instructions.
Heck, I also think the grate is pretty great art itself. So you could always just paint the grate and not worry about any bleeding under it and then use a metal snip to cut it to fit a frame.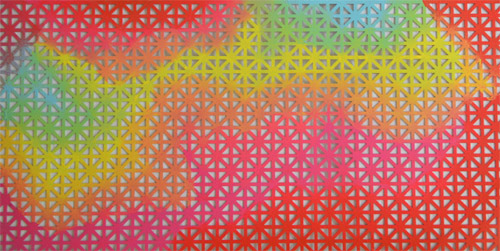 And now that I've mentioned the potential for reusing the grate, I'm kind of excited at the idea of a homemade runner or a matching set of napkins. Anyone else planning to try their hand at some grate creations? Will Ethan Hawke be invited? Will Gwyneth Paltrow bring the crudités?
&nbsp&nbsp&nbsp