Author Archive
Even though it's only the 30th, we've noticed that almost every store in town has already taken down their festive Christmas decor in favor of Valentine's Day paraphernalia. Holy hearts everywhere, Batman- it's not even January yet.
So in an effort to buck the fast-forward trend, I thought I'd share this simple and amazingly creative Christmas tree idea (even if it's 5 days late). It's a fun way to "recycle" your books for the holiday, and there's no pile of pine needles to vacuum when your holiday spirit runs out. Here's the link for ya.
And now for one of many posts about fun & fabulous holiday gifts. Here's what we got at a local gift shop (Mongrel) for our cousin who loves to camp: a ceramic campfire that you can really set ablaze with a tea-light. Bring on the mini-marshmallows!
Ironically it was also for sale on Fred Flare, along with a bunch of other quirky gifts like these:
Who doesn't want a throwback boombox with an updated twist (it blasts tunes from your iPod), some fabulous garland in 2-D (it's tape with a sparkly tinsel pattern) and a make-any-bottle-a-menorah (it's a cork with the candles attached). Brilliant. And you gotta love how affordable stuff on that website is. If you haven't been yet, check out all the after Christmas sale stuff, like, right now.
But there's also another item on this post that doesn't hail from Fred Flare… a homemade starfish Santa. We actually made three for John's parents' new beach house after seeing a bunch at a few beach shops for something like $15 a pop. Making them yourself is a heckova lot cheaper, all ya need are some starfish (we got ours from Michael's) and some acrylic paint. You can also turn 'em into ornaments by gluing ribbon to the back. Ho- ho-holy moley that's easy.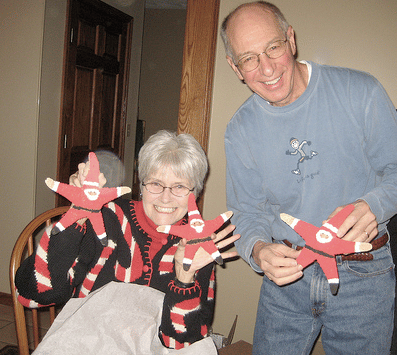 Is it painfully obvious that we're trying to keep everyone entertained while holiday celebrations are distracting us from working on the house? We thought so.
Now that you've seen my little space in the big city, it's time to show John's Apartment on New York City's Upper West Side. It's second in the series of videos I shot for Kitty, my BFF who lived in Iowa at the time.
John actually edited this one down a little bit so you don't get to see the living room. That's because it was only a living room for a few days before they had walls built to create a third bedroom in order to accommodate a third roommate – a classic NYC trick for lowering your rent. It also doesn't show the five flights of stairs you had to walk up to get there. We don't miss them.
Here are some of the fun things you will get to see:
More free or cheap furniture finds

Another small kitchen that we were very proud of at the time

A lot of brown and blue (I finally made him tone down the masculine color scheme when we moved in together)

A cool, accent wall mural that we painted together based on our favorite album cover by The Shins
Now enjoy the tour HERE on YouTube.