Author Archive
One of the (many) benefits to being with child is that I've been exiled from the bathroom for some of the rougher renovation undertakings. Although it's sort of sad too, because I love to swing the ol' sledgehammer from time to time. But the boys (John and his handy tile-slingin' dad)…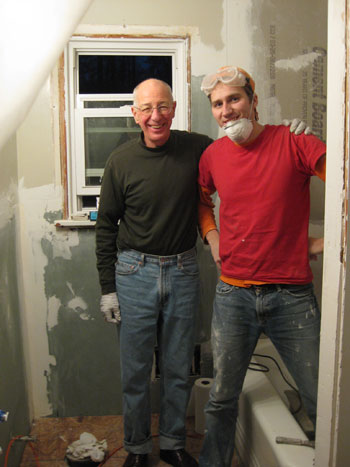 … mysteriously sealed themselves into the room with a big plastic tarp just to foil my view (ok, really to keep the house free of flying debris and dust, but still).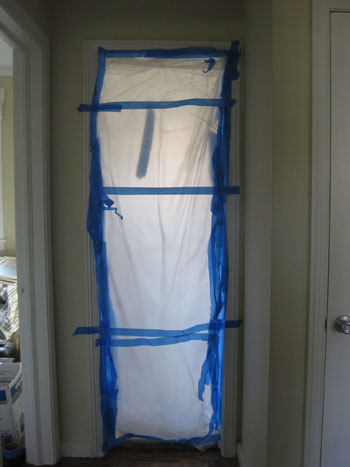 The good news is that I could still manage to hear pretty well through their plastic bubble of sorts, so every once in a while I'd catch a fraction of their mano a mano conversations. And boy were they weird.
Here are a few examples:

"It's like a baby saw. Not a saw you would give to a baby, but it's baby sized." – John
"Oh man I hope this works." – John's dad (and yes, I did sweat bullets after this one)
"Fire in the hole!" – John (who knows what they were doing…)
"(Muffled) I'm glad we have these gas masks on." – Couldn't tell, too muffled (this might have been a fart joke)
"I feel like the Queen of England" – John (what on Earth was going on in there?)
"Hi honey!" – John's dad (in his defense, I think he was answering his cell phone)
"Don't cry for me Argentina!" – John's dad (this was the punch line to some joke he was telling)
In short it was really odd to hear snippets of their chatter about the bathroom reno, life in general, and even the odd bad joke. Have you ever overheard part of a conversation and desperately tried to make sense of it? It's hard work, and usually nearly impossible. At least around here it seemed to be.
But enough jibber jabber, I know you're all are tapping your feet and muttering "pictures please" so I'll share these few tub/shower tile teaser photos. Of course we still have to cram all those cracks and crevices with sparkling white grout (it'll look even more seamless after that crucial step), but here's the first phase of Operation Subway Tile: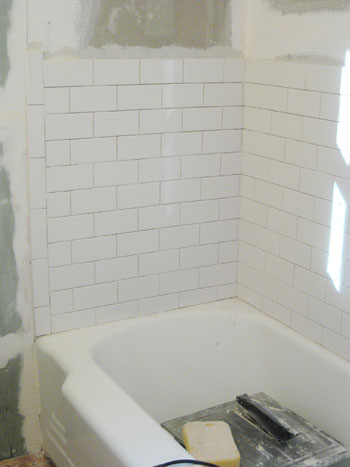 And here's the second phase (John went all the way up to our slightly uneven ceiling with those babies):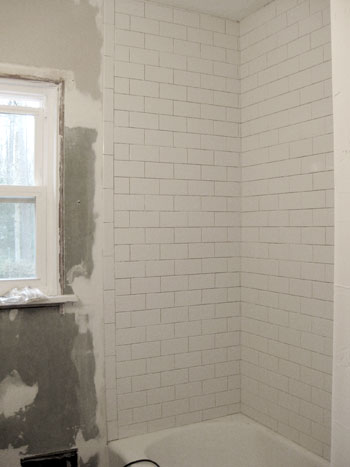 And here's another shot taken after we primed and painted the walls and freshly laid the floor (which also needs grout- it'll be a rich chocolate color to blend with the dark mocha marble tiles). It's amazing how it's slowly starting to look like a room again- and we love how the wall color we chose (which we'll share in a later post) works with those pretty marble tiles. It's really coming along in there, eh?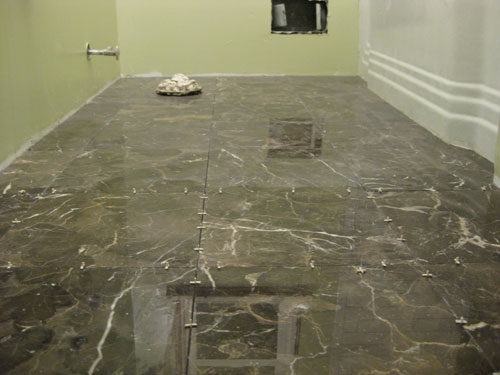 After all, it did look like this just a few short weeks ago: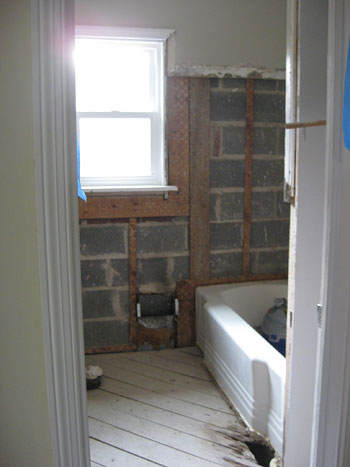 Stay tuned for the full tiling play by play (after all the end-of-year madness comes and goes) along with more details on the paint color we chose and the rest of the finishing details. In the meantime, what's the weirdest thing that you've ever overheard? Do tell.
Psst- Wanna read about the first few chapters of the big bathroom makeover? Check out Chapter One, Chapter Two, and Chapter Three right here.
&nbsp&nbsp&nbsp
By now you're all probably off with your family eating gingerbread and tearing into some presents but we just wanted to share the holiday card we whipped up for our loved ones (since you're all on our virtual mailing list). We wish you guys a very happy and sweet holiday with the ones you love. And speaking of love, we adore every last one of you for dropping in to see what we're up to over here at Casa Petersik. Your support and encouragement never fail to put smiles on our faces each and every day, and we're full of gratitude for the amazing year we've been fortunate enough to share with all of you.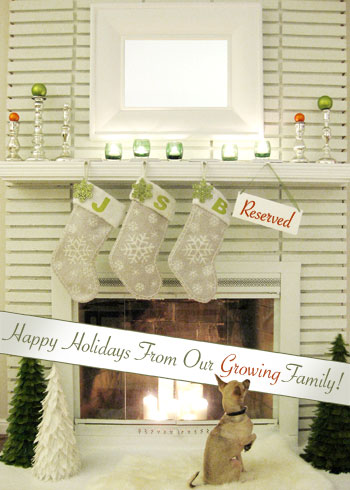 So don't forget to enjoy some eggnog for me (thanks to the bean it's off limits this year) while you celebrate the best part of having a place to call home: sharing it with the ones you love. Here's to many more adventures (and misadventures) in 2010!
Psst- Wanna see our favorite holiday card of all time? It's actually the first one we made from '07.
Pssssst- Wanna know how we create our cards? We just take photos, mess around with them in Photoshop, print them at one of those automatic CVS or Target photo kiosks and pop them in the mail. They only cost around 30 cents per picture and they're oh so personalized and fun!

&nbsp&nbsp&nbsp