Author Archive
After Ania came to us for help with her living and dining room (and sent over the amazing after pics!) we were thrilled to hear from her again. Here's her letter:
Sweet, sweet victory! I got a mood board before they sold out! Ok, I'm back for some design advice for our multi-functioning office. I was inspired by a previous client of yours and wanted to incorporate more lounge furniture. We would like a room for our computer/books, a day bed to lounge/read on during the day (and potentially board a guest overnight), and last but not least: an area for our two Basset Hound children's beds and feeder. Style-wise, I have recently fallen hard for the modern classic look. Clean lines, no clutter. The only thing that must stay in the room is our new white Parson's desk and our matching dog feeders. I would love a way to hide the actual computer (on the floor) and printer. We'll have our wire-chaos under control soon because we grabbed some desk cable mangers. I love almost all colors (and my hub and I are definitely not color shy so bring it on!) but in particular I really like oranges, teals, yellows, blues, greens, greys, and purple. I see that you keep Burger's crate in an open closet and it got my wheels spinning. Maybe we should remove the closet doors and make the dogs a little love nest inside? You have no idea how much I am looking forward to painting this horrible room. And congratulations to you two on your beanita! Looking forward to hearing from you :) – Ania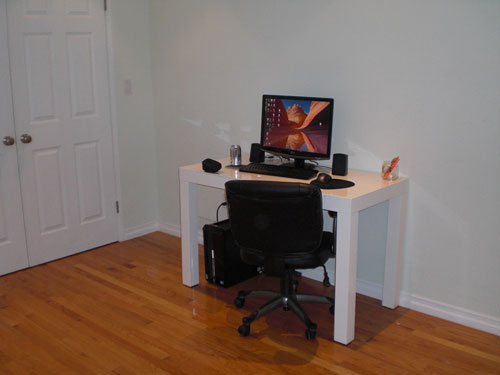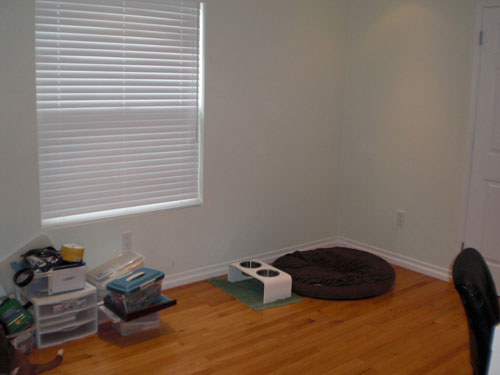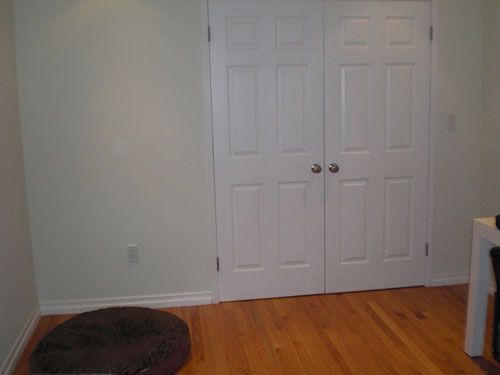 This space is primed for a major makeover. Here's the plan: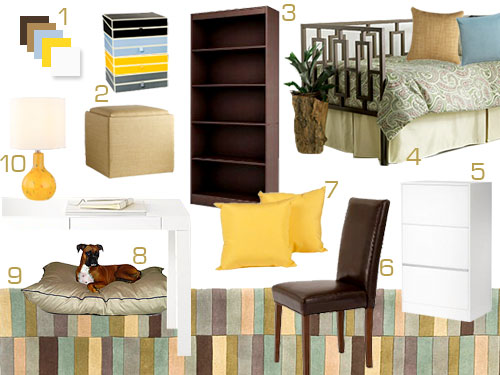 And here's the new layout: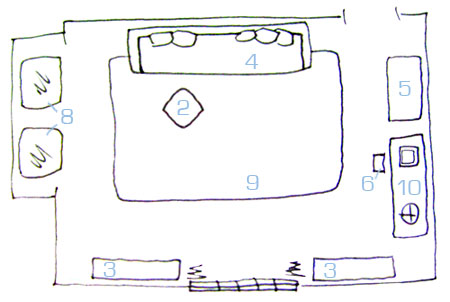 And now for the mood board breakdown.

Read the rest of this entry »
&nbsp&nbsp&nbsp
We recently walked into our second home Home Depot and what should we see but a brand new line of cleaning products on display right by the entrance. Apparently Martha has gone green.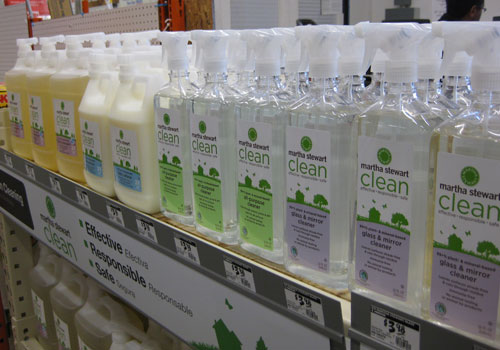 Her new line is called Martha Stewart Clean and it boasts 99% plant and mineral based biodegradable ingredients in everything from all-purpose cleaners, wood floor cleaners, laundry detergent, dishwasher liquid, and toilet bowl cleaners. They're even certified by the EPA Design For Environment program, are 100% non-toxic (which means they're totally safe for kids and pets) and have no artificial colors or preservatives. Which is definitely a good thing in our book. Especially when you think about how many cleaning products have to be locked away under the kitchen sink thanks to their non-kid-safe warnings.
We love her whole "effective, responsible, and safe" approach to cleaning (even the packaging is 100% recyclable) so we just had to pass it on and see what you guys think.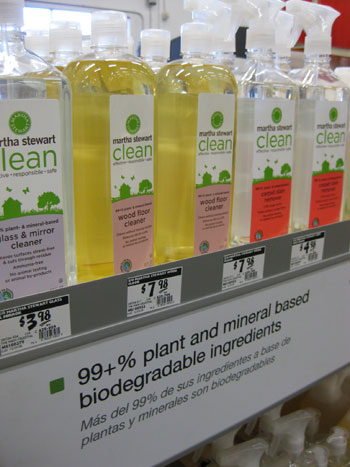 Have any of you tried these cleaning products on for size yet? We assume they're pretty close to Dr. Bronner's line of castille soap available at Target (which we love for its plant-based and all-natural ingredients). And the best thing about our new Home Depot discovery is that they must work really well for big M to put her name on them… which we hope will encourage anti-all-natural peeps (some folks claim they don't work as well) to give 'em a whirl and see just how far they've come. Who knows, they might be your favorite house-cleaning upgrade of 2010. And since January is all about fresh starts and clean slates it might be the perfect way to kick off the year with a bang. Or a good old fashioned scrub-down…
Psst- Wanna whip up your own all-natural cleaning solutions at home? Here's a post full of DIY recipes for homemade cleaners that really get 'er done. And if you're wondering how we keep Casa Petersik clean, check out this pretty exhaustive post on the subject.

Psssst- Oh and of course we weren't paid or perk'd by Martha (or anyone else for that matter) to write this little post, we just genuinely thought this new line of cleaning products was of interest and wanted to share it with you!
&nbsp&nbsp&nbsp