Author Archive
When Bethany sent over her simple yet oh so chic message board project we had to share the goods. Anyone can do this in an afternoon to add function and beauty to a kitchen, office, mudroom, or more. Here's her letter:
Thank you so much for your upbeat positive attitudes and for all that you do to inspire creativity! I wanted to share a project that I completed a while back that was extremely simple, cheap and totally DIY. I think it's a good fit for anyone who wants to feel more organized but doesn't want to sacrifice style. I spray painted a garage sale picture frame and used leftover chalkboard paint to paint the glass insert of the frame with a few thick coats (then I waited a while before using it to be sure it was completely cured). You can check out more step by step instructions on my blog. Thanks again for the fun site! – Bethany
Isn't that a sweet and simple little frame facelift? Especially because she used a garage sale frame and extra chalkboard paint that she already had laying around! Thanks so much for sending the fun before & after pictures our way Bethany! Your message makes an organizational freak like me grin from ear to ear. Full disclosure: my mouth is actually watering…
&nbsp&nbsp&nbsp
We love sharing little household traditions with you guys. There are just so many cheap and easy ways to commemorate special dates and display unique items in your home that can make it feel more personal and meaningful.  For example, we whipped up these vacation jars a while back…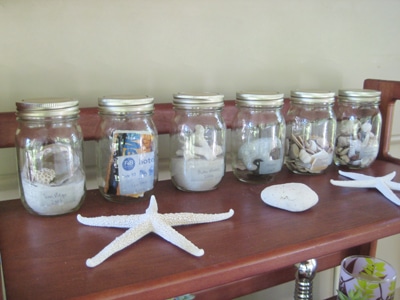 … and also explained that we love sending a postcard to ourselves to help remember all the details of every vacation that we spend together (they look great tossed in a large glass vase):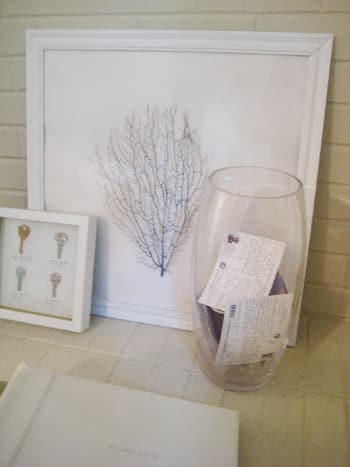 We also shared how we framed old keys to commemorate all the places we lived before moving into this "forever home" of ours (as seen to the left of the postcards in a vase above).
And how I snagged a vintage map on ebay, mounted it on cork, and framed it for a simple pinboard that helps us chart all the places we've traveled together (we've since added a bunch of pins thanks to our big Texas road trip):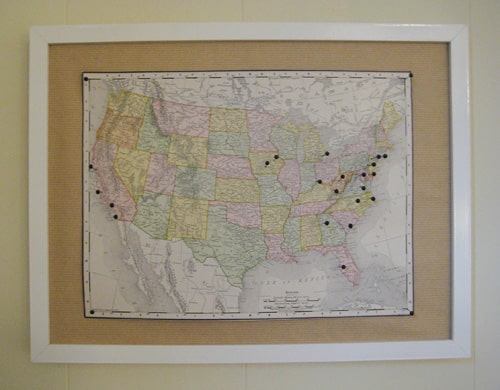 And how we love to pose for some cheap-o photostrips on big days like anniversaries and other momentous occasions (like the day we found out I had a bun in the oven):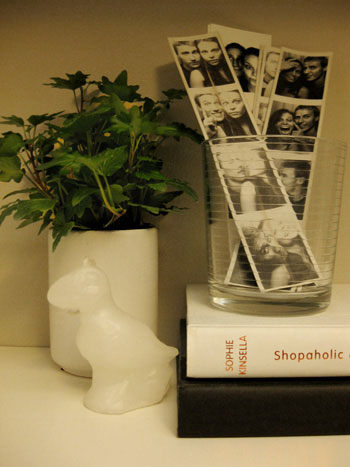 But enough looking back, let's get back to 2010 shall we? Speaking of the brandspankingnew year, John and I actually have a strange little New Year's Eve tradition: a nice romantic sushi dinner. It actually became a tradition after we were together a few years and realized that we had subconsciously gone out to a sushi dinner on Dec 31st ever since we began dating. So after accidentally enjoying a nice little Japanese feast together in 2005 and 2006, of course when the end of '07, '08, and '09 rolled around we kept the tradition alive. And somewhere along the line John suggested that we save a pair of chopsticks from each restaurant (unused ones of course) and label them with the date, the occasion, and the place where we dined. It's such a cheap (well, free actually) way to keep tabs on our year-ending whereabouts- and it's fun when they're displayed en masse atop a lacquered box, stashed in a cup on my desk, or even stuck in this Ikea vase:
We love that we can glance at them and remember evenings spent celebrating the end of one year and the beginning of another- and it's great to see that we actually kept the tradition alive no matter where we were traveling at the time (from Georgia to Delaware and of course on the home front in Richmond, VA).
Oh and not to worry guys, this year it was only cooked fish and veggie sushi for me since the bean is "on board." But it was still just as delicious and memorable. So that's our odd little sushi inspired tradition. What about you? Do you have any "momentos" that you collect or even label to help you remember special events or milestones? Matchbooks? Bottle caps? Sea shells? Wine corks? Snow globes? Menus? Shot glasses? Tattoos? Do tell.
&nbsp&nbsp&nbsp