Author Archive
Spring is in full swing as demonstrated by our blooming azaleas and my allergy flare ups. So it seemed only fitting to treat a few side tables in our sunroom to a quick spring makeover. Here's one of the side tables before: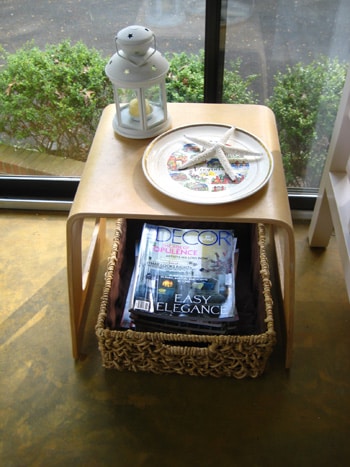 And here's the more cheerful and spring-like after. We found that sea fan on our recent island vacay, and the glass cup is sitting on some adorable striped coasters from John's sister.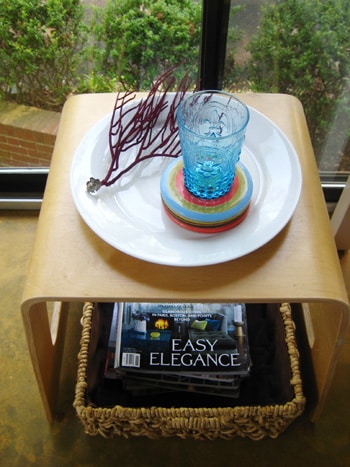 Here's what the other side table looked like before my spring sprucing: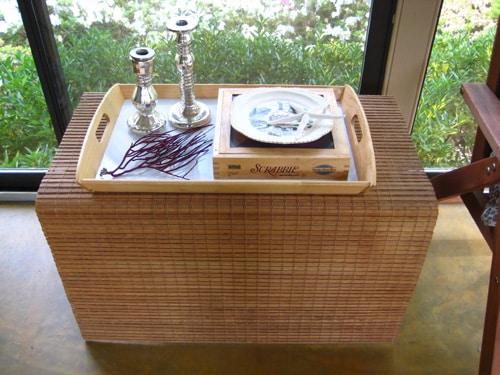 And here's the happier and shinier after. I gathered up some old wine bottles and a few glass vases (and even an old blue soap dispenser minus the pump) and grouped them on a tray. They're like 3-D stained glass when the sun streams through the window. And a couple of starfish keep things interesting.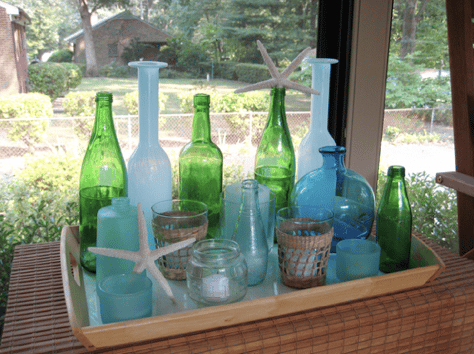 Here's a close up of my favorite detail, an unexpected starfish-cork: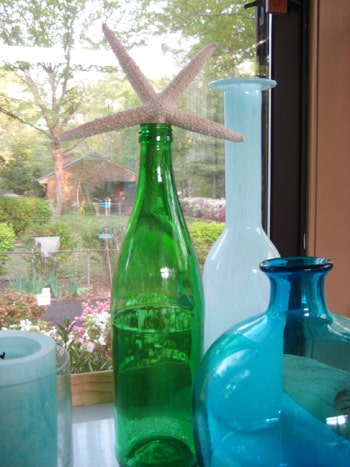 Variety really is the spice of life. And even though we love a white accessory (or ten) there really is nothing like a little color to compliment all those spring blooms. We'd love to know if you guys have any spring rituals. Cleaning sprees? Decorating switcharoos? Shopping extravaganzas? What puts a spring in your step? Do tell.
I know we were supposed to be devoting every blissful second to relaxing, but we caught ourselves taking beach decor inspired mental notes throughout our entire trip. Talk about inspiration overload.
This house literally took our breath away. Situated right on the water and within walking distance from a number of yummy seafood joints, we think this traditional beach house is perfection. The all white exterior and tin roof keep it simple and allow the linear details (those railings! those windows! that awning!) to shine.
This adorable beach bungalow's exterior color palate made a major impression. How great are the pops of green with the tan and white? Thanks to two dominant house colors and a third accent color, no detail is lost (like those fabulous green brackets and that white square runner above the porch). And those blue-green planters on the railing along with the hanging fern baskets totally finish off the look. Swoon.
Perhaps the most unexpected discovery was this amazing modern beach house with balconies and windows a plenty. The calm blue color blended with the sky and the gulf that it overlooked, and the white trim accented all those windows, balconies and that fun exterior spiral staircase.
The excitement continued when we ducked into some nearby shops. The first was a store called Being in St Petersburg. And it didn't disappoint. Choc fulla gorgeous (and wallet busting) furniture and accessories, every inch of the place was an inspiration. And although the price tags were laughably cost prohibitive, we love stealing ideas from expensive shops for free. This little snapshot begs the question, why not go a little crazy with pattern and color? The bright pillow + those patterned canisters + red coral = jaw droppingly unexpected eclectic excellence.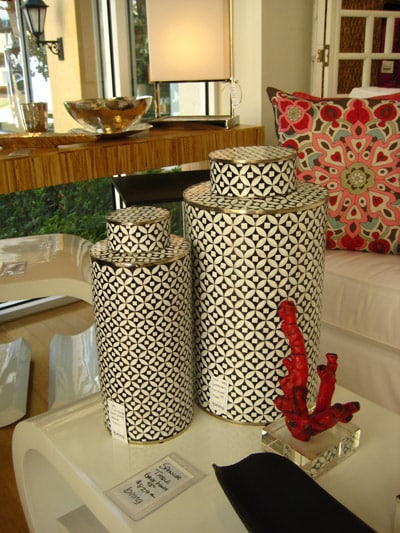 Then we headed over to Coastal Cabana in Dunedin (cause I love me some shells). When you're living in a beach town, there's no such thing as too many, and although I think an abundance of shells in a non-beach setting can be a little strange, I was so inspired by the shell encrusted objects that I immediately had dreams of DIY. Glue gun + shells + (insert object here) = a high end look on the cheap. I think a bunch of tiny white shells covering a pair of candle sticks, a round mirror or a few small frames would be beachy keen.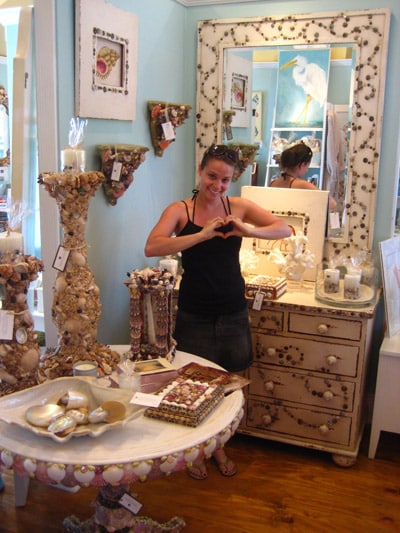 So as you can see, there was lots to look at everywhere we went. And it left us wondering what kind of beach house we'd prefer… the stately traditional? the adorable bungalow? the modern masterpiece? So why not take a poll. Which one do you guys prefer?
We've been sneaky. No, not living-a-double-life sneaky… secret-vacation sneaky. That's right. John and I quietly slipped away to a tiny series of islands off the west coast of Florida and have spent the past seven days swimming in the Gulf of Mexico, eating boatloads of seafood, blogging from the beach, and working on our tans (or in my case, sunburning my left ear).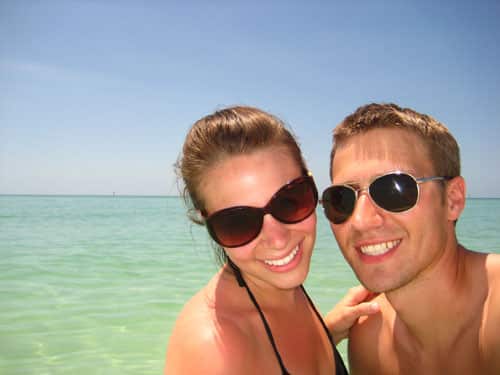 We've had mucho fun celebrating what we affectionately refer to as "Honeymoon Part Two" (since our actual honeymoon nine months ago was spent in the far northwest: Alaska, we thought it was fitting to continue our celebration of newlywedism in the far southeast this time). And just like "Honeymoon Part One," our little Hamburguesa came along for the ride. He had his fair share of beach adventures as well as some pretty hysterical lizard run-ins at the pool.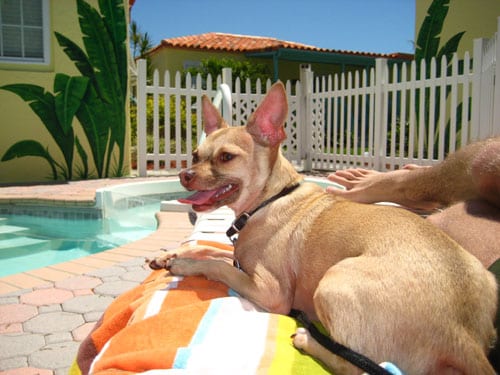 Stay tuned for pics of some gorge beach houses we discovered along with a few of our new favorite home decor havens (so you can vacation vicariously through us). In the meantime, you might wanna grab some sunscreen and a nice salt-rimmed margarita and get ready for beach week Young House Love-style.
Psst- Wanna know more about our secret vacay? Here's the follow-up post full of details.