Archive for January, 2014
Today we're wrapping up our annual pair of "Christmas present" posts (the first was yesterday's rundown on what we made Clara) with this summary of what else we unwrapped and how we spent the day, like this one and this one of yore. Think of it as our way of trying to cling to the holiday season for one more day while answering all of those "what did you get each other?" and "what else did Clara get?" questions. Meanwhile, in quick kitchen update news, we're knee-deep into staining the lower cabinets, which means the room is a complete disaster, but it's beginning to look a lot like Christmas progress.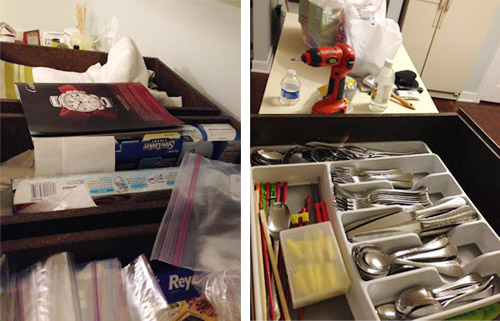 The doors/drawers/frames have been sanded, deglossed, stained, sanded, and stained again – so we're just waiting for them to be dry enough to rehang. That should happen this weekend, which means we can share all the photos and details with you on Monday (in case you missed it, we revealed our painted upper cabinets a few days ago). But back to our tree on Christmas morning.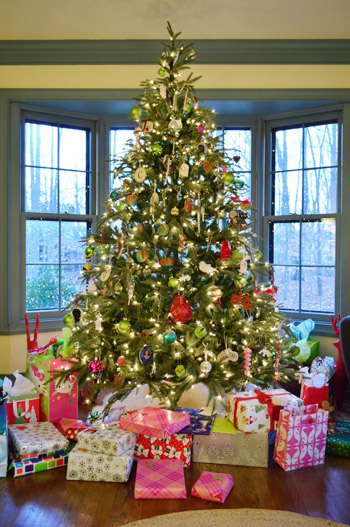 Clara was more excited this year than any other year before – even waking up about 10 minutes after going to bed the night before and declaring that it was the morning already. I was more excited too, because for the first time I could recreate a family tradition of mine growing up: sitting on the steps for a photo before sprinting down to rip through some wrapping paper. We can't wait to accumulate years of pictures like these… especially since next year Clara won't be sitting alone!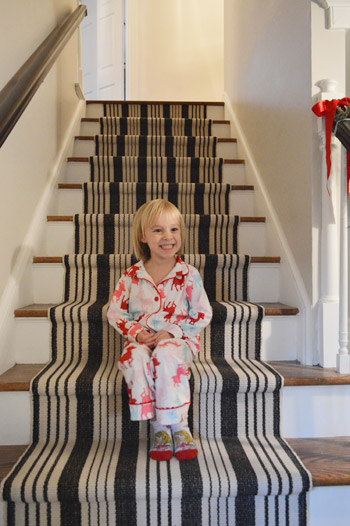 Clara was an unwrapping tornado. Many of the presents under the tree were sent from relatives (or were our gifts to others that we'd be delivering later in the day), but I was grateful that there were also a bunch of wrapped (not bagged) gifts for Clara so that we could witness her having those exciting moments where you get enough paper off to finally see what's inside. Here she is actively shouting "oh wow, man!"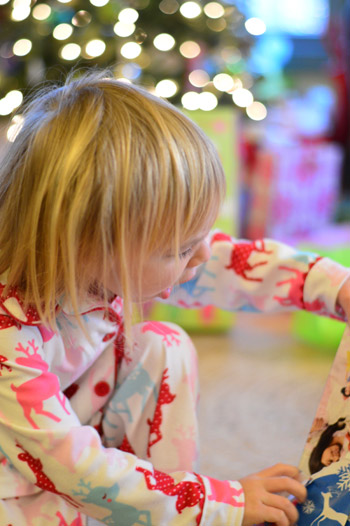 We won't bore you with everything this little lady made off with, but there are some highlights – like these two Cinderella mouse ornaments from my parents, which were mine as a kid.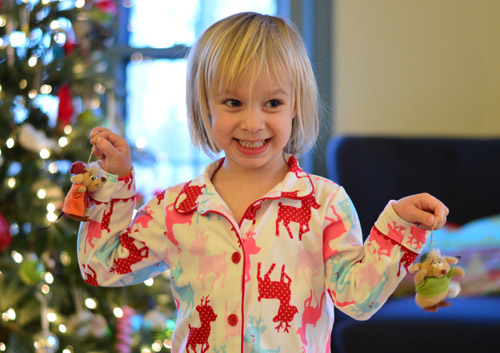 These were a surprise favorite (my mom worried she wouldn't even notice them among all the other bigger and newer toys that shared the same package) but Clara was HUGE fan. She even gave them a giant hug before running right over to find the perfect spot for them on the tree.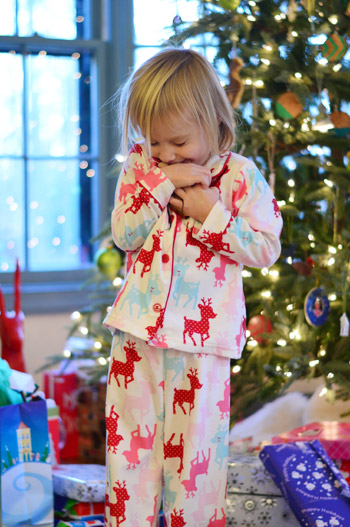 The main gift from Santa (not to burst anyone's bubble, but it was really from us) was the "ballerina princess doll" that Clara had been telling various Santas, relatives, and friends about all season. It's a Gotz doll from Pottery Barn Kids and she spotted it weeks ago when we were in there picking something up for someone else. If you'd like a mental picture, her eyes locked and she saw hearts. Despite our original "she'll probably forget all about it by the time Christmas rolls around" thoughts, she was still talking about it weeks later. So Santa delivered.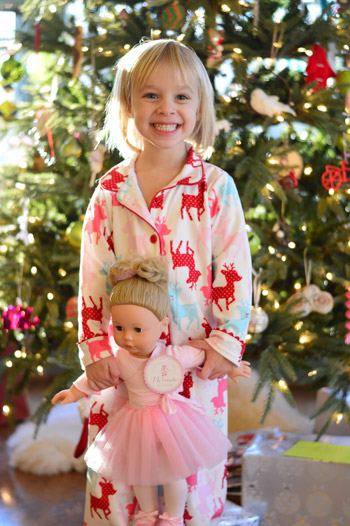 We decided it would be our one "splurge" gift for the year, and after a nice pre-Christmas sale and using an old Pottery Barn gift card, it ended up not being that bad. Honestly, even at full price it would've been worth it considering how much she loves this thing. "Melinda" even came to Burger's annual check-up and to a neighborhood New Year's party with us this week.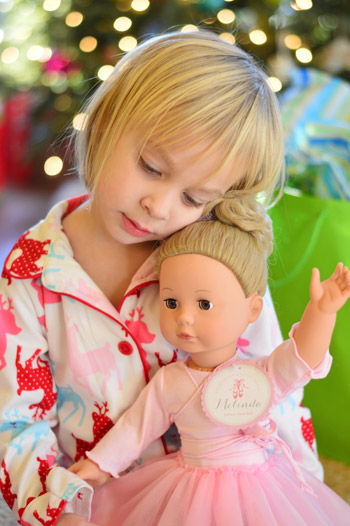 Some people have asked about our family's take on the Santa tradition. Both Sherry and I both got some gifts from Santa and some from our parents or other relatives, so that's what we do with Clara.  Since she specifically asked Santa for her the little ballerina – well, Ole St. Nick got the glory for that one. But otherwise we try to give credit where credit is due, like this one that came from Nonna…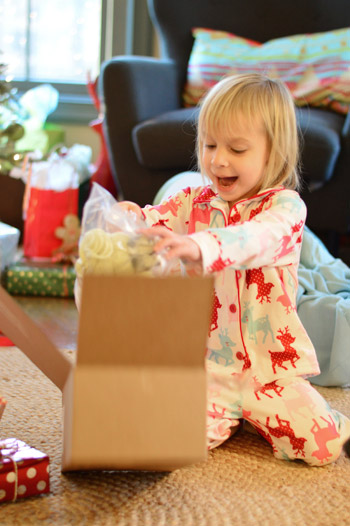 …and stuck with the theme of ballerinas. It was like tutu heaven for Clara. She named her "Spaghetti Hair."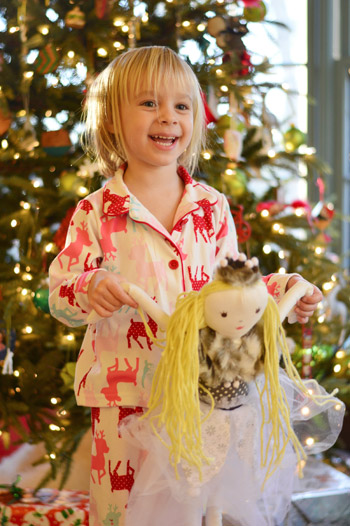 She got other things like books, games, stickers, and clothes, and we gave her a stocking with some socks, PJs, and Pez – which, by some miracle, were all met with equal levels of excitement.
We also did the traditional "you get to open a few smaller gifts on Christmas Eve" thing, and miraculously got this shot with Sherry's iPhone, which completely captures her joy. As some of you noticed in yesterday's post, there was a two-pajama-rotation (Clara wanted to wear her Santa ones and her new reindeer ones, so she put these on in the late afternoon, and then changed into her reindeer ones right before bed so she could wake up on Christmas morning in them).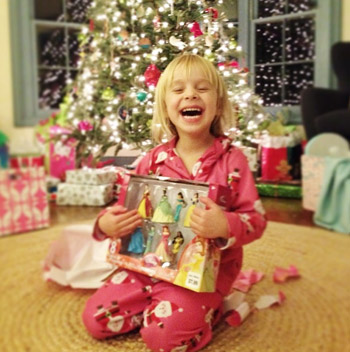 We didn't get all of the gift-opening action on tape (or even capture it all on our cameras) but here's a culled down version of the short video that we like to take each Christmas morning, which is mostly just Clara discovering her cubby shelf and hypothesizing about where Santa is at the moment. The bump-kiss is my favorite part.
And we can't forget about Burger. He made his way out of bed about 5 hours earlier than usual, which earned him a few Christmas treats (literally) from us. He also scored a paw print "Feliz Navi-dog" ornament from my godmother Gerrie, who's always great about remembering furry family members.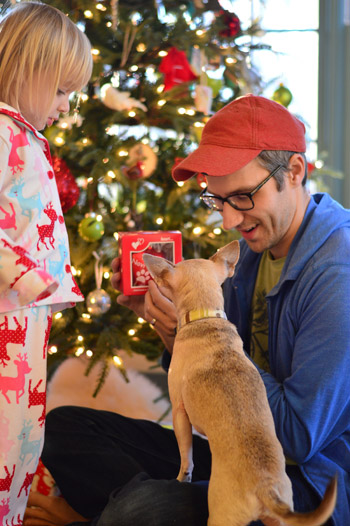 Sherry got me a fun soda-themed gift (she knows me well) complete with four unusual bottled sodas like chai cola, chocolate soda, and ginger cola.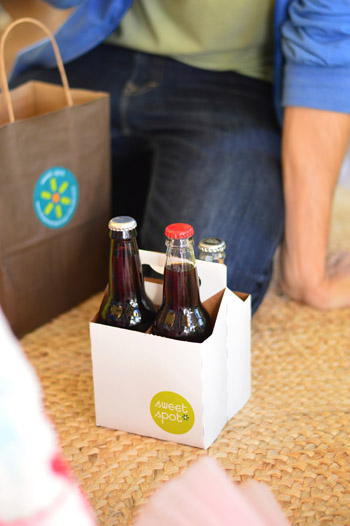 Here's my soda-tastic spread, which also included some themed candy as well (Bottlecaps are my favorite). I haven't tried all of the sodas yet, but so far the best was the "Dog Drool" one, which was actually orange lemon flavored.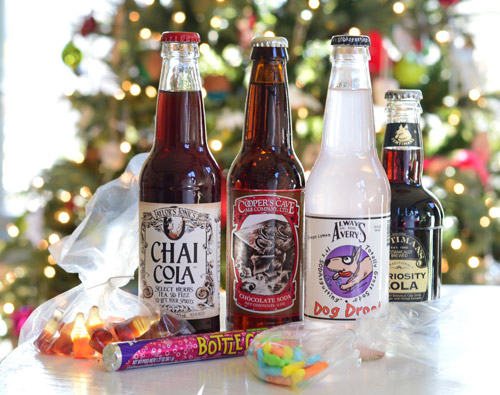 Sherry also got me this big pop-out reflector/screen that I had been eying to (hopefully) help boost my photography skills. I've seen how they come in handy to all of the pro photographers we've encountered in this job, and I finally figured it'd be worth having one around – you know, to help bounce/block/diffuse light. It collapses and has a few covers that zip on and off so I'm still getting the hang of it.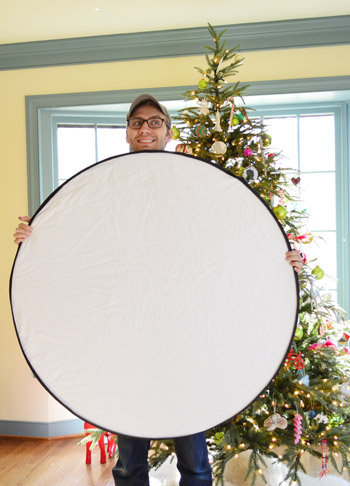 Since Sherry's love for white ceramics is undying, I got her this set of porcelain ornaments from Crate & Barrel.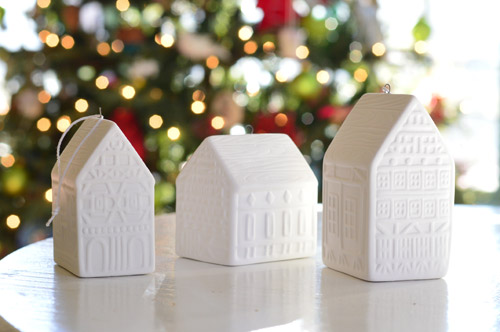 And since jewelry is a close second to her ceramic obsession, I plucked these two items from some strong hints that she dropped (Pinterest, and this gift round up). The arrow necklace is from Madewell and the love bracelet is from Anthropologie, which she liked because it reminded her of the "love" script on the cover of our book.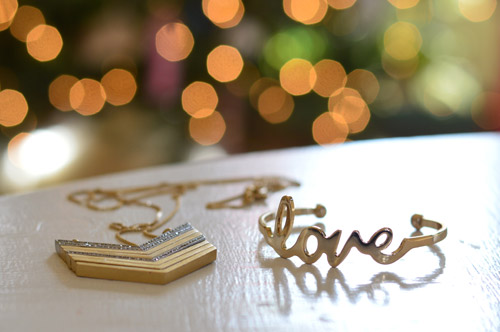 After all of our unwrapping was done on Christmas morning (and we downed some quick breakfast), we drove about 45 minutes west to meet up with the rest of my family at a nearby cabin we had rented for the night. You may have seen us Instagram a picture of it that afternoon.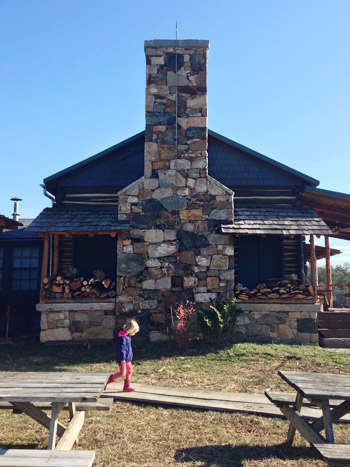 We only stayed for about 24 hours, but it was awesome! We took a ton of pictures so we're going to post a Cabin Crashing of it next week, but here's a sneak preview.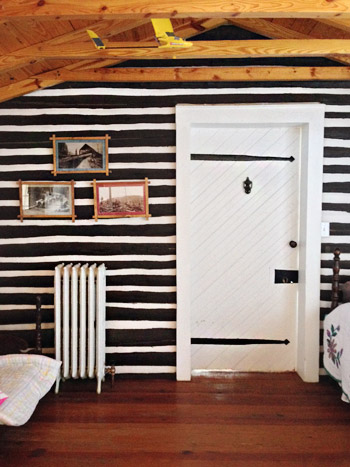 I think we're going to officially wrap-up the holiday season at our house this weekend – i.e. take down decorations and the tree. But we did snap a couple better-late-than-never seasonal pictures, since this will likely be the last time we can take a photo like this in front of the tree.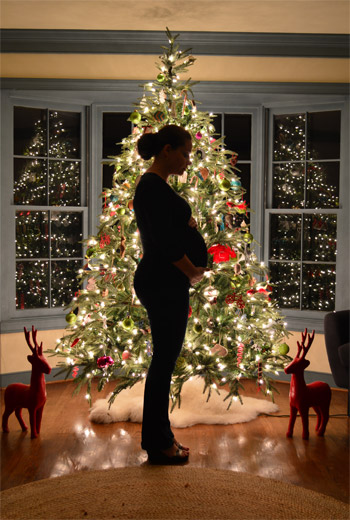 Kinda crazy to think that this was our last Christmas with just one little one (well, two including Burger – and about 30 if you count all of Sherry's ceramic animals). What's even crazier is that Clara stood still enough for this long of an exposure!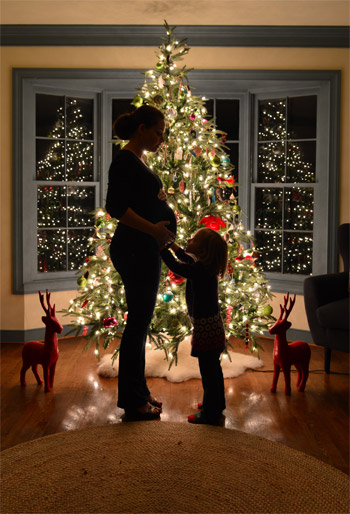 What did you guys wrap and unwrap this year? Do you do big gift exchanges with your other half, or just little fun things that you've been eying? Sherry and I like to keep it pretty low key, but we love hearing about giant surprises (were there any bows on any cars in any driveways?) and little thoughtful things alike.
**********************************
As a little Friday bonus, here are four fun projects, chats, or questions going on over on the Forums. We also announced this week's giveaway winner, so you can click here (and scroll down to the Rafflecopter box) to see if it's you.
| | | | | | | |
| --- | --- | --- | --- | --- | --- | --- |
| | | | | | | |
| by kschrav | | by TomRob | by Maria_OurLakeLife | | by afnhendrickx | |
&nbsp&nbsp&nbsp
More years than not we are working right down to the wire on Clara's homemade Christmas gift (as in, things are drying in the garage on Christmas Eve)  – and this year was no exception! But the fun part about sharing them the week after we give them to her is that we get to include cute photos of her enjoying them… which is definitely our favorite part to witness. Introducing Clara's new figurine cubby: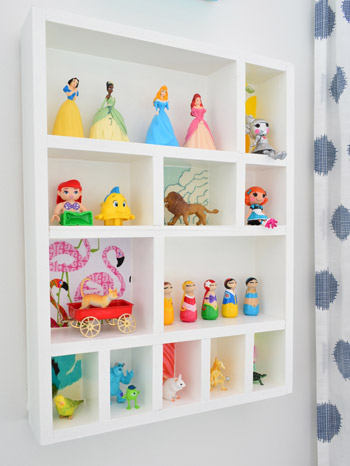 Girl loves it.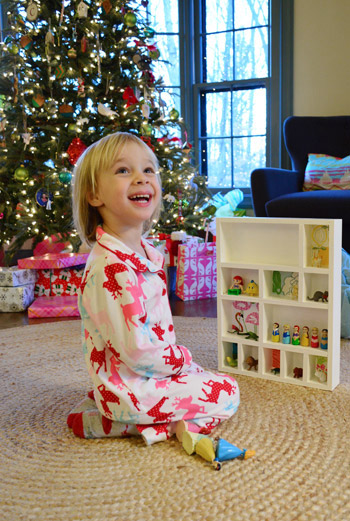 After racking our brain about what we could make her this year (a tool workshop? a fruit stand? a cardboard playhouse?) we decided that Clara still gets a lot of use from the larger things that we've already made her (like her play kitchen, her refrigerator, her dollhouse, and her train board – all of which are still out around the house). So we didn't want to build another large floor-space-using thing since we don't really have an obvious place to put it.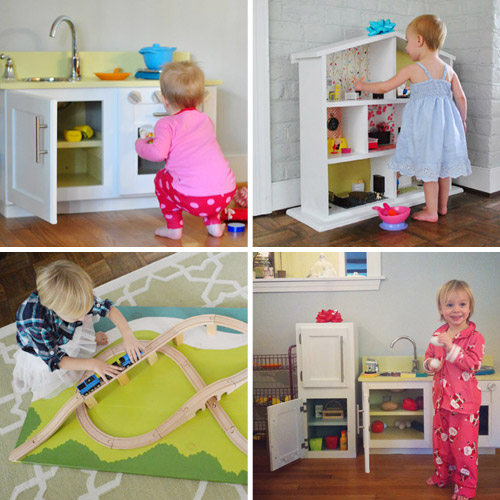 But there was a definite interest of hers that we knew we could address vertically (aka: on the wall). The girl loves little figures. Whether they're small animals, tiny winged fairies, lego people, or even random items like ninja turtles and plastic dragons, the bean has a serious passion for those tiny knick-knacks and toys (our bare feet on the other hand, are not a fan).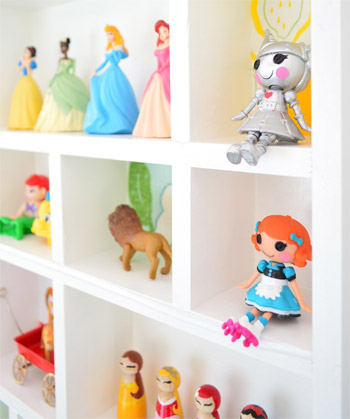 So we thought a wall-hanging box with a bunch of cubbies for her little friends would be a fun spot for her to house them – and we even decided to personalize it with fabric from her photo project that she picked out beforehand (not knowing what it would be for). That way she'd have a hand in "customizing" her Christmas surprise.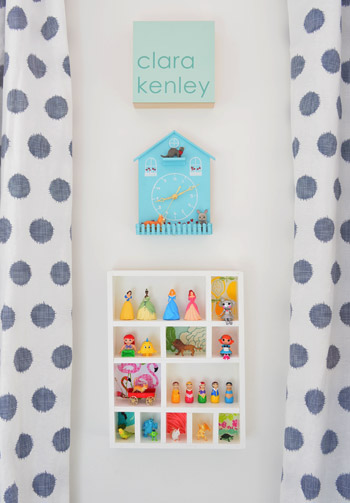 We chose this spot on her wall below her blue clock since she already loves putting figures on the small ledge of the clock (although only about three of them can fit). We thought a 13″ x 17″ sized box would fit best under there, so we started by sketching a few shelf configurations.
At first we considered doing a slew of cubbies that were the same size (like this charming figurine shelf) but we also wanted to accommodate different sized toys. In the end, we thought a variety of cubby sizes would work nicely since Clara likes to group some of her figurines (like all of her peg princesses) while keeping others apart (in her words: "silly mommy, birds don't play with dragons!"). So after landing on a final shelf plan, we started building.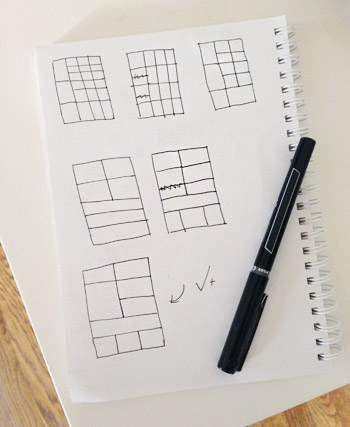 Once we had a rough sense of dimensions, we bought a bunch of 1/2″ thick craft boards from Home Depot (totaling around $20, including extra for bad cuts) and John cut the top, bottom, and side pieces along with a variety of divider pieces for the interior.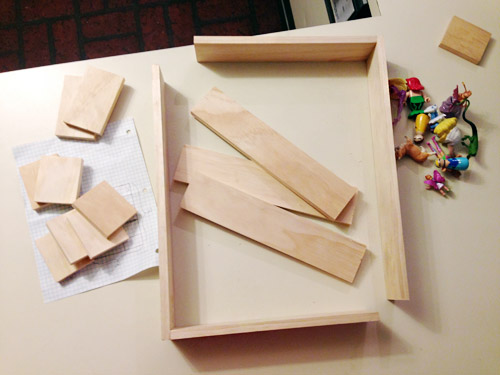 You can see in the picture above that the outer frame pieces are semi-attached already. We did that using wood glue and some 1/2″ brad nails. To try to get the corner all square John held it against the corner of a box when nailing (which also helped brace them together while using the nail gun).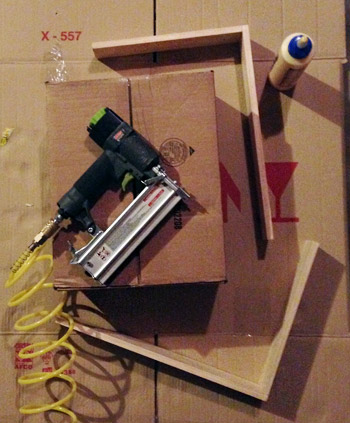 Before assembling anything else, we took a moment to bust out some toys from Clara's collection to double-check our plans. You know, to make sure the sizing and spacing made sense. Aaaand it didn't. Well, not totally. So we shifted things around a bit more and I ran into the garage and cut a few more pieces to make it work.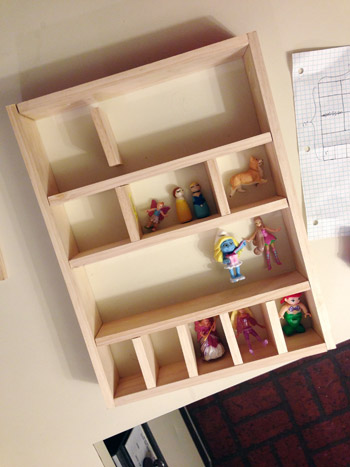 Once all the pieces were cut, we started building from the bottom up. Using a spacer that I had cut, we set the first row of vertical dividers in place with glue and nails (from the bottom). Then John put the first horizontal shelf on top and glue/nailed them from the top as well.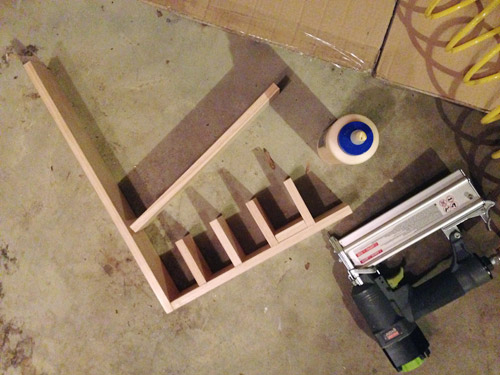 We let that dry overnight and then added the next row of shelving in the same way.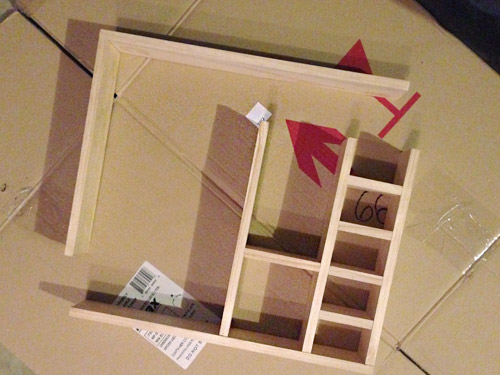 Once all of the insides had been attached, we finished off the frame by attaching the other L-shaped piece we had first constructed. Then John added a thin piece of leftover plywood as a back (cut to size on our table saw) with – you guessed it – glue and nails. It kinda felt like adding the cardboard back-pieces to Ikea bookcases.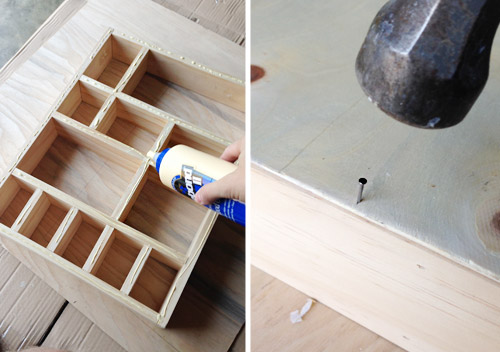 Then it was just one coat of primer and two coats of Simply White paint in semi-gloss (which in retrospect would've been easier to do before attaching the back piece).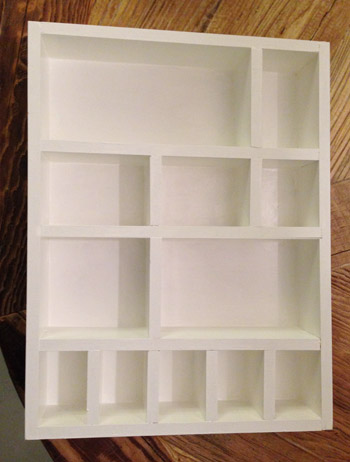 Once it was built, primed, and painted, it was onto the fun part. Asking Clara which fabrics she liked best. Turns out the girl is very decisive, and she landed on her favorite right away ("the one with the pink flamingos!") and also pretty quickly pointed to five others, while dismissing a bunch of options with a "nope" or a "next!"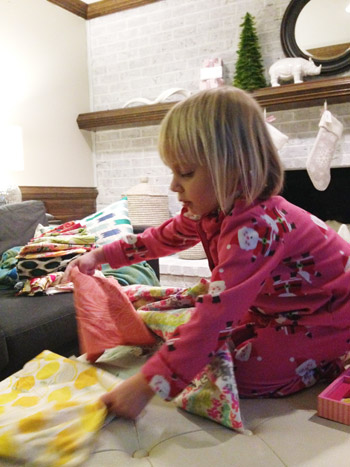 Then when she was all tucked into bed on Christmas Eve, I scurried to get the fabric in place. First by making little paper templates for the cubbies where I wanted to add fabric rectangles (I used them to cut the actual fabric nice and accurately). I didn't want to add fabric to all of the cubbies for fear that it would look too crazy, so again I drew inspiration from this figurine shelf and did about 50% of them, while leaving the other half white.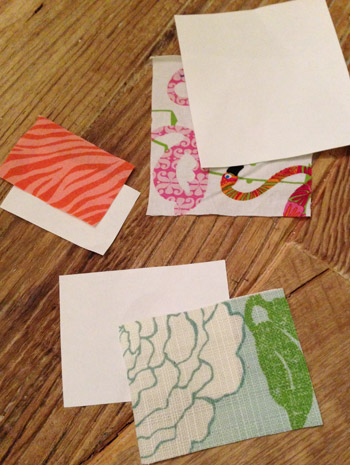 I considered using starch to adhere the fabric, but then thought "can't I just Mod Podge them?" A quick google search answered my question ("yes!") and since I already had that on hand, it was nice and fast (without any last minute craft store runs). I used a small craft brush to paint the back of the cubby with the Mod Podge (not the fabric itself) and then I carefully placed the fabric right against the Mod Podged shelf-back and pressed it all so it was wrinkle free and stuck nicely in place. Thirty minutes later it was 100% dry and completely secure. So simple.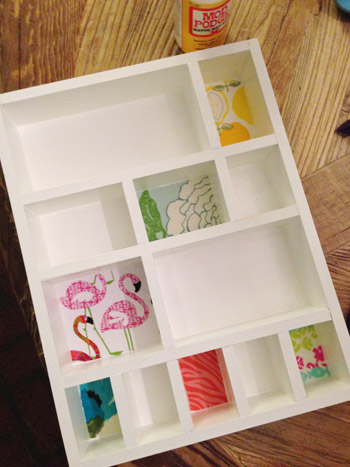 Clara was really excited to see her gift in the morning. Not only did she love that her little friends now have a place to call home, she also liked seeing the fabric that she remembered choosing the night before. I really do think kids get the biggest kick out of being a part of the process, especially in their room, so it was sweet to see her face light up and hear her say "You remembered my flamingos!"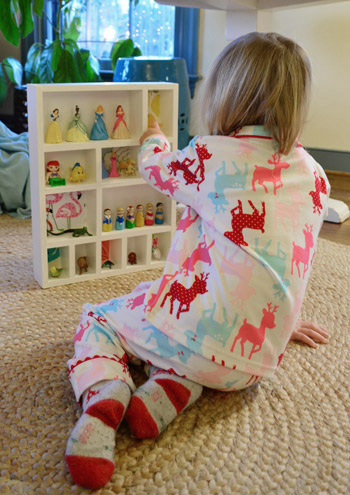 We weren't sure if she would actually play within the cubbies, or just use them as a home base for keeping things housed when she's not actively using them, but it turns out she likes to do both. She plays "apartment" with them in their cubbies (apparently Ariel doesn't mind sharing a room with a dragon) and she has also been pulling some (ok, all) of them out to play with them elsewhere, but has been awesome about bringing them back "home" when she's done.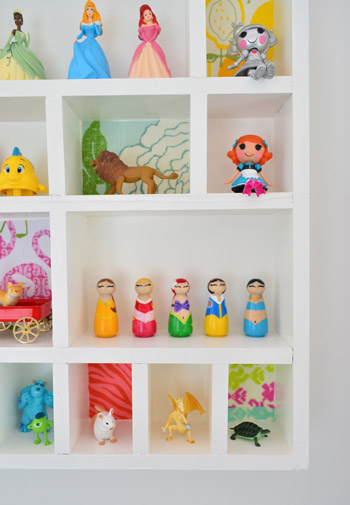 So that's what we built, painted, and fabric-a-fied for Clara this Christmas. Our total was $20 since all we purchased was the wood for this project, but if you don't already have things like wood glue, paint, or Mod Podge on hand it could run you around $5-20 more. Oh and to hang it we screwed two d-rings like this directly to the back of the cubby, and then hooked them over screws which we secured to the wall with anchors for a nice firm hold.
Did you guys make any homemade kid gifts? A few people have shared some amazing play kitchens with us in the last few days. Has it really been two years since we made Clara's? Crazytown.
&nbsp&nbsp&nbsp