Archive for November, 2013
Y'all ready for this? Yes that was a Jock Jams reference. And yes, I can still get down to that. Not sure about the video though…
Remember when the kitchen looked like this back when we first laid eyes on our house?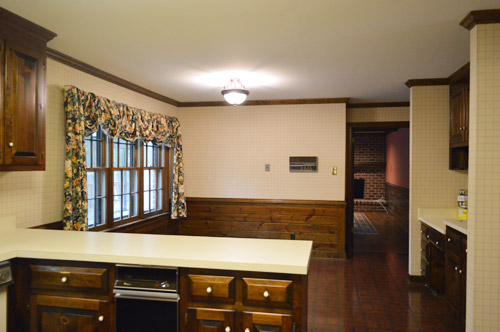 Whelp, now it looks like this…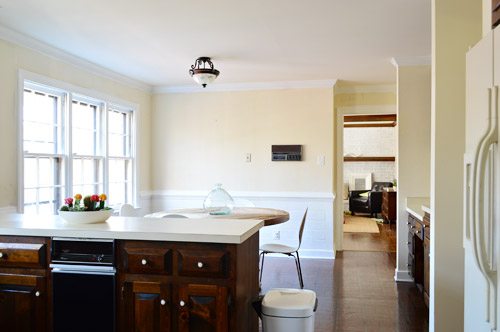 It's crazy how different certain angles look in person.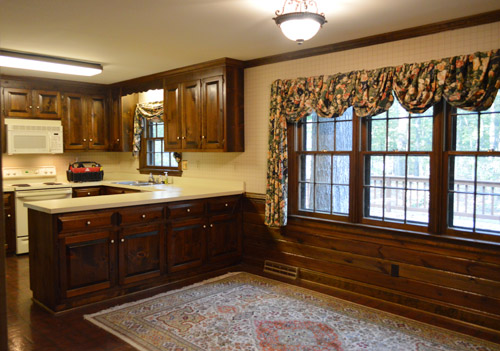 It's like walking into the room and wondering who added five extra lights. It's just so much brighter.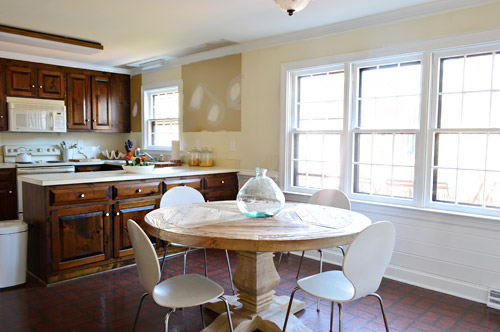 Yes, we dove headfirst into priming and painting the kitchen baseboards, crown molding, and window trim (52. freaking. panes.) and ended up just going all out and tackling the paneling and the doors to the pantry and the garage while we were at it. We have nothing against dark paneling, we just prefer the painted look for our house, especially after drooling over a few awesomely classic spaces that inspired us (like this one, this one, and this one).
I'm not going to lie – it was not an easy process. But it was SO WORTH IT. The room feels so much brighter and less heavy and we find ourselves actually looking out the windows now (when that trim was dark it stopped your eye, but now that it's white, suddenly the outside world is the thing that's emphasized, like a pretty little forest focal point).
One of my favorite new views is from the front door. Here's a shot we took during inspection (don't mind the chaos, there were a few old furniture items being moved out by a crew at the same time).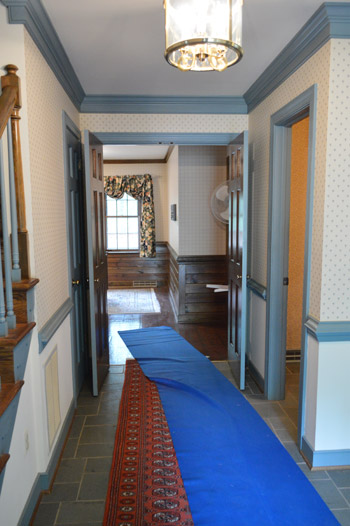 And here's a shot we took yesterday afternoon. Ignore all the beige… we're planning for some airy color on the kitchen walls to break things up (more details in this post). And the lower cabinets will end up nice and dark for contrast too. Eventually we also think we'll end up with big dark (heated) tiles on the floor too, so that should help to balance/ground things. White paneling + softly colored walls + dark floors + a rustic wood table sounds like a nice mix.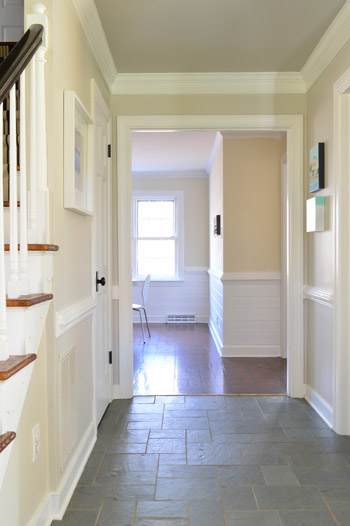 All told, it took two coats of primer followed by two coats of paint applied by hand. We decided only to use the sprayer to paint things we could remove and take outside (like cabinet doors/drawers when we get to that stage) since we've used it once inside (to paint all of the baseboards/trim/doors upstairs while the carpeting was ripped up) and we noticed a pretty decent amount of overspray.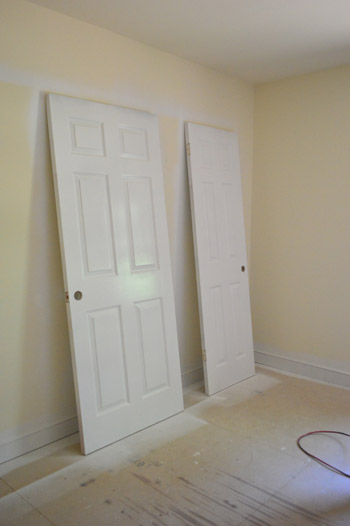 Based on that experience (and using it outside for things like painting the sunroom ceiling planks) we just think our type of sprayer is better for outdoor use unless we're working in truly gutted indoor spaces. We've seen other folks tape off the entire room and spray every last inch of woodwork, but this room has four different doorways to other spaces that we'd need to fully block off (any paint seepage onto the wood floors in the dining room or living room scared us greatly) and we worried it wouldn't save much time if it took us 10 hours to tape everything off anyway.
So John and I just chipped away at it over the past five days (Burger refused to lend a paw – that diva). Thankfully we found an awesome stainblocking primer that has no-VOCs but actually works so I could join in on the fun (some others gave us wood-bleed like you wouldn't believe, but this one was awesome). It's called Kilz Premium – just make sure you get the one with the label that says "no VOCs" and "stainblocking" since they have a bunch of different types. As for the paint, we're still using Simply White (in semi-gloss) which has been our choice for all the trim and doors upstairs and in other rooms that we've tackled downstairs (like the foyer and the half bathroom).
Gif time, baybay: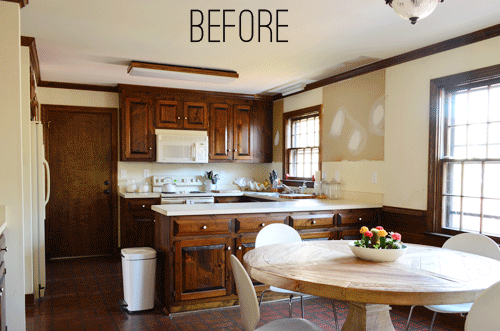 Two coats of the Kilz stuff followed by two coats of paint took us about 12 hours. The first coat is always the hardest (for some reason it just takes longer to get into all of those nooks and crannies and around all of those edges the first time, but your brush or roller seems to glide over them more easily as you go). So it was probably around 4 hours for the first coat and then 3 for the second coat and then 2.5 for the following two coats.
As for the application method, a regular old 2″ angled brush was what we both used to tag-team the trim as well as those window frames, and then we used a roller along with a brush on the paneling (a brush got into those crevices and then a roller could be passed over the fronts of each board to smooth them out). Here's an example of what I did with a brush, and then John rolled the flat parts so it all blended in. Update: If your trim or paneling is super shiny and lacquered we always recommend sanding and using a liquid deglosser before the priming step. In our case it was chalky and dry wood without a thick layer of sealer, so we went right to primer and paint, which held nicely.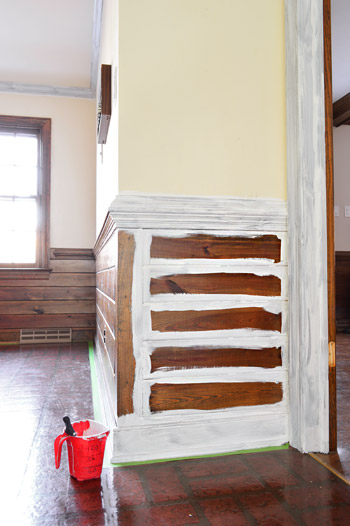 Now I'm like Jasmine rolling in there singing A whole neeeeeew world.*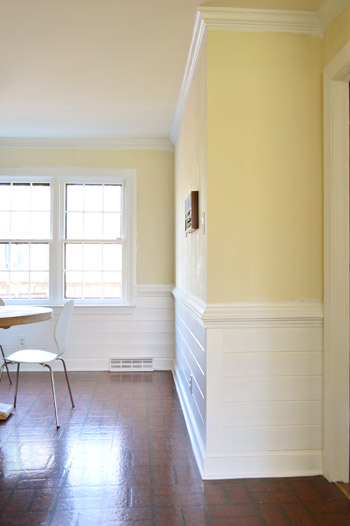 *And then I see the intercom and turn into Ariel belting out You want thingamabobs? I've got twenty.

This corner. Huuuge difference.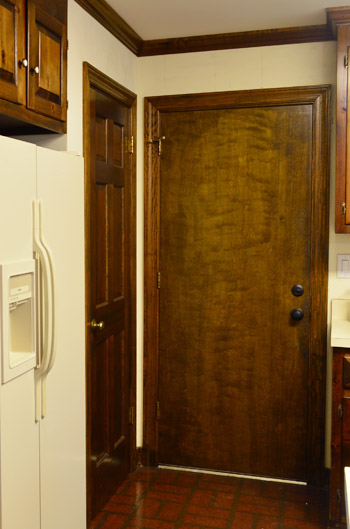 The door straight ahead leads out to the garage, and the one on the left is the pantry. Someday it would be awesome to have a paneled door that leads to the garage, but it's wider than the other doors in our house (and needs to be fire-safe) so we might have to order one or miraculously find it at the ReStore or something. For now the white paint is a welcome upgrade.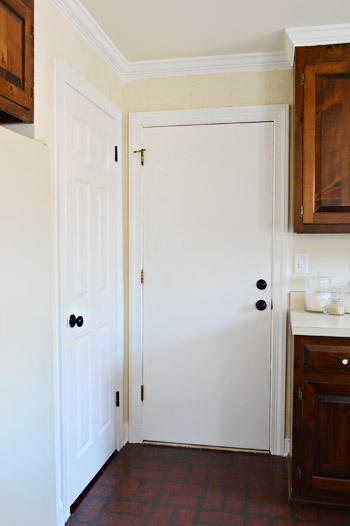 We didn't have to paint the pantry door since we had one upstairs in our storage room that we sprayed white back when we sprayed the other doors up there but had never rehung (it was the between our bathroom and sink nook, but it blocked things off so we're happier without it). As for the garage door, we could have removed it and sprayed it outside, but that would have meant an exterior door being off the hinges for a few days (drafty + not secure) so we just painted that one in place. Still need to replace those brass hinges though…
Oh and a quick tip for anyone tackling wood trim, paneling, or crown: it's not unusual to see all sorts of dark cracks that need to be caulked after you get some primer and paint going on. Something about dark wood tones hides those cracks and shadows, but then when it's painted they stand out. So our advice is to look for those after one or two coats of primer (you won't be able to see them before you apply anything, since they only pop out at you as the wood gets lighter) and then fill 'em with paintable caulk (we like paintable Dap window & door caulk in white). As long as you get 'er done before your final coat of paint, it should go over them for a nice seamless finish.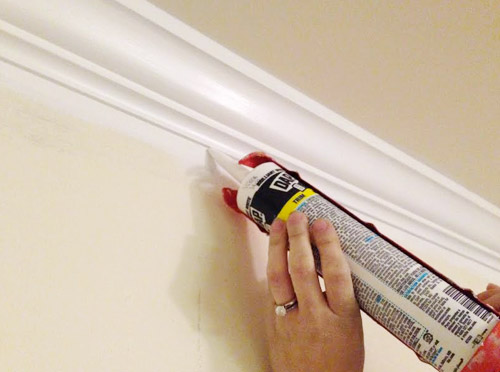 So now our to-do list in here looks a little something like this:
Remove wallpaper
Move fridge cabinet forward
Remove upper cabinets on window wall to prep for open shelves

Reinstall crown molding (you can read about how we did those first four things here)

Prime & paint the pantry and the door to the garage

Prime & paint the trim, crown molding, & baseboards
Prime & paint the paneling
Patch and paint the ceiling
Replace the florescent light in the cooking area and the pendant over the sink
Replace and center the light over the dining table
Paint the walls (you can read about the color we're leaning towards here)
Hang floating shelves on the window wall
Possibly craigslist the existing microwave and get a countertop one (the we can put in the pantry?) and add a cheap range hood (we've seen some like this for $20 on craigslist) to lighten up that wall?
Paint the cabinets (you can see the colors we're leaning towards here)
Update the old cabinet hinges and knobs
Get a rug for eat-in area? Possibly install peel and stick tiles everywhere?
Curtains for windows?
Psst – To read why we've chosen these steps for Phase 1 (for example, why we're painting the cabinets, why we're not going to attempt to paint the linoleum, and what's on the agenda for Phase 2) there's lots of background info in this post for ya.
There are still a lot of uncrossed items, but we're so excited about how far this room has come already! What were you guys up to this weekend?
&nbsp&nbsp&nbsp
Heads up: this post might be a bit of a smorgasbord. I think it's because life has been feeling kinda smorgasbordy lately (in a good way) and sometimes it's hard to organize life into tidy, tightly-themed blog posts when it's really all over the place behind the scenes…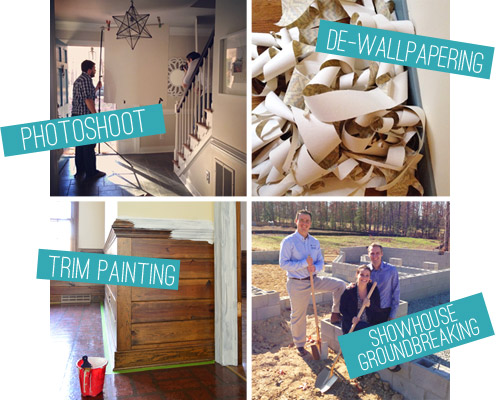 I say it's "in a good way" because we feel like we're really starting to gain momentum around a goal that we mentioned in this post of taking on more "off-campus" projects. In other words, projects that aren't centered solely around improving our own spaces and, in more than one case, are for a good cause. The Homearama Showhouse that we're doing for Habitat For Humanity, being the most obvious example of this so far (you can read more about that here and here).
But that's not the only exciting thing on our plates. We've also been invited to help with a very special project: decorating a family waiting room at the Children's Hospital of Richmond at VCU!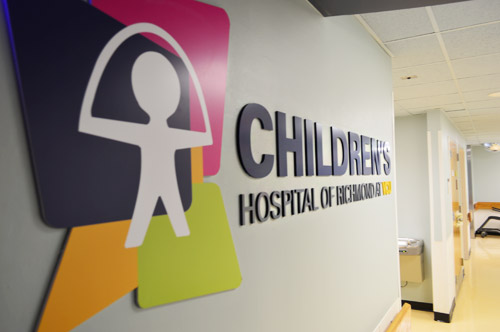 They contacted us in the hopes that we could volunteer our time to warm up the room so it's more cozy and homey year-round, as well as to add some festive touches for the holiday season. Not only did it sound like a fun project, it had such a deserving purpose that we couldn't wait to get started. For many of the children in the hospital's care, this is the space where their family will spend the holiday season. So as part of a "Spread Cheer" campaign, they've handed this entire room over to us. It's already turning out to be a really fun challenge (some things have to stay, some things can change, and of course there are safety/sanitary/maintenance concerns to take into account since it's a children's hospital).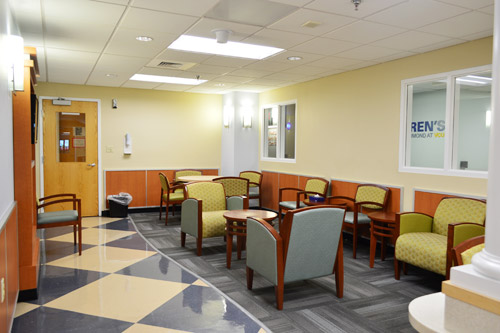 *One thing to note is that the kids have a playroom and an arts & crafts room along with other colorful spaces where they get to hang out, so this room really is for the entire family. The hospital staff asked for some playful touches that include children, but their overall vision is a soothing and homey room that makes everyone feel comfortable and calm.
Getting it done before the holidays is also part of the challenge, considering that we just had our first meeting last week – but we're getting a fast and furious education in the sensitivities of decorating in a space where not only function, but cleanliness, is paramount. Cozy touches like plush pillows or a basket full of toys are big no-nos because they're too tough to keep sanitized (things we don't think twice about in our own house are critical details in a medical environment).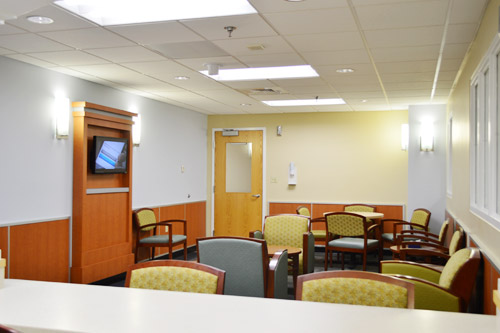 So here's a mood board that Sherry tossed together to share a few of our initial ideas with you guys (all of which will evolve as we go, most likely in hyper-speed since we have such a tight turnaround).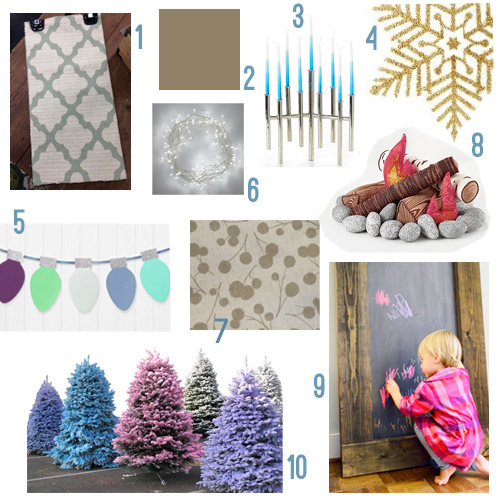 1.  We somehow convinced our friends at U-fab to help us cozy up the room by donating an armchair from their showroom so we can create a little story time corner – or maybe even a place for Santa to sit, should he choose to visit. The extra heavy upholstery weight fabric is super durable for high use, so it's great for a public space (although it looks white in this photo, it's really wheat & blue, and has held up well in their showroom for a while).
2. After going through a bunch of swatches for the walls, we landed on Gargoyle, which works well with the existing wood paneling (for maintenance purposes that has to stay & can't be painted).  The room's so well lit that we don't worry about going a little darker with the walls, in fact we're excited about the cozy-factor that a slightly deeper and warmer color will bring.
3. To represent all of the families who might be using this room, we've been asked to include a menorah as well as a Christmas tree. This candle one is awesome but for fire code reasons we can't go that route, so we're on the lookout for something electric or battery operated. Update: although Hanukkah is earlier this year, the hospital is planning to bring this decor out annually, so it's nice to have everything they'll need for future years from this initiative.
4. We'd love a flurry of snowflakes hung en masse in a strategic won't-be-in-the-way spot. They won't necessarily be gold, we just saw this and thought it was a good representation of that general idea.
5. We'll definitely be making some garlands. This one from paper source is great inspiration, but we're thinking of involving the kids so they can color things that we can then string together to make something really meaningful for them.
6. Three words: twinkle lights. Everywhere.
7. U-Fab has also kindly offered to donate some fabric and their time to make two custom valances for the windows in the room – again just to warm things up and make it feel more homey. Our usual floor-length curtain idea isn't allowed for a slew of safety/fire reasons, but after finding some cool roman-shade-looking-valance designs, we're really excited. And this fabric was the big winner (here's a link to the gray version).
8. This cute campfire is just here to represent the idea of a faux fire. There's a recessed rectangle under the built-in around the TV, and we thought temporarily inserting a piece of wood with a cozy little fire painted on it would be fun for the kids and families. We'll add some stockings on the mantel to complete the fireplace-like effect.
9. We want to adapt our leaning chalkboard project to create a large hanging one that will allow the kids and families to write holiday wishes and greetings. Can't you just picture it all filled up with kid doodles and holiday scribble? The hospital staff thinks the children will love something interactive like that, and chalk is preferred because it's easier to remove from upholstery than markers (and it's cheaper & easier to switch out regularly for sanitary reasons).
10. Last but not least, they've asked for a tree, and we really want to have fun with it. These guys are real (and it has to be faux for fire code reasons) but we're leaning towards something full of color that mimics this look. We want this room to feel calming, but we also want to inject a nice heaping dose of holiday cheer.
**************************************
The mood board represents around 50% of the stuff on our to-do list, so there will also be centerpieces, holiday tablecloths, DIY art, and a whole bunch of other things in the mix. Our goal is to have the room ready within the next 2-ish weeks… which, thanks to having Thanksgiving in there, means it's gonna be fast and furious around here. We're really looking forward to sharing the process with you guys. And most of all, we can't wait to see the faces of those deserving families who will be spending their holidays there. The hospital has planned to make a little video of the makeover and the kid and family reactions, so Sherry already has her tissues ready…
&nbsp&nbsp&nbsp