Archive for September, 2013
Holy cats, have we really been blogging for six years?!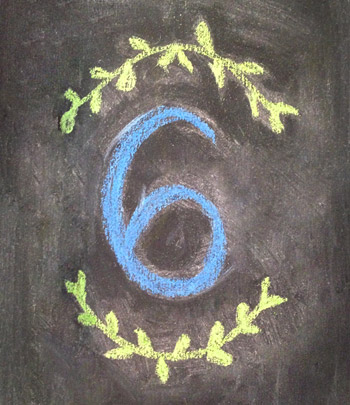 It feels like Blogiversary 5 just happened, and that it was mere months ago that it was 2007 and we were posting tiny pictures and writing a few sentences each night about whatever was going on under our roof. All of the years of this adventure have been exciting, but the last 12 months in particular have brought things we never could've expected when we started this site: a book that somehow landed on the best-seller list, a lighting collection that we designed right here in Richmond with a local company, a short film on Oprah (what?!), and probably the most exciting thing of all to us… a new house in a neighborhood that we've dreamed about living in for longer than we've even been blogging.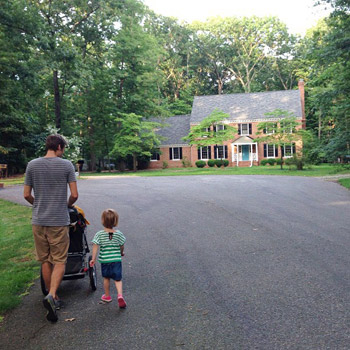 For our sixth blogiversary, we wanted to start things off with a twenty piece orchestra to serenade you while you eat your Toaster Strudel and scroll through this post, but the logistics were a little tricky. So we decided to go for the next best thing: a week of blogiversary fanfare and behind the scenes banter (just like we've done for the past few years here, here, here, and here). And the festivities start right now. Here are a few of the things that we have on tap for this week:
a day in the life post full of pictures & details about an average day for us (just keep scrolling for this one!)
an awesome giveaway that just happens to involve plane tickets
a mathy medley of pie charts and blog stats about how we spend our time, where our money comes from (and where it goes), along with a few pretty intense facts & figures (some of which even surprised us)
a Q&A video full of answers to tons of personal questions that you guys submitted via Facebook
a behind-the-scenes post about our recent Oprah stint (there's a pretty funny story about how that day started out…) along with a clip for you guys
a post about a side gig that didn't work out (you win some, ya lose some, so we thought sharing something that didn't work would be a fun pulling-back-the-curtain moment)
a chance for you guys to tell us about yourselves, which John can't wait to spin into an infographic-tastic recap for everyone
So on with the show! Some of our favorite blogiversary posts to look back on are our "Day In The Life" rundowns, since it's fun to look back at what times were like in previous years – especially to see how our surroundings and our family has changed (click there to read the ones from 2012, 2011, 2010, & 2009).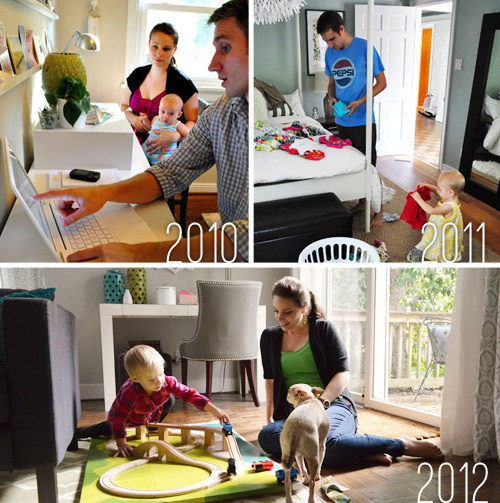 But documenting yourself all day can make an already long day that much longer (ex: setting up the tripod to capture laundry folding), so this year we instituted an iPhone pic-only policy so that our day would be less filled with camera set-ups and more, well, like a real day in our lives. So forgive the crummy quality of some of the pics. That's real life, yo.
6:15AM: John's up. Today he goes for a run around the neighborhood, but some days it's the gym (and some days it's just staying in bed). Once back, there's even a little bit of time to respond to a few emails before us girls wake-up.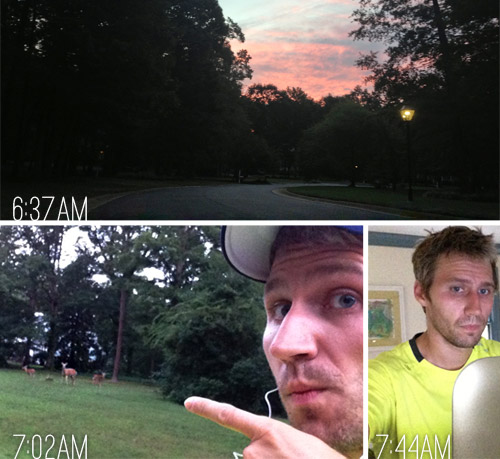 7:45AM: Clara's awake and she and John start the day slow with some playing in her room (they made a Lego dragon). I'm out of the shower and getting dressed, and Burger gets out of bed, but only for a second for a potty break. Then it's back up to bed for him.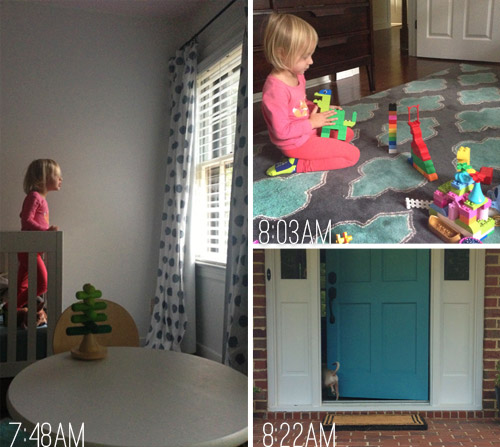 8:30AM: Everyone's downstairs. Breakfast is eaten in various places, including Clara's morning cup of yogurt while she takes in some Jake and the Neverland Pirates after some magnet-doll playing with me. I get a jump on reading, approving, and answering comments that collected overnight while John squeezes in a shower & a shave.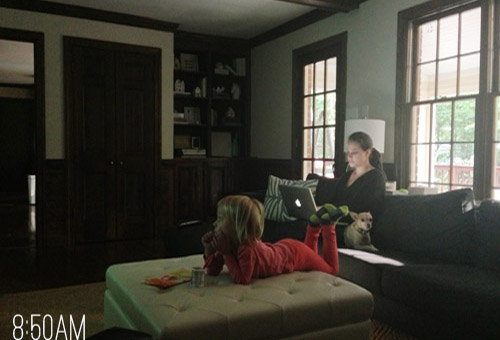 9:00AM: Running a bit behind schedule for school, I get Clara dressed quickly while John tosses her snack into her school bag. John and Clara are off just in time for the 15-20 minute drive to preschool (depending on lights). I hang back to proofread and double-check that morning's post before it needs to go up at ten – making sure links work, all the images are in, and doing some last minute tweaks.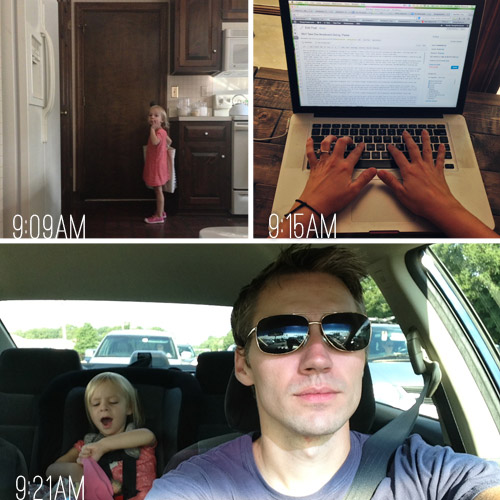 9:45AM: Clara's dropped off at preschool so John runs a couple of errands on the way home, namely stopping at the grocery store to replenish the fridge. I steal a few minutes to respond to emails before hitting publish on the post at 10.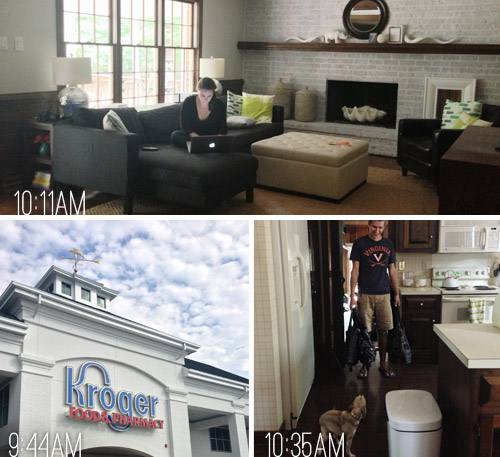 10:30AM: John's home from the grocery store and I'm busy doing comments on the morning post. Once the food is put away, John takes advantage of the quiet house to focus on some computer work: backing up photos, responding to emails, and starting to select and size pictures for a post later in the week. I take some last minute photos for an upcoming post since the sun finally decided to come out and then I do some emailing about the showhouse before starting on a post for the next day.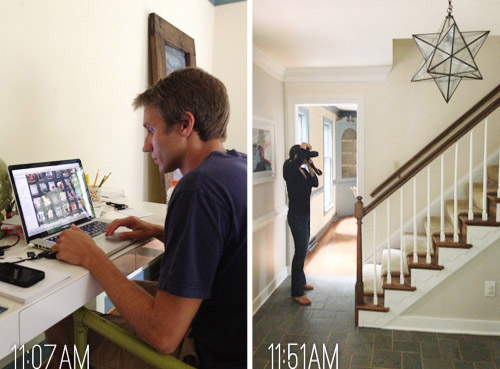 NOON: Time to pick-up Clara at school. Since we've got a meeting right afterwards, we both head out. Once Clara's picked up at 12:30, we swing by Jason's Deli to grab a quick lunch before of our 1:30 meeting.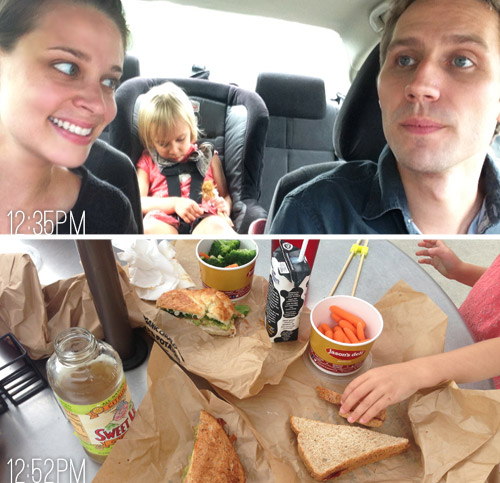 1:00PM: Back in the car to make the 30 minute drive to our appointment, which is photographing the Massey Street of Dreams for the quadruple House Crashing post we shared last week. This is already starting to feel like one of those days where we live in the car.
2:15PM: John's photographing the homes while I gather info from our guide, Justin. I also steal away to publish the afternoon post from my phone at one point. Justin's 10-year-old daughter was there so Clara spent most of the time playing with her new friend, although they eventually both ended up resting since we were close to Clara's nap time, and Justin's daughter was under the weather (hence not being in school and tagging along with us).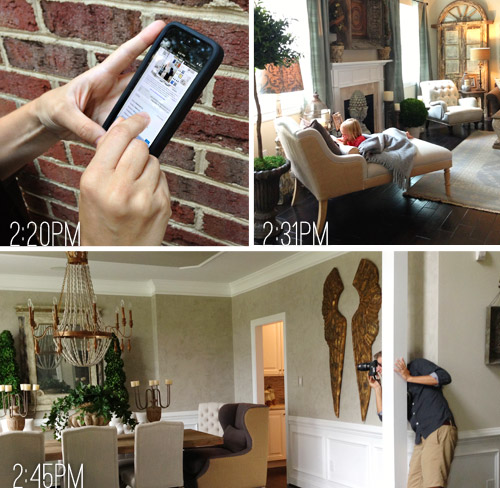 3:00PM: We leave the Street of Dreams to make the 40 minute drive home. I use the car ride to catch up on the comments that built up while we were touring. Clara reads a book in the backseat and John checks in with her periodically to make sure she hasn't fallen asleep. Can't lose a real nap at home by letting her drift off for ten minutes in the car!
3:45PM: We're home and Clara is down for a nap. This is usually prime project doing-time, but I have a phone interview in a few minutes related to the Super Soul Sunday clip, and a showhouse call with the builder and his team afterwards. John gets changed into work clothes so he can caulk the sunroom's trim & nail holes while I juggle two phone calls, a few emails, and attempt to finish the post I started earlier that day.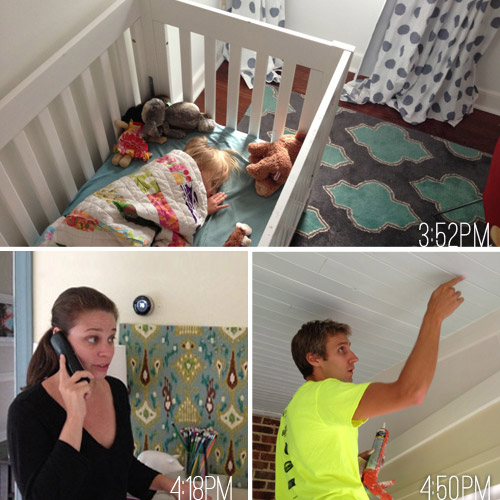 5:30PM: Clara's up from her nap, so I go up there to grab her and we play in her room for a little while.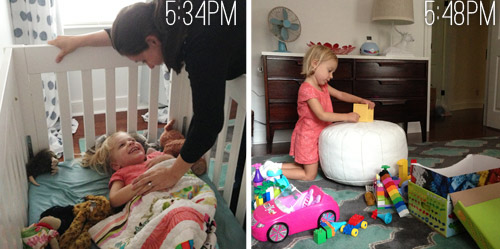 6:00PM: Family walk time! We don't get one of these every night, but this weather is too gorgeous to skip one today. We talk about Clara's school day, the upcoming posts we're both writing, and what projects we each hope to get done the next day.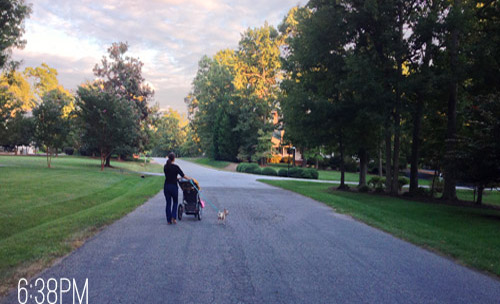 6:45PM: Home from our walk and time for dinner. Tonight's a family favorite – chicken squares (update: here's the recipe). Clara puts her mixing skills to work with me while I check in on comments again and finally finish the post I've been working on sporadically throughout the day. The thing about sharing 7 posts in a 5 day period is that we're always working on finishing some that are already written, writing new ones, and answering questions for the ones that are already up.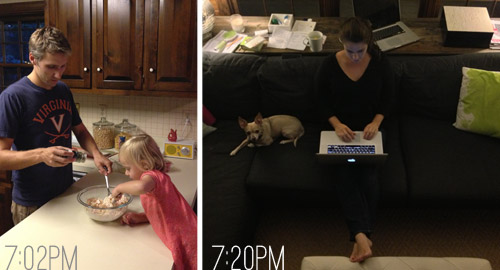 7:30PM: Dinner is ready so we sit down to eat together. Clara gets her tomatoes and veggies down with minimal encouragement and even eats half of a chicken square. I clean up after dinner while John tackles a few emails that have built up throughout the day. Then Clara and I snuggle on the couch for a few minutes, finishing up the episode of Jake and the Neverland Pirates that she started before school.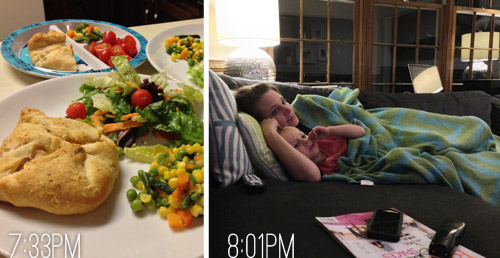 8:15PM: Bedtime for Clara. She votes for a different mix of helpers each night, but tonight it's Mommy on teeth brushing and PJ changing duty while Daddy is in charge of reading the story.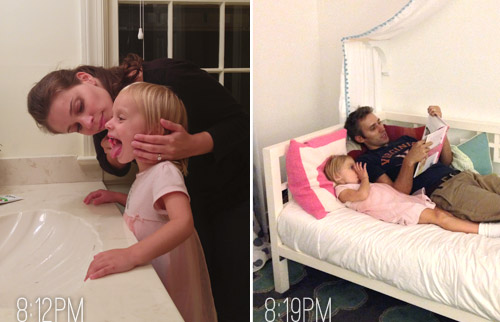 8:30PM: With Clara tucked in bed, it's time to squeeze in a few more hours of productivity before we stow our laptops for the night. John finishes the post he prepped pictures for earlier in the day while I catch up on any questions that came up on Facebook or Instagram during the day along with sending some book outline stuff to our publisher (yes, we're officially working on Book Two! Ahh!). Eventually the TV gets turned on and we're sort of half watching as we finish up some last minute emails, comments, and miscellaneous computer work. We can't believe other than John's sunroom caulking, we haven't done much DIY at all, which means tomorrow will probably be a project-heavy evening (after Clara's all tucked into bed) to make up for it.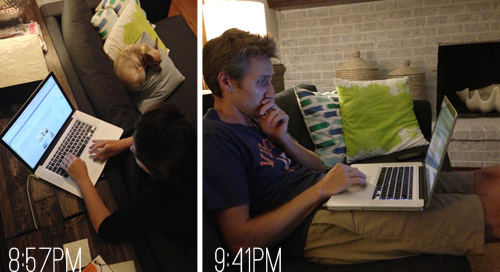 10:00PM: To resist the urge to keep working, we clean up and turn the lights off downstairs, put our computers away, and head up to watch TV in bed. Our current routine is trying to catch up on old Scandal episodes on Netflix (John's 70% into it and I'm about 120% into it thanks to his sister getting me addicted).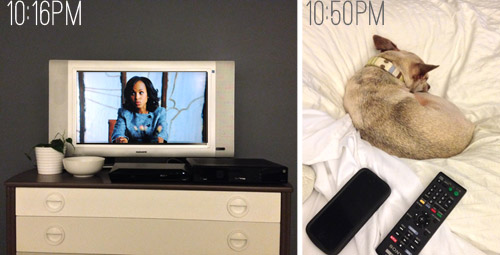 11:30PM: John has already fallen asleep a couple of times mid-Olivia-Pope tirade, so the TV goes off once that episode is over. With teeth brushed and contacts out, John has a second wind and reads a few pages of a book while I decompress with some Pinterest browsing on my cell phone along with some late-night texting with Katie Bower and Roo. Burger finally comes under the covers to snuggle between us, and the lights are out by midnight.
&nbsp&nbsp&nbsp
Q: Now that you're in your third house, I'm sure there are things you've learned about budgeting, decorating, house hunting, etc. having been through the process a few times now. Would you ever consider writing a post about what your first and second house taught you? -Alison
A: Sure we'd consider it. In fact, here it is! Like anything in life, you hope your previous experiences will help make you smarter about your next one. And I think having our first home influenced the selection and design of our second and now the same thing is happening again – plus we now have the extra benefit of comparing the first two. We talked in this post already about how stylistically (well, at least color palette-ly) we'll probably land somewhere between our light & beachy first house and the bold & colorful second house. But beyond that, there are some other influences that those first two places had on the selection and continued evolution of this place. Here's a sampling of them in no particular order: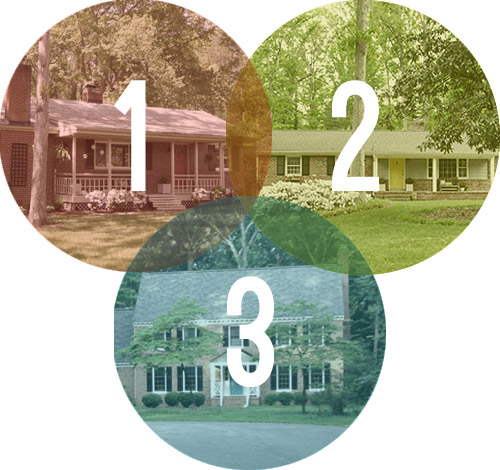 We want to splurge less than we did in the first house, but more than the second. In hindsight (which always seems to be 20/20) we feel like we may have overspent in the first house and underspent in the second one (we spent around 35K on improvements to our first house and around 15K on improvements to our second house). A great example of this is to compare our two kitchen remodels. The first one cost us around $17,000 because we splurged on materials (granite counters, custom cabinets) and labor (the only thing we DIYed was painting – so we even had pros gut the room and hang cabinets for us back then). Our second house's kitchen reno came in under 7K (including all new appliances) because we tightened our belts in both areas, like painting the existing cabinets and doing all of the labor ourselves, except for electrical and counter installation.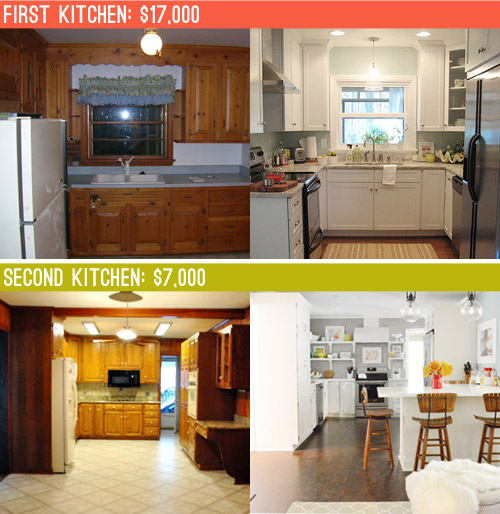 We're happy with the end products of both, but realize our modestly-sized first house probably didn't need a $17,000 kitchen and our second one probably could've been taken up a notch now that we're looking back (at the time of course we were clutching our wallets and trying not to spare an extra penny if we didn't have to). I, for one, wish we had gone with new cabinets in our second kitchen because while the paint made them look updated, they didn't necessarily feel new in our day-to-day life (they didn't feel like new cabinets when you opened them, we couldn't configure them to have hidden hinges like modern cabinetry, etc). So for this third kitchen we plan to save on labor whenever we can like we did for our second kitchen, but put more of our savings into higher end finishes whenever we can – especially because we plan to be here for the long haul.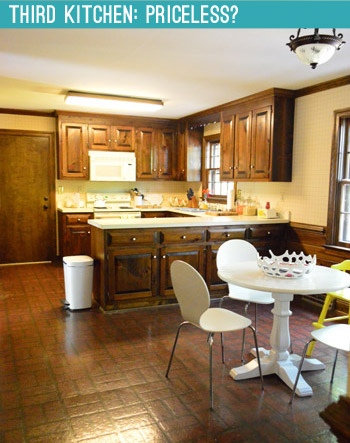 We wanted to bring some of the cozy back. The main motivation for moving from our first to our second house was the need for more space. I had just started working from home and Clara was fresh out of the oven, so 1,290 square feet and only one full bathroom was suddenly feeling very cramped – especially with so many relatives and friends staying with us to visit Clara. So we nearly doubled our square footage with our second house, thanks in large part to the big living room addition in the back. One surprising result was that after 2.5 years there we missed the coziness of our first living room (aka "the den"), which is why we were so drawn to the living room in this house, which reminds us of that space. Our current house is nearly the exact same square footage as our last one, it's just more evenly divvied up across all of the rooms rather than having one football-stadium-sized living space. So it feels like we have the best of both worlds here: 2.5 bathrooms so we're not all fighting to use one, but a cozy living room and slightly larger bedrooms (since every bedroom other than the master in our first and second house were pretty modestly sized).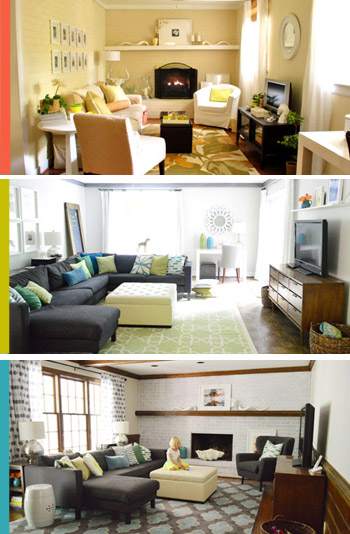 We want openness too, but where it counts. I realize "openness" is kind of opposite of coziness, but an airy feeling and a nice easy flow is still something that we want out of this house – just like we did in our last two. In our first house we tried to let the rooms breathe a bit by widening a few doorways and painting almost all of the spaces in a light and cohesive color palette. And in our second house we took out a big wall to connect the kitchen and dining room.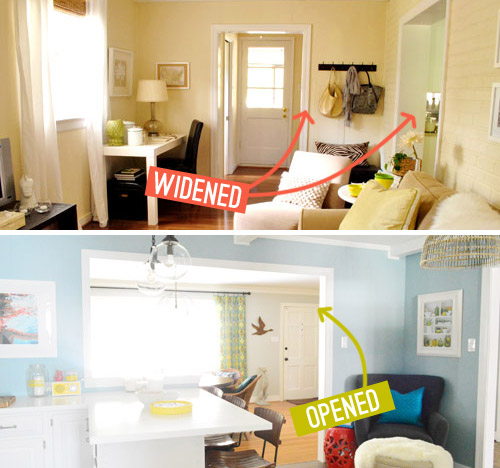 But one thing we've yet to achieve in either house is openness between the kitchen and living room, which has always been something that appeals to us. Coincidentally, both of our previous living rooms (well, the den in the first house) were additions to the original structure, meaning they were separated from the kitchen by an exterior brick wall… a wall that could only be opened so much since it was load bearing to the max. But not this time around. The only thing that stands in our way is a wet bar and a bookshelf (okay, and the associated plumbing) so we're excited to finally connect the two most used spaces in our home like so many model homes and house crashings that we've admired like this one, this one and this one.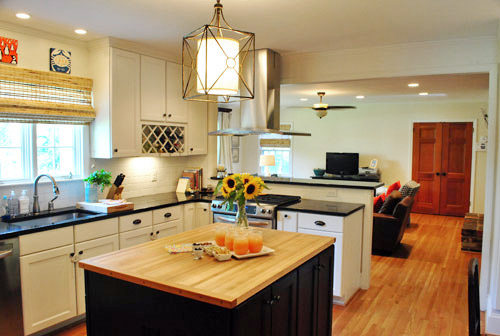 We made floors a top priority. By the time we'd left our first house, every inch of floor was new – from having new hardwoods installed in the kitchen/living/laundry to getting the rest of the house's old oak flooring refinished. It was a pain having to shuffle all of our furniture around to make that all possible (evidence pictured below), but it was well worth it in the end. Yet for various reasons we never got around to doing it in our second house, and it's probably our #1 regret of that house. Somewhere between having more furniture to get out of the way and working on our book behind the scenes while trying not to displace Clara for too long it just never happened. So that's why we jumped on redoing the floors upstairs and polishing them downstairs right away here. We're not completely done with all of our flooring updates (hello faux brick linoleum in the kitchen) but we're glad we dealt with all of our hardwoods right off the bat.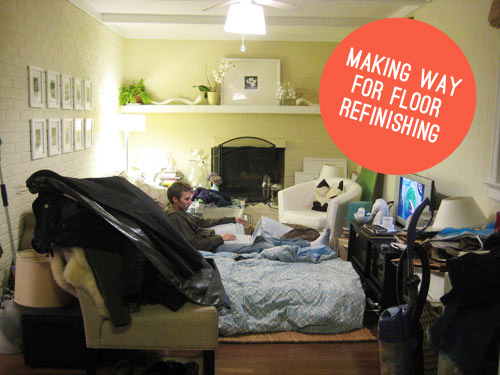 We wanted to get outside easily. This may sound silly, but convenient access to our outdoor areas was a must for us. All four of us (Burger included) like being outside, but in the last two houses we were never quite able to incorporate our outdoor areas into our daily routine as much as we wanted. For instance, cookouts were inconvenient because getting from kitchen to grill involved a trip through one or two other rooms in both houses. So when we saw the big deck off the back of this house we saw lots of potential – especially once we convert our big bay of windows in the kitchen to doors (you still have to go through the living room to get out there now). Plus, having it all on the same level as our first floor (rather than down some steps like our last two patios) has already made it a more natural extension of our indoor living spaces. We've never been outside as much as we were this summer. I think we could star in a series called Deck Dynasty.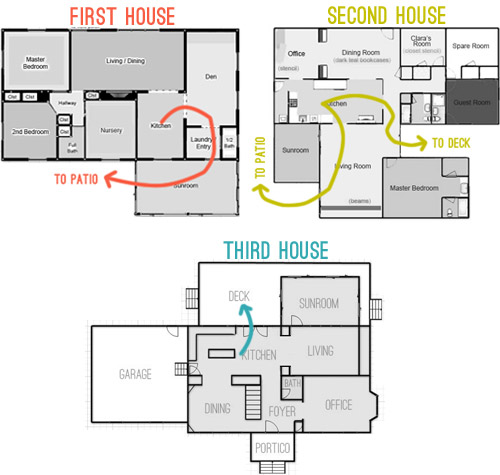 Patience is paramount. Our previous experiences as homeowners have also taught us to be comfortable with transformations not happening overnight. We very wrongly assumed that we'd be done painting our entire first house along with fully renovating the kitchen in the first three months of home ownership. We were off by… oh, about four years. And at first we were really frustrated and disappointed by how long it was taking and how not-instant most of the transformations were. But by our second house we'd learned (and learned to love) that homes take years to evolve and come together. Especially the good ones full of thought and heart and meaningful touches. There's actually a lot of excitement and freedom in letting go of the idea that a house should be done within a few months or even within a few years. So in this house we hope to continue enjoying the journey and having fun living in a full-of-potential-but-not-at-all-finished home. Not only do we enjoy planning and saving our pennies for updates, we also like thinking things through and taking the time to do things right – especially because we plan to be here forever and a day.
I'm sure there are other things we've learned along the way (maybe even subconsciously) but I figure these are a good start. Now what about you guys? How have your previous living experiences (everything from renting or living with roommates to living at home with the rents or traveling abroad) informed the way you're living now – or what you're looking for in a future home?
**********************************
As a little Friday bonus, here are four fun projects, chats, or questions going on over on the Forums. We also announced this week's giveaway winners, so you can click here (and scroll down to the Rafflecopter box) to see if it's you.
| | | | | | | |
| --- | --- | --- | --- | --- | --- | --- |
| | | | | | | |
| by PrettyOrganized | | by curvyfurniture | | by crabandfishblog | | by karazzies |
&nbsp&nbsp&nbsp