Archive for August, 2013
First of all, who remembers this? Better yet, who owned one?
Now that we got that out of the way, it's been way too long since our last Save It post (like this one, this one, this one, this one, this one, and this one to name a few), so the other night I was thinking about a few things that we just don't buy, and how going without those things probably adds up to saving a decent amount of cash-money. And it doesn't feel particularly martyr-ish of us – it's normal and easy after years of living this way. So it feels less like "going without" and more like "streamlining and simplifying." We've mentioned a few of these things over the years, but I realized there were others that I never really thought about (or blogged about) so here's a big ol' brain dump of all the things that we typically skip.
Meat three or four nights a week: Some nights we just opt for spaghetti, bean burritos, vegetable stir fry, homemade pizza, nachos, sweet potatoes and salad, etc.
Fabric softener: We use vinegar sometimes, but most times it's just nothing. We don't notice a difference!
Dusting spray: We both grew up with Pledge, but now we just use microfiber cloths and water.
Regular dry cleaning: All of our clothes are machine or hand washable so we only do one trip per year for a few coats/blazers instead of monthly trips.
Dog grooming: Burger's short haired, so we just bathe him at home and cut his nails ourselves and we're good.
Newspaper: We get our news online (almost every newspaper has an online format now) and on the radio (NPR).
Bottled water: We have a water filter and use Klean Kanteens that we refill ourselves.
Starbucks: In the past year or so I've become a chai lover – and it's $3.99 to make seven cups from this grocery store box, as opposed to that price for one cup at Starbucks. So I save that for special occasions and make a cup at home every morning instead.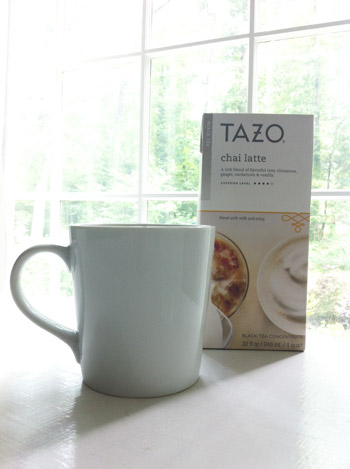 Gel, hairspray, mousse, or serum: I haven't bought that stuff since college. I'm just a wash and wear girl – plus I tend to break out a lot from hair stuff, so this is for vanity as well as saving money.
Lipstick: It's not my bag baby, so I use what's in this makeup tote and nothing more (not buying 20 shades of eye shadow definitely keeps money in my pocket too).
Creams and self tanners:  I'm pale and totally cool with it – plus my mom looks awesome for her age and doesn't use any fancy potions or creams, so I'm hoping to follow in her glamorous grandma footsteps.
Perfume: I like the smell of my shampoo (John doesn't wear cologne either).
Haircuts & colors: Maybe once every two years I get a $35 cut, but other than that I just trim it myself. And of course cutting John's hair saves us money too.
Regular manicures and pedicures: I go about once a year with a friend (and usually hit up Starbucks while I'm splurging) but other than that I do my own toes at home and usually leave my fingers bare.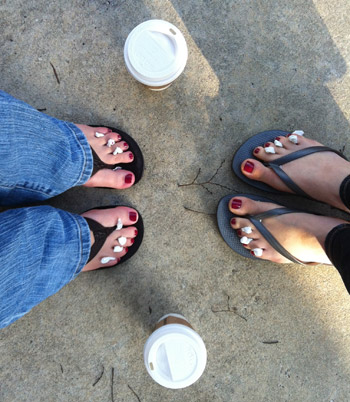 Gym membership for me: It's just not my thing, but John loves his.
Alcohol: John has just never been a drinker and I might drink a bottle of wine a year at home (although most years it's a gift from some sweet house guest) so it's not a monthly expense for us.
Disposable diapers: More on that here.
Diaper bag: I never got one, just used a purse and kept extra stuff in the car.
Incandescent bulbs: Using CFLs and LEDs in the bulk of our fixtures adds up to a lot of money saved. We'd love to eventually go all LED in our house, but it's not exactly a cheap switch, so we're trying to chip away at different rooms over time.
A second car: This one definitely doesn't works for everyone, but since I've been freelancing from home for the past seven years it's no big deal to have one car (and it saves us the cost of a car, the gas, the maintenance, and the insurance).
Bag-checking fees: Even when we've flown with a dog or a kid, we've actually never paid to check a single bag (we're nerds for the challenge of packing light).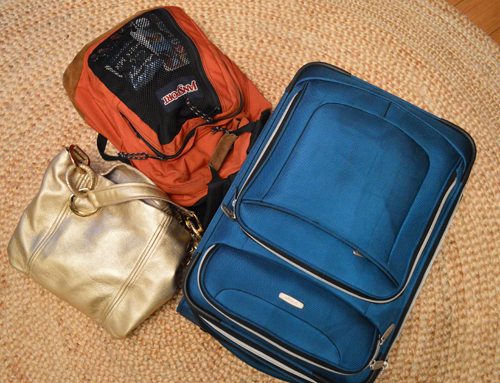 Best of all, saving in some areas allows us to more easily afford other things that are more important to our family, like project materials, organic produce, cable TV, and ceramic animals. Guess it's all one big balancing act right? I'd love to hear your "skip it" list! And this is a no judgement zone. You might LOVE to get your hair dyed but can resist giant dangly earrings when I can't (I may or may not have over a dozen of those in my night table).
Psst- You can peruse over 30 money-saving posts of yore here.

&nbsp&nbsp&nbsp
Yup, it happened. Whitewash in the hizzy!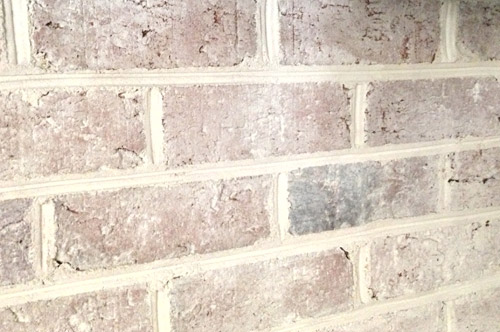 After reading a bunch of whitewashing tutorials (like this one and this one) I decided to just dive right in. We're not too crazy about the raw look of orangey-brown brick indoors, so we've straight up painted it in our last two houses (we LOVE the look of painted brick)… but after seeing a few whitewashed brick walls over on Pinterest we decided to give that a spin this time. We figured if we didn't like it we could always just paint over it. We've even talked about adding white stacked stone or something else to the brick fireplace wall down the line, so it felt like one of those "nothing to lose" projects.
Happily, we really like it! The room is far from done, and it might not be a forever thing (we're still in love with the idea of stacked stone like this down the line) but for a day of work and a total cost of zero bucks (we just used leftover paint and rags that we had around) we're really pleased with the outcome.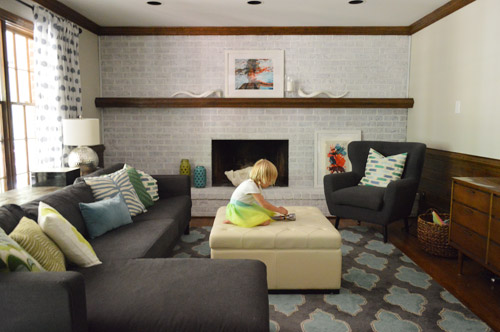 So here's how I knocked it out. First, I wiped down the brick to make sure there weren't cobwebs and old soot all over it – just a good once over with an old rag did the trick.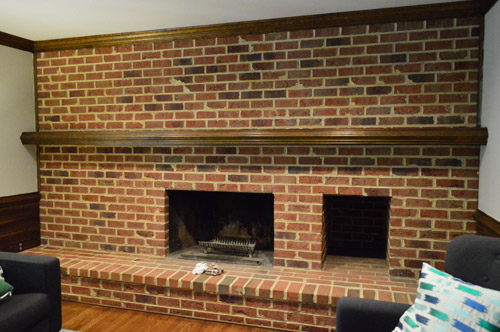 Then I mixed up a mixture of one part water and one part paint (I used Simply White by Benjamin Moore in an eggshell finish since we used that in our half bathroom and had some leftover). The consistency was pretty drippy and watery. Imagine taking a gallon of paint and pouring out half of it and refilling that half with water. I used a brush to "wash" it on, brick by brick. I moved quickly and sort of smeared it onto each brick with the brush, and then dabbed over it with a rag – just to remove any excess and absorb any drips (since it was so runny those popped up from time to time).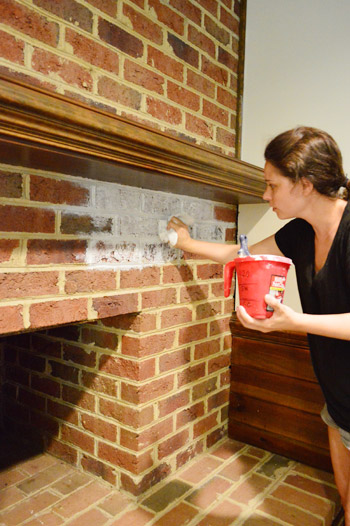 The dabbing took more arm strength than the washing-with-the-brush step, and I tried to work as fast as I could – just because I had heard that it could go pretty quickly and I couldn't wait to step back and survey a larger area to see how it looked.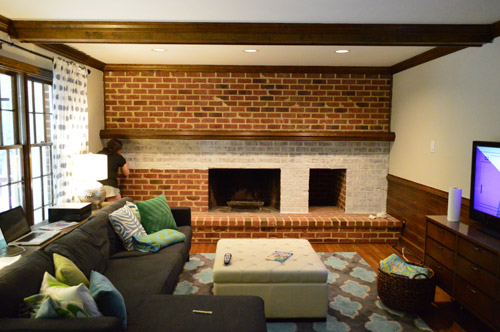 Here's a quick video of the process for ya:
The bricks soak up the wash pretty quickly. When you first run your brush over them it seems like you've straight up painted them white, and then you dab and then glance again a few seconds later a bunch has soaked up and a lot of the brick's coloring comes oozing through.
I did the entire part above the hearth so I could stand on that while painting and then moved to the bottom of the fireplace wall. At this point I realized I was about to get drippy paint-water all over our wood floors so I took a second to tape off the floor with rosin paper from Home Depot (it's waterproof, which is nice because I didn't have to worry about any drips soaking through to the floor).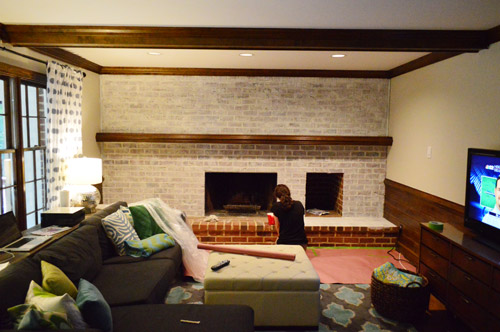 It probably took me about two hours to do the first wash, and then I stepped back and was faced with the question that I'd read about on a few other blogs: should I leave it or do another pass? I decided that in person too much dark red and brown was still showing through in a few areas (it's harder to tell in these photos) so I mixed up an even waterier second wash (about a third paint and two thirds water) and then went over the wall again – just to add a bit more haze.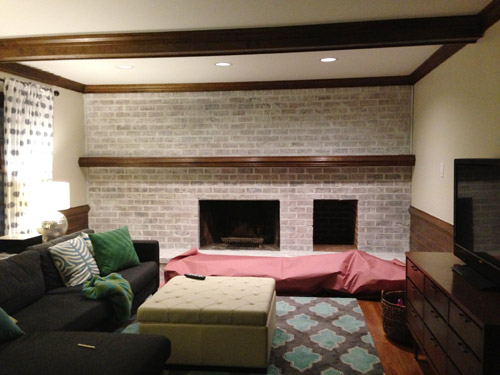 That coat was much faster (maybe an hour, tops). After that second pass I was really happy with it. The room no longer felt as dark and cavernous, but the brick still had a lot of texture and detail in person (this photo makes it a bit harder to see than in person, unfortunately). The nice thing is that, unlike a painted brick wall, there are still variations in color and a more matte/rough look. I love the weathered effect that it gives without feeling too "faux finished" or "Medieval Times" (not that I didn't love that place as a kid).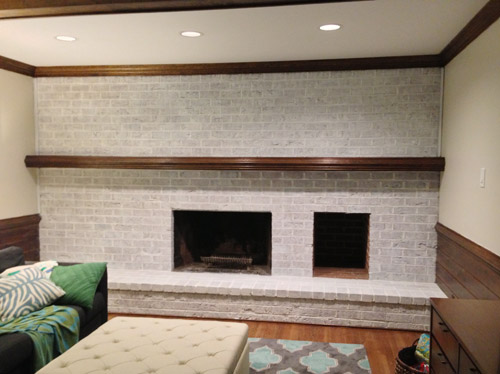 From afar the wall looks sort of chalky and textured and varied – as opposed to glossy and super white (which would have been the result if we had just painted it instead of washing it). When you get closer you see more of the pretty details of each brick. Some are a bit lighter. Some are darker. Some are craggier. It's a nice mix.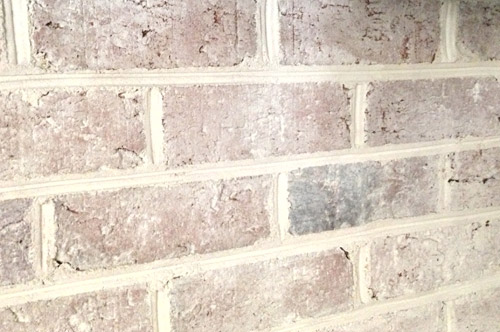 I have no idea why the camera can't capture the details of those bricks in the same way when you step back (in person from the doorway to the room they look a lot less painted and a lot more whitewashed). Maybe if I had waited for a sunnier day and used my tripod it might have had more light to pick up those details. I'll have to give that a try.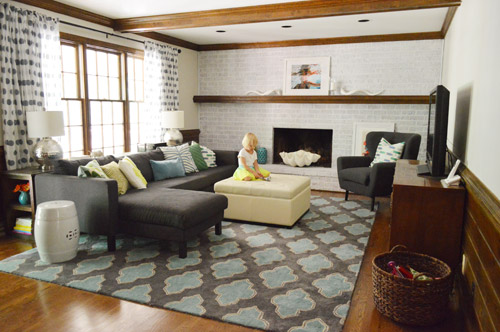 Either way, I'm glad the room is looking decidedly less salmon these days.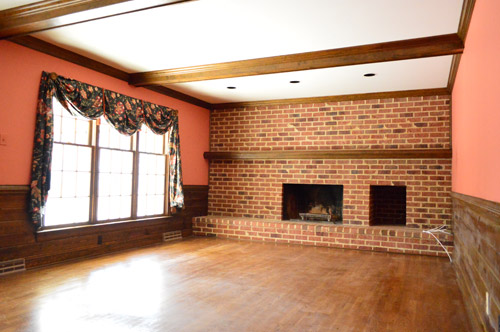 The room's definitely still in that awkward "half-done" stage right now, but we're slowly getting there. As you can guess, now I'm itching to paint the mantel, the slatted wood walls, and the dark wood trim bright white (since the room is a soft tan tone, we think that will look really crisp and bring a lightness to this room that gets less sun thanks to the sunroom veranda behind it). We're even thinking about adding some color to the back of the built-ins on the other side of the room as well as some soft color on the ceiling once we hopefully turn those beams into a coffered ceiling down the line. So there should be more lightening and then some more color-layering down the line.
Some folks have asked if we've considered leaving the wood as-is, and the answer is that we definitely didn't want to rush into anything. After living with it for months now we're still leaning towards painting it because painted wainscoting and trim just seems to be the look that we prefer (many rooms that we pin/tear out of magazines have that detail). But I always say never to paint brick or wood unless you're 100% sure you want to go with that since it's so hard to undo! Basically wait until you can't stand waiting another second to paint it and only then should you grab a brush.
&nbsp&nbsp&nbsp