Archive for August, 2013
As exciting as it was to remove the sliding glass doors from our sunroom, it left a very unexciting task (by comparison) next on our list.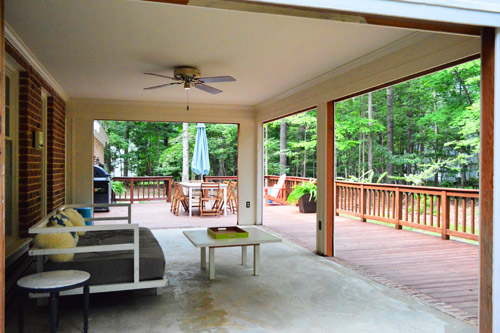 Removing all of the metal door frames left lots of exposed raw wood along the edges of each opening. Not only did it look unpolished, but it was recipe for rot (that recipe being rain water + raw wood = rot). So we jumped on this to-do right away.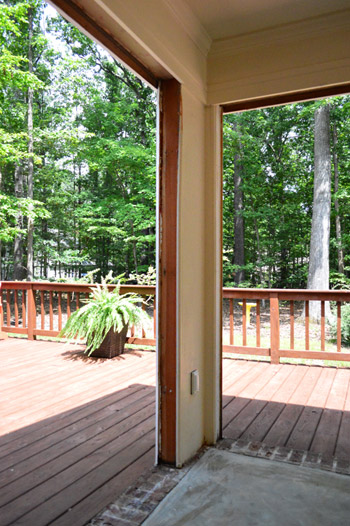 When we got our house painted, this room had a lot of rot repair on the outside so we're hyper-vigilant to the issue right now. So instead of filling those areas with wood, I splurged on PVC (i.e. plastic) since it holds up better to moisture. It was about $5 more per piece, but I figured it was worth knowing that it would last for decades without any rot. I did save about $25 by buying the pre-primed wood for the tops of the door openings (since they won't likely come in direct contact with standing water).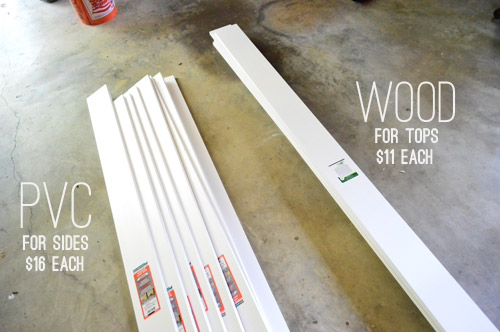 Each of my boards measured 1″ x 6″ x 8′, which was just a smidge too wide for the gaps that I was filling. So in addition to cutting them a bit shorter, I had to rip a little off the sides using my table saw. Once I set my guide to the right measurement it made for pretty easy work.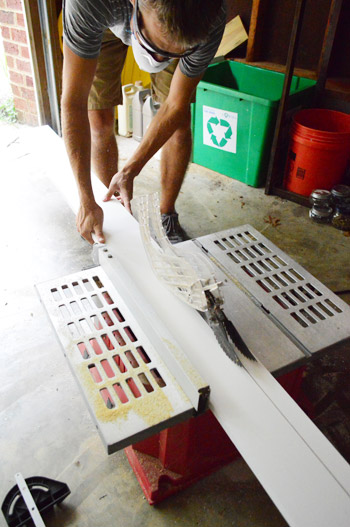 Once everything was cut, I put some construction adhesive on the back of my board and the nail gunned it into place. It had been a while since I had a date with my nail gun, so it felt good to be back in the saddle. I made super handsome faces like this.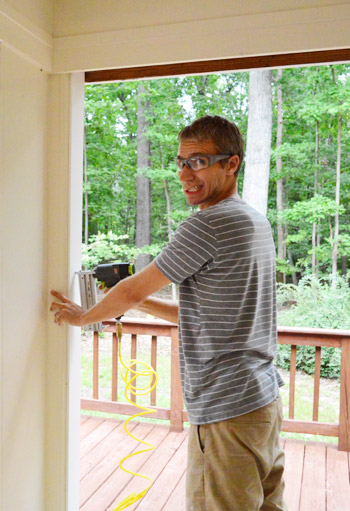 For the ceiling boards I also reinforced the hold with a few screws. I just didn't totally trust adhesive + nails to keep it from falling on our heads at some point.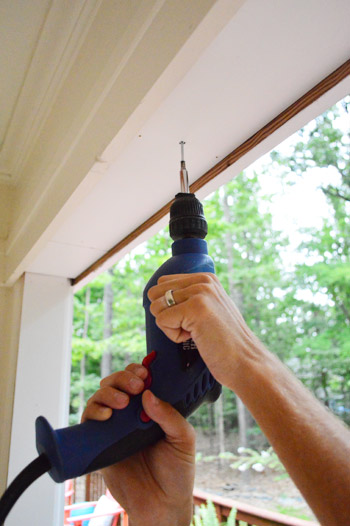 Installing the boards took me a couple of hours, only to be followed by an equally fun few hours of caulking. #YOLO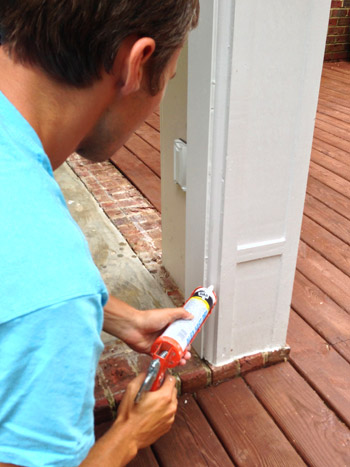 Our main mission was to caulk the gaps around the new boards (just say no to moisture creeping in there!) but we took the opportunity to fill any other cracks or gaps that we saw around the room. In addition to its rot-prevention benefits, this step also made the new frames look more finished.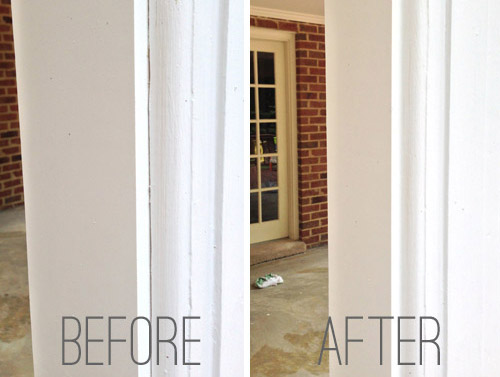 When it came to caulking the bottoms, I learned from a similar experience on our last home's porch makeover that I should use clear (not white) silicone caulk here. When caulking against brick it's nearly impossible to get a straight looking line because the caulk gets smushed into the ragged surface of the brick. So clear caulk allows us to still seal things tightly, while the straight edge of the board still acts as the visual edge. Obviously it looks lumpy here since I didn't smooth it with my finger yet, but once you do that it's pretty clean looking.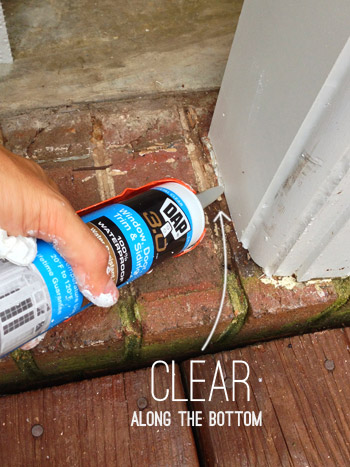 I know, I know, riveting stuff. But at least it made the room look a little less unfinished.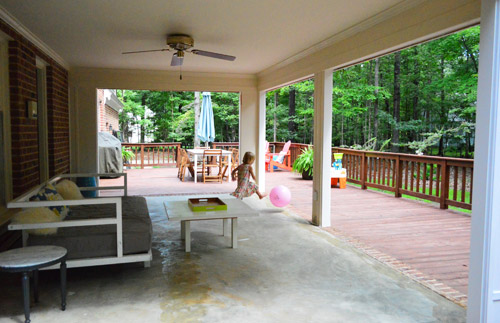 And as you can see, someone is enjoying the new open space quite thoroughly.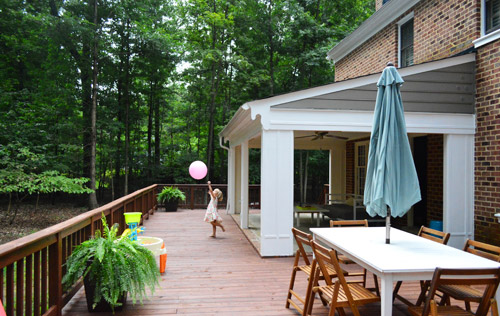 We still need to paint the inside of the room (right now it's cream, while the outside is white) but before we broke out our paintbrushes, we couldn't keep ourselves from breaking into the ceiling…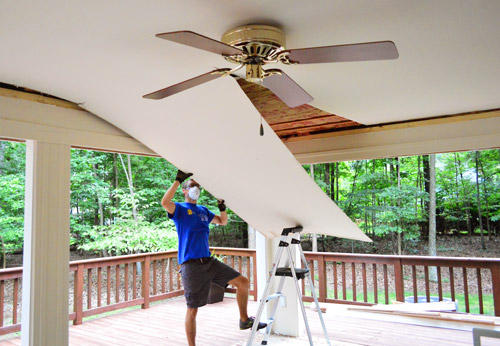 More on that once we finish poking around in there. Here's hoping we can actually loft this baby!
&nbsp&nbsp&nbsp
Clara has had her play kitchen for over a year and a half and she still plays with it nearly everyday, which is practically a toy miracle considering how quickly other items are dismissed. So play kitchens have a special place in our hearts. And this one is extra special because, well, Casey and Phil had a ton of fun making their own – and brought lots of new ideas to the table. They don't have a blog, but they outlined their process here for you guys:
Much like you guys, my husband Phil and I decided to build our daughter Zoey a play kitchen for Christmas. I sketched it out to mimic our kitchen cabinets, and I knew she'd love a pretty realistic looking stove in a fun color. Luckily my husband is a fantastic carpenter, so we built the whole thing from scratch using scrap lumber from from our whole-house renovation and butcher block left over from our previous house's kitchen renovation.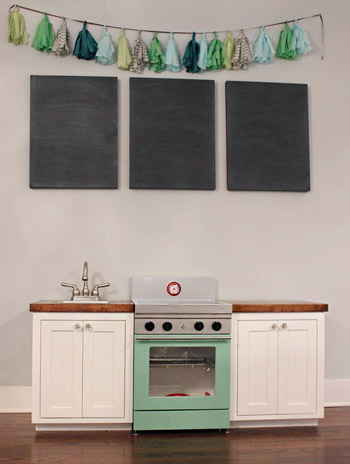 All said and done we spent an embarrassing amount of time on this, but I think the end result was worth all the work!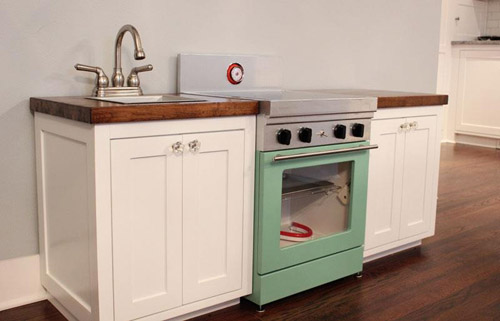 The cabinet building was pretty straightforward- we built basic cabinet boxes, added the face frames, then added the extra paneled detail on the sides. Phil build the doors separately and we attached them after everything was painted. The stove was a little (okay, a lot) trickier. We build it in 2 major parts- the lower half (the painted part) is all one unit, and the upper half (the stainless part) is the other half.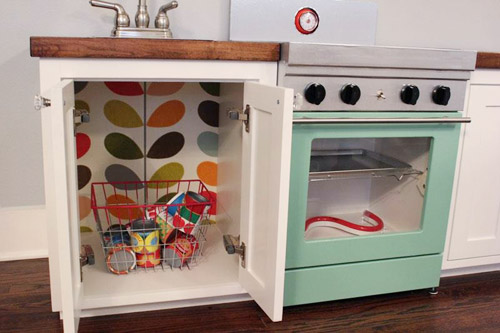 Phil loved the idea of dimmable "burners" so that was definitely our biggest expense in the whole project – but he was right that it takes the whole thing to the next level. Zoey loves them! For the top half we sandwiched the LED lighting in between 2 layers of wood to hold it in place. We used a 6″ hole saw to create the 2 openings where the coiled LED lighting shines through. We wrapped the top part in stainless contact paper, covered the lighting with a piece of tinted plexiglass, then we put the whole thing on top of the lower half.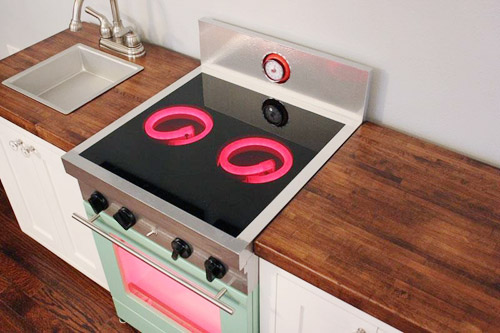 And I know people love a good resource list, so here's where we got things:

Hope you enjoy! -Casey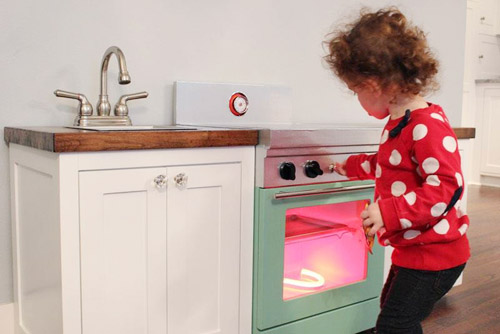 Isn't it awesome? Zoey is one lucky kid to have such resourceful and creative parents who have so much fun building things for her. Thanks for sharing your creation with us, Casey and Phil!
&nbsp&nbsp&nbsp