Archive for August, 2013
As is the tradition, each year we like to take a video camera and walk around the house to capture what's been done outside (and what's still desperately waiting to be tackled – which is almost everything at our new house). You can see last year's here, and the one from 2011 here. And by "we take a video camera" I mean "John takes a video camera" because I've been banned from holding any sort of recording device since I tend to Blair Witch everyone (yup, it's a verb when I do it).
Enough jibber jabber. Let's walk around the house together:
Hopefully that little video answers the "what's going on outside?" questions from you guys and gives you a better lay of the land. As for our outdoor plans, there are a bunch of them listed here (they're not at all fleshed out, but we'll research/plan/think through each one as we get to it).
And since a not-actually-to-scale lot sketch has also become a tradition of ours, here's one of those for our new house: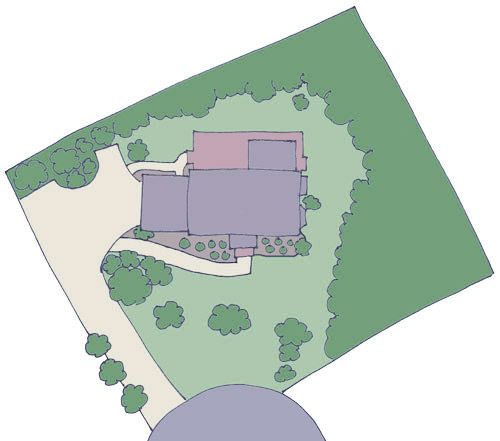 The funny thing about our new house is definitely how the lot is oriented (since we're on the end of a cul-de-sac, we describe our land sort of like a baseball diamond) but it's also pretty amusing to us that all three of our houses have had really similar lot sizes. They've all been "almost an acre" – but our first lot was long and skinny…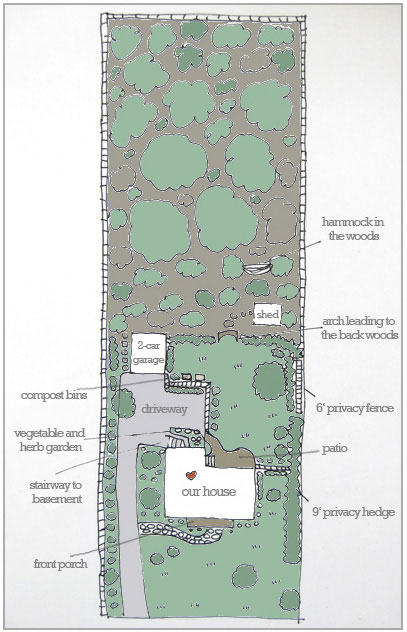 … while the second one was sort of square-ish (this one's really not to scale since the house looks as big as a Target shopping center).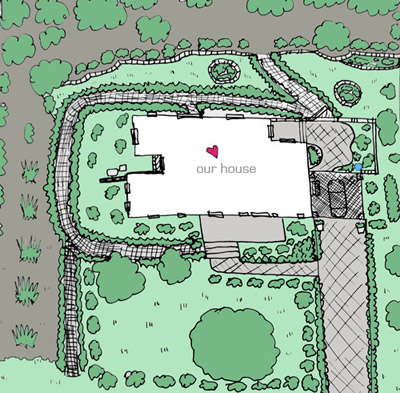 The other funny comparison for us is digesting that our last house and this house were almost exactly the same square footage (they're within 60 square feet of each other) yet the lot just looks so different from the outside. We're used to having a pretty low-lying house that almost blends in with the woods. But instead of an 1,000 square foot addition that's hiding off the back of the house (which was the way our second house was set up), the new house has a second floor that's in plain sight from the street, which makes it look a lot bigger and stand out a lot more from the curb.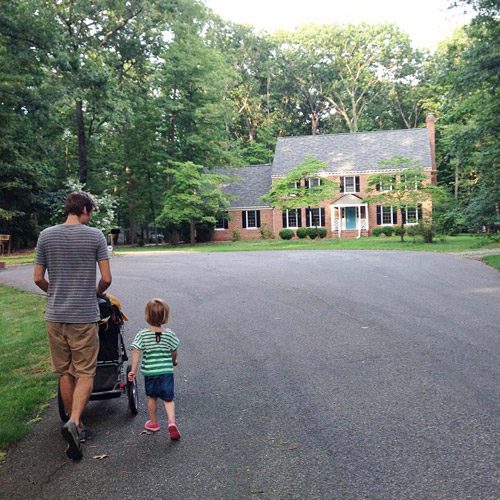 One other sort of cool, full-circle moment was gaining a double garage. We had one at our first house, and of course had the carport in our last house, but it's really nice to go back to a two car garage – just so that John's workshop can be right off of the house (instead of walking around the back of our second house and down the exterior stairs into a separate entry basement).
**********************************
Psst- We're trying out a new little bonus feature on Friday posts by ending with four fun projects, chats, or questions going on over on the Forums. You know, just in case you don't want to go back to work just yet…
| | | | | | | |
| --- | --- | --- | --- | --- | --- | --- |
| | | | | | | |
| by MayRicherFullerBe | | by Tina | | by hannaschelling | | by lcraig1027 |
&nbsp&nbsp&nbsp
Check out this ladykiller in the half bathroom: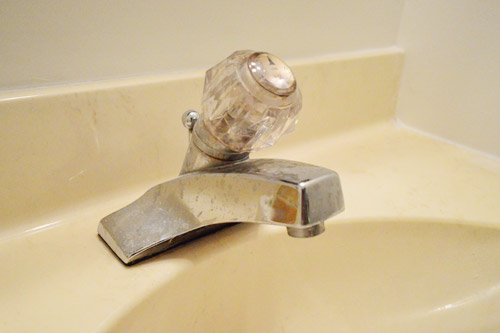 It's not especially offensive looking, but it leaks. And with a single knob I'm always worried that Clara will accidentally turn it to scalding hot when she's washing her hands.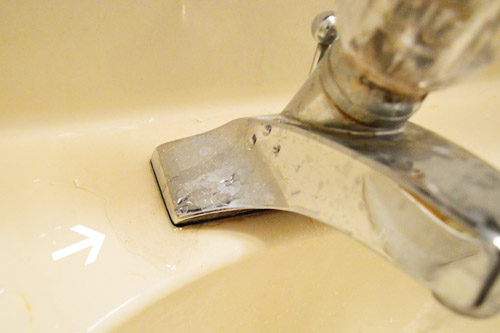 So we hit up our Habitat ReStore hoping for a cheap find. Sherry lunged for joy (you need to see that in person by the way) when she spotted this $12 find in the pile… only to learn that it was inexplicably missing one handle (we dug around for 20 minutes looking for it to no avail). Just wasn't meant to be.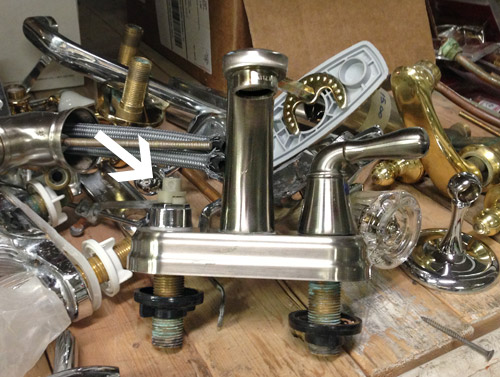 So we settled for this $34 find at Home Depot, which was pretty much the most affordable option they had. We figured that it was worth the peace of mind that we no longer had a leak and that Clara could use it more easily.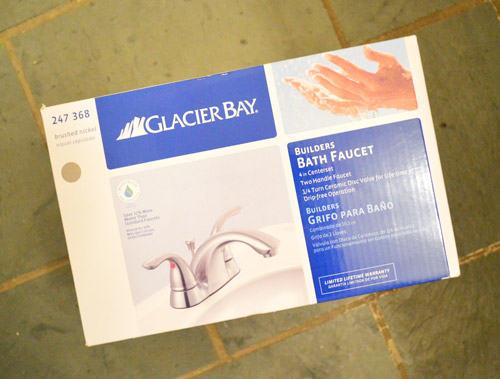 Making the switch promised to be quick and easy. Turn off the water. Unscrew some hoses. Bada bing. Bada boom. Hello new faucet. Except step one revealed a slight snag in the this-should-be-easy plan. The hot water valve wouldn't turn off. It turned just fine, but the turning had no effect on the water flow. It just spun like a pinwheel.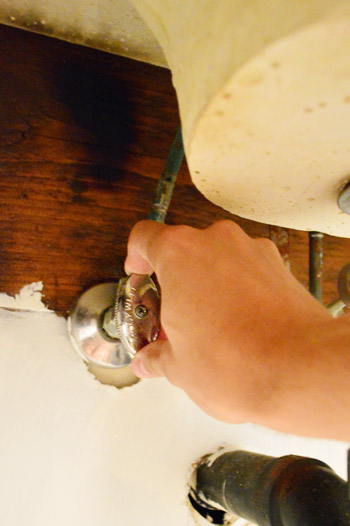 That's how switching out the faucet turned into replacing the hot water shut off valve (something I'd never done before)… which meant turning off the water to the whole house at the street. So we whipped out our water meter key to help twist the always stubborn valve out there (these are around $7 and we use ours more than you'd think).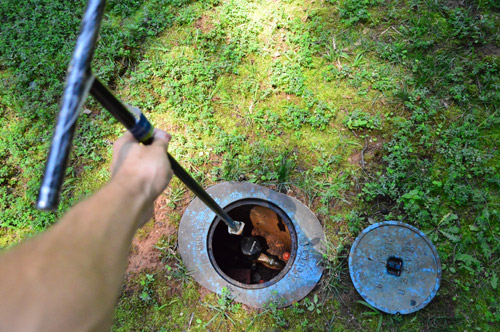 I don't have photos of the next part unfortunately, because I spent most of it with half of my body stuffed into the vanity trying to wrench various valves and hoses apart, wrap plumber's tape, and wrench things back together. And somewhere between yelling at Sherry to have a plumber on standby and quietly cursing, I forgot to ask her to hand me the camera (which probably would have gotten wet and resulted in too-dark-to-see photos anyway). #bloggerfail. But for an idea of what the installation process looked like, you can check out this well-lit and profanity-free video from Home Depot.
I tell ya, I was convinced throughout this entire project that I was going to break some pipe and a cartoonish explosion of water would erupt from the ground, lifting our home from its foundation like we had just struck oil. But surprise – none of that happened, and I was able to get the new hot water valve in without any problem.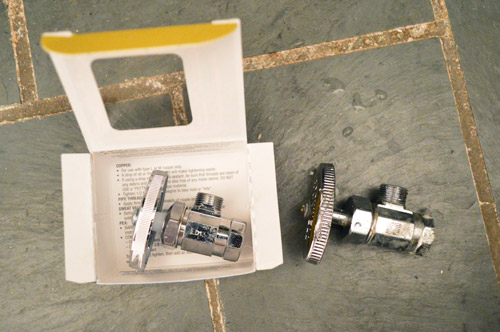 With the new valve attached, I got the old faucet out of the way, scraped away some of the gunk on the sink with a putty knife, attached the new hoses under the sink, and put the new fixture in its place.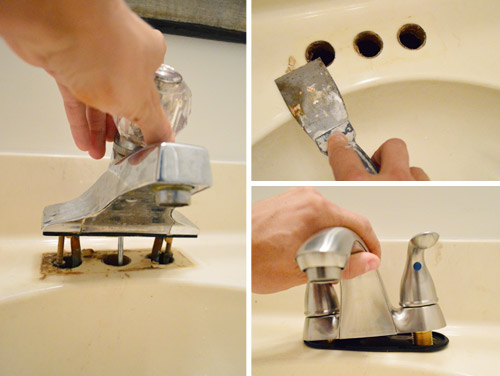 When it came time to turn the water back on, I was certain at least one or two of the five new connections I had just made were going to leak (just call me the most pessimistic plumber in the world). So I laid some colored construction paper under everything so if something dripped, I'd be able to spot it quickly.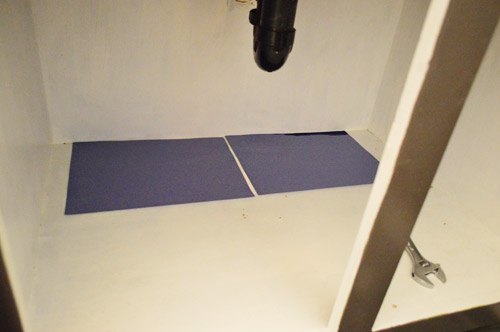 To my shock, there were no drips. And I watched for a good ten minutes – convinced they were just waiting for me to look away. Then Sherry finally dragged me away from my sink staring-contest and encouraged me to accept the victory like a big boy. Our new faucet (and its hot water valve) were officially installed!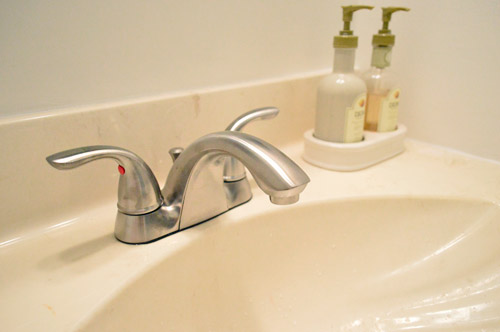 It's not a big exciting design decision, but we're certainly glad to have it taken care of for functional reasons. And I guess we did make a deliberate decision about the finish. We looked at a few oil-rubbed bronze options (to match things like the doorknob and the light fixture), but all of those were at least $80+ (which felt too expensive for a Phase 1 fix). So we're glad that brushed nickel worked just fine (and was a lot cheaper) thanks to the mirror, which acts as a "transition" between the two metals, since it mixes both tones in one spot.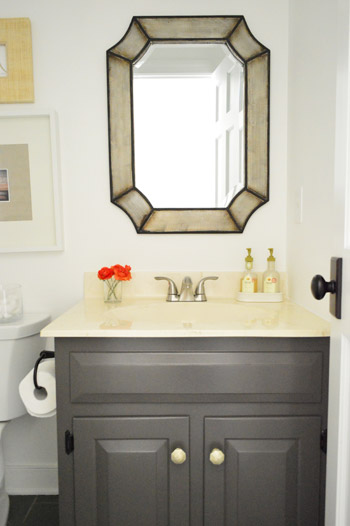 Hilariously enough, the new faucet didn't fail to impress our toughest critic. Clara walked in there after her nap and just stood there for a second staring. When Sherry said "Is everything OK?" she said "Wowwww! It looks beautiful in here! Did we get a new washing thing?"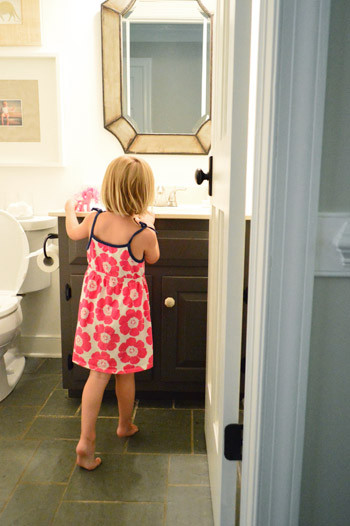 She often notices things that change in the house, but I think this is the first time she led with such a strong compliment. We'll take it.
Oh and here are the before and after photos you guys requested on our last bathroom post: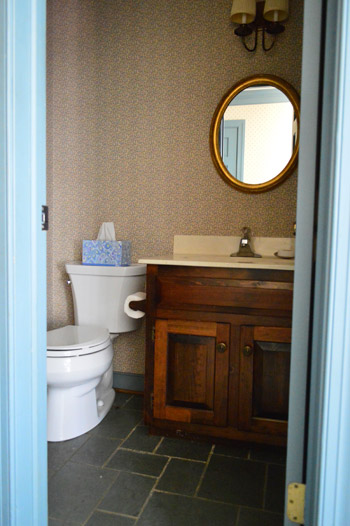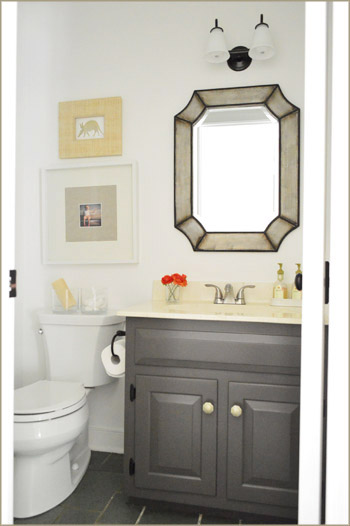 As for a budget breakdown, in our still-settling-in chaos we don't have every receipt on hand, but our best guess is that we've sunk about $110 into this room in total (for the mirror, paint, light fixture, vanity knobs, and faucet). So for rooms that you use every day but are pretty pricey to fully renovate (like a kitchen or bathroom), it's nice that an in-the-meantime upgrade can make a difference while you're saving up for Phase Two down the line.
On to the next room!
&nbsp&nbsp&nbsp