Archive for July, 2013
But before we get to that: an armadillo in the bathroom. Let's talk about it. Everyone needs one, right?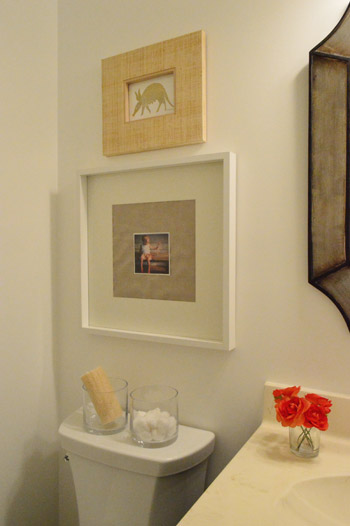 I mean, we can argue that a lot of decorating "rules" are personal preference and yada yada, but seriously, can we all agree that a bathroom is not complete without a golden armadillo?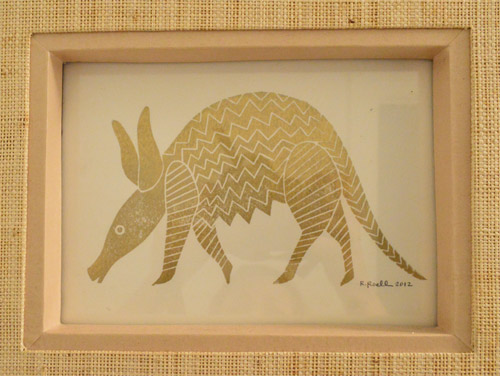 That's a print we bought from this craft fair from an awesome local artist named Rachel that I finally got around to framing and hanging up. I especially love it in the burlap-y/grasscloth-ish frame (an old Pottery Barn Outlet find) hanging above the framed instagram photo of Clara holding a naked doll (felt kinda bathroom-esque).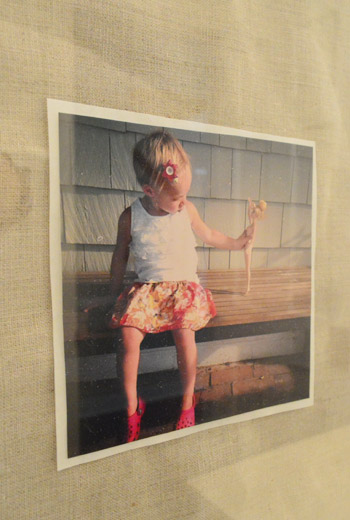 The linen-like fabric behind the instagram photo looks great with the textured frame above it, and I actually have a secret agenda when it comes to bringing these cream/straw tones into the room. After looking at the gold-tones in our soap containers and even that loofah on the toilet tank, I realized they help the oddball cream sink feel less out of place.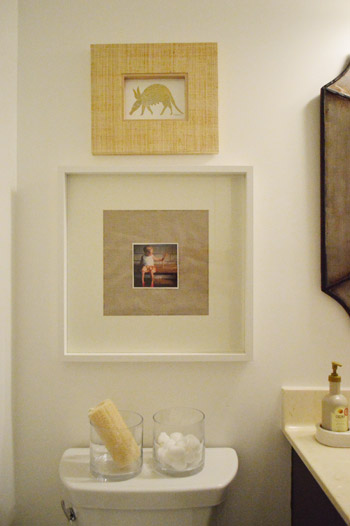 I mean don't get me wrong, it's still shaped like a shell and won't be here forever, but it's a lot cuter and a less clashy when it's paired with other things that we already own in that color palette (like the soap pumps, the art, the loofah, and the frames). So there's gotta be a design lesson in there, right? Say it with me: everyone needs an armadillo in the bathroom! sometimes adding a little bit more of a color that feels like the oddball can make it feel more layered and intentional. At least for that Phase 1 (in the meantime) type of decorating.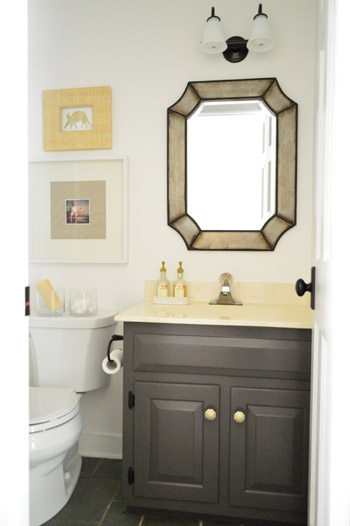 And I know it's hard to tear your eyes away from that gorgeous armadillo, but we also got a new light fixture. We dug it up for $9.99 at the Habitat For Humanity ReStore (see the chrome guy hiding in the middle of this shot?).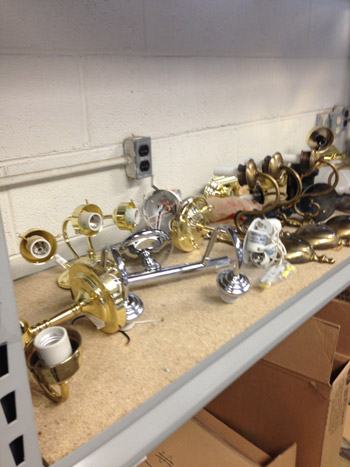 We just gave it a few thin coats of Rustoleum Universal oil-rubbed bronze spray paint with the light bulb parts taped off to protect them. It's self priming, so it was an easy one-step update.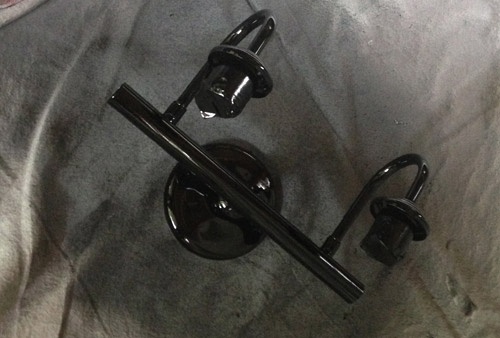 Then we grabbed two cheap frosted bulb covers at Home Depot and called it good.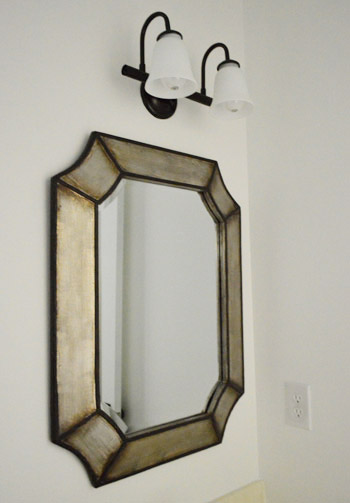 It definitely helps the whole room feel more crispy and updated. And since we're planning a deeper room makeover down the line once we save our pennies (perhaps with a tiled accent wall or some grasscloth wallpaper?) we love that we could find some cheap secondhand charm in the meantime. Psst- Notice how the red flowers on the sink from the first shot are gone? I added those for a pop of color after I took these shots, and love 'em. So pretend they're here too.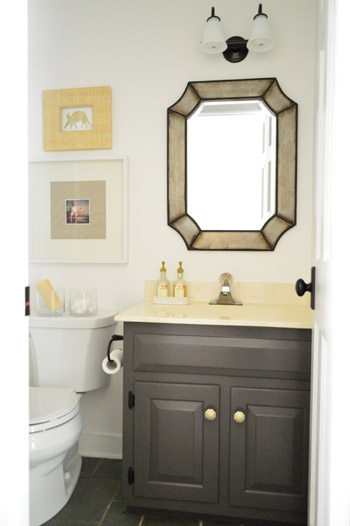 Next up: a new faucet. Which should be interesting because we have some plumbing challenges to overcome under the sink. Sounds like a job for the bathroom armadillo!
&nbsp&nbsp&nbsp
Yup, Sherry and I have started work on another new house. But before you gasp – we're not moving into this one… and it isn't technically ours. Heck, it's not even built yet.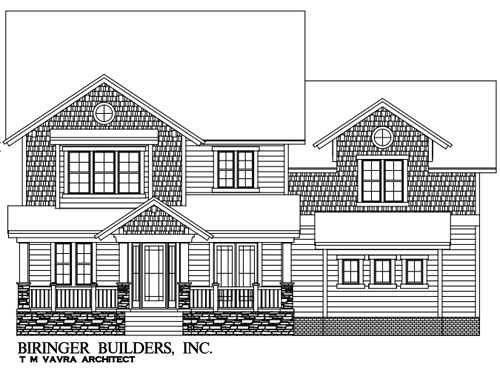 In fact, the lot currently looks like this: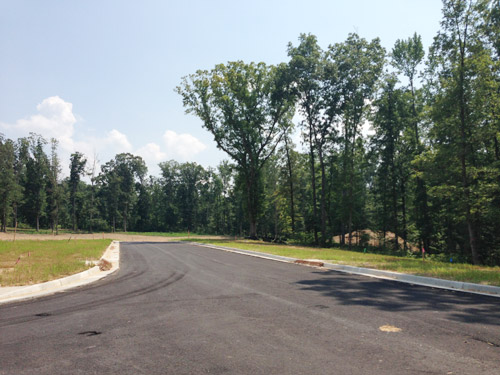 Some of you may remember this Mega House Crashing that we did last year where we toured 8 custom show homes – each constructed by a different builder and decorated by a different interior designer – as part of an event called Richmond Homearama. Well, their 2014 event is now in the works and they've asked us to design one of the homes! Cue the girlish shrieking (not from me, I promise my shrieking is quite masculine).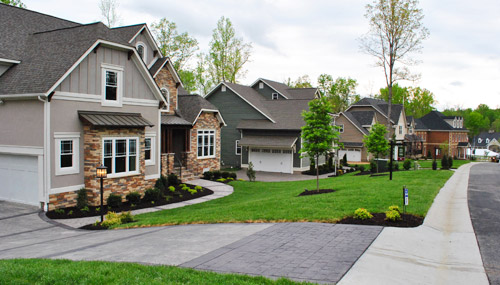 We're both crazy excited about the opportunity. Okay, and a bit overwhelmed too. This is a whole new challenge for us in many ways. Planning an entire house design at once (from scratch on a wooded lot). Working with a new construction (which we've never done before). Designing for someone else (each of the homes are sold after the event). Budgeting with someone else's money (cue the maniacal laughs). Not to mention holding our own against six seasoned interior designers who turned out hotness like this last year.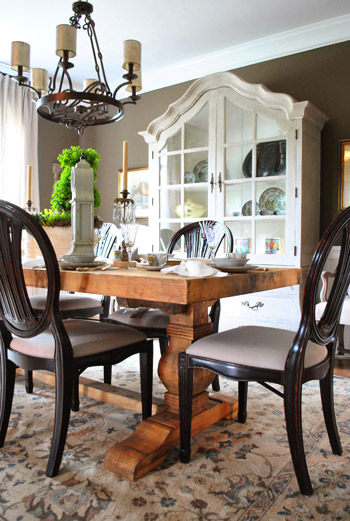 But how could we pass up the chance to dive in? Especially since it's for a great cause. While we often take on side gigs like this to help pay the bills, this one is a purely creative endeavor for us. Homearama compensates their designers for their year of planning and work, but we've opted to donate our entire fee to Richmond's Habitat for Humanity, a cause that Homearama will also be supporting in other ways throughout the event.

This project also goes along with the goal that we mentioned here – to take on projects beyond our own walls as a means of stretching ourselves in new ways. So we (literally) jumped at the chance. This is us playing it cool while touring the lot where our house will go up (it should be under-roof by Christmas).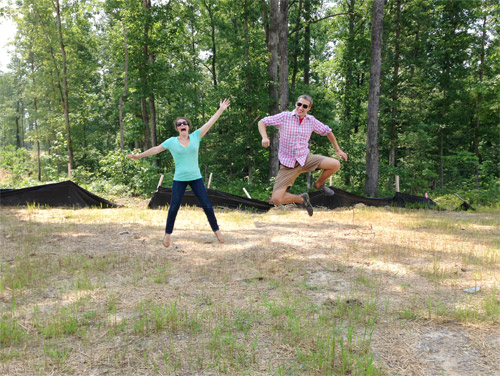 And (surprise!) we've already been working on floor plans for the last few weeks (even though the event isn't until May of next year). Of the seven custom builders in the show, we've paired up with Biringer Builders. When we first met, they shared their plan with us and we've been scribbling on it ever since. That has been one of the coolest parts so far. Since the house is still just on paper, we've been able to make a few exciting changes to the floor plan. And John, the builder, has been an awesome collaborator in accommodating our design ideas ("what about a french door there?" "how about building in a bookcase/window seat here?") as well as suggesting ways to make them even better ("what if we put a transom window above that french door?"). And boy is it easier to move walls before they're built.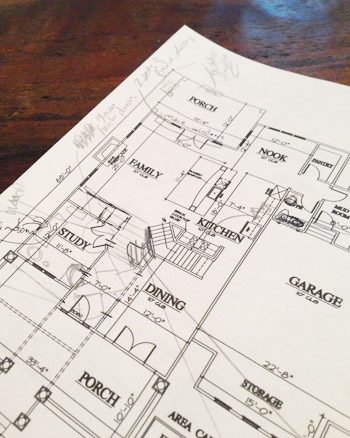 John's team will be executing all of the actual building, so this isn't a DIY job for us – with the exception of any furniture or art projects that we want to make for the finished spaces. We're in charge of helping with the layout/floor plan, picking all of the finishes that go in (flooring, counters, appliances, sinks, cabinetry, etc), and then furnishing and accessorizing the entire house. And with John's expert carpenters, masons, and electricians at our disposal, we're able to dream a bit bigger here – which is fitting since we're trying to raise as much money for Habitat as we can – so we plan to work our buns off to make this house something special.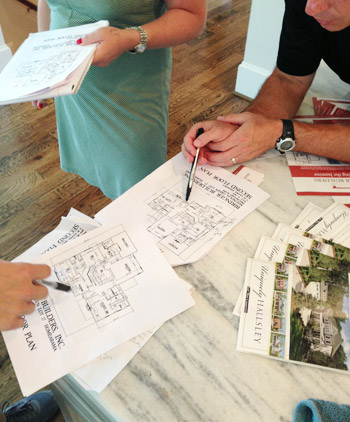 Between now and next May when Homearama officially opens, we'll be keeping you guys posted on the details as the house comes together – from sharing the final floor plans and selecting all of the finishes, to the decorating decisions that go into each room. It should be lots of fun, especially since we get to execute ideas that we don't necessarily have spots for in our own house. This means you, walk-in pantry.
So that's what we've been juggling pretty much since we moved. Cat = out of bag. Just cross your fingers that we don't choke, ok? Many of the real designers have been doing this for years, so we're a little jittery about our first time at the rodeo. Kind of makes us want to pull a Clara and hide under the table for a little while…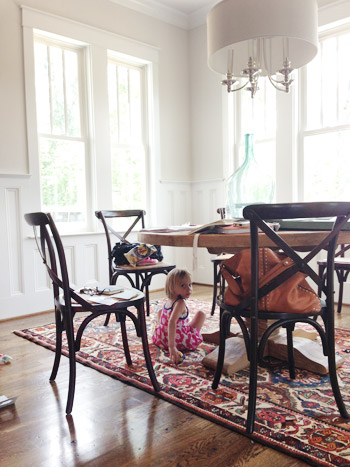 …only to be enticed out by gleaming tile samples that Sherry can rub her face on.
&nbsp&nbsp&nbsp