Archive for May, 2013
Who smells smoke? Don't panic, that's just Clara's dragon party, rollin' into town (er, the internet?). Note: you can't really smell this party through your computer, so if you smell smoke, please look into it. This year's party was lower key than our last two (here's her first birthday party, and her worm party from last year) and even though it was rainy and wet outside, eight kiddos and twelve adults jammed out inside. It was fun. And Clara made me cry. She's just so big and sweet and hilarious and I'm the luckiest mom in the world.
Plus, dragons. I mean if that's not a trump card for a party, I'm not sure what is. After she picked worms for her party last year I wasn't sure it got more fun than that, but when she told us she wanted dragons this year, well, we laughed and jumped right in. She even told the doctor at her three year appointment that dragons were coming to her party and I'm pretty sure he was hedging for an invite after she name dropped winged-fire-breathing-creatures.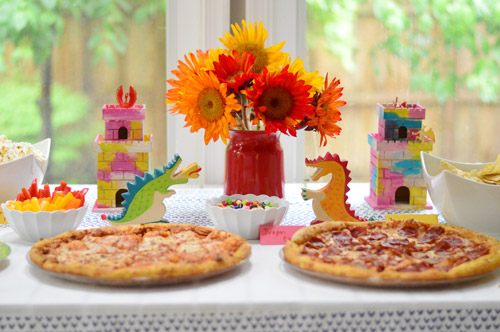 Look at this kid of mine, holding her cousin's hand and dragging him into the sunroom for pizza. A second after I snapped this shot, she turned to Emanuel and said "be happy! there's pizza!"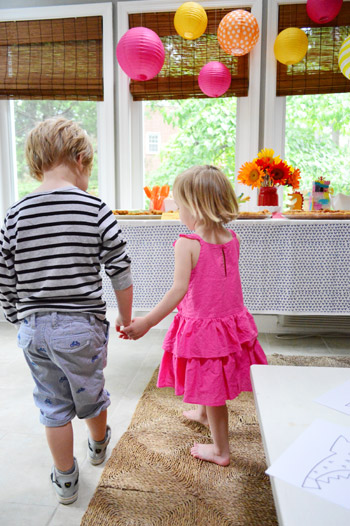 My favorite part of the whole day was this little painting of fire that I made on foam core and taped to the wall at kid-mouth-height. Everyone could be a dragon and we snapped lots of photos of all the kids having fun with it.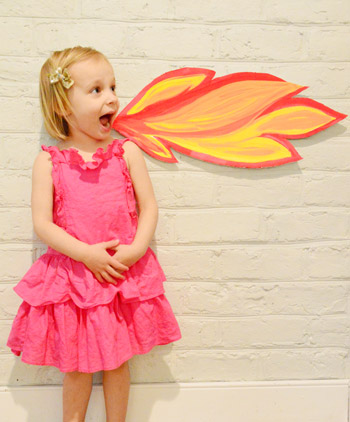 Burger even got in on the action…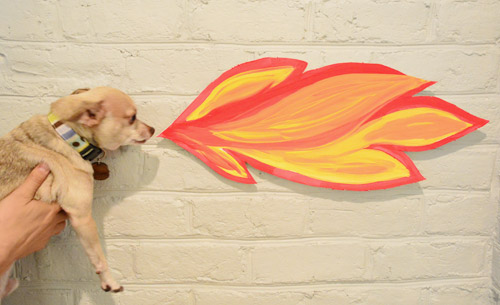 Some adults posed for a few pretty hilarious photos too (turns out kid mouth height is adult bum height so you can guess where I'm going).
Here's the sunroom all decked out. No balloons and streamers this year, just a few packs of paper lanterns from the dollar spot at Target (they sell them in sets of 2 & 3). The paper tablecloth is also from Target (is has some pretty dragon-ish consummate Vs) which is also where we grabbed the plates and napkins. Then we just ordered pizza, heated up some dragon-shaped chicken nuggets (aka: dragon nuggets), sliced up some vegetables, and tossed some chips and popcorn into a few bowls.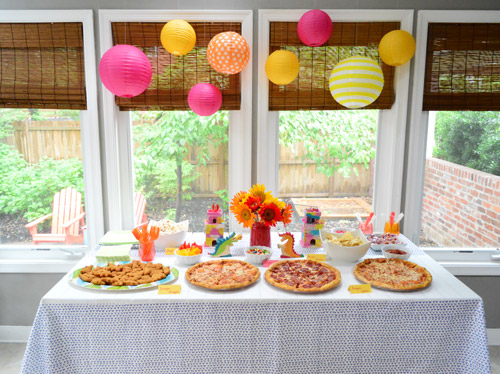 Oh and the table is the one from the deck. We just dragged it into the sunroom and wiped it down (dang rain!) and it was all good.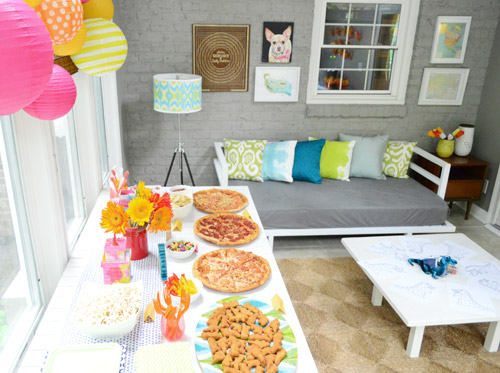 Who knew sliced peppers could look so fire-like, eh? John. John knew. Apparently guys + fire = besties. And of course we had the castles that Clara painted in the background with little rubber dragons on them (snagged at Michael's in a few tubes of 8, so they also ended up in the kids' favors). And those flame-like sunflowers were a few bucks at Kroger (that's a local grocery store for the non-locals). How awesome are they?! They're like fire on a stick.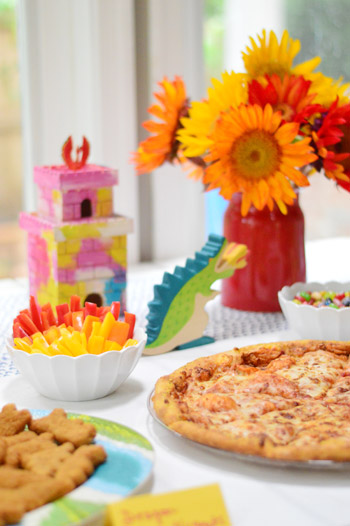 We kept the food super simple. In fact, except for baking some cookies with the birthday girl herself, we didn't cook a thing. We really just wanted this to be an easy and casual gathering, so we didn't go crazy cooking or decorating. Plus it's a fun challenge to look at "party food" like chips, jelly beans, and popcorn to see if we could somehow make it dragon-ish. Here's what we came up with: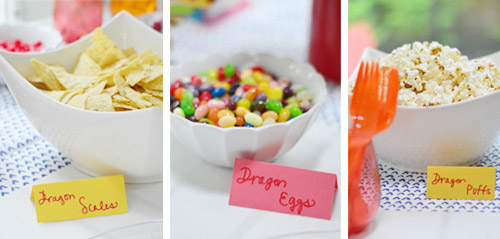 We also played up the hot/fire-breathing thing and had some Hot Tamales and FireBalls (clearly labeled so no kiddos accidentally ate them and blew smoke out of their ears). They were a big hit with the grown ups. Meanwhile the kids rocked out with the rock candy. I thought they were fire-ish so I grabbed them at the register at Michaels (hello impulse buy).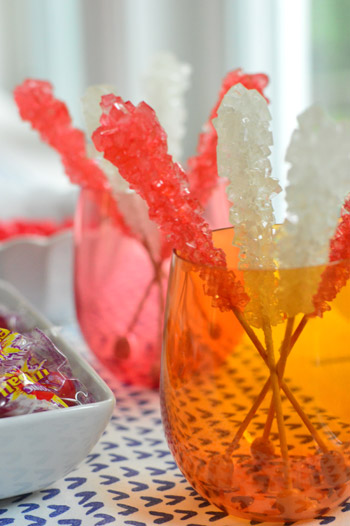 Gratuitous sunflower shot. I love them. I hope they last a good long time so I can soak them up through the move (I'm the girl who will hold this vase on her lap in the car on moving day so they make it to the new house).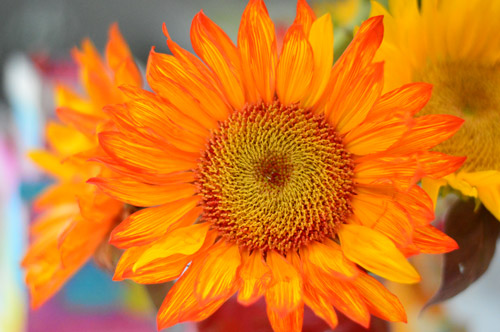 Clara's favorites were the lanterns. She thought they were balloons and even said "I'm sad they're going to get small" and I said "Yay! They're paper lanterns! We can use them for every birthday for ever and ever!" Cheered her right up.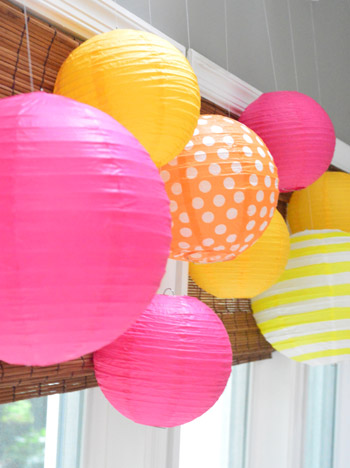 On the other side of the sunroom we temporarily removed the bike art (it was John's idea… I couldn't believe it!) to make a little drink station out of the expedit bookcase with Clara's monthly photos taped up on the wall between some fire-ish bursts of tissue paper.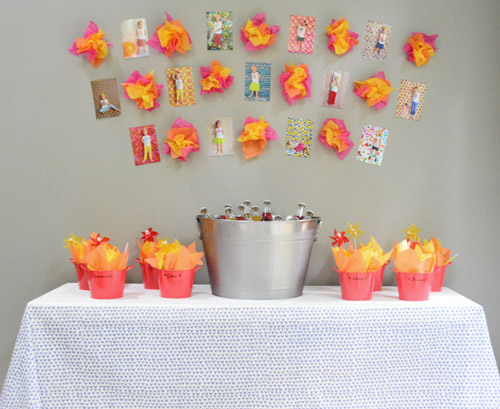 That's also where I stuck the favors, which are always my favorite thing to throw together. This year I found some red tins at the dollar store that I filled with tissue paper that I cut to look like fire.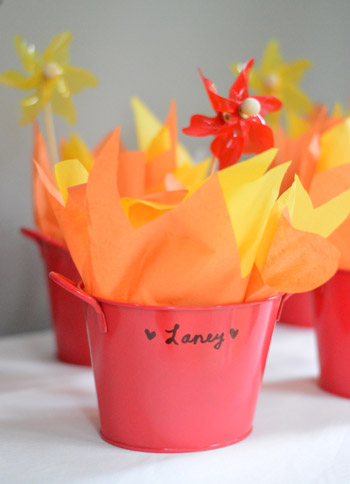 They were each filled with a pair of dragon socks that I found at Target for 99 cents, a pack of crayons, a glowing bracelet, a dollar store pinwheel (they were 3/$1) and a few of the aforementioned plastic dragons from Michael's that also graced Clara's painted castles on the table.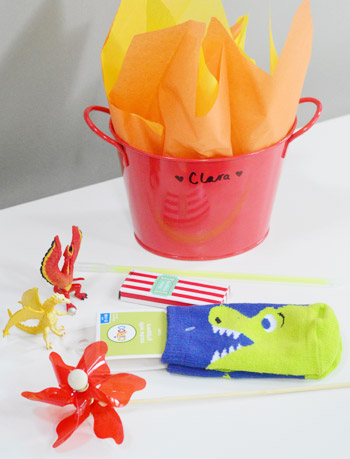 In the drink tin we had red and yellow Izze bottles for the grown ups (along with bottled water, juice boxes, and a few other beverage choices in a cooler nearby).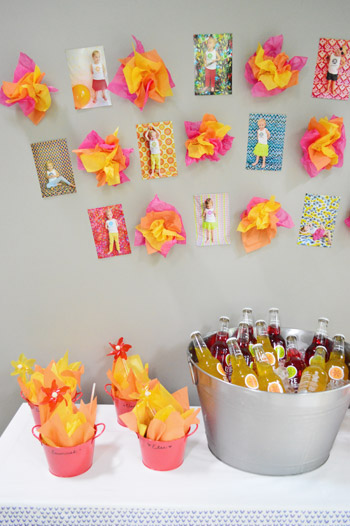 As for how I made the tissue paper poofs on the wall, I just smooshed them up and used one staple to hold them together in the back. One loop of painter's tape held each of them in place between the Clara pics on the wall.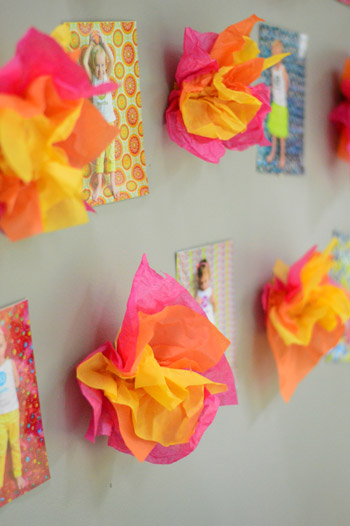 I also used a sharpie to draw a bunch of dragons on card stock and set them out on the coffee table in the sunroom with a bowl full of crayons.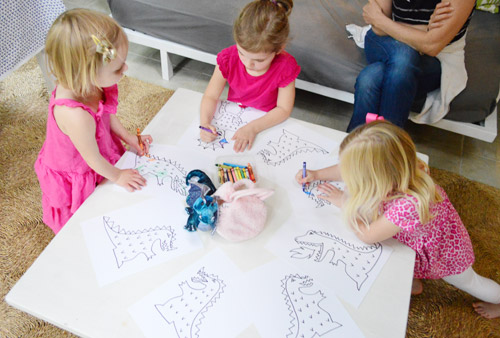 Oh and we dragged out Clara's train board, which ended up being a fun little kid zone while the parents chatted each other up.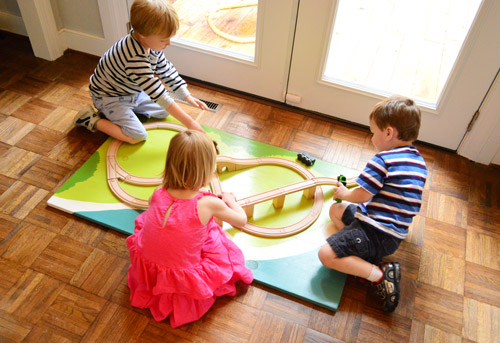 We had planned on an outdoor "dragon egg hunt" (with a bunch of on-clearance plastic eggs that we got at Target after Easter with a few jelly beans in each one) but since it was too wet outside we hid them all over the dining room and the office. It was pretty cute watching the kids run around and grab as many as they could – especially when they were in such strange spots like under the chair cushions, behind the curtains, and even on our favorite concrete pet's head…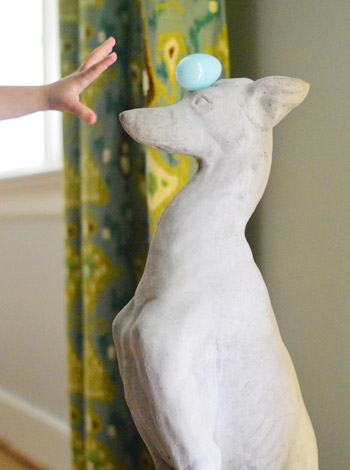 As for desserts, we ordered 10 dragon cookies from Snickety Snacks (they're like works of art – and they taste amazing!) along with making some homemade white chocolate chip cookies with Clara (we stamped them with "dinosaur footprints" right after they came out of the oven).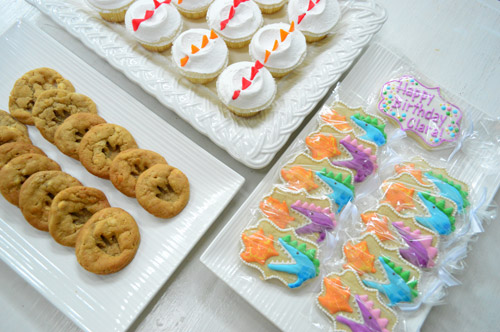 The cupcakes are local favorites from the grocery store (Ukrops) and I made those spikes in about ten minutes by cutting up airheads (yes, those crazy candies that look like long flat tongues). I just used a knife to cut them down the center to make two skinny strips and then cut little triangles from each row and shoved four of them into each cupcake in a spiny little line.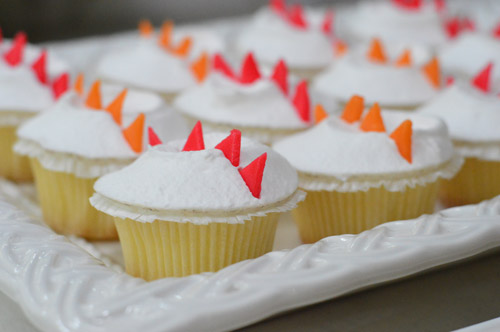 This picture is a small miracle. How I got the cookie in focus and caught her looking up at me, I'll never know. Oh beansie, this makes me want to cry. How'd you get so big?!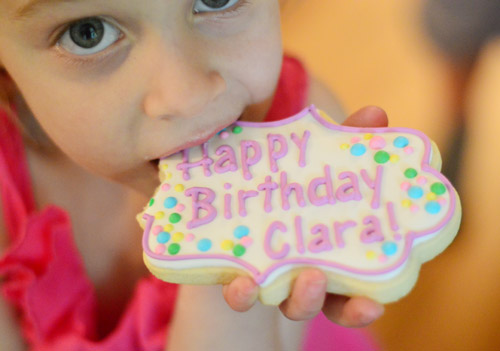 As is the tradition, we did our best to grab a family photo. This was the best we could do, but I'll take it.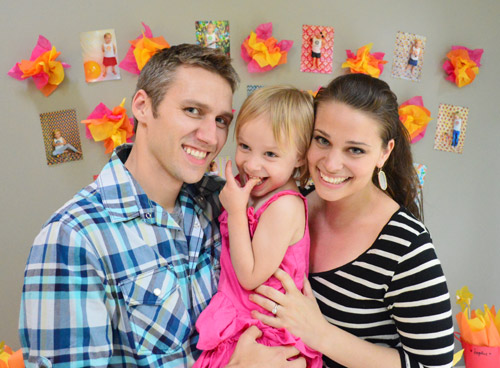 When three of us were walking around wearing similar striped shirts, we had to snap a shot of that too. We're practically triplets.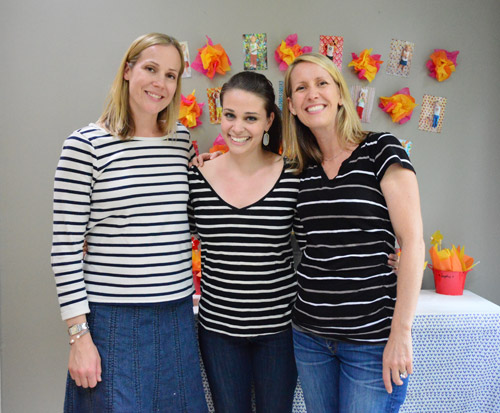 We also made a little Clara video like we did last year and the year before – not to show at the party, just to have so we can look back on it (and watch it with Clara, since she loves dancing along to the other two that we've made). So here's her last year in less than eight minutes. My favorite parts are when she says "daddy, can I have a wipe please?" and proceeds to change Gee's imaginary diaper. And all of the dancing parts are pretty cute too…
So Clara's three and her dragon party was a fire-breathing good time. I can't wait to see what she picks next year. Chickens? Ninjas? A Burger theme? Time will tell…
&nbsp&nbsp&nbsp
***This giveaway is now closed – see who won below!***
Our lucky random winner is… RLR (who jokes her wardrobe could use some modernizing, but says "seriously, I would love to do some work on our master suite"). Congrats!
InStyle Modern sells modern furniture at prices that make it easier on your wallet to deck out your dining room with a full set of chairs or give your kitchen island an upgrade with a new trio of stools. And not only are they giving this week's winner a $500 gift card, they're offering up free ground shipping and a special 15% discount. Check out the details below…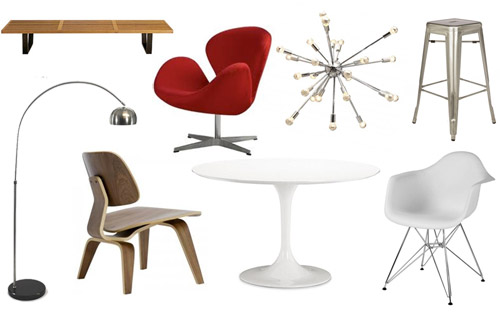 PRIZE: $500 to InStyle Modern
TO ENTER: Comment on this post with the words "Modern Me" and tell us…
BONUS QUESTION: … something in your life that could use some modernizing. Does your house need some updating to get it out of a decor timewarp? Could your wardrobe stand to catch up with the latest styles? Or would you love to get a new car with the latest technology?
NUMBER OF WINNERS: One
PRIZE SHIPS: We always beg every vendor to ship internationally but some companies are not legally able to vend things beyond specific areas (more on that here). This giveaway is open to the continental United States.
GIVEAWAY CLOSES: Wednesday, May 22nd or at 10,000 entries (whichever comes first)
DISCOUNT: Get 15% off with the code YHL15OFF (good through June 5th) – and free ground shipping is standard in the continental US!
USUAL STUFF: One entry per e-mail address is permitted. The winners will be selected using random.org and announced on Thursday as an update to this post. That's right, come right back here on Thursday for the announcement of our winners. Good luck…
***COMMENT ISSUES? If you're trying to enter but keep getting a "duplicate comment" warning, click here to see how to solve it!
Note: We aren't paid or perked for hosting these giveaways, we just do 'em to thank you awesome folks for stopping in. See our Giveaway FAQ page for more info. Pics courtesy of InStyle Modern.
&nbsp&nbsp&nbsp