Archive for May, 2013
Guys, I did it. I broke out the sewing machine to make something for Clara's third birthday. It's a little tradition of ours to make her something instead of buying it since she gets a ton of store-bought presents from family and friends. I even used her big ol' stash of monthly photo fabrics, which have also come in handy for making her a quilt, a table runner, a beanbag, and even a birthday banner (remember that epic battle of woman vs. sewing machine?).
It all started when I saw these fabric tea bags on Pinterest and thought they'd be really fun for Clara's play kitchen since she's so into making food and pretending to eat it and have tea parties with her stuffed animals. And really, what's a tea party without tea? So even though there weren't any directions to be found, I thought I'd just wing it. What's the worst that could happen? Wait, don't answer that. You've seen my previous work…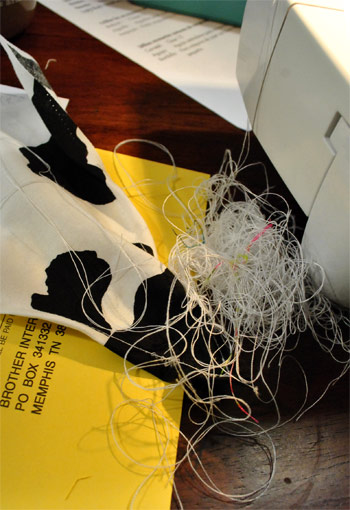 First I cut a few little squares from ten of my favorite fabrics.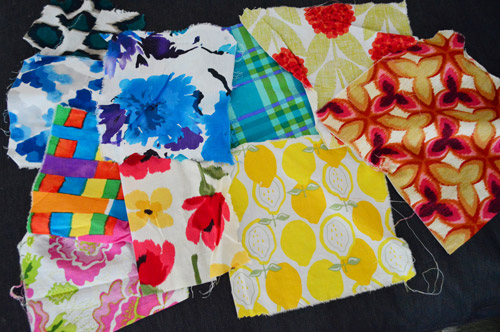 Then I grabbed some twine that I had in the gift closet for the string part (it's leftover from a gift someone gave me a while back). I also brought in a few cotton balls from the bathroom because I figured the tea bags had to be stuffed with something. And then I just cut two tea bag shaped pieces of fabric from each swatch (so although you see 10 tea-bag-shaped swatches below, there are two in each stack, right on top of each other for a total of 20). I also cut a long rectangle from each fabric to make the tag on the top of the tea bag.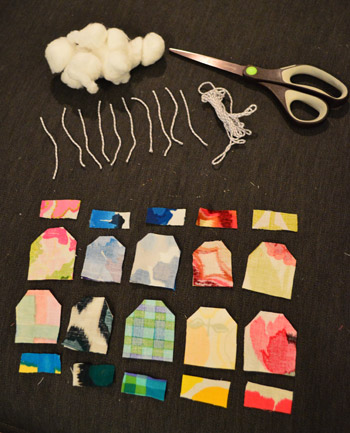 Then I sat down at the sewing machine, said a small please-don't-make-me-throw-you-out-the-window prayer, and got sewing. Within about five minutes I had this mess, and had completely ruined my first tea bag. There might have been a few whispered obscenities. Nothing gets me heated like my sewing machine, guys. Nothing.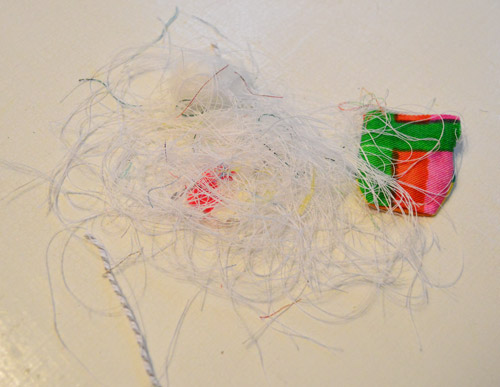 But I resisted the urge to Hulk Smash it and started in on my second attempt. This time I came up with the idea of putting both of the right sides of the tea bags together (with the bad ones facing out) while tucking the string between it like you see in the photo below. Then I sewed up all of the sides of it except for the bottom where the string sticks out. You can see how bad I am about following the edges of the tea-bag shape here. Better work on that.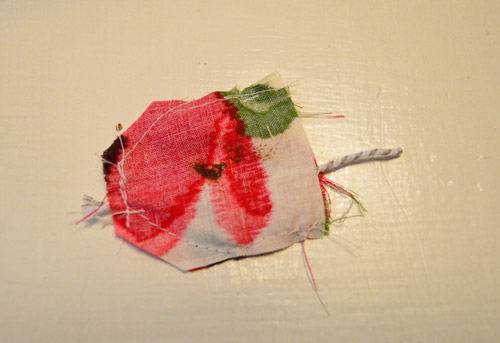 Then I turned it right-side out. The good news? The string was securely sewn to the top of the bag. The bad news? It looked like a feminine hygiene product. I allllmost gave up for the second time. There were more mumbled obscenities.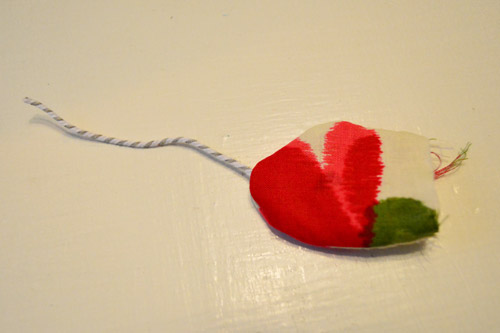 But before I threw in the towel, I figured it might look better if I could tuck half a cotton ball in there, fold the bottom part up to seal it, and add a little stitching to hold it closed, thereby finishing the bag part. Thankfully things started to turn around at this point, because it actually got cute-ish (and less tampon-esque in shape). Hallelujah!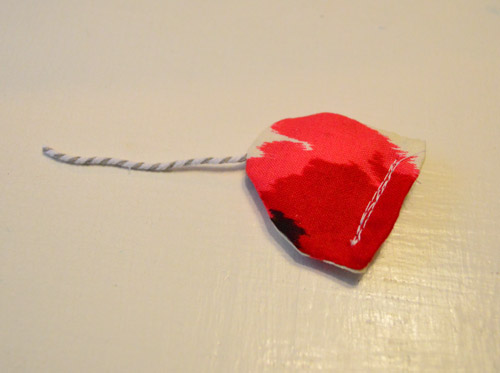 To attach the tag part at the top I just folded that piece of fabric in half and put a few stitches into it so it caught the string and stayed folded.
Then I put my head down, said a few more "please don't make me pound you with a hammer" prayers to my sewing machine, and in about ten more minutes I had three more of these guys knocked out. Wahoo!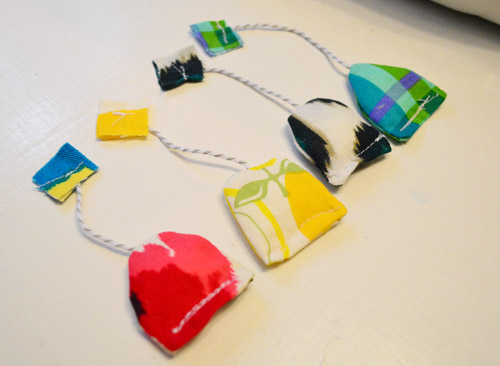 About half an hour later I was left with nine tea bag babies. They're definitely not perfect, but that first attempt was my only casualty. And my sewing machine is still alive and well. So…. success!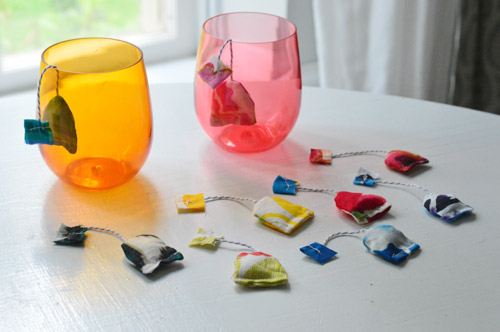 Clara especially loves them because I have tea every night and most mornings. So she sees me with it and now has her own tea bags so she can sip with me.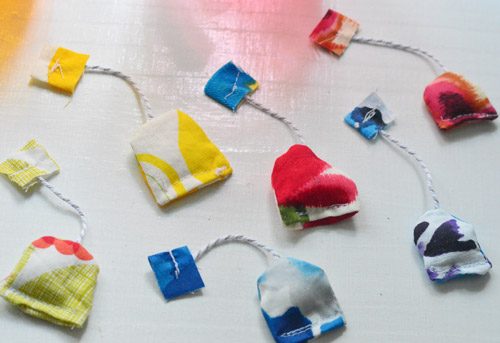 So this is the project that almost wasn't, but is! And I think we all learned a lesson today, guys. No matter how much something looks like a feminine hygiene product when it's half done, at least try finishing it before flushing it down the toilet. Both literally or figuratively.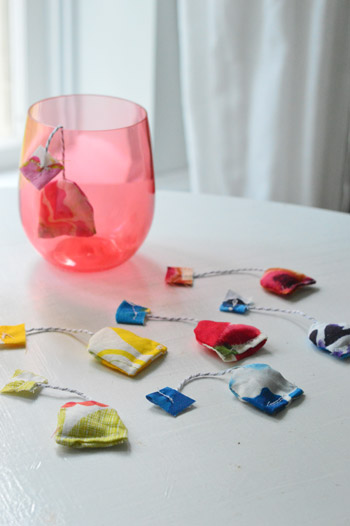 Anyone else sewing stuff? How's your relationship with your sewing machine? I hear that so many people love to sew (and even that it calms them?!) but my experiences can best be described as tumultuous with a side of anxiety. So far in the end it has always been worth it though. And seeing Clara and her stuffed giraffe sitting down for a little tea party is pretty much the cutest thing ever.
&nbsp&nbsp&nbsp
Yup, we finally called it. The old floral curtains couldn't last another day. So we made a few jokes about Kim Kardashian's Met ball dress and got ready to say goodbye.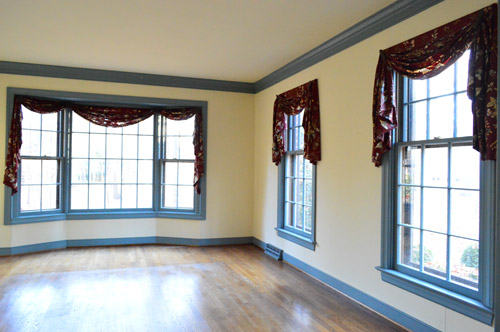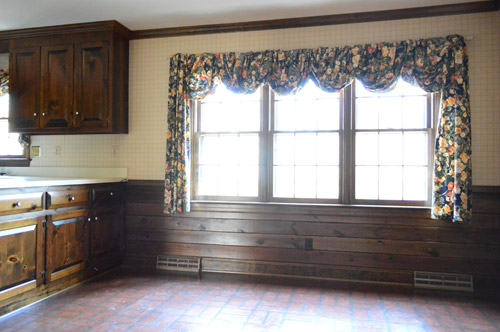 They looked pretty fancy, but they just weren't our style, so it was time to take them down and make a nice little donate pile for Habitat for Humanity. The funny thing is that when we got up on chairs and lifted them down, we discovered that these babies were pinned and even screwed right into the window at times! Cracked us up. I mean, we're no strangers to using fabric remnants and wood braces screwed into windowsills, but seeing white pushpins sticking out of the blue molding was pretty unexpected. Gotta love those "make it work" DIY moments…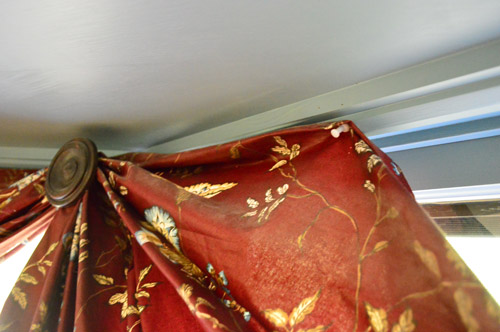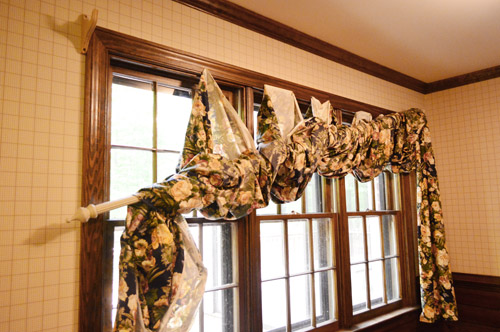 The most surprising part of Mission Remove Dem Curtains was… the time it took to remove dem! Thanks to the screws and pins (there were straight pins, safety pins, and even tacks and twine attaching them to windows, trim, and even themselves) it was a somewhat slow process full of "how is this thing still clinging to the window?!"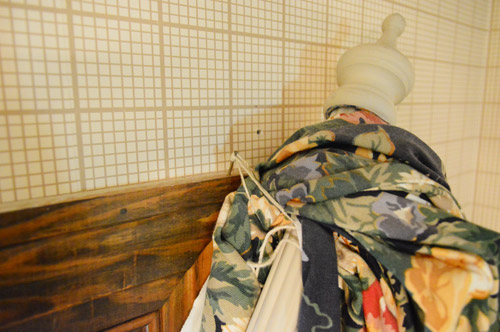 Finally, about an hour spent running around with the screwdriver and hammer (to be sure we popped out every last nail and screw so all the windows are ready for spackle and eventual paint) we were left with this pile: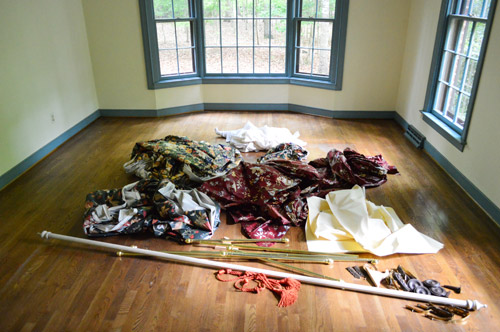 And this pretty impressive collection of tacks, nails, screws, and pushpins: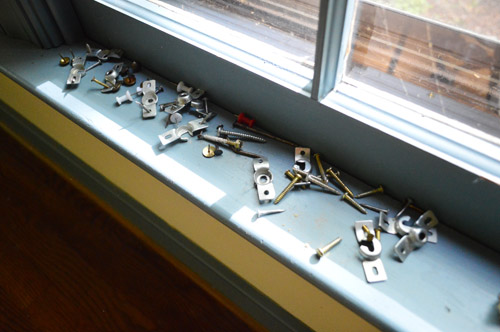 And even though the curtains were riddled with tacks (and a fair amount of dust) I did this. Because I just can't control myself.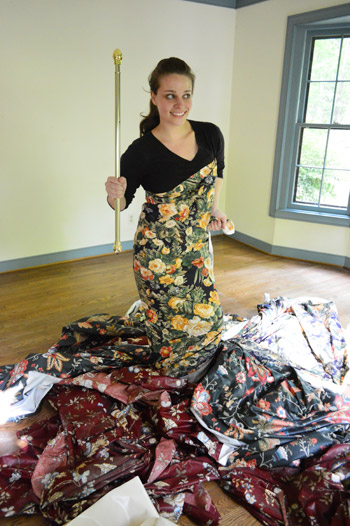 My favorite touch was the curtain rod turned scepter. All hail Curtains McFlower.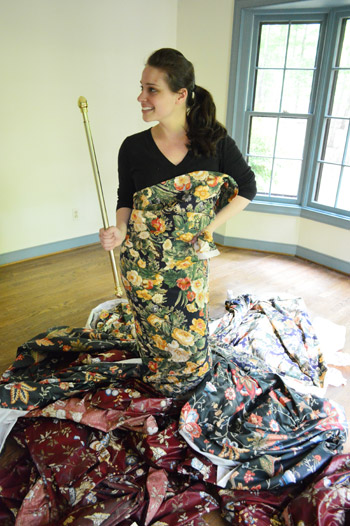 Now that they're down, more light is streaming in and each of those four rooms feel a little more like us. We're dreaming of a nice swanky layered look for the curtains in our new house. Perhaps bamboo blinds with curtains hung high and wide over them? Sort of like this. Or this. Or this. Except not necessarily with plain white or cream curtains.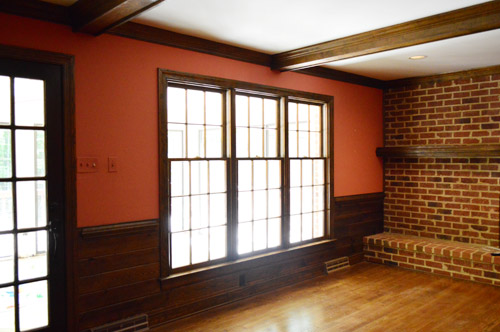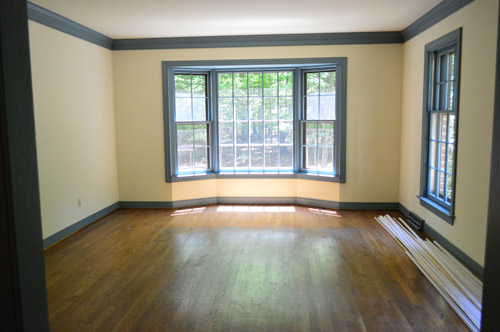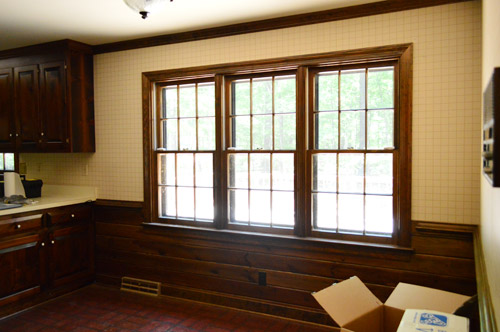 Oh happy day. It's the little things. Playing dress up never hurts either…
Psst- We announced this week's giveaway winner. Click here to see if it's you.
&nbsp&nbsp&nbsp