We've gone and done it. Nope, we didn't create a hybrid ceramic animal robot. And we didn't build Burger a dog-sized palace in the backyard. Instead… we're introducing Young House Love Forums!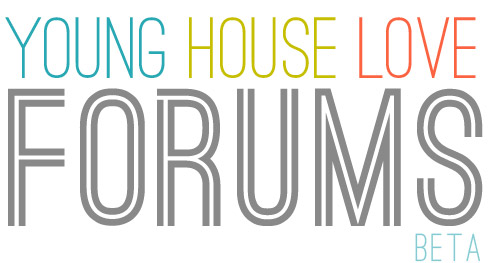 The idea for a forum section (or "message board" or "community" or whatever you want to call it) has been floating around for a while. Several of you have suggested/requested it and we even put it into our 2013 resolutions back in January (see #2). So consider this to be one resolution that we've officially kept.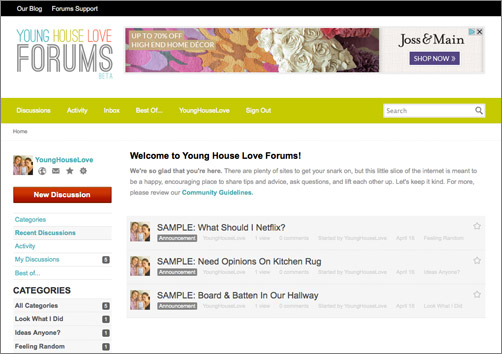 You'll notice that the site says "Beta" on it, which basically means this is a test. Kind of a trial period to see whether or not people find them helpful and fun, whether or not we can figure out a system for running them without stealing too much time away from DIY, and whether or not everyone can support and encourage each other. That last part is especially important to us because, just like our blog, we really want the forums to be a happy place where everyone feels comfortable. There are plently of places to get your snark on, but this little slice of the internet is meant to be a positive and encouraging spot to share advice, ask questions, and have fun. If Sherry were writing this she'd pull a Mary J Blige and start singing No More Drama. You can read more about our hopes for the forums in our Community Guidelines.
We hope you'll all find the interface pretty easy and intuitive. We're relying on a leading forums software called Vanilla Forums, which has lots of functionality built right in. For instance, they make registration super simple (especially if you've already got a Facebook, Twitter, Google, or OpenID account). UPDATE: We notified Vanilla about the too-strict standards of the password registration and they say they've changed it so "weak" passwords don't prevent you from registering.


If you sign up using one of your social accounts, it'll fill in most of your profile for you. You can also edit or add to it pretty easily (like including links to your website, removing things you don't want to share, adding a hometown, or even including a status update in the "Activity" box). But there's no need to spill anything you don't want – you can just start with your username and a photo. People like seeing who they're chatting up. Bonus points for mustaches.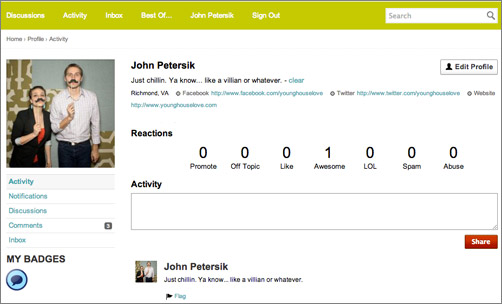 Posting and commenting is pretty straightforward too. You can start a new "Discussion" (aka topic thread) or comment under an existing one using a nice standard comment box. It allows you to style your text, quote previous commenters, and even include images. We'd love for people to share photos of their projects, rooms they're working on, etc – but please just post photos that are your own, and just use links to reference other inspiration pics (we don't want anyone getting into any copyright battles).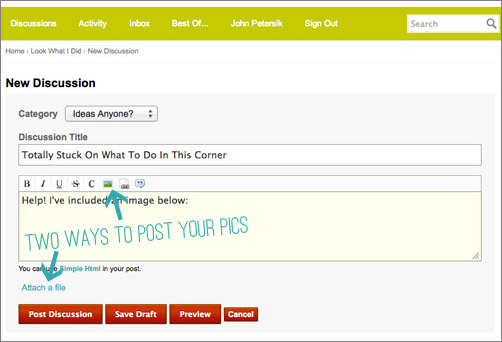 We created a couple of categories to kick things off.
The "Ideas Anyone?" category is meant to be a place to seek help – like getting design input from other forum-goers, asking for product recommendations, or troubleshooting a DIY project gone wrong.
The "Look What I Did" is for showing off your successes (which we hope will be both encouraging to you as a DIYer who's trying to build momentum as well as to others looking for fun ideas). Just pop in a couple of pictures of your most recent room makeover or furniture upgrade. Note: this is NOT intended for folks to copy and paste their latest 25 blog posts or spam the forum with a link every time their newest post goes live.
The "Feeling Random" category, which is for fun sidebar thoughts that don't really fit into the other two categories. So that's where you can exchange dinner ideas, guess what's going to happen on the next episode of The Walking Dead, or share the funny thing your kid said.
The forum software has some built-in systems for blocking spam and other abuse, which is nice, but you guys can also be our eyes and ears. If you see something sneak through please flag it. It helps the system get smarter so we get closer to a spam-free site. Oh, and it also lets you mark posts for good reasons too – like if you liked it or it triggered your LOL reflex.

So with all that said, we'd love for you to sign up, read the community guidelines, and then get your chat on. We're excited to see where Young House Love Forums go (we always say that you guys put the "you" in Young House Love, so we can't wait to see all the inspiring and hilarious stuff that's shared).