Archive for April, 2013
***This giveaway is now closed – see who won below!***
And the lucky winner of some Pantone-tastic paint is… Gretchen (who's really into "robin's egg blue with a few pops of tangerine"). Congrats!
Y'all have heard of a little thing called Pantone, right? Well the folks who declared Emerald the color of the year have a slew of color experts who have also inspired a line of paint. And our bloggy friend/decorative painter Kristen clued us into MyColor inspired by Pantone – which is a series of project-sized paints for furniture, accessories, walls and beyond. In addition to the cool clear packaging, these quarts of eggshell paint (which are sold online and at Lowe's) are ultra low VOC, stain blocking, and self priming. And one of you is gonna get EIGHT quarts in any of their 49 paint colors!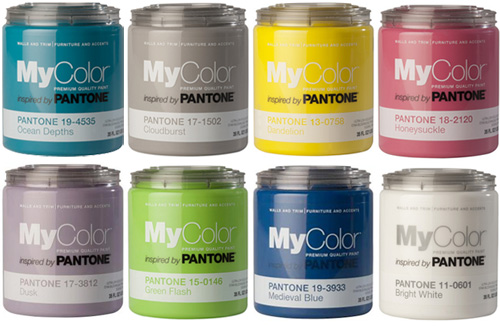 PRIZE: Eight quarts of MyColor inspired by Pantone paints in any color (an $100 value)
TO ENTER: Comment on this post with the words "PANTONE ME" and tell us…
BONUS QUESTION: … if you had to declare a color of YOUR year, what would it be? Are you craving all things red lately (Sherry is)? Do all of your clothing purchases seem to be in the aqua family? Or are you right with the Pantone folks on emerald this year?
NUMBER OF WINNERS: One
PRIZE SHIPS: We always beg every vendor to ship internationally but some companies are not legally able to vend things beyond specific areas (more on that here). This giveaway is open to the United States.
GIVEAWAY CLOSES: Wednesday, April 24th or at 10,000 entries (whichever comes first)
USUAL STUFF: One entry per e-mail address is permitted. The winners will be selected using random.org and announced on Thursday as an update to this post. That's right, come right back here on Thursday for the announcement of our winners. Good luck…
***COMMENT ISSUES? If you're trying to enter but keep getting a "duplicate comment" warning, click here to see how to solve it!
Note: We aren't paid or perked for hosting these giveaways, we just do 'em to thank you awesome folks for stopping in. See our Giveaway FAQ page for more info. Pics courtesy of MyColor inspired by Pantone.

&nbsp&nbsp&nbsp
Surprise! We painted the guest bathroom this weekend! The walls, the trim, and even the ceiling. And double surprise: we went with a fresh clean coat of white (Decorator's White by Benjamin Moore). Bet you didn't see that coming…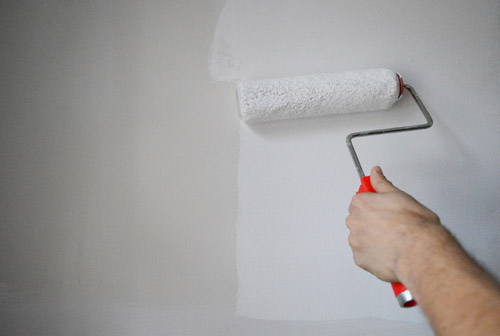 Why'd we go white? Well the old paint was dingy (see the difference in the pic above?), but we've decided to embrace the yellow tile instead of yanking it all out gut-job style or painting or reglazing it. It's completely original 60's tile that's in great shape – and the color is happy and cute so we've decided it's charming. Especially with our fresh white (albeit bare for now) walls – which will allow us to bring in some personality and color in other ways without overwhelming the small space.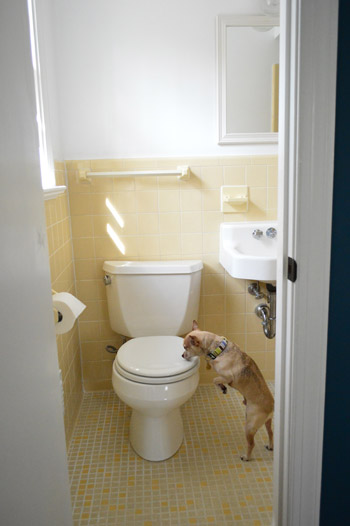 Our hall bathroom sports original tile as well, but we were able to crisp it up and bring in some fun accessories so it flows with the rest of our house…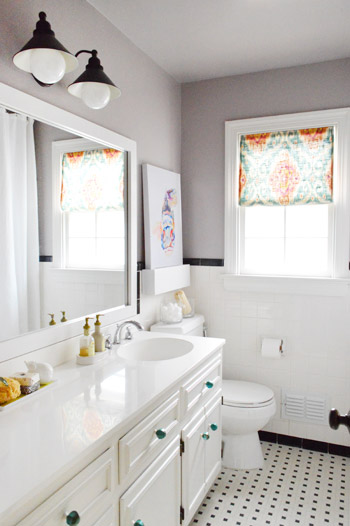 … so we decided to give that the ol' college try in here before bringing in the demolition hammer, a la this…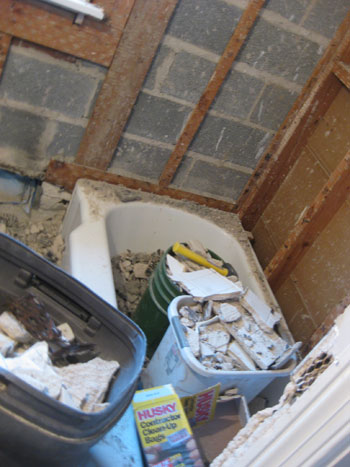 Oh and we raised the shower rod to ceiling height and added an extra long 95″ waffle weave curtain (from target.com) about six months ago that hides inside the shower now (this is the view from inside the shower, so the rod is 100% invisible from the main part of the bathroom). It was weird to see the lower bar hanging down around 4″ below the doorway that leads to the shower.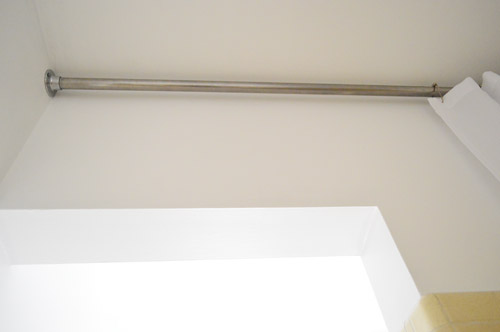 I wish I could have shot a better picture of the other side of the shower doorway so you could get a better idea, but the room's just too tiny. I'd have to be out the window to get the right angle…
Speaking of the window, we finally frosted it (using leftover frosting film and this method) which is nice because it lets in all the light, but doesn't let anyone standing on the deck creepily spy on you.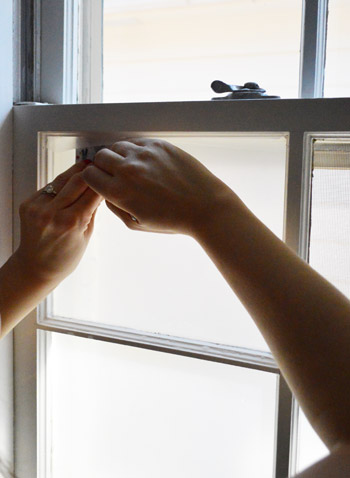 Between the freshly painted walls and the glowing frosted windows, it's definitely feeling crisper and less murky in here already.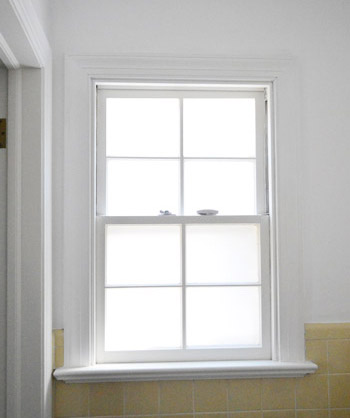 After my little frost-job I dug out this fabric remnant from over a year ago (originally from U-Fab here in Richmond and made by Iman) to make a sweet little no-sew shade. After nixing a faux roman shade like this one I made for the kitchen (not enough fabric) and considering a simpler version like this one from the hall bath, I decided to go with something closer to the latter, but with a twist. So I dragged out my materials (a tape measure, some iron-on hem tape, a scrap piece of wood, and my staple gun) and got to work…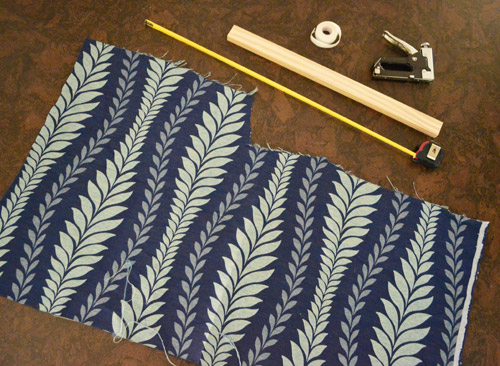 I measured the window width (23″), cut my scrap wood about a 1/4″ shy of that size, and cut my fabric to 25″ wide and as long as I could make it (which ended up being 30″) so I could hem it on both sides and at the bottom to end up with a 23″ x 29″ shade. See how the wood is a smidge thinner than the hemmed fabric? That's so you don't see it poking out on the sides.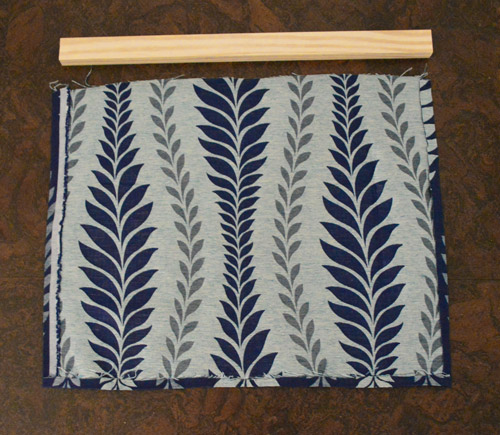 Then I stapled the top of the fabric to the scrap piece of wood (centering the wood so the fabric was slightly longer on both sides) and screwed through it from below three times to hold it into the window.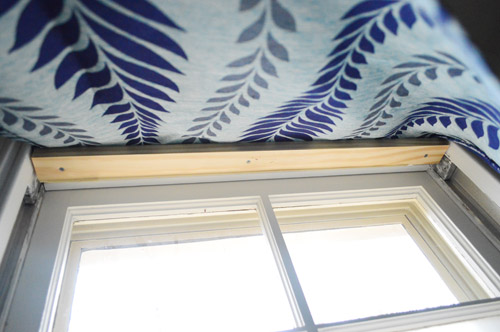 Voila!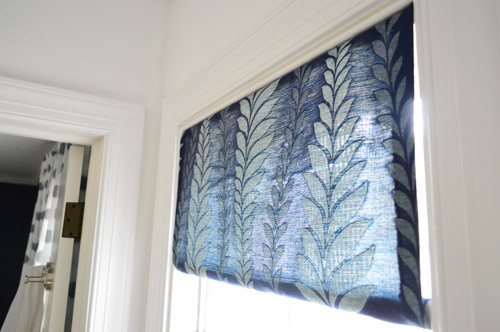 I opted for a cute little rolled look at the bottom thanks to a smaller piece of scrap wood (old shoe molding) that I cut to be a teeny bit wider than 23″ – that way I could roll the fabric around the molding and shove it into place so it held itself between the sides of the window, sort of like a tension rod.
Here's the view from out in the guest room. I love how the fabric works with the polka dot curtains in there. Not too matchy, but compatible and layered. It's also nice to see the dark teal color from the bedroom walls carried into the bathroom, so it feels less like a random yellow box without any relation to the adjoining room.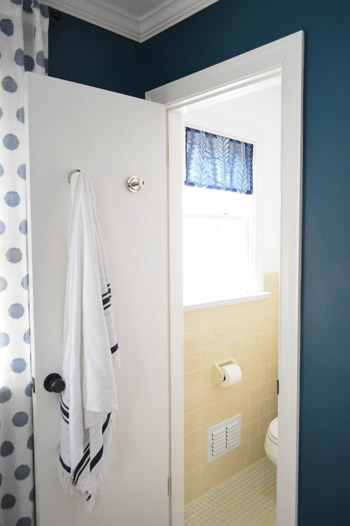 It feels good to cross a few things off the list in there, but there's still more on the agenda.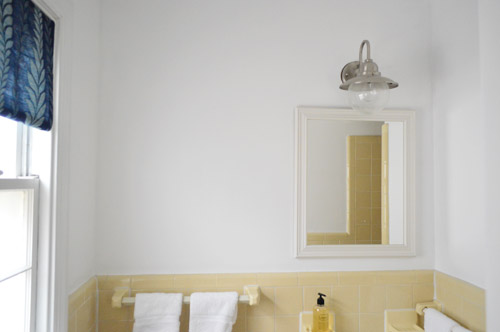 We think three more simple upgrades will make all the difference, so here's the plan.
paint the walls
frost the window for privacy
make a window treatment with a bold fabric remnant
paint the frame of the mirror so it stands out against the white wall
hang some art over the toilet
go accessory happy (if Lesley made her pink tiled bathroom cute with the right stuff, there's hope for this old room yet)
Is anyone else embracing something old? Any painting going on? Shade-making? Did anyone else watch the Atlanta Housewives reunion and laugh at how many times they said "throwing shade"? I gotta start working that in.
Psst- See how we upgraded the light fixture almost two years ago here.
&nbsp&nbsp&nbsp