Archive for April, 2013
What carport? This carport. You know, the one that almost kept us from considering this house because we were so anti-carport? My how we've changed our tune after spending a few years with it…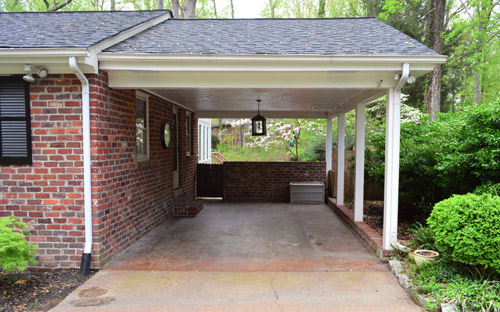 Sherry actually mentioned the new tune we're signing back in this Listy McListerson post: "we originally wanted to convert this into a garage, but now we're leaning towards adding a trellis arch so it's all lush and pretty like a carport with a pergola instead of being closed in and dark like a garage (we'd lose some light from two windows into the laundry room and office if we closed it in)."

The lost windows were a big game changer, since we learned that fire codes would require us to close them off. See this guy over our built-in desk? It would be gone-zo along with the window in the laundry room.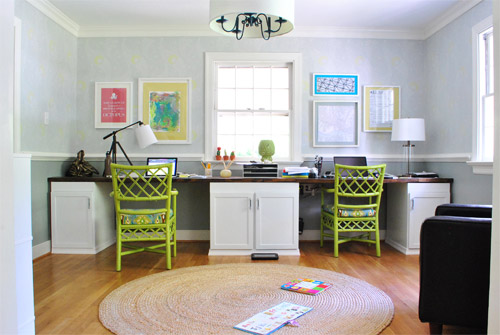 We also got over our need for garage storage because our basement and attic have proven more than sufficient. So Operation Garage Conversion has officially become Operation Carport Fancification. Our main tactic? Adding the architectural interest that Sherry described above. In short, taking it from something like this…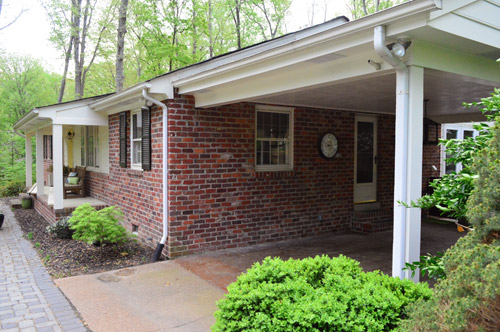 …to something like this. Just more real, less Photoshop-tacular. And maybe with some nice greenery running up it.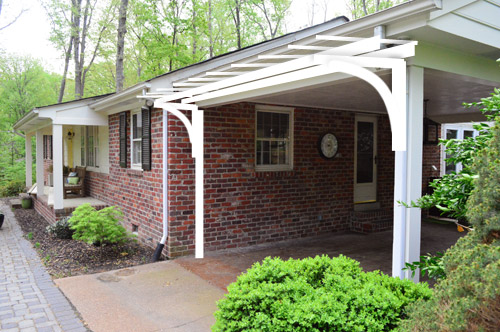 If that Photoshop job isn't doing it for you (it's barely doing it for me) the first image in this article might. It wasn't until we started hunting for inspiration that I realized attached pergolas are a thing. Some fancy folks even dub them "garage arbors." So the idea of a carport arbor (a "carbor"?) didn't seem that far-fetched. But figuring out how to actually build one had me all like…
Then Google led us to Workbench Magazine. Well, specifically this 2008 article on – you guessed it – building an attached garage pergola.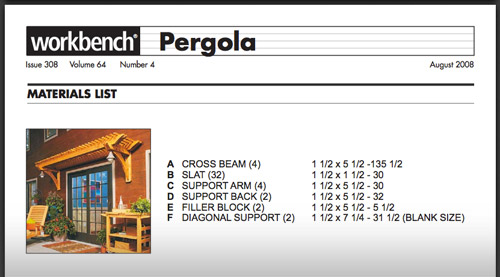 And it wasn't just any article. It was an article with building plans and diagrams. Glorious, glorious diagrams.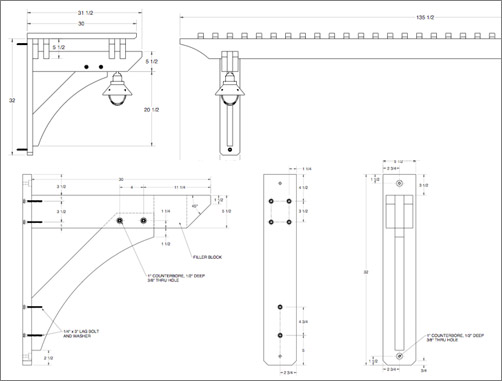 And, as if the pergola heavens were shining down upon us, their plan was just about the exact size of what we needed to do, so we could follow their material and cut list almost to a T. Hallelujah. So I printed out the plans and made myself a date with the Lowe's rental truck.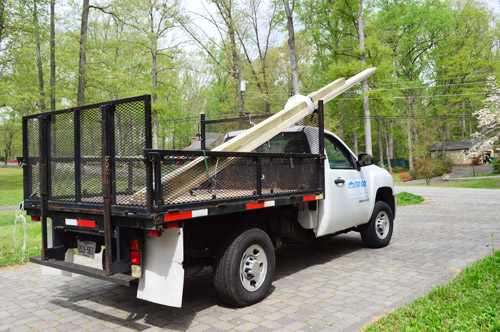 After finding the plans, and buying and hauling back all of our materials, we were finally able to get a start building this weekend, and the first step was installing an extra column on the house-side of the carport (since we needed a place for the pergola brace on that side to attach).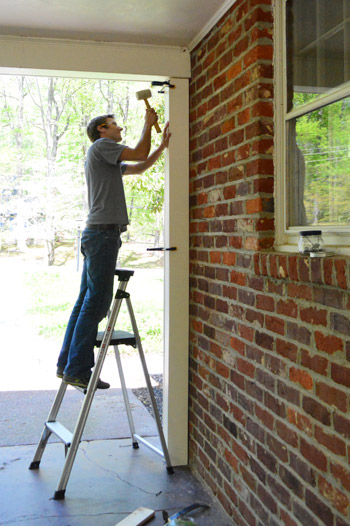 We're currently in the process of rerouting the drainpipe, priming and painting a lot of wood, making our own curved wooden braces, and cutting all of the slats for the top part. So if all goes well, we should have that knocked out by early next week so we'll be back with a post full o' details for you guys then. The plans involve some fairly intricate cutting and bracing (at least by my standards) so we'll have to see how all that goes. Wish us luck!
People ask us how we get the courage to take on larger building projects like this a lot, and our answer is always "break them down into smaller parts so your brain doesn't explode." So to demonstrate that, here's our own broken-out pergola to-do list:
find or create our own plans
figure out exactly what pieces of wood/screws/bolts we need and somehow get them home <–we rented a Lowe's truck for $20 to get the 16′ boards home
prime and paint the wood beforehand (should be much easier to do this before things are assembled) <– this is about half done, hence the half cross out
build a column on the left side of the carport so the bracket on that side can rest on it
build the curved wooden braces and bolt them in securely
lay the boards and slats across the top, making sure they're all level and secure
find some vine to creep up the thing for extra credit
Anyone else out there ever built a pergola? Who thinks HGTV should add Pimp My Carport to their programming? Just me?
Psst- I wrote this for Boston.
&nbsp&nbsp&nbsp
I am, getting so hot, I'm gonna put some blinds uuup.
Picture me singing that while installing each of these four blinds. On repeat. While John rolled his eyes.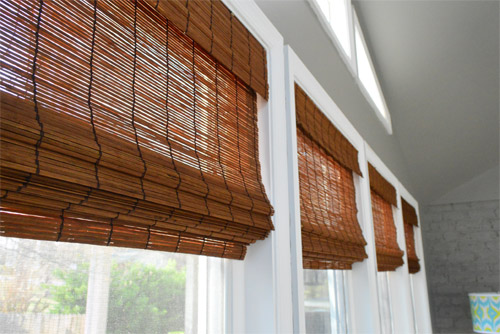 Actually it was less about heat and more about that ever-elusive p word: privacy. Just during the day (we don't use the sunroom at night) but it's hard to make a room with an entire wall of windows feel private and cozy. So we reasoned that bamboo blinds + the fence that we added outside for our patio (which you can see through the windows here thanks to this photography trick from Kate) just might do the trick.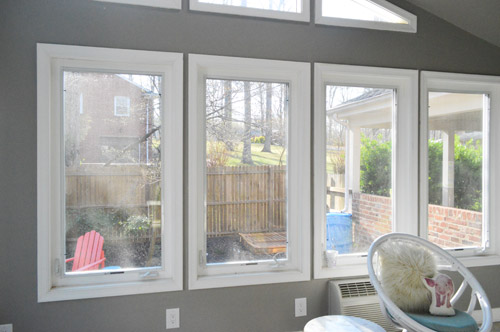 We opted to go with the same bamboo blinds that we got from Home Depot for the office (they're called Mirada if that helps anyone find them). This time we needed four 30″ bamboo blinds (which were $19 per shade) but they didn't sell them in the store, so we ordered them online (yay for free shipping).
Once they showed up, it was on. Cue me singing and drilling until these babies were up (using the same hanging-method that we detailed here). And just like that, our sunroom was hot. Not temperature wise, attractive wise. I mean come on, if you were a sunroom looking for love, wouldn't you want to get to know our sunroom? She's PHAT (pretty hot and tempting).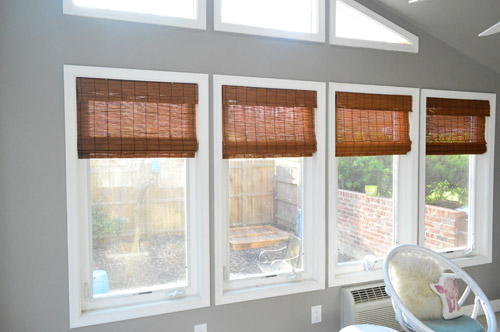 Aaaaand now that I've successfully managed to out-nerd my dad (didn't think I could and then my fingers just went rogue) I'll just share the other after pics: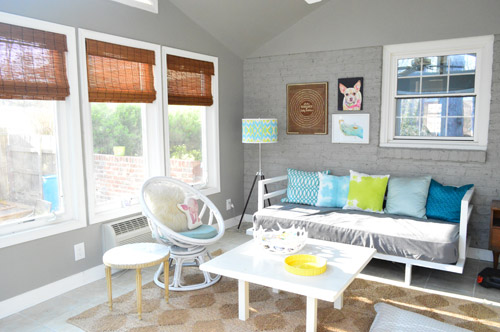 The cool thing is that the blinds + the patio fence do sort of "meet in the middle" to provide some privacy from the house next door (the fence blocks the bottom 2/3 of the window from view, and the blinds handle the top 1/3). Daytime privacy goal: achieved.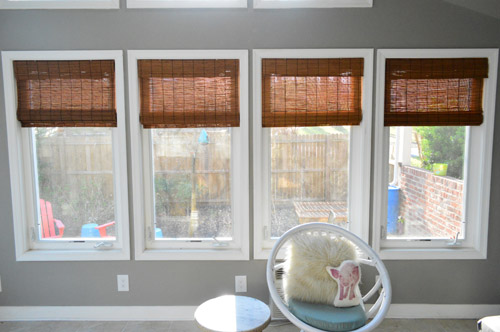 Not to mention that we love the texture and the warm tones that they bring into to the room. They balance other wood items, like the side table…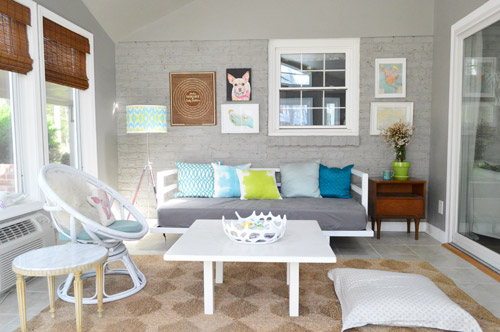 … and the wooden doily stretcher on the wall (a $4 thrift store score)…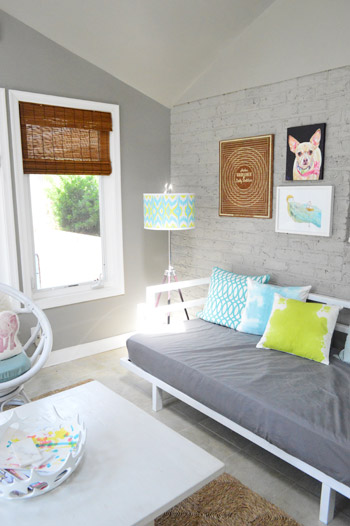 …along with the homemade bike print frames on the other side of the room…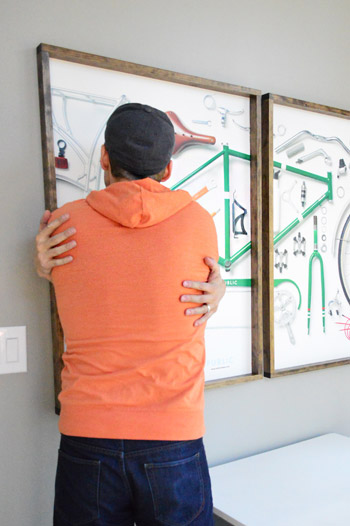 Hubba hubba.
In short, this was the view of the room from the sliding door in the living room before: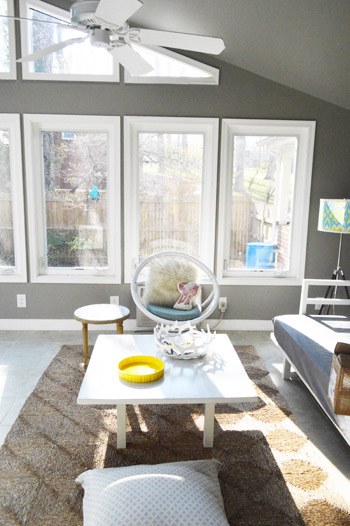 And now it looks like this: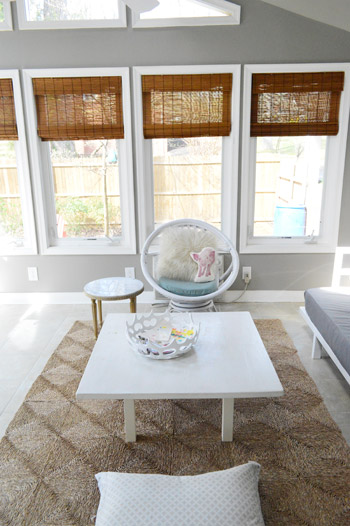 And a crazy chopped-up room that looked like this when we moved in…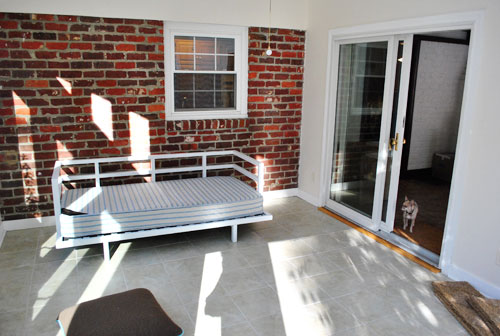 … now looks like this.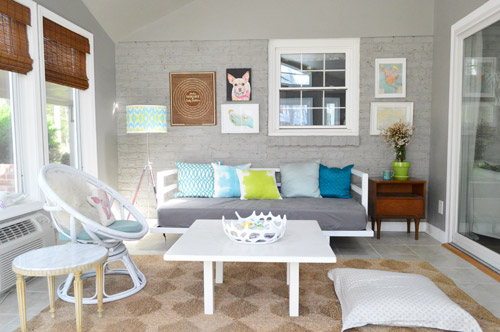 I'm itching to paint the dainty legs of that round table next to the egg chair a nice dark tone. Maybe chocolate or charcoal? I think it'll set off the granite top just right. And see that orange strip of wood under the sliding door? Gotta go white with that to match the trim.
Is any window-rectifying-action going on in your house? Let's talk about blinds bay-bee, let's talk about you and me…
&nbsp&nbsp&nbsp