Archive for February, 2013
Since we always share our road trip adventures with the Bowers (like this one, this one, and this one), here's a long overdue recap of our most recent visit – which included lots of kid fun, a fair amount of antiquing & crafting, and even a little luxurious mom outing for good measure (along with a really cute gift idea). Let's jump right in, shall we?
Oh but for those looking for pictures of us doing sexy exciting things like cutting wood and using a nail-gun, that's going on as you read this. The soundtrack of the day is bam-bam-bam! Yes, we've begun our big board & batten project and can't wait to share our progress next week! Our goal is to not only finish it, but to have all of the nail holes filled, prime it, and paint it (along with painting the hallway walls) by next Wednesday. So we're buzzing around like crazy to make that happen. And we can't wait to spill all of the details!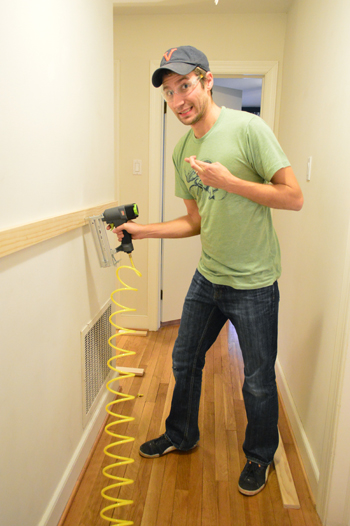 As for the Katie-crafting I mentioned, at around 11pm one night she and I were feeling antsy and hyper, so we decided we couldn't just sit on the sofa. We needed to be crafting. Seriously that happened. So we looked around for some things we could use and Katie quickly came up with two old terracotta pots, some wrapping paper with a faux wood look, some pom pom fringe (which made me jump up and down like a child) and some craft paint.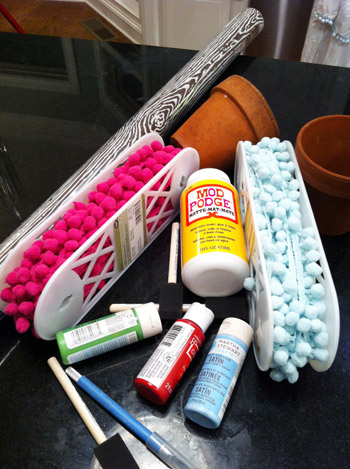 Our first step was just to paint the entire inside of the pot along with the lip around the top with craft paint. Katie went with red and I went with a soft blue color. Then we used the wrapping paper in that faux wood pattern and cut out a piece of it that could be wrapped around the base of the pot like a little sleeve or slipcover. Once we knew it would fit (you can make a paper template to get the shape right since it's not a straight strip, it's more like a curved C-shaped piece of paper since the pot is tapered) we Mod Podged the side of the pot and laid the paper over it to hold it in place…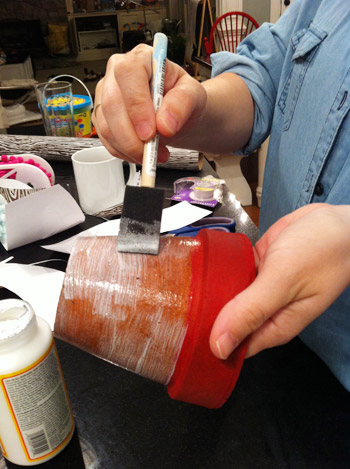 We also applied Mod Podge to the top of the wrapping paper to seal it and make it nice and durable. Bam: two cute little countertop pots for everything from pencils to keys or loose change. And as for the pom-pom fringe, we had planned to use it around the lip of each one (pink on mine and soft blue on Katie's) but sadly it looked a little too "Liberace" – so we slowly backed away from the pom-poms. Don't worry though, it inspired me to buy some from JoAnn when we got back home (it was a remnant so it was super cheap) and I have a little project planned with it. Gotta work the pom-pom fringe in there somewhere!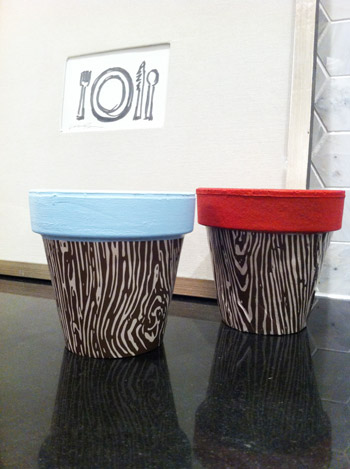 But our days weren't all spent snuggling Mod Podge and craft paint. We had lots of awesome family time (Katie and I really bonded over being pregnant together with Clara & Will, so we love doing outings together where our kids can run around and have some fun). Along with going to the playground and soaking up some backyard fun time we also headed over to a children's museum in Downtown Atlanta called Imagine It. Clara and Will had the best time playing with everything from trains, water, and sand to – of course – a nice big play kitchen. I think Will was frying strawberries and Clara was microwaving cereal here. Yummy.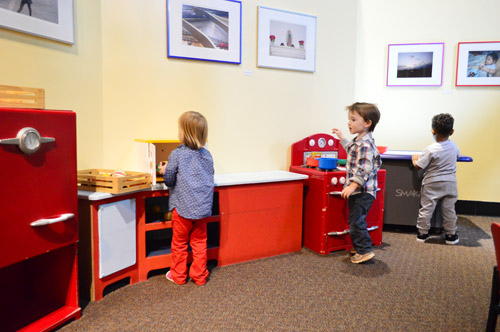 During one amazing naptime that perfectly overlapped (all three kids were sleeping at once) Katie and I even squeezed in a pedicure and a run to Starbucks, which is about a once a year occurrence to ladies like us, so we pretty much felt like queens for that entire afternoon.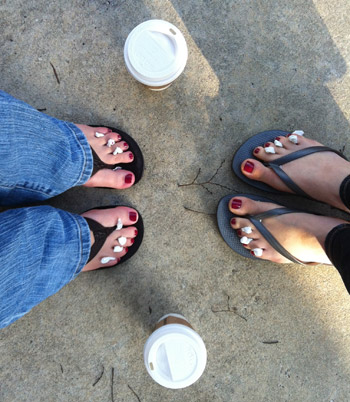 We also went antiquing, but Katie has all of those pics, so I'll just share what I brought home: two little wooden doll chairs (too big for the dollhouse but perfect for a few of Clara's bigger dolls), an old metal moose hook (you know I love a good moose), and a cute little red wagon for Clara's dollhouse (the wheels even turn, so I knew she'd love pulling it around). Sometimes antique shops (as opposed to thrift shops) seem to have higher prices, but I think the chairs were $4 for both, the moose hook was $3 and the wagon was $3, which wasn't too bad. When it was all said and done, for ten bucks I got some pretty fun stuff.  Especially when you see where they ended up…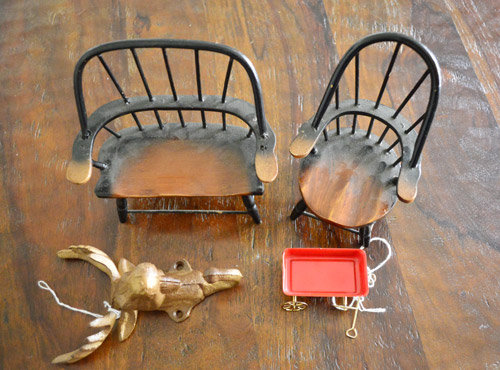 Here's the moose hook living it up in the hall bathroom (which is where we bathe Clara, so we've been dying for a towel hook for functional reasons). And the fact that El Moose goes so perfectly with Senior Horse (an old metal horse that I got at a secondhand store and repurposed as a towel holder)… well, that made my day.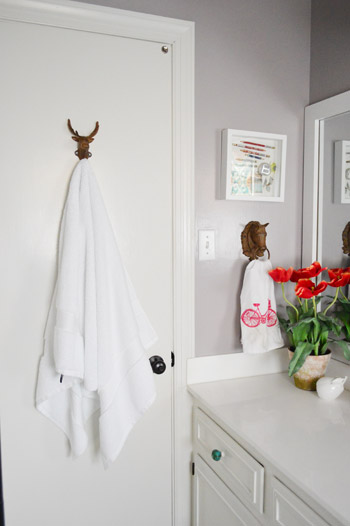 As for the doll chairs, I originally thought about spraying them a bright color (you know me…) but once I cleaned them up with some soap and water they looked pretty charming just as they were.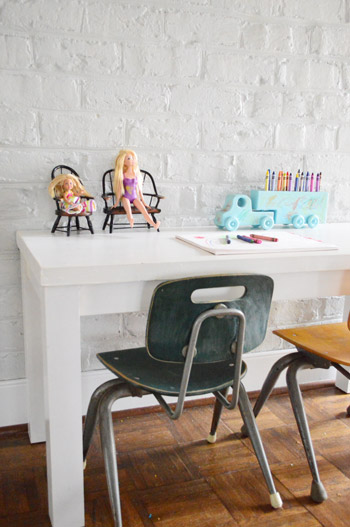 Don't mind the giant clown pants that the little doll has on. Those are from a stuffed babydoll, but Clara likes to switch everyone's outfits.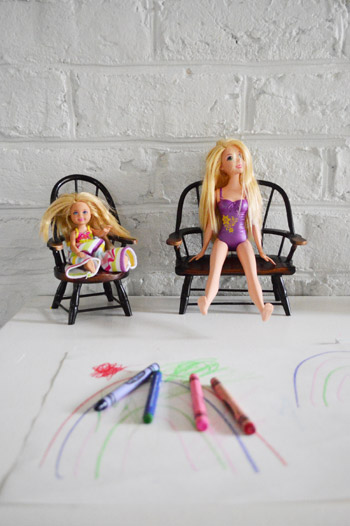 And as for the little red wagon, I think it's my favorite. Especially because I found it like this the next morning (this is not staged, Clara actually did this).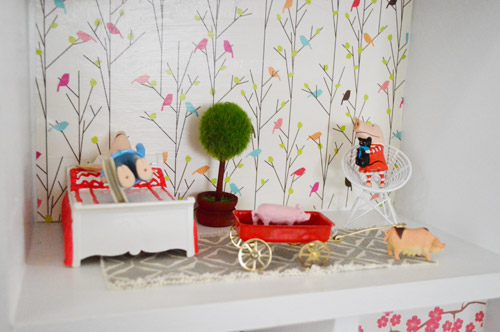 Seriously, how funny is that? She had dug two pigs out of her little pouch of plastic animals and explained that the big pig was pulling the little pig. And Olivia and Olivia's dad (who are the kind of pigs who wear clothes) were watching. If that isn't a good time, I don't know what is.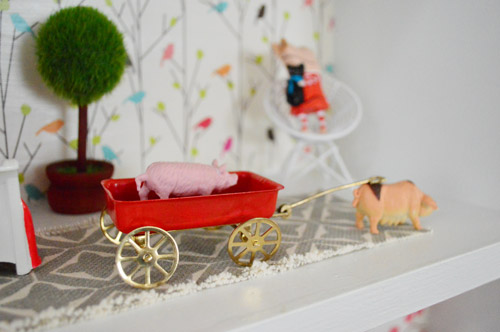 We spent a good amount of time eating (mmm) and just hanging out and talking about blog stuff and life stuff while our kids played in the house and the yard. It was an awesome long weekend with them. And of course we made this video…
… and took some adorable kid pics while we were at it.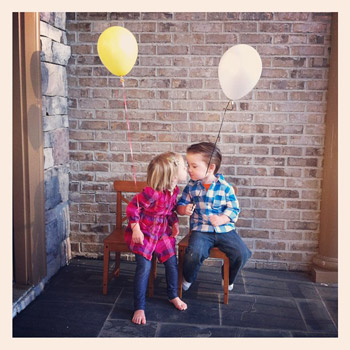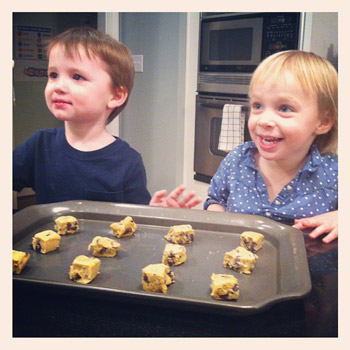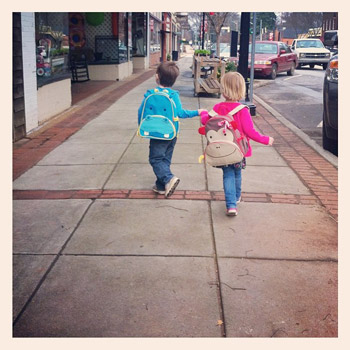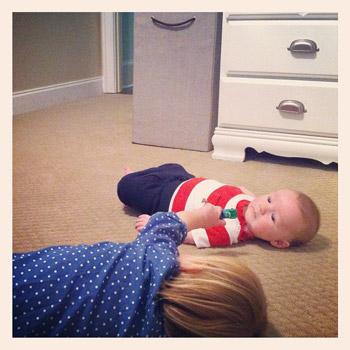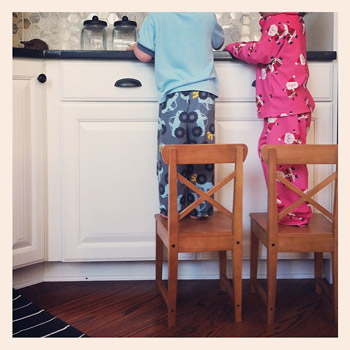 Then on Monday morning we published the morning post and made the long drive home (it's about 8 hours), approving comments as we went. Oh and Clara blessed us with an awesome nap: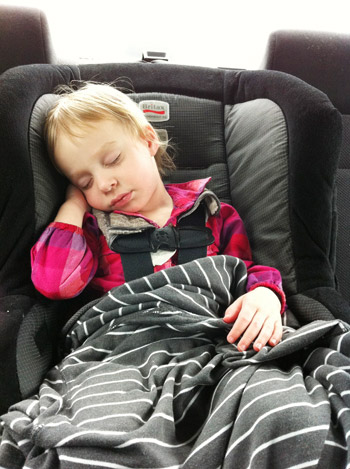 Speaking of blessed, can you believe that Katie and I have been friends for almost four years?! Crazy how time flies. It's so funny when we think back to how we met before any kiddos (we did everything from vacationing in Nashville to going out for sushi at midnight) and now we collectively have three kids under three. Haha! My how the times have changed. But in the best possible way.
And here's the thoughtful gift that I found sitting outside of the guest room when we awoke the morning after our very last book signing: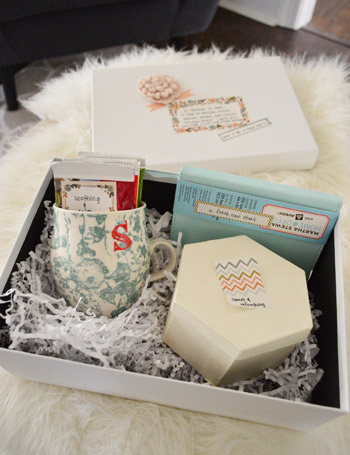 The hand written note on the top of the box talked about how Katie knew what a big thing the tour was (both exciting-wise and exhausting-wise) and she wanted to congratulate us for completing it and said that she hoped this new after-the-tour season would hold and be filled with many things and be a time that is… (yes she left me hanging so I had to open the box). Inside I found that she had put notes on each item in the box that correlated with what she wrote. So on the little box of chocolates she said "sweet and refreshing" and on the notebook she said "a fresh new start" and on the mug full of herbal tea it said "soothing and calm." How awesome is that? I loved it. Just what I needed after living out of a suitcase for four months!
So a huge thanks to the Bowers for hosting us and being our buddies. John and Jeremy even went to a movie together while Katie and I hung back with the kids, which made us all nerdy and giddy. We love that our men are such good friends because it bodes well for them always saying "sweet!" when we bat our eyes and start planning another visit. Haha! What road trips have you guys gone on lately? Are you giving (or getting) any presents so charming and clever that they make you want to blog about them? What about crafting and antiquing. I'm sure we're not the only ones doing that…
Psst- Clara's just getting funnier and funnier. Hear her take on everything from baby naming to wheeling away from a yogurt raisin here on Young House Love.
&nbsp&nbsp&nbsp
The closet in the spare room used to be packed with things like luggage, wrapping paper, gift bags, and a bunch of other clutter that had to be dealt with in order to free up space for actual playing and Clara-storage (since this is now the playroom/big girl room instead of a room full o' junk).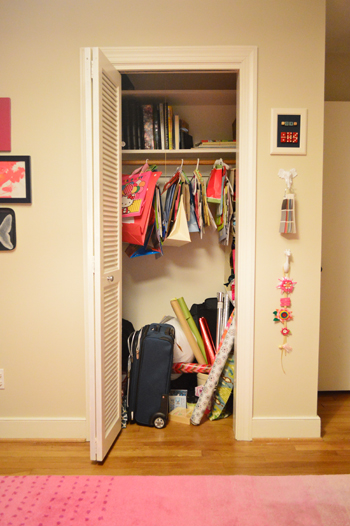 So we took everything out (except for the photo albums & yearbooks up top) and it magically disappeared.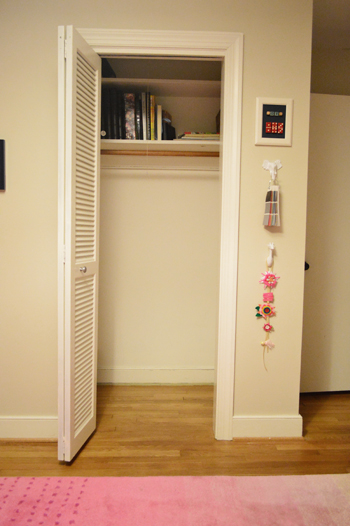 Just kidding, it ended up in the guest room closet.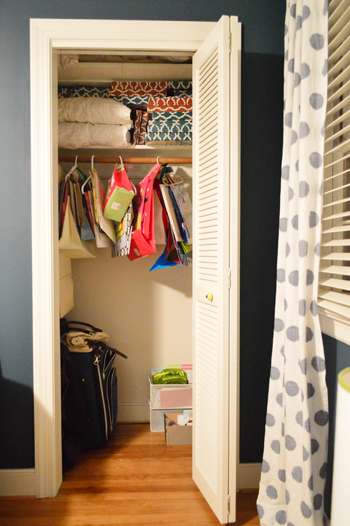 Which actually seems ok since we're on year three of living here (CRAZY!) and we haven't noticed any guests using the guest closet at all, so it made sense for us to put that valuable real estate to work for us. There's actually still a little room for hanging things on the bar if we shove all the bags to the left or the right, so we might do that if we're expecting company, just in case. But for the rest of the time it's more functional to see my gift bags all spread out so I can grab one nice and fast.
And the good news is that once the door is shut, our guests don't have to be subjected to all of the items that lurk behind it.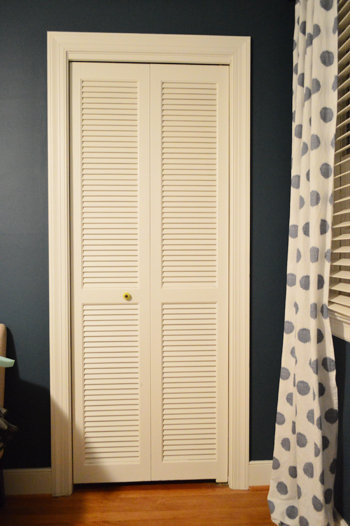 And after the addition of a few Clara-things, the closet in her big girl room is now nice and useful – both for games and for storing a few not-her-size yet items of clothing (get it? they're her big girl clothes in her big girl room). It would be fun to paint the closet walls a playful color (coral? teal?) so maybe we'll get to that sometime.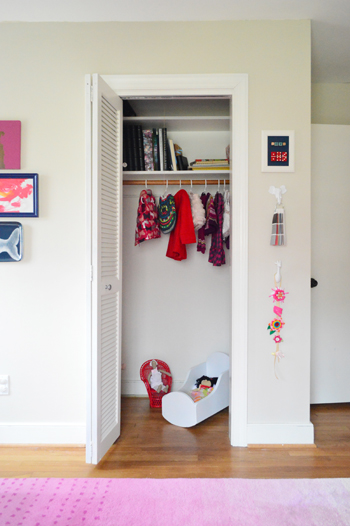 In the meantime, we just added a friend or two. You know for closet ambiance. Like her monkey (he likes to hang out).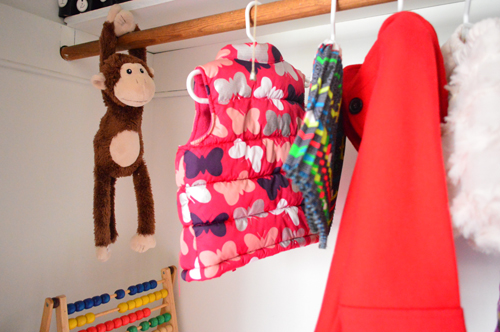 The addition of a few toys essentially creates another play-zone in the house (Clara already plays a lot in her big girl room thanks to her play kitchen and her little table for stuffed animal tea parties, (not to mention fake naps on the daybed) but the closet is yet another little spot that she can sneak into and enjoy.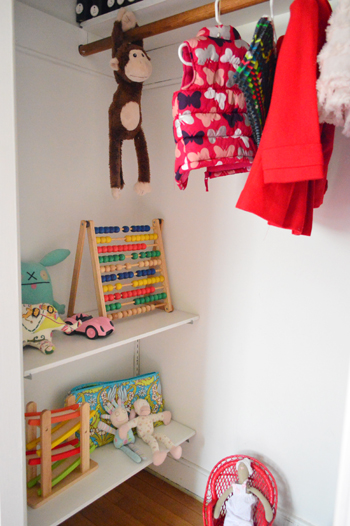 Down on the floor we have a few things that I picked up for the Macklemore Challenge. Remember the $1 chair that used to be a faded old yellow-brown color? And the cradle that had some burns and scratches along with a pretty musty odor?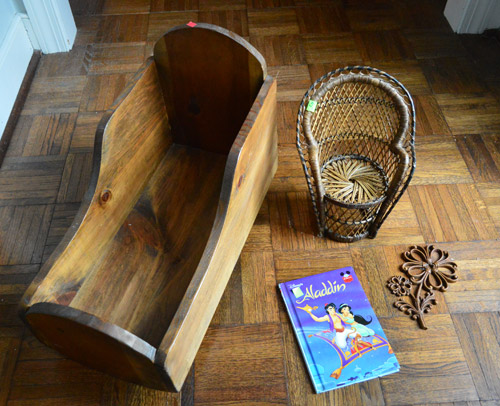 Well they're looking (and smelling) nice and fresh now…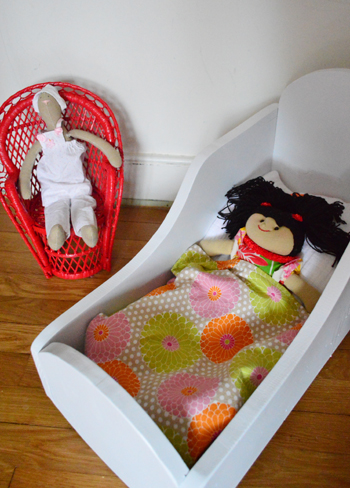 They were both easily revived thanks to some cleaning, priming, and fresh paint. For the chair I used Valspar's Gloss in Classic Red (which is a paint and primer in one). And for the cradle I used Rustoleum's Universal All-Surface spray paint in gloss white (which also has a built-in primer).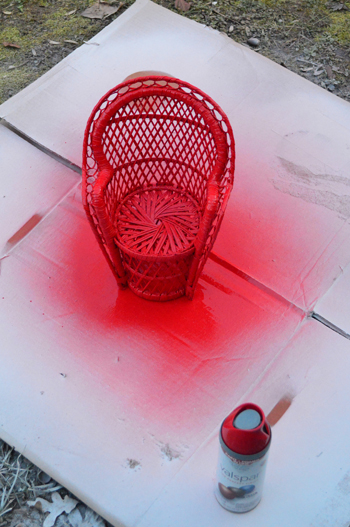 I actually have some more plans for the cradle (rhymes with bom bom bringe) so I promise I'll keep you posted! It definitely won't just be all basic and white for long…
But even though the cradle is only half done, the newly cleared-out closet is getting lots of play.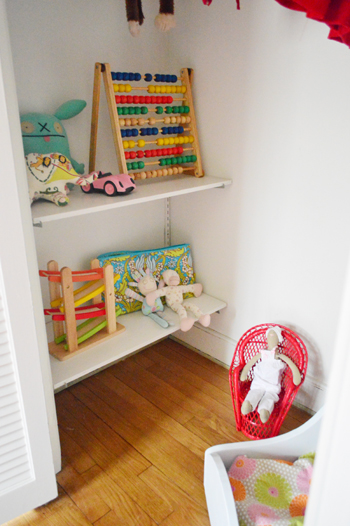 I'm actually learning that as Clara grows it's nice to have a few zones throughout the house for her to "discover things to do" instead of plopping every toy in one basket in the living room. It seems like the change of scenery from room to room holds her interest more, and I like that there aren't ten million jumbled toys in one spot to clean up (by delegating them to different areas, most of the time they stay in those new zones so there's just a little picking up in a few rooms instead of a giant pile of mixed toys on the living room rug).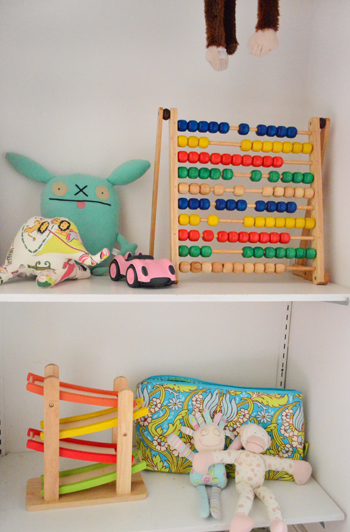 So that's the story of our quick little closet overhaul. What have you guys been transferring and organizing? Any other closet clear-outs going on? If you have a guest room do you keep the closet completely bare in case someone wants to hang something? Or do you use it since most of the time you're not housing guests and it's valuable storage space? We just realized the other day that we only have five closets in this entire four bedroom house (our 800 square foot one-bedroom apartment here in Richmond had four) so it's a wonder we ever had an empty one at all!
&nbsp&nbsp&nbsp