Archive for February, 2013
Some people who went for a pattern like this on the daybed might go for something neutral and simple for the windows (like breezy white curtains). Others might pluck one of the colors from the blanket and go for that (bold red cotton panels, taupey-gray velvet ones, etc). We might have been tempted to go with something more neutral and safe if the room wasn't meant for our color loving kiddo (so the bedding could "be the star") but since it's Clara's new space, and we love kid zones with a few layered patterns and colors, we decided to just go to our favorite local fabric outlet (U-Fab here in Richmond) and see what grabbed us. And by us I mean Clara. It's her room, after all…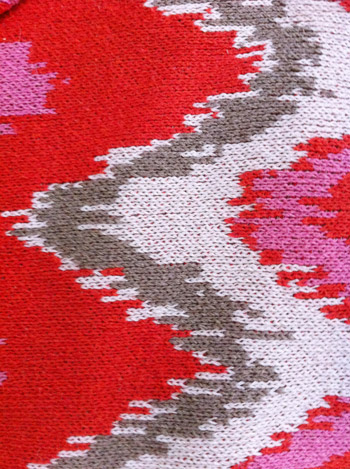 Like a moth to a flame, this happened: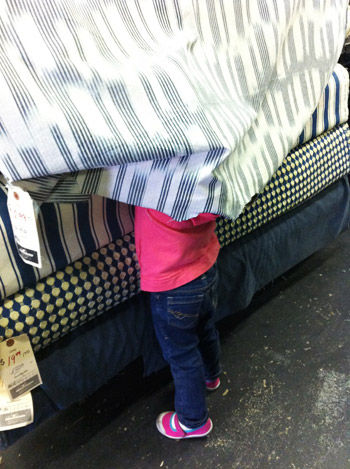 She had some fun playing with a few crazier options (a bright orange one with large coral on it, a dark purple plaid, etc) but this one was definitely something she pointed at a few times – and we thought it actually could work – especially since it has navy and white in it, which are two of the colors we've mentioned wanting to add to balance all the pink & red.
In short: Clara's clearly a decorating genius. Just kidding. The truth is that there are probably a ton of fabric options that could layer nicely into a kids room when it comes to curtains (as long as they're not too "alpha" they'd fall in line behind the bedding and a bright rug without totally disappearing). But we did like that there was a very very very subtle chevron-ish pattern going on (the blurry linear edges actually reminded us a lot of her daybed blanket). And the price wasn't too scary…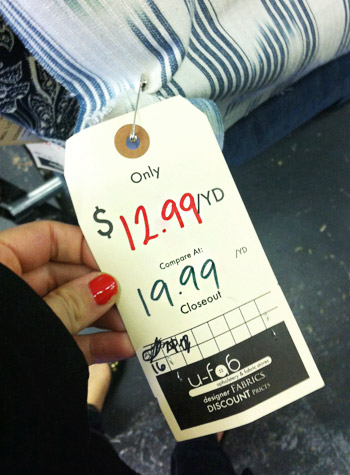 … especially with a store-wide 20% off sale that was being offered on top of that discounted price. So in the end we got just a smidge over ten yards to make four extra long panels for the room, which each broke down to around $25 per panel after the sale.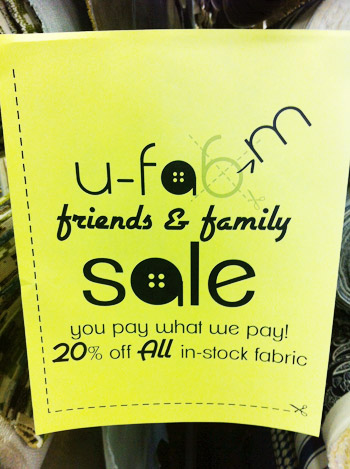 When we got home and tucked Clara in for a nap, I rolled out my bounty and started cutting my four panels from the roll (because let's be honest she'd yank this every which way while I was trying to measure and cut if I tried to do this while she was awake).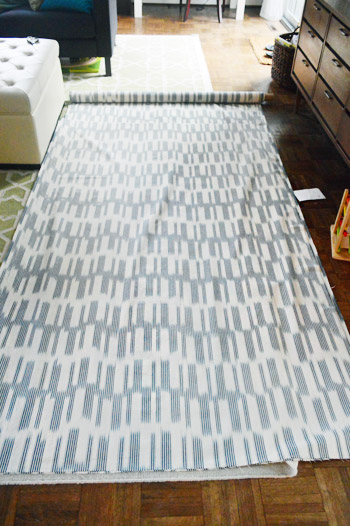 The simplest way for me to measure for panels is just to see how long I want the finished curtain panels to be (ex: 89″ high) and then add two extra inches to the length of each panel to account for the hems on each end that I'll add. So each of the four panels that I cut was 91″ long and then was hemmed to a finished size of 89″, which might not sound that long but I love hanging my curtains on a rod with rod clips, so those tend to add a little length too. That way the rod can be mounted just a few inches below the ceiling like I like it (we left some extra room for crown molding which we'll be adding in here down the line). Oh and I use the full width of the bolt for the curtain's width, which means less cutting, and they're as thick and full as possible that way.
I'm a fan of using one panel as a template for the others. So once I measured out and cut the first panel, I just placed it on top of the fabric under it and made three more of them in exactly the same size for a grand total of four soon-to-be curtains.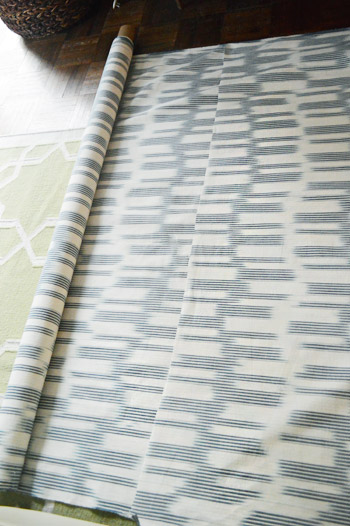 Then I used my trusty hem-tape method, detailed here and here. For over half a decade I've used the heavy duty Heat N Bond stuff, and it has not only held up amazingly but it can even be washed, so I'm definitely a fan. I've also sewed curtains and actually think the hem-tape ones look crisper and straighter since keeping my stitching straight isn't as easy as following hem tape with an iron for a nice straight hem. Like so: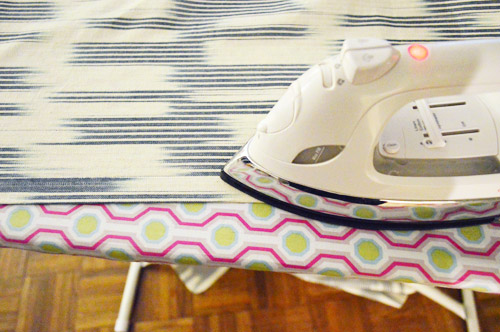 Oh and it always helps to wash your fabric first (before cutting and hemming it) so it's all pre-shrunk!
As for the curtain rods and ring clips, we actually had them already (remember we had hung them back here?), we just removed them to paint the room so we could re-hang them at the height of our freshly made curtains. So here's John's tricky little tape move for hanging the rods (he folds some painters tape under the hole he's making so it sticks out like a ledge and catches the drill-crumbs).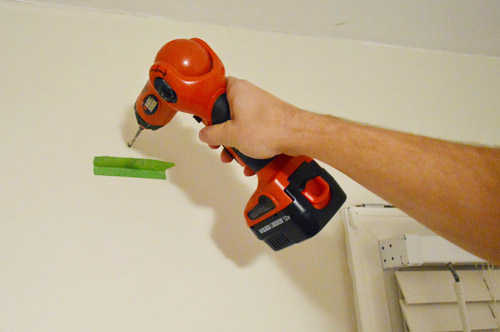 For the detail loving folks, we used these plastic anchors (we like to make sure our rods are held in with more than just a few screws in case a kid hangs on the curtains – which we've found results in just the fabric slipping out of the ring-clip's "mouth" instead of the whole rod banging down on them).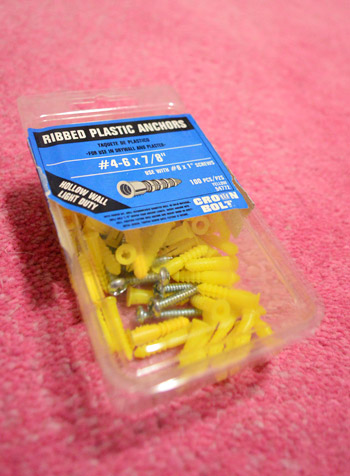 Bada bing, bada boom. Clara done good with her curtain choice, we think. They sort of look black and white in these pics, but they're really navy in person, and we plan to bring more navy into the room in a bunch of other ways (picture some navy picture frames on the wall, a navy pillow or two on the daybed, maybe even a navy light fixture or ottoman in the middle of the rug). That will "link" the curtains to the rug and the daybed a bit more, so they won't look as random. Should be fun to inch towards a more finished look. You know how impatient I am…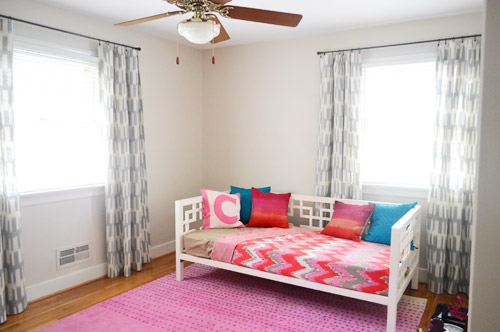 While the room keeps slowly evolving, I'm soaking up the little things. Like the fact that the curtains almost touch the floor but don't (it keeps them cleaner and helps them hang in a fuller, loopier way). Oh and here's one more hanging tip: clip the rod rings to the rod and to the fabric and have someone hold them up at different heights until you like the way they hang and then mark the wall and hang them at that height. That way they won't be dorky short or too long. It definitely beats trying to guess the length of the curtains while hanging a bare rod (if the actual curtains are on the rod they can help you pin down the perfect height).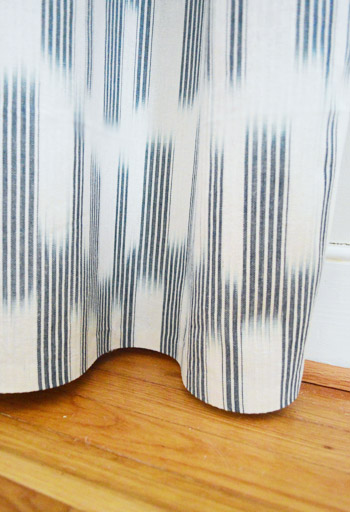 Oh man, it still feels pretty empty in here (and that old fan practically pokes John in the eye every time we're in there) but we can actually picture more things being layered in now. Like our kids table and maybe an ottoman to break up all the pink in the rug plus a ton of playful art to add balance. Here's the ol' to do list:
paint the room (more on that here)
cut down our old den side table to make a play table (more on that here)
bring in a dresser (we'd love to find something secondhand) (more on that here)

make/hange some curtains

add a rug (more on that here)

hang art on the walls along with a few other 3D objects that we have in mind (how's that for cryptic?)
install a new light fixture
refinish or paint Clara's new dresser (which we got here)
paint the chairs a bright happy color to go with Clara's play table
turn the junked up closet into an actual clothes closet/reading nook
add crown molding (along with tackling the other un-crown-molding-ed bedrooms on this side of the house)
add accessories like more pillows, storage bins for toys, etc
Sounds like a good time to me. I know, I'm crazy. Kids rooms are so much fun though! What have you guys been up to? Anyone else making curtains or letting their kids help with fabric or paint choices? Do you use the hook-the-curtains-to-the-rod-and-then-hang-the-rod trick too? It took us a few years to figure that out, but it seems to be a lot more exact that trying to measure curtain length and account for the height of the ring hook and the rod itself (we used to be off by an inch or two after all that calculating and then we'd have to re-hang them again to fix our mistake). Oh well, live and learn!
Psst- The latest roundup of Clara Conversations are up on Young House Life, and let's just say there are a few gems – at least according to us, her obsessed parents.
&nbsp&nbsp&nbsp
The day has finally come! It's about to get thrifty up in hurrrr. Here's the deal. This "Challenge" – which we issued last Friday – was basically an excuse to all (virtually) go thrift shopping together and share our spoils. Plus there was a scavenger-hunt-ish element tossed in there for kicks. And just like our little Pinterest Challenges, if you guys wanted to partake and blog about it, we have a little linky thing at the bottom of this post so everyone can share their favorite finds.
There were just THREE things we asked folks to do in order to play along (well, four if you count blogging about it, although of course you can play along even if you don't have a blog).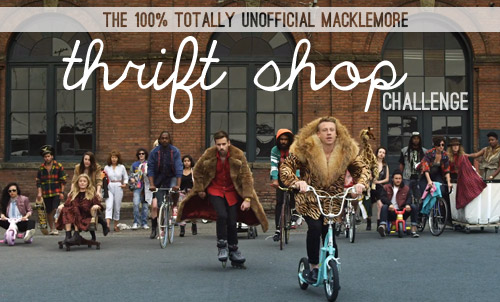 Step #1. Go to a thrift shop with – just as the chorus of the song says – "$20 in your pocket" and take a picture.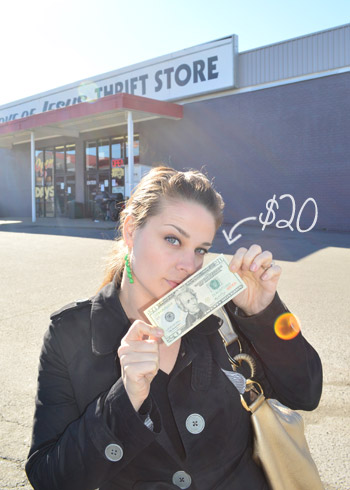 Step #2 was to spend your $20 any way you'd like and photograph your spoils. They could be home related, fashion oriented, kid focused, anything. And you didn't need to make them over or repurpose them at all (although that's totally allowed too!). So here's the part where we'll share what our 20 spot scored us: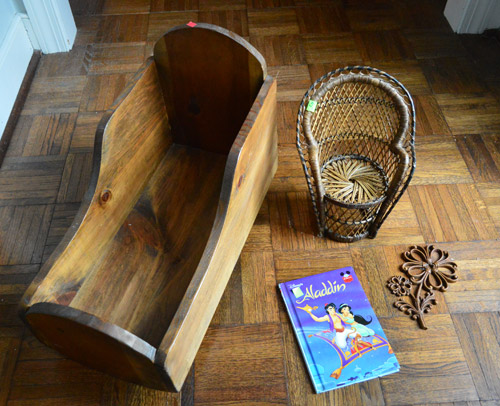 A nice solid wooden doll's cradle: $11
A woven doll's chair: $5
An Aladdin book that Clara picked out herself: 65 cents
A wooden flower wall hanging: $1
Total: $17.65
And here's what I did to the little wooden wall hanging. I just painted it white and added it to Clara's frame wall (two small finish nails are holding it up).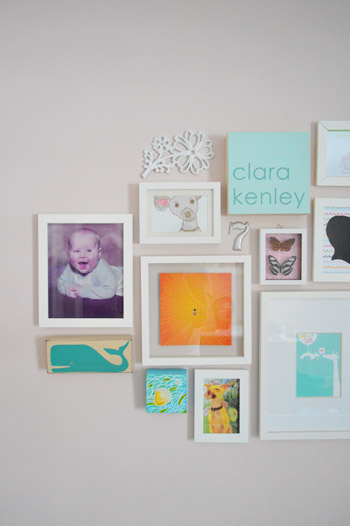 I have big plans to spray paint the chair (glossy red I think…) but I haven't gotten there yet. Thankfully it's still a big hit among all the dolls, even in its current state.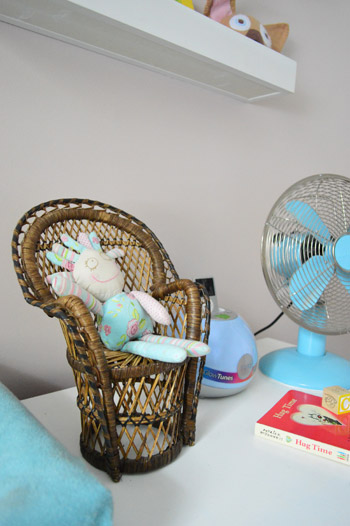 The cradle is the big winner of the group. Clara is having the time. of. her. life with it. She likes to tuck her dolls in. So first comes the hug…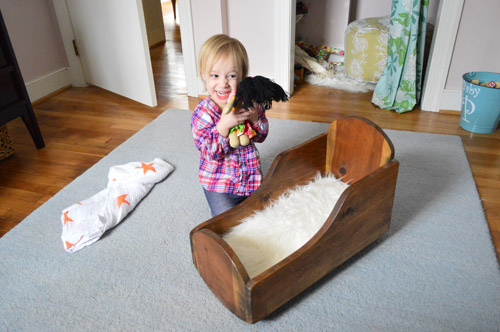 … then the kiss…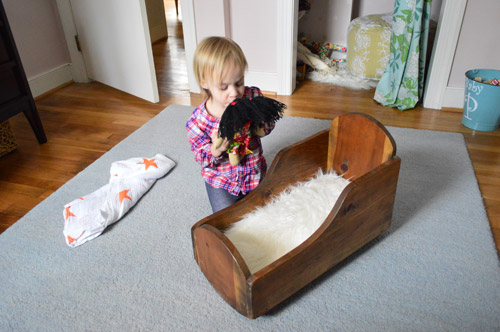 … then they get snuggled under the blanket…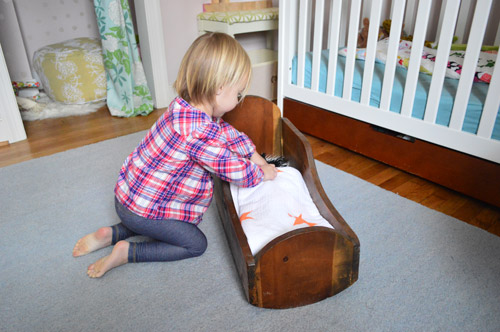 … and they get another kiss just for good measure…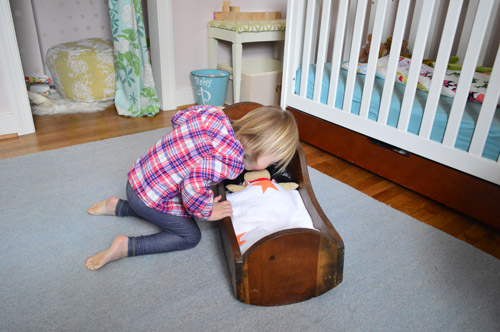 Pretty much the cutest thing ever. Oh but I also have plans for the cradle. I want to prime and paint it a bright color (yellow?), sew a cushion for the bottom, and maybe even make a little quilt like Clara's for her dolls (remember this one I made for her with her weekly fabric?). Dude, I'm even thinking about how cute a little fabric banner (like this, only mini) to drape over the head of the crib would be. Yeah, $herdog is about to pimp this cradle. Big time.
In the meantime Clara is definitely having a good time with it as-is. She's really into being the mommy and calling her dolls her babies, so rocking them and tucking them in is up there with changing their diapers on her list of favorite things to do (also, Burger is sometimes her baby – but he has successfully avoided the cradle and any diaper changes thus far).
Oh yeah, and we can't forget the last step…
Step #3: Find a pirate ship bed. And lose your freaking mind over it. (Seriously it was amazing).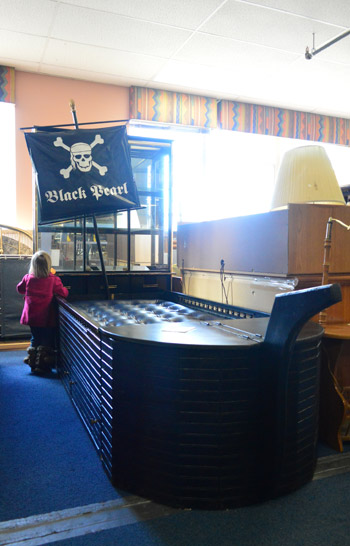 Just kidding.
Step #3. Find one item (or more) referenced in the song and snap a pic. Here's the scaveger-hunt-ish element that we tossed in because we're weirdos. And you get bonus points for doing something ridiculous with the item in the photo. After all, Macklemore has some pretty great confidence when he's rocking those footy pajamas.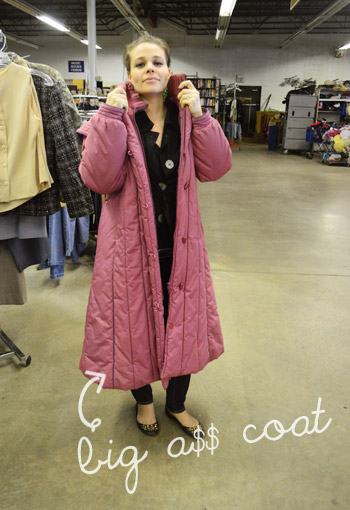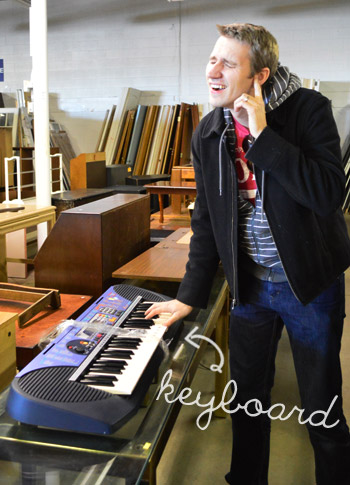 Now here's the part where we tip our matted faux-fur thrift store hats to you guys and invite you to share all of the fun Macklemore Thrift Shop finds that you've dug up in the last week (right along with us, well at least virtually with us). If you've already blogged about it, just:
click on the blue "Add Your Link" button with the odd cartoon head at the bottom of this post (you might have to do some scrolling, depending how many projects are added)
add a link to your specific blog post about your project in the url field (not your home page)
where it says "name" write a short description of your bounty (ex: "Big A$$ Frame" or "Best Purse Ever" or "Kitchen Stuff") as opposed to your actual name
we'd also love if you could quickly link back over to this page so it's a nice two-way link-fest (feel free to use our Macklemore Thrift Shop banner too!).
And if you'd rather just link over to your project in the comment section of this post, feel free to do that – or even add a link to a free photo sharing site like Flickr with your pics if you don't have a blog (remember to set the gallery to public so we can all see it). We're crazypants excited to see what you guys have hunted down!
&nbsp&nbsp&nbsp