Archive for January, 2013
Who's in the mood for some snooping? When Lori and her husband Greg (and their sweet son Owen) invited us over to crash their charming Richmond home, we jumped at the chance. Isn't that little tin roof over the door awesome? I also love that the front steps are tiered on three sides instead of being closed in on the ends. Bet someone could DIY that…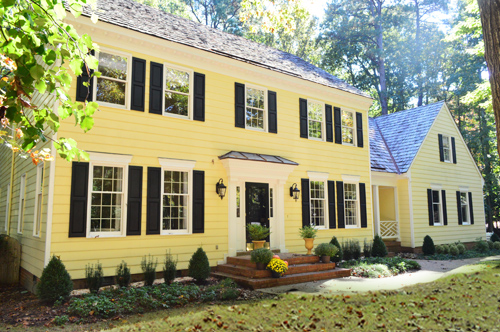 Lori and Greg are actually veterans of the House Crashing experience. They had us over their first home back in 2010 (when both Lori and I were both prego). We loved that house so much that we couldn't wait to see where they lived now…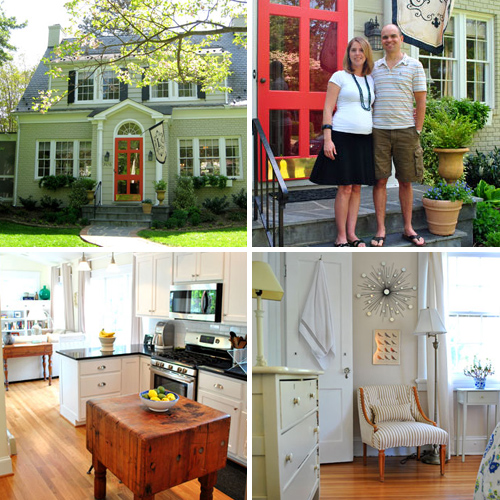 … especially since in the time that we last crashed them they've had a son and were just on the cusp of having a daughter! Ellie actually came a little while ago, but Lori was still pregnant when we crashed her house. Apparently we only invade her home her while she's with child.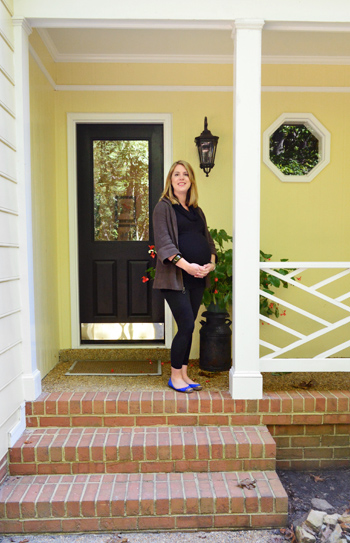 The small world story is that they had a son named Owen just a few months after I had Clara and we hadn't seen them for a few years. But now, by coincidence, Owen and Clara are preschool classmates. Seriously, we walked into school the first day and said "no way! how are you?!"
So while our kids were in school one morning, Lori had us over to check out their new has-room-for-two-kiddos home (we wanted to squeeze the house crash in before she had a newborn to work around). So here's a shot of their pretty formal living room in the front of the house. The tall ceilings with thick detailed molding were awesome. Nearly all of Lori's furniture is secondhand (hailing from Craigslist and thrift stores alike) which is always a really cool layered look – and of course it's a nice budget-friendly method. She also loves to get accessories from places like HomeGoods and flash sale sites (the starburst mirror was scored at a deep discount from One King's Lane).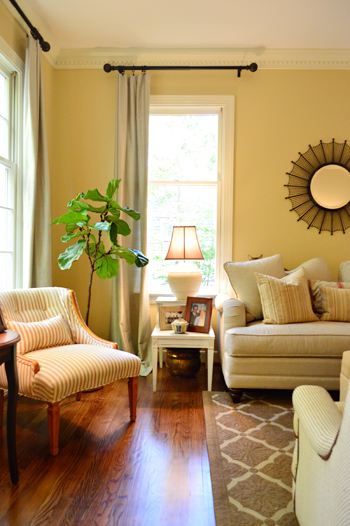 My favorite spot in the whole house was the more casual family room in the back of the house right off of the kitchen. See these built-ins? Lori and Greg hired a local handyman to build them to fit between those two windows and provide a ton of kid-friendly storage. So smart. You wouldn't believe all the toys, games, movies and other clutter they've wisely hidden in those drawers & cabinets. I especially liked that they chose doors that are flush with the frame (it had a really clean look). And for anyone looking for a handyman, Lori said she found him through her realtor's recommendation, so that method can actually work out.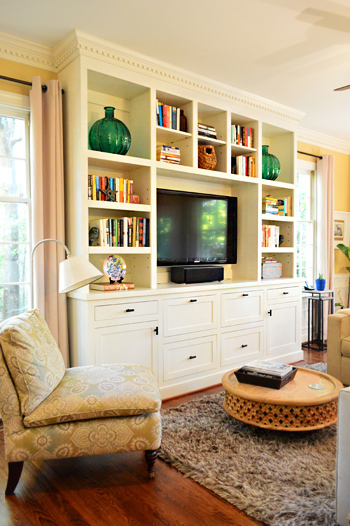 So even if you're not able to build a giant TV cabinet yourself, it's amazing how much input you can have by hiring someone local to make it (and it can often be cheaper than getting one made by a larger company, like KraftMaid or even buying a giant unit at Pottery Barn and paying a hefty shipping fee). You also get to pick the cubby sizes, the type of doors, the hardware, the paint color, the placement, etc – so it's a great way to be involved and end up with something super functional and fitted to your home. Oh and see that coffee table? Lori got it at The Dump (the same local furniture outlet where we got our dining room table). The funny thing is that now stores like West Elm are selling tables like it, but she got it a while ago from a furniture discounter! I love that.
The kitchen is really open to the casual living room, so picture us taking this shot with our backs to the built-ins from the photo above. We loved that it had wood cabinets since so many of you guys request that we share house crashings beyond white kitchens (we share whatever we get invited to crash! haha!).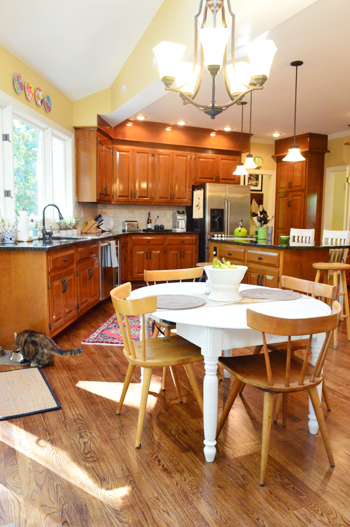 They had a nice dark granite to work with the cabinets (and dark hardware on the wood cabinets to tie it in) and the giant window over the sink was amazing. This shot does it no justice, but it's a gorgeous wooded lot so Lori can basically watch birds and deer and pretend she's Snow White while she washes dishes.
This little nook in the kitchen, to the left of the white table above, was one of my favorite little "moments" in the whole house. That gorgeous painting was by a local artist that Lori and Greg picked up a few months ago at the "READ Art Show" (held annually at the New Community School here in Richmond). I love the bright colors with the thin frame around it.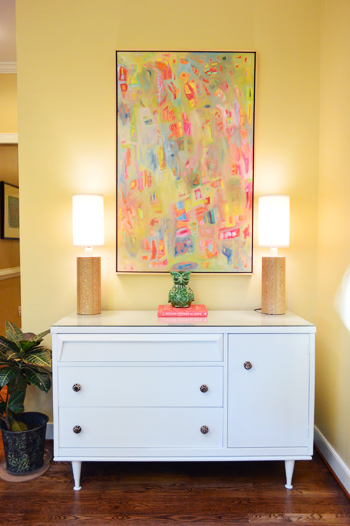 In person it's about 100 times prettier. And those two skinny cork lamps were so cool and unusual on that pretty mid-century cabinet that Lori found on Craigslist and updated with new knobs.
Wanna see the cork lamps a little closer? They're from another local furniture outlet called The Decorating Outlet (which is where we've found a lot of the lights in our house too, like the pendants in our kitchen and the capiz chandelier in Clara's nursery).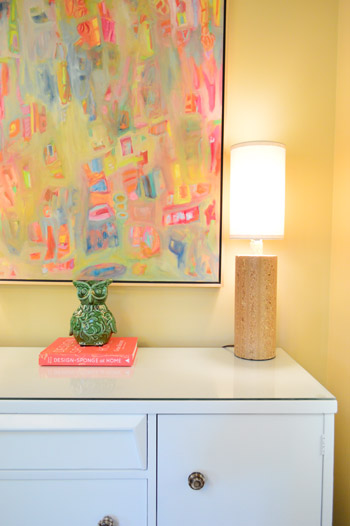 This shot is what you see if you step about five steps to the left of the photo above, and it's the hallway that leads from the front door to the kitchen. We loved the old industrial stool (a craigslist find!) and that huge cow painting (from a local shop called The Wild Orchid). And doesn't that black door frame in the background look awesome?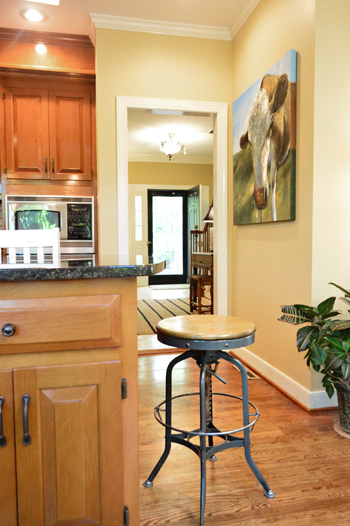 If you step further into the hallway you can see a little entryway table and a casual striped rug (which is another flash sale site find from One King's Lane). The touches of black in the door, the letter on the wall, and the stripes in the rug were really pretty and understated I thought. Lori has this way of decorating that sort of screams "oh I just tossed this together" – especially in person. It really gives off an awesome not-too-fussy vibe. After all, two kids under two and a half live here, so it has to be functional and work for the family.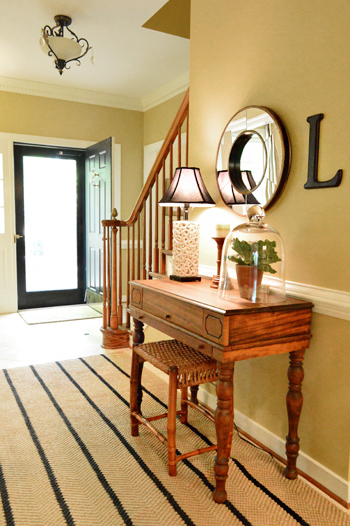 Here's a shot of their bedroom upstairs, continuing with the not-too-fussy theme. Doesn't everything from the small sunburst mirror (another secondhand find) to those cool dark sconces and that orange pillow just feel warm and inviting without feeling extra frou-frou? The whole house has a very "we actually live here" vibe, which is awesome and comfortable. And those sconces also hail from The Decorating Outlet here in Richmond.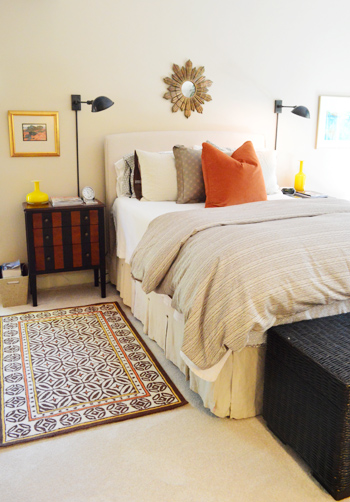 This pretty side chair on the other side of their bedroom was a secondhand score (Lori recovered the seat with some new fabric from a local fabric outlet called U-Fab). I love how those ikat-ish stripes in the fabric pick up on the darker elements in the room like the dark frames, the dark sconces above the bed, the dresser, etc. Just like in her hallway (two shots back) Lori has a way with using hits of dark colors just so (it never feels dark or brooding, just crisp and interesting).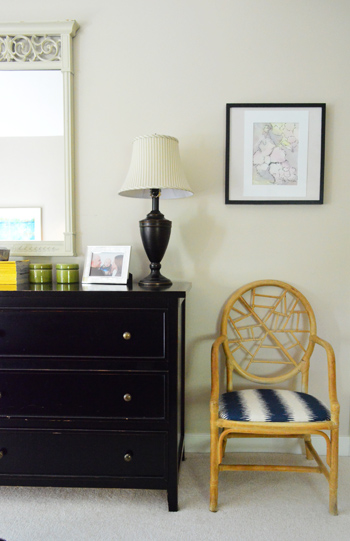 Here's their master bathroom and although they inherited a tub in the middle of the room set on a diagonal, Lori decided to work with what she had and just added a ton of function. So she had the same handyman who built that awesome media cabinet in her family room build the cabinets under those two windows on the back wall and she brought in that pretty dresser with the mirror above it for even more storage.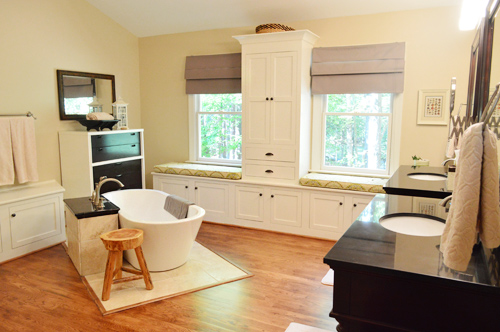 This is actually where she bathes her kids, so it's nice to have that dark-drawered dresser (another thifty find from an old antique shop) to fill with kid-bath-stuff, while the white cabinets under the windows are used for seating and even more storage for her and her husband's stuff. And going back to the dark hits of color thing that Lori does so well, see how she picked a dark-framed mirror and that dark-fronted cabinet to balance the dark vanities on the other side of the room? Love that.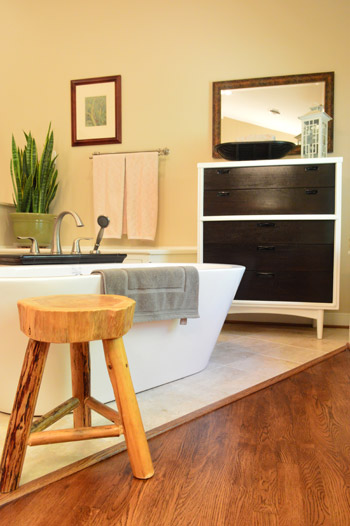 Ellie's room is awesome. This is how it looked before she was born – all floofed for the camera (of course the pillows and stuffed animals are out of the crib now that she's here). And see that pretty crib? It's from Pottery Barn – but she got it on Craigslist! Awesome right? She didn't even need to paint it, it came that color.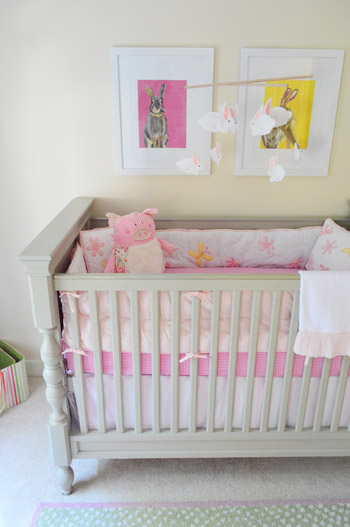 The bunny art above the crib is something Lori found at a local store called Strawberry Fields, but the cool thing is that it's actually by a local artist that John and I met at the craft fair last year. It's a small world, eh? We love her stuff (Clara has the same bunny in the hall). And how cute is that felt mobile? It was an Etsy find.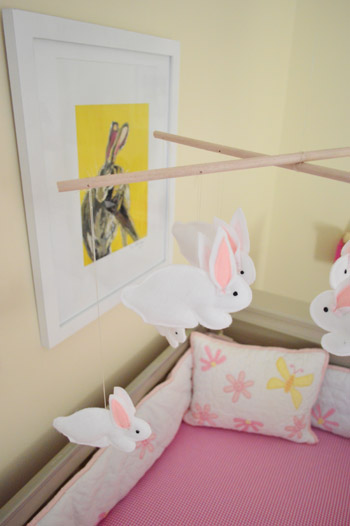 Lori also got these cute book shelves on Etsy. I love the hot pink color and the way they play with the side table that Lori painted with a hot pink top. And that plush rocker below them is also a Craigslist find.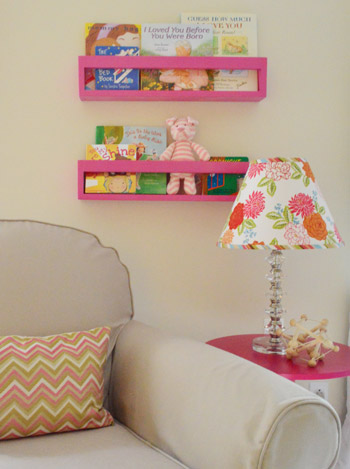 Owen's room is awesome too. We were especially into this giant piece of art over his crib, which was actually a large piece of fabric that Lori stretched over a canvas and stapled around the back. It totally looks like a giant painting, right? The fabric is Marimekko for anyone wondering (it's out of stock, but hopefully that link and the name might help you track it down on ebay or from another fabric wholesaler if you're interested?).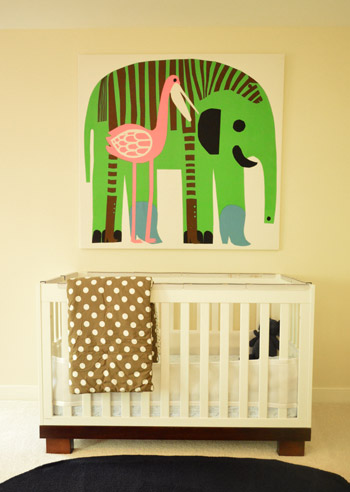 There are sets of pretty pocket doors in a few places, like this one that looks into the guest room.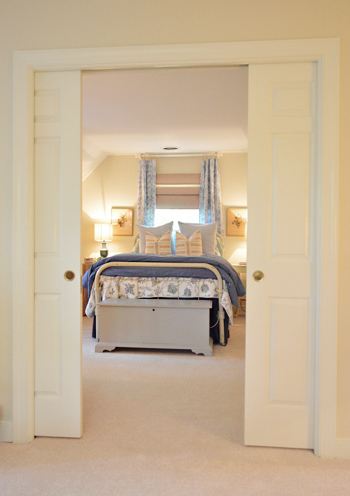 Here's that room a little closer. I love the old metal bed and the placement of it under the window with the peaked ceilings on either side of it. The cool thing about that bed is that it was Lori's from childhood. Yup, she's had it for nearly 30 years!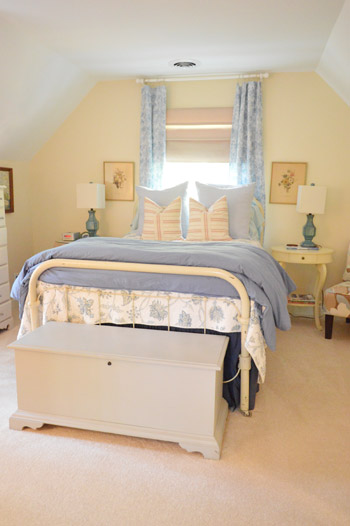 The same goes for the dresser, it's from her room as a child and she didn't even paint it (or the bed) – this is them in their original 30-years-old glory. Don't you love the casual cottage-y feeling they add to the room? And of course I'm awkwardly obsessed with that glass based lamp (another secondhand find of Lori's).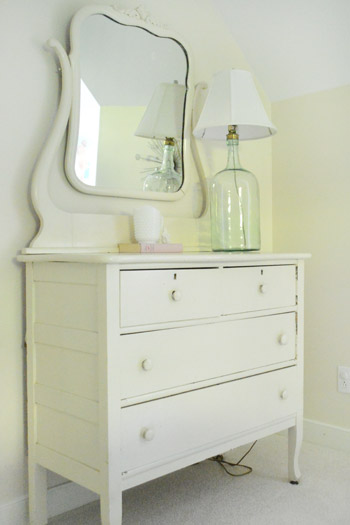 Looking through the other side of those pocket doors you can see a chill little office/playroom/sitting room.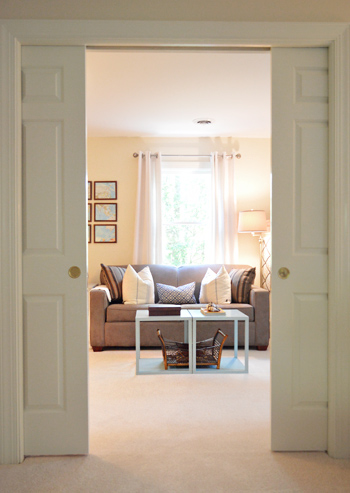 I loved these cool blue cube tables that Lori paired together (they're from Home Decorators), along with framing a National Geographic map that she cut into nine parts on the back wall.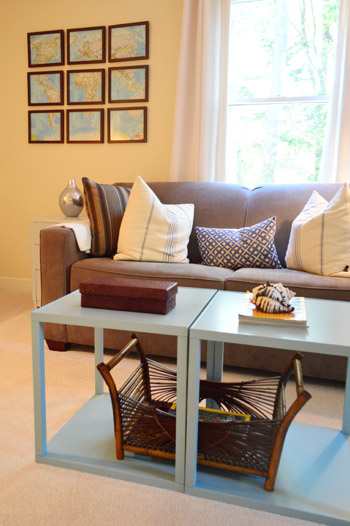 So that's Lori, Greg, Owen, and Ellie's awesome home. We're so grateful they invited us over to shoot some pics to share with you – and we hope you guys got a kick out of touring their home from the comforts of your chair/sofa. Want to play the favorite part game? I loved the pocket doors, the colorful art in the kitchen, and the awesome family room built-ins. Meanwhile John dug that clever fabric-made-into-art over Owen's crib, the fact that most furnishings were secondhand finds, and also called those living room built-ins right along with me. Ok, your turn.
Psst- Let's keep snooping! Click here to virtually walk around over 45 homes that we've crashed.
&nbsp&nbsp&nbsp
The walls of Clara's big girl room are dry and the few items of furniture that we have (mainly just a daybed, an old side table, and two small wooden thrift store chairs that I don't think we've even shown you yet) are back in the room. So here's how it's looking now: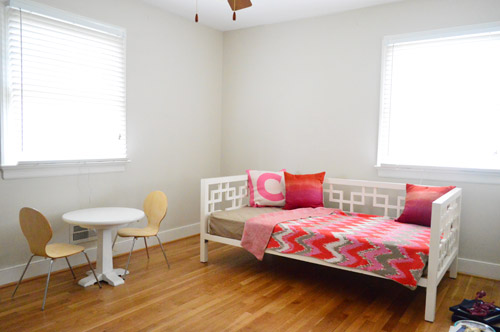 Totally done and magazine ready, right? Just kidding. But it's a huge improvement from this so we're psyched.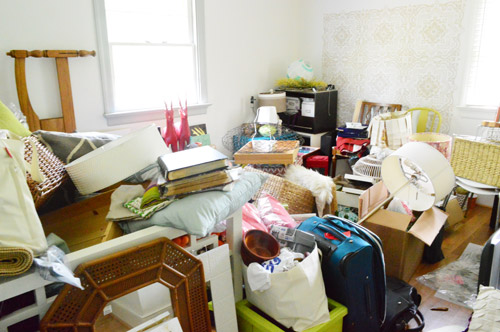 The new wall color is awesome. Pardon these not great pics of it (Monday's pics did it more justice). In person it's subtle and warm and cozy but not too yellow-y or peach. And since it's not too bold or compete-y, it'll allow us to layer in a ton of other colors. Highly recommend it.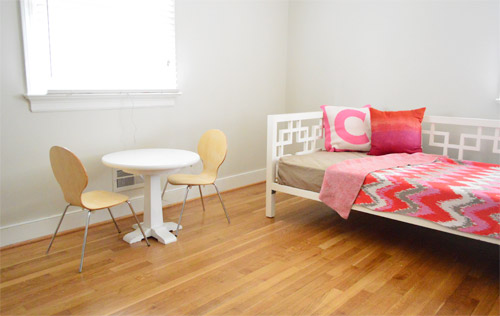 Oh but since the title says something about table tweaks, here's the scoop on that. Wait, first a little info on the chairs. We got them for $8 each at a thrift store in West Virginia on our way back from redoing Granny's bathroom way back in September. Then we just tossed them into the cluttered playroom and hoped we'd see them again someday. Haha. Now that it's all cleaned out, it's like discovering an extra room in your house. Amazing. Anyway, I think we'll paint the chairs a crazy bright color (red?!) and keep the table crisp and white.
Speaking of the table, remember when it used to be a side table in our first house's den?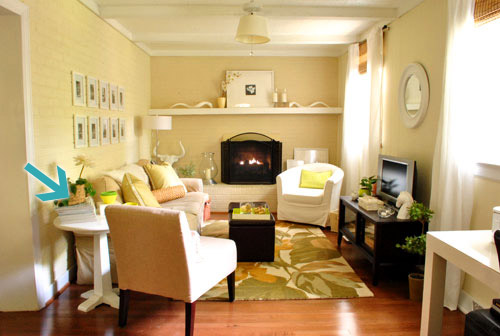 It was actually a side table from Target that we tweaked by adding a larger top and then painted white a few years back (originally for our master bedroom, then it moved into the den once we found a TJ Maxx ottoman that worked better in the bedroom).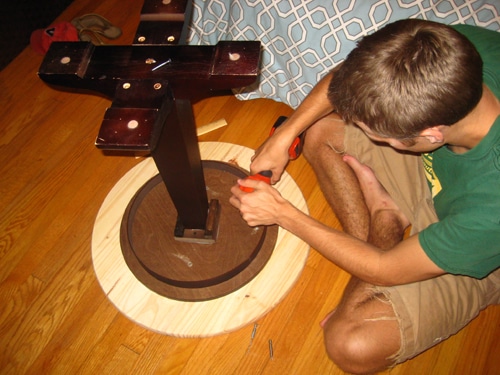 It actually hasn't found a home in the over-two-years that we've lived in our current house, so the poor thing has just been sitting randomly in the corner of the sunroom or the basement. Poor little listless side table. Until now. We realized that thanks to those two thrift store kids chairs the table would make a cute little spot for those chairs to saddle up to, but it was too tall to work as-is. See how it towers over the other kid-sized table that we made for the living room here?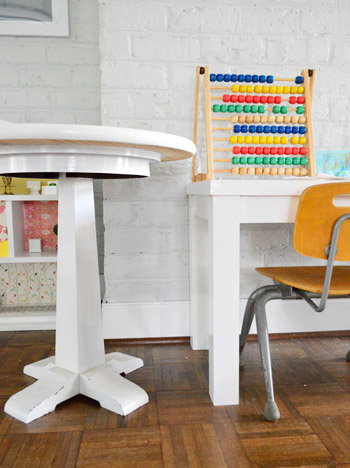 Well, it was nothing a little sawing couldn't solve. After unsuccessfully finding any screws to free up and remove the stem from the top, John sawed it off with a reciprocating saw and then went back with his Dremel to clean up the part we'd be attaching it back to later (so it was nice and level).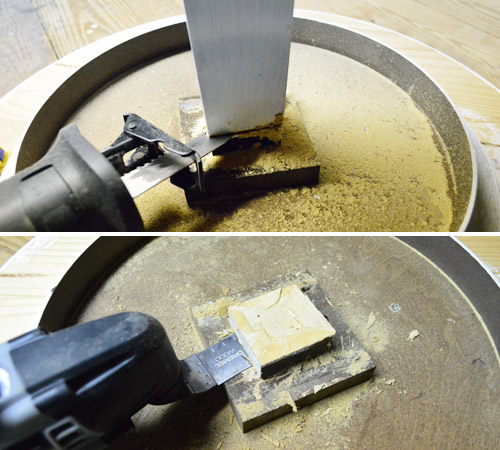 Trimming the 4-inches off of the stem proved challenging given the angle of the base. John's first attempt looked something like this. He's the first to admit that it wasn't his finest work.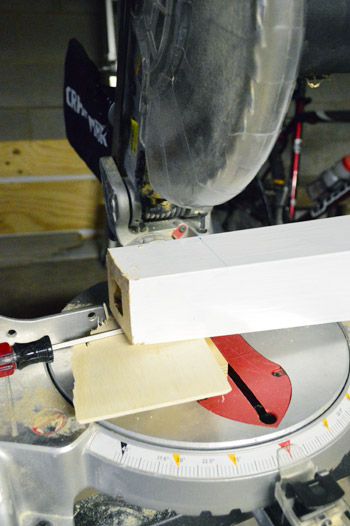 Especially since it resulted in a not-so-level cut.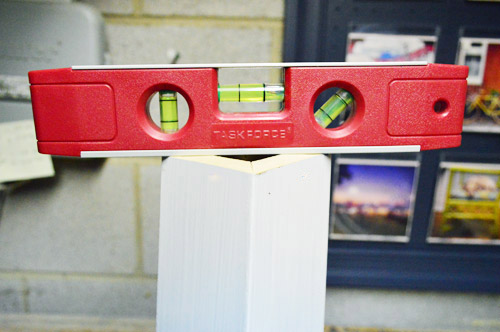 So he went back, remarked a level cut line around the stem on all sides, and then carefully shaved it down a bit more with his Dremel, being careful to stick to that line on all sides as he went.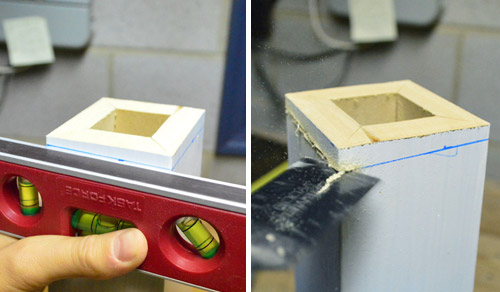 Much better. But it was about a 1/4″ shorter than we originally intended. So we had to throw it away. Just kidding, that quarter of an inch doesn't matter, thank goodness.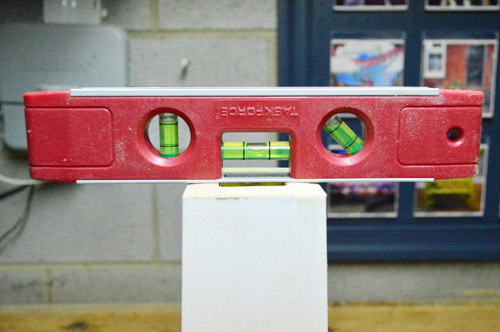 With everything cut, he used his Kreg jig to make some pocket holes to reattach the stem to the base. Sure the pockets show a bit, but it's so far under the table base that you won't see them unless you're under the table on the floor (Clara does that sometimes, but we don't think she'll mind 'em, haha).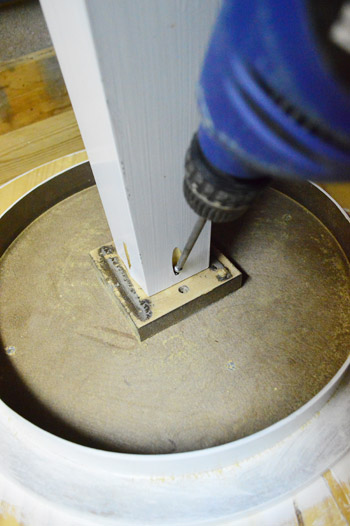 Now it's nearly the same height as Clara's drawing desk in the living room, see? (Note that this shot was taken while laying on the floor, so you can barely see those little pocket holes).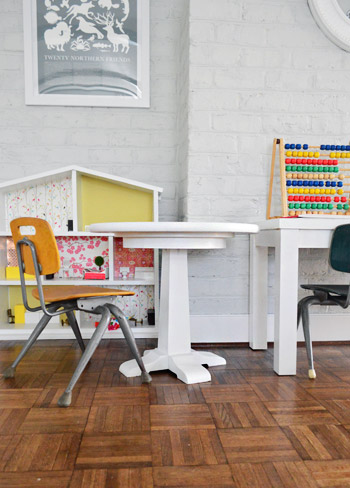 Now Clara will have a table for coloring/play doh/dolls/Gin Rummy in her room with her two thrift store chairs (which I fully intend to paint bright red as of right now, but you never know when I'll change my mind).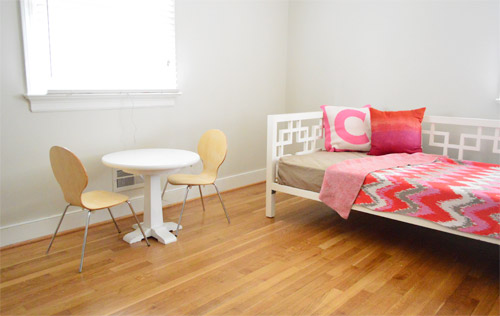 So that's what we've been up to in Clara's big girl room. I'd call it 7% finished. Haha.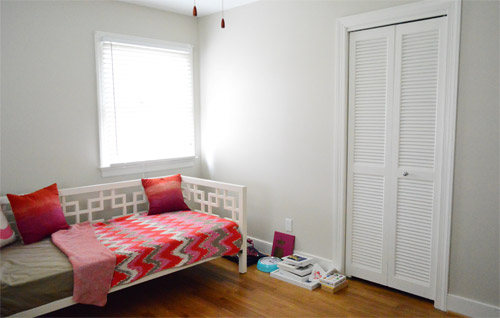 The blanket is my favorite (from a Joss & Main sale about a month or two ago). And the two tie-dye-ish pillows are from West Elm. I want to add more pillows of course (wouldn't navy look cool on there too?).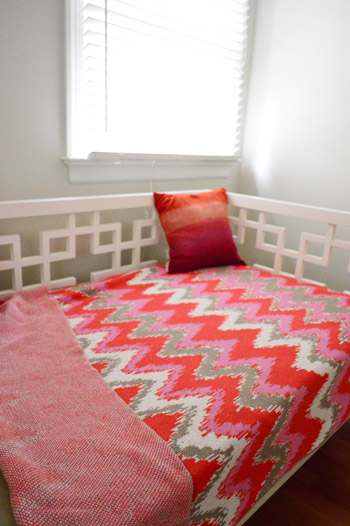 Oh and the pink C pillow was from the same Joss & Main sale as the blanket. Isn't it cute? Clara is OBSESSED with her big girl bed. The doc said not to switch her until she's uncomfortable in her crib or climbing out of it (the girl climbs into it but never out – go figure!) so we're happy to keep her contained to her crib where she happily snoozes… but man oh man, she sure looks cute in this bed. And someday she'll get to officially move in.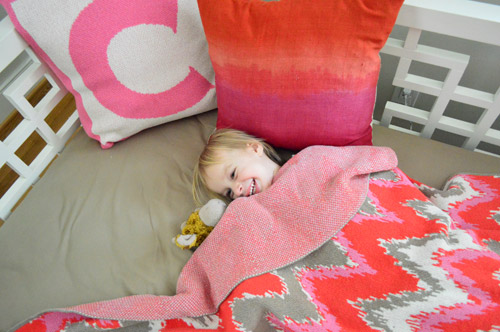 Until then it's a pretty fun playroom…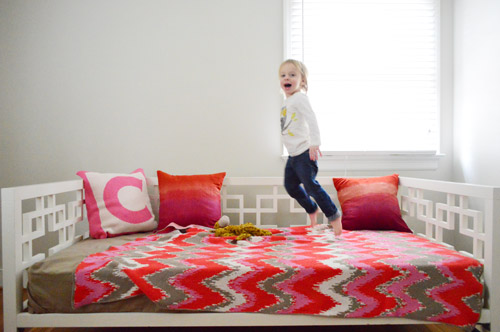 … which beats the heck out of the junk-room that it has been for the last two years by a long shot. She says hanging her head in shame. Oh well, better late than never.
We're still sorely missing some major elements in here, so here's what's on the agenda:
painting those chairs a bright happy color
bringing in a dresser (we'd love to find something secondhand)
making/hanging some curtains
adding a rug
hanging art on the walls along with a few other 3D objects that we have in mind (how's that for cryptic?)
installing a new light fixture
hanging a mirror at Clara-height somewhere in the room (she loves making funny faces and laughing at herself)
turning that junk closet into an actual clothes closet/reading nook
adding crown molding (along with tackling the other un-crown-molding-ed bedrooms on this side of the house)
adding accessories like more pillows, storage bins for toys, etc
You know we'll keep you posted as we inch along! What are you guys painting, tweaking, and cutting down these days? Anyone else finding thrift store chairs or converting old Target tables? Spill it.
&nbsp&nbsp&nbsp