Archive for January, 2013
Psst- For anyone asking us about getting signed books, there are still some at Chop Suey here in Richmond (804-422-8066). They'll ship anywhere in the world and they're 10% off through tomorrow!

The walls of Clara's big girl room are dry and the few items of furniture that we have (mainly just a daybed, an old side table, and two small wooden thrift store chairs that I don't think we've even shown you yet) are back in the room. So here's how it's looking now:
Totally done and magazine ready, right? Just kidding. But it's a huge improvement from this so we're psyched.
The new wall color is awesome. Pardon these not great pics of it (Monday's pics did it more justice). In person it's subtle and warm and cozy but not too yellow-y or peach. And since it's not too bold or compete-y, it'll allow us to layer in a ton of other colors. Highly recommend it.
Oh but since the title says something about table tweaks, here's the scoop on that. Wait, first a little info on the chairs. We got them for $8 each at a thrift store in West Virginia on our way back from redoing Granny's bathroom way back in September. Then we just tossed them into the cluttered playroom and hoped we'd see them again someday. Haha. Now that it's all cleaned out, it's like discovering an extra room in your house. Amazing. Anyway, I think we'll paint the chairs a crazy bright color (red?!) and keep the table crisp and white.
Speaking of the table, remember when it used to be a side table in our first house's den?
It was actually a side table from Target that we tweaked by adding a larger top and then painted white a few years back (originally for our master bedroom, then it moved into the den once we found a TJ Maxx ottoman that worked better in the bedroom).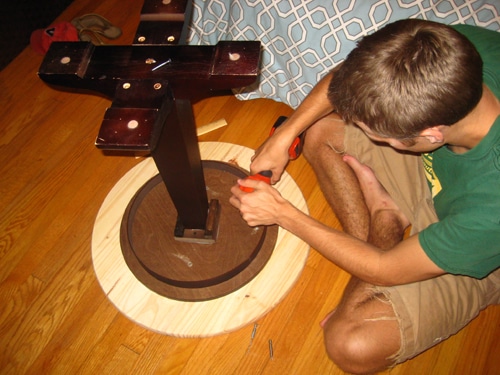 It actually hasn't found a home in the over-two-years that we've lived in our current house, so the poor thing has just been sitting randomly in the corner of the sunroom or the basement. Poor little listless side table. Until now. We realized that thanks to those two thrift store kids chairs the table would make a cute little spot for those chairs to saddle up to, but it was too tall to work as-is. See how it towers over the other kid-sized table that we made for the living room here?
Well, it was nothing a little sawing couldn't solve. After unsuccessfully finding any screws to free up and remove the stem from the top, John sawed it off with a reciprocating saw and then went back with his Dremel to clean up the part we'd be attaching it back to later (so it was nice and level).
Trimming the 4-inches off of the stem proved challenging given the angle of the base. John's first attempt looked something like this. He's the first to admit that it wasn't his finest work.
Especially since it resulted in a not-so-level cut.
So he went back, remarked a level cut line around the stem on all sides, and then carefully shaved it down a bit more with his Dremel, being careful to stick to that line on all sides as he went.
Much better. But it was about a 1/4″ shorter than we originally intended. So we had to throw it away. Just kidding, that quarter of an inch doesn't matter, thank goodness.
With everything cut, he used his Kreg jig to make some pocket holes to reattach the stem to the base. Sure the pockets show a bit, but it's so far under the table base that you won't see them unless you're under the table on the floor (Clara does that sometimes, but we don't think she'll mind 'em, haha).
Now it's nearly the same height as Clara's drawing desk in the living room, see? (Note that this shot was taken while laying on the floor, so you can barely see those little pocket holes).
Now Clara will have a table for coloring/play doh/dolls/Gin Rummy in her room with her two thrift store chairs (which I fully intend to paint bright red as of right now, but you never know when I'll change my mind).
So that's what we've been up to in Clara's big girl room. I'd call it 7% finished. Haha.
The blanket is my favorite (from a Joss & Main sale about a month or two ago). And the two tie-dye-ish pillows are from West Elm. I want to add more pillows of course (wouldn't navy look cool on there too?).
Oh and the pink C pillow was from the same Joss & Main sale as the blanket. Isn't it cute? Clara is OBSESSED with her big girl bed. The doc said not to switch her until she's uncomfortable in her crib or climbing out of it (the girl climbs into it but never out – go figure!) so we're happy to keep her contained to her crib where she happily snoozes… but man oh man, she sure looks cute in this bed. And someday she'll get to officially move in.
Until then it's a pretty fun playroom…
… which beats the heck out of the junk-room that it has been for the last two years by a long shot. She says hanging her head in shame. Oh well, better late than never.
We're still sorely missing some major elements in here, so here's what's on the agenda:
painting those chairs a bright happy color
bringing in a dresser (we'd love to find something secondhand)
making/hanging some curtains
adding a rug
hanging art on the walls along with a few other 3D objects that we have in mind (how's that for cryptic?)
installing a new light fixture
hanging a mirror at Clara-height somewhere in the room (she loves making funny faces and laughing at herself)
turning that junk closet into an actual clothes closet/reading nook
adding crown molding (along with tackling the other un-crown-molding-ed bedrooms on this side of the house)
adding accessories like more pillows, storage bins for toys, etc
You know we'll keep you posted as we inch along! What are you guys painting, tweaking, and cutting down these days? Anyone else finding thrift store chairs or converting old Target tables? Spill it.
Sometimes we get hilarious and adorable comments like this: "Holy cow, your book was a New York Times bestseller! Congrats! You must be rich!!" …
… and it makes us realize that other than fleetingly mentioning how the whole book deal thing works in this blogiversary video (around 17:10 near the end), we haven't really talked about it at all. So since folks have been requesting more behind the scenes details on the subject (even from as early as September of last year when we did the Q&A video below) this post is well overdue. Let's dive in and over-share, shall we? Spoiler alert: Donald Trump, we're not. But that's ok. We're cheap-os and we know it (please sing that to the tune of "we're sexy and we know it" out loud in whatever room/office/subway car you're currently inhabiting).
As we mentioned in the video, this book thing has always been for the fun and the amazement of seeing our names in print. It has never been about money, which is a good thing since that's not usually what comes a-rollin' in when you're a first time author (well, not unless you're Lena Dunham apparently).
The way that a book usually works is that the author gets a fee for all of the work that they do before the book comes out. This is called an advance. In our case, being first time authors, it was a modest advance. Someone like Stephen King might be able to buy a yacht with his. Ours… no yacht. Actually, if you break our advance down across the time over the past two years that we've spent outlining the book, writing the proposal, pitching the book, writing the manuscript, revising the manuscript, doing projects for the book, shooting the book, and editing the book we probably made around five dollars an hour while working on it (we didn't keep a time log or anything, but that's our best guess). So yeah, John probably earned more per hour at his high school library job of shelving books than he did writing one (especially since he's splitting that $5 wage with me – ha!).
But you won't see us complaining. It's an amazing opportunity (one we'd almost be happy to have done for free – just don't tell our publisher) so that's why we said "holycowyes!" to a book. If you're a first time author like us, we actually wouldn't recommend writing a book for the money (you'd probably be really let down if you were just in it for the dough). Instead, I'd recommend doing it for the experience and the thrill of seeing your words in a bookstore and your book on your mom's coffee table… that's a pretty freaking awesome moment.
The way it works, at least how it worked for us, is that first you get that modest advance (paid out in smaller installments throughout the book-writing process) and then a few years later after the book is out in print (it typically takes around 2-3 years for it to go from concept to being printed) you get into the "book royalty" area. We've been told that many authors only earn their advance but never "make it" to receiving royalties, since it necessitates selling enough books for the author to hit their royalty point. See, the publisher actually doesn't pay us a penny until their book sales earn back all of the advance they paid us plus money they spent on the illustrator, the photographer, etc. So it's not until they earn all of that book-making money back that we'll start receiving royalties (which are also pretty modest since we're first timers).
We're nowhere close to hitting that royalty point. Maybe in a year or two we'll get there. Maybe sooner. And maybe never. But assuming our publisher eventually makes all that money back, they'll start issuing our little royalty checks twice a year. Once we hit that point we'll make around a dollar or two per book (royalties are a very small percentage of the heavily discounted price that a bookstore pays per book, which is usually around half of the book's cover price – and it can vary by vendor). But as of today, we haven't seen a book check since the last installment of our advance came a year ago.
So we thought that was an interesting tidbit to share. We never really knew how it worked, so learning that an author doesn't get paid when the book comes out or with the sale of each book was enlightening to us. And a year ago if we saw someone get on the NY Times bestseller list, even for just a week, we'd probably assume they no longer use toilet paper and prefer to use hundy dolla bills to wipe their bestselling author buns. It's so not like that around here. We use gold bars. Just kidding. Those would be cold.
We also always assumed authors got paid when they toured – even just a little bit to offset the work they're unable to do while on the road (our tour stretches over four months) but that isn't the case, at least for us it's not. But they cover the travel expenses and dude, we've had the opportunity to meet so many of you! And I've achieved my lifelong goal of getting to sign ceramic animals! And that, my friends, is the beauty of book-writing. Plus, you know what they say: Mo money, mo problems ceramic animals and then your husband wants to kill you.

Another reason we thought this post would be helpful is that we don't want to embark on any big projects without explaining that we're paying for them in the same way that we've always paid for things (the old penny-saving-over-time method that we know and love). Our book agent actually said it's somewhat rare for a first time author to make more money on the back end of a book than on the front end (meaning that your modest advance is usually the most any first time author will see from a book) so we've known that from day one, which is really nice when it comes to setting expectations and all that good stuff.
As is the case for a lot of other things in our life, we did this for the love. Corny but true. The fact that you guys share photos like this with us? Seriously, it makes our chests all swelly and bursty. Even John's stony man-heart.
Plus when it came to the actual deals that publishers were offering us, we wanted to choose who we worked with based on things other than the money. For example, a few other publishers wanted to create a big $50 coffee table book with us, and we felt a lot less comfortable with that. So one huuuge reason that we went with our publisher (thereby choosing this deal) was because they "got us" and allowed us to be our dorky selves on every page while slapping an approachable price tag on the thing.
So all of this is just to say that we're more committed than ever to keeping it real, saving cash whenever we can, and squirreling away extra pennies towards future projects, just like we always have. There's no Rolls Royce and Beverly-Hills-ish plastic surgery in our future but I fantasize about completely different things anyway. Like Clara's big girl room. Dude, who's excited about Clara's big girl room?! $herdog is beside herself (you know she only uses the third person when she's really hyped). Last night I was making up rap names for the whole family. Burger could be Potato Skinz. And Clara could be Small Fry. Catchy, right? And I tried to change John's name from J-Boom to Applebeez or Bloomin' Onion but he wasn't having it.
***This giveaway is no longer accepting entries – see who won below!***
And the lucky / randomly selected / soon to be quite worldly person is… Briana (who says "London, Ontario is special to me. That's where I first lived on my own, went to University, met my husband, and I just loved that city. Plus, it has the best spaghetti restaurant ever, Spageddy Eddy's!"). Congrats! And for everyone else, scroll down to the contest entry details for a sweet little discount the Wallpapered folks added for everyone.

One look at Pinterest and I don't feel quite so alone in my fascination with maps. So to everyone else out there who digs a little cartography in their design, hold on to your seats. This week the people behind Wallpapered are giving one of you a nice big 8ft x 5ft world map wallpaper kit so that you can add a map-tastic mural to your home. As much as I love the various world map styles they offer, the coolest feature (at least to me) is that you can also get custom area map wallpaper that basically zooms into a postal code of your choosing. So you could order custom wallpaper showcasing your favorite big city – or even the small town that you grew up in.
PRIZE: Any world map or custom area map wallpaper up to 8ft x 5ft from Wallpapered (a $400+ value!)
TO ENTER: Comment on this post with the words "WORLD ME!" and tell us…
BONUS QUESTION: …what town / city / state / country / other geographic area is most special to you? Will you always have a fondness for the town you grew up in? Are you most enamored with the place where you honeymooned? Or are you just bursting with pride over the area where you currently live?
GIVEAWAY CLOSES: Wednesday, January 23rd at 8pm EST or at 10,000 entries (whichever comes first)
NUMBER OF WINNERS: One
PRIZE SHIPS: Wahoo, this giveaway is available worldwide!
DISCOUNT: Get 10% off your custom map order with code YHL2013
USUAL STUFF: One entry per e-mail address is permitted. The winner will be selected using random.org and announced on Thursday as an update to this post. That's right, come right back here on Thursday for the announcement of our winner. Good luck…
***COMMENT ISSUES? If you're trying to enter but keep getting a "duplicate comment" warning, click here to see how to solve it!
Note: We aren't paid or perked for hosting these giveaways, we just do 'em to thank you awesome folks for stopping in. See our Giveaway FAQ page for more info. Pics courtesy of Wallpapered.