Quick update: You know we love a deal, and just for today The Nook edition of our book Young House Love is Barnes & Noble's Daily Find, meaning that it's priced at $2.99 (down from $14.99). Yay sales!
Just like we did in our first house, we find ourselves bouncing around from project to project and from room to room (we've tackled the living room, guest room, nursery, master bedroom, kitchen, dining room, office, laundry room, patio, deck, etc). But there are still a few completely untouched spaces after two whole years of living here (other than slowly filling them with clutter in some cases)!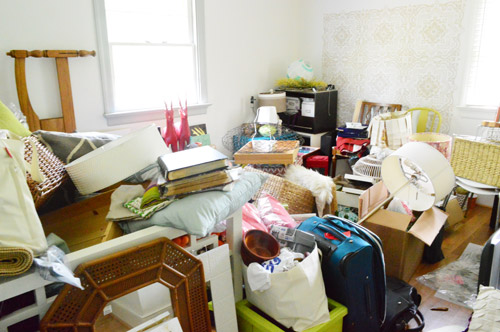 Up until about a month ago they were:
the sunroom
the playroom
the hall bathroom
the guest bathroom
the basement
the carport (which we want to convert to a more curb-appealing structure)
the front porch (we want to frame out the columns, remove the scalloped trim, etc)
Those are a lot of spaces to leave completely alone (or fill with clutter) for nearly 24 months! But thanks to some scurrying in the past four weeks, we've actually started in on the hall bathroom and the basement, which just leaves:
the sunroom
the playroom
the guest bathroom
the carport
the front porch
That's still a bunch of areas that'll keep us busy, but it feels better to only have five untouched zones on the list instead of seven. And ya know what will feel even better? Starting on the sunroom. Whoop whoop!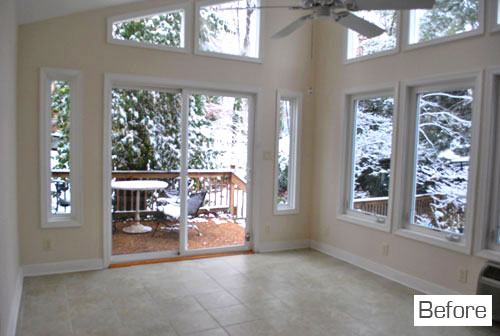 And yes, we're getting excited to tackle Clara's big girl room, so that'll be happening pretty soon too. You know us in the winter, it gets cold and we get all crazy and bite off a ton of stuff (as seen here with an update that we also gutted the kitchen last Christmas).
There's nothing like looking a room square in the eye (the wall? the trim? the window?) and saying "dude, we're getting on that." So we officially did that to the sunroom. And then we got started. First here are some shots of the sunroom as it looked yesterday when we started. This is the wall that looks out to the upper patio: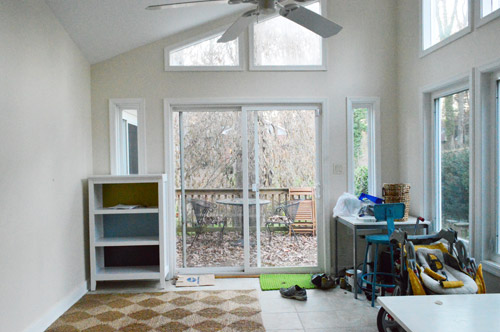 This is the wall to the right of that which overlooks the patio we added on the side of the house (this terribly-out-of-scale sketch of our lot might help orient you more):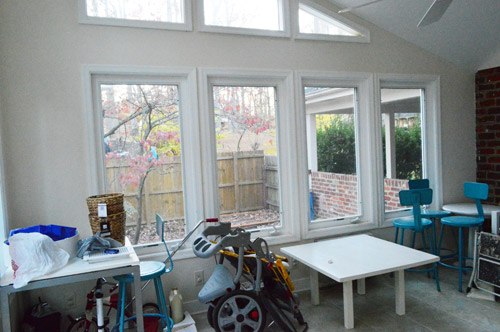 This is the brick wall to the right of that with a window that looks into the kitchen: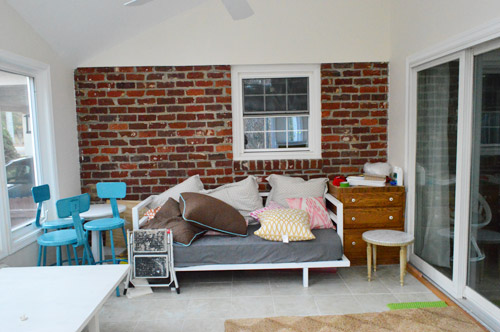 And this is the wall to the right of the brick wall that looks into the living room (here's a floor plan of our house that might help orient you too):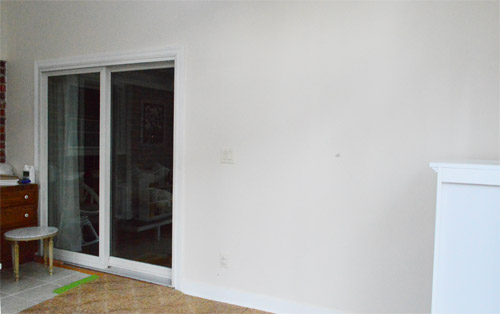 Not much to look at, eh?
And since we all know I'm nothing if not long winded and thorough, here's a video for ya, just to capture our "before" in 3-D. Well I guess it's still 2-D, but it paints a better picture than the pictures, if that even makes sense at all. Maybe not? Oh and the video explains why we can't remove that window between the kitchen and the sunroom since we get that question semi-often:
So the first step after standing in the sunroom and declaring "dude, we're getting on this already" to no one at large was to draw up a little plan. Not to scale, just more like a brain dump on paper. It looked like this: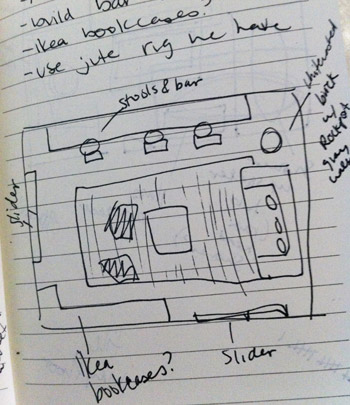 We knew the daybed only worked on one wall (we moved it around a lot when we first moved in and the brick wall just makes the most sense layout wise) and we thought adding a bar overlooking and patio through those giant windows would be cool and then bringing in some sort of storage for the completely bare wall across from them might make sense. We also want to reuse the jute rug leftover from our bedroom and the bright blue stools leftover from our kitchen along with a few other items that we already have (like floor pillows, daybed pillows, etc) because you know we love to work with what we have. Of course there are major things that have to happen like painting and adding window treatments, etc – but in this case we thought figuring out a layout that worked trumps paint, so that's what we started with since we had so many existing pieces that we wanted to work in.
The first step to seeing if our little floor plan rendering would make sense in real life was to clear out the clutter and either craigslist, store, or donate anything extraneous. After about an hour in there we were left with this: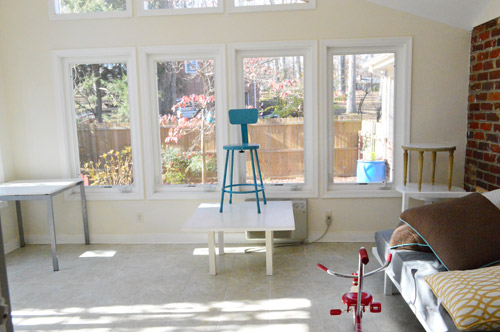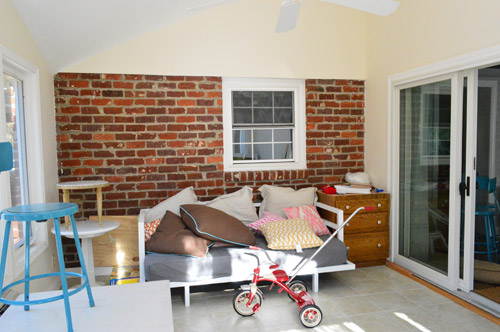 And then after moving some items that would go back into the room into the living room, just to get the room bare enough to look at/place the rug, we were here: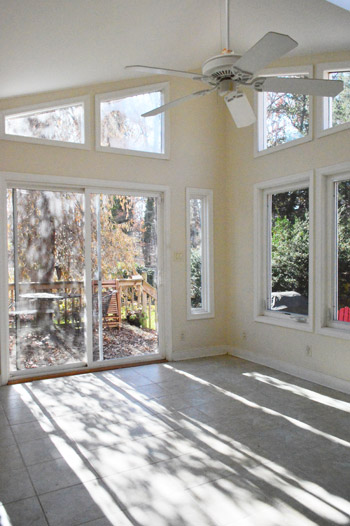 Yup, it looked like move-in day all over again. Except without the snow.
Then we brought the rug in and laid it down with a bit of it going under the daybed to ground everything. It's a nice size for the room, the jute makes sense in a sunroom, and it cozied up the cold tile floor so we were sold. Although with the butter-cream color of the walls it's a little off, we're sure once we paint and add accessories and otherwise complete the unfinished 99% of the room we think it'll all come together.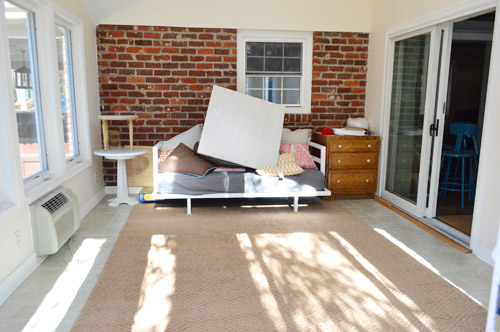 Then because I'm impatient, I tossed down the floor pillows, placed the coffee table, and played with a plethora of pillows. You guys know about me and my pillow problem, right? Oh but don't mind the orangy-brown drawers to the right of the daybed (those will be craigslisted – they're leftover from our kitchen reno) and those stacked tables to the left of the daybed (we'll figure out where those really go someday).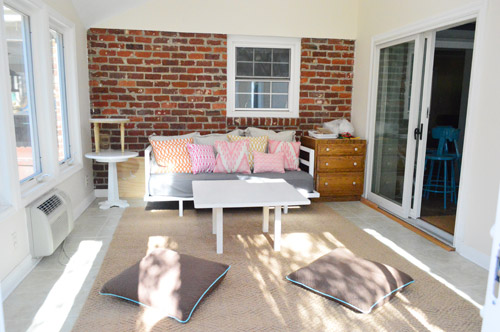 Next we brought in the stools that we envisioned for the bar against the bay of windows overlooking the stone patio and it was like a DJ slammed their hand down on a record. Screeeeech. It just didn't work. No matter if we scooted the rug over, moved the daybed, or even removed the rug and tried the daybed on another wall – in person they just felt way too cramped and not-really-functional there. Sad face.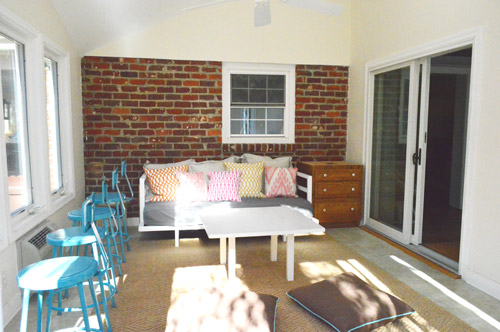 But as we've learned about a million times before, sometimes the first idea that pops into your head for a room isn't the right one anyway, so thinking things through thoroughly (especially in the middle and the end of a project- more on that here) seems to yield a room that works the best (and looks the best). So we have plans to use the stools in another way that will hopefully make more sense of the room and actually be functional without getting all jammed up on the rug/heating unit by the window. And they won't sit on either side of the daybed, I just stuck them there for now.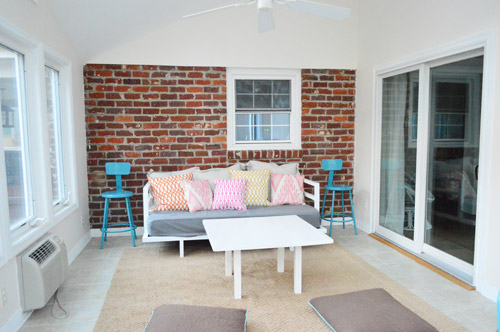 Wouldn't they look sweet in the corner with a bar-height table in an old beat up wood finish? I think I'll shimmy the rug under the daybed more to give that corner more room so it doesn't look quite as squished in there. Unless we change our minds for the third time and things end up somewhere else, which definitely could happen. Sometimes you just have to let things shake out as we like to call it. Haha.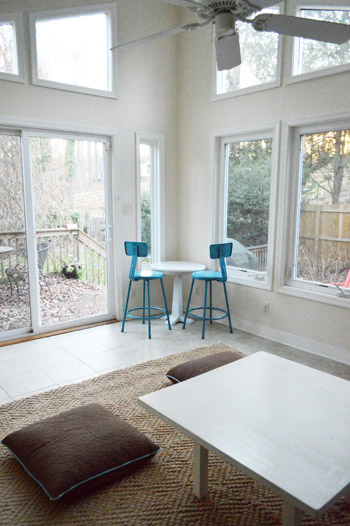 I know it's hard to picture, so we'll just share photos and details as we go! So excited to be starting in on yet another untouched space. Smells like teen spirit progress. Are you guys starting in on any formerly untouched rooms? Do you ever sketch things out and then try them in real life and it completely doesn't work? Oh and do you like how the brick wall stops about seven feet up right at the top of the window? This used to be the exterior of the house and that's where the slope of the roof started, so there's no more brick above that. Boo! Wish it went all the way to the ceiling! But we have a few ideas to make it look less jarring and more integrated. Will keep ya posted!
Psst- Wanna see what a typical Thanksgiving looks like for us? Here's Clara's rundown on Young House Life.
&nbsp
&nbsp&nbsp&nbsp

&nbsp

&nbsp
If you enjoyed this post, please leave a comment or subscribe to the feed and get future articles delivered to your feed reader.
349 Comments
This comment section is currently closed.