Archive for November, 2012
As you guys might know, last Thursday was John's 31st birthday and West Elm in Houston whipped up this amaaaaaazingly DIY-riffic cake for him. #edibletapemeasure #umyeahtheressawdust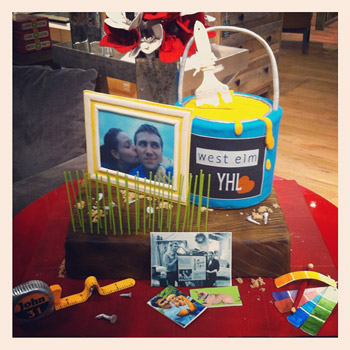 Every year we write birthday posts about what we got each other and this year John actually got (well, is getting, since I'm letting him pick it out) a nail gun (more info on that when we get it). So because I don't have photos of him holding up various presents like we've shared in former years like this post from last year) I thought I'd over-share slash cheese it up on a Tuesday afternoon with a little brain dump of seven things I love about John (surprise, honey!). #warningitssappy
After all, this is definitely a week for being grateful. And since this whole blog is basically just a diary of our lives, I thought it was about time that I shouted a few cheeseball-but-true things from the rooftops. Which is not to say that we never fight (if you believe that I have a talking ceramic animal to sell you) but although we're far from perfect, I'm so glad he's mine. Here's what I'm thankful for:
1 – John's love of Clara and his patience with her – even when I'm about to lose my mind he's my rock. I love how imaginative he is with her and I don't think there's anything sexier than walking into a room and seeing your hubby whipping up a wooden sandwich with your daughter at her play kitchen that he built for her. Or lazing around wearing matching shirts and discussing the merits of a table saw versus a hand saw. Am I right?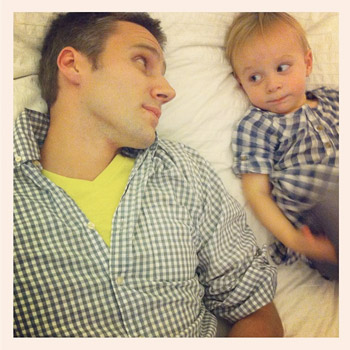 2 – His ability to love a small chihuahua just as much as I do… even though when we adopted Burger John said he "looked like an alien" and acted like the dog would be my thing. I think by that weekend Burger had him whipped. And that, my friends, is a guy who is comfortable with his dude-dom. I'm telling you, walking a tiny dog is the sign of a real man (it might be a good test of marriage material to those still dating… will he man up and take the leash…?). There's not an ounce of I-won't-do-that-because-it's-not-manly-enough-and people-will-see-me in John (probably thanks to him growing up with three sisters) and I love that about him. He's confident. He doesn't look around sheepishly. If the dog needs to go out, he takes him out. If I need lady-items from the supermarket and he's doing the shopping, he buys them for me. I won't say he doesn't blush and hide them in the bottom of the cart, but he gets things done. And I love it.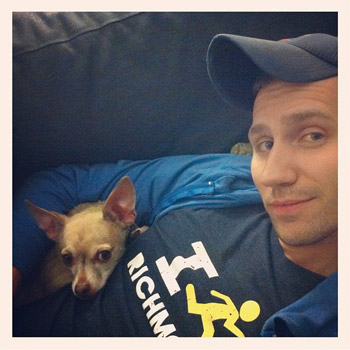 3 – That he kissed me first. Anyone who knows us loves this tidbit since I'm the loud outgoing one and they picture me pouncing on him… which also happens – but he pounced first. Yup, he's a man of action. And he's shy but confident, which might be the perfect combo. Plus I gotta say that I love the way he dresses. Some girls are into giant built guys who can scarf serious quantities of beef jerky, but I couldn't be more into tall, dork, and handsome. Basically when John threw on this shirt with this sweater a few months ago, I swooned. It's little things like his love of old wooden boxes or his excitement to fire up a new tool (he gets a gleam in his eye like a kid opening a new toy) that get me all giddy. It's like his excitement is contagious. All of this rambling is to say: dude's got style.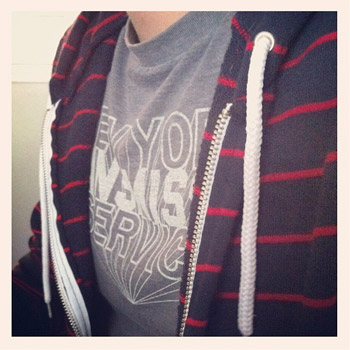 4 – His brain. There are many sexy things about my husband, but his quick wit is unparalleled and he makes me laugh until my stomach hurts at least once a day with some spur-of-the-moment quip that leaves me wiping the tears out of my eyes from cry-laughing. To anyone who knows us, John's sense of humor is one of his most defining characteristics (along with his whip smart brain full of seemingly limitless trivia knowledge). Heck, he's so smart that even though he has the answer 99% of the time (be it DIY or life related) he somehow makes me feel like I figure out my fair share of things too. How does he do that?! It's sheer brilliance. Also he looks pretty darn good in pumpkin sunglasses. Just sayin'.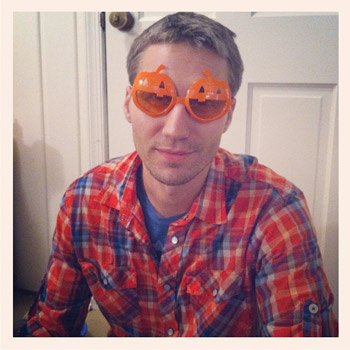 5 – His devotion to me and our family. He makes us feel safe, loved, and appreciated – I honestly couldn't be more grateful. I've had relationships in the past that felt like I was chasing that person more or trying harder than them, but John makes me (and Clara) feel secure and cherished and I could almost cry talking about it. Sorry, I warned you guys this would get sappy…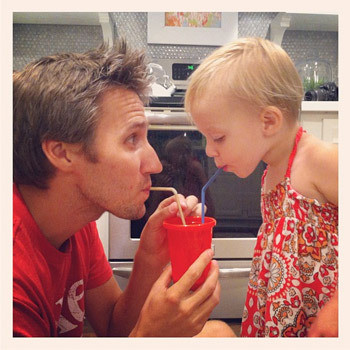 6 – His calloused project-loving hands and his sweet smile (this might veer off into TMI territory, but he has the best lips ever). #backoffhesmine #putabirdonhim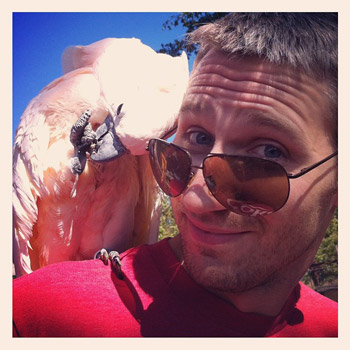 7 – His willingness to help me with "one more thing" and to lay in bed at night and brainstorm our next project when I know he might rather be watching TV or out for a run or… you know, getting friendly… while I'm running my mouth about some idea instead. I couldn't be luckier that he's happy to be "in the trenches" with me every day. It's amazing that he has his own interests (he can train and run a half marathon) while still staying involved with us and not checking out.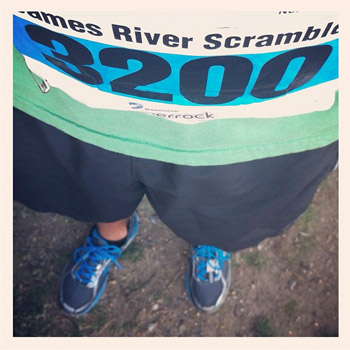 I think some folks might question what kind of man runs a DIY blog with his wife about paint and fabric and family and my answer is: a real man. I love that he can build Clara a dollhouse and code our entire website and has even built a deck for our family – although he has no background in any of that stuff. He figures things out as he goes and he's not afraid to jump in and learn new things. And I love that he's not scared to weigh in on my hair-brained decorating sprees instead of saying "you handle the girly stuff and I'll stick to the power tools." He truly makes me feel like we're a team and we're in it together and as a result our house feels like us. I honestly have no idea how I got so lucky. I promise I didn't hypnotize him or anything.
In summary: he's the one. Mah man. And he makes me happier than bees riding bicycles (and those make me pretty happy). Happy 31st birthday, babe! Thanks for everything and then some.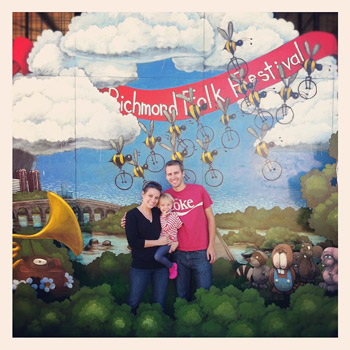 And so ends my lovefest for el hubbo. What are you guys grateful for? Any birthdays going on in your house? Who's getting what?
UPDATE: John discovered the post! Finally! After doing a project in the basement, uploading photos, and editing a video (all while I sweated profusely at the computer). Here's his reaction.
Psst- Want more lovey-dovey posts? We have a bunch of them here. And for those wondering how we resolve decorating disputes, here's a post about that for ya.
&nbsp&nbsp&nbsp
… it's… gasp… a TV.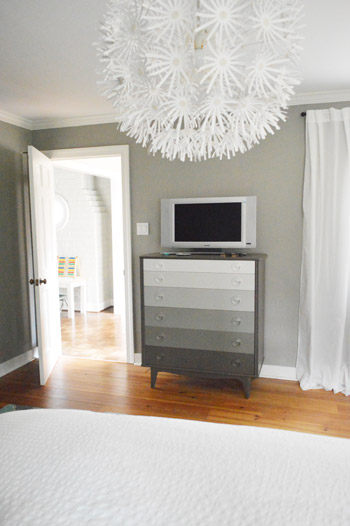 We were originally anti-TV-in-the-bedroom, so we know it's not for everyone (and it's downright sinful to some) but we only have one TV in our entire house – in the living room – and this guy was just sitting unused in the playroom (ever since we upsized the living room one since he wasn't large enough to actually see from the sofa)… so we've gone and changed our minds. Haha. There's actually a real reason behind the decision: more and more we've been thinking about how we have issues with work/life balance and it's hard for us to "shut off." Which is why we always end up working on the couch with our laptops and the TV on in the background. But a TV in the bedroom could become a no-work-and-no-multi-tasking spot – so we wouldn't allow any laptops or work to take place in the room and we could actually concentrate on our favorite shows.
Just pure relaxation and zombie-apocalypse/Dexter viewing. What can I say, that's our idea of a hot date. And I know there's an old saying that a TV in the bedroom might keep you from… ahem… other activities. But we figure if things like caring for a toddler, renovating rooms, writing a book, and maintaining a blog don't get in the way, that's nothing a little TV in the bedroom could change. Aaand, now I'm blushing. Moving on.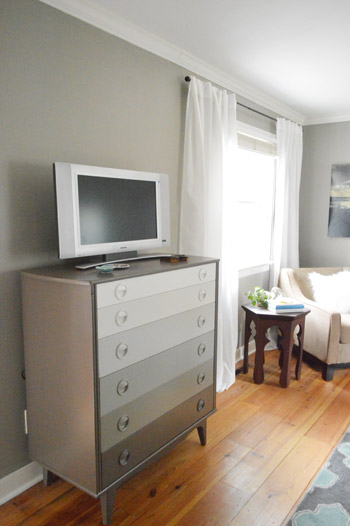 Not gonna lie, it sounds downright heavenly to wake up on a lazy Sunday and watch a movie in bed with the bean instead of sitting on the sofa and immediately snapping into "we should be working" mode and grabbing our laptops.
And let's just say a wall with a dresser and a TV are straight up spa-like when compared to this ridiculously cluttered before: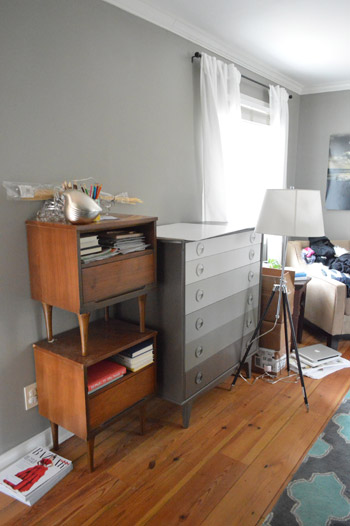 So I returned from all of our tour flights with a fire burning under my buns to whip the wall that we stare at every. single. night. into shape. The first step was just putting things where they actually belonged (books we had read went under the built-ins in the dining room with the rest of our collection, empty boxes got broken down and stashed in our recycling bin, the lamp moved back to where it should be, etc).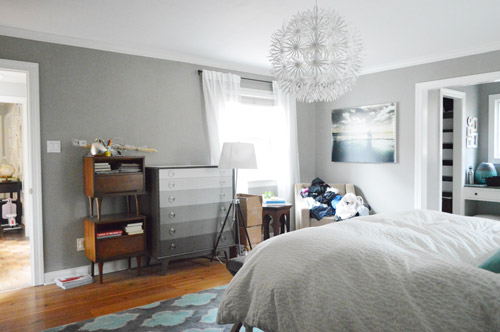 Then I moved our mid-century side tables (remember we phased them out here?) into the guest room. Now that we yard-saled the old dresser that was in there we have a completely bare wall – and two of them next to each other actually look like a console against it. I owe you guys a picture, but it definitely works for now. We don't know if we'll eventually use them in Clara's big girl room, so we'll have to keep you posted.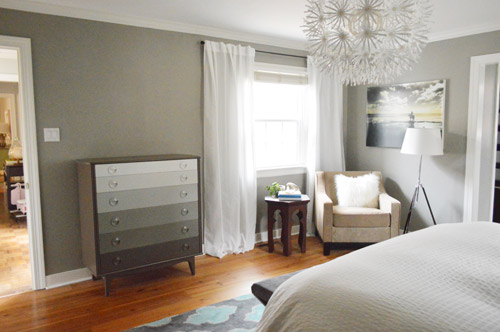 Anyway, once those were out of the way we could properly center the dresser (which was one of the only secret book projects that we paid for and kept since we were so in love with it – you might recognize it from this video). It sits directly across from our bed – for our prime viewing pleasure – and then we just plopped the old too-small leftover living room TV on the top.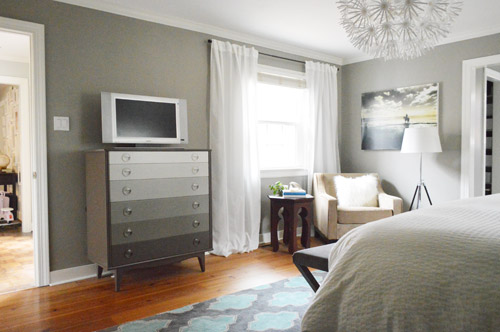 So far, it totally works for us. Wait, except not literally. It's not actually hooked up to cable or anything yet, so… womp-womp. Nothing to watch. Maybe I'll "dude, get on that" in a week or two (returning from tour stuff + Thanksgiving week = too much going on to sit on hold with Verizon). Perhaps I'll have the patience next week?
Oh and I've heard that it's bad feng shui to sleep across from a TV or a mirror, but we actually slept facing a giant floor length mirror for a few years at our first house and didn't have issues sleeping or anything like that- thank goodness. So maybe we're immune? Haha.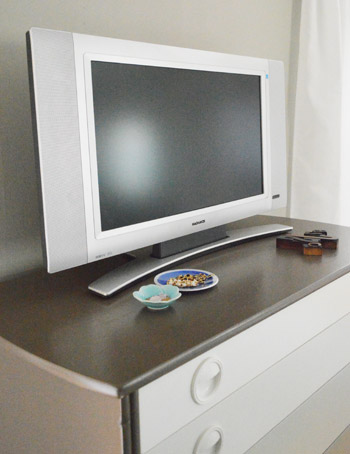 Honestly, my favorite thing about the dresser actually being centered and cleared of clutter is that I get to put cute little jewelry dishes up there (which tie into the color of the rug, you know, because I'm coo-coo-for-stuff-like-that).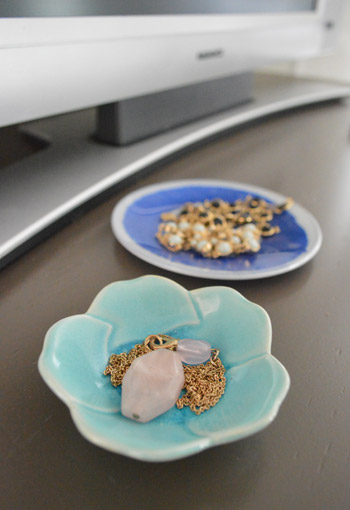 Also hanging out up there: wood blocks in our initials and our favorite number. Oh yeah, this stuff makes my day, guys. #noshameinmygame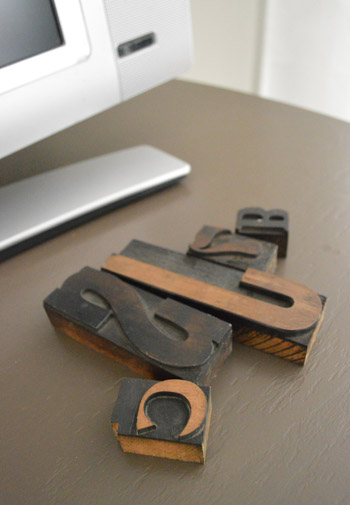 So that's where we are. Slowly inching towards a bedroom that looks less blank-wall-here, cluttered-junky-wall-there. We'll let you guys know how the whole TV thing goes once it's up and running. Who knows, we might end up never using it, hating it and removing it, or pretty much deciding we should never leave our room! Mostly I'm just excited that we can share photos of one of our favorite book projects on the blog. Yeehaw.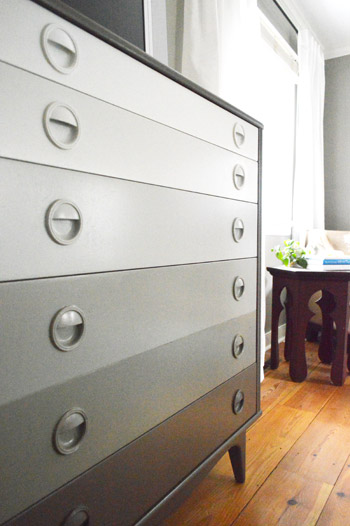 Do you guys have TV's in the bedroom? I'm dying to know the breakdown (is it 50/50? way more than not? very rare indeed?) but the last time we embedded a poll it crashed our site, so we've cobbled this tiny poll together over on Facebook so if you feel like playing along or checking out the tally, click here. Can't wait to hear where you guys land!
Psst- Have you guys seen baby Weston yet? It was so exciting getting the call in the middle of the night that he came into the world safely and all was well with Katie and the fam. Clara loves him already – and after I showed her a picture in the morning she lovingly said "I want to bother him." Cute, right?
&nbsp&nbsp&nbsp