Archive for September, 2012
Ever since this post about Clara's clothes, I've actually gotten a surprising amount of requests for a post about how I save money on my own clothes, what my staples are, and how I generally get by without spending a ton of my momdrobe – er, I mean wardrobe. And although I'm hardly a fashion plate (that idea makes me snort-laugh) I do love a deal, so here's a rundown on how I save money when I'm shopping for myself along with some sneaky sale tricks I've learned along the way and a few general dressing rules that seem to work for me (slash keep me from buying stuff I'll regret/never wear/stare angrily at in my closet). And I'd love to hear from you guys when it comes to how you score deals and try to resist buying things you don't need/wear – so please drop in on the comments with all of your wardrobe words of wisdom!
Tip #1: Just ask. About a year ago I found a dress with no price on it at Old Navy. I asked them how much it was and they said it was an online-only return that ended up in their store, and they could sell it to me for 50% off. Just like that, a $30 dress was $15 – plus I could stack another mailer coupon I received on top of that. So worth just asking about it, right? Note: Please pardon this crazy face. I do that sometimes. Gathering all of the pics of myself for this post was beyond awkward.

Tip #2: Organize your clothing coupons. I use this method, which helps me know what I have and use them before they expire. Definitely helps me save some loot.
Tip #3: Know the rules. Many stores have special deals that run for cardholders. For example, you can get 10% off every Tuesday when you use an Old Navy, Gap, or Banana Republic card – on top of any markdowns from other coupons, discounts in the store, etc. I recently spent around $25 at Old Navy to get $65 worth of stuff. How? Well, first I used something they call Super Cash (it's like Old Navy bucks that they give you after you buy stuff to put towards your next purchase, so I had a $20-off voucher to use if my total was over $50) but I also was shopping on a Tuesday so I got an additional 10% off, plus I was buying one item that was an online-only return, so that was 50% off plus 10% off on top of that! In the end I saved $40 just stacking discounts, shopping on the right day, and remembering to use my Super Cash voucher before it expired.
Tip #4: Figure out your favorite haunts. That'll help you learn their store/sale policies, and it'll also save you time since you'll get to know:
what sizes work for you in those stores (for faster shopping/fewer returns)
which cut of jeans you love/wear most (and which ones you don't so you can avoid them)
when their end of season sales will be (and what they might have there, based on what you found the previous year, etc)
We're also huge fans of outlet shopping, so when we go to the beach (usually around Memorial Day and Labor Day) we hit up the outlets where it's not unusual to get things for 50-70% off. If I were forced at gunpoint to make a list of my favorite haunts, they'd be:
Gap (great for staples like jeans)
Old Navy (I usually love their tops)
Banana Republic (I troll their sale rack for tops, skirts, and dresses)
Banana Republic Outlet (this is where I grab long-term quality items, like a black trench coat)
J Crew Outlet (I got a great pair of teal skinny jeans there for $35 thanks to tons of sales)
DSW (nearly all of my shoes come from there)
TJ Maxx (they're awesome for discounted designer bags that last forever)
Tip #5: Don't water down your wardrobe. I like to look at it as an "overall closet average." Say I have ten outfits I love love love in my closet. I'd call them all favorites and on a scale of 1-10 I'd score them all a ten. That makes my overall closet average a ten. Then say that I see a sweater I kind of like (let's say I'd give it a seven). And it's on sale, so it's tempting. The way I completely resist grabbing that sweater – which I'm guaranteed to like less than everything else in my closet – is to think of my closet average. Right now my overall closet average is a ten. If I get that sweater and it's a seven, it'll bring my entire closet average down, and I can just picture myself choosing other things on my hanging bar over and over again since it wasn't something that I love love loved from the start. That helps me hold out for things I really truly love and stops me from grabbing anything I probably won't wear or appreciate as much. Everyone loves a good closet GPA, haha – and it keeps that dreaded closet-clutter at bay (you know, when you have a bunch of stuff, but feel like you have nothing to wear).
Tip #6: Know what works. I'm a whopping 5'2″ – and I have the opposite of a long model-esque neck (it's short like the rest of me) so I've learned that I look best in a v-neck. Somehow it makes me look like I have more of a neck and lengthens me in general, so I've learned what works for me.
Knowing that helps, because when I see some high-necked sweater or a boat necked t-shirts, I save myself the time of trying them on (and hating them) and I save myself from any temptation to buy something because it's a pretty color/print/fabric or has a certain alluring designer name (or seductive sale price) since I know I'll completely regret the purchase if it doesn't actually flatter my body type. Heck, even my favorite swim suit has a deep V.
And we can't forget my purchased-48-hours-before-the-big-day wedding dress.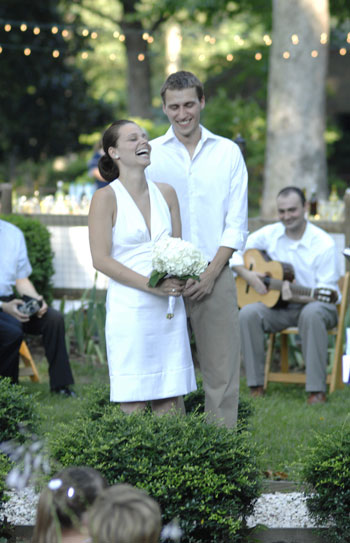 Tip #7: Think about what you can pair things with. This is sort of like decorating. I try not to grab something that won't go with anything in my closet, because much like buying something that matches nothing in my house, it would necessitate buying lots of other things to go with it. One great trick I have is to remember a few of my favorite outfits or pairings. For example: a denim pencil skirt + black t-shirt + leopard heels. If I see a pretty red pencil skirt when I'm out, immediately in my head I can think about the black shirt & those leopard shoes and know that it could be subbed in for the denim skirt for a different look with a similar silhouette (which I know I already love).
I try not to be as boring as buying the same things in a bunch of different colors, but I also go back to tip #3 (know what works) and remember that I tend to love a few silhouettes since they're easy for me to wear and work well with my body type (ex: pencil skirts that aren't too long for my short legs, skinny jeans, v-neck shirts, etc). Here's another example of how I might grab something that can work with a variety of things in my closet. Take this coral tank top, that I have under this brown jacket…
Here it is under a black blazer at Haven (thanks for the pic Rhoda!). Little staples like colored tank tops seem to be inexpensive and easy to layer, so they might be less specific than a big patterned sweater or something.
Here's another one in dark plum. For a girl who wears a ton of black, colorful tanks are a nice low-cost way to add some color in without breaking out in hives. Ooh plum, look at me. I'm a rebel.
Tip #8. Pick quality for things you'll wear all the time. It adds up to longevity. For example, I'm extremely cheap. But in the purse category, I usually buy one and wear it for 2-3 years. Sometimes even longer. So I'm happy to splurge if it means something will be better made and will last that whole time without looking all murky and disheveled. When I say splurge, I don't mean $500, I mean something in the $120-180 range. I know, it probably sounds super high to some folks, but I actually think if you figure out your cost per wear on a cheap purse, it might surprise you.
For example, say over three years you buy/wear four $30 purses from Target. That actually works out to the exact same cost as getting one great Michael Kors or Cole Haan bag from TJ Maxx for $120 and wearing that for three solid years (something I've done for over a decade now, without any issue of things getting worn out or me getting sick of them- you just have to hold out for something you're truly obsessed with and that love goes on and on). So I guess it goes back to my whole "don't water things down" theory (tip #5). I just like to buy one great purse that I'm enamored with and wear the heck outta it. It usually takes me about a year to find "the bag" though, so I don't rush into anything (a few years is a long enough commitment that I take it super seriously and refuse to settle). And then I take a cell phone pic of it and text it to my BFFs to celebrate my purse victory. Dork for life.
Another example of how I try to go for quality would be with coats. I got this trench for $80 at the Banana Republic Outlet (marked down from $150+) a few years ago, and have worn it like crazy. Spring and fall for at least two years now, and it's still going strong (no ripped lining, buttons popping off, etc). I used to try getting cheaper jackets at places like Target & Old Navy, but learned that they didn't last as long, which ended up being more money in the long run, so for things like bags and coats I try to go for quality (but I look for that item in an outlet or discount store like TJ Maxx to try to keep costs down).
Tip #9: Spice things up with accessories. Most of my formative learning-my-style years were spent in NYC (I lived there for six years, through college and those first-job years afterwards) so I definitely have an affinity for the "New York look" (lots of black, a big handbag, long lean jeans, blazers, black sunglasses) but I also have always loved to spice things up in two areas: jewelry and shoes. One of my first pair of fancy pointy toed shoes were a pair of pink Nine West heels that I loved with all of my heart. And I'd pair them with a black blazer and jeans for a little dash of color without feeling too matchy-matchy (which might happen if I paired them with a pink sweater of the exact same color). I also had a pair of lime green Roberto Cavalli sandals that I scored for cheap at Century 21 (an awesome outlet-ish store in downtown Manhattan with a ton of clothes & shoes that are marked waaay down). Still to this day I love wearing a navy or black top with jeans and bright red peep toe heels…
I also love bright earrings, so it's not unusual to see me in a black shirt, jeans, and some big coral or emerald colored earrings. John got me these guys for Christmas and I love them.
Here's more dangly earring evidence (this shot is from back in NYC when we first started dating).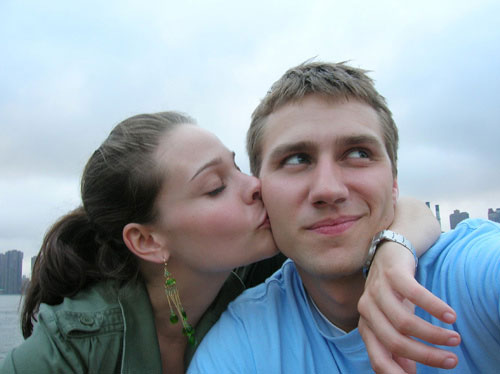 And here's Exhibit C, with even more earring action going on. It's just a quick way to add some "I'm-trying-a-little" to my usually questionable mom uniform. Haha.
It might not be a perfect equation for everyone (big bold earrings + basic black shirt + skinny jeans + some sort of shoe that works for being a momma but still doesn't look too frumpy & is occasionally a bright color or print) but that seems to be the sweet spot for me.
Tip #10: Don't try to make everything the star. I think this is sort of a sister tip to the one above, and it's also one of those tips that rings true for how we decorate our house. Much like you don't want every item of furniture and accessory competing for attention (you want some to fall back while others are free to be the focal point), you probably don't want everything on your body to be vying for attention. It's why I love slipping on my favorite pair of skinny jeans and a plain black top, just so my big crazy earrings or bright shoes can be the stars.
Another way to interpret this could be that if you have an awesome printed dress, a nude shoe could be a nice way to play it up. And we've all heard the "you shouldn't wear a big statement necklace with big statement earrings" rule, which definitely seems to ring true for me. The way this tip saves me money is if I have an event in mind and I know what dress I'll be wearing and I'm searching for shoes or jewelry, I can pin down whether the dress will be the star, and if it will I'll get shoes and jewelry that won't compete (instead of coming home and trying everything on together and hating the outcome).
Tip #11: Do your own thang. Don't follow any of my tips word for word since goodness knows I've read tons and tons of clothing advice that might ring true for someone else, but is laughably terrible advice for someone like me with my body type. So while I know it's incredibly clichéd to tell you to embrace who you are and just wear what you like, but at the end of the day, it's kind of the best advice of all.
And now since someone will ask for it, here's a pic of me with my hair down. I do it sometimes, but not often, just because I'm a ponytail girl. It helps me keep the paint and the peanut butter and jelly outta my hair. Haha.
Now it's your turn. Shower me with your tips and tricks when it comes to stocking your closet on the cheap. Where do you save and splurge? I'm sure it's different for everyone, so I'd love to hear what works for you guys!
Yesterday you saw Day Numero Uno of what I lovingly call "Operation Granny Chic." Mission: update my Granny's bathroom over three whirlwind days. So with all of the prep work done, our day-by-day play-by-play continues with painting and new floors. Except for one minor step that stood in our way…
Notice that giant rust spot on the air duct near the floor? Since there's no way paint would fix that on its own (it would bleed right through), we slapped some Rustoleum on that puppy before breaking out the paint cans. It was amazing how one fast coat worked like a charm.
The paint color we chose for the room is "Hint of Violet" by Benjamin Moore, which is a soft violet with some subtle gray undertones. Granny is such a colorful person (and often wears purple) so we knew had to do something cheery for her, but since the room is so small we didn't want anything that would knock you over the head or make the space feel more cramped than it already is, so the plan was to bring in more pops of bolder color with the accessories, window fabric, etc.
The new wall color went on in two quick coats, including the slanted ceiling (in small spaces like bathrooms we love doing the ceiling the same color as the walls since it feels less chopped up and more open), so by lunch we were ready to tackle the floor.
Oh the floor. The existing floor was one of those old sheets of laminate. It was actually in decent shape considering it's age and it was neutral enough to not offend. But Granny (who doesn't ask for much specifically) wanted a new, more updated floor in the form of those individual vinyl tiles with a lot more texture, so that was a must for our to-do list.
We would've loved to give Granny some kick-butt hex tile or something else with a vintage vibe, but given the time and money constraints of the project we had one obvious option: those vinyl stick tiles that Granny had requested. Plus my parents suggested that we not risk any major plumbing issues – which would grind our makeover to an immediate halt – by attempting a sink or toilet removal considering the age of the pipes in this older home, so we were happy to oblige.
Sherry and I actually installed vinyl tiles about 6 years ago in our old kitchen, so we were a little rusty but we were quick to find our groove. The nice thing about this type of flooring is that it goes down super easy, doesn't necessitate a wet saw or any sort of thinset/grout, and is über affordable (we got these from Home Depot for 99-cents per tile). The key is to make sure each tile is set very (very very) snugly against the others so you don't get any seams, so we really pressed each tile firmly into the edge of the previous tile before sticking it down.
The other thing I love about these guys is that they're crazy easy to cut. All it takes is a quick score with a utility knife and then it (I can't believe I'm about to make a Legally Blonde reference) bends and snaps. Though unlike Elle Woods, it then breaks apart.
Granny's itty bitty bathroom would've been a cinch to complete except that there were so. many. dang. edges. to cut. It's not the hardest task – just time consuming. Again, since I was advised not to remove the sink or toilet – I had to cut around them (but we left Granny a bunch of spare tiles to bridge any potential gaps in case the toilet is eventually replaced). I started each cut by making a paper template. Typically I'd use a stiffer paper like cardstock, but Granny just had a spiral notebook handy – so I taped it into place and used my knife to cut right along the edge of (in this case) the toilet.
Gorgeous, no?
Then I taped my template on the to-be-cut tile and slowly sliced along the edge of the template.
Once I bent-and-snapped out the section that would interfere with the toilet – and did a test placement with the protective backing still on – it was ready to be stuck down. Voila:
By the end of about 23 tiles and 4 hours it was completely done. And it was definitely a huge upgrade from the old sheet o' vinyl that was there before. Again, if we had the luxury of time I would've loved to remove the sink and toilet to go under them (so for those of you at home who do, I'd recommend it), but leaving Granny seven spare tiles was the next best thing – so if she ever has a plumber replace the toilet or sink, she can fix any gaps if either fixture happens to have a smaller footprint.
It was amazing how much the new flooring updated the room… especially in person since it has some great texture. And it looks pretty darn good with those soft violet walls.
With the paint and flooring done, most of our major projects were checked off for the day, so it was just on to prepping a few more finishing touches – like breathing some new life into some of Granny's old cabinet hardware (which we think was added sometime in the 80s or 90s, but had since peeled a bit). Enter Valspar's Indigo Streamer in Satin to the rescue (it looks kind of bright here, but it's a true deep navy in person).
First we sanded them smooth and then it was spray-time. We had originally hoped to replace Granny's cabinet hardware with some new shiny chrome versions, but the existing holes weren't a standard size. That ended up being a blessing in disguise because not only did we get to reuse what she had, but we also got to make them a fun and less expected color. Navy definitely beats worn-and-peeling brass and adds tons of interest to an old white toilet paper holder.
So with our spray painted items drying outside for the evening, the room was looking like this by the end of Day 2 (pardon the terrible picture, it was late at night, so the floor looks Frito-orange and you can hardly see the voilet color on the walls).
Oh but we were able to tackle a few other minor items in preparation for Day 3′s big reveal – like giving Granny a playful blue glass knob on her medicine cabinet, and hanging a towel ring into some existing holes on the duct (we worried hanging something on the duct might be a bad call, but Granny said it used to hang there for years and since my dad also said it shouldn't be an issue, we used the old holes that were there and plugged them up with a shiny new towel ring).
Oh yeah, and we replaced a couple of her outlets – including the burned one on the floor – so they were all new and white and up to today's safety standards (an electrician had looked a them prior to our little makeover to ensure they were nice & safe before we messed with them).
Isn't this little problem area by her sink already looking worlds better? That was definitely one of the more satisfying views of Day 2. Although for some reason the soft violet walls are really hard to see in these late night shots.
Happily after a day of painting, changing up the flooring, and doing a few little updates to get a jump on things, our to-do list was looking like this:
Brainstorm colors & go shopping for accessories (Day 1)
Spackle/sand/caulk everything to prep the room for paint (Day 1)
Rebuild the cabinets a bit so they look more balanced (Day 1)
Prime and paint the cabinets for a more updated and open look (Day 1 & 2)
Paint the entire room, including the ceiling (Day 2)
Fix a few issues, like a rusted duct and an old dingy corner below the sink (Day 2)
Redo the floors, which were that old sheet laminate stuff (Day 2)
Revive some hardware/accessories with a fresh finish (Day 2)
Make & hang curtains to add some charm (Day 3)
Bring in some meaningful art (Day 3)
Add some functional/personal accessories to finish things off (Day 3)
Reveal the whole shebang for Granny (Day 3)
We'll have all of the official before & afters in tomorrow's post about our final day of upgrading the room and – the best part – video and photos of us revealing it to Granny. We'll also have a full budget breakdown for you (we just have some receipt-math and photo-uploading to do). In the meantime, is anyone else out there using peel & stick tiles for a super affordable upgrade? Did you make paper templates too? Or did you use some other method to size them?
*** This giveaway is now closed – see who won! ***
Glad to hear so many of you had fun with the quiz (though sorry it had a bit of trouble loading for some). Random.org has selected our lucky winner and she is… Emily W (who thought she'd be BOHO, but ended up a mix of Sassy and Classic). Congrats Emily!
It's been a while since we've posted about a fun what's-your-design-style type quiz (like these of the past). And it's been never since our post about one came with a chance to win $500 from HomeGoods. So if ever there was time to put aside your allegiance to scientific results, this would be a good one. HomeGoods has revamped their Stylescope quiz (with the help of HGTV's Taniya Nayak) to help pin down your style in just one question. Pick your favorite five of the 36 provided images and BAM! -  instant diagnosis.
The cool part (besides the $500 prize) is they not only give you a description of your style, but also throw in quick tips for decorating, shopping, gift-giving, and even entertaining based on your evaluation. They also suggest a Pinterest board dedicated to your style as well as a blog that showcases it as well. And you just might recognize the name of the blog that goes along with the "Sassy" style. We were totally flattered when they asked to link over to us (and giving one of you guys a $500 credit was the icing on the cake).
PRIZE: A $500 gift card to HomeGoods.
TO ENTER: Comment on this post with the words "SCOPE ME!" and tell us…
BONUS QUESTION: …did you take the quiz? What was your result? Did your secondary result feel more accurate than the primary one? Or do you think one of the other style personalities is a closer fit to you?
GIVEAWAY CLOSES: Wednesday, Sept 19th at 8pm EST or at 10,000 entries (whichever comes first)
NUMBER OF WINNERS: One
PRIZE SHIPS: The United States (but we're always trying to wrangle as many international giveaways as possible)
USUAL STUFF: One entry per e-mail address is permitted. The winner will be selected using random.org and announced on Thursday as an update to this post. That's right, come right back here on Thursday for the announcement of our winner. Good luck…
Note: We aren't paid or perked for hosting these giveaways, we just do 'em to thank you awesome folks for stopping in. See our Giveaway FAQ page for more info. Pics courtesy of HomeGoods.