Archive for July, 2012
Ok, I'm not really an egg or a man. But I have been obsessed with egg chairs for at least a decade since seeing this hanging one in Domino magazine back in college and this guy from Marie Claire Maison (their French house-related magazine) who has also been in my desktop inspiration folder for at least five years.
So as you can imagine, every time I'm in a thrift store I'm on the eternal egg chair hunt. I dream of hanging one in our sunroom next to the daybed for Clara (or me) to swing around in without killing ourselves. Not sure if we can handle it, but the universe has taken some safety measures and insured that every time I look I have no luck. Yup. So far, no dice. I did get close once (imagine me telling this story like a gal who leans in and whispers that she once nearly caught some mythological creature like Bigfoot or Nessie).
The year was 2011. I saw a picture on cragislist with a giant collection of items that were for sale at a local thrift store. There among the junk was the most amazing egg chair I ever saw. I dove for the phone, knocking books off my desk and pencils to the floor. I probably made some sort of sound like "gaaahhhhh" or "woooooooooo." When someone answered I said "Egg chair" and panted like a dog. Seriously, I momentarily lost my mind. The woman was very nice but said "oh yeah, as soon as we posted that it sold." I hope I said goodbye and thanked her but I honestly don't remember anything after that sentence. I blacked out.
Since then I've always been keeping an eye out – even from mainstream stores with higher price tags. For example, Pier 1 now sells this hanging chair for $280: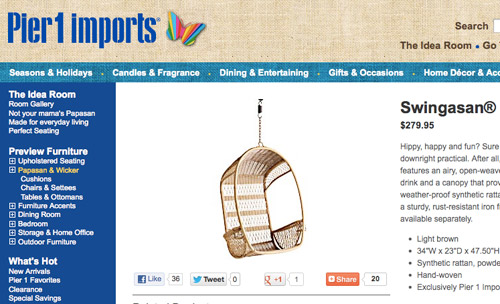 They also sell this Papasan guy for $80 (they're known to pop up in dorm rooms and is a little too "reclined" and "wide" to really be as egg-ish as I'd like). So let's just say the guy above is more my speed and the guy below is more in my price range. Such is life.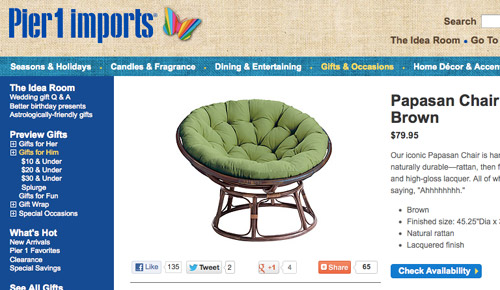 They also sell this guy, who is sort of like Sir Papasan's fancy cousin who spent the summer in Europe and came back with some swagger. The shape is definitely more egg-ish, but the cushion is a little too frumpy for me (is anyone else getting maxi pad?).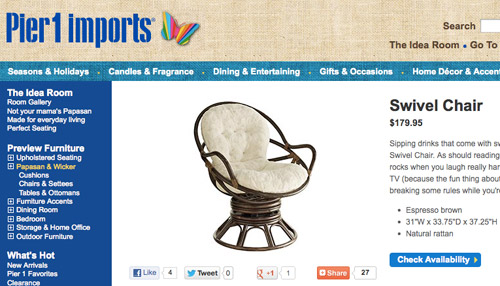 Fast forward to a recent thrift store run when we popped into about five of our favorite local places (I snapped lots of photos so we'll have to write that whole adventure up for you as soon as we can size all the pics). Anyway, at the third place I walked by this little set of two chairs and I took this picture. End of story.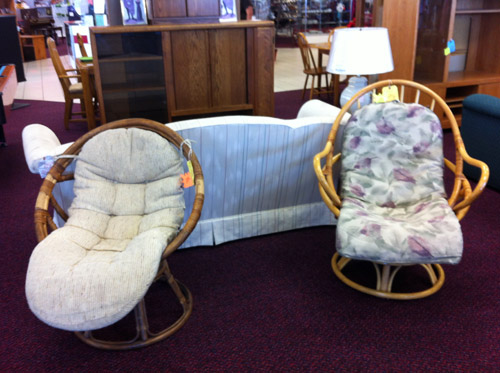 Then I got home and uploaded everything and had this "what the heck was I thinking?!" moment when I realized both of those guys above were:
very egg-ish
in my price range
in need of love (which is actually a selling point for me)
marginally harder to get hurt on than a hanging egg chair (which is a good thing, since something swinging might spell disaster for uncoordinated runs-in-the-family gals like me and Clara)
So I did the following:
lunged towards John who was typing at his desk next to me
probably made some sound like "meeeeeeeeeeeep" or "haaaaaaaaaaaaah"
pointed to the picture on my screen of the two egg chairs
said "can these fit in our car?"
convinced John at least one could fit in our car
grabbed the kid and ran to the car so fast that we were all strapped in and ready to go when John sauntered up a minute later and started the engine
Oh yeah, it was on. About twenty minutes later we were back at Goodwill and you're not even going to believe it. The guy on the right was gone. Sold. Sadness. But the guy on the left was still there! And very much egg-ish. And very much in our budget. As in: thirty beans total. And get this- it even swivels!!! So the wind can still be in my hair while the chair is safely planted on the floor of the sunroom. Basically it was very much like buying the Pier 1 Swivel Chair above for $179 but for 150 bucks less, and I'll get to freshen it up and put my own spin on it (pun intended) with some new pillows instead of anything resembling a giant feminine hygiene product.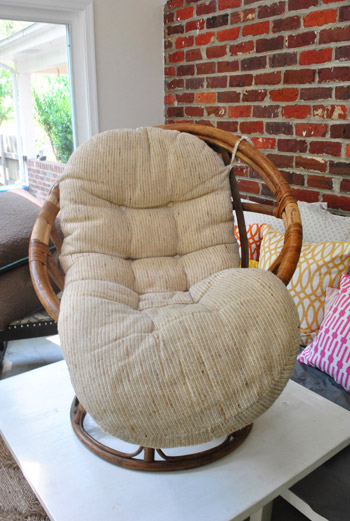 Sidenote: I totally made an omelette for dinner to celebrate my little egg chair coup. Is that sick of me? Like I was eating his ancestors or something?
I should have taken a photo of John sitting in it for scale, but the back goes up to his shoulder blades  (and he's 6′ tall). So it's not a child-sized chair, although it'll definitely be Clara-friendly (and me-friendly since I plan to set up camp in this chair for the next 20-30 years). This picture of it on a low coffee table in the sunroom doesn't help with the whole scale thing, but you can see the potential right? He has good lines I think. Good egg-ish lines. Of course that cushion was grody and should not have even been brought into the house, but it has since been relegated to the carport. And you can see the shape even better without it. Me-ow, right?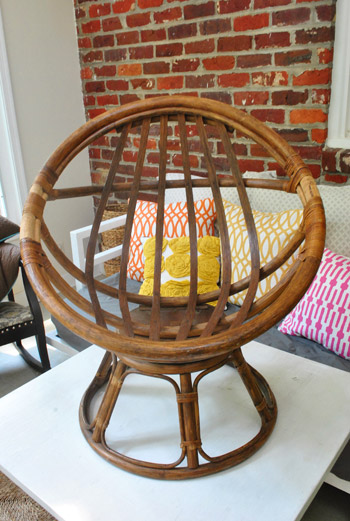 After playing around with some pillows (which look crazy, but gave me a general idea of what I think could work), I've decided I'll make or find a better fitting seat cushion and then just add a casual back cushion. But it'll be taller than the little pillow in the picture below because I want the back to be as comfy as the bottom.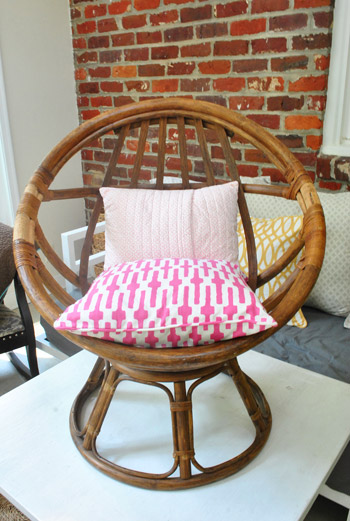 Will keep you posted for sure. Oh and you know I'm going to freshen this guy up beyond just adding some cushions right?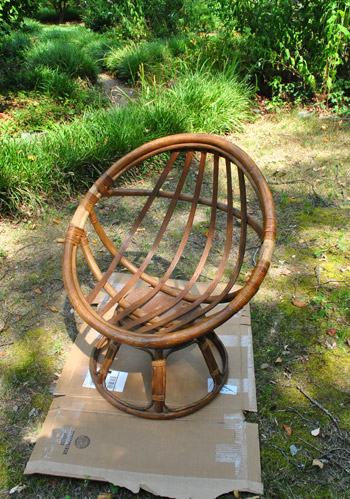 Might have already started on that actually. More details in a few days when he's all dry and ready for his close up. And of course amid egg chair happy dances work slowly continues on the deck…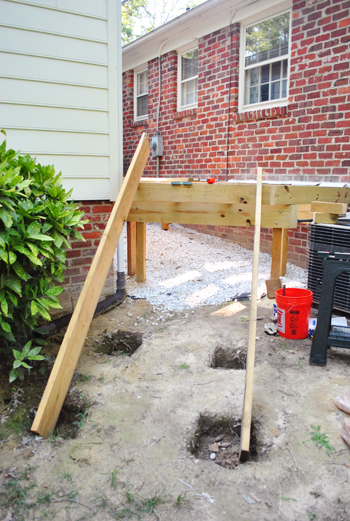 … so we should be back with an update on that front next week for ya. Inch, inch, inch…
Psst- We announced this week's big giveaway winner. Click here to see if it's you.
&nbsp&nbsp&nbsp
Feel free to file this under "a small house-related project that we did while enjoying a little – well it was actually pretty big – local event." You already know Sherry and I are trying to embrace color more in this house, but this weekend I might have taken things a bit too far…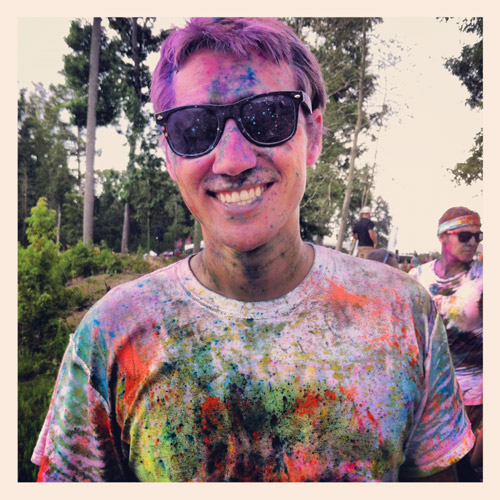 That's my "after" Instagram photo following a 5K race that my younger sister and I did this weekend called Color Me Rad. I'm not sure what maniacal genius came up with the concept, but it was awesome. Basically you and your white t-shirt run 3.1 miles while people periodically douse you in technicolor cornstarch. They're being held all over the country (along with a similar even called The Color Run) and it was – well, I'll let our matching temporary tattoos explain: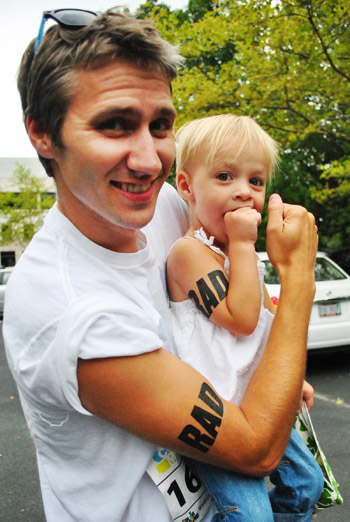 Here's my sister Carrie and I before the race. So clean. So naive.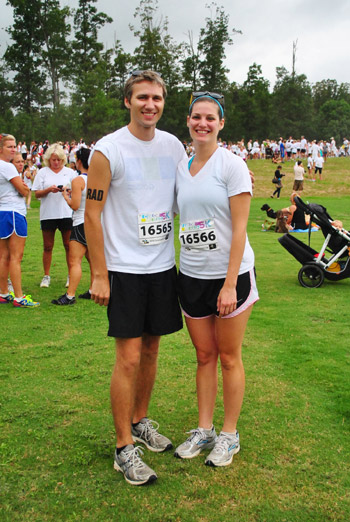 Sherry was on cheering/Clara duty, but decided to get in on the action in her own colorful way. She grabbed a blank canvas and brought it along in the hopes of capturing a little abstract art while she spectated.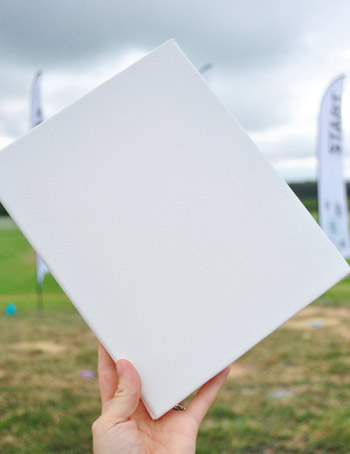 And just so you believe that she was actually there (we realized that when she carries the camera she's never in photos), here's a shot of us meeting a blog reader named Katherine, who was kind enough to snap this photo and share it with us on Facebook. Sherry wants me to note that she's not too cool for school in her shades, she's just a weirdo who didn't realize that it wasn't that sunny – and only later looked at this picture and blushed for wearing them before the sun started pounding down on us…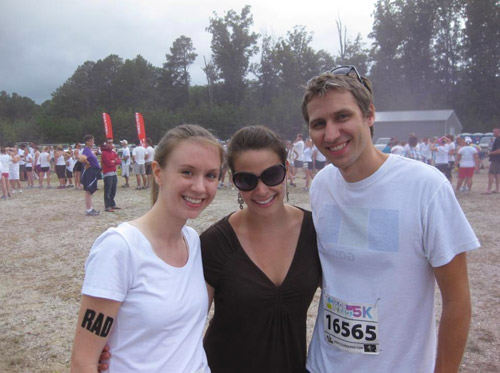 … which eventually did happen around 9am. And despite it being pretty early in the morning, the place felt like Mardi Gras. Well, except instead of beads it was packets of cornstarch being thrown around. Before we even left the start line our shirts (and faces) were already sporting some color.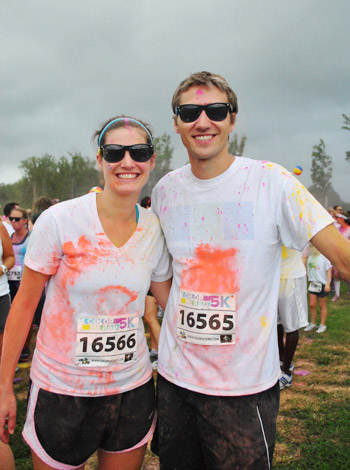 Oh yeah, and those sunglasses were part of the race packet we got when we registered. You know, so we can all look more like a weird band of brothers (and sisters) running through colored powder. Ok, they were really to help keep said powder out of our eyes.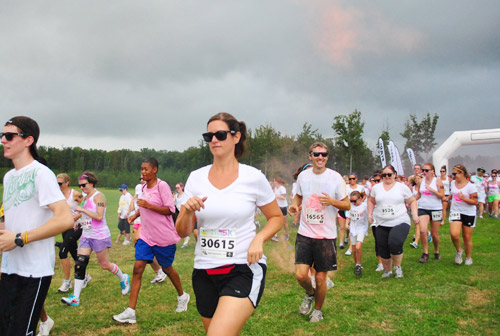 Fun fact: the guy in green shorts below is the guy at The Tile Shop who sold us our kitchen penny tile. He's also the person that doused my stomach in orange before the start. I guess I should be glad it wasn't grout or something.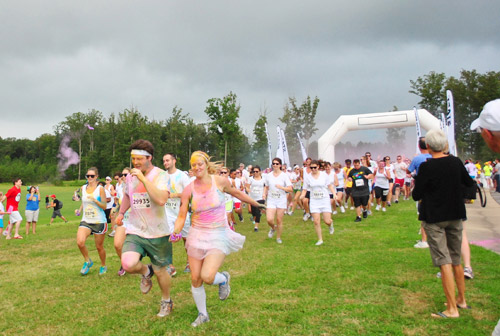 Here we are actually coming in for our big finish… and getting sprayed with a packet of yellow powder that my dad tossed at us.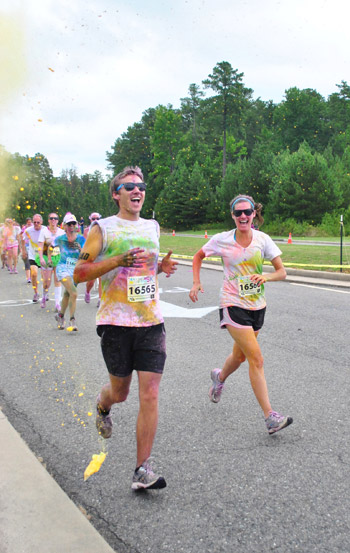 And here we are learning our lesson to keep our mouths closed.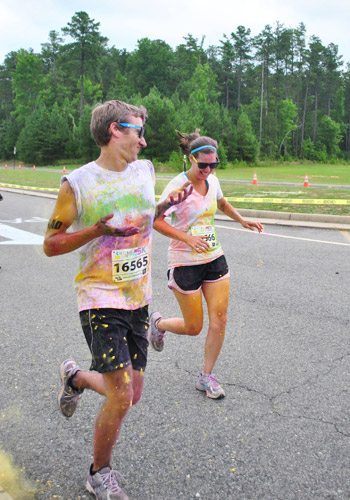 Carrie and I actually remained pretty clean (relatively speaking) up to this point. Lots of people were practically rolling in powder by the end (we saw one guy literally rolling in it at one checkpoint). But the cleanliness all changed right after Sherry snapped the photo above. Because that's when we ran through the finish line. The photo below isn't mine, it's my friend Lauren's (thanks Lauren!) but it perfectly captures what finishing the race felt like.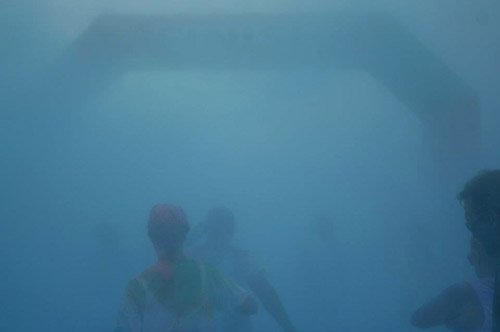 Which is why we ended the race looking like this. Well, this is after we rinsed it out of our teeth.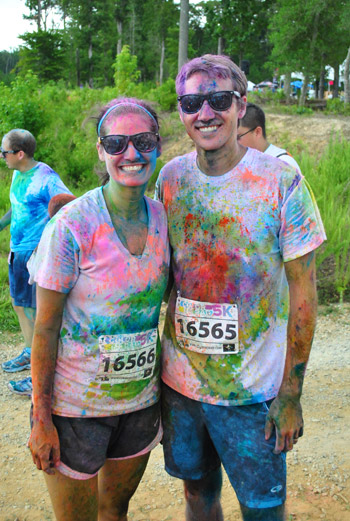 Despite the complete and utter mess-fest that was the racecourse, Sherry and Clara managed to stay pretty darn clean. Clara's stroller did get doused with a dusting of orange, but that's about it.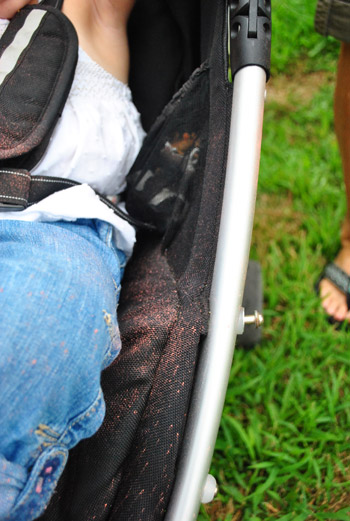 Well, that and there were a few cookie crumbs on her face – though we can't blame the race for that (it was all my mom, showing up at 9am with fresh baked cookies). Although if there were a race where they threw cookies at you, I'd totally be game.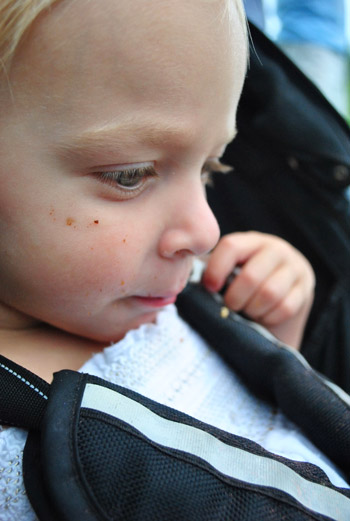 And since Sherry's canvas also stayed pretty clean, we took matters into her own hands (and by matters I mean powder on the ground) and pelted it with all the colors we could find. Not exactly a masterpiece, but making it was pretty fun.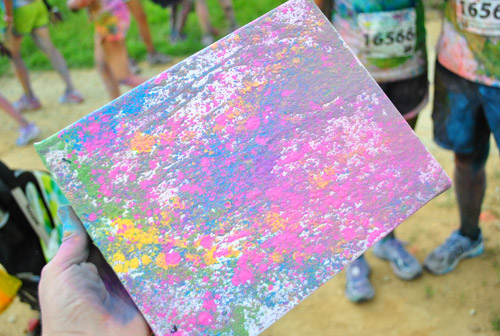 We actually preferred the look of it more once Sherry shook some of the excess powder off of it.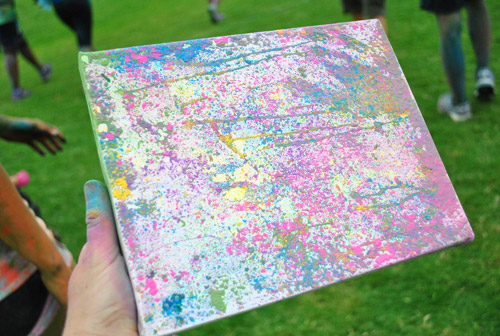 Then it started to rain a bit on our way back to the car, so some of the lighter colors washed off the canvas. And by the time we got home and hung it up it was looking completely different once again.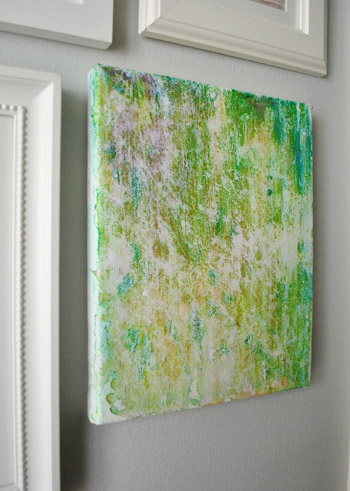 Overall we thought it was a fun little project with a cool story behind it. We'll need to seal it with some sort of sealant spray to keep it for the long run, so we'll share that update if and when we get 'er done.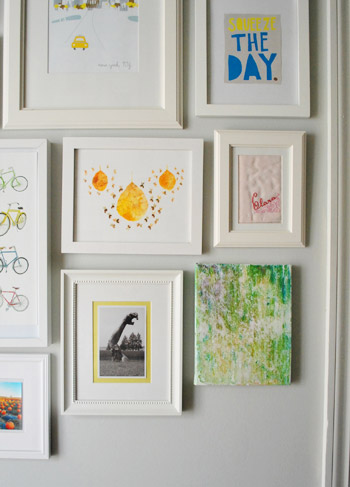 Actually, if there were any keepsake from the day that was truly representative of the madness (radness?), it'd be my shirt.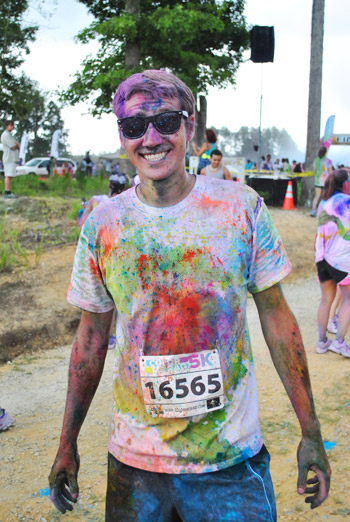 I mean, wouldn't this look pretty cool behind a frame? Sherry insisted on snapping this photo because if nothing else we could get this printed and frame it to remember the whole color-riffic morning.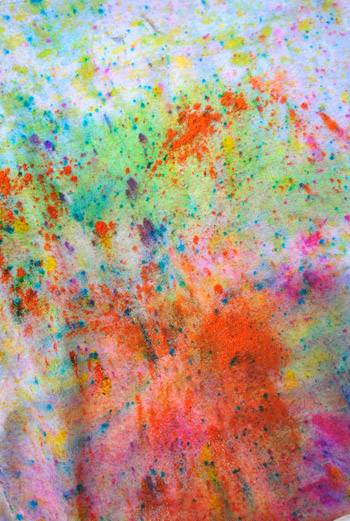 And I'm so glad she took that photo because between the light rain on our way out and me taking it off before sitting in the car, the nice speckled pattern started to turn into more of a streaky blob. And that blobbiness was only made worse when I attempted to preserve the color using Color Me Rad's suggestion: soak in vinegar and then iron (since normal washing and drying would  supposedly remove, rather than seal in the color). By the end of it all, the shirt was looking more like this: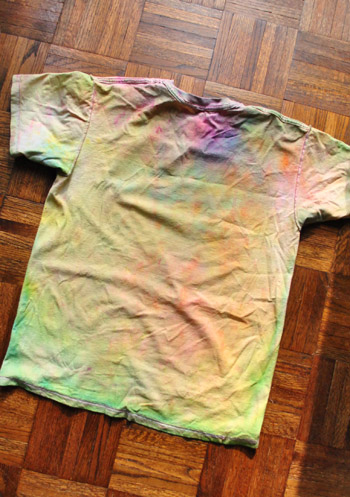 Still colorful? Yes. But it's looking more like a poor tie-dye attempt, which isn't really the look we're going for around here (blacklight anyone?). So I'll probably hang on to the shirt as a spare work shirt, but don't expect to see it in a frame anytime soon. But that doesn't mean some of our photos won't make it behind frames. Like this one perhaps…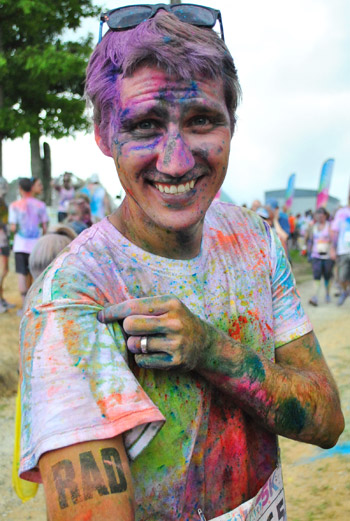 Or maybe this one of the villainous variety. This is the shot that Sherry took after telling me it looked like I had a mustache.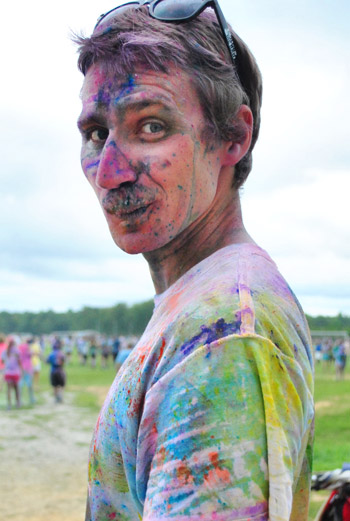 I was totally channeling Littlefinger from Game of Thrones.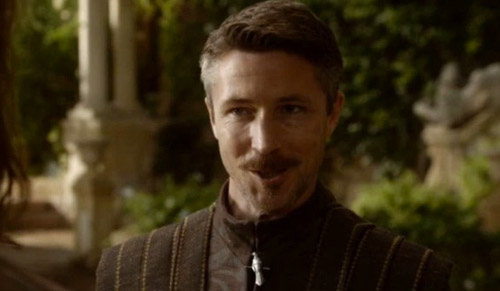 Anyone else do a Color Me Rad or Color Run in their town? Or have one on the calendar still to come? Or perhaps you've participated in some other crazy event like this? We're always looking for rad new things to do so please share! Update: Since folks have been asking how I started running, how I train, what races I do, and all of that stuff I'm planning a running post about that sometime soon (sure we like to stick to home stuff, but every once in a while we go off the beaten path like: DIY haircuts? check. the best spam comment ever? check. a weird dream Sherry had? check.)
Psst- Who watched the Design Star finale? Did you think the right person won? Are you going to watch their show? Did you love Hilari as much as we did? Any and all TV thoughts are welcome (you know we love to park it on the couch and watch other people paint/decorate while we sit on our buns and blog the night away).
&nbsp&nbsp&nbsp