Archive for June, 2012
It feels like the last few months have been The Age Of Rugs. We got this one from a local outlet for our bedroom…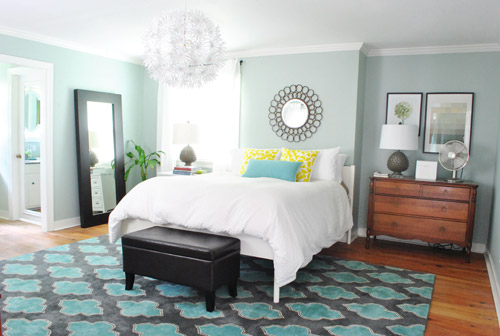 … this one from Urban Outfitters for our kitchen…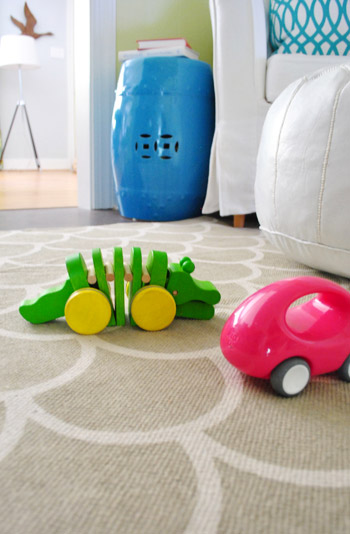 … and just got this one from Joss & Main for our office…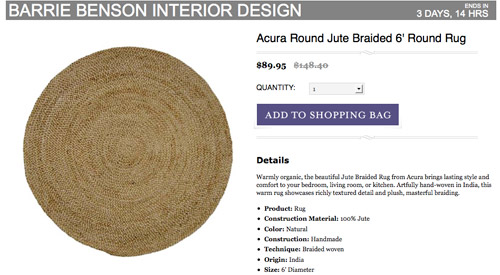 It was actually kind of hard to find an 100% jute rug that was 6 x 6, so when this guy came up for $89 (down from $150) we finally pulled the trigger.  Especially since Pottery Barn sells a nearly identical one for $129 down from $149 and Overstock has something similar for $115.
We had always wanted something round to soften all the angles in the room (the built in desk, the chair rail, the criss-cross chairs) and tie into the big round chandelier that we tweaked by spraying it indigo and adding a giant shade…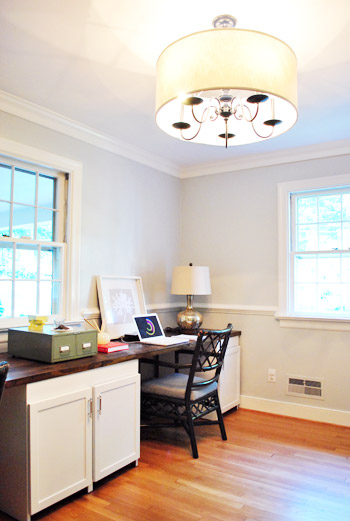 So we just measured things out on the floor to see what would work (an 8 x 8 was way too big, and a 5 x 5 was too small). Thankfully we were able to determine that a 6 x 6 would be the right size to make the room feel nice and balanced without getting in the way of our chairs (since we have to push them out to get in and out, and any large rectangular rug was always getting caught on the legs and annoying the heck out of us).
In the in interest of keeping it real, here's what the office looked like before we cleaned Clara's toys off the floor and organized the piles of random stuff on top of our desk: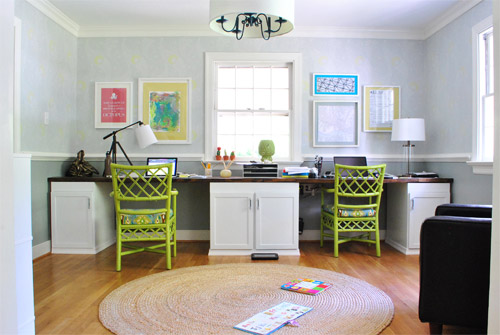 And here's how it all looked once we did a wee bit of cleaning before snapping a proper rug photo: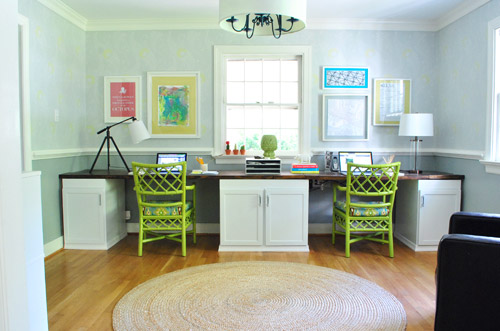 We love that it's "braided woven" since in our experience of owning a few natural fiber rugs, the braided ones tend to be the softest, so they're less bushy and wire-y. Sure enough, when our new rug arrived, it was nice and soft, and thankfully it fit perfectly in the office. See, no issue with the chairs being pulled out and our new rug. Wahoo.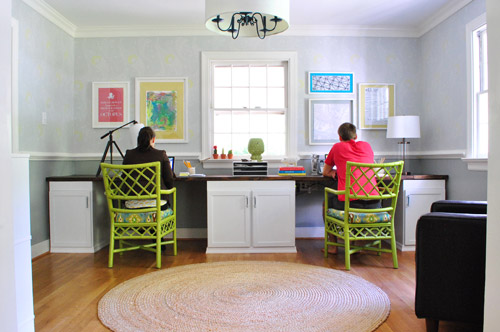 So that's the latest rug update that has gone on around here.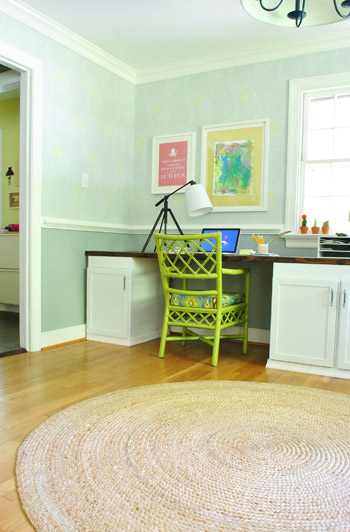 Oh, and Burger approves: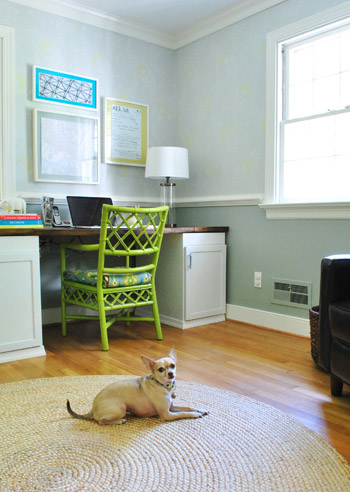 Oh, and new rug = a good excuse for a plastic animal parade.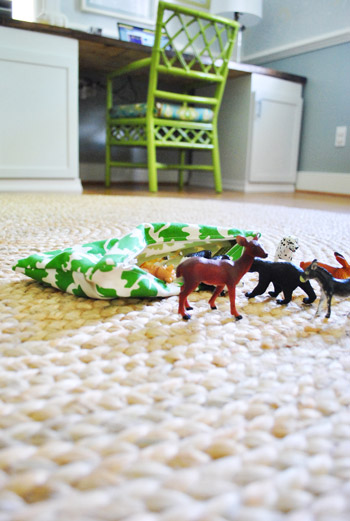 I think that shot captures how it's nice and soft. Always a plus when it comes to jute (anyone remember that Friends episode where Joey learns French from Phoebe and says "Tout De La Fruit"? – I always want to say "Jute De La Fruit").
Are there any other jute lovers out there? Or round-rug owners? This is our first round rug, and I have to admit, we love it. In a house full of right angles, it definitely feels kind of novel. Haha. So that's my live-on-the-edge-tip. Be a rebel and try a round rug once in a while.
&nbsp&nbsp&nbsp
It's yard tour time, baby! Every year we try to take a few video tours of the inside of our house, just to look back on how it has evolved (you can check those out here). And we even made a little outdoor tour post last year, complete with a full video of John bush-wacking his way around our yard. So we thought it would be fun to make that an annual tradition. Just so we can see how the exterior of our house is evolving as we tackle projects big (like the patio and the deck) and small (like all of the transplanting/seeding/weeding that we do – more on that here). The funny thing is that it's actually a huge difference between this year's yard tour and last year's. Both thanks to work we've done on certain parts of the yard and the way that mother nature has completely crazy-fied our backyard (which we have yet to touch).
You think I'm kidding. Check out this photo of the backyard last year: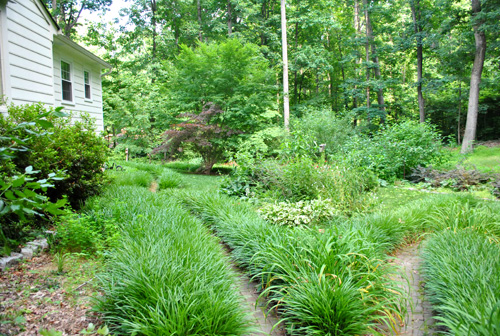 And a shot from the same spot now: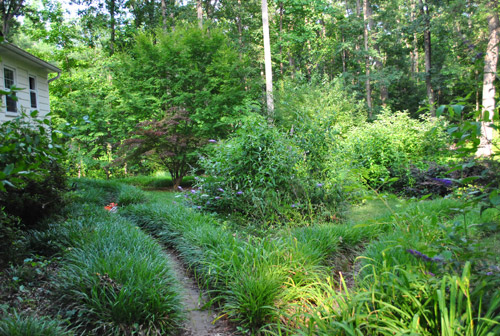 See how much bigger/denser the little planting bed between the two paths above got in the past 12 months? These photos don't do it justice, but our video does. That butterfly bush is about 12 feet tall. Seriously. Somebody call the Guinness Book Of World Records.
Here's another picture of the back yard from last year: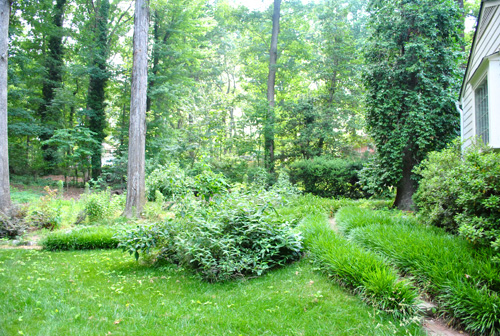 And the same POV from now. See how giant the butterfly bush got? Check out how you basically see the whole tree trunk behind it in the shot above and how it's almost completely covered by bushery (that's a word in my head) in the photo below.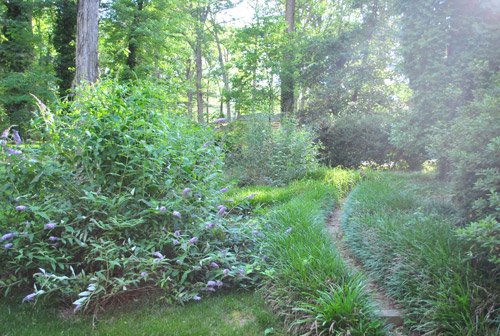 Here's how things looked staring back at our house from the back of our lot last year: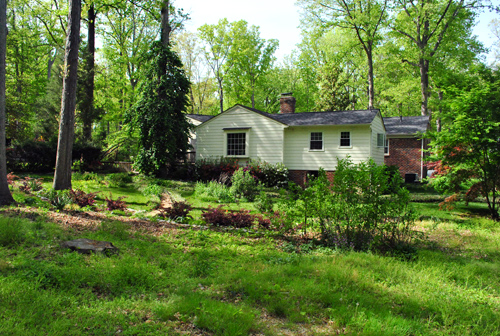 And here's what that view looks like now. It's really crazy how much those tiny purple bushes above filled in (they got at least three times bigger). The entire house's foundation isn't visible anymore from the same spot. Note: A few folks asked why the nook in the bedroom was there, and you can see from this shot of the back of the house, that it's there so the back looks balanced like this. That large window in the bump-out is in the living room, so if we added a window to the nook in an effort to balance the other window on that wall in the bedroom it would be a big window right next to a small window on that bumped out section of the back of the house. Hope this photo makes more sense of that description!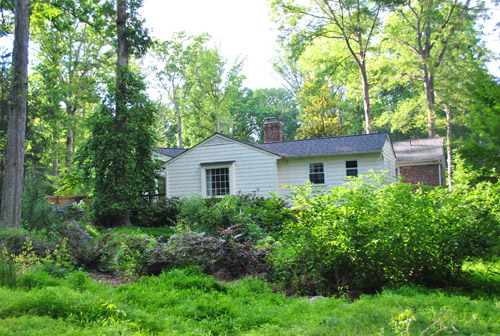 This is a shot from a little over a year ago, so it's even more dramatic. This is what things looked like last spring, before they got semi-big.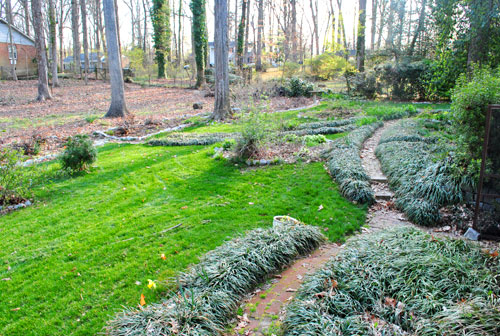 And here's what they look like now, with everything in bloom. See how the knockout roses in the left side of the picture above are giant now? And once again that planting bed in the middle (with Sir Butterfly Bush, Sr.) got crazy big? This almost doesn't even look like the same POV, but looking at the three big trees in the background can help you line things up between the before above and the after picture below.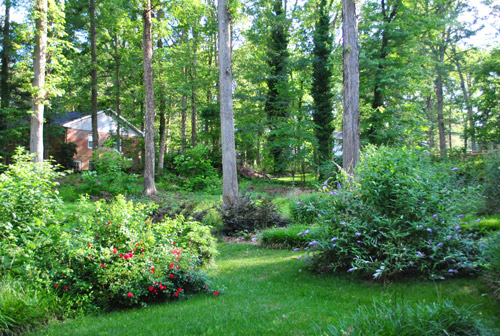 And it's also pretty crazy to see how much the side yard of ours has grown – which was actually the plan since we'd love to naturalize that area- so yay! We have enough to mow in the front and back, so we want the way back and the side to get all woodsy and charming like our first house's back perimeter. Check out a few photos of the side yard from last year…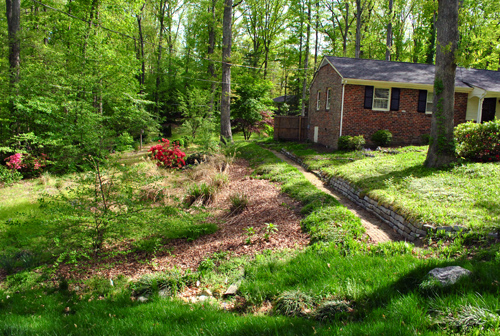 And these pics of that area now. Definitely looks bushier, eh? And we've planted a few trees (river birches), so we're just waiting for those to fill in for even more of a wooded look.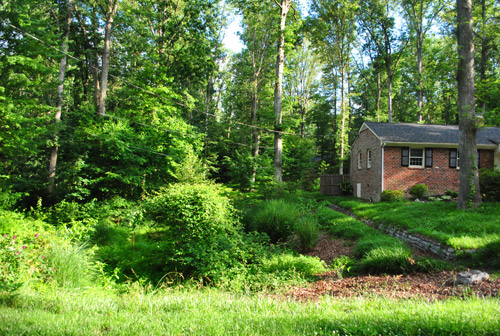 Oh and one spot we didn't document last year, but have decided to start this year, is the side lot from the side. So here's what it looks like now. The wild grasses are actually really pretty down there.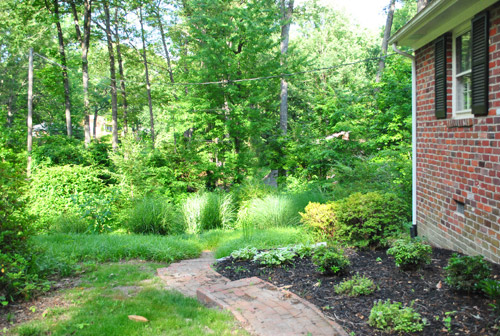 Here's how the view has changed from the corner of the grass in the front yard. This is that area last year (see the little bush fence that surrounded the yard?):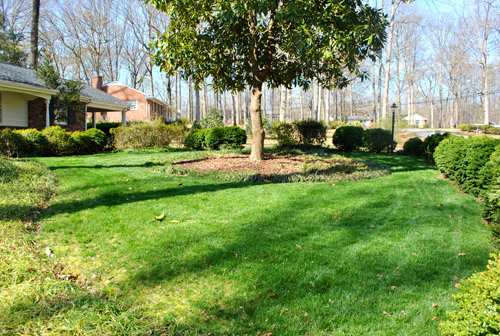 And here's that area now from the same POV: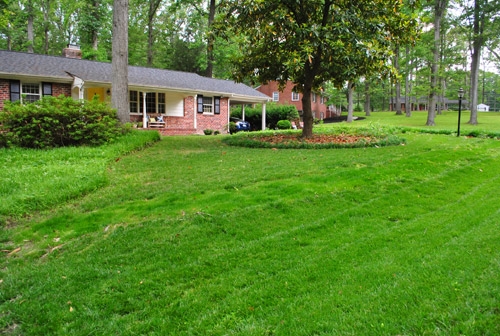 And just to keep this post complete, we'll also include the what the front yard looked like last year…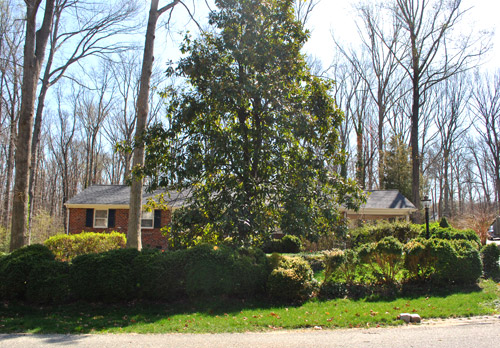 … and what it looks like now: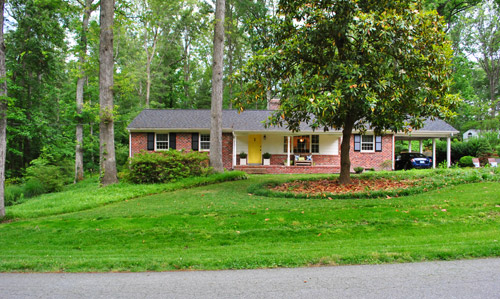 That's our favorite one so far. Well that and our big patio makeover, which went from this…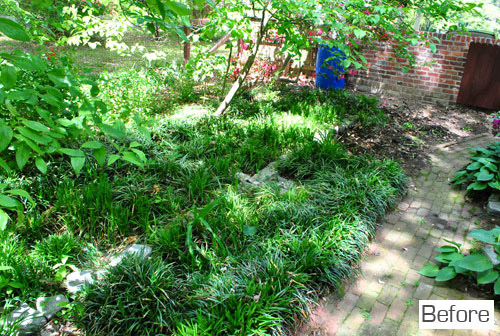 … to this.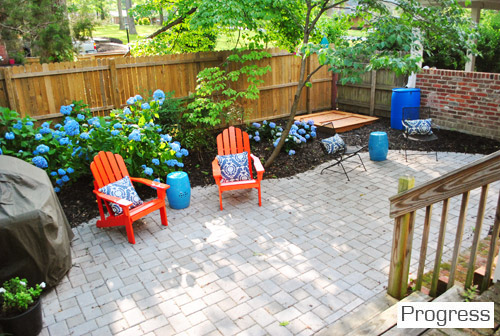 Uh, yeah – lots has changed, huh? It's a jungle back there! So we have yet to tackle things out back, but it's really cool to see how the front has evolved since this old video tour from last year:
For example, in this year's updated tour you can see how we landscaped the patio, tamed the front yard, got some upgraded patio furniture, seeded the lawn with some more grass, and removed lots and lots of bush fences that hid our house from the street (and how we hid a secret outdoor book project with bath towels). Warning: I should never ever be allowed to do these video tours again. You basically need anti-nausea medicine before viewing. Can someone just be born flail-y?

Video thrashiness aside, we're so glad to have documented evidence of our yard for the summer of 2012. I wonder what next year's footage will look like? Think we'll tackle some of that jungle of ours in the back (we'd love to create a nice patch of grass for Burger and Clara to romp around in while naturalizing the area behind the grass into a nice privacy riddled woods of sorts). Think we'll have a bit more patio furniture and a deck by then? Sure, hope so! Heck, maybe our carport will be converted into a garage by this time next year. It should be fun to – in the words of Andy Cohen – watch what happens.
Do you guys document outdoor upgrades as well? Does anyone else walk around the house with the video camera, just to capture how things were looking on a specific day? I hope this is something we keep up with because we wish we had thought to document all of the yearly outdoor changes from our first house on video. Oh, well – live and learn!
&nbsp&nbsp&nbsp