Archive for May, 2012
"Would love to see another post about your favourite finds at Target. They're coming to Canada and I'm so giddy I could piddle! Love your blog!" – Jaye
It's been way too long since our last window shopping adventure (10 months?!?!), so to everyone who has been requesting them (especially if you used the word piddle), we're psyched to share the goods. For those who remember these things, we just stroll around a store (we've done big chains, small local shops, and even random little stores that we find while road tripping) and take photos of all of the things we love. Not for compensation or anything – these sprees are just for fun. So let's all go skipping through Target together, shall we? First there were these giant blue glass lamps for $49 that we thought were pretty awesome.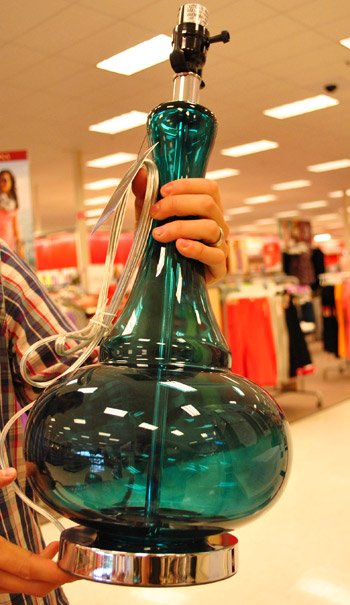 And you know we love bees/hives, so these hex vases for $6.99 caught our eye.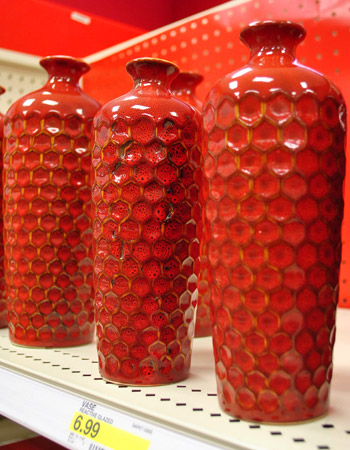 There was a bit of an Americana theme going on, with lots of red and white rugs, pillows, and clean-lined side tables in that area with all the featured home accents. The side tables were on sale but I forget what the price was (tried looking them up online but no dice). Hopefully they're still in the store if you feel like dropping in on them.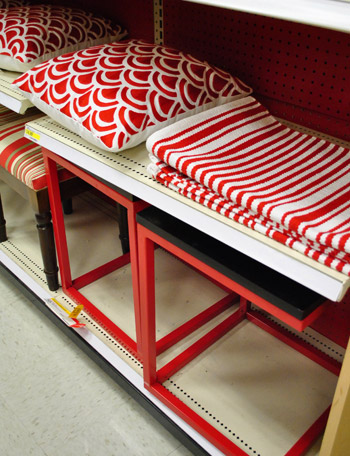 Speaking of Americana, this cool blue-stained wood mirror (for $19.99) could be really cool in a frame arrangement or a wall full of mixed and matched mirrors.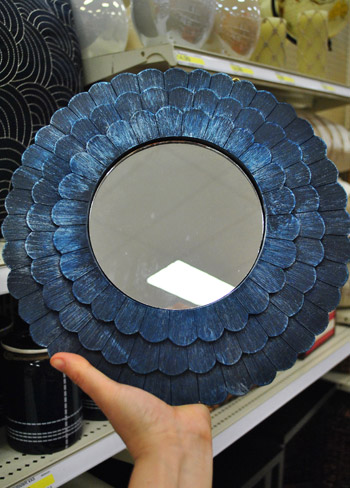 At $79.99 these Privet House poufs weren't super cheap, but they were pretty darn cute (especially the coral one). They felt very West Elm/CB2 to us.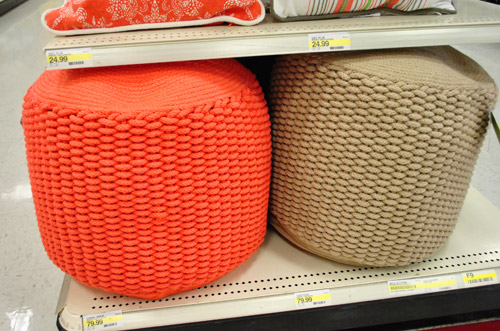 You know me and ceramic animals. We're like this (picture me crossing my fingers and my eyes). Ever since I spotted this yellow cow creamer here, I've been smitten. He's meant for serving cream with coffee, but wouldn't he look cute with a small bunch of flowers? $4.99 cow vase, anyone?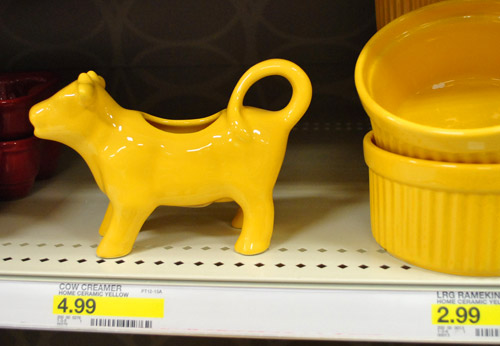 These deep coral geometric glasses (for $3.49 and $3.99) were pretty cute.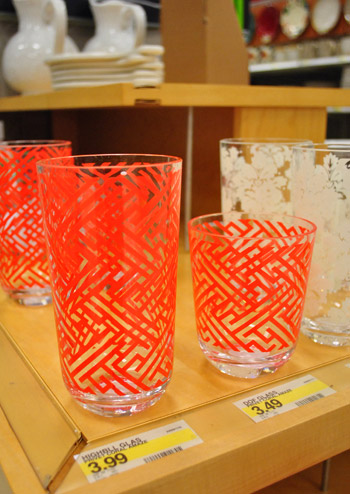 They also had them in green with a different geometric pattern (same prices):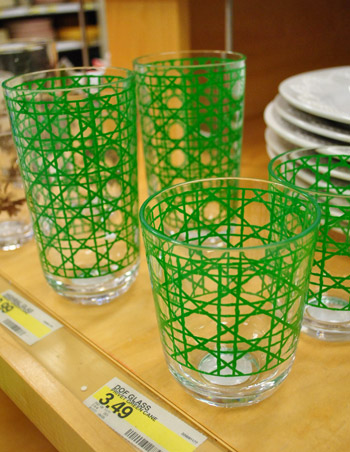 These babies were $5.49 and $5.99. They'd look pretty charming in a room with some of the red, white, and blue stuff above. There's something really "lobster-bake chic" about them. Haha.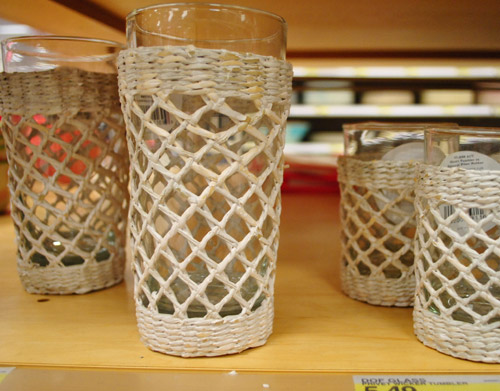 This sweet little utensil basket would come in handy for carrying stuff out for dinner alfresco once we have our deck built. I think it was $9.99 (and it also came in blue). Didn't grab it, but I might go back for it as a reward for surviving the big deck-build in a month or two (assuming we do, haha).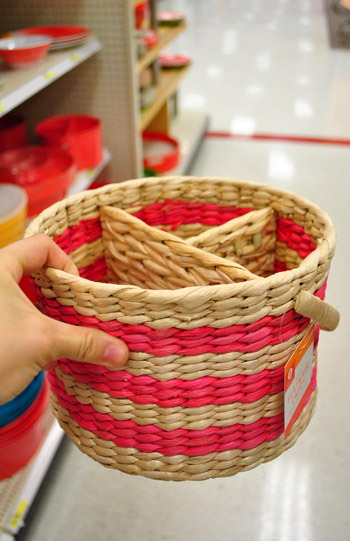 These navy striped sheets felt like they could work in a dorm or a fancy Thom Filicia design. I love stuff with range like that. And I think a twin set was $20 and a queen set was $29 and a king set was $39 for anyone wondering.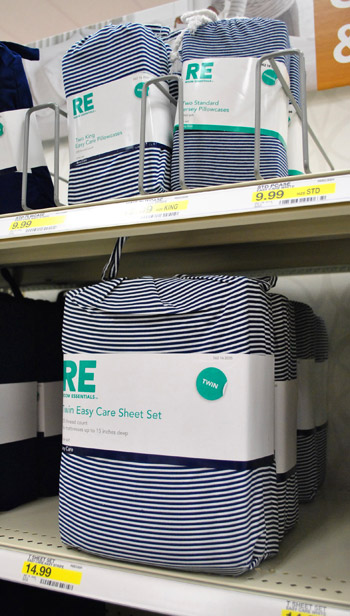 These lamp shades could spice up a room for $19.99. I love the idea of someone shaking things up in a neutral room by just swapping out a white shade or two for one of these babies.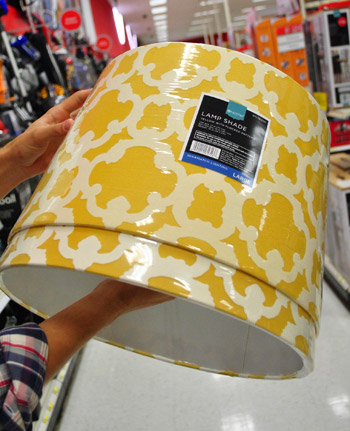 I guess I was subliminally on sort of a coral kick, huh? Anyway, I thought this quilt was interesting and sophisticated – sort of Thomas O' Brien or Nate Berkus-ish thanks to the detailed almost-tribal feeling. I can picture it with a deep gray headboard and some navy accents in the room to keep it from skewing too "lady-palace."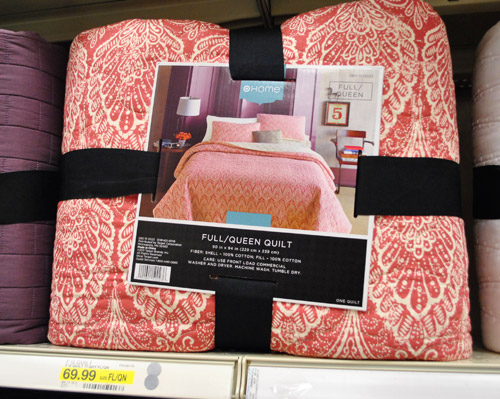 Oh and this gradated serving tray was fun.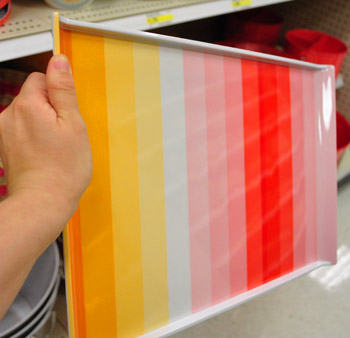 I wanted this $12.99 pillow. John had to physically restrain me verbally restrain me by pointing out I have a severe pillow surplus already. But let the record state that this guy would have come home with me if John hadn't talked me out of it.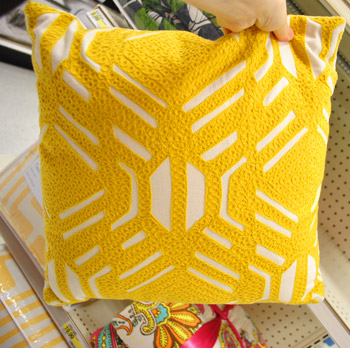 These runners were $17.99 (I would bet they'll go on sale at some point though) and would be a cute way to wake up a table with basic white plates and glassware.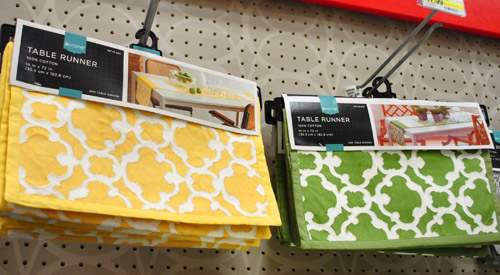 These $29 full sheet sets (and $39 queen ones) were so cute for spring/summer. They made me want to be one of those people who switches out our bedding for the season. In the end I have just one set of sheets for each bed in our house, but at least it keeps things simple (and you know we're minimalists when it comes to storing things from our tiny-apartmented days in NYC).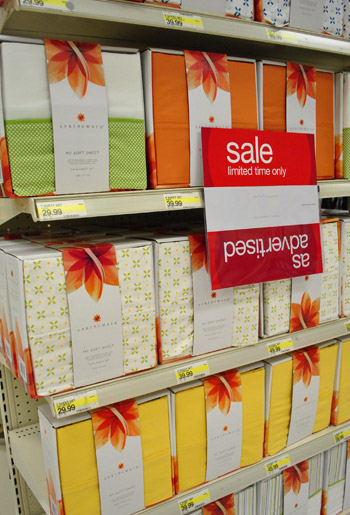 These doormats look a little lackluster in this picture, but I loved them so much. They were soft but made from indoor/outdoor material, so we actually grabbed a few of the green ones for the patio/sunroom to replace some old bedraggled jute ones from Ikea. They were $12 each I think, and so far we really love them (even after a rain/muddy feet, they look bright and happy).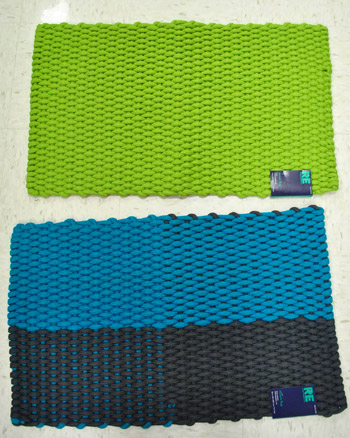 This rug was awesome. I think it was 5 x 8′ and $126, and it had the coolest orange trim, which you can kind of see peeking out of the edge. It felt very West Elm to us. It would be awesome in a little boy's room or a living room alike.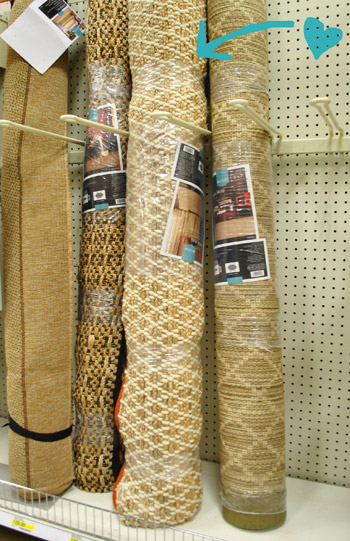 These glass soap pumps and bathroom items were charming in that "old apothecary" way.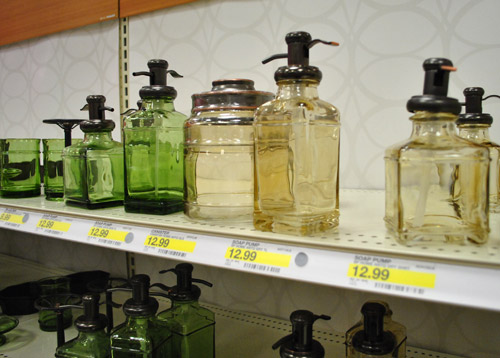 These soft pink ones were my favorite: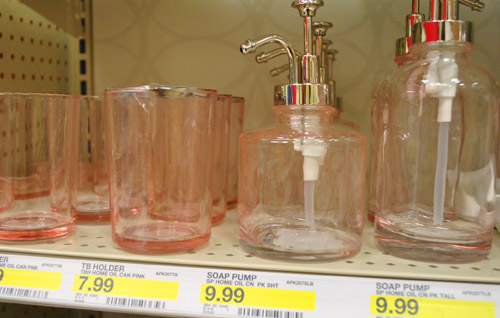 I also loved the detailing on these tribal-ish white ones (they also reminded me of something Nate-Berkus-ish in their worldly sort of look):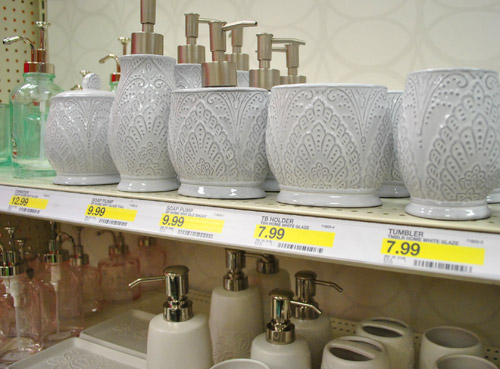 Mmmm, gummy fried eggs from The Candy Store. Yes, please! If Clara decides to have an egg party next year I'll have to hunt these down. Haha.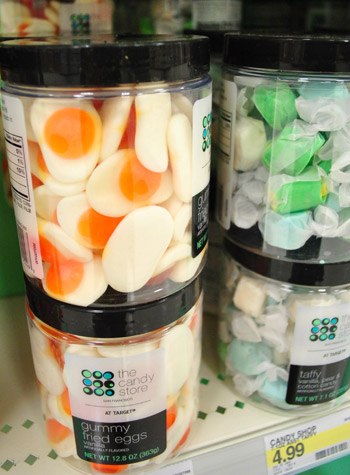 Two items that look cute in a garden, baskets and rain boots: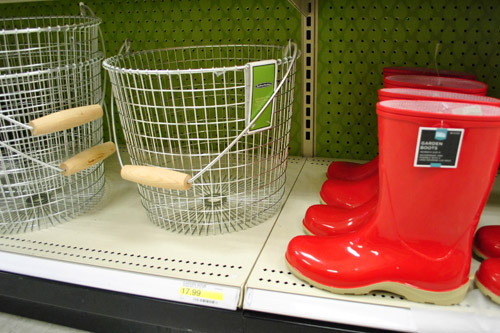 These all natural dog treats from Polka Dog Bakery were adorable.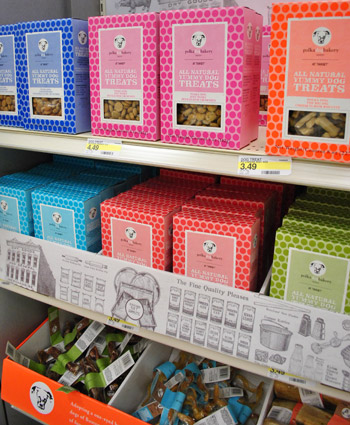 And I loved their dog toys and colorful bowls too. Too bad this ice cream sandwhich toy was a bit too big for Burger to handle. Haha.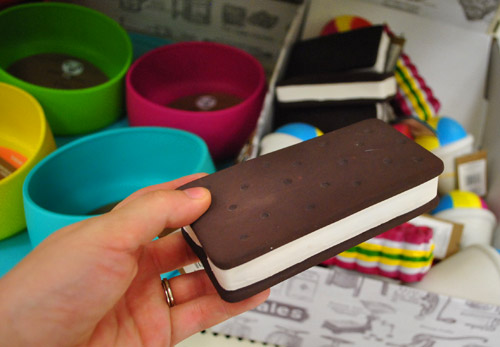 Oh but there is one thing we bought at Target a little while ago that we forgot to tell you about. But you might have seen it in Clara's party pics: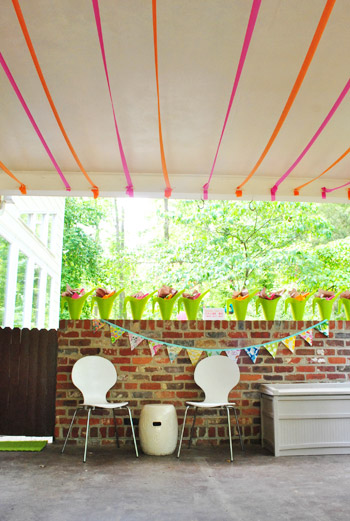 See that toy storage bin next to those chairs we brought out? It's packed with footballs and soccer balls and toy trucks and a lot of rock-box items that don't fit in the rock box when the cover is down. So convenient! And it was on sale for $54 (down from $65) and we got another 5% off for using our Target card.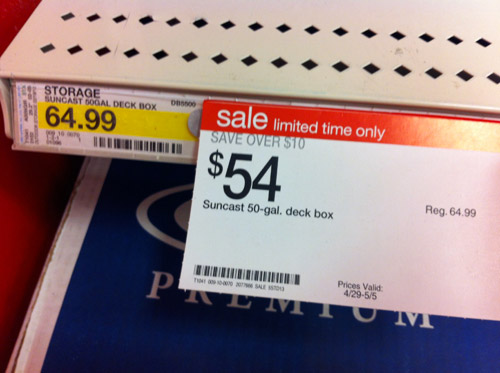 We've heard from a few folks that the lid can drop down on kiddo fingers (there's no slow-closing function or anything), but since Clara plays in the fenced off patio area and we have this guy in the carport, we grab things for her and bring them over to the patio to play. So she won't be going in and out of this bin unassisted until she's a lot bigger. So far we really like how it's working out.
So there you have a whole lotta Target stuff for everyone who has been requesting a Window Shopping excursion. And it's so exciting that Tar-jay is finally coming to Canada. Have fun up there, guys! Haha. Tell me what you get!
Psst- Once again for the people in the back, we weren't paid or perked for this post, I just like taking you guys shopping with me. Check out all of our other Window Shopping sprees (both here in Richmond and on the road, in big box stores or small local shops) here.
&nbsp&nbsp&nbsp
It feels like forever since we posted about any gardening we've done (over a month, actually), but that doesn't mean nothing's happened. We're just a little behind on writing about it (I like to think that we were waiting for things to fill in a bit so we could snap some pics for ya). So let's play catch up. Remember when we transplanted some bushes to perk up the area behind our patio?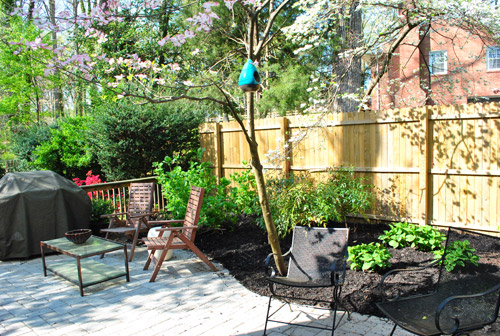 Well, that was all fine and good for that side of the patio. But it left this big empty, ugly spot in its wake.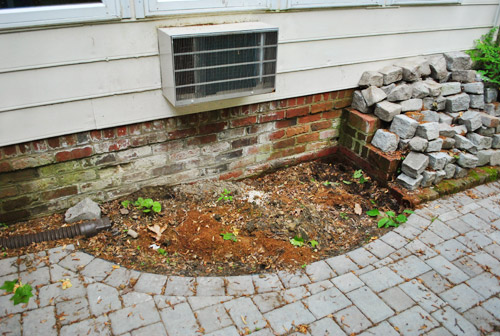 So a couple of weeks ago we got our hydrangea on again (thanks to a pair we picked up at Home Depot – along with a pot of petunias) and decided to breathe some life back into that side of the patio.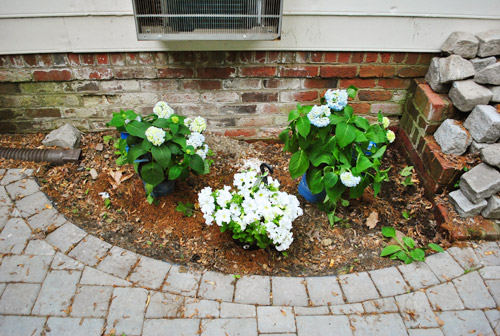 While it certainly was an improvement to have flowers and fresh mulch over there, we hoped the hydrangeas would fill things in a bit more over time. And thankfully…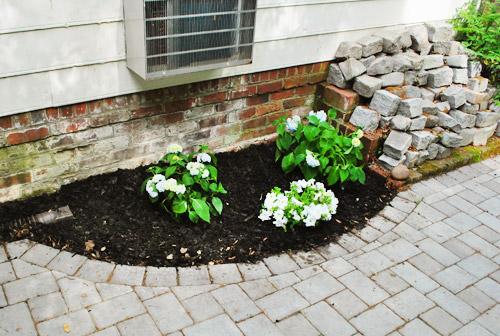 … they did!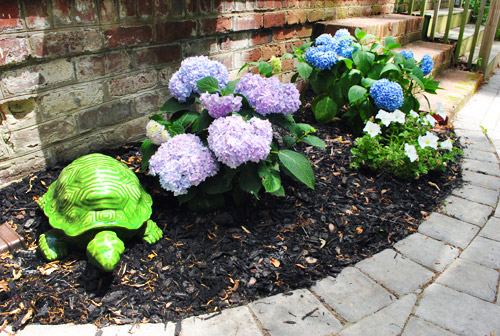 Fast-forward to this week and the area is already looking a lot better thanks to some blooms in full force and the addition of a ceramic garden friend (Sherry found him at HomeGoods). You'll also notice that we FINALLY got rid of all of the garden stones that had been sitting on those brick steps for over a year. Some friends down the street bought them from us for their garden so we made about $90 in the process!
The turtle was $16 and I didn't even put up a fight about it, since our outdoor ceramic animal collection is pretty much zero at this point. Actually, when we first toured this house before putting in an offer, there was a white stone turtle in the back that Sherry loved (he was gone when we moved in though, so Sherry argued that we needed to replace him with this green guy). Clara loves him. Almost as much as my 30 year old wife.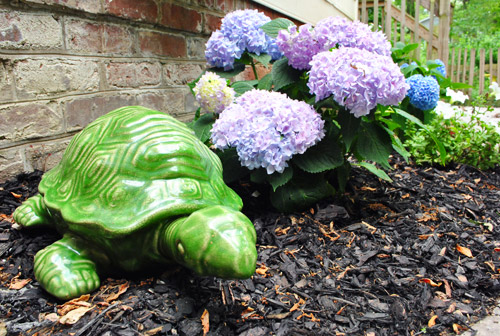 The hydrangeas didn't waste any time getting their color (we thought they were both going to be blue – but something funny must have happened with the soil under one of them to make it more purple).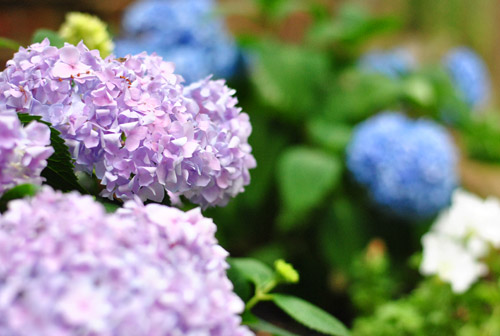 I know you can only see so many soft-focus shots of flowers before your eyes start to glaze over, but I had to include this one since a certain someone blurry-photo-bombed the background.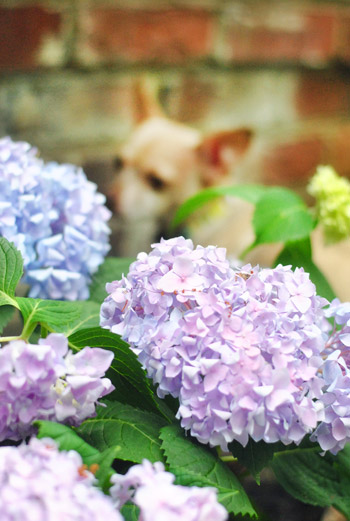 He was busy hunting his newest prey best friend, a tiny lizard that suns on those brick steps but hides as soon as Burger is near.
Poor Burger. You'll get to hang out with him someday, buddy. Okay, probably not.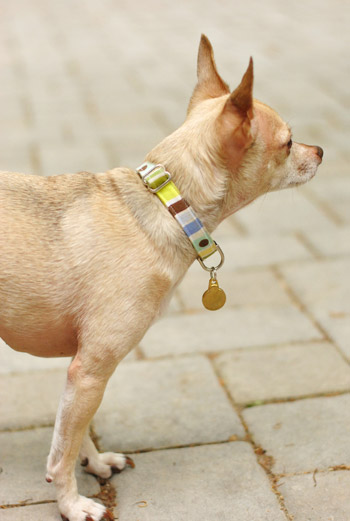 Perhaps Burger should starting hunting turtles. I'd venture a guess that this one would be pretty easy to catch.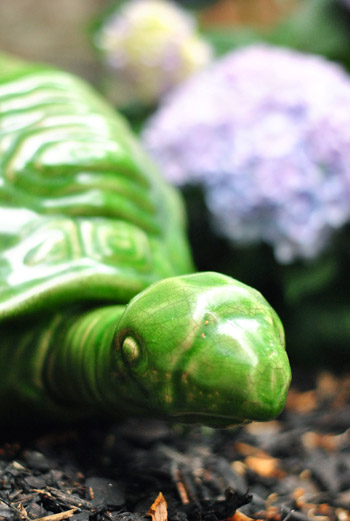 Sprucing up that little patio nook hasn't been all that we've tackled. We also decided to address these random black planters that have been migrating around the patio area since we moved. It's been a miracle that the boxwoods we planted in them back at our old house are still going strong!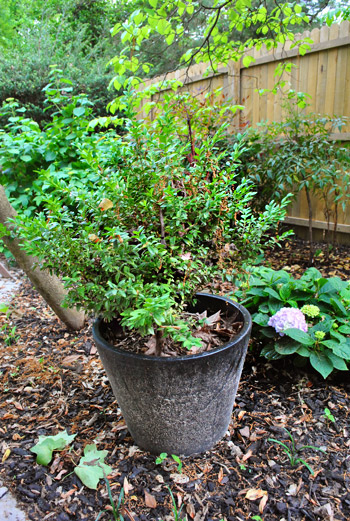 But since those hearty boxwoods weren't doing us much good back there – and since Katherine The Landscape Gal had recommended some boxwoods for the empty planters flanking our front door (which had previously held some seasonal mums) – it seemed like it was meant to be.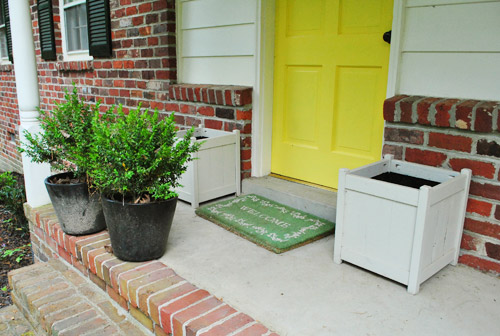 So we carefully extracted the boxwood from each of the planters…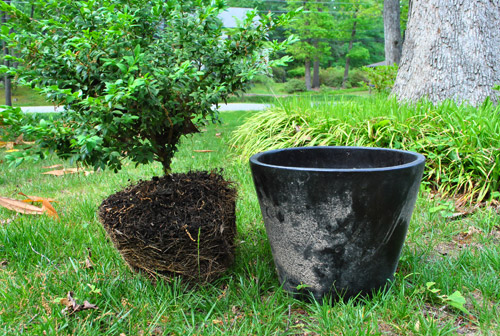 …and replanted them on the front porch.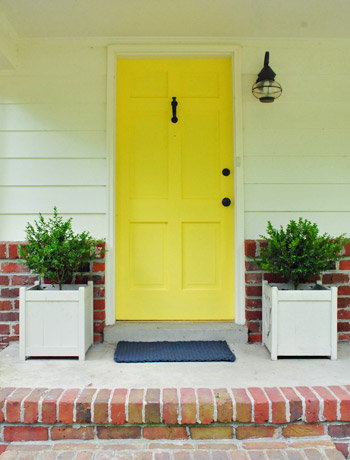 Now here's hoping that move wasn't a death sentence, since so far those wooden planters have not treated plants all that well (like how I'm deflecting blame and putting it on the planters?). We promise to water them this time.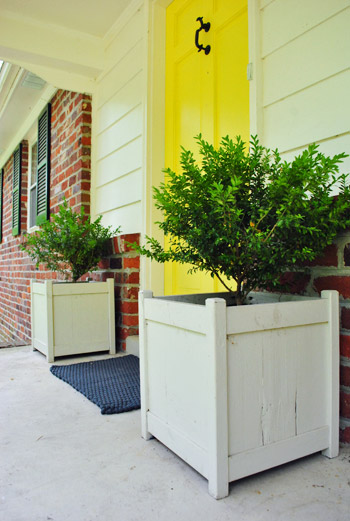 As for the now-empty black planters? We picked up a couple more of those white petunias from Home Depot and plopped 'em in there.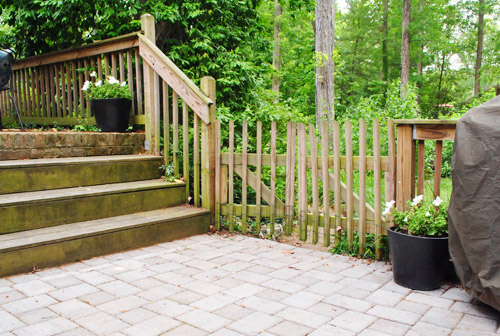 Nothing terribly special, but at least now they're providing a smidge of flower-age to this otherwise flower-less side of the patio.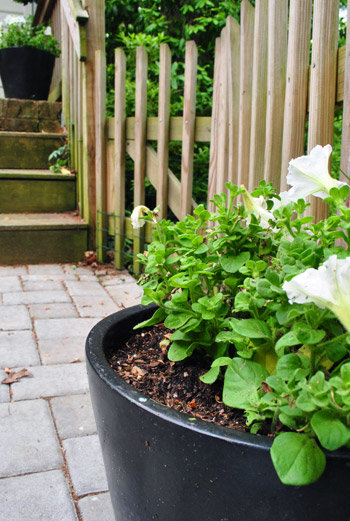 And since I don't think we've filled our dreamy flower photo quota yet for this post, here's one last shot for good measure.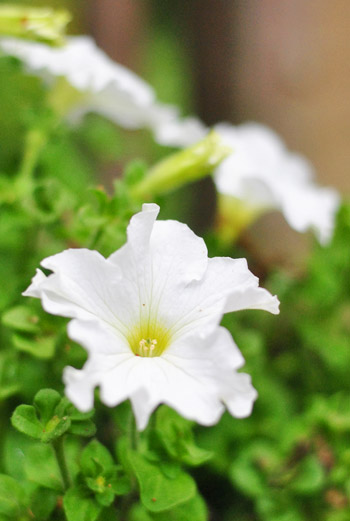 What about you guys? Are you still in full outdoor sprucing mode? Or are you starting to lose momentum now that we're dancing on the edge of summer?
&nbsp&nbsp&nbsp