Archive for May, 2012
We did a little more bedroom noodling. Noodling, not canoodling. *Blush* Anyway, we last left off after moving our Alaskan prints together over the bed and surprising ourselves by getting a new rug: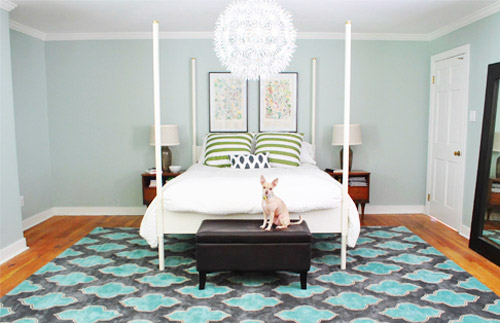 And there were a few commonly asked bedroom questions in the 800+ comments on Monday's post, which were:
have you considered getting larger bedside tables?
can the bed go on another wall?
will you repaint? maybe in a darker color?
what are your plans for the nook to the left of the bed?
what about changing out the pillows/painting the bed & tables/getting a longer bench/switching the lamps, etc?
The short answers to those are: yes but it's complicated, no, we're open to it down the road, adding an armoire or a built-in, oh yeah all that stuff is still on the agenda we just haven't gotten to everything yet.
To elaborate, we've definitely considered larger side tables, but the door would swing into anything larger than what we already have on that side, as you can from this old door-open pic (we did a secret book project to the front of this door, so we can't snap an updated shot).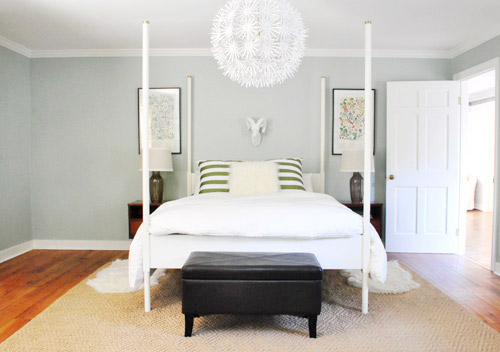 We don't want to move the bed to the left since the chandelier wouldn't be centered above it anymore (we could do a larger table on the left, but we have plans for an armoire or large built-in for the nook to the left of the bed and don't want to crowd that). We could reverse the door to make it swing into the hall instead of the room, but it might jam up the hall to have a door out there. We couldn't do a pocket door (we have duct work/electrical in that wall) but have thought about a barn door on a track (which could rest where the leaning mirror lives in the picture above this one), but we've considered using that in a spot nearby (more details when we decide if we'll actually go for it!) so we don't want that to be too repetitive. We'll keep you posted no matter what we decide though!
As for if the bed can move, the floor plan of this room is a definite challenge thanks to "things" on each wall (two very off-centered windows, a nook across from the door, and a nook with the sink tucked into it on another wall, and a chandelier in the exact center that looks off if the bed isn't in the right place). The chandy even lines up with the mirror above the sink, so we don't want to swag it or move it since aligning things like the bed, the chandy, and the mirror make the room feel balanced/less wonky. So we've tried the bed in a bunch of spots, but the place that works best for us is where it lives now (it's the only long flat wall in our entire room).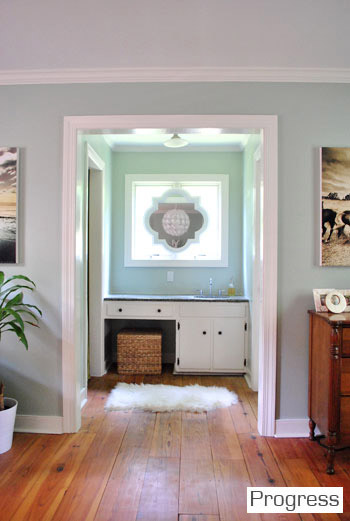 It just doesn't look centered on the chandelier or the windows in any other spots, and we actually like the placement a lot in person since we wake up to the chandelier being perfectly reflected in the mirror above the sink (it's so hard to capture in 2-D but it's the thing everyone falls in love with in person). As for repainting the walls, especially in a darker color, we're definitely open to it but we'll be refinishing the floors in a dark mocha color someday and the rug is pretty dark (and the room doesn't get a ton of light) so we'll think long and hard before we do anything rash. We're just getting started, so everything is fair game for tweaks (painting furniture, switching out accessories, etc). Many things like those lamps and the bench are just leftovers from our first house that got plopped down "just-for-now" (Burger uses that bench to get into bed, so it's our version of Doggie Steps until we get something better – haha).
So now that we've hopefully answered those common questions, let's get to the fun part. Noodling. The first thing we played around with were the pillows and a few other small accessories. The pillows actually inspired a little art switch (since the floral shams were a little busy with the old botanicals that were hanging there).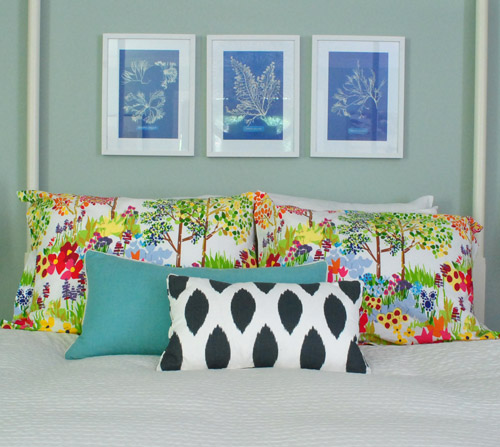 From up close, this mix was fun (the shams are from Pottery Barn two years back, the blue bolster is from Marshall's, and the front accent pillow is from HomeGoods a few months back). But from far away, the new art was way too small for our tastes. Oops.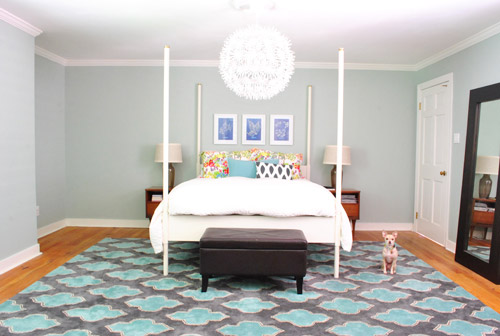 We want the whole room to feel balanced, so with very tall vertical items on all of the other walls like the door to the bedroom, the windows with ceiling-height curtains (which will be switched out, hopefully soon), and the sink nook with a mirror over it…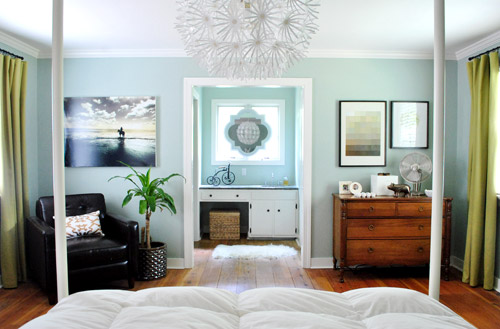 … this art was just too squat and didn't feel as balanced as the larger Alaskan prints had. But we did like the general concept of adding different colors with pillows – just to break up all the blue on blue action.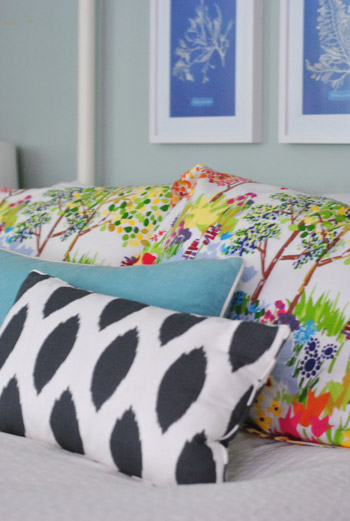 We're so glad we banged in three tiny nails to give that art a go, even if we didn't like it once we got 'er done. It's all about trial and error (and spackle!) at our house. Haha.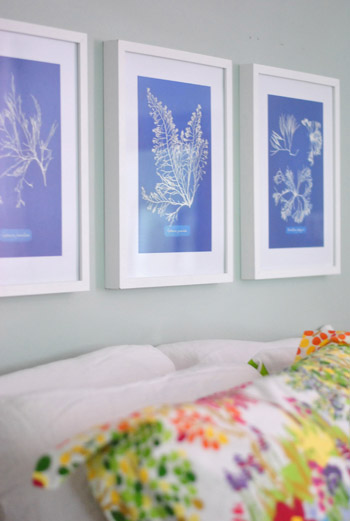 Oh and the prints are from Ikea! We found them for $2.99 for all three (in a clearance bin) and know we'll eventually find the right spot for them. We already had the frames (also from Ikea, but they hung in our first house), so it was just a $2.99 failed experiment. Haha, so not too bad.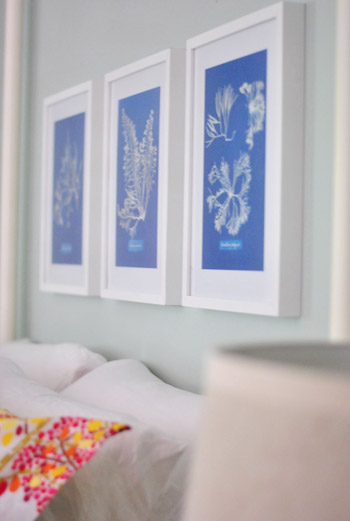 Oh and we also picked up some new lamps! They're artichoke-ish, which is a totally new shape for us when it comes to lamps (we have like ten gourd lamps, so we were psyched to play around with a new silhouette). They were from HomeGoods ($49 a pop, including the extra large shades).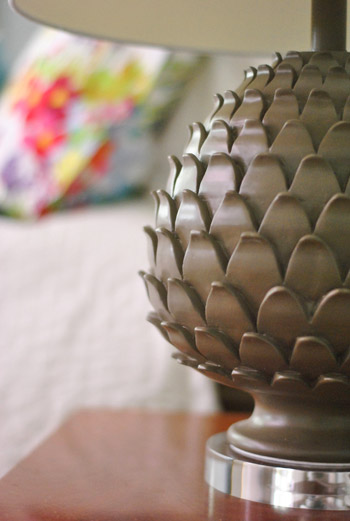 The original lamps that we had on either side of the bed used to live in our first house's living room and were over five years old, so we figure we'll either find another spot in the house for them (we have completely untouched rooms like the playroom and the sunroom to tackle) or yard sale/craigslist 'em if we can't.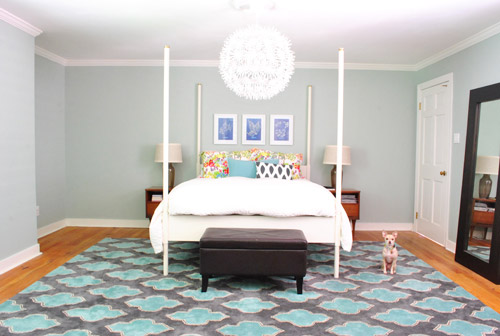 See how much more balanced and substantial the new ones look (with their larger, wider shades and darker bases) in comparison to the old ones above?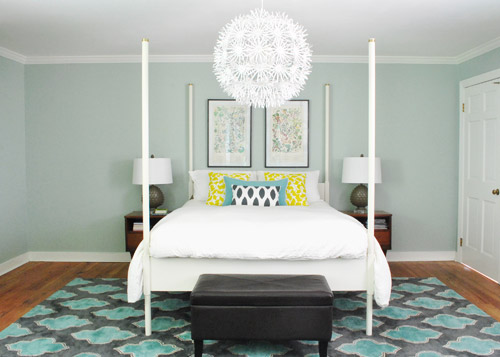 They even seem to make the side tables feel wider, which is nice for balance. And the rounder more textured shape of the new lamps also ties into the chandelier, which is a total happy accident (we definitely didn't think about that when we fell for them in the store, haha). Oh and ignore the different pillows on the bed in the pic above. We'll get there in a minute.
It's nice that the putty color of the lamps isn't too crazy to compete with the pillows or the rug, but the shape is full of interest and dimension.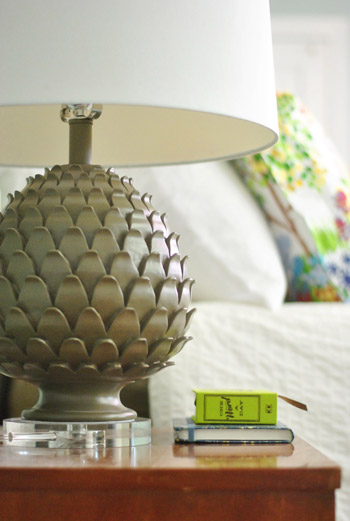 Oh and see that book on my side table called One Word A Day? John and Clara got it for me for Mother's Day along with a pretty pink tulip bouquet and some vases. It's a one-word journal that John thought I could use to record one hilarious Clara-sentence per day instead of just one word to describe my day (which is how it's meant to be used). Now we won't forget the time I said "we might have to rearrange your room again" and she said "Yes! Put some ice cream on it!"
But back to the bedroom. Since the smaller art didn't work, it was back to our Alaskan botanicals with some different pillows. We landed on this pop of yellow with the teal bolster to tie things into the rug and the deeper navy and white pillow in the front to ground it all. For anyone wondering, those two yellow ginko leaf shams are from a small shop in Northern VA (don't know the name, but it was in Old Town, Alexandria), but they're made by Dermond Peterson if that helps.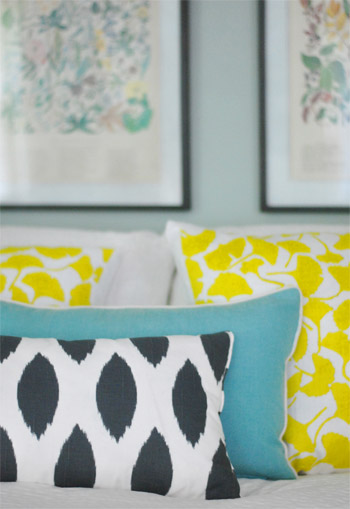 But you know me, pillows are nomadic in our house, so they might be completely different the next time we share bedroom pics. Yes, pillow swapping is right up there with watching Parks & Rec while eating Oreos around here.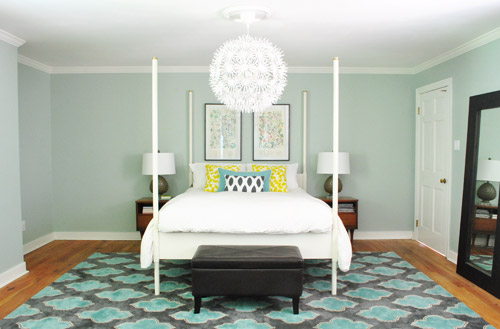 Sure, we still have some major furnishings missing, but it's fun to see some happy new pillows (with a few warm yellow pops to balance all the blues). And the dark tones in the smallest accent pillow, the botanical frames, and the lamp base relate nicely to the slate/navy tones in the rug without being too matchy.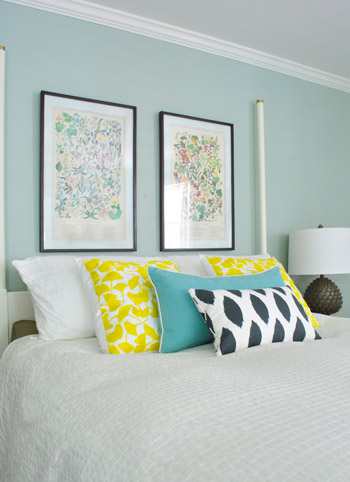 The lamps just might be our favorite little change (favorite big change =  the rug of course).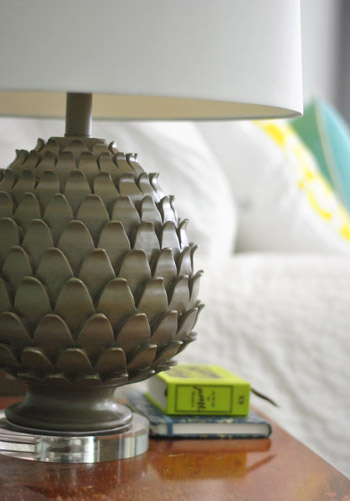 So that's where we are. We don't play poker or bet on horses, so I guess trial and error decorating is how we get our kicks. Haha. Oh yes, we're daredevils.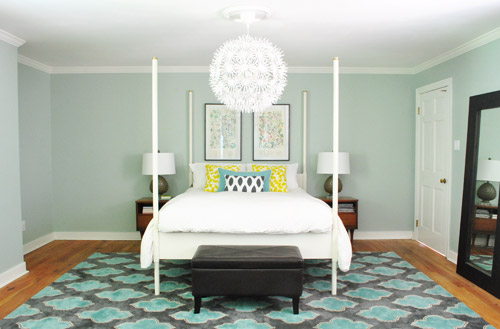 We're still entertaining a ton of possibilities, like:
switching out the old curtains (for sure!)
possibly painting the bed in a deep charcoal color
finding/making a longer bench for the end of the bed
possibly painting or refinishing the cherry-colored side tables & dresser (on the other side of the room)
adding an armoire or built-in to that nook next to the bed
possibly repainting the walls down the road
painting the ceiling
possibly removing the posts from the bed (although we like them in the photoshopped renderings below, so maybe not)
switching out the pillows/bedding as we go
bringing in a lot more art/furniture in general so it's not so empty
staining the beat up & yellowed floor a rich mocha color
possibly adding a barn door which would allow for larger side tables
Some might be things we tackle this month while others might not get done for years (like refinishing those floors). But just look how much of a difference that one change can make. Mmm, dark wood floors (thanks Photoshop!) = our happy place.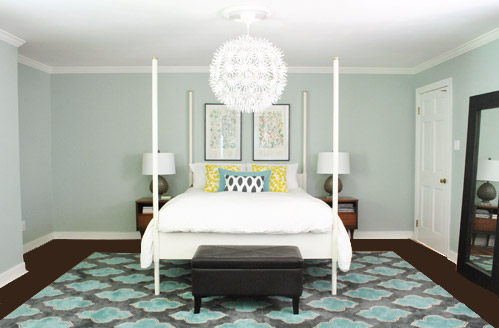 And after a bunch of other tweaks, we'll just have to see where we end up! Maybe here?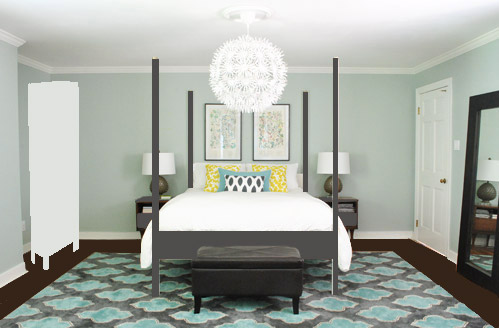 Or here?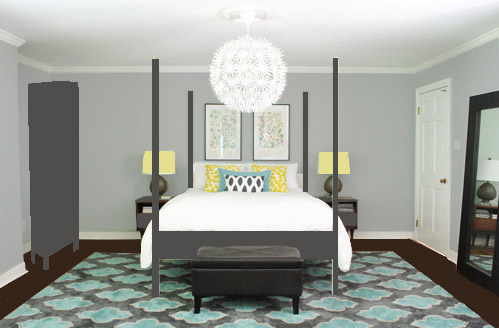 Or here?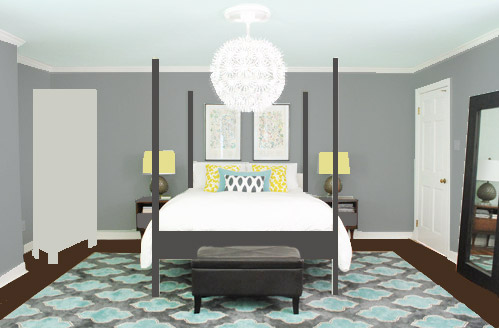 Don't mind the bad Photoshop. I guess that's part of the fun, huh? In the meantime, have you ever hung something new only to learn that you loved the first choice better? Have you made any easy lamp or pillow switcheroos in your house lately?
&nbsp&nbsp&nbsp
Our deck project kind of got back-burnered amidst all of the party/dollhouse/bedroom stuff, but we have made one decision in that time: much like both of our parents chose for our houses growing up, we're going the pressure-treated wood route.
But making that call was no easy decision. We actually weighed a bunch of options, got a few quotes from a few different sources, and endured the all important "sleep on it" step. Then we second-guessed ourselves a few times because the right choice isn't very obvious. Haha. There are so many ways to go, so it really is one of those it's-different-for-everyone things. In the end it just came down to personal factors about look, price, effort, keeping in line with our neighborhood, etc – so we can definitely see why people come to different conclusions (and also develop some pretty strong opinions, if the message boards I've been reading are any indication).
So we thought we'd run through our thought process for anyone else facing a similar decision. For us it quickly came down to two materials: pressure-treated wood vs. composite. We eliminated cedar (wasn't our favorite color/look), exotic woods (for their cost) and vinyl (looked too unnatural) early on, so I think that helped us focus. But we went back and forth between PT wood and composite options more than a few times.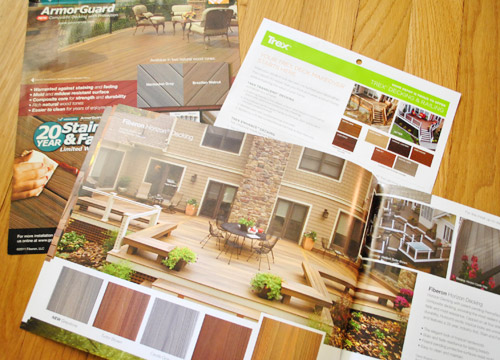 Composite seemed like the obvious choice at first. Lots of friends had "heard it was really nice" and several of you even commented about liking it. We actually even put an offer on a house partially because of its awesome composite deck back when we were house hunting. The pros we kept hearing about were: low-maintenance (it doesn't need to be resealed or stained) and that it looks good (some might say "upscale"). We personally have mixed feelings about the look and feel of it – sometimes it looks really great to us, but sometimes it also looks really plastic-y to us. It can also fade in the sun, which we hear can be frustrating. But the thing that put the specialty decking screw in the composite coffin was the cost. Various estimates that we got put it between $2,000 and $3,000 more than wood for the same sized deck built exactly the same way! Yup, it more than doubled the total cost of pressure-treated wood – and that was the lower-end composite stuff vs. premium pressure treated wood.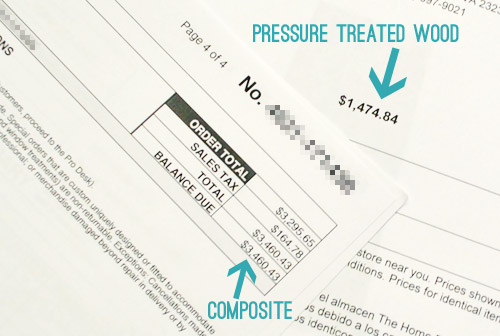 So it goes without saying that cost was a big factor in picking pressure-treated wood. We're still working out final estimates, but using premium pressure treated wood (which is less prone to warping than the basic stuff) is likely to cost us around $1,000. We got estimates from Home Depot and a smaller specialty lumber place about a half-hour away called 84 Lumber, and 84 Lumber came in around $400 cheaper for the same amount of pressure treated wood so we're happily going with them (like HD, they also came in 3K more for composite). It's pine wood harvested down south, and is all treated to be safe for human contact, so we're not worried about scary things like arsenic which used to be used in pressure treated wood years ago.
So 1K seems like a much more digestible figure for our "little deck project" over 3-4K. We realize that some of what we save now will be spent on future maintenance (it's recommended that wood be sealed every 1 to 2 years) but that was a trade we were willing to make since we're DIYers through and through – so we're no strangers to sealing something. Plus, wood is a material that we're comfortable with – both building and maintaining, so in some way it felt easier to have some staining or sealing projects in our future than the unknown of composite (what if we picked a color that looks "in" now but looks dated down the road? what if we eventually convert a window in our bedroom into a door out to the deck and damage a few boards of the composite stuff which might be harder to repair/replace/match than regular old wood? what if we over-improve our house for the area?).
The thing that ultimately secured the victory for wood was it's look. Not only do we like the more natural appearance of it, but we also think it's better suited for the character of our house and our neighborhood. Somehow sticking a swanky composite deck on our little brick ranch felt like wearing Prada loafers with my Sprite t-shirt. If we were in a newer construction home or a neighborhood where people were making these types of upgrades all around us, we definitely would rethink our choice, but we're surrounding by homes with wood fences, decks, and porches – there's nary a composite deck to be seen.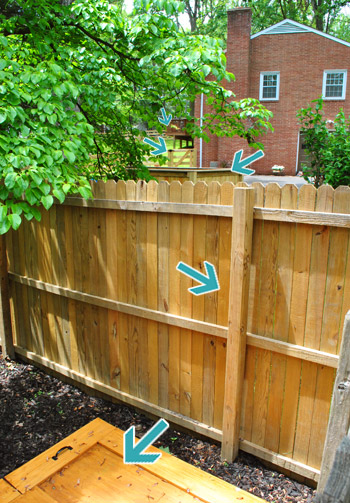 We both grew up with wood decks and remember our parents sealing them every few years (sometimes with our help) and also talked to close friends of ours (who bought a home with a giant wood deck a few years back) and they've said they really love it. Even right after spending a weekend resealing it they said they were really happy with it (it was at least 15 years old and hadn't been sealed or maintained in years before they moved in, but afterwards it looked like new).
Once we get our plans finalized and our permit secured (next week if all goes well!) we'll be good to place an order for all that lumber and finally get this ball rolling. Of course we'll share all of the delivery/building details as we go. Oh and when it comes to the actual wood slat pattern, we're debating something cool like mitering the corners of all the border pieces so it looks like it's framed out (sort of like how the right edge of this deck looks). We're also thinking about placing the boards in a modern way, like this shot that we took at the Virginia Museum Of Fine Art: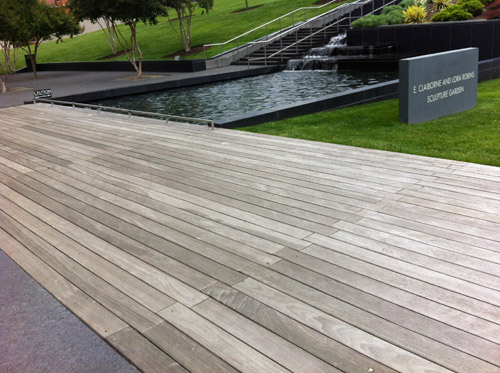 See how there are these really cool zipper-looking seams?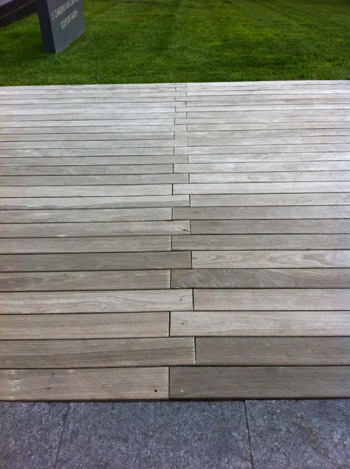 We'll share more on the actual design plans as we go (permit permitting, haha). Oh, and if you're looking for more details about decking materials – here are some of the resources I relied on (in addition to talking to my local Home Depot and lumber yard): The Family Handyman, This Old House, TreeHugger and Better Homes & Garden (<— warning: the lady in this video is very chipper). Anyone else building a wood deck, fence, or porch these days? Or sealing something they've had for a while?
&nbsp&nbsp&nbsp