Archive for February, 2012
As we mentioned on Monday, before we hopped on a plane yesterday, we tackled our bisque colored dishwasher. And let's just say the stainless one is a crowd pleaser (we like it, but Clara loves it). We'll get to that in a moment.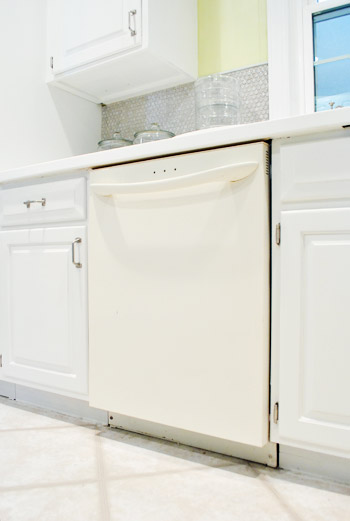 We had been telling ourselves that it would be better to do this once the new floors went in (so we didn't accidentally trap it behind the new cork boards or something). But then we realized that was a dumb excuse because we could just slide it on top of a few cork planks so it would be the same height as the rest of the floor once it goes in. Plus if the new dishwasher box stayed in the office any longer we'd risk it becoming a permanent side table substitute in there. It does have a large surface area after all (so things tend to pile up on top of it)…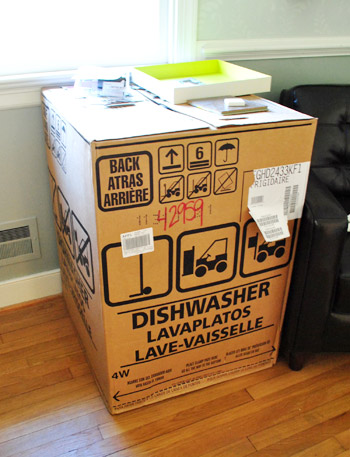 We have never installed a dishwasher. It freaked me out a little bit because it was plumbing + electrical + tight space. Not to mention that I didn't want to ruin a $380 appliance in the process. But after watching a few videos on YouTube, I was feeling a bit more confident about it (this one and this one were particularly reassuring). So when Clara went down for a nap on Sunday we gave ourselves a little pep talk and dove in.
First up, we turned off the hot water supply and electricity to the dishwasher. Embarrassingly enough, this step alone took us a good 15 minutes because our breaker boxes (we have two) weren't labelled correctly and it took us lots of trial and error (and trips to the basement while on our cell phones to communicate) to make sure I wasn't going to electrocute myself.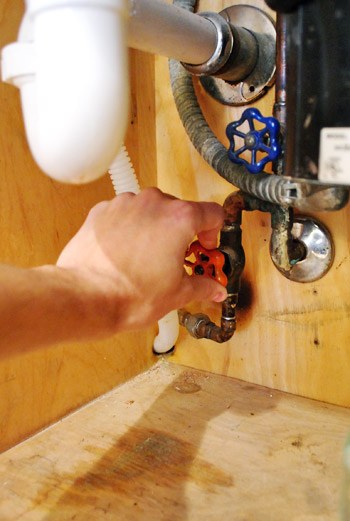 With the water and power off, I unscrewed the access panel along the base of the old dishwasher. Prepare yourself for some less than clean floor photos. Sorry. (There's been a lot of DIY action going on in here, so the old vinyl floors aren't exactly pristine).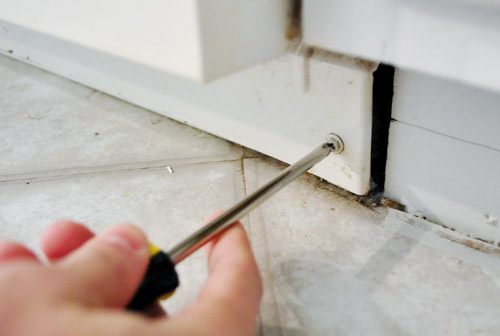 Here's the view behind the panel. Looks like a party, right?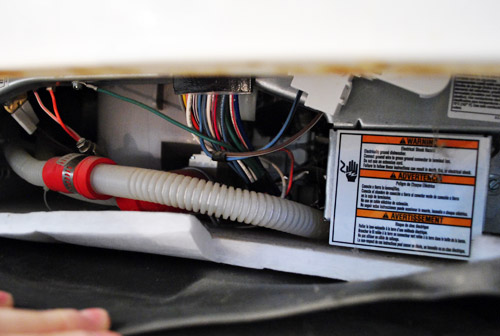 Using a wrench I unscrewed the water supply, keeping a rag handy to catch some leftover H20. This too took longer than expected because of the cramped space.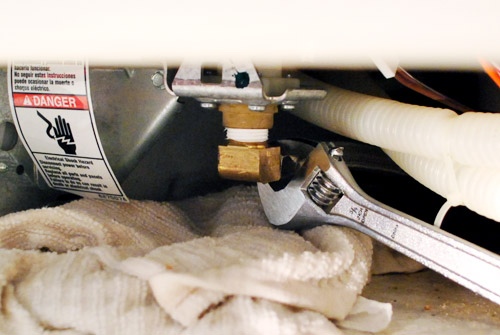 With the water supply off, my next step would've been detaching the drain hose from the disposal under the sink. I didn't do this (yet) because I had already detached it under the dishwasher just because it was in the way of my wrench. And at this point I was trying to undo as little as possible just in case I needed to retreat (i.e. give up).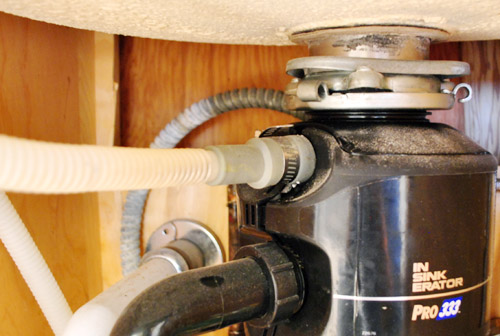 All of the plumbing was disconnected, so next up was electrical. The wiring is all encased in a little metal box that was removed pretty quickly with a little screwdriver action.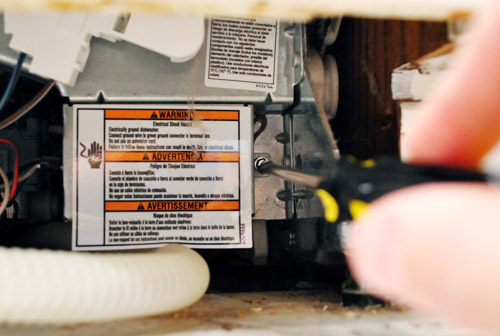 From there I just unscrewed the wire nuts and, just like that, I was done with the electrical parts of the old dishwasher.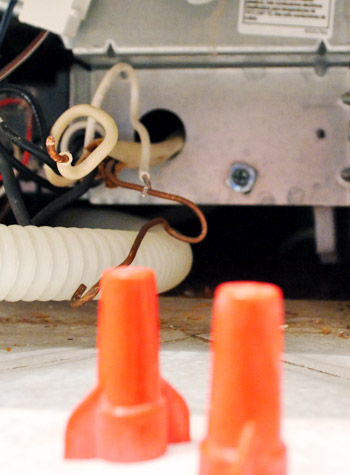 Now I just had to focus on getting the dishwasher out of its home. First up, lowering the little adjustable feet so that it wasn't so tight against the bottom of the countertop. Don't mind the dinged up baseboard – we're waiting to caulk/putty/touch that up until we install the new cork floors and add new quarter-round. Then it'll all get gussied up.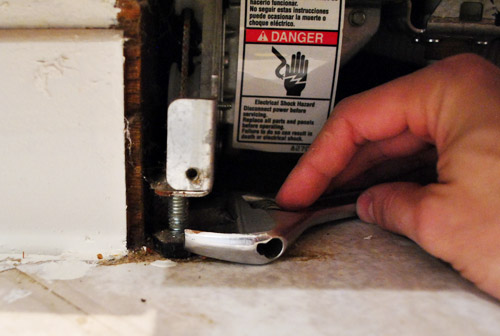 Next I had to remove where it was screwed in. In most cases I think dishwashers are actually screwed into the underside of the counter. But ours was screwed into the cabinets on either side (maybe because we used to have granite counters?). I just popped off a little plastic plug and unscrewed away.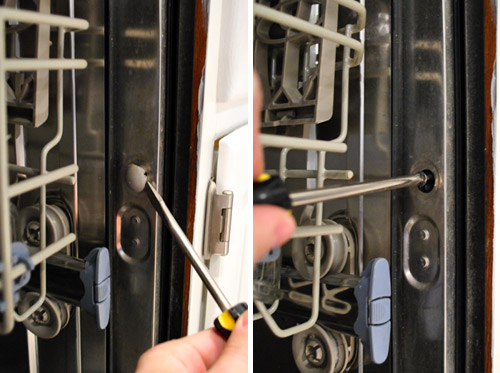 A shimmy and a shake later, and our bisque buddy was no longer clashing with our cabinets and counters. Oh, and even though these aren't the new floors, I still pulled it out on a piece of cardboard for added protection and easier sliding around.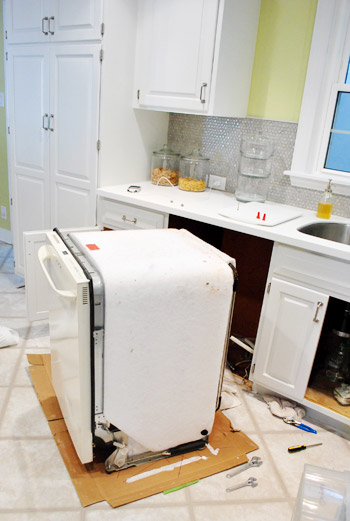 So we were left with an empty hole full of new dishwashery potential.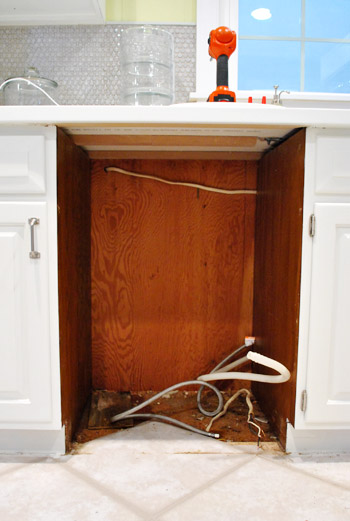 Before the new dishwasher could go in, though, I wanted to make sure to prepare for the new floor. So I roughly cut some pieces of our new cork and slid them in there so that the new dishwasher would sit at the height of the new floor, not the old one. Because if it sat behind the new floor boards it could make getting it out for repair or replacement very difficult (or impossible) down the line.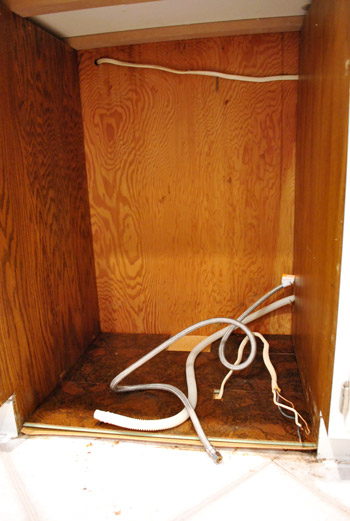 With the floor boards ready, out came the new energy efficient dishwasher (which we bought among a bunch of other on-sale appliances back in October).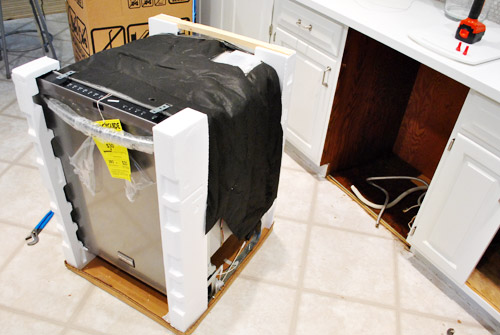 It was at this point after reading the (very confusing) directions for the new dishwasher, that we realized that we needed to swipe a piece from the old one – a 90-degree elbow – to help route the water supply line into the dishwasher.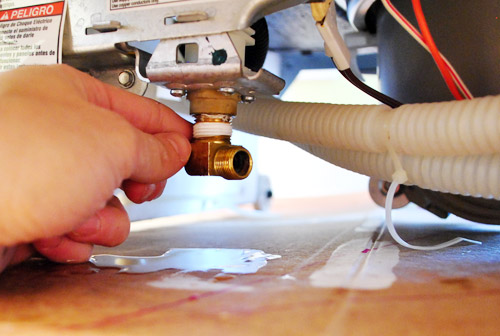 I'm not sure why these just don't come in the box (I would've been super annoyed if I had had to go to the store just to buy one), but whatever. At least it gave me the opportunity to learn it's WAY easier to work on a dishwasher when it's pulled out and accessible on all sides. See – even the lighting for photos is better!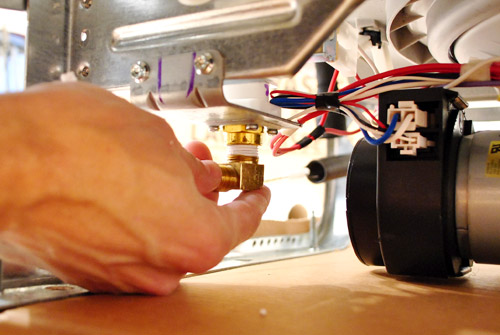 With the elbow attached, I could reattach the water supply line. Lucky for me, it was long enough to do this with the dishwasher still pulled out. Sure made maneuvering the wrench easier!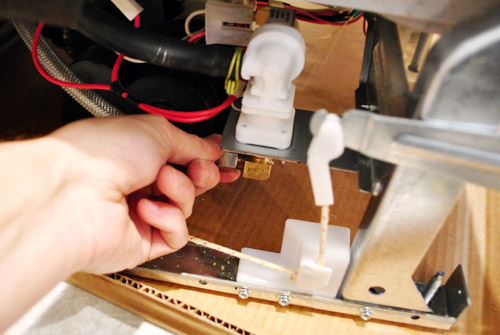 Here's the point where I had to disconnect the old drain hose from the disposal and reattach the new one. Theoretically I could've just attached the old hose to the back of the dishwasher. But if one of my new connections were to leak, I wanted it to be the one under the sink (where I can see it) and not the one hidden in the back of my dishwasher.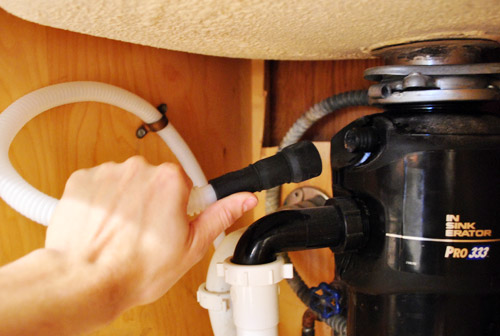 Plumbing attached? Check. On to the electrical. I learned through this that I was missing a strain reliever on my wire, so I did have to run out to the store to grab one. It basically holds the wire in place at the dishwasher's electrical box, removing any strain on the actual wire connections (since we don't want those pulling apart!).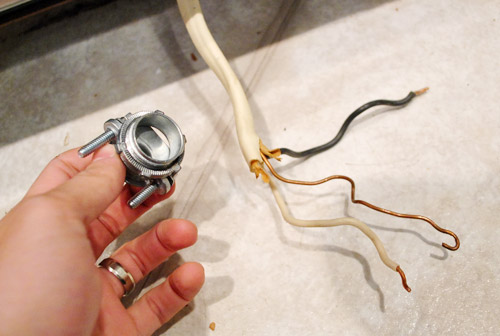 I attached the strain reliever, screwed the wire nuts back on to attach the wall wire to the dishwasher wire, and reattached the box cover. Then I held my breath as I went back down to the basement to turn the power back on and make sure my electrical work actually, well, worked.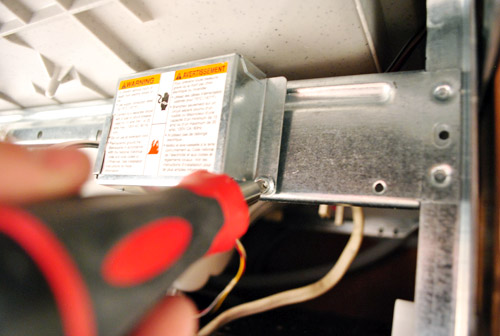 Houston, we have liftoff.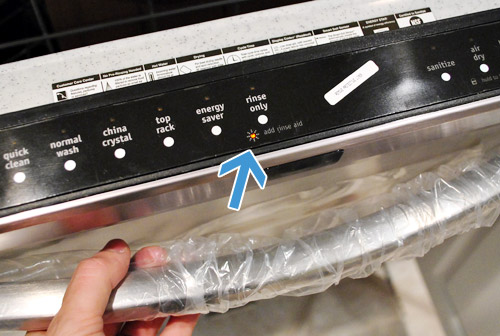 I also turned the water back on and watched all my plumbing connections to make sure I didn't have any leaks. Good thing I checked. I did have a small one around that 90-degree elbow. I had to detach the hot water supply, give the elbow another 360-degree spin and reattach everything. Then – after another leak check – I was good to attach this baby to the underside of our counters. Whew.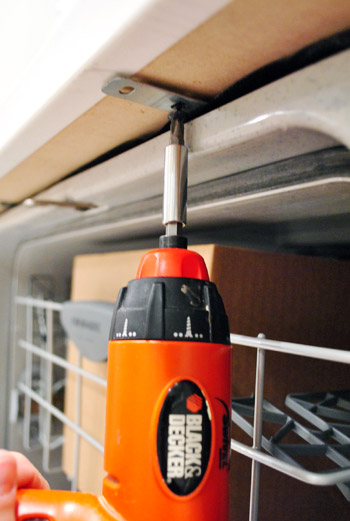 And just like that my friends (and by "just like that" I mean "three hours later") – we had a new dishwasher! As Sherry mentioned in her post on Monday, it's really nice to have something stainless on that side of the kitchen because it makes for some nice balance (the old fridge was almost right next to the old dishwasher, but our new arrangement makes for a better work triangle and looks better too).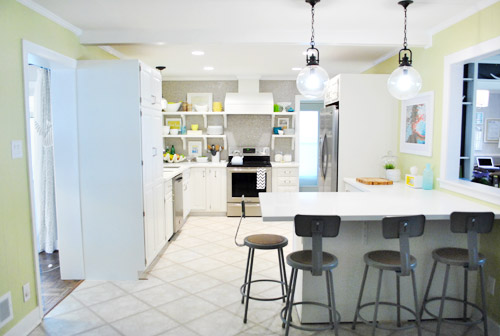 And speaking of washing things, Clara got a hold of a paper towel while we were snapping these pics and went on a "wiping" spree. I don't think she managed to wash any dishes but, well, you'll see how much ground she covered…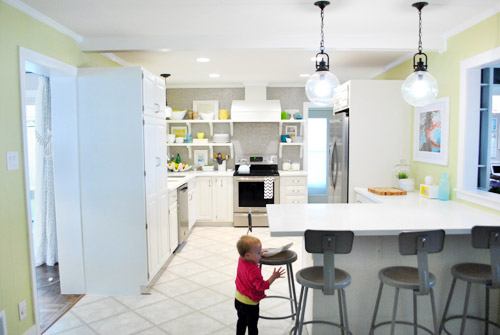 Balance has finally been brought to our appliance triangle, and our dishwasher no longer looks dingy next to our white cabinets. Good stuff.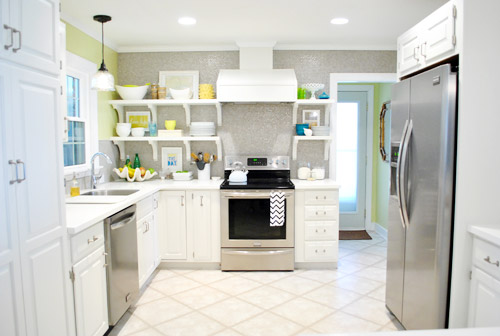 And the installation process wasn't nearly as bad as I had prepped myself for. Sure, it did take a bit longer than I had hoped (though it did include one unplanned trip to get that strain reliever), but what project doesn't?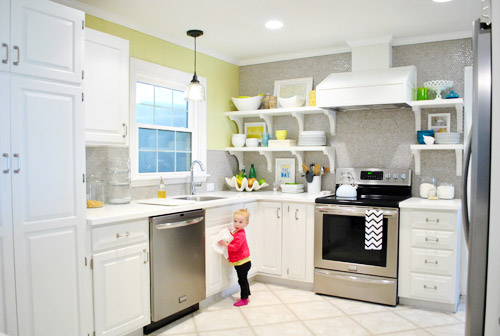 Here's the view from the office. You can't really tell in this picture, but it's also nice in person how the stainless finish plays off of the sink, faucet, and our new mercury glass pendant light.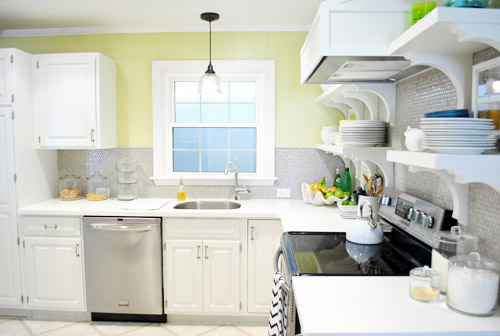 And it's worth mentioning that this has the same protective finish that keeps fingerprints off of it (more on that here). It's very helpful in our household, since a certain someone's cleaning techniques still leave a bit to be desired.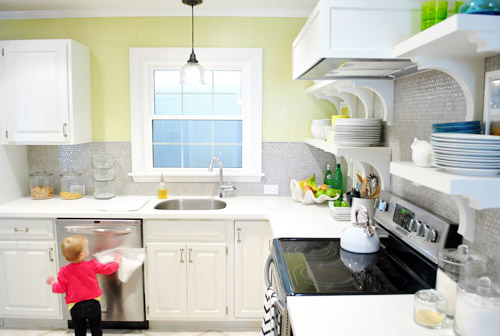 Functionally the dishwasher is pretty much the same as our old one. But I do love the added timer countdown on the front of the machine and the note that actually says "clean" when they're clean (no more calling to each other across the house to ask if they're dirty or not).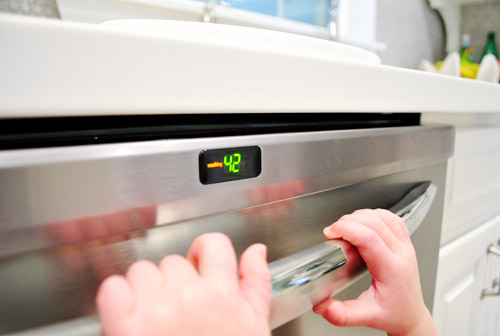 Oh, and you may have also noticed in these pictures that we're sporting a new dish towel. It's from Target, and we thought it was a fun addition. Clara agrees.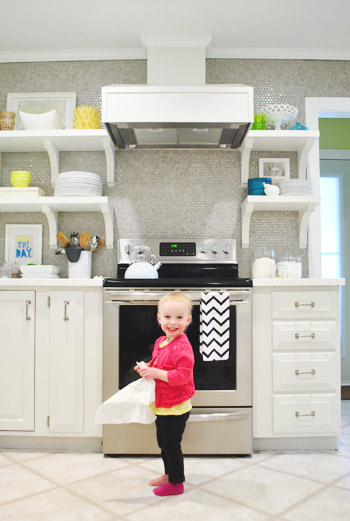 Who doesn't love a little black and white chevron? Especially with soft penny tiles in the background to set it off.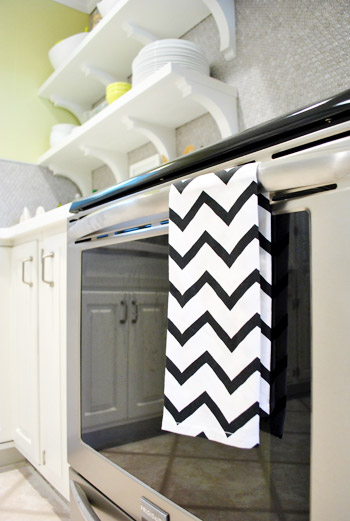 Again, Clara's on board with the decision. Can you tell someone recently learned to smile for the camera on command? "Can you show me your teeth?" has become a very handy phrase around here lately.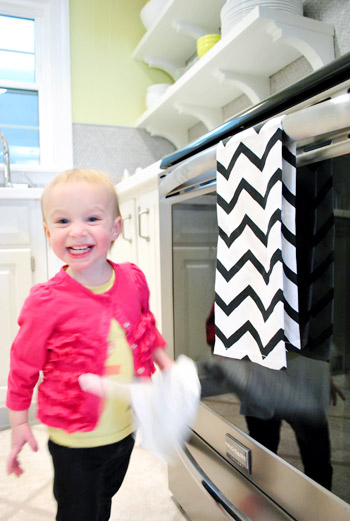 Has anyone else ever tackled a dishwasher installation? Did you have smooth sailing? Was there that obligatory unplanned trip to the hardware store? Did it take longer than you thought? Was there a tiny but correctable leak? Did you just learn how to smile on command?
Psst- To see what we did with the box that the dishwasher came in, check out Young House Life today.
&nbsp&nbsp&nbsp
After our disaster-filled week last August (we had an earthquake and a hurricane within a week of one another) we had several requests for a post about emergency preparedness. We hemmed and hawed because we're no experts in that department, but then a couple of actual experts / regular YHL readers reached out to us with emails fulled of information. Phew! So without further ado (since it's already taken me like 6 months to finally write this post), here are some of the recommendations and information they sent our way.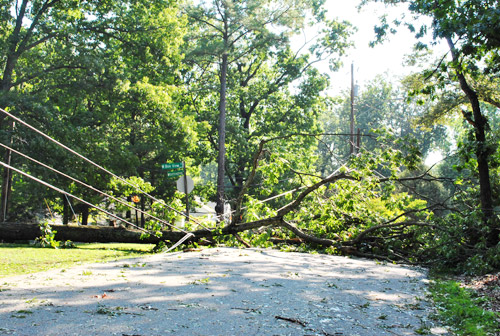 First off, our experts are Amanda F, who has her Master's degree in this field and worked as an emergency coordinator for a hospital in LA (so she knows earthquakes). She now lives in DC, so she's got hurricanes to deal with these days. We've also got Michelle O, who is the Deputy Coordinator of Emergency Management for our county. So basically these people know their stuff far better than we do. Their consensus boils down to three basic ideas: Make a kit, make a plan, and stay informed. So we've corralled their advice below for ya:
#1. Make A Kit – An emergency kit doesn't need to be fancy, expensive, or overdone. Even a small kit that will last you two days is better than having none at all. There are three types of kits to consider:
A Stay At Home Kit: Plan for three days without power. Include items like non-perishable food, water (1 gal per person per day is recommended), flashlight with batteries, extra batteries, a battery powered radio, extra batteries, manual can opener, any medical supplies or prescriptions (this includes extra glasses or contact lenses), cash (ATMs won't work without power!) and important personal and financial documents (more on that in a second).
A Kid / Pet Kit: If you've got kids or pets, plan for them too. Think of items like formula, food, diapers, toys, comfort items.
A Go Kit: If you need to leave your home during an emergency (say it's being evacuated for flooding or a tree has fallen on it), have a backpack ready for each person that includes water, high energy snack foods, extra clothes, and shoes.
Sherry and I actually evaluated our own emergency preparedness kit a couple of years ago (we certainly floundered in a few areas and ended up giving ourselves a B). We probably should do that again now that we're in our new home to see if we're more prepared.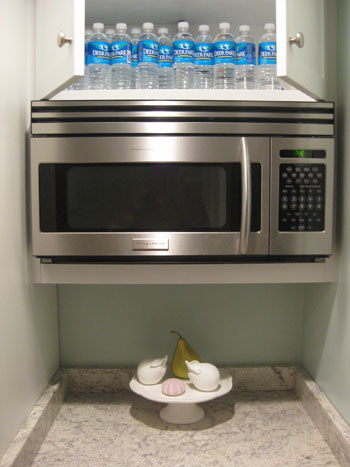 We also spotted a tip in Real Simple recently about including documents in your emergency kit. This is less about having them on hand in a disaster and more about not losing them if your house doesn't survive the flood / earthquake / tornado / whatever. They recommend that you: "make photocopies of the following (or scan and burn to CD or flash drive) and keep one set at home in a waterproof bag and another in a safe-deposit box."
Driver's license & passport
Social security card
Birth certificates
Health insurance card
Insurance policies
Mortgage and other loan papers
Property deeds
Car title and registration
Marriage license
Your will
Last year's tax return
Bank and brokerage account numbers
Inventory and/or pictures of your home for insurance claims
Of course we all have excuses for why we haven't put together a kit or don't have the time or money available to get started. So here are some good excuse-busters from our experts:
Not everything in the kit needs to be bought. Take inventory at home first – if you've got canned goods or cereal on hand, that counts!
Hit up the dollar store. Both of our experts said this is a great option for stocking up. After all, you don't need the fanciest flashlight – just a flashlight that works.
Spread out the expense. Try assembling your kit over time. Commit to buying one or two items per month if you can't shuck out funds for everything now.
Involve your kids. Ask them to help you gather items or pick out a supply to buy each month. This also gives you a natural opportunity to teach them why that item is important and how to use it.
Don't stress over space. Kits can be pretty small, so finding some space in your house for them shouldn't be too tough (make sure they're stored in an easily accessible space, not in the shed behind the house). Water storage can be the biggest challenge, but do what you can. Anything is better than nothing.
Shop in one place. Since camping needs tend to be similar to emergency needs, hit up a camping or outdoors supply store for an easy way to stock up on items.
Buy your kit. If time (not money) is your barrier, you can buy a pre-assembled it. Here are a bunch of options sold by the Red Cross.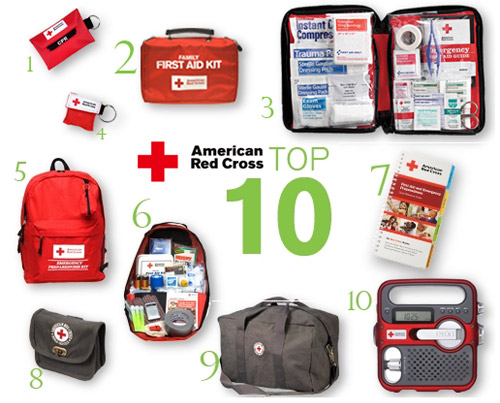 Last but not least, don't forget to keep your kit updated. You'd hate to break into your kit during an emergency and find spoiled food, last year's prescriptions, and clothes that no longer fit the kids. Try checking your kit every year at Daylight Savings (when you also check your smoke detector batteries).
#2. Make A Plan- Making a plan takes nearly no time or money, so it's something we should all try to do. It involves gathering some info, writing it down, and reviewing it with everyone in your household. The goal is make sure everyone has the right information and follows the same steps when a disaster comes rolling down the street (hopefully not literally). A plan should include:
Phone numbers for everyone in the family (be sure to include office, cell, and land line numbers)
The phone number of an out-of-town relative. Local lines can be unpredictable during a disaster, so it's best to designate one out-of-town relative that everyone should call to check in with. That also helps local lines clear for emergency personnel to use.
Also, keep in mind that it's often easier to text than make a call during an emergency. Plus, most phones will try to send a text until it goes through so you don't have to repeatedly place calls.
A pre-determined meeting place outside of your neighborhood in case you can't get home (a church, school or shopping center works)
You can a get a plan form to fill out here at Ready.gov.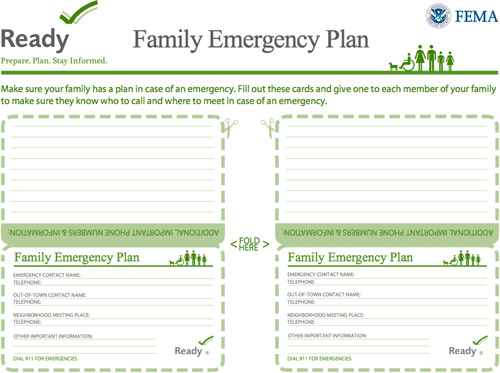 #3. Stay Informed – This is also a fairly easy one and it's basically about making sure you know how to access updated information – like weather conditions (where is the storm headed?) and where to go for emergency relief (like where shelters are being set up). So learn what websites and radio stations broadcast local information (like our county sends updates on AM 1630). This is also where having a battery-operated radio and/or a NOAA weather radio comes into play.
Additional Links: If you want more information, the U.S. government operates a central website called Ready.gov with lots of info. You can also hunt down one for your states or county for more specific, regional information. In Virginia we've got VaEmergency.gov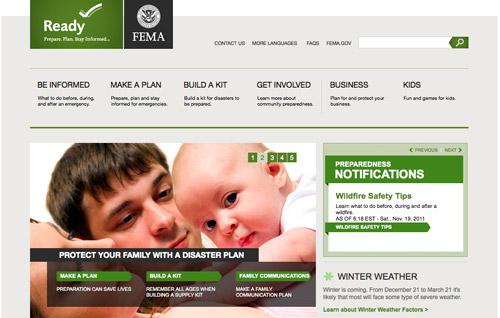 Thanks Amanda and Michelle for imparting their knowledge on us all! It's definitely been a good reminder to us Petersiks that we need to double-check some of our supplies and put together a plan.
Psst – Since many of you are thoughtful enough to ask about how our neighbors are doing since the tree fell on their house during Irene, we're happy to report they moved back in at Christmas (yep, nearly 4 months later!) after having extensive repairs and renovations done to make their house liveable again. Nearly half of the roof frame had to be removed and reconstructed so it was quite the project – but they made lemonade out of their lemons and had the contractors rebuilt the two bedrooms on the affected end of the house into one big master suite. We actually got a peek at it before it was finished and it was looking awesome.

Psssst – Images from Ready.gov and Redcrossstore.org.
&nbsp&nbsp&nbsp