Archive for January, 2012
This is a thing you can't do it with out. Come on. I'm talkin' to you. Come onnnn. (Okay, enough with the Tears for Fears reference). Let's talk about grout, because with our penny rounds finally all installed, grout was next on the agenda. It has a way of taking things from in-progress to looks-completely-finished-oh-thank-goodness. Observe:
So here's how we got there. First I have a little "materials shot" for ya:
Bucket of clean water
Putty knife & another bucket to mix grout in
Paper towels because, well, grout is messy
Sanded grout (from The Tile Shop, $19 with discount) – ours is the Mobe Pearl color
Rubber float (from Home Depot, $2)
Flexible Grout Admixture (from The Tile Shop, $17 with discount) – this reduces grout shrinking and cracking
Sponge. Woot!
Oh and we used leftover rosin paper from Home Depot to prep the room, since it was again helpful in keeping the mess off of our counters.
Grout, like thinset, is another mixture that you only want to make in small batches – since it'll dry out after about 20-30 minutes. So according to the instructions, I started by pouring a bit of admixture into my bucket and then adding the grout powder second.
Just like with my thinset, I used my putty knife to mix everything together until I got a that toothpaste-y consistency that I found easiest to work with.
I had forgotten how much I enjoy grouting. That may be an overstatement, but after the focus it took to actually install the tile it was fun to do something that took very little thinking. It was basically just using the float to smoosh the grout onto the tile and, more importantly, into the cracks. Sherry helped too. She was less into it than I was. Ha.
Once we made sure we didn't miss any spaces, we held the float at an angle and scraped off some of the excess from the front of the tiles. Then it was time for some sponge-and-water action. This not only cleans grout off the front of the tiles, but also kinda smooths the grout between the tiles. It's kinda weirdly amazing to me how simple but helpful this step is.
If you want to see these steps in actions, we managed to film this little one-take video of it. Clara's need for a cream-cheese refill cut it a smidge short, but you get the point:
Admittedly the task is a bit tedious – and more than bit taxing on your wrist – but we managed to get it all done in one afternoon.
The difference between an ungrouted and grouted tile job still amazes us. Just when we thought we couldn't love our penny rounds more. You can see the difference below – the left side has dried grout in it, the right side is ungrouted. You can also see how much lighter the grout gets once it dries. Of course there's still a haze on the grouted tiles on the left, so they don't look as gleamy as they do once you buff that off with a cloth after it has fully dried.
Oh, and since people had asked before – here's a picture of the corner seam after it was filled with caulk that matches our grout. We also caulked the seam where the tile meets the counter (that's still drying in this pic, so it looks darker along that bottom edge). This was taken before we buffed the tile with a cloth though, so it's kinda chalky. But you get the idea.
Here's the whole room completely done, though it's kinda hard to make sense of it at this picture size – since it sort of just looks like a gray wall. Haha. But in person it's approximately 50 times bigger than this photo on your monitor. And those gleaming penny rounds look pretty darn lip-smacking. Yes, I just used that adjective. The penny tile does that to me.
So here are some close ups so you can get a better idea of what it looks like in real life. Thankfully even when you enter the room from the frame hallway on the far side of the kitchen you can easily make out each individual penny tile. Which is nice because it would have been a colossal bummer to spend 14 hours tiling the room only to have it look like gray paint from afar. Even from the front door it clearly looks like little round penny tile on the part under the microwave that you can see from there. Whew.
This shot is probably best at depicting all the varying tones in the tile. It's awesomely random. Some tiles are a bit darker and some have a dark ring (or semi-ring) around them – we think it looks really charming and adds to the dimension. And you can see the polished shine on the top right corner of this shot (they look hazy in this pic for some reason, but up at the corner you can see that they gleam in real life). It's actually a really "marble-ish" look without having to dish out the money for marble.
Here's another close up to show how some tiles have darker rings and varied coloring. And you can really see how the grout cleans things up and adds some nice tone-on-tone action where dark holes and mesh once were:
We were a little nervous about the grouting step because we had heard that it can accentuate any seams or inconsistencies in the way that you laid the sheets. But our experience was the opposite: it actually seemed to disguise those little mistakes. It's probably because our tile / grout color combo is low contrast, but if it was dark it could highlight those flaws instead of bridging the gap and making things look more finished and even. So this isn't to say that grout solves a bad tile job when it's low contrast (unfortunately nothing solves a bad tile job) but if there are tiny inconsistencies, similarly toned grout might be your best friend. And thanks to using a good sealer, it shouldn't be a bear to keep clean (we used something awesome on our first house's tiled shower and didn't have to scrub it ever again – even while hosting Open Houses a year later it looked as good as it did the day we grouted).
Here's a better shot that shows the shine- although it's only on that portion of tile on either side of the range hood. I blame our terrible kitchen lighting, but it's next on our to-do list! Yes, we have an appointment with our electrician and everything.
Speaking of other still-to-be-completed projects, we also still have to add a range hood and some open shelves. We think our tile will be a pretty darn sexy backdrop for our dishware and such (knowing Sherry, there will be a whole lot of "and such" up there with our dishes – the girl has plans).
Even though grout is done, our job with the tile isn't 100% complete. We still have to seal it. And before that we have to do a bit more clean up (aka: more buffing to remove small traces of haze in some areas). It's pretty common for grout jobs and The Tile Shop actually sells haze remover, but we've found that just good ol' fashioned elbow grease (and a dry dishtowel) can also do the trick. Buff, buff, buff. So we may try that first. That is, once our wrists recover.
You know we'll be back to share all the goods as we go (applying our sealer, planning/replacing the lighting, range hood happenings, open shelves, new cork floors, etc). In the meantime, have you guys ever grouted? Did you kind of like it (me) or kind of hate it (Sherry). The good news is that we both admitted that it was totally worth the hassle when we were done, so that's unanimous. Glad to have it checked off.
Psst- Take a wild guess who is the most excited indoor train rider in our family. Might not be who you think. More on that here.
One of my favorite things about blogging is keeping it real. Even around the new year when the whole "be the perfect person/wife/family" voices can kick in, I try to fight the good fight and remember that authentic = awesome. And perfect = most likely impossible. So if our house is a mess I'll make a video to prove it (without even putting my bra away first). If we don't know how the heck to tackle a project, we'll admit it (like this). If we fail miserably at an undertaking, we'll blog alllll about it (like this and this, just to name a few).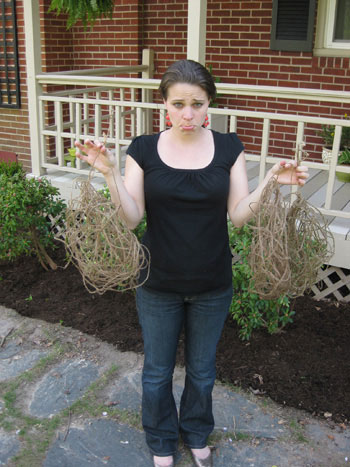 We actually love being a DIY diary that's literally about the good, the bad, and the ugly – because a blog that's only about the good kind of feels like it's only telling half of the story. We're just regular folks attempting to do regular DIY things with a real-person budget while learning as we go. We don't have any formal training. Five years ago we painted all of our trim the wrong finish, didn't own a power drill, and our house looked like this:
When we started this blog we were literally DIY beginners, just trying to figure out how to hang curtains and get a good deal on appliances. And although we've slowly gained some hands-on experience over the last 4+ years of this blogging thing, I thought I'd start the year (January 17th is still sort of the beginning of the year, right?) by saying a bunch of things out loud to the internet at large that might surprise you. Or maybe not if you really know me.
#1. I don't have the perfect marriage. It's amazing how many people ask if John and I ever fight. Is it possible to be married to someone for nearly five years and not fight? Dude, we fight like the best of them! Not loudly in front of Clara, but we definitely can get into it. We're individuals. Individuals who love each other, but we definitely each have conviction and strong willed tendencies (hello, I'm Italian and from New Jersey). And those convictions and strong willed tendencies can definitely lead to heated discussions, adamant disagreements, and full blown arguments (about anything from a parenting decision to a home improvement snafu). We're a pretty normal couple I think. We love each other like crazy, but sometimes in the stress of renovating or raising a toddler the moment gets the best of us and we snap. But when we do, we try to remind ourselves that we're in this together. We both have the same goals (a healthy and well adjusted daughter, and beautiful and safe home, to make each other happy, etc). We're a team. A sometimes dysfunctional or crabby team, but a team none the less.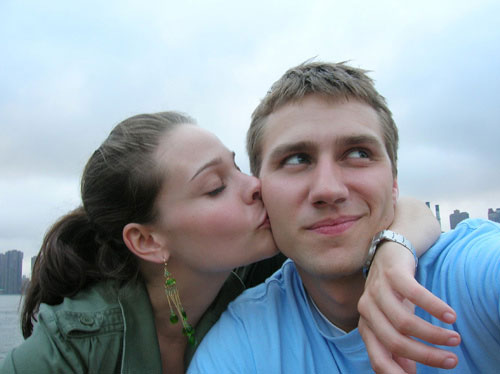 #2. I don't have the perfect child. Sure, there are amazing things about Clara, like how good of a night sleeper she is and how much she loves singing and dancing (and eating funny things like hummus and pickles). But as anyone else who has a 20 month old kid can attest – they're not all sunshine and roses. Clara cries, teethes, gets mad, throws food, rips magazines, has tantrums, and does all those other things that toddlers do. So yeah, I deal with the same "oh man, she's sick" or "ack, she's screaming" or "ohemgee she just threw up an entire pumpkin muffin all over the car seat" issues that every other mom deals with. And let's not talk about my labor (scariest day of my life) or the 14 months of breastfeeding (I loved it, but I'd be lying if I didn't say that it took work, energy, and dedication – especially when I was painting and DIYing between those feedings). It's a good thing she's totally worth it. I love that bean to pieces. She's not perfect, but she's perfect for us.
#3. I make design mistakes (and life mistakes) – all the time! Our rooms and our lives are in a constant state of flux (our first house took us 4.5 years to finish, and we've only been here a little over a year) – so sometimes we're still feeling around in the dark and we make the wrong call. And later we see the light and say "umm, what were we thinking?!" and course correct. I think the key to recovering from mistakes in general (decor-related or otherwise) is not to be married to that mistake. And to attempt to right your wrong. Say you buy the wrong sized rug but don't realize it for a while (like we did in our living room). Once time passed and we figured out what could be improved, we decided to reuse the old one in another room (or craigslist it) and save our pennies to upgrade it. That approach helped us (and the room) move forward. If we ever become frozen in fear of a mistake that we've made (or the fear that we'll make one) that's when a room stagnates. We'd never get past decorating mistakes (or life mistakes) if we didn't learn/adapt/evolve along the way. Our goal is for our house (and ourselves) to always be changing and growing. No freezing in place allowed. Because you usually can't get around a life obstacle or a DIY debacle if you're just stuck there standing still.
#4. I'm awkward and probably less cute, stylish, or "put together" than you think. I have paint in my hair and under my nails 24/7 (well, this week it's grout). My shirts are all stretched out from breastfeeding (yup, still haven't replaced those). I am covered in dog fur and/or accidentally sporting some smear of jelly/cream cheese/humus five days out of seven. Seriously. Someone chime in here who has met us. We get comments like "I'd freak out and embarrass myself if I ever met you" but I've got you covered. I won't even notice you freaking out over my intense weirdness. Once I spun around at Target and screamed "Chiiiiiistmas stuff is already out!!!" while holding two wooden trees up to my face like Cindy Lou Who to John. But it wasn't John. It was this woman I'd never seen before standing there staring at me with a baby in her cart. So I tried to smile and quietly make my way to another aisle and she said "Oh my gosh I love your blog" …. and I nearly died of embarrassment. Not only had I been "that crazy person" in front of a stranger, it was someone who "knows" me. So I stuttered and tried to talk about her cute baby and then John and Clara came to my rescue and I stumbled away while mentally kicking myself in the face. Yup, I'm that awkward.
#5. Sometimes I get nervous and insecure about our future. Not gonna lie, being a "small business" (and even more random than that, being a "professional blogger") is hardly a job with health insurance and a 401K (more on that here and here). We just try to have faith that we'll end up somewhere ok since we never thought we'd be here five years ago… and here we are. Sure it helps that we saved up a just-in-case cushion (to keep us afloat for 6-9 months) before John left his day job when Clara was born, but I'd be lying if I didn't shout "yes – we get nervous and uncertain and insecure about what lies ahead sometimes!"
#6. I roll my eyes at myself. I get it. I really do. I am fully aware that I'm obnoxiously enthusiastic. My blog puns often make me gag a little. I'm the less cool version of that adorkable Zooey Deschanel. You know, without the good hair and the great voice and the comedic timing. I'm her half sister Gooey or something. So although my sunny demeanor might make you want to stick a spork in my eye, know that I'm fully aware that I'm annoying – and sometimes I try to rein it in – but I usually just let my freak flag fly. Why? I figure that blogging is all about being yourself and owning it and sharing your life in an authentic way. So I'm not reserved and cool and collected and refined. I'm hyper and giddy and nutty and weird. And 4+ years later that formula just works for us. So gosh darn it, I might call presents "prezzies" or make a crack joke. That's just how $herdog rolls.
#7. My house is usually a disaster. At any given time, our frame wall might look like this…
… but our sunroom probably looks like this…
There's always at least one giant pile of something-to-be-sorted somewhere. And don't even get me started on the playroom. That room is out of control.
So I guess the point of all that soul baring is to assure you that I most definitely do not have it all figured out. I'm just a chick from New Jersey who started a blog who sometimes forgets to take her contacts out at night (I know, I'm so bad). I'm that gal who discovers that I have strawberry cream cheese inexplicably smeared all over the left side of my ear in line at Target. True story. I don't know it all, and I don't have it all, and I'm so thankful to be right where I am. Perfection is kinda overrated anyway, right? I'm many things, but most of all: I'm a work in progress. Kinda like our house.
Remember when we cut four curtain panels that we loved from Ikea (which were sadly discontinued) right down the middle to make eight of them for our living room? Well, here's that story, but to refresh your memory, here are a few pics:
We loved the added height, texture, and pattern that they brought to the room, but I always wondered if layering some breezy sheers in there someday might make my curtain-loving heart sing. You know, so they'd be fuller and airier and sort of layered and soft looking. So I lived without 'em for a while but kept my eye out for some cheap fabric or sheers that I thought might do the trick. And then one day in Ikea… I pounced. Two already made 98″ curtain panels for $9 was enough of a deal to make me jump, so I grabbed four packs of white breezy curtains with my living room windows (and glass sliders) in mind. I wish I knew the name for you guys but the packaging got tossed before I could take note and I looked online and didn't see anything that matched what I got (in price and look). I don't think they're Vivan panels since we had those in our last house and these are lighter/thinner, and they're definitely not Lill curtains (those are super sheer and mosquito-net-y). Update: We think they're called Wilma. Hope it helps!
Anyway, the first thing I did was toss the panels in the wash (to pre-shrink them so that when I hemmed them they wouldn't later get washed and be too short if there was any shrinkage). Then I grabbed some ring-clips from Target (the same ones I used to hang the original 8 panels)…
When my sherr-ish panels came out of the dryer I cut the tab tops off (since I could just clip them along the top with my ring-clips to hang them). Oh the tab tops might be a clue if you're looking for which curtains they are (if they have a rod pocket, like the Vivan panels, it's not them).
Then I hung them all up using the additional ring clips on the same curtain rod with the patterned panels. To make both curtain panels flow into each other I actually overlapped them a smidge with the ring clips.
Basically the two left-most clips on the patterned panel below also have the white sheers clipped behind them. That way there's no gap between the curtains and they all move as one unit (ex: if I pull the sheer out both curtain panels extend). Not that we move our curtains. Haha. They're really more for softness and height. Especially in a giant room like this one – adding anything soft and breezy makes it feel less like a gymnasium and more like a real room.
So I got past the tab-cutting/washing/hanging steps and then I stalled. I had been meaning to hem them and share them for a while but other projects and book stuff popped up so I left these guys unhemmed and a few of you even noticed them in posts like this one, to which I replied "ack, still have to finish that project and then I promise I'll blog all about it!" Haha, which brings us to this post.
Yup, I finally hemmed them all using heavy-duty iron-on hem tape (Heat N Bond from Michael's) which I did while they were still hanging right on the rod (see more about that method in this post). I just used a scissors to cut off the excess (there was actually about a foot of it on each one) while leaving an extra inch to accommodate the hem (so once it was hemmed up they'd just graze the floor).
Don't mind the dust bunnies. Let's zoom out, shall we?
It's hard to really see the curtains when ya pan way out thanks to all the light coming in, but here ya go. We can't wait to tackle a big media cabinet build, by the way. Probably after we conquer the kitchen…
Oh and for anyone wondering where the last two curtain panels hang (since it's easy to see the other 6 in the pics above), we have this slider right off the living room so that's where those live:
Aw and look at Clara's little homemade coloring desk. It's been getting tons of action (she's either cooking in her kitchen or going nuts with stickers and crayons at her table). Ah to be 20 months old and living it up with tiny furnishings and fake fruit.
But back to the curtains. I really like the breezy layered look and there's something about a double dose of ring-hooks on each side of those curtain rods that feels kind of posh. At least to a weirdo like me. So that's my pretty quick (except I took forever to hem them) curtain upgrade. What have you guys been clipping up/sewing/hem-taping these days?