Archive for January, 2012
We're working on hanging our new pendant lights so we'll be back to share those pics in the morning. In the meantime, let's talk about something people ask about all the time: photo storage. Ever since seeing Katie Bower's family photo book two summers ago, we've been drinking the photo book Kool-Aid – starting with our very first Family "Yearbook" that we made last summer (you can read about that here). And now that another year has wrapped up, well, let's just say this arrived last week: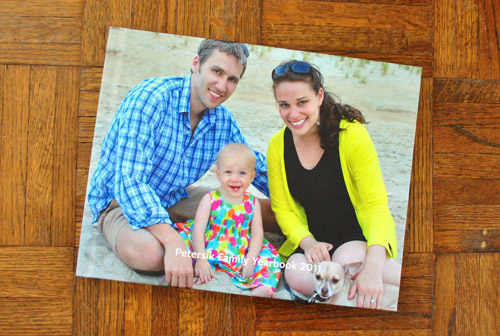 It's one big glossy photo book stuffed to the gills with all of our family photos from 2011. Except the perk is that while it has around 600 photos, it's only about a half-inch thick. Which is awesome for storage purposes (way less cumbersome than thick overstuffed photo albums that only hold 100-200 pics each). We ordered it through MyPublisher and thanks to a promotion they were running for free extra pages, we got to max out their page limit (100) and pay nothing extra. The discount (which has ended since we received our book – but they tend to pop up pretty frequently) actually saved us $79! And we'd easily pay $44.99 to print all those pics (not to mention having to buy a bunch of albums to put them in) so a photo book can actually end up being quite the deal. And no, they didn't pay/perk us to write this, we just like our photo books. Haha.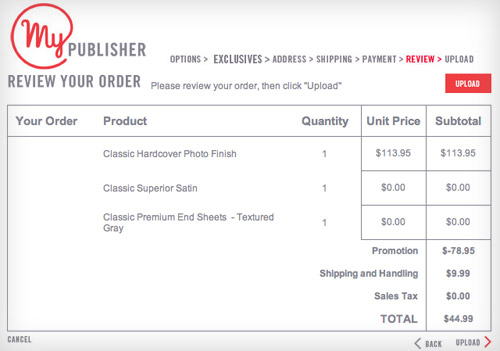 We did our last "yearbook" way after the fact (like mid-2011), so it took a bit of backtracking to organize all of the photos. But for 2011 we planned ahead and kept all of our photos in one iPhoto album (which automatically kept them in chronological order for us), which is why it only took a couple of weeks into the new year to actually get this one done. So let's take a quick look through all one hundred pages… just kidding. We'll just take a peek at some of the highlights – like our opening page that we edited to include some text to summarize some of the, well, highlights from the past year. We think we'll love looking back on it (and having a summary of the whole year on one page).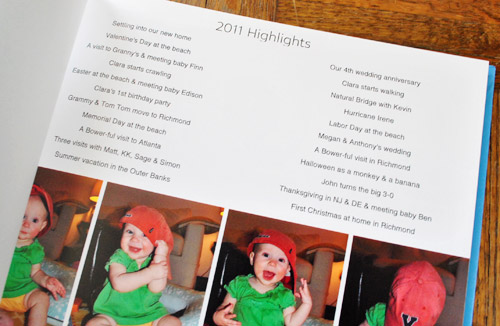 We also tried to group big events, holidays, and milestones – like the several spreads of Clara's 1st birthday party. Check out how dark our kitchen was in the bottom left corner!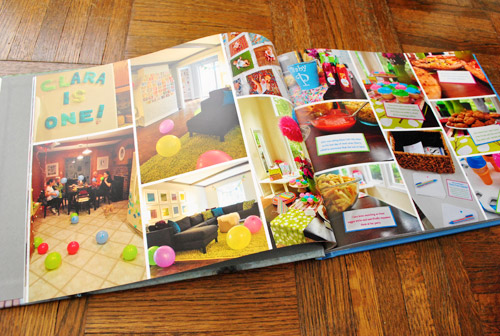 We also used the preset page designs to give some really special photos the layouts they deserved, like the ones Katie B. snapped when we visited the Bowers in June.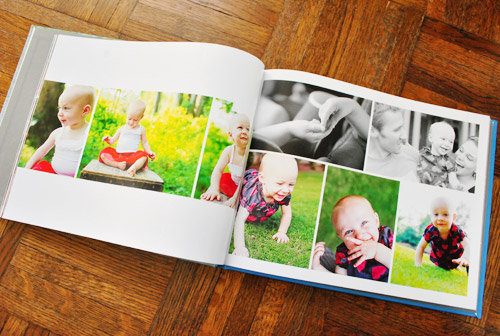 And since it's not hard for these albums to turn into a Clara-fest, we paid special attention to making sure Burger got plenty of love as well. He even scored a few dedicated pages throughout (every album needs a good Burger-montage or three).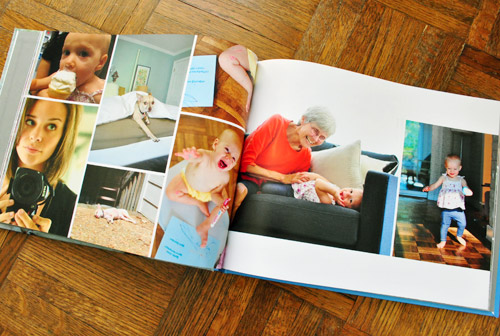 We also thought it was fun to put all of the photos we took for our Blogiversary "Day In The Life" post into the yearbook in order. That way in 15 years we can look back and sort of remember what a normal day was like way back when…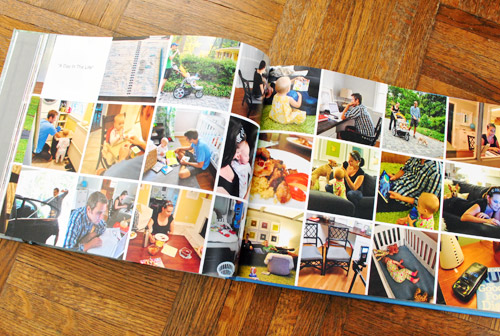 We nearly ran out of pages by the time we got to Christmas (darn 100 page limit!) but managed to make room. Heck, we even squeezed in a collage of a bunch of our holiday card outtakes. Yeah, we're kind of into our kiddos.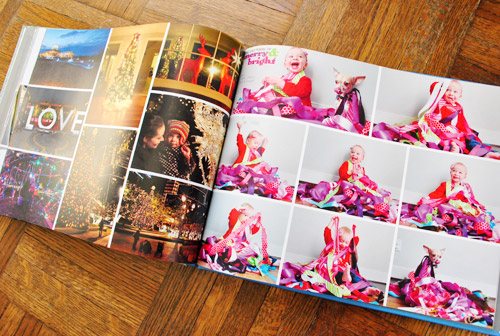 So since we're on a family yearbook high – especially now that our collection is two albums strong! – we're already excited to make the 2012 version.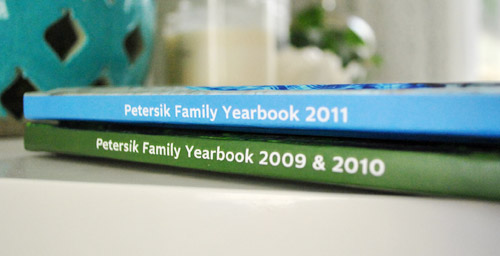 But because that's not possible yet (unless we want it to be 3 pages long) we're thinking that we may try to organize our old digital photos and make one or two books that'll hold all of the photos from 2005 (when we met) to 2008 (right before our 2009 album picks up). Maybe we'll work on those books once a certain manuscript is in the can.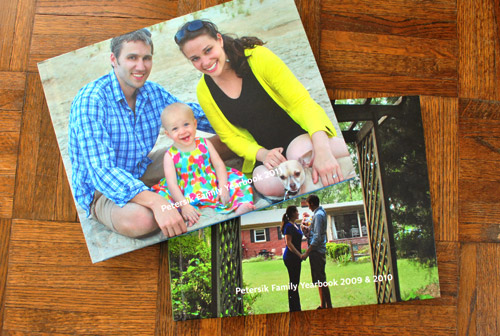 Oh yeah, and here's our favorite photo bomber again, just trying to get in on the action.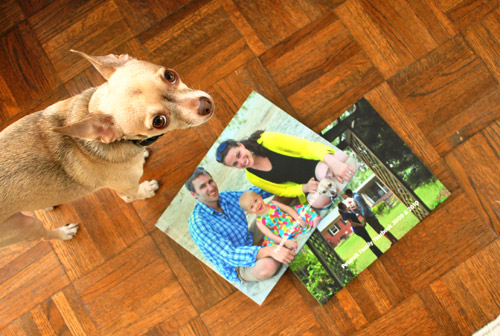 Anyone else making photo books or albums to document the past year? Or any other event or period of time? We'd love to hear other systems people have for organizing and displaying their family photos.
&nbsp&nbsp&nbsp
Woot. We did it. We found a stainlesss steel range hood on craigslist. It's an industrial strength pro JennAir one (valued at around $350) but we got it for… $60! Oh craigslist, I could kiss you on the mouth.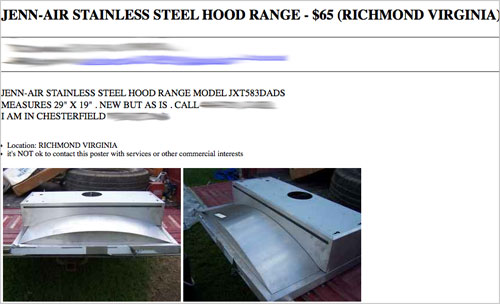 The listing said $65, but you know I did the old "how about sixty, we have cash?!" thing when we got there and looked it over… and… sold! It definitely appeared to be purchased but never used (it still had some of the white sticky peel-off stuff on the underside that new hoods have) – although it didn't look like it had been kept completely protected while it was being stored (there are some scratches on the curved hood part). But those scratches are most likely the reason we got it for such a deal (in mint condition it could have been sold for at least $200). And since we'll be building a wood hood box around it, those scratches won't matter at all. We actually love them for allowing us to afford such a fancy pants hood. Wait, you're stuck on that part about the wood hood box thing, aren't you?
We're basically going to try to build a wood frame to attach to the wall and house our new $60 JennAir vent since we looked up some prices for wood hoods that are built by someone else…. and let's just say I spewed orange juice all over my computer when I caught a whiff of the cost (from here).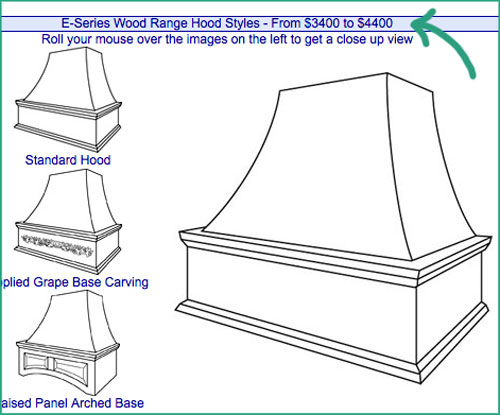 We're not 100% sure on the actual hood-box shape (some are boxier and some have that little stem at the top) but we'll keep you posted. Might just tape out a few shapes on the tile and see what we like.
Oh and as for the two pendant lights we'll be adding over the peninsula, we hit up one of our favorite local lighting outlets (The Decorating Outlet on Midlothian for any locals out there), where we found the exact same lights we had been ogling in this post about a month ago! We couldn't believe they had two of them in the same finish and everything. They're currently $129 here, but the outlet was selling them for $60 a pop. So for less than the cost of one ($120 total) we got two! We think they're going to make a huge statement in the kitchen, and considering that big box stores are currently selling similar stuff for $100+ each, we thought it was a great deal.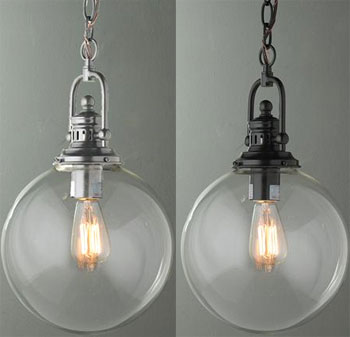 The finish that we chose may surprise you (or not, haha) but we actually went with oil-rubbed bronze. Since there are already a ton of nickel/stainless accents in the kitchen (hardware, appliances, the industrial stools) we thought it might add up to a more layered/interesting look to pepper in some ORB. We're huge fans of mixing metals as long as both types of metal occur a few times so it looks intentional (so there's not one odd man out while the rest is a different finish, which can look kind of weirdly accidental). So we'll be bringing in a few other dashes of the rich almost-black finish so it's nice and balanced looking – especially with the mocha cork floors. We also love that the pendants are hugely visible through the large doorway to the dining room, since that room has things like an oil-rubbed bronze door knob, curtain rod, etc – so they should layer right into the mix.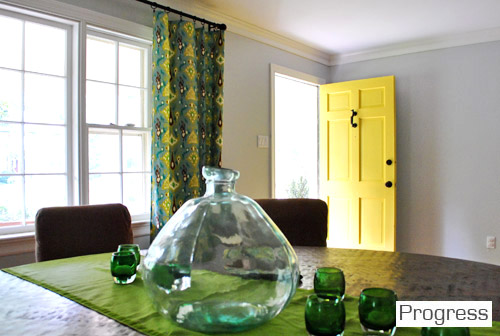 Now we just have to hang the pendants, wrestle that hood into place, build a custom wood range hood cover, add some floating shelves, finish the trim, lay some cork floors, install the dishwasher, and a few other things that my brain is probably intentionally forgetting to keep my blood pressure down. But we're getting there! We're like the blogging tortoises of kitchen renos. Picture us crawling along with little laptops tucked away in our shells. Oh and on the subject of hoods and lights, have you guys be dabbling in those areas lately? Any lucky craigslist or outlet scores lately?
&nbsp&nbsp&nbsp