Archive for November, 2011
We have about a million things to be thankful for, and you guys are at the top of our list. Thanks for caring to drop in and see what's going on at our house. Speaking of which, in case you were wondering… this recently happened: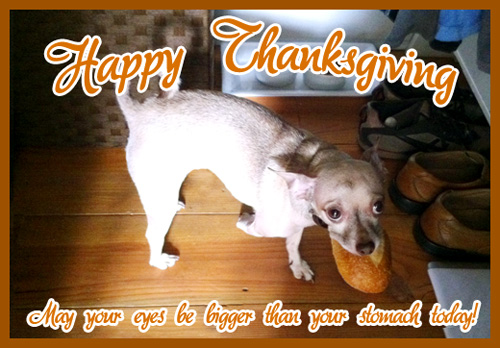 After eating lunch the other day, but before cleaning up the table, Burger snuck into the dining room, climbed up to the table with the help of a chair (!) and snatched half of a baguette that remained uneaten. Knowing he'd be in trouble for it, he immediately sprinted into the closet to devour that hunk o' carbs in record time. I followed him in – half to make sure he didn't choke and half to snap this photo with my phone. Just look at those guilty eyes…
All of this is to say: we hope that you have a fantastic Thanksgiving filled with family, food, gratitude, and zero guilt about stuffing your face.
Psst- Since this post is a bit heavy on the Burger, check out this post on Young House Life for some Clara-counts-to-ten action. Couldn't be prouder!
&nbsp&nbsp&nbsp
Not sure if many people are reading today (due to the impending turkey-related holiday) but we wanted to stop in with a quick kitchen update. We officially got our counters templated (aka: measured so they can be fabricated and installed within the next hopefully two weeks). Woo to the hoo! And this finally means our sinkless days are finally numbered. Huzzah! For anyone who missed the counter discussion, here's what we're getting, and for anyone who wants to know how they template for counters, we made this handy video of the process:
Just kidding. For anyone who can't watch videos that isn't the installers, it's Clara being cute as a button and demonstrating her mad tape measuring skillz. Oh and remember one of our 2011 resolutions to teach Clara home improvement terms (mentioned here)? Well, my friends, that goal has been accomplished with more than a month to spare. Here she is saying "tape measure" like the little DIY diva that she is:
The best news is that although I initially worried like a neurotic person about the tape measure snapping back and hurting her fingers, it's actually a light duty one that doesn't have any force, so she laughs when it "gets her" as opposed to crying. Always a good thing. But how did this kitchen update turn into Clara chatter? Back to the subject of our counters…
When they came out to template we did learn that we would need reinforcement to support the 12″ overhang on two sides of the peninsula, so they quoted us $300 to build in some steel rods when they fabricate the counter or offered up the DIY option of buying some brackets (either decorative ones that will be seen or hidden steel ones – we're leaning towards the latter) that we can add ourselves… to the tune of about $15.
Guess which option we're going with? Haha. Yes, option two. So we'll share the process of installing those brackets (four on the long side and two on the short side) before the counters go in, along with all of the other kitchen projects that we have on our "Soon" list (demo-ing out the tile backsplash, removing the spent plywood backing and adding cement board in its place in preparation for backsplash tiling, etc). And of course we'll be back tomorrow with some sappy Thanksgiving goodness for ya (hope there's time for you to stop by between stuffing and pie).
Psst- I'm over on BabyCenter dishing about how I knew Clara was a girl by the eighth week of my pregnancy. I was insanely sure of it. So I wondered if other folks had "feelings" and if they were right… and if those old wives tales were right too (most of them were for me). More on that here.
&nbsp&nbsp&nbsp