Archive for October, 2011
A couple of weeks ago we were at the Gap and I spotted this on the wall.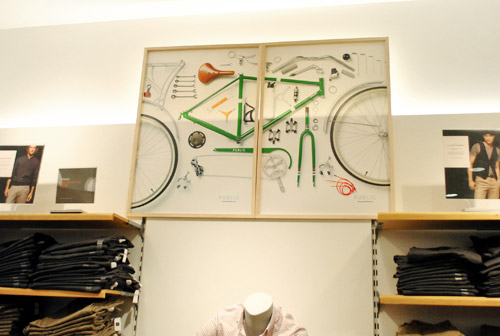 It's a bicycle from Public Bikes that was disassembled and shot for this in-store display (thereby they're not for sale). I thought they were pretty darn good looking. I'm more of a bike admirer than an actual bike rider (apologies to my cycling enthusiast father), so I feel like a bit of a poser saying this, but… I really want those posters to hang in our house. Not sure where, but somewhere. Here's a better shot of one of the panels from the Public Bikes blog.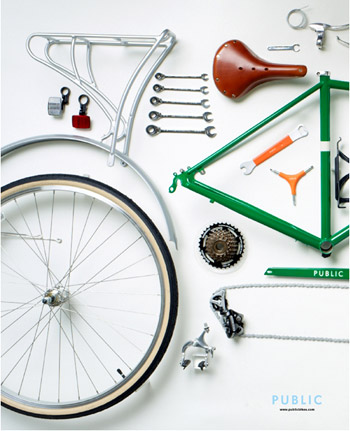 I talked with the manager at my local Gap and they "made a note" to call me when they're done using them for display. This was promising because I expected to hear "sorry, we're not allowed to give those away" (which I've heard at other stores when I've asked, like Target). But it wasn't totally confidence inspiring either – because it sounded a bit like a "don't call us, we'll call you." So I also decided to randomly tweet about wanting them once the store is done with them, and a Gap manager elsewhere heard my plea and is going to try to snag me a set once they're bumped for holiday decor. Oh the power of Twitter. Who knows if it'll actually work out, but I gave it the ol' college try.
Is there any store display out there that you've been admiring (or thinking about recreating/DIYing)? Perhaps something at Anthropologie? Have any of you used actual store decor in your home? If so, how'd you go about getting it? Was tweeting involved? Or just regular old fashioned in-person asking? We always hear about folks who just get a call weeks or months later when the store is done with something (like friends of mine who got movie posters from Blockbuster when they were finished displaying them as new releases). Fingers crossed…
&nbsp&nbsp&nbsp
It's no surprise that we're in the mood for a good kitchen makeover these days. Okay, who are we kidding, we're always in the mood for one. But Erin & Zach's do-it-yourself remodel of their 1950's kitchen is especially familiar (and inspiring since we're just at the beginning of our current kitchen's transformation). Here's their letter:
We wanted to share the redo of our 1951 kitchen (take note of the sweet before lamp and the heavy-duty ceiling beam disappearing act).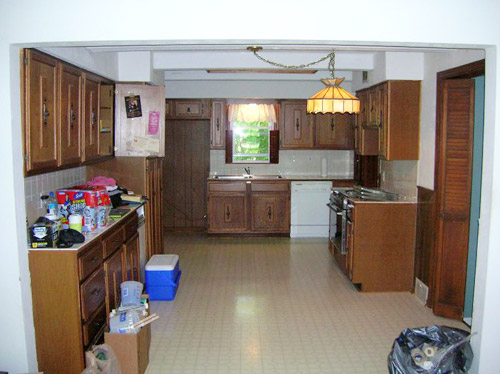 We were so lucky to peel up the old laminate floor and the plywood to find original (albeit quite damaged) wood floors that extended into the middle of the kitchen. We found matching red oak floor pieces and filled in the missing & damaged spots.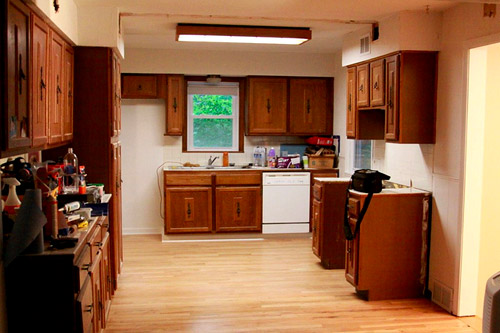 One of the cool things we did was to buy two pre-made cabinets from Home Depot to create the breakfast bar. We put them side-by-side and filled one of the openings with wood pieces to make it seamless.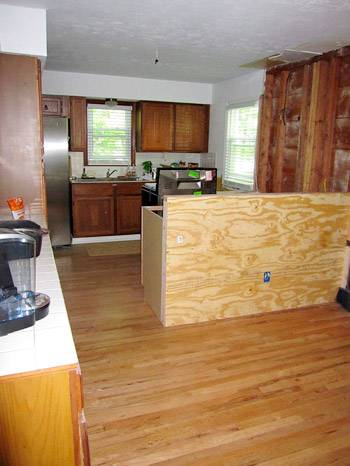 We also re-used all the cabinets but updated the hardware. Painting that many cabinets and doors definitely took patience … and three coats of paint. The new blue color in kitchen is Behr Primer + Paint in Clear Pond, Eggshell.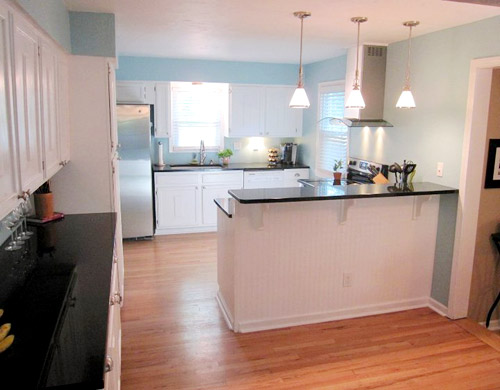 Thanks so much for checking out our kitchen. We love it!! ~ Erin & Zach
We love it too, guys. Congrats on a job very well done! It's a reminder of not only how much work is ahead of us, but also what a big payoff there can be at the end! Seriously, it doesn't even look like the same room.
PS: We've announced the winners to this week's giveaway. Click here to see if you're one of them.
&nbsp&nbsp&nbsp