Archive for September, 2011
We'd like to present our bedroom with the award for Most Often Tweaked. It just seems like time goes by and a few things get added to the mix and it inspires us to remove the top bed rails, hang a ram above the bed, ditch the duvet, or move out some horse art. But we're all about trial and error and learning as we go (who gets it all right on the first try? And if you do, please share your secrets!). It's definitely one of our more out there rooms (read: not everyone's cup of tea), but we like that since it's our own private bedroom and not a common space where we entertain. So as long as we love it, my mom or the lady next door don't have to understand our giant dandelion-ish chandelier or Señor Ram (who was originally seen here doing yoga with Burger)…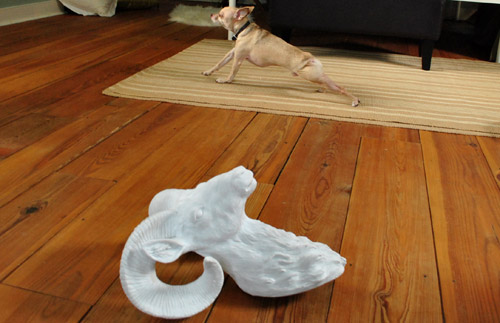 Although mom recently shocked the heck outta me and actually said she liked the whole room. I guess that means we have to do something crazier sometime soon. Haha. But really, one lesson that we've loved learning over the last few years is how much freedom there is in allowing yourself to make your home "yours" and not trying to please everyone – just do what you love so your house gives you a big ol' hug whenever you walk in the door.
Anyway, this time the tweakage in here was inspired by our new nightstands. And those guys were much awaited. For the last 8+ months we've been using side tables from our first house's living room, which were about 5″ too low (reaching down half a foot from bed was muy uncomfortable) and completely and utterly drawer-less (read: messy and waaay too tempting for a 15 month old to grab stuff and carry it around/hide it).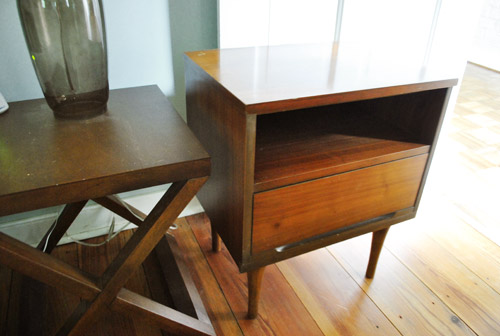 But thanks to the $11 yard sale nightstands that we grabbed last week in Delaware (mentioned here), we finally had two extremely appreciated features: about five more inches of much needed height (so they're finally easily-accessible from bed) and drawers, glorious drawers!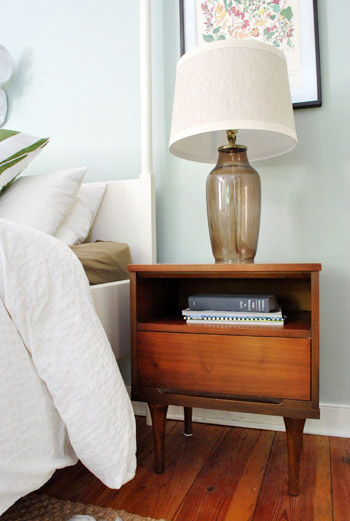 Of course this side of the room is still only about 10% done (our last bedroom took about four years to evolve into the room we knew and loved when we left) so we still need a cabinet on the left wall to balance out the door, a longer and lighter bench at the foot of the bed, maybe a colorful throw at the foot of the bed, perhaps some smaller objects on either side of the ram, etc.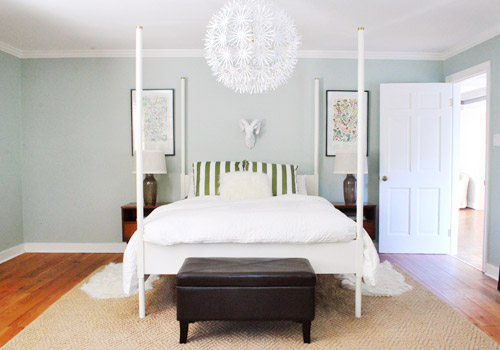 But before I get to the tweakage they inspired, I'll go off on a side tangent. Typical. The cause of the tangent? Dude, our side tables stunk! So we had to deal with that super musty smell. And fast. They're mid-century originals, so I guess we shouldn't have been surprised that they smelled 60 years old. Maybe even 160. So to google I sprung, where I quickly read about and tried two different methods. The first was wiping them down with mild soap and water (Dr. Bronners). Total non-difference. Still smelled like a moldy rug. The second method was wiping them down with undiluted vinegar. Amazing difference! It worked like a charm. I just used a rag to rub them down inside and out with vinegar (which definitely smelled like salty potato chips until they dried and suddenly had no odor). Seriously, they went from smelling so musty that it smacked you in the face when you entered the room to not even smelling if you put your face in the drawer and take a nice big whiff. Woot. So if your drawers smell, you might want to try it. Not your underwear. I literally mean your drawers.
Back to our other night table related tweaks. Here's the wide shot of that completely unfinished side of our bedroom again. With the pillows going both directions just for fun. Because I'm wild and crazy like that.  Oooh, hooorizontaaaaaal…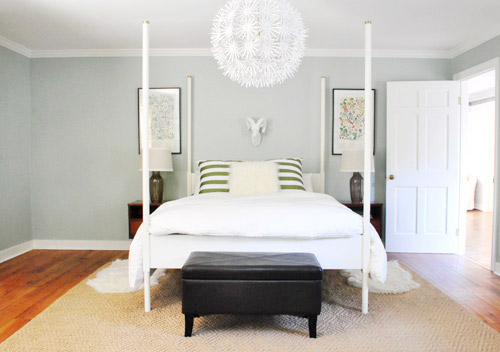 Ahh, now they're veeeerticallll…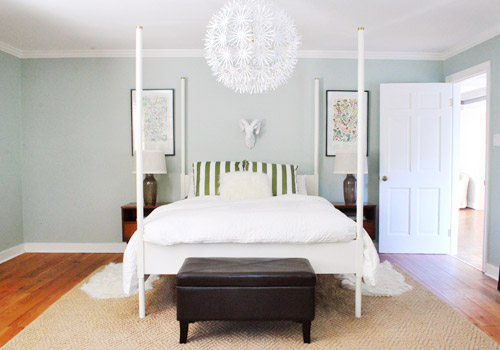 Notice anything different besides the pillow turnage? Well, for one, the sleek lines of our new mid-century night stands have inspired us to remove the finials that we added to Ed the bed and try something that Bryn recommended to us a while back instead (she linked to this pic found here, and we really liked it).
Look, it's Ed the bed. And he has some handsome contrasting post tops. But instead of using something permanent (like paint) I decided to use something free and completely removable (like ribbon). I already had some in my little gift closet full of to-be-regifted bags & bows. And I thought the greeny-gold color would tie in nicely with the curtains. So I cut four small pieces off of the long strand that must have come wrapped around some big box last December and used regular old scotch tape to attach them at the seam (which I faced towards areas that we don't see, like the wall behind the bed)…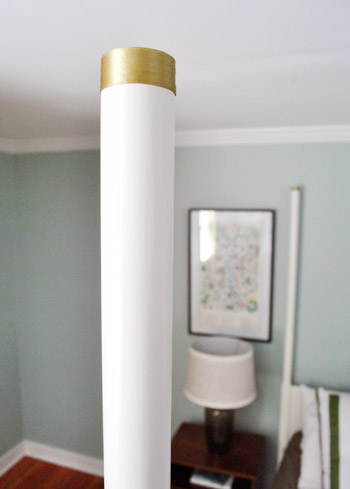 Oh and I wrapped that piece of tape up and across the top of the post so they were nice and secure from the side and the top.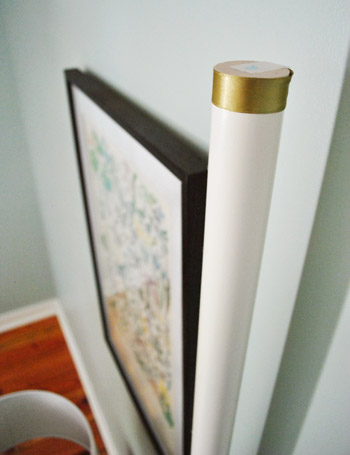 Notice any other tweaks? The art finally got raised thanks to the new higher side tables (we were waiting to get them to see where we'd want the art to hang permanently so we didn't make ten holes in the wall along the way). Originally we thought the art should line up with Sir. Ram, but we held it up in a bunch of spots and liked this placement best. Probably because it creates a triangle with the chandelier – and Sir Ram holds down the base of it like the bad arse that he is.
Oh and we also grabbed new lampshades from Target for $19 each (with 5% off thanks to using our Target card, I love that) because the last ones were looking a little dingy and the slightly wider shape of these guys slayed us. They're actually either the exact same shade or extremely similar to the one that we purchased back in 2009 for our basement makeover (seen here).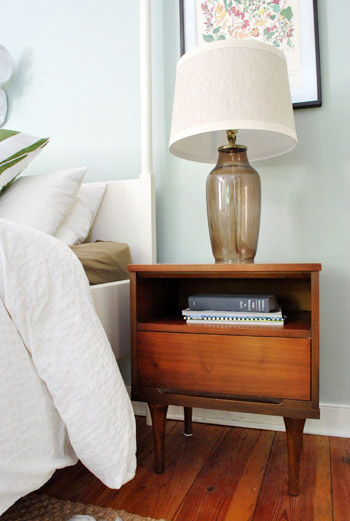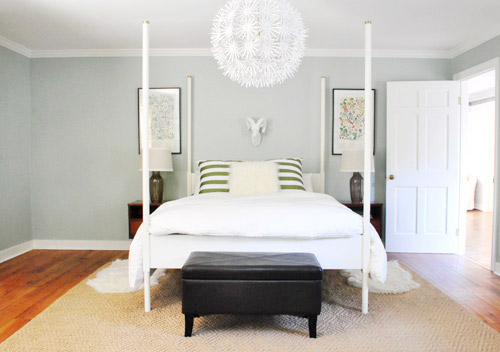 Oh duh and we finally put the Ikea duvet that we mentioned buying here on the bed. We heard so many good things from a bunch of you guys who had the same one and loved it. And surprise, surprise – we love it too. It seems to magically stay clean even with a baby and a dog and it's comfy like a big ol' cloud. We also love that it's nice and calm looking, just because we like the idea of letting other things like our Alaska berry prints, the horse art, my paint chip creation, our giant mirror over the sink nook, and the big chandelier be the stars and add texture, interest, & color in other ways. But we're still definitely thinking about bringing a pop of color to the foot of the bed in the form of a throw. Or we could build/upholster a longer, lighter bench with some color going on. And even bring some hue up on the ceiling. Oh the possibilities!
I'm banking on at least 50 more tweaks over the next few years as the room slowly fills in a bit more. Which is actually quite titillating to a gal like me. Seriously, that's my idea of a good time. Look, here's some photoshop fun. Ooh a bright throw and a soft plum bench along with a moody greeny-gold ceiling could be interesting…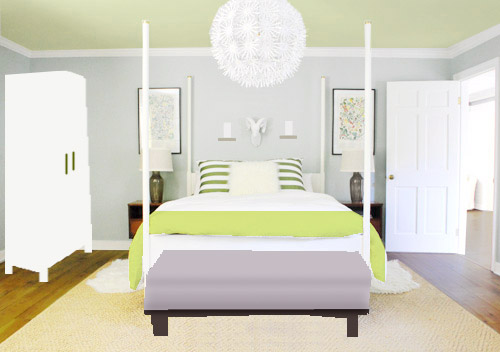 Oh who am I kidding, we'll change our minds a million more times (and it looks crazy because it's fake – haha). But it should be fun to see where we end up someday!
Any tweaks going on in your bedroom? Do tell. But let's keep it clean. My mom is probably reading (and admiring Sir Ram).
&nbsp&nbsp&nbsp
Last week my brother and his wife Ali came to visit us (well, mainly Clara, haha). They live up in NYC where John & I met and fell in love, so it's always a treat to have them in our neck of the woods and it was actually their first time seeing our new house. Since it was almost exactly their one year wedding anniversary I thought I should DIY something sweet, and since I was an accidental kleptomaniac at their wedding (where John's long arm snapped the pic below), I knew at least one material that I'd be using: a pilfered napkin.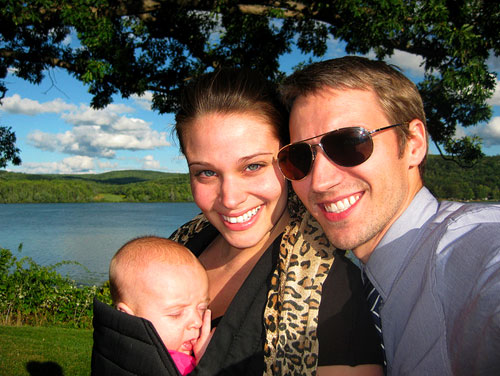 Wait, let me explain. I had a three month old daughter who pretty much wanted to nurse the entire time. And somehow amid feedings and meeting & greetings a napkin from the table migrated into my purse/diaper bag. It probably got caught up in a blanket or was somehow mistaken for a bib. Total mystery. But the end result is that I accidentally took a cloth napkin from my brother's wedding reception. And I'm the weirdo who actually called the venue to tell them what happened and offered to mail it back to them, to which the sweet man laughed and told me to that shipping it would be far more than it's worth and to "consider it a gift." So I did. And it sat in our full-of-junk-that-we-need-to-do-something-about playroom until Dan and Ali's impending visit. At which point I said "ooh, I'll use the stolen wedding napkin to make them an anniversary gift!"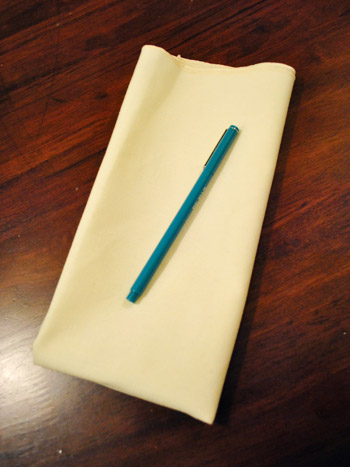 John and I brainstormed all sorts of options for using it (making a fabric mat to display a framed photo from their wedding, dying it and cutting it down to make little fabric coasters, formally monogramming it and starching it to the bottom of a serving tray, etc). But for some reason the idea of needlepoint kept popping into my head. I knew I didn't trust myself to actually needlepoint it (maybe someday, but with their visit fast approaching and lots of desk/office projects going on, I decided I'd rather "cheat"). And I actually liked the slightly off-kilter idea of hand-drawing a needlepoint inspired design right onto the napkin and then framing that. So first I trolled Pinterest and Google for needlepoint inspiration (most of which was far too advanced for a fake-needlepoint project like mine) and sketched out a few possibilities on graph paper.
Update: I just learned that needlepoint is the wrong word and I actually mean "cross-stitch" – so pretend I'm saying cross-stitch everywhere that I use the word needlpoint below.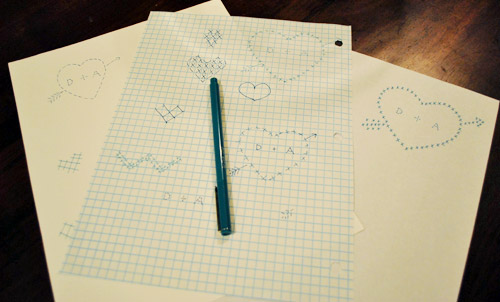 John and I decided that this little drawing on the right was our favorite.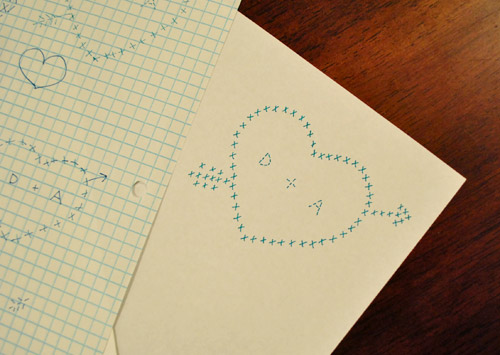 I worried how it would transfer onto the napkin (would it bleed? would it run? would it just look terrible and drawn on?), but luckily the Ikea frame that I had on hand (thanks to this Ikea run where we stockpiled a few for random projects like this) had a 5 x 7 " opening, which meant that I could cut my stolen napkin into fourths so I'd have the option for three do-overs. There was definitely comfort in the fact that the first, second, and third attempt could fail and I'd still have one more shot. I figured the best method of transfer would just be to lay the cloth napkin over the card stock sketch and see if the design was visible (aka: traceable) through the fabric. And it was. Booyah.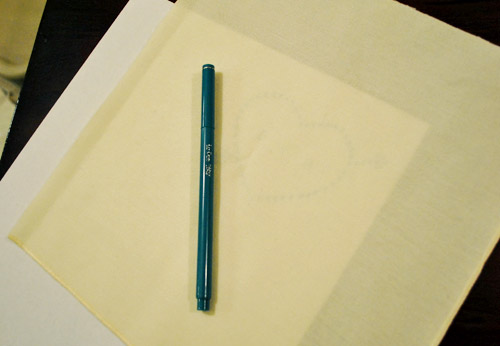 Incidentally, if it wasn't sheer enough I planned to tape the napkin and paper up to a window so the sun would shine through and make it easier to see, but I was glad to skip that step.
Then I just used a fine pointed marker to trace my little faux-needlepoint Xs all around the heart and the arrow and just freehanded the little dashed letters from the original design. Since I'm a detailed-oriented gal, I'll take a moment to mention that the specific fine pointed marker that I used was a LePen (purchased on sale at Michael's a few months back in teal because I loved it and couldn't resist). Did the marker bleed? Yes. Was it slight? Yes. Did I like it? Surprisingly, yes. But it took me a second to realize that.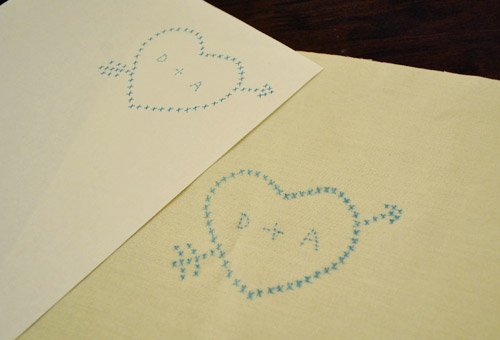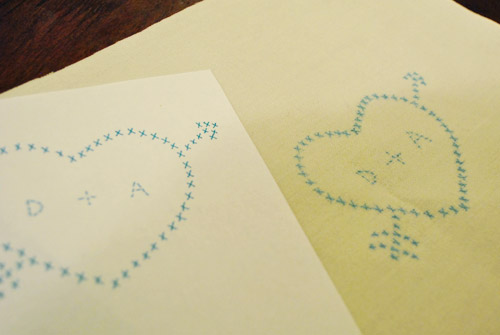 Since I had four shots at this (thanks to cutting my napkin into fourths), I tried my Le Pen first. And I wasn't sure I liked how not-super-crisp the slight bleed made things. So then I tried tracing the same design onto a second fourth of the napkin with a ballpoint pen (which didn't bleed at all). I did it in blue, and black, and even used a red Pilot rolling-ball pen too, just to exhaust a bunch of options.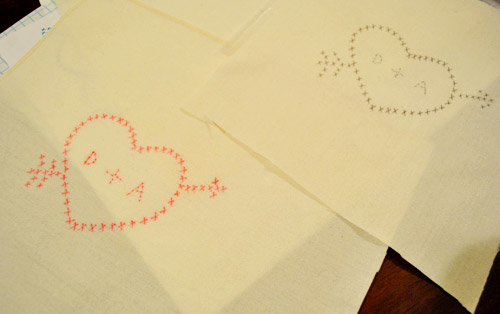 I learned that I actually didn't like the sharp lines as much as the softer and more charming slightly blurred lines from the Le Pen. For some reason it just looked more homemade and sweet and sort of timeworn and imperfect – as opposed to sharp and doodled with a pen. Does that make sense?
So I popped my favorite first attempt into my already-on-hand Ikea frame.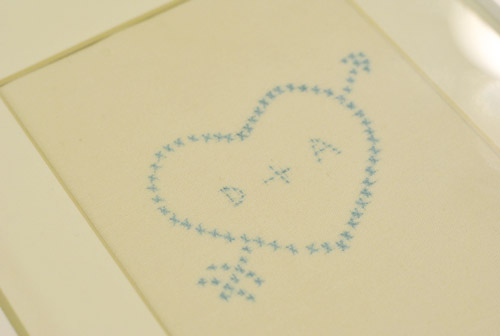 Here it is hanging on our frame wall so you can get a feel for how it might look when hung with a few other things at Dan & Ali's place: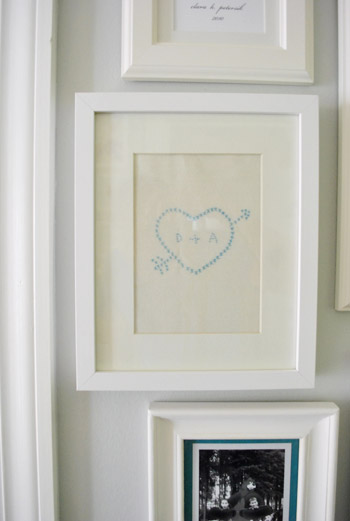 It's kinda plain-jane on its own, but it's a nice little frame for a grouping since it plays so well with other busier things.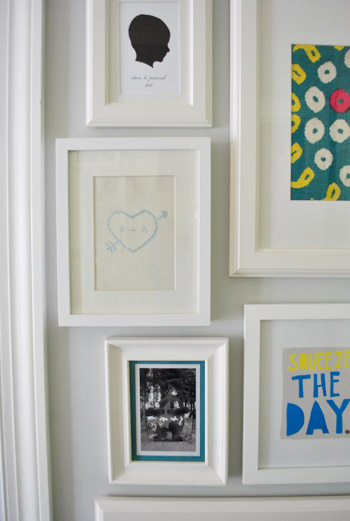 Total spent: $0. But if you count the original cost of the frame, the price of a Le Pen marker, and a scrap of fabric/cloth napkin (if you don't accidentally steal one like my frazzled-mom self) this project might be around twelve bucks or so. And when it came to time spent, maybe it took me half an hour from start to finish? Unless my brother Dan is reading this, in which case it was $100 and took me five grueling days to complete.
Speaking of the one-year-anniversary lovebirds, Dan and Ali seemed to be genuinely charmed by it, so… score. I think they especially loved that it was a stolen napkin from their venue (which was hilarious/meaningful), so perhaps using something special like a swatch from a wedding table runner (or even a non-fabric item like a paper menu or seating card?) could help you create something sort of handmade and personal to commemorate someone's big day in a new way?
So there's the story of a napkin that I accidentally stole, kept around for a full year, and then hunted down in our crazy playroom full o' junk. Please tell me I'm not the only one who has inadvertently taken something that wasn't theirs. And that I'm not the only one to have a giant mountain of odds & ends that desperately need to be sorted/garage saled/repurposed/donated. Oh well, at least I was actually able to locate the napkin without calling in a search crew. That means the playroom can't be too bad, right? Right?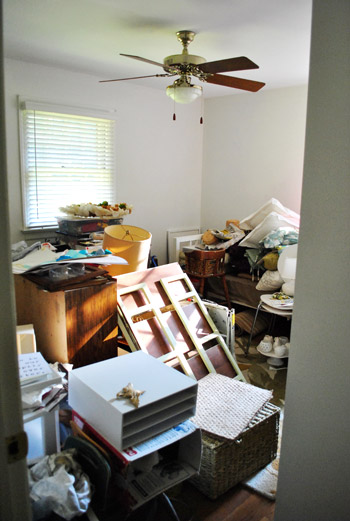 Wrong. It's bad.
What have you sketched/framed lately? Any other accidental kleptomaniac stories? Feel free to make me feel less alone in my little napkin-caper incident.
Psst- After many requests we're spilling the beans about our approach to feeding Clara over on BabyCenter. With our doc's blessing, we tried a method called Baby Led Weaning which meant no purees and no babyfood (instead she got the same healthy foods that we were eating, tweaked so she could safely eat them right along with us). More on the whole shebang here.
&nbsp&nbsp&nbsp