Archive for August, 2011
First off, this post wasn't paid for or perked by Ikea. We just wanted to share a recent pilgrimage. And we like them (especially with this cool announcement). Anyway, some people say you can tell a lot about a person by looking in their purse, their closet, maybe even their iPod. But what may give you a good peek into our lives is a look into our car trunk… after a trip to Ikea.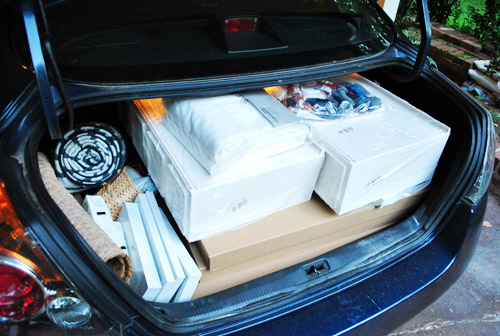 This was the scene after a recent trip. It was our first since my parents moved out of the same area as the Ikea (which is about 90 minutes away) meaning no more quick stops after a family visit. Clearly, we've already become hoarders. Not knowing when our next visit will be we found ourselves grabbing more than usual "just in case" since we were up there visiting friends. Here's the breakdown for ya: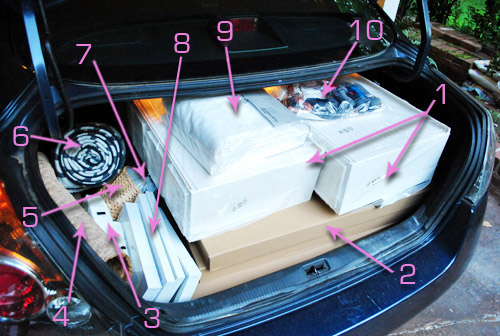 1. Two Retur recycling bins turned shoe cabinets for our laundry room, as you've already seen (they were one – er, two of the main reasons for our visit).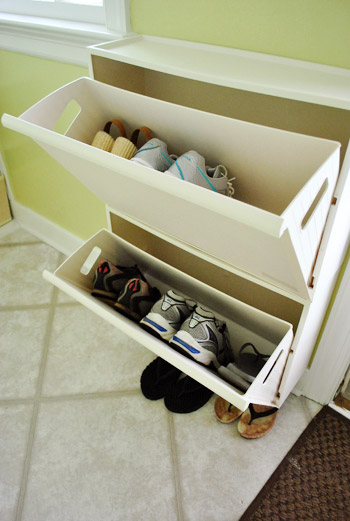 2. The boxes that would become our Effektiv file cabinet for the office, as you've also already peeped here.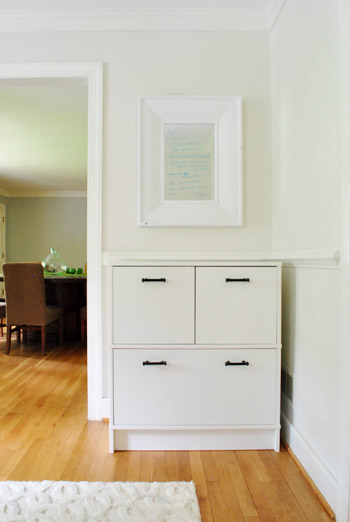 3. Cute napkins for big ol' family gatherings at our house (when we run out of cloth ones). Specifically these, in green.
4. A door mat. Why? Long story short: rainy night + full-bladdered chihuahua who hates to get wet = need for a new mat. We did let the rain rinse it out and planned to continue using it. Problem is Burger had the same plan (guess it was still "marked"). The new one is so far unscathed by this silly dog (who much prefers to sunbathe with his tongue out).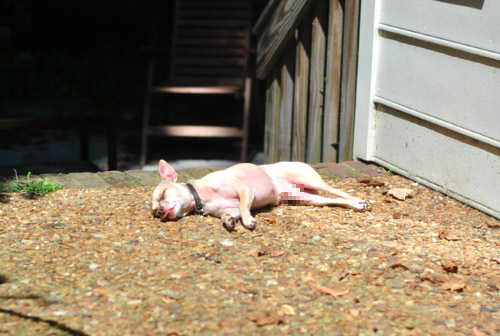 5. Two woven planters. Because we're suckers for natural textures. And in need of more indoor plants 'round here.
6. This blanket. We were so excited about this purchase. We'd been hunting for a spare blanket to keep in the living room, since our current brown one doesn't jive with Karl as much as we'd like. This one looked perfect. Problem is, it doesn't feel perfect. Despite a couple of washings, it's still a bit scratchy. And because of those couple of washings, it's a bit unreturnable. Shucks. At least it still looks good! Maybe someday we'll use it to recover an ottoman or something. But warning: this is not a blanket that you want to get cozy with for very long (Sherry plans to layer it with the softer one underneath it during the winter months for extra warmth without the scratchy texture touching her skin).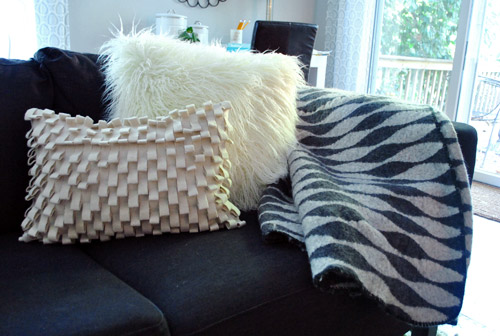 7. A light kit. Since we used our other "spare" for our clothespin light, we wanted to have another on hand. Someday we'll get around to hanging the paper lantern that we picked up a while back in the playroom. We were just paranoid that Ikea will stop making them when it finally comes time to tackle that room (and at $3.99 they're cheaper than any others we've encountered).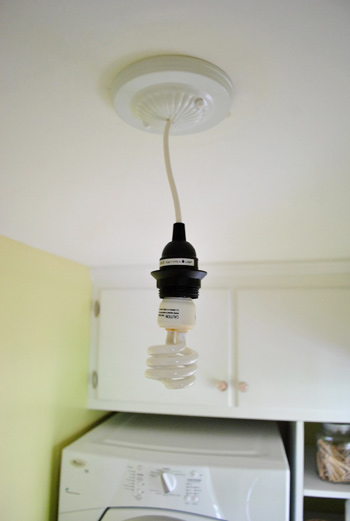 8. Various white frames. Do we even need to elaborate on that after this and this? We just figure they're always good to have around, and we still have a lot of bare walls and about five million cute baby and dog pictures. Yikes, we're those people.
9. A white duvet cover that we thought could work in our bedroom. Long story short, we're still on the fence. So it's still sitting in the packaging until we're sure (since Ikea doesn't take back opened bedding). At $50 for a king sized duvet and two shams it was a pretty good deal (we just wanna be sure there's nothing else out there that we love more) so we'll keep you posted.
10. Toys! Since we've admitted in point #8 that we're quickly turning into "those people", we couldn't resist getting Clara this soft set of farm animals (she loves farm animals) and a soft set of tools (we desperately want her to love tools). The good news? She LOVES them both (esp. the goat and the ruler). Bad news? It's not teaching us a lesson about buying her too many toys…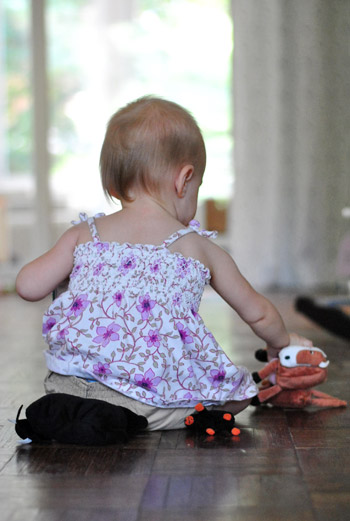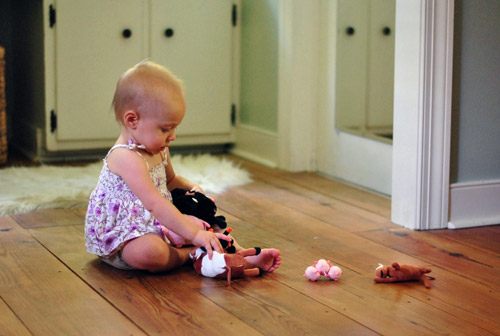 We also scored a couple of other items while there that didn't make it home in the trunk. For example, thanks to being on the catalog mailing list I got a random email about joining this new "Ikea Family rewards program" the morning before our trip. So I picked up my free card later that afternoon right in the store from this handy little futuristic kiosk: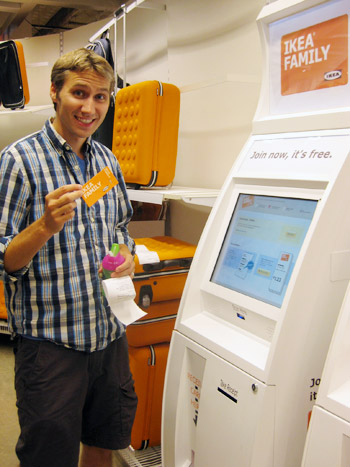 I don't totally understand exactly what it gets me, except for a free coffee or tea at each visit. Sold. Except that it would have been a more time-efficient idea had we not had to linger in the restaurant area for twenty minutes while Sherry waited for it to be cool enough to sip (my wife is such a diva). At least it bought us plenty of time to take pictures like this one of Clara "drinking her tea":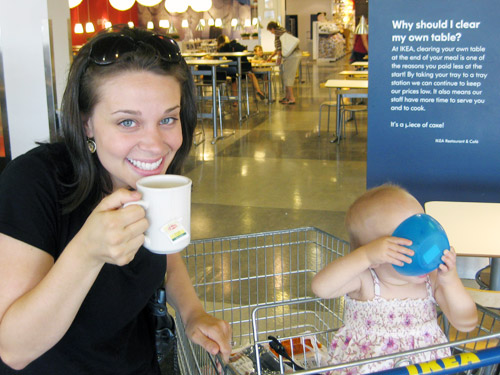 And on this particular visit thanks to picking up that free Ikea Family card we also got a free ice cream cone. Guess saving that buck really makes up for all the money we spent on everything else, right? Clara demonstrated her appreciation by smearing it all over her face. And it was adorable.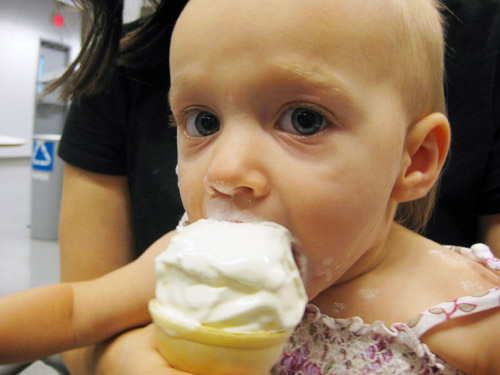 Do you guys have any recent shopping trips that are particularly indicative of your personality or a particular moment in time? Perhaps a recent grocery store run for a party you're throwing? Or a spending spree at Bed Bath & Beyond or Office Max? Do you have more Ikea, Home Depot, Lowe's or Target receipts than you can even count these days? We used to feel like we lived at Target, but lately it has been Lowe's and the ReStore.
Psst- We (finally) picked this week's random giveaway winner. Click here to see if it's you.
&nbsp&nbsp&nbsp
How you like them handles?
(Handles, apples. It's all the same. Right Matt Damon? What? You don't think Matt Damon reads this blog? Of course he doesn't.)
Anyway, I'm back to share the hardware makeover play-by-play and a ton of pics that we couldn't squeeze into our door-painting post on Wednesday. So fasten your seat belts. Oh yeah, it's gonna get crazy. First I have a secret. The hardware on our sliding doors in the living room looked like this: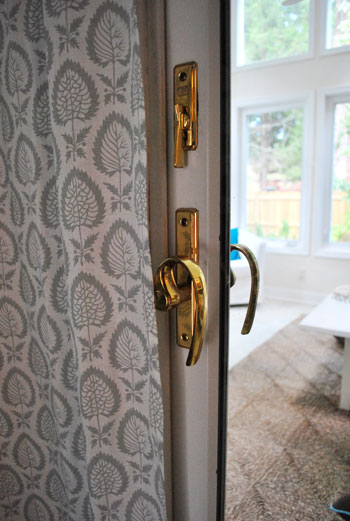 Le yikes, right? It's all sorts of bad with the swoopy handle and the Donald Trump-ish gold finish. Sidenote: remember when I had a dream about The Donald? Memories.
If you look a little closer it's not even shiny and new looking gold, it's all rusted and neglected…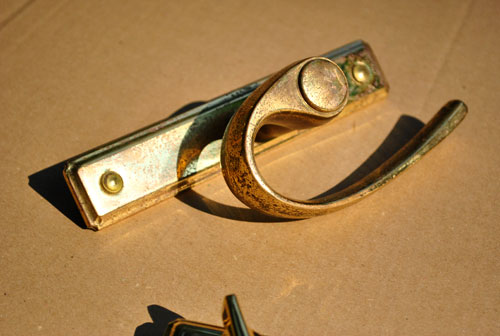 So as you can probably tell from the photo above (duh) down they came. We stripped the hardware off of both of the sliding doors in about five minutes (I took one side while John got the other one) by just unscrewing things on the front, back, and side to free them with a regular old philips head screwdriver…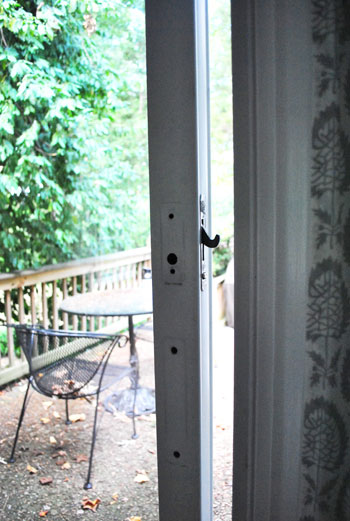 … and then we removed the doorknob and the rusty old door knocker on the front door (also with a screwdriver – there were exposed screws that we just removed from the back).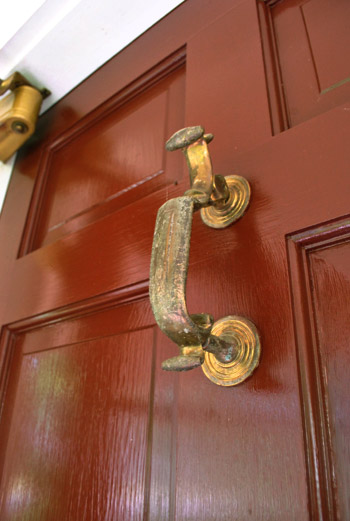 You can check out our door-painting post for more details on that stuff (like how we sanded the paint around the hardware that we removed so it was nice and smooth before painting).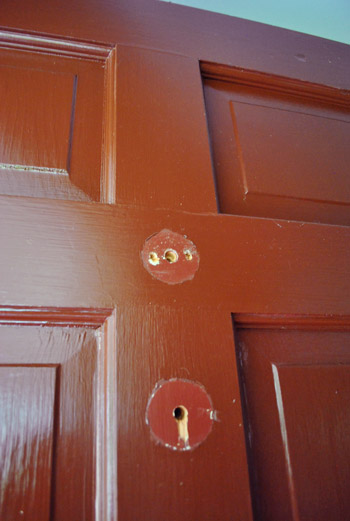 But back to our pile o' removed hardware. Here we have the sliding door hardware along with the doorknob, deadbolt, and the door knocker from the front door: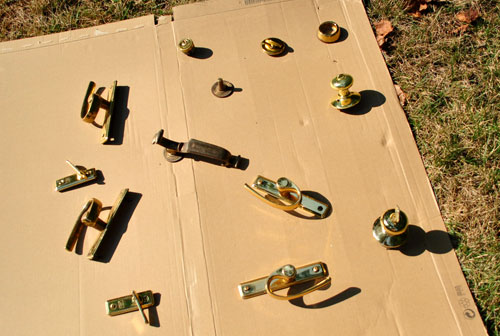 It was like a Gold Hardware "Where Are They Now?" Special on VH1. Some folks weren't as crusty as others, but they were all well past their prime.
So after some decent amount of online research and chatting up the paint pros at Lowe's (there's a woman at the one near us who is phenomenally knowledgeable) we learned that the most recommended method for refinishing hardware (to gain the most durability and long-lasting finish) was:
Sand as much of the hardware as you can with high grit (200+) sandpaper to rough it up
Use a liquid deglosser (like Next, which is low-VOC and biodegradable) to degloss everything to get oils and sanded particles off of the hardware before spraying
Apply one thin and even coat of high quality spray primer meant for metal (we grabbed Rustoleum Painter's Touch Ultra Coverage Primer in gray since we figured it would blend more than white)
Apply two to three thin and even coats of high quality spray paint meant for metal in your color of choice (of course, our poison was: Rustoleum Universal Metallic All-Surface Spray Paint in Oil-Rubbed Bronze)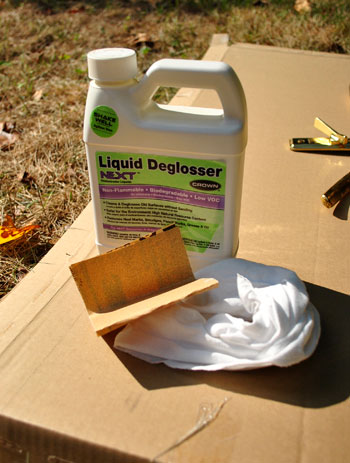 So I grabbed my high grit sandpaper and started on the first step: sanding.
Ahhhhhhhhh. Baaaad idea. The sandpaper left tons of obvious scratches in the gold finish that I knew wouldn't completely be covered by thin coats of primer and spray paint. I should have taken a picture of the one side of the doorknob that I thought I ruined with the dumb sanding step but I was too busy freaking out. So naturally I made some sort of sound that resembled a walrus screaming and chucked the sandpaper as far away as possible while cradling/apologizing to my doorknob and promising him that I'd never hurt him like that again. Luckily I realized the knob would be installed with that part underneath, so only Clara-height children may be able to see the slightly roughed up texture on the underside. Whew.
Update: A few smarter-than-me commenters recommended trying steel wool or super high grit automotive sandpaper to rough up the surface, so I plan to try that next time. Just tossing that out there for anyone who might be doing this (who may want extra "insurance" that the spray will hold).
So it was out the window with step one, and on to step two: deglossing. I just used some rubber gloves and a rag to apply Next Liquid Deglosser (which is low-VOC and biodegradable) and then let everything dry a little so it wasn't soaking wet before moving onto step three: applying one thin coat of spray primer. But when I went to grab the primer I noticed something intriguing on the ORB can next to it. It said "paint & primer in one" right on the label. Duh. No need to beat a dead horse.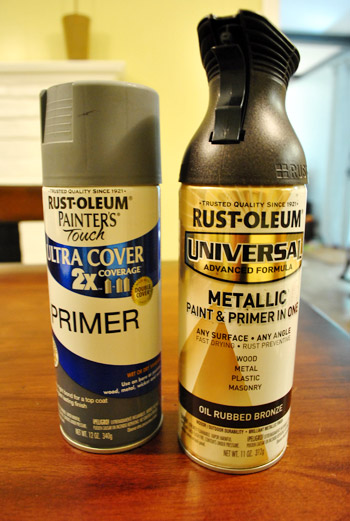 So I trusted my beloved ORB spray primer + paint to lead the way and just applied three thin and even coats to all of my hardware (that I strategically placed on cardboard so I could access all of the exposed parts by piercing the long metal interior hardware rods through the cardboard so they stood up). I will now repeat that thin and even is the key when it comes to spray paint. If you apply thin & even coats they won't be globby and thick, and they'll bond/cure very strongly, which will greatly reduce any issues with things flaking, scratching, or peeling down the line.
Oh and see that key? That's a secret.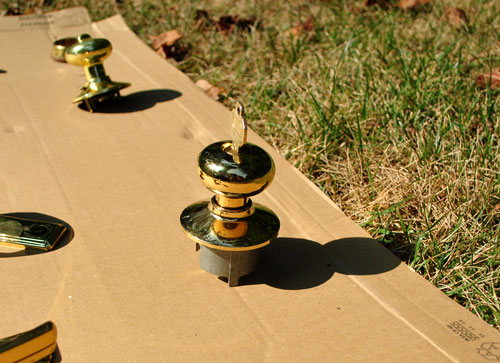 I decided I didn't want to muck up the inside of my lock with spray paint, so I used a spare house key to block the spray from getting into the lock (while allowing me to access the rest of the knob). I didn't push the key all the way in for fear that the top of the key would block some of the outside of the doorknob, so I just stuck it halfway in so it would block the interior part without inhibiting access to the metal facade around it. Then I just removed it and used it on the deadbolt's keyhole when I sprayed that.
Oh and another spraying tip would be to put all of your screws into the hardware and pierce them through the cardboard so the ends of them get sprayed to match (like the two that you see below). Also, be sure to move things like latches back and forth between coats to make sure you can access all areas of the hardware with spray paint. Like this…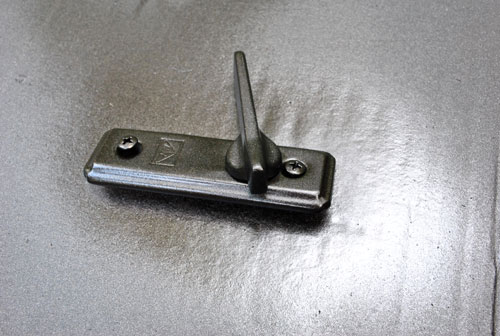 … and this: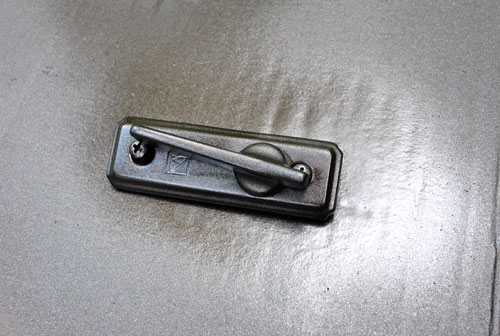 About an hour later (I probably waited 20 minutes between each of my three thin and even coats, just to be sure it was nice and cured before piling more on) I was left with these beauties: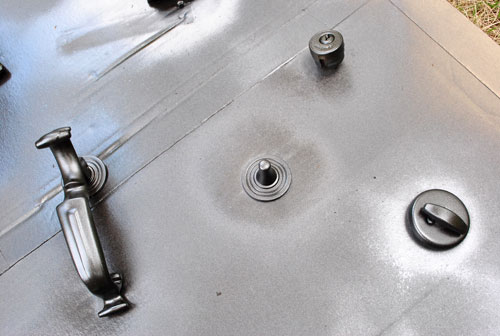 Who sees a winking face? Just me?
I probably waited six full hours after my last coat of spray paint before reinstalling anything. Just to give them a lot of time to fully cure and ensure that I wouldn't scratch or ding something while putting them back on the doors. I can't speak to the long-term durability of this process since it has only been… oh, about 48 hours. But I can tell you that reinstalling them went really smoothly and everything works just as well as it used to and nothing was even remotely marred or dinged during installation or in the past two days since.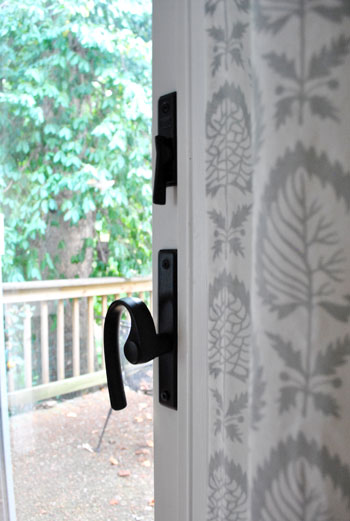 So I guess we'll check back in with an update about how they hold up over the long haul (these doors are used every single day thanks to a dog who loves going in and out). But so far, so good. And it definitely beats buying all new hardware (we figured we didn't have anything to lose in trying to make the old stuff work before resorting to trashing it and splurging for all new hardware).
Oh and it bares noting that things look pretty black in some of these pics, but it's just because ORB is a mystical creature. So it's hard to capture the true color that you see in real life (which is a rich metallic-y chocolate). Actually, the exterior sprayed shots above show the true color really well. It still looks like that inside, it's just seemingly impossible to get it on film.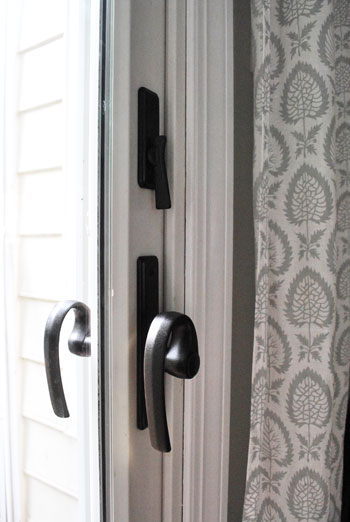 Perhaps the most exciting thing is that in taking this style quiz, the thing that I loved most about the room they said was "my style" was the white door with the dark hardware. And now it's mine. All mine. Mwahahaha. (<– yup, I broke out my maniacal laugh)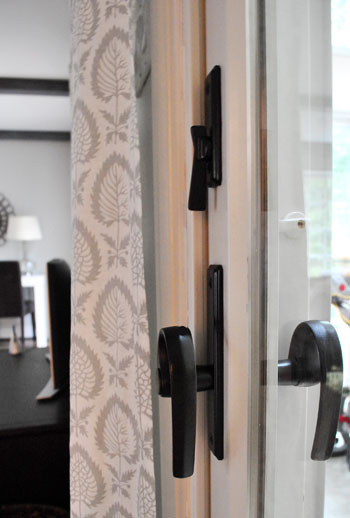 I think it looks delish with the oil-rubbed bronze curtain rods and the dark beams. And John digs it too (delish just isn't an adjective he's apt to use).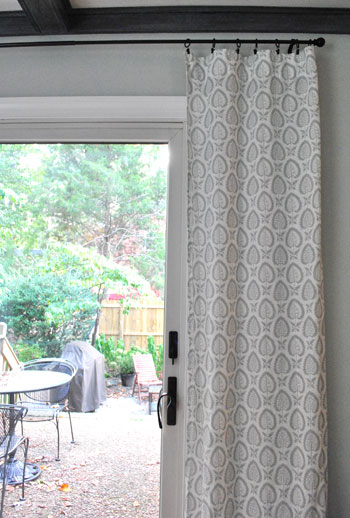 Me-ow old sliding door friend. My how you've matured. Well, as much as a twisty twirly old 80's knob can really mature.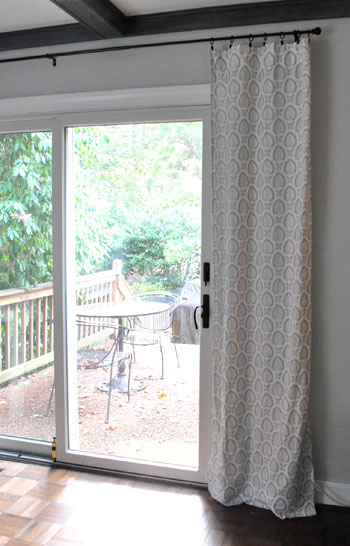 And you've already seen our freshly sprayed front door hardware, but let's just revisit it for a moment: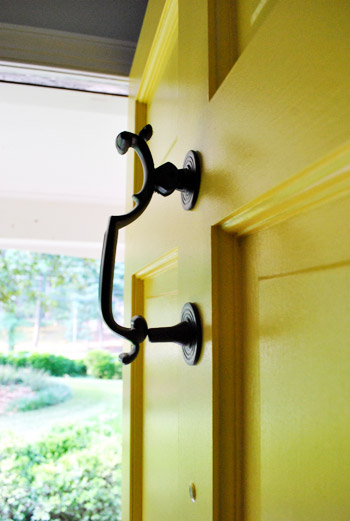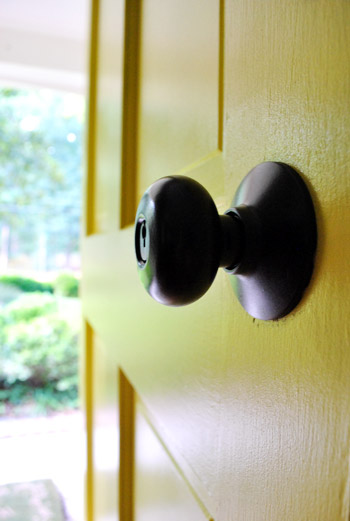 So yeah. We're happy with our little almost-foiled-by-the-sandpaper process. Although I must admit that after I sprayed the underside of the knob, the scratches were hardly noticeable. So maybe if you're a staunch rule follower (and not a freaked out walrus impersonator like me) you could get away with the sanding step. Either way, I have high hopes that the deglosser and included-primer will do their job when it comes to adhesion (especially since our old scratched and rusted fixtures weren't too glossy or shiny to begin with).
As for the ORB finish: Hi my name is Sherry, and I'm addicted to oil-rubbed bronze. They say you can't help who you love. But it could be worse. I could be addicted to sanding things, which would have been a cruel joke since sandpaper was the kryptonite of this project. I wonder why. Has anyone else successfully sanded their metal hardware before spraying it? Was it not all scratched up? Maybe it just looked "brushed" in the end? I just didn't trust myself to do it all in one consistent direction (aka: not make a hot mess that was oh so obvious after the spray-job). So in summary, my method was just to: use a liquid deglosser (although I'll also try steel wool or extra high grit sandpaper next time), lay everything out on cardboard standing up so it could be sprayed evenly from all angles, use a half-inserted key to block any keyholes, spray everything thinly and evenly in 3 coats applied every 20 mins or so, be sure to move toggles and locks so all parts of the hardware were sprayed, and let it cure for about 6 hours before rehanging it.
Oh and the total cost of this project was $6 for the spray paint (I was able to return the unopened can of primer and I already had the deglosser and that dastardly sandpaper on hand). But for someone who needs to purchase deglosser, you might want to budget four more dollars for that. Considering a new knob, deadbolt, knocker, and two locks and four handles for our sliding doors would probably come to about $200, I think we got one heckova deal. So I'll let you know how they hold up. If they're anything like our ORBed sofa legs (which we sprayed five months ago, and they still look mint) we'll have bona fide jazz hands going on. So it's probably only a matter of time before I really go nuts and remove every last interior brass door and hinge and go to town. Like I said, my name is Sherry, and I'm addicted to oil-rubbed bronze. Holla.
UPDATE: Our handles are still holding steady. Check out the update post here.
&nbsp&nbsp&nbsp