Archive for August, 2011
Last Friday on this post we got this comment and thought it sounded like a good time: "I love your videos and it's crazy to see the difference in YHL style from the first house to this house! If you wanted to do a side-by-side of rooms past and present, I wouldn't hate it :)" – Sarah
I decided I wouldn't hate it either. So here we go. It's a battle to the death. First house vs. current house. Cue the dramatic music and picture me in a Gladiator outfit. Of course it's kind of an unfair fight since we've been in this house for eight months and it took us four and a half years to finish our first one (and we definitely expect this one to take us at least that long since it's bigger and we have crazier plans). So think of this as finished vs. in-progress (aka: cut the current house a little slack). Oh and we stole most of the current house pics from our House Tour page, hence the big "progress" label on the bottom. Anyway, it's on:
The Front Yard, First House: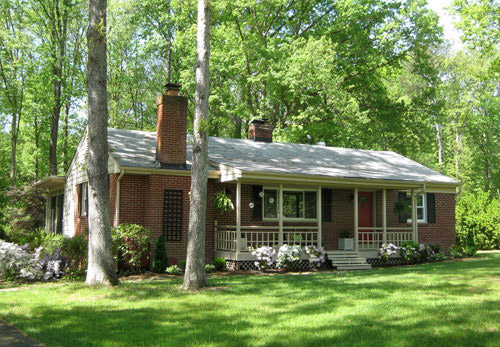 The Front Yard, Current House: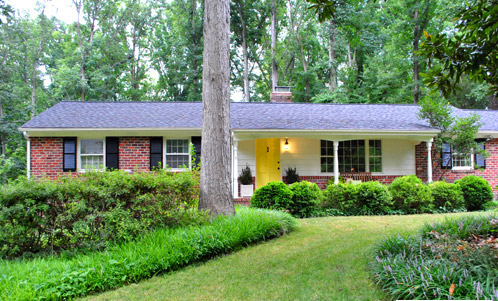 Winner: The first house. That's an easy one. It took us over four years to upgrade it from this disaster, and we still need at least three more years on our current one, since from other angles it looks like this unfortunate mess.
The Front Porch, First House: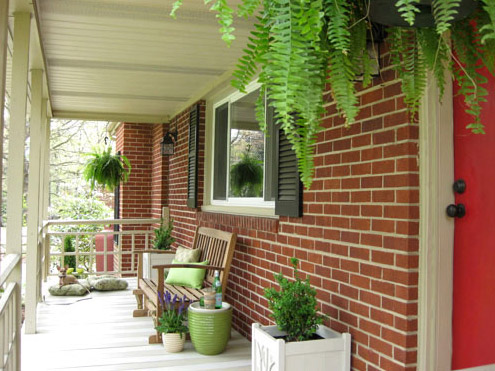 The Front Porch, Current House: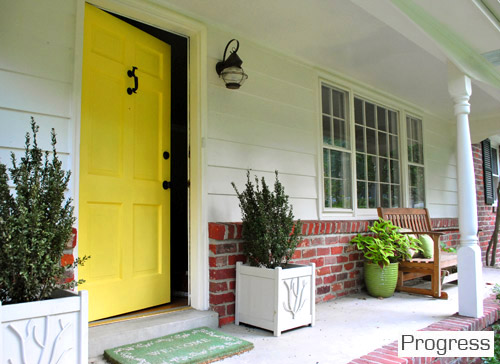 Winner: The first house. We actually would give the front door win to our second house (we loved the red but we lurrrve the yellow). But we still have big plans for boxing out the porch columns and staining the concrete and doing about a million other things at our new digs – and the hanging ferns and tan-and-cream stripes on the first house's porch were a few of our favorite things.
The Living Room, First House:

The Living Room, Current House: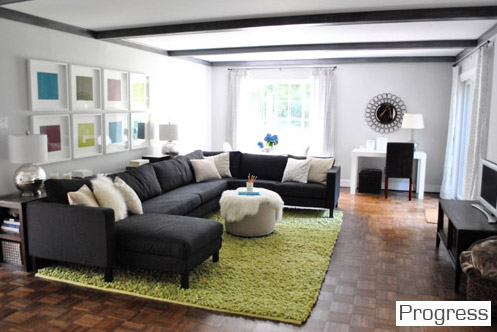 Winner: Our current house. This might be a controversial choice since our current living room is nowhere near done (and still looks like a hot mess from certain angles), but we never really used our formal living room in the first house (we had a den for TV watching and chillaxing). So we feel tons more at home in the current living room where we can sink into our giant sofa, play on the cushy rug with the bean, and even eat by the big window at the pedestal table in the back (sometimes while watching TV, we'll admit it).
The Kitchen, First House: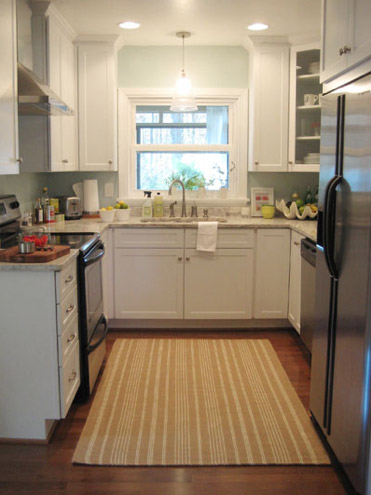 The Kitchen, Current House: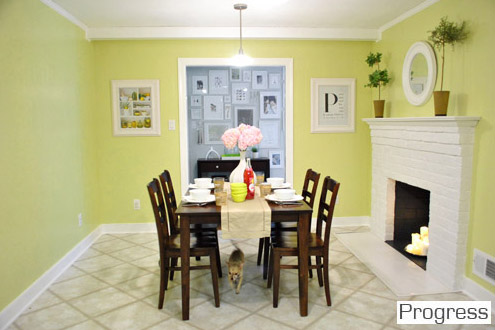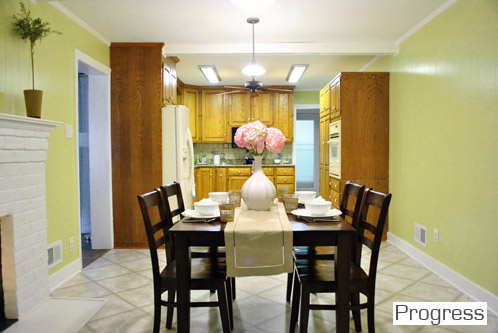 Winner: Is it lame to say it's a tie? The first house's kitchen made our hearts go pitter patter when it came to the granite counter, shiny white cabinets, and the stainless steel appliances… but it was tiny. The new kitchen, although extremely early on in our big makeover plan, is nice and spacious, with a fireplace and room for an eat-in area. And once we knock a huge opening to the dining room, get new appliances, paint the cabinets, and upgrade our old table for something built-in, we think the current kitchen will take the win, hands down. So I guess it's a tie just because the last one was full of loveliness but pretty small, and this one is full of space to spread out and some serious promise.
The Hallway, First House: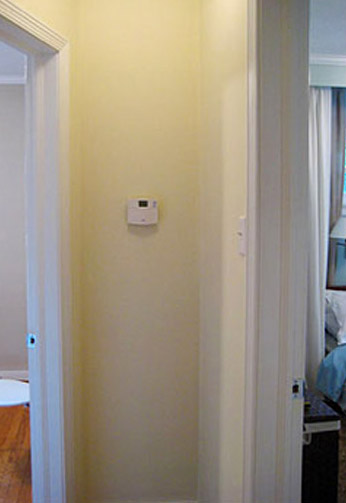 The Hallway, Current House: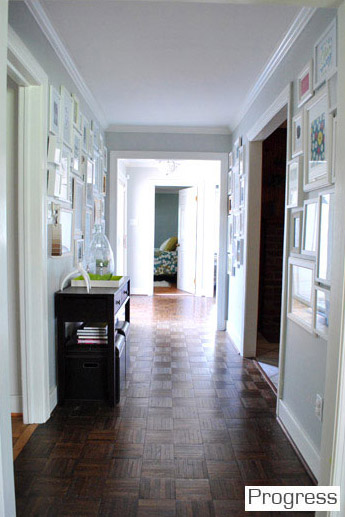 Winner: Current house. We're so thankful to have a nice wide, light-filled hallway. And the giant family gallery of frames makes us feel all warm and fuzzy.
The Spare Bedroom, First House: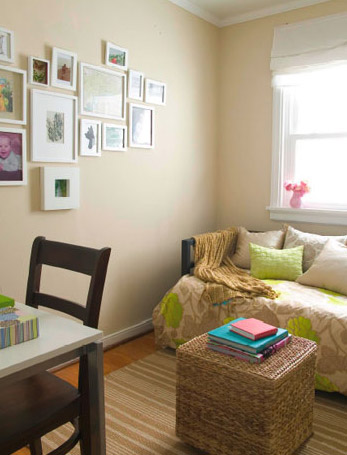 The Spare Bedroom, Second House: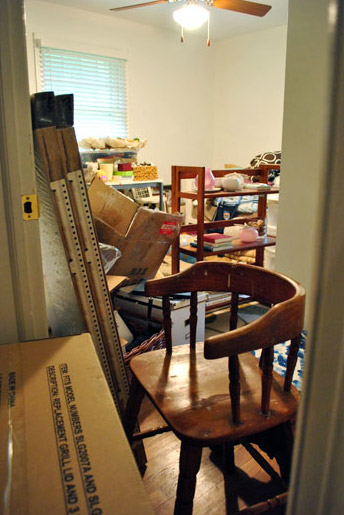 Winner: The first house. Duh. Although this picture is stolen from an old post about how messy the playroom was before my mom helped me clean it, once again it looks almost this ca-razy. So yeah, the clean little room with a daybed and a desk was a lot less hive-inducing.
The Nursery (Formerly The Third Bedroom), First House: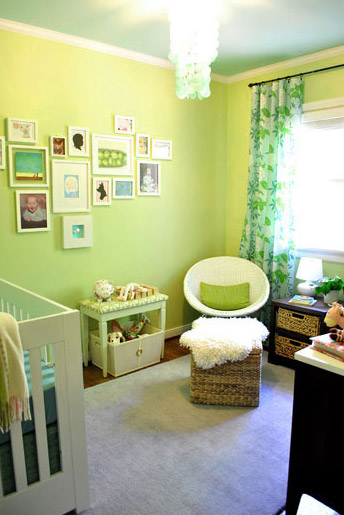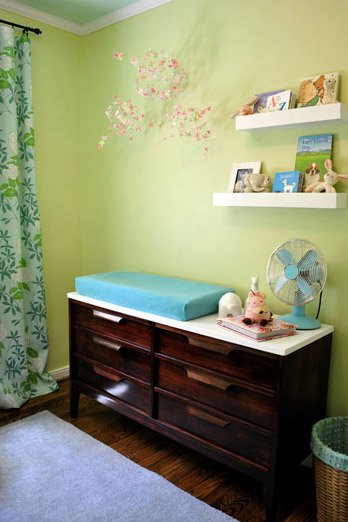 The Nursery, Current House: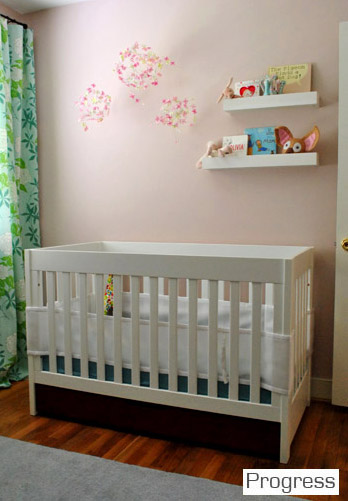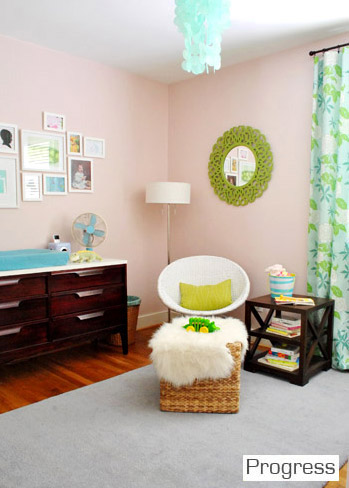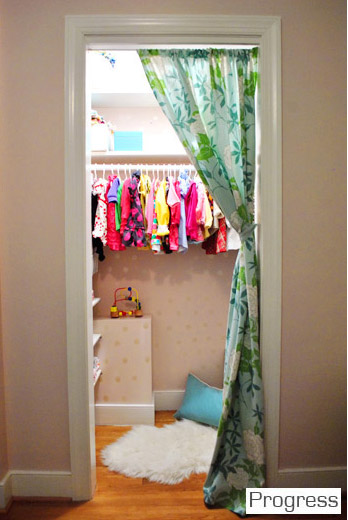 Winner: Current house. But it was a hard call. We loved the room that we took Clara home from the hospital to so much. It just was such a sentimental space. But the bigger closet in the current room (which Clara now uses as a reading nook) gives her current room the edge.
The Master Bedroom, First House: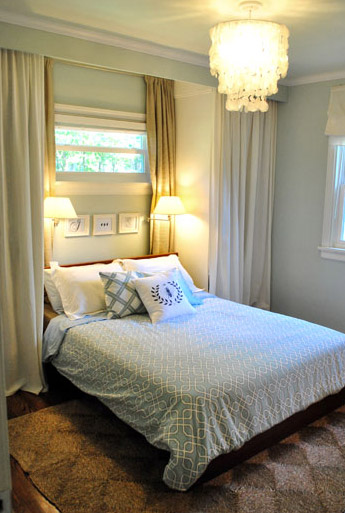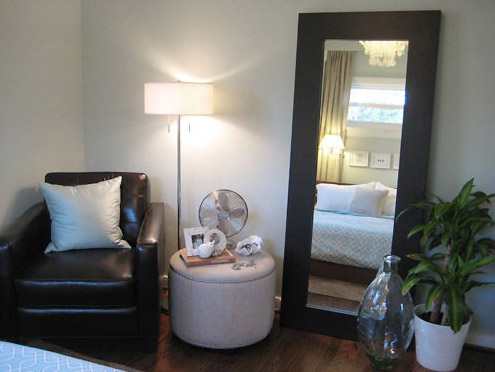 The Master Bedroom, Current House: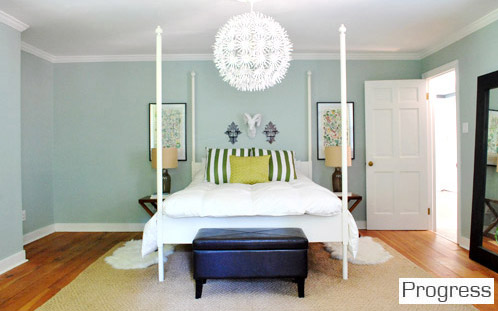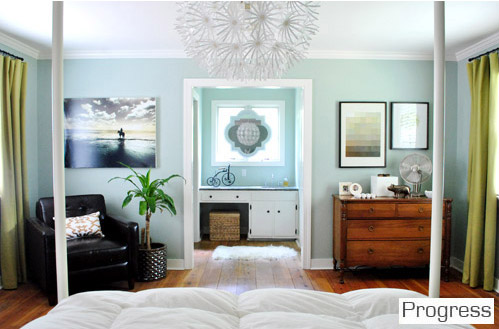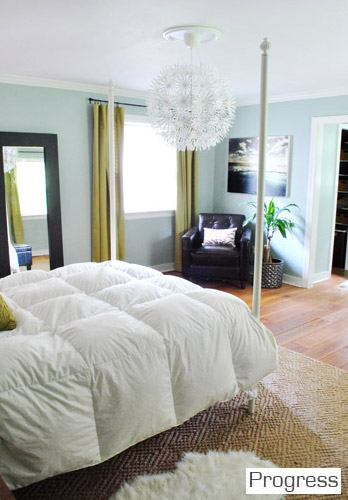 Winner: Current house. Even though it's only about 20% done, sleeping under that big chandelier which reflects perfectly in the mirror that we hung above the sink makes us geeky-giddy. And of course having a walk-in closet and a master bathroom that's actually connected is a huge step up. Although the built-ins that we created with doorless Ikea wardrobes to flank the bed in our first house (and provide some much needed storage) always have a special place in our hearts.
The Master Bathroom (located in the hall), First House: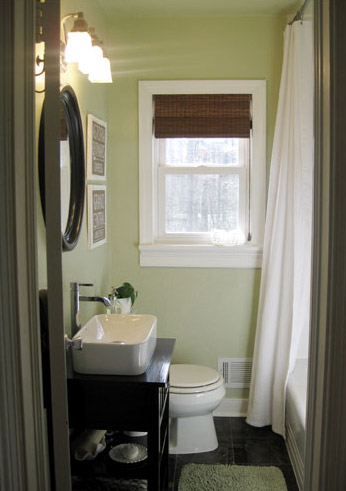 The Master Bathroom (actually attached to our bedroom this time), Current House: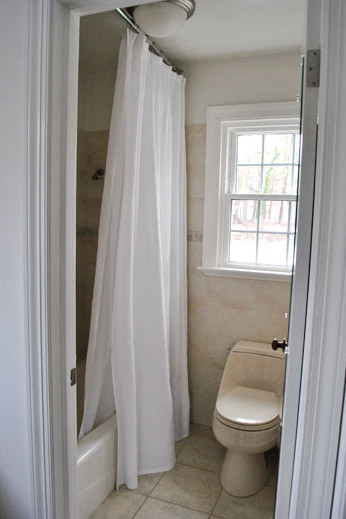 Winner: First house. By a mile. We loved that complete bathroom gut job more than words can say. And we haven't really touched our new one. But we can't wait to update things (check out that bisque toilet). We'll probably love this one more someday, since it's attached and doesn't have to be shared by everyone in the house.
The Office/Guest Bedroom/Playroom, First House: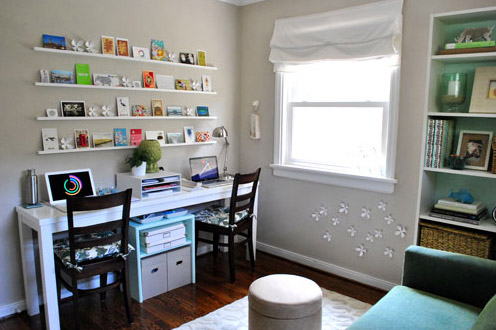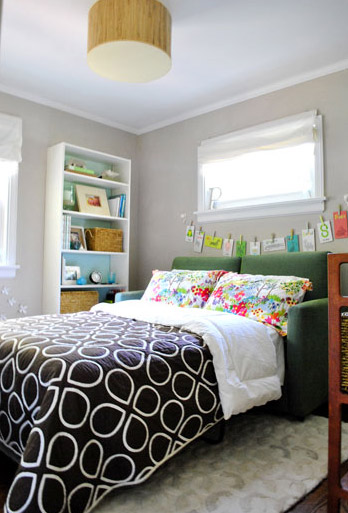 The Office & Guest Bedroom (which are now separate rooms), Current House: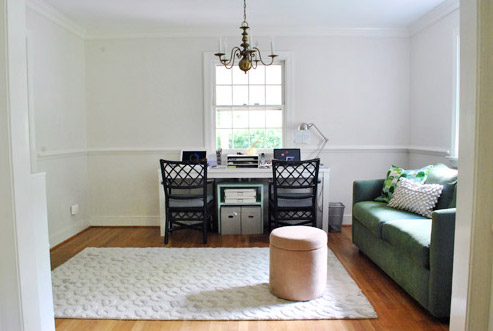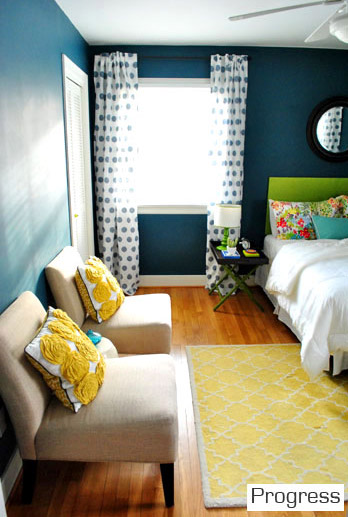 Winner: Current house. The office in our first house was such a great multi-tasking space, but it was teeny and it made us feel a little cramped when we were all in there (just look at how small the desk that used to take up a whole wall looks in the new office pic to see what we mean). And when guests came to town it was hard to do blog stuff (which definitely doesn't stop on nights and weekends) since the office was occupied by family & friends. So although our first home's office/playroom/guest room was such a fun space, it's a lot more functional to have our own cheerful guest room (with its own attached bath) for guests. Although we wholeheartedly admit that our current office situation "ain't got no alibi, it's uggggly (hey, hey) it's ugly."
The Den, First House: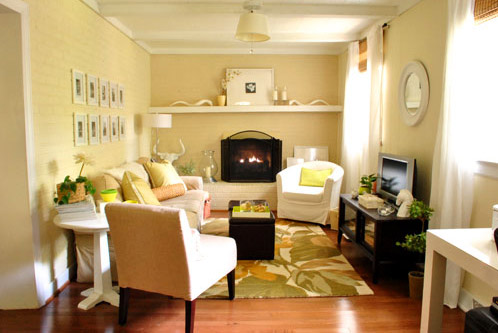 Winner: The first house. 1) Because our current house doesn't have a den, and 2) Because our first house's den was one of our favorite rooms ever – so cozy.  Although the room that we call "the living room" in our current house could have been a den (but instead we opted to turn what used to be a formal living room into a spacious dining room to accommodate our huge family who couldn't squeeze into the dining room behind it, which we made into the office). We decided that one huge casual room for TV, reading, playing, & hanging out was more than enough, so we didn't need a second formal living space in the front (especially because we didn't use the first house's formal living room much at all).
Dining Room, Current House: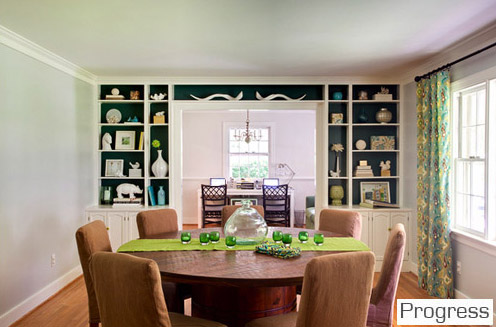 Winner: Current house. 1) Because those curtains are my babies and we're enamored with the dark teal color that we painted on the back of the built-ins, and 2) Because our first house didn't even have a dining room (it just had a dining nook in the corner of the living room). Well, originally it had a small dining room off of the other side of the kitchen but we closed off that doorway to turn it into a third bedroom which later became the nursery since we needed that space far more. It's all much more clearly explained here.
The Laundry Area, First House: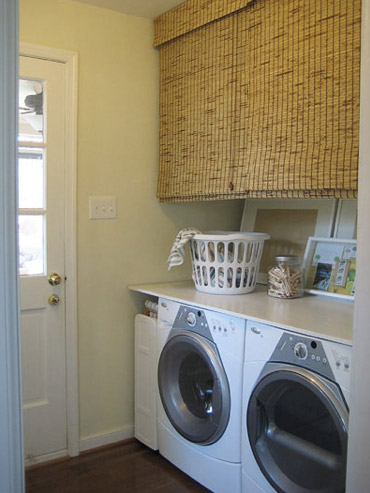 Laundry Area, Current House: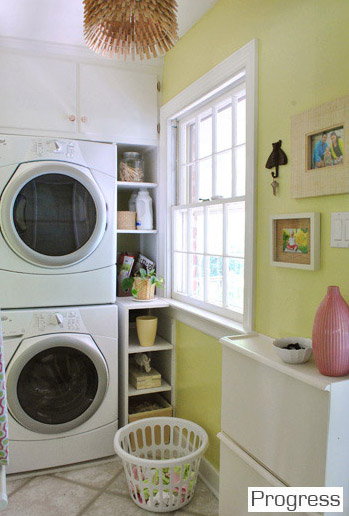 Winner: The current house. We love our new laundry space. Even though it's narrow and we don't have a surface for folding, it just feels happier. Plus we don't have to fight all of our normal human urges to resist clutterering up a big long counter near the door like we did in our first house (it was always full of incoming or outbound stuff). And it's more fun to fold laundry in front of the TV on the sofa in the living room anyway.
The Hall Bathroom, First House: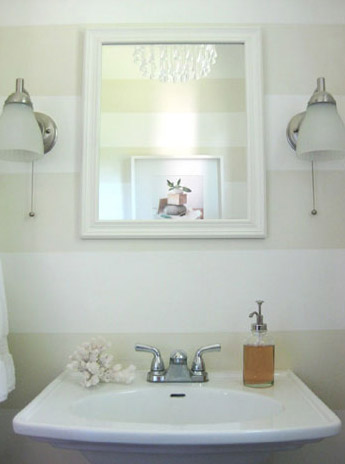 Hall Bathroom, Current House: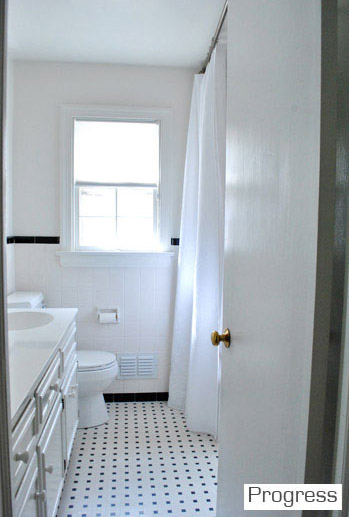 Winner: First house? The stripes and the fun glass chandelier were so charming. And we loved the pedestal sink and the pocket door too. But the new hall bath isn't just a toilet – there's a tub in there, which is where Clara takes all of her baths. So maybe the current house wins for function but the first house wins for sweetness? Either way, that blank slate of a bathroom in the current house is begging for some love. But we'll count this as a point for the first house until we tackle the new one, since that was our first instinct.
The Sunroom, First House: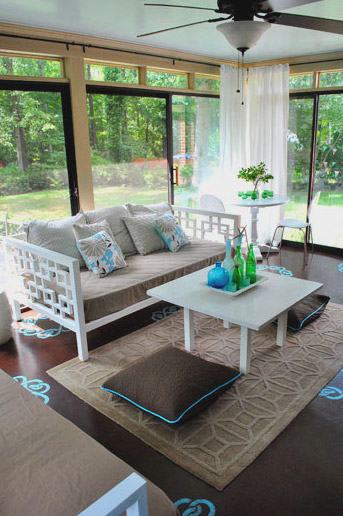 The Sunroom, Current House: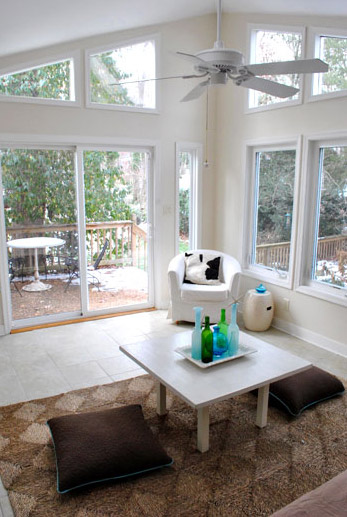 Winner: First house, all the way. We have about ten million things on the list for the current one though, so maybe in four years it'll give our first one a run for its money…
The Patio, First House: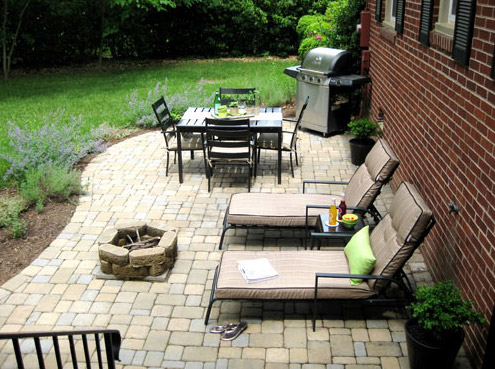 The Patio, Current House: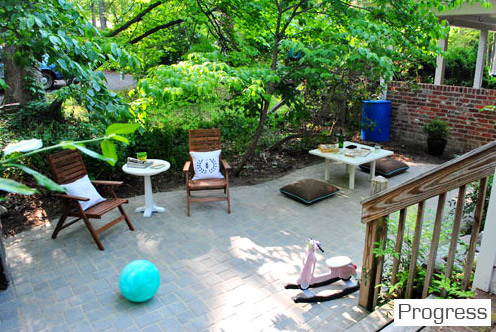 Winner: Current house. Just because it's more spacious and cozy/shaded. But most of all because we did it ourselves (we hired out the first house's patio since we were three weeks away from our backyard wedding and worried that if we tried to DIY it we'd get married next to a half-finished mud pit).
The Basement, First House: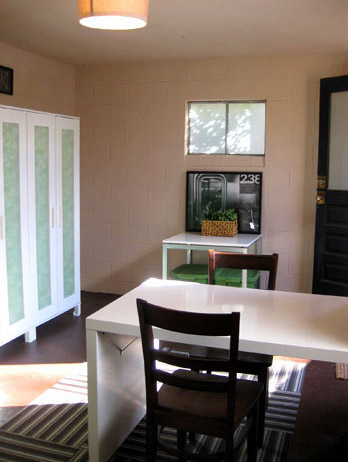 The Basement, Current House: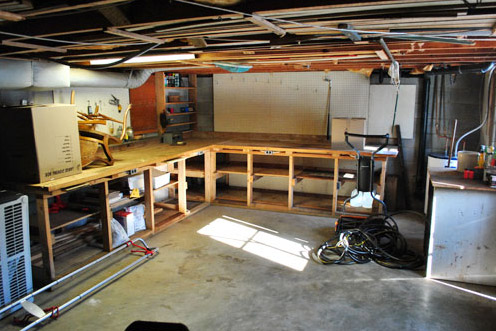 Winner: First house. Because we've obviously spent a little more time on the first one. Haha. But you never know what we'll do down there with our current one someday…
The Backyard, First House: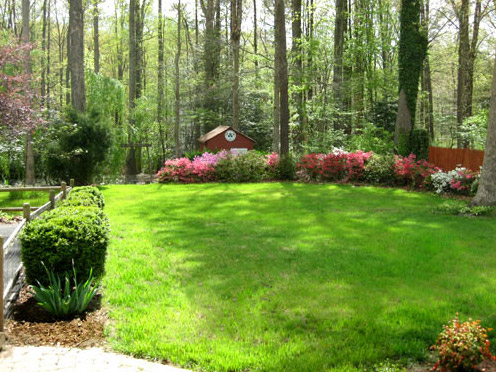 The Backyard, Current House: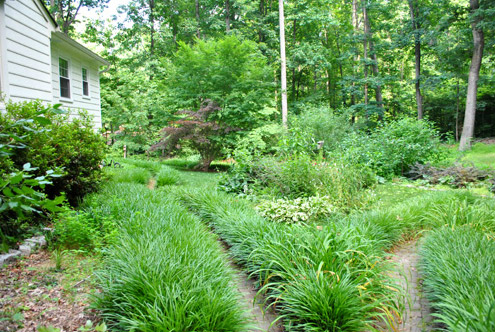 Winner: First house. We still miss that lovely flat grassy area surrounded by pretty woods. Someday we'll get there though (after lots of transplanting, to hopefully make a little grassy spot for Clara and Burger to romp).
So there you have it. I think the final tally is 9 to 8 (with our first house in the lead). But I guess in fairness we should revisit this whole comparison thing when some of the spaces in the new house have actually been updated a bit more. That was a really fun little comparison though, Sarah. Thanks for the suggestion. It's interesting to see how our style is gradually evolving, although we always have a soft spot for the tone-on-tone look of our first baby- er, house. What do you guys think? Have you ever looked at photos of your current house next to photos of a previous house to compare what you liked or disliked about them? Isn't it funny how a new house is a chance to completely reinvent yourself, yet you're usually working with a lot of existing furniture, so it still has "glances" of your first style going on? The evolution is definitely all part of the fun.
Psst- Check out a full source list for where we got nearly every last item (and what paint colors we used) in our first house here (we're still working on one for our current house).
&nbsp&nbsp&nbsp
Ok I'm back with part two of the madness that is Me vs. Rocker. But remember my disclaimer from yesterday's post that this entire process was much like when aliens took over my body and I made a quilt for Clara, which is to say: I went rogue. I took in all the advice from you guys along with some google tips and some suggestions from a reupholstering-fiend friend of mine… and just played it by ear and did what seemed to work as I went along. I mean, it's not a family heirloom, it's a $25 craigslist find. But enough chatter, heeeeere we go.
Although there was a sneak peek pic of the almost-finished product at the end of the last post, we were actually here when it came to the play-by-play: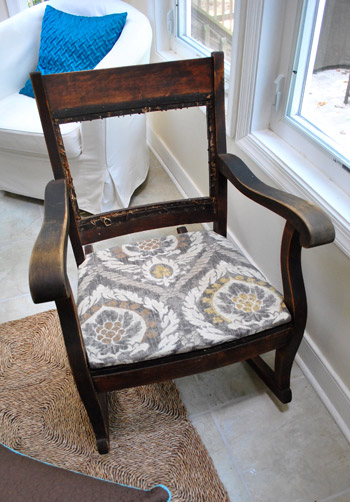 No wait, we had finished that seat and were here after redoing the frame: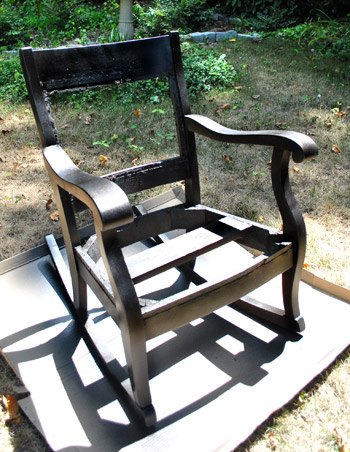 Finishing the seat upholstery and the frame meant I could no longer avoid the most intimidating part of this project: that opening at the top part of the chair that would have to look finished from both sides. And yes, I was skeered. But after reading through a ton of recommendations on this original how-do-I-do-it post from nine months ago (and chatting to a reupholstering-fiend friend of mine) I opted to use one of the more surprising yet most commonly recommended methods: heavy duty cardboard. Doesn't that sound like a terrible idea? I know, it sounds completely wrong. Like bad dollhouse furniture that would be uncomfortable and make weird cardboard sounds when you lean back on it. But I guess a lot of upholstery experts use it and my friend had gorgeously redone an entire dining set with double-sided upholstery just like my rocker using that method. So I went for it. And in the words of Madonna: I'm not sorry (it's huuuuman naaaature). It actually worked out awesomely. Let's get into it, shall we?
First I used four pieces of cardstock to make a template for the opening (to see just how wide and long it needed to be to cover some of the gross hole-riddled parts of the frame that the original upholstery had once obscured):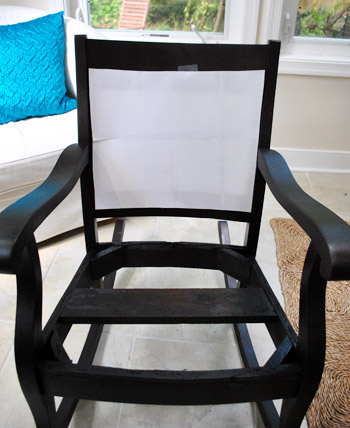 Then I placed that template on the back side of the chair to be sure another upholstered panel of that exact size would work nicely in the back (and cover all the rough areas of the frame that aren't meant to be seen back there). It worked in the back too, so I laid my handy little cardstock template down on some heavy duty cardboard (leftover from our Ikea file cabinet packaging) and traced the shape of the template onto the cardboard.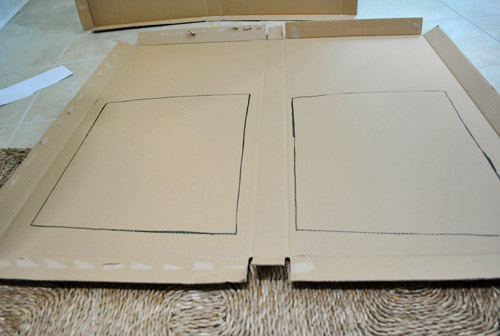 Next I cut each cardboard panel out and used more extra-loft batting and fabric, which I secured from behind to upholster it just like I did to the seat in the first part of this tutorial. Oh and you'll notice I did my best to center the fabric again and pull it nice and taut around the back perimeter. This time I just used one layer of batting underneath it (instead of five like the seat) since people don't sit on the chair back (they just lean on it). I don't mind all wood rockers like this, so I wasn't looking for a ton of top-of-your-back plushness anyway. I just wanted the batting and fabric to give the heavy duty cardboard even more strength and durability. It was actually surprisingly legit looking when I was done. And since I worried that staples would poke through the front of my fabric from behind as I secured the batting and fabric, I used duct tape to hold it in place from behind instead – just until I could staple through everything to attach the panel to the chair (which I knew would hold a lot more firmly over time than tape). I don't think anyone would have guessed it was cardboard and duct tape under there from the front. And the great thing about it was that it wasn't completely unbendable…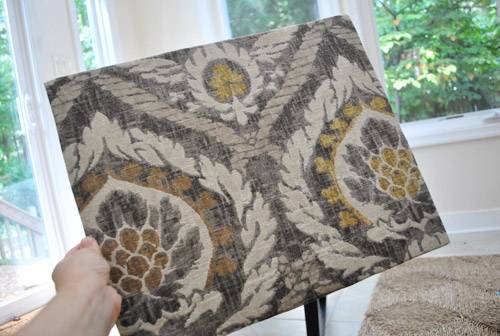 … but once it was stapled (with my regular old staple gun) to the chair about a quarter of an inch from the edge (through the panel and into the frame) it was completely unbendable and appropriately strong.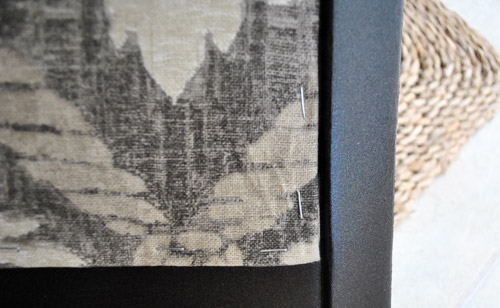 I don't think a kid could stab an umbrella through it actually. It's that strong. See, it gets really nice and rigid once the outside is reinforced with all of those staples around the chair's wooden frame. And it was nice that it wasn't completely rigid (aka: unbendable) before the stapling step because if I used anything more unbendy (like a piece of metal flashing) I worried it would have been really hard to attach. Why? Well, whatever I chose for the panel had to have some flex so it could follow the slight curve of the frame without buckling or folding. In short: cardboard sounds crazy, but the thick stuff that's reinforced with batting and fabric = smooth and completely professional looking. I don't think anyone could thump their hand against it (hard, it can take it) and guess that it was cardboard. And it's completely comfortable to lean on, rock in, etc.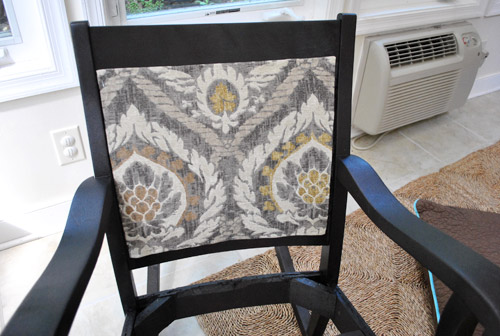 But just stapling the panel around the exterior left me with this dilemma: ugly little visible staples around the perimeter. At first I thought I'd find some sort of trim or burlap ribbon to glue over it (they sell upholstery glue meant for adding trim like that) but the more I looked at options, the more I didn't like the idea of adding more contrasting fabric or trim. Nothing seemed to go with my base fabric, and I didn't want it to look cheap or peel off due to constant use (we work our furniture hard in this house).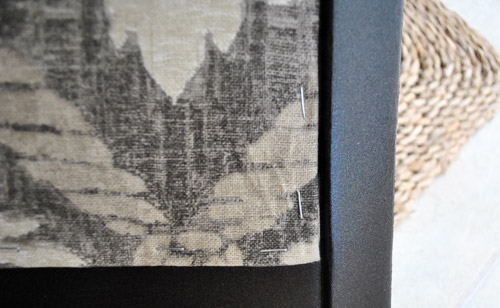 So I did what any novice chair upholstering gal would do, and completely ignored the problem for the time being. Instead I just moved on to making the second panel for the back (again using the one layer of batting + one layer of taut fabric method to cover the panel – secured from the back with duct tape and then stapled to the chair frame to hold everything in place for the long haul).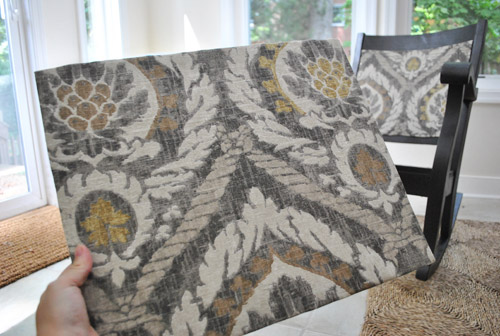 Here's a better shot where you can see how the frame curves a bit, so creating a panel that's not too rigid to follow that curve was key.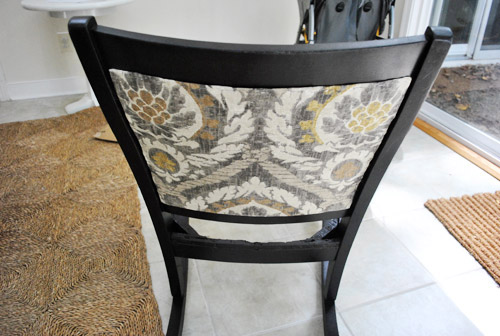 From afar she was looking miiightly fine (this is actually the sneak peek pic I included in yesterday's post)…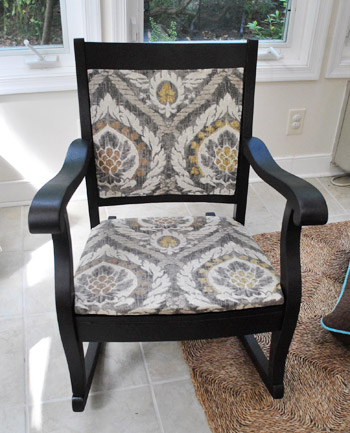 … but up close there was still the visible staple issue around the edge of each panel. So I decided after looking at all of my trimming options at JoAnn that maybe it was a job for nail heads (sold in packs of 24 for $1.50 each). After all I love the gorgeous detailing they can add to things (our living room ottoman has them going on, and I am totally picking up what it's putting down). So I very slowly pried out the staples as I added nail heads down the line instead (the staples could be easily popped out with a flat head screwdriver, and then I just used a small hammer to bang in my nail heads, which basically look like heavy duty thumb tacks).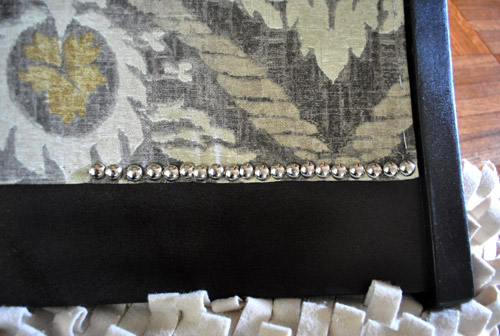 But after a whole bunch of chihuahua-scaring hammering, I stepped back and hated the lumpy bumpy result. They were just far too ganked up on each other and no matter how hard I tried to hammer them in straight, there was a slight wiggled effect and it just wasn't working for me. I had looked for one of those long rows of nail heads that they sell pre-lined-up on a spool (which probably would have been a lot easier) but I couldn't find them at JoAnn (hence purchasing individual nail heads instead). But it was definitely time to figure something else out. So I decided to try to space my nail heads a little further out (sort of the same distance as my staples) instead of trying to make a long dense line…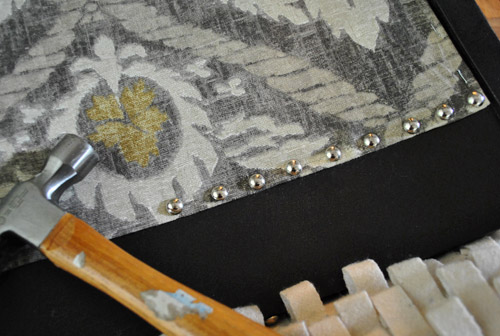 It was soooo much better. I could breathe again. If one was slightly higher or lower than another one it was a lot less obvious this way. And it felt more airy and not as on-top-of-itself crowded.
Oh and just to be clear, I would remove each staple with the flat head screwdriver as I went along and replace it with a nail head. So it wouldn't be smart to remove all of your staples at once or nothing would hold your panel in place on the chair. Moving around the chair and popping one staple out and one nail head in did the trick. And using a small piece of paper or cardboard as a spacer between the nail heads can help you keep them nice and equidistant. Booyah, Dad. I just used equidistant on the ol' blog (he's a math teacher, so that should thrill him to no end).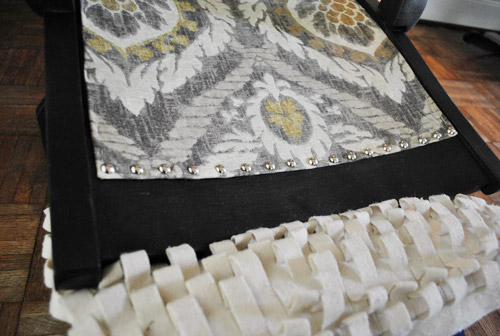 Oh and see that ruffled cream thing at the bottom of the pic above and below? That's just a pillow from the sofa because I was banging the chair pretty hard, so I didn't want it rubbing against the floor with every hit. Poor pillow. I'm happy to say that he made it through. And here's what I had going on after doing three out of four sides of the front panel: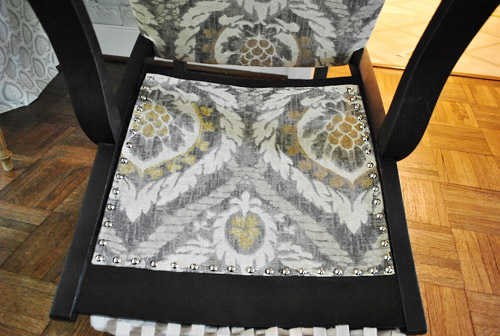 Not bad, right? It was nice because it made the whole chair feel kind of special and expensive in a way that I feared glued cording or trim couldn't. But I'm not gonna lie. This is the hardest step by far, physically. You get sweaty and gross from all that extra-hard hammering and it's just downright tiring. It's also super frustrating every once in a while when your nail head inexplicably bends as you hammer it in, which means it is rendered completely useless (and results in a bunch of annoying waste in the end). Just look at this pile of "brokens":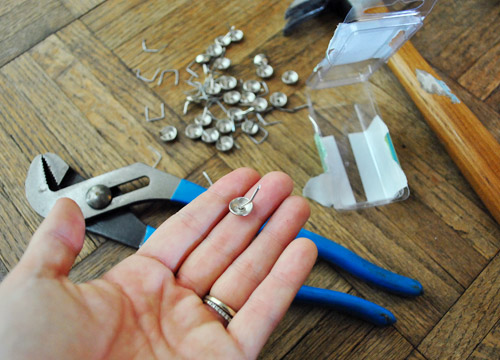 I even tried to straighten them with a pliers in the hopes of reusing them, but once they're bent they're just too compromised to go in straight and look right (and often just break entirely). Bummer.
But in the end (after about an hour and a half spent studding the front panel) I loved the look so much that I even added studs along the wood trim part under the seat on the sides and front. Just to add some balance and bring some of that detailing to the bottom of the rocker along with the top panels. It's hard to tell in the pics, but the studding on the upper panel of upholstery is nice and shiny, so adding some shine along the wooden bottom edge of the chair made it feel more not-top-heavy, so it's more balanced looking in person.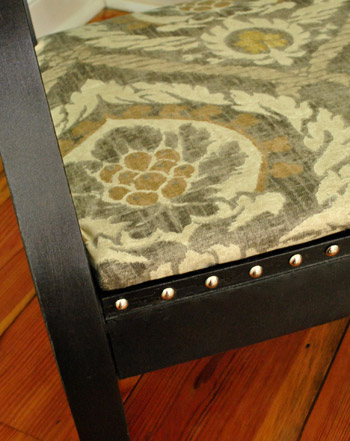 Secret: I haven't nail-headed the back panel yet, so I have a bit more hammering to do. Maybe next week when my arms recover. Hah. For now I'll just keep my chair facing forward and nobody will be the wiser. Except for the fact that I just told everyone. Because I'm smooth like that.
Either way, from the front and the side… I think I'm in love: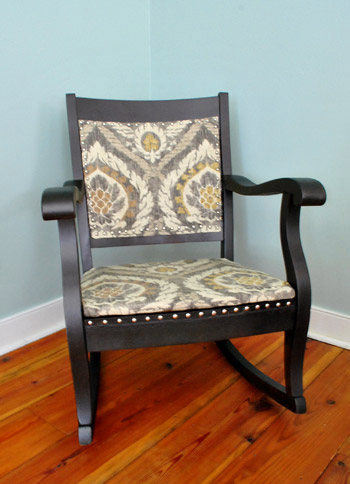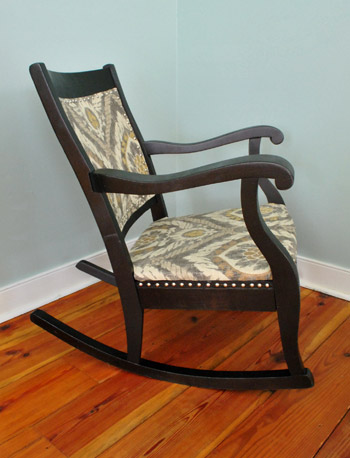 Isn't she sexy? Wait, I mean he. The studs and the curves give me mixed signals. Speaking of the studs, for some reason the nail head row on the bottom (that wraps around the wood rail under the seat) reads as a little "medieval" in these pics, but I promise it's not at all reminiscent of Knights Of The Round Table in person, I think the camera just caught them differently than they read in real life.
But back to those nail heads, my advice to you would be this: buy waaaaay more boxes of nail heads than you think you'll need. They're only $1.50 a box (at least at our JoAnn) and you can always use coupons on top of that. It's just waaay more annoying to run out of them and have to treck back out to the store all sweaty and frustrated than to have extra boxes that you can return at the end if you don't need them. To give you an idea of how many boxes I went through, I actually needed five of them (due to all the annoying bent ones that messed with my mojo). I probably could have done it in three if none of them inexplicably bent on me.
To celebrate fiiiinally finishing (well being 95% done, since I still have to stud the back panel) I decided to have a pillow fashion show. Because I'm weird like that. Here's Mr Dapper himself, rocking (har-har) a random green HomeGoods pillow that I have in my embarrassingly extensive pillow collection: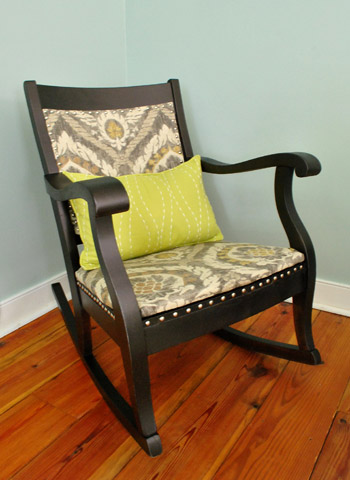 And here he is with a little Anthropologie-ish spin thanks to a fun patterned yellow pillow going on (originally from Target, borrowed from the guest room):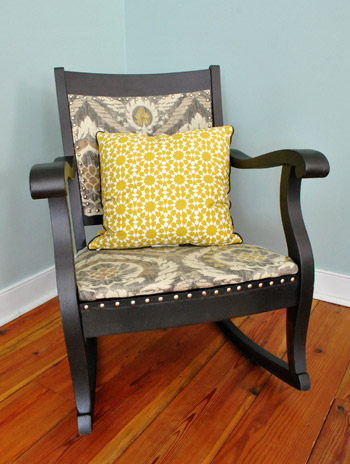 Today he's "wearing" the little green pillow in the corner of our bedroom, but the patterned yellow one was fun for a hot minute too. We're thinking our rocker might eventually end up in the office, which would be really nice since we spend lots of Clara-reading time in there (and decided our big green sofa doesn't really work with the floor plan that we're working towards). We'll definitely share some pics when we pin down a permanent home for the guy.
And just for kicks, here's a look back at our $25 craigslist rocker before I worked up the took-nine-months-to-cultivate energy to get 'er done. Ah memories.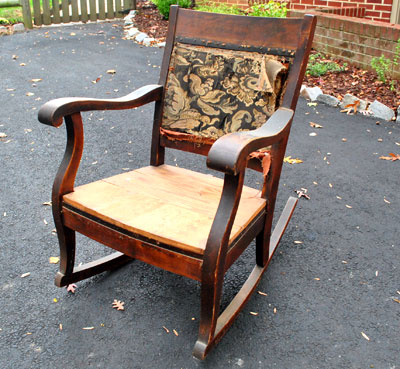 You've come a long way Rocky. Here's the budget breakdown:
Rocker (from craigslist): $25
Extra-loft batting (from JoAnn): $6 (with 50% off coupon)
Staple gun: $0 (already owned – but it'll run you $19-ish bucks from Home Depot if you need one)
Oil-rubbed bronze spray paint (from Home Depot): $7
Heavy duty cardboard: $0 (leftover from our Ikea file cabinet packaging)
Kravet fabric (found as a clearance remnant at JoAnn): $4 (for two yards)
Nail heads (from JoAnn): $6 (they were $1.50 a box & I needed 5 boxes, but used 2 coupons)
Total: $48
Possibly the most exciting thing? We just learned that Ballard Designs is selling the same exact Kravet fabric that we found as a clearance remnant at JoAnn for $4 (for two yards) for a whopping $32 a yard (which adds up to $64 for two)! So the fabric that we used on our project alone could have cost more than our entire $48 rocker makeover. Definitely makes the whole roller-coaster upholstery adventure feel like time and money well spent. Although I'm still mad that some of my nail heads bent so I had to buy a few extra packs. Oh well, there's no crying in baseball upholstery.
So there you have it. A what-worked-for-me rundown with 44 photos between the this post and part one (hence the two part split). As for how it feels to rock in that guy, in a word: niiiiiice. It's all very comfy and smooth (with nice rock-ability going on). And best of all, there's not an inkling of "is this thing made of cardboard?"- for which I'm eternally grateful. Has anyone else out there tried the cardboard panel trick for chair backing (or some other upholstery task)? Is anyone bravely embarking on an even more involved chair makeover (the idea of a wingback makes me shake in my boots)? Good luck and godspeed!
Psst- We announced this weeks giveaway winners. Click here to see if you're one of them.
&nbsp&nbsp&nbsp