Archive for August, 2011
We haven't given our office any love in the entire eight months that we've lived here (other than deciding that it was no longer the dining room and shifting that into the old formal living room nearby). Pretty much our moving day MO was to: plop old office furniture down, work away, and ignore the fact that the rug's crazy-off-center and you can bump your head on the old dining room chandelier. Sad times.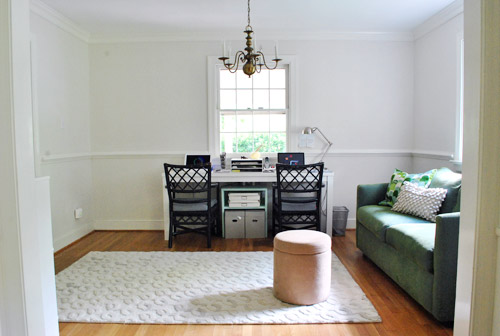 But the lack of love given wasn't for lack of trying. We've been keeping our eye out for two similar/identical secondhand filing cabinets for, oh, eight whole months. So we were starting to lose hope after about twenty five visits to all of our favorite local thrift stores without finding two of them:
that were the same height or depth (we ideally wanted to put two of them next to each other to make a square cabinet)
that were even remotely operable (it was crazy how many were so dinged and dented that they hardly opened)
We even checked out online office supply shops and local places like Office Max, but a lot of the filing cabinet options that we found were upwards of $100 a pop – and we wanted two). Then on our recent trip to Ikea (for these shoe cabinets), this piece of furniture caught our eye as we strolled through the upper level: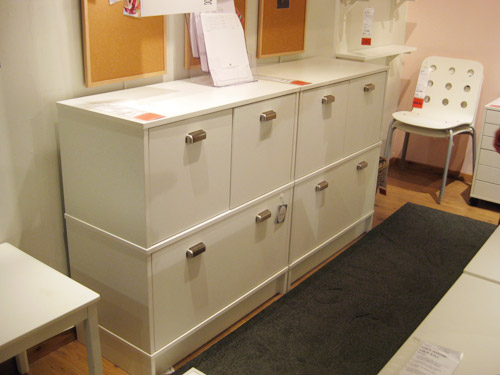 It's an "Effektiv" (hence the bad pun in the title of this post). And we decided half of it (it was actually two of them pushed together) would be the perfect solution for a little "situation" that we have going on (no not that Situation):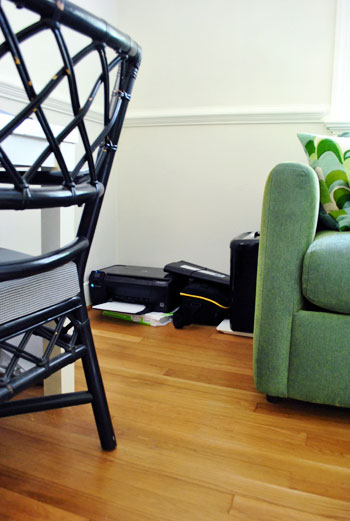 Yes, that's a printer-paper-camera-bag-shredder pile right on the floor that's sheepishly tucked out of view behind the sofa (but not completely out of view from a few other angles). And yes, Clara loves to push buttons and throw paper and cause general pile chaos. So something had to be done. Like yesterday.
Even though the Effektiv system has LOTS of customization options, we went for something very similar to what we saw on the showroom floor (just half as wide). I annoyingly lost the receipt (bad blogger) but it was in the neighborhood of $150. Which isn't too bad considering some of the "heavily discounted office surplus" options would have been $200+ for the double-wide equivalent. Even the cost to build it all myself probably would have been in the $150+ range after getting all the drawer slides and hinges and file fittings (and I worried it wouldn't have the same durability that I'd get from something made by experts since it would be constantly opened and shut). Oh and that price included one base, two shelf pieces, and the various interior fittings for a double wide file drawer on the bottom and concealed storage for things like our wireless printer and stacks of paper on the top double-doored shelf.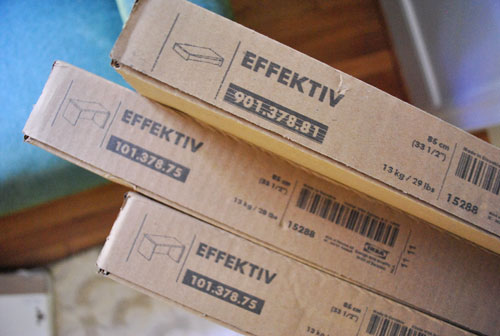 We figured it'd be a good piece to anchor this empty wall (opposite the wall with the desk, next to the doorway to the kitchen) while also adding some functional storage.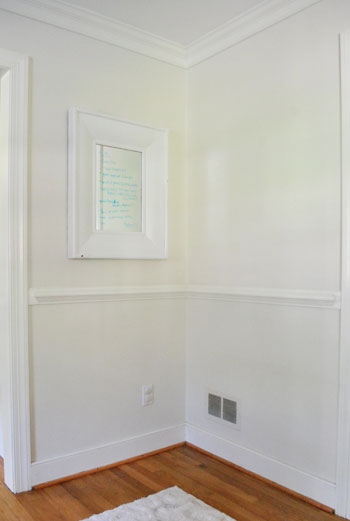 One by one, I assembled each of the three pieces and screwed them on top of one another. It was a thrilling process I assure you, so forgive me for glossing over it so quickly.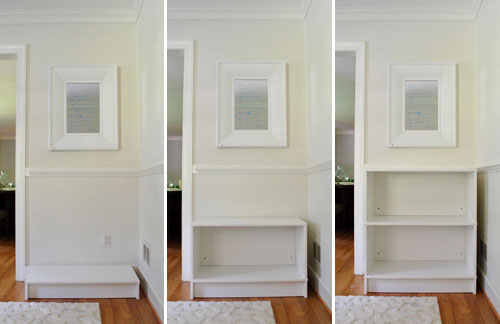 Oh and as for the vent on the right of it, luckily it has those angled registers so the air gets directed out at an angle that allows it to flow right out the side and into the room. There's about a 4″ gap there (even though it looks a lot smaller in pics due to shadows) so it's great thus far (we can feel the air easily coming out, so it's not getting trapped or anything). Whew. Otherwise we'd just close that register because there are a few others in the room.
The beauty of this piece is that it slipped right in under the chair rail and fit pretty nicely width-wise too (we didn't have the wall measurement with us, so we're beyond relived that it wasn't an inch too wide or something). It was offered with lots of customizable options – drawers, cabinets, hanging file systems, solid doors, frosted fronts, etc. We knew we wanted the upper shelf to work as a cabinet (to store the wireless printer & reems o' paper mess) and the lower one to house a ton of hanging files (we have a surprising amount of paperwork due to being "our own business"). For some reason I've become addicted to hanging file storage and the two little file boxes slipped under our desk are, well, not doing it for me at all (they're only about 7″ wide).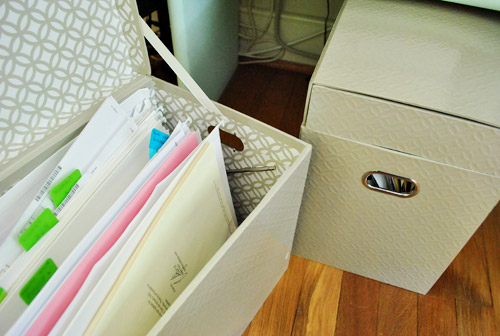 We went with basic white doors since they were the cheapest option and provide the easiest blank canvas in case we want to paint, wallpaper, stencil, or even O'verlay them with these cool things down the line for a more interesting (read: less Ikea-ish) look.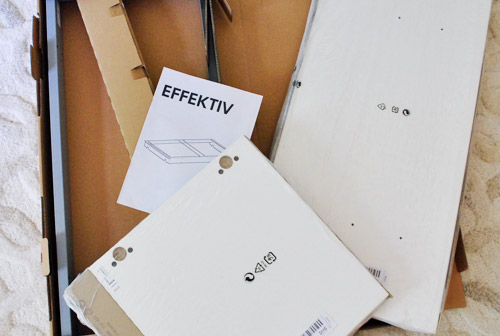 When it came to the interior fittings, first I put the file system in the bottom. It consists of a metal drawer/frame, a heavy weight in the back (to keep it from toppling when the drawer is pulled out) and a flat white cabinet face that will attach to the front. We also anchored it to the wall with an Ikea-provided kid-safe anchor system, just to be double safe.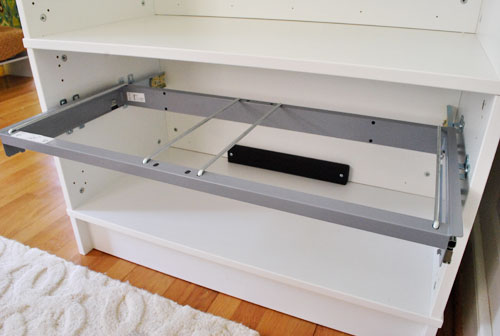 Then the top half just consisted of putting on two cabinet doors, so the whole thing went from this…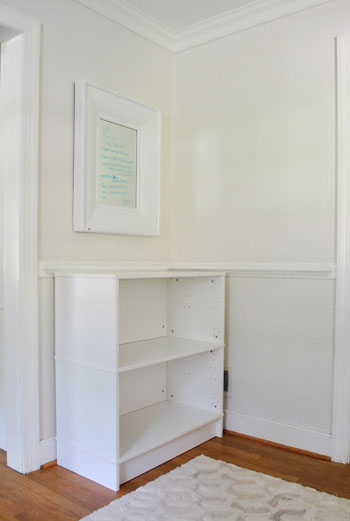 …to this…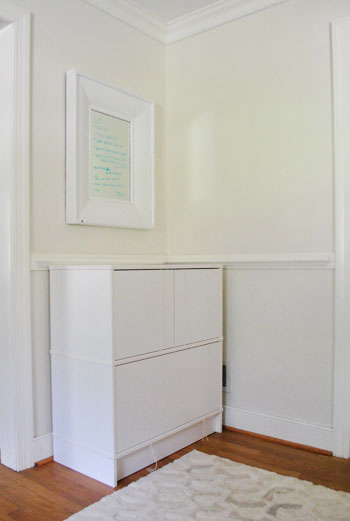 You're probably wondering about our knob dealio. We decided to skip the ones from Ikea and go for a more homemade handle. We thought something rustic like casual string was a nice contrast to the sleek lines of the rest of the piece.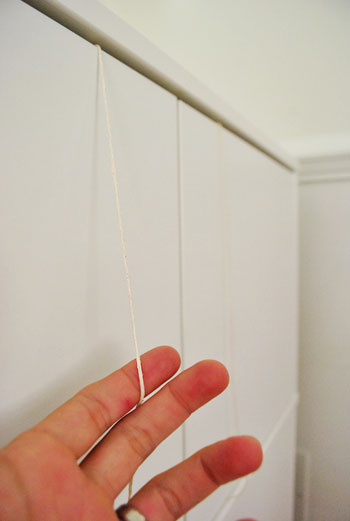 Okay, I'm totally kidding. The string was just temporary (since I learned the hard way that it was impossible to open the doors without prying them open with a flat head screwdriver without it).
I wasn't kidding about passing on all of the Ikea hardware options though. We tried to like something. Really we did. But nothing was really doing it for us and we thought knobs from somewhere else might give it a little more character and make it work with other things in the room (like our $35 thrifted lattice desk chairs). Note: of course we have about ten million other changes we plan to make in here (slowly by surely) when it comes to the furnishings, lighting, etc.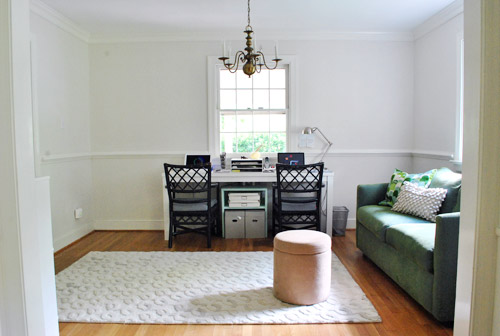 But back to the hardware. Yeah, we're hoping that adding some non-Ikea knobs or pulls could help to make the whole thing look a smidge less Ikea-y (as would eventually painting, stenciling, or wallpapering the fronts, sides, top or the whole darn thing). But we're not gonna do any of that 'til the whole room is further along. Because who knows, once the room is painted (stenciled? wallpapered?) the piece could look best in plain ol' glossy white (and we'd be kicking ourselves for having jumped the gun). We already found some pretty cool Anthropologie-ish handle options at a place that rhymes with Schlobby Bobby though, so once we make a final decision and screw them in (which always freaks me out by the way- is anyone else totally intimidated to drill right into new furniture?) we'll be back with updated pics for ya. Hopefully within 24-ish hours.
Oh and since there have been a bunch of Clara video requests, we thought we'd share her latest party trick: animal sounds (although Sherry forgot piggy and doggy). You'll note that she's holding a fabric ruler from her tool kit the whole time. Looks like the girl's ready to help me measure and screw in my hardware:
Has anyone else added some functional office storage recently? Did you have better luck hunting down something secondhand? Do you also have a deeply rooted fear of drilling holes into new furniture to attach hardware? I must measure things fifteen times just to be sure I'm not hanging them an inch off center or something.
&nbsp&nbsp&nbsp
We all know I have a pillow problem. And true to form, I couldn't resist grabbing two of these boldly striped 26″ x 26″ euro pillows for just nine bucks a pop when we came across them at HomeGoods. In my defense, John walked off and came back holding them, so he might have a pillow problem too. But come on, $9? For giant 100% cotton euro pillows? Sold. In our house, pillows are definitely nomads, so these guys could end up doing a little tour (hitting up the guest room, the playroom, and even the sunroom or living room). But right now we're loving them in our bedroom with the similarly toned flower & berry prints from Alaska that we hung a few weeks back: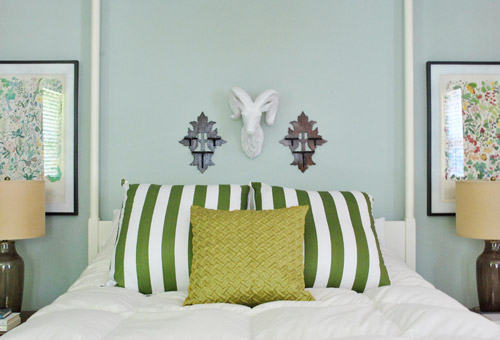 It's sort of like adding a completely temporary boldly striped headboard without doing anything more than spending $18 and tossing them on the bed. No muss, no fuss. And no commitment. We really like how they work with everything from our garage sale botanical art and the lighter toned greeny-gold curtains to the green potted plant on the other side of the room and even Sir Ram. Because when you stop to think about it, what really works with a giant ram head over your bed? Am I right? Oh and as for the smaller greeny-gold pillow, it's sure to pop up in other places too, so it's not always destined to be layered with the new striped pillows for those who object (although in person it's really nice pairing that further ties in the curtains). Here's a wide shot of the very unfinished side of our bedroom: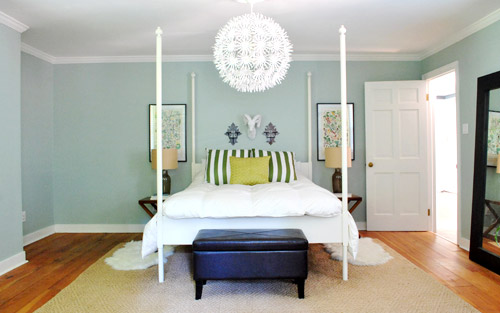 I know, I know. That picture looks crazy. So check out all the doodled changes that we're planning to make as we go: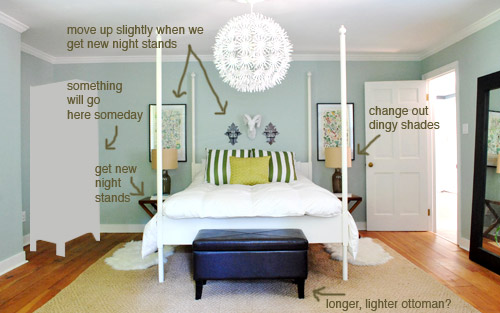 To further expound upon my doodles:
We hung the twig & berries art on the same center-line as the ram (just so they wouldn't look like they were riding high and because the lamp shades only overlapped the written flower/berries names and not the illustration) but once we get new night stands that are hopefully taller (since those old living room side tables are way too low and don't have any concealed storage) we'll probably scooch everything up a bit.
The ottoman is necessary for Burger to get in and out of bed (yes, we pander to him, although we refuse to buy doggy steps) but it's a little short and chunky and dark (although it does tie into our leaning mirror and dark chair) so we might get/make something lighter and longer (perhaps with dark legs but a lighter fabric top).
The wheat colored lamp shades sometimes read as a little dirty since the bedding, trim, light fixture, and door are so white. Mehaps a little makeover or upgrade is in order.
We'd love some sort of big chunky cabinet to the left of the bed for function, balance, and to make sense of the odd little nook there.
So that's the long-term plan in there. And just as new additions to a room often inspire some tweaking (ex: in a surprise turn of events our twig & berry art spurred us to lose the ol' printed duvet cover), the addition of the new striped pillows sparked a little art tweak on the other side of the room. Ever since we added the matching framed botanicals by the bed (along with the matching wall plaques on either side of Sir Ram and the matching new striped pillows at the head of the bed) the horse art somehow slipped from feeling nice and balanced (since it had two different items under it – a chair and a dresser) to feeling a little too balanced and mirror-image since it was one of many things that were now in pairs…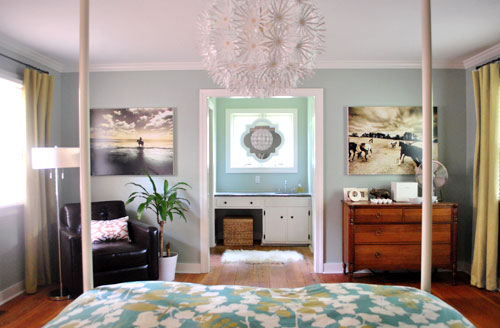 So because we were itching for a little less symmetry (while still wanting to maintain some semblance of balance to help the new-ish chair and the very old dresser relate), we decided to play around with stuff that we already had to see if we could come up with a free alternative:
Down came the horses above the dresser (which now reside in the playroom but will hopefully find a permanent place somewhere else down the line).
Up went two differently sized old Ikea frames that we had sitting in the playroom, waiting to be hung for almost 8 months.
We immediately liked the less symmetrical arrangement but the oddly mismatched frame colors weren't doing it for us (one was a clashy reddish brown and one was white). And since the botanicals looked so good with a little oil-rubbed bronze spray paint I decided to quickly pop the glass/art out of them and give them a few thin and even coats of leftover ORB. You know, so they'd tuck into the room a bit more and look more integrated with the stuff going on across the wall. So outside I went with my sexy spray painting socks (see those here)….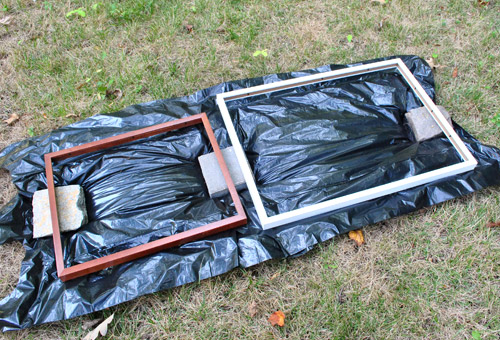 … and soon enough the frames were bronzed and beautiful…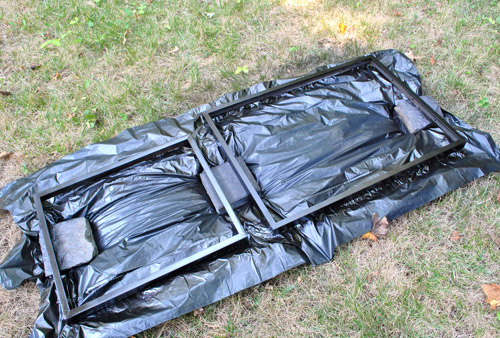 Then I needed something to put in them. So I dug through the old art stuff we already had and found a simple little green dandelion print from Ikea (it used to hang next to our front door in our first house). I also decided to make some always-appropriate-for-a-DIY-couple's-bedroom "paint chip art" with old Ralph Lauren swatches that I had in my basket (yes, I have a paint swatch basket since I hate throwing them away, which is also where I house all of my paint decks except for my favorite one that hangs in the hallway). Home Depot doesn't even sell Ralph Lauren paint anymore, so I figured "recycling" the old swatches was better than hoarding them or just trashing them, so I pulled out all of the little colored squares…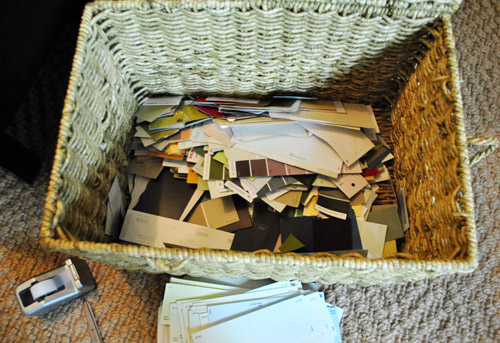 … and just used tones that reoccur in the room so it would tie in (I didn't need something that screamed since that would compete with the botanicals and the remaining horse photograph over the leather chair). I was left with a little pile of browns, grays, blue-grays, greeny-yellows, soft sand colors, creams, and whites. So I just arranged them in a gradient from darkest to lightest (this photo was still a work in progress since I switched out a few of the chips that stuck out too much or looked out of order).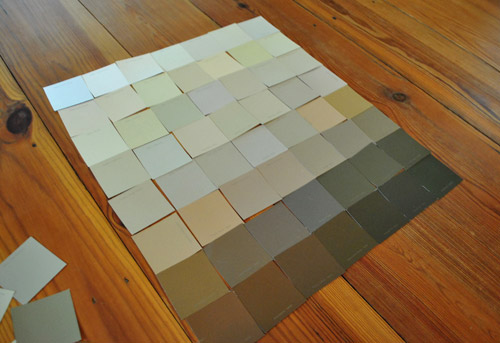 Little loops of scotch tape on the back of each one held them in place on four pieces of card stock that I taped together to create a big 16 x 20″ background to fit the frame. Ta-daaa.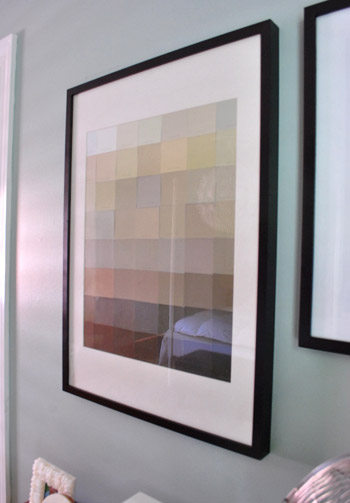 We love that the paint chip art looks like a pixelated photo and the dandelion pic is a nice little "neutral" touch in the room as well (so it all layers in nicely without conflicting too much with anything else on the walls). Yay. We're fans. Although we've learned that art posts are definitely the most not-everyone's-boat-is-floated-by-the-same-stuff kind of thing. But we sleep in that room and we like it mucho. Hurrah! Clara's favorite part? The pig of course (she runs into the room squealing "piggy!" and pointing while oinking). Very cute.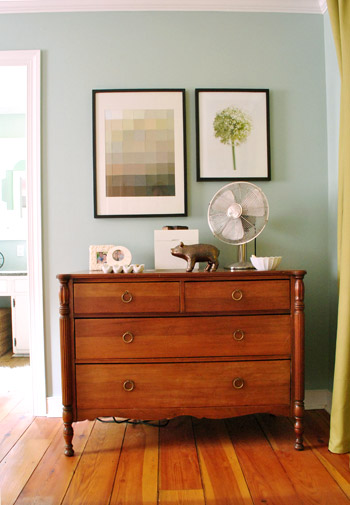 For another version of paint swatch art, check out what we did with leftover swatches in our old office (on our postcard ledge) and drop in on Jessica Jones' awesome paint chip art project here on How About Orange.
Oh and since I'm in a doodling mood, here's a bit more about why we did what we did: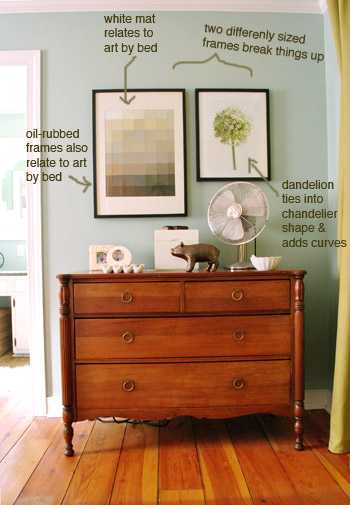 See, it's not as perfectly balanced and mirror-image-ish. But it still kind of goes. And it'll work a lot better after some tweaks over time (get ready for more doodling)…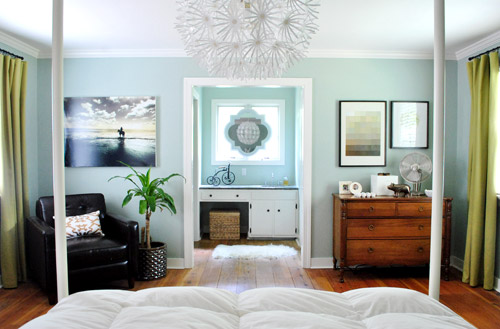 … like this…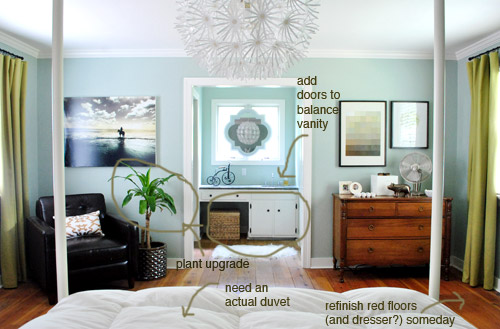 We really like that the white mirror in the nook relates to the glossy white window trim, and the art hanging on either side of it is dark enough to feel balanced but not exactly the same size/shape anymore. So that's where we are.
Who knows what else we'll change as we go though. We're definitely fans of the trial and error method (since we never seem with it enough to get things right on the first try, haha). Although this corner view is still my favorite for some reason. Probably because the mirror reflects a ton of window-light and the big chandelier is floating overhead with the neutral-ish-but-not-white curtains, the dark moody leather chair, and the horse art in the background.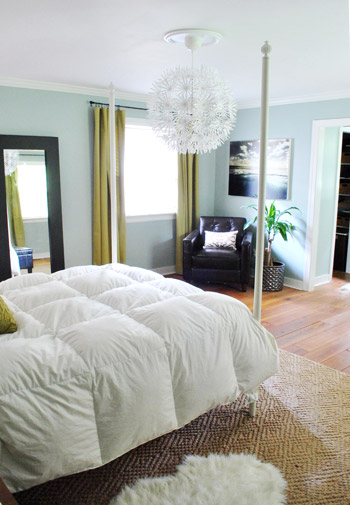 So anyway, it's nice that something as simple as two cheap-o pillows and some fast & free art swappage (I must be in a free art mood this week) could add a bit more interest while taming the super-symmetry that seemed to build and eventually boil over as we added art and accessories.
Have you guys bought cheap-o pillows lately? Or decided to switch out art and accessories as you toss in other additions and slowly build a room? Any favorite pillow sources in general? Oh and has anyone out there gotten it totally right with everything from the furnishings to the accessories in one shot? That must be amazingly serendipitous. We're more of the learning as you go slash bumbling along type. Haha. But at least we didn't break anything this time…
&nbsp&nbsp&nbsp