Archive for May, 2011
***This giveaway is no longer accepting entries – see who won below!***
Thanks to random.org, these three ladies are getting a kick start to Mother's Day: Traci (who inherited her mother's worrying skills!), April (who got her mom's love of shopping, travel and new things) and Stacy (who inherited the gift of being a good cook from her mom).
Because becoming a mom has mysteriously given Sherry the urge to learn how to sew (more on that here and here) we thought we'd use this pre-Mother's Day giveaway to dish out TWO fabric-tastic prizes to THREE lucky winners. And they won't have to sew a stitch because it has already been done for 'em. The first comes from City Chic Country Mouse, whose Etsy shop caters to those who want to inject a bit of chic to their chore list (not that any moms should be doing housework on Mother's Day). Each of our three winners can choose from any of their colorful, graphic, and punchy ironing board covers, which will definitely cheer up any laundry room: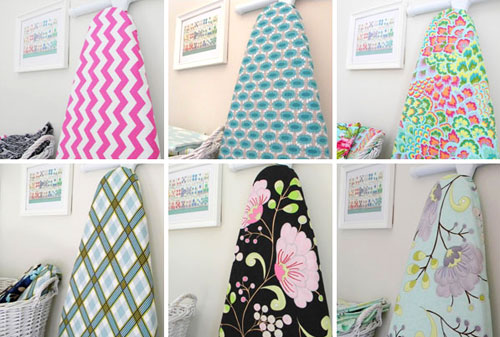 Plus those same three lucky winners get a double dose this week. A customized fabric wreath from a local Richmonder who puts her sewing prowess to work in her Etsy shop, Love Elaine is also on the agenda. While she's got cool modern spins on aprons, quilts, and bags – her fabric wreaths are always a favorite. And yup, each winner gets to pick our their own colors.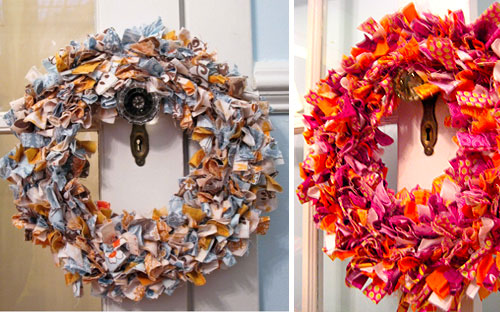 PRIZE: Any ironing board cover from City Chic Country Mouse and a custom fabric wreath from Love Elaine
TO ENTER: Comment on this post with the words "SEW ME!" and…
BONUS QUESTION: … tell us one quality you're glad you inherited – or wish you had inherited – from your mother (or other parental type figure). Are you grateful she instilled strong family values? Or that she passed down her sense of style / fabulous cooking abilities? Or do you keep waiting for her sewing skills to kick in like Sherry?
GIVEAWAY CLOSES: Wednesday, May 4th at 8pm EST
NUMBER OF WINNERS: Three
PRIZE SHIPS: The United States and Canada
USUAL STUFF: One entry per e-mail address is permitted. The winners will be selected using random.org and announced on Thursday as an update to this post. That's right, come right back here on Thursday morning for the announcement of our winners. Good luck…
Note: We weren't paid or perk'd for hosting this giveaway, we just like rewarding our lovely readers! See our Giveaway FAQs page for more info. Pics from City Chic Country Mouse and Love Elaine.
&nbsp&nbsp&nbsp
When Courtney of Little Glass Box sent us photos of her amazing 105 year old row house in Baltimore, we knew we had to house crash the heck out of her, so here we go. First lets meet the fam (there's Courtney, her son Olly, and her hubby Ryan):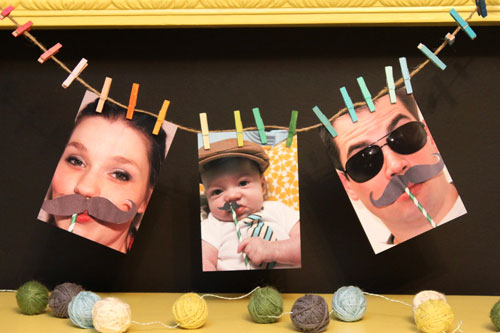 How funny is that photo? You can already tell their house is going to playful and charming, right? Here's the dining room, full of geometric pattern and rustic elegance thanks to the mix of the stenciled wall (Ryan did it himself) and the reclaimed wood table (Ryan built it himself). Notice a theme here? Ryan is handy. And guess who's obsessed with the big wood horse on the table and the white deer head from ZGallerie on the wall? Hint: me.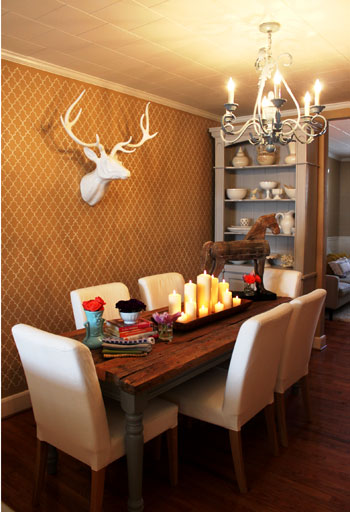 Here's the lovely kitchen that overlooks the dining room. The island was scored at Target (for just $75, down from $300!) and the chandelier was from Home Depot (they tweaked it by adding a gray shade). Their counters are concrete to continue Courtney's love of gray.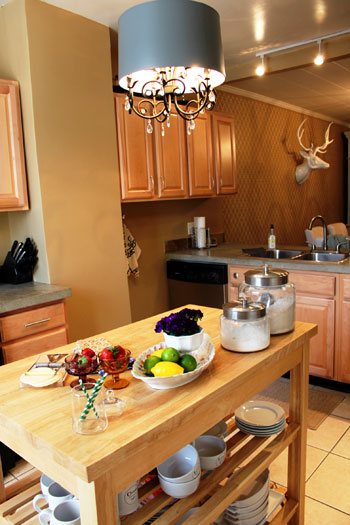 And here's the living room, complete with a fun photo collage flanked by sconces…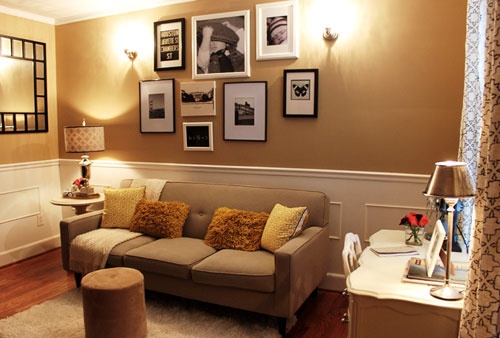 … and a pretty vanity (which used to be her mom's) that Courtney revived and repurposed as a desk. Oh and the curtains are from West Elm (scored on sale).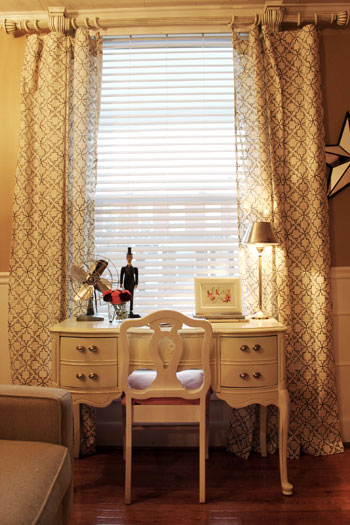 Their master bedroom is gorgeous too, with more fun patterns and colors coming into play (note: not only is Ryan handy, he's down with pink and florals – what a guy). The curtains are actually shower curtains and the pink dresser was $50 from craigslist (Courtney painted it Coral Gables from Sherwin Williams). And I have two words about the gold rhino head on the wall: I die.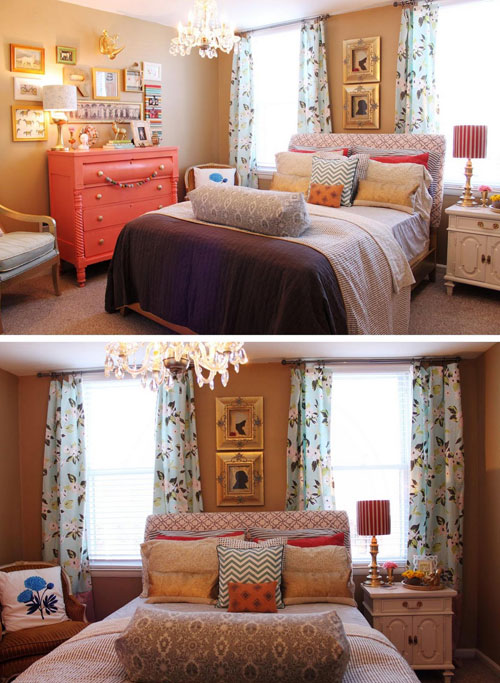 But easily the most playful and graphic room of the bunch is little Olly's nursery. See that amazing geometric wall on the right? It's actually another…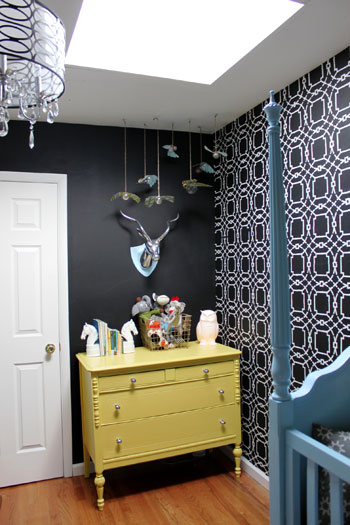 … stencil! Yup, they DIYed that whole thing a stencil and some paint over two months of on and off labor (clarification: Courtney wasn't in labor for two months, the wall stenciling process was two months of manual labor).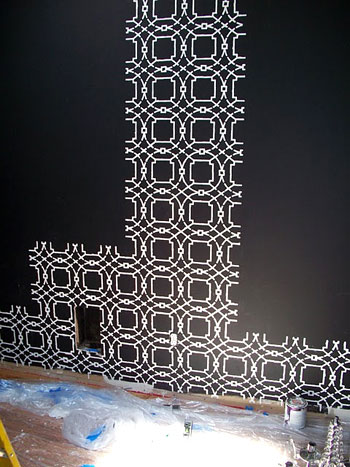 Look how amazing that is! It looks so sweet with their painted four poster crib (how elegant is that by the way- they found it on craigslist) which happens to have a little homemade no-sew crib skirt just like Clara's. Oh and as for the crib decor, the pillows are removed before bed and the garland has since been relocated (safety first).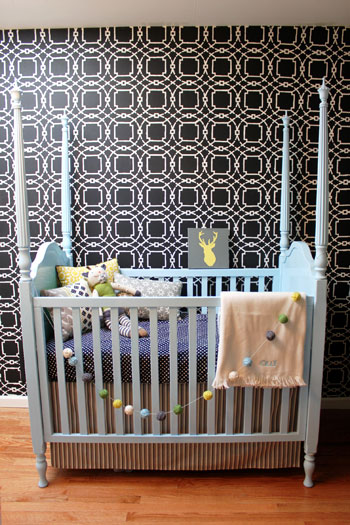 Here's another angle of Olly's room complete with giant horse art and a big white resin rhino head (from ZGallerie). Yes, I am also obsessed with those. And Courtney found that amazing yellow mantel for just $50 (marked down from $200) so she knew it was perfect for the room.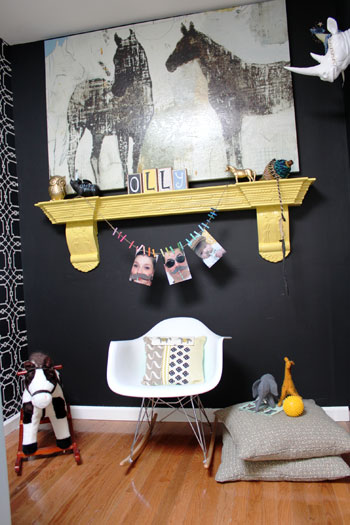 And because sometimes the details do it for me, I thought I'd leave you with this pretty little tablescape from the kitchen. How sweet is that cheese cutter? Courtney found it at a store in DC called Trohv. Love it.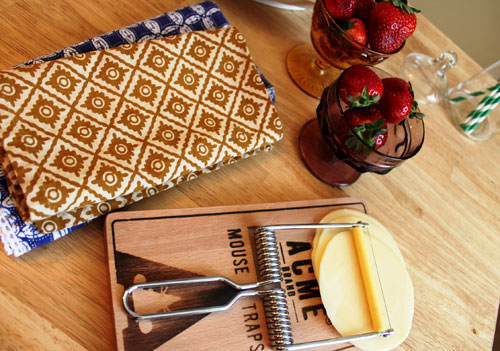 So a huge thanks goes out to Courtney, Ryan, and Olly for letting us share their gorgeous and oh so creative home. You can check out Courtney's blog for more photos and info, but first lets play the what's-your-favorite-part game. I'm obsessed with the wall stencils in the dining room and Olly's room along with the huge rustic wooden horse on the dining room table. Yes please. Oh and that gold rhino in the bedroom? Saweeeet. And John loves the rustic dining table that Ryan built along with that hilarious cheese cutter. And he wants to know why we don't have a mustached family photo of our own. Good question indeed.
Psst- Check out all the other houses that we've crashed right here.
&nbsp&nbsp&nbsp