Archive for May, 2011
We thought it was high time we updated our to-do list (which you first saw here) now that we've lived here five months and crossed off a few things (and added about a million more, which just seems to be how it goes).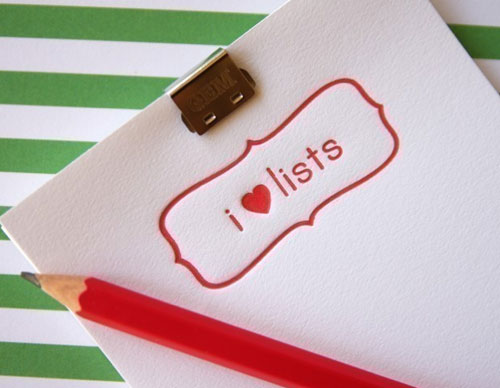 As for how we keep things straight, we just write everything out in one big list, circle the small things that we want to tackle right away, cross things off as we go, and underline the long term things that that we want to save for and tackle when we finally have the funds (and are feeling more sure about our approach so there's no shoulda-woulda-coulda going on later). Looking at those underlined things from time to time keeps us excited to squirrel away as much loot as we can to make them a reality down the road. And seeing all the crossed off smaller items reminds us that bite-sized undertakings can really keep you motivated and excited to tweak your house one day at a time until you look around and realize you're home.
So it doesn't sound like rocket science, but our method is to basically just write everything down and take on things that are doable and not too intimidating (or expensive) while we save up for the bigger projects/stuff. And as for priorities, we generally just do whatever we're in the mood for (barring anything that needs to be moved to the top of the list for safety or other extreme-urgency reasons). Anyway, here's the ol' list now that it's full of updates (marked in red) and recently added projects (also in red):
To Do (But Not All At Once…):
Find fun saturated/patterned fabric and DIY some no-sew curtains (using this method) for the living room, future dining room, office, playroom, bedroom, hall sliders, guest room, etc.

<– maybe I'll even sew some now…

Paint the living room, the dining room, the office, the big hallway, the small hallway, the kitchen, the bedroom, the guest bedroom, the playroom, the nursery, the sunroom, the hall bathroom, the guest bathroom, and the master bathroom (this is one of those slowly over time tasks- we're thinking about tones seen here in this whole-house color scheme post of yore)
Paint all the dark wood trim (beams, baseboard, crown) in the living room (in a moment of oh-why-not we gray-washed the beams and love how they balance out the big gray sectional and avoid white overload since we hung a ton of white frames on the wall above the sofa).
Remove unnecessary bi-fold doors
Frost the side door that looks in on the kitchen
Remove the shelves next to the fireplace in the living room

Prime and paint the paneling in the kitchen using this method (not sure what color we'll go for…)
Redo the kitchen backsplash (check out overstock.com for tile along with clearance stuff from local vendors)
Get all new kitchen hardware (check out local places, online stuff, and big box stores for a deal)
Prime and paint the oak cabinets in the kitchen using this method (again, not sure what color)
Finally refinish and reupholster the craigslist rocker that we got a while back
Hang mirror(s) in the office for dry erase message board(s) to keep posts & projects straight
Replace a ton of light fixtures (too many to list)

<– we replaced the one in the master bedroom and the nursery and removed the wonky corner light in the living room along with two awkwardly placed ceiling fans

Remove all the door handles, hinges, and doorknobs in the house and refinish them in oil-rubbed bronze
Frame out the mirror in the hall bathroom
Paint the vanity in the hall bathroom
Hang a thick drapey curtain in front of our walk-in closet
Organize our closet and dresser (and stop piling pjs and underwear on the floor of the closet) <– this took us waay too long to do

Wallpaper or stencil the sink nook in the master bedroom <–we painted it the same color as the bedroom to help it blend in for now
Frost or add curtains to the window in the master bathroom (and possibly the other two bathroom windows)

<– so far we've added a big ol' mirror in the window above the bedroom sink to block the view

Turn the area between the addition and the old house with the sliders leading out onto it into a sweet outdoor cutting garden

slash alfresco dining room

(it's near the kitchen, and it seems to get enough light for potted herbs)
Make built-ins around the washer and dryer to create mini mudroom function and replace cabinet doors up top with pull out baskets or drop down blinds
Paint the front door
Remove the most awkward mirror in the history of the world (the one on the back of the guest bathroom door that reflects the full body of the person on the toilet)
Spray paint or stain the legs of the sectional so they're not so pale and dorky<– we used oil-rubbed bronze spray paint for a subtle metallic effect
Frame out the porch columns so they're chunky and square instead of ornate and curvy
Plant evergreen trees around the perimeter of the property for more privacy from the side, back, and even part of the front (waiting for them to "fill in" will be the hardest part, but getting smaller plants will save us money so we'll hopefully have patience)
Pump up the curb appeal with more landscaping upgrades
Limb up the magnolia in the front that blocks the entire house
"Wallpaper" the big hallway (off of the kitchen, living room, and entryway) with mixed and matched white frames
Accidentally kill our beloved ceramic dog by dropping a frame on his head <–Every list needs some comic relief, and John got 'er done
Paint the back of the future dining room built-ins something fun and bright
Add new hardware to the bottom cabinets of the built-ins
Replace the medicine cabinet in the guest bathroom with a charming mirror
Remove the annoying off-centered towel bar below the window in the hall bathroom and frame out the base of the window to hide the damage
Hang a giant grid of ribba frames above the sectional in the living room and figure out a cheap art solution
Hang a ceiling medallion in Clara's nursery to cover the cracks
Update and paint the vanity in the master bathroom

<– oops, we still haven't updated and painted the base, but we removed the chunky granite lip around the backsplash and hung our quatrefoil mirror and painted the walls, so that's a start

Paint the dark brick fireplace in the kitchen using this method

Add crown molding to the guest room, the playroom, and the nursery

Stencil or wallpaper something (we're down with some fun tone on tone pattern – maybe in the office or the hall bathroom or the playroom)

Chalkboard paint something. It's too much fun to deny the bean.

Stencil the inside of Clara's closet and her ceiling- just for some subtle fun


DIY a sandbox/baby pool for Clara

Add some fun organizational stuff to the laundry room wall near the door (a hook for dog leashes, storage for shoes, a calendar painted on the wall?)


Make or buy or refurbish a long bench for the foot of the bed (ours is too small and a bit darker than we'd like)

Get a vintage hanging chair (from a thrift store or craigslist?) for the sunroom

Hang a ton of lanterns or paper pendants from the sunroom ceiling

Build a more formal looking compost bin (right now we use the same large tupperware method we used in the last house)

Spray paint our rain barrel to help it blend in (and plant stuff in front of it)

Create some raised beds for an edible herb, veggie, and fruit garden

Make a beanbag for Clara's room (her closet's big enough for a little reading nook)

Frame out our mirrored bathroom door for a more polished look


Get some string lights outside on the patio and over the future deck

Hang a swing from a tree out back

Retrofit our daybed in the playroom so that a trundle can be pulled out beneath it (so it can sleep two people instead of one in a pinch- good for kid sleepovers I think)


Build a play kitchen for Clara

Paint a giant canvas or two to add color to the walls of some of our undone rooms (the dining room, the office, the playroom, etc)

Hunt down some thrift store or craigslist bedside tables and refinish them for the master (drawers for some hidden storage please!)

Recover the leather parsons chair in the corner of our living room (at the white desk) with a bright fun fabric slipcover

Add patio lighting (large clear glass bulb lights and maybe even path lights too?)

Add a clothesline somewhere (nothing beats that fresh smell)

These are more long-term (so they're underlined):
Create a 300 square foot paver patio on the side of the house <— Woo to the hoo. It's dizone.

Refinish the various wood floors throughout the house (the same shade for a nice cohesive look- mocha? dark brown? ebony? charcoal?)
Turn the fireplace in the kitchen into a double-sided fireplace that also opens up into the living room (call the mason who helped open the doorway in our old house just to make sure it's possible and get an estimate)
Create a huge doorway between the kitchen and the future dining room that lines up with the large picture window in the future dining room
Build/adapt a custom island for the eat-in area of the kitchen near the fireplace
Convert the carport into a garage (and pick out a killer garage door to add some dimension and architecture to our flat little rancher)
Add french doors between the future dining room and the office (for privacy and tons of charm)
Replace the flooring in the kitchen and mudroom/laundry room (with cork?)

Add a trellis arch around the new garage door so it's all lush and pretty

Build a deck, hopefully with the help of John's dad

Build Clara a swingset

Change the roofline out front (add some peaks for dimension and to make it more cohesive with the house's shape from the back)

DIY a pool someday (John thinks this idea is insane, mind you)

Build a sunken trampoline that's flush to the ground (far away from our future pool, haha)

Furnishings To Slowly Save Up For:
A queen sized bed for the master (so we don't have to sleep on our mattress on the floor anymore)
A big charcoal gray u-shaped sectional for the living room (I've dreamed about having a big enough living space for a sectional for at least the past three years)
His and hers dressers for the master bedroom that we can refinish (preferably super cheap on craigslist or from the thrift store) <–we decided we only needed one dresser since the walk-in closet has a bunch of shelves and cubbies, and happily inherited John's parents' old one
A loooong console to go between the back wall and the sectional <– we built our giant 12′ console table when we couldn't find something that worked in stores or on craigslist
A larger TV stand/media center for the living room (ours is laughably dinky, but we'll craigslist it and put the money toward something that'll fit the space better- hopefully something thrifted or even something we can build ourselves)
A giant rug to define the new seating area in the living room (8 x 10? 9 x 11?)
A giant rug for the master bedroom (8 x 10? 9 x 11?)
Some kick-arse stools for the new island in the kitchen once it's there (find something cheap and reupholster it?)
A giant round wooden pedestal table for the future dining room
Comfy chairs for the future dining table (preferably upholstered parsons chairs so they look library-ish and casual as opposed to hard and wood-heavy) <– got 'em on Craigslist for $25 a pop, but we still have to upholster or slipcover them

New shower curtains and bathroom towels and accessories for the hall bath and guest bathroom
New energy efficient appliances for the kitchen and the laundry room (we're waiting for some killer deals and plan to check out craigslist and scratch & dent stuff).
A full sized bed frame, mattress, and box spring for the guest room
A big cabinet or console table for the hallway off of the kitchen (thrifted/craigslisted and refinished?) <– we just used the one we used to have in the entryway
A new console table for the entryway <– since ours is now in the hallway off of the kitchen

Two statement making chairs (preferably matching) for the office <– got those for $35 a chair at an antique shop, but still have to repaint and reupholster them


Patio furniture and planters, pillows, etc

A large leggy armoire or some sort of tall cabinet for the weird nook to the left of our bed (as you face it)

That darn West Elm capiz chandelier that I'm obsessed with for over the future island in the kitchen

A large wooden (Restoration Hardware-esque) table for the future deck (maybe we'll build it?)

Of course we'll do a lot of this stuff over the course of the next few years (our first house took us 4.5 years to finish) so there's no need to cry for us or anything. Haha. We've learned to enjoy the journey and just take things one day/project/victory at a time. And seriously, is there anything more fun than crossing things off? Well, making type red is pretty fun too. As for the method to our "project order," we don't really think there is one. We definitely jump around from room to room just to stay excited and not feel too regimented and "forced" into doing something that we might not want to deal with yet (or be in the mood for). After a big project (or a string of big projects) sometimes we're happy to take a breather and tackle the little stuff for a while. And other times we're psyched to keep our momentum up and start planning the next big project right away (like when we built our giant console table and then switched right over to our big patio build). Who knows what's next. Should be interesting. Or boring. Or comical. Or baaaaad. You know we share it all.
Psst- Check out this floor plan post which might make some of the major layout changes & renovations that we've listed above a bit more clear. And check out our Current House page to see a lot of the crossed off projects mentioned above.

Psssst- Adorable "I heart lists" stationery found here on Etsy.
&nbsp&nbsp&nbsp
Hallelujah, the patio is done! I've caught my breath a little bit and regained feeling in most of my muscles, so I'm back to tell you the end of the tale. Let's see, where did we leave off? Oh yeah, with us me passed out on the mostly-laid pavers late Friday night.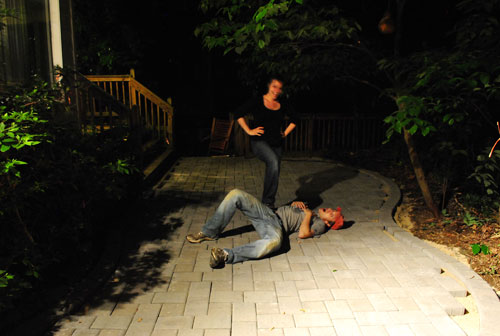 As you know from Sherry's post yesterday, we took Saturday off to have some family time / start Mother's Day early. Then on Sunday afternoon, I decided to take an hour or two to finish cutting the pavers around the edge. Apparently my day away from patio made me forget how much effort each step of this process takes. My "hour or two" turned into "seven or eight."
Allow me to demonstrate my process to explain why. Naturally, curved edges require lots of cuts. This I knew going in. But residual confidence from tiling our old bathroom had me ready to take on this more-than-beginner design.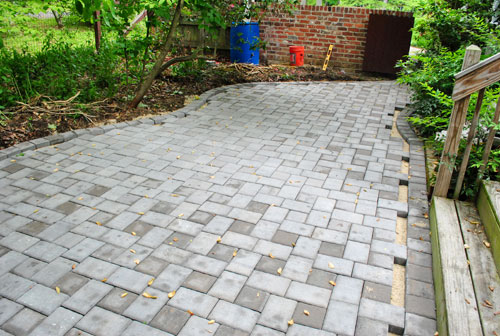 So to determine where to place each cut, I laid my full stone in place against the border pavers (which I've learned is called "a soldier course") and marked where my cut should go (the area that overlapped the border) with a pencil.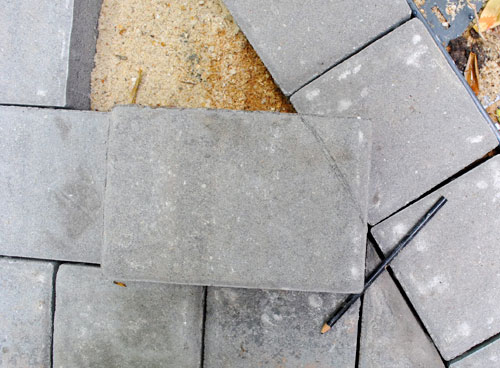 To cut, I entrusted my brother-from-an-inanimate-object-mother: the wet saw. You may remember I fell in love with this guy during the bathroom project in our first house. But after all of the recent patio craziness, we aren't so chummy anymore (we're not "tight" or "aight" as the kids say).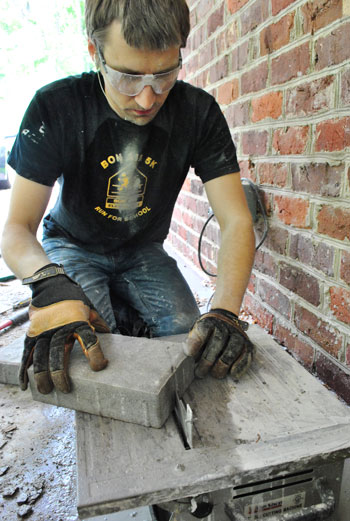 It's really not the poor saw's fault. He just wasn't meant for this type of job. But since he was free (aka, on loan from my dad, who paid $99 for it btw) I wanted to give him a shot, instead of dropping $700 on his big brother. The issue is that my blade wouldn't cut through all 2.5-ish inches of paver (those suckers were thick). So I had to do 2 cuts per paver – one, then another one from the other side once the paver was flipped over. Some particularly long cuts even required 4 trips down ol' Wet Saw Lane because part of the machine blocked the whole stone from sliding through all of the way. And even after two to four cuts per paver, I still had to break the stones apart with a quick chisel-like move (thanks to a hammer and screwdriver) to smash the piece in the middle that my blade clearly still couldn't reach: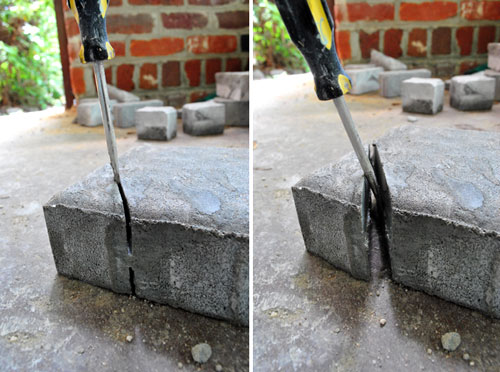 So multiply two to four cuts per paver by the 50+ stones that needed cutting and you'll start to understand why it took me so long. That $700 big daddy wet saw was starting to look well worth the money by about hour three. But I'm cheap. So I stuck with the borrowed (free) one.
Assuming my cut was accurate (which it wasn't always, unfortunately) all I had to do was lay the cut stone in place and tap it down gently with a rubber mallet (which we used when setting all of the pavers in the middle and along the border of the patio as well, just so they sunk slightly into the bed of sand and were level/secure).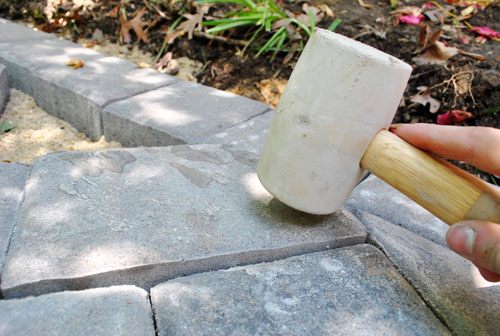 Despite all of the hassle, when it works – it's a beautiful thing (plus I later learned that the sand that I'd brush between the stones would camouflage some of the less perfect cuts really well).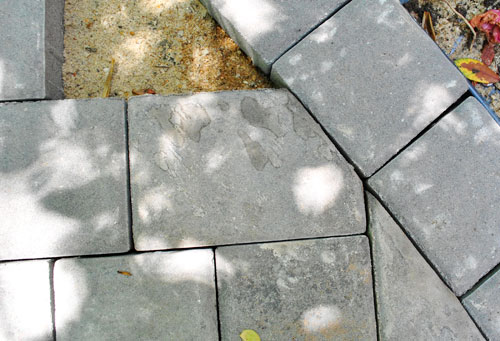 By the end of Sunday I had finished all of my cuts and even had enough energy to remove and re-attach one of our sagging gates (it threatened to scrape the stone a bit when closed).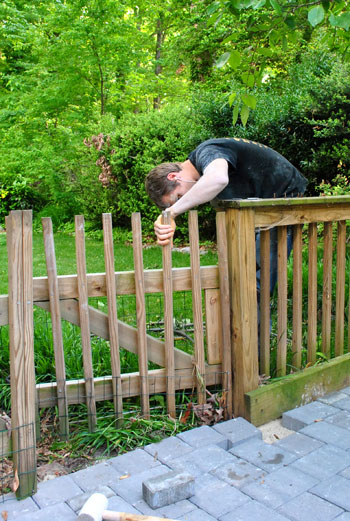 So here's the patio in all of it's pre-sand glory (the whiter edge pavers are just lighter from wet saw dust that hadn't been hosed off yet).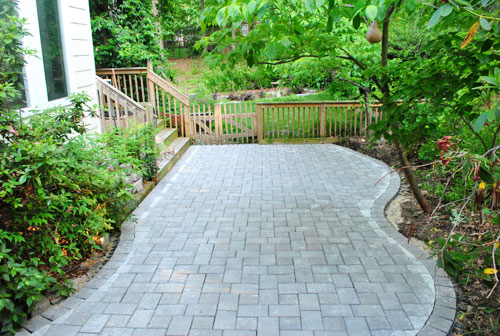 And here I amid all of my post-paver cutting sexiness. Happy Mother's Day to Sherry, right? That's spray from the wet saw all over my shirt and face (thank goodness for goggles, wish I had bought a mask). And notice the yellow hands? That's some sort of strange stain from my work gloves (apparently they don't like getting wet).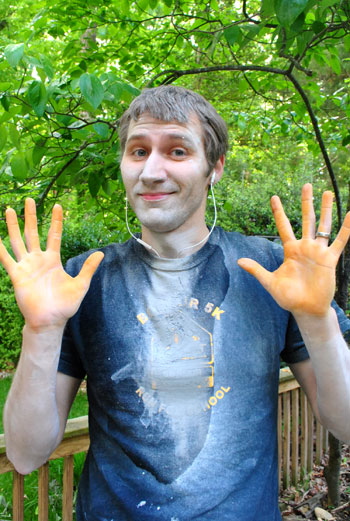 Oh, and since I promised more info about the pattern – here it is a bit closer: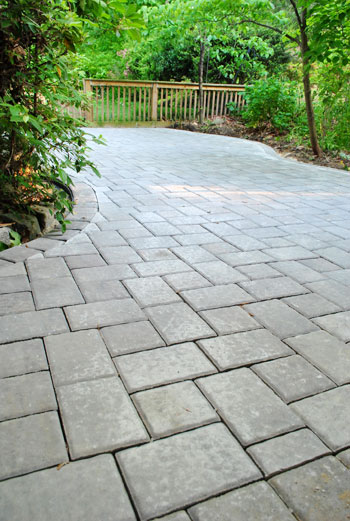 We've heard it called both an "I Pattern" and a "K Pattern" (so feel free to split the alphabetical difference and go with "J Pattern"). Although sometimes I see it as more of an "H" – made up of two 6 x 9″ pavers and four 6 x 6″s – and flanked by more 6 x 9″s on all sides. There's a diagram here that might make seeing the whole H thing more clear than our pic above.
The reason we opted for this pattern in the first place is because it's what the previous owners chose for the pavers in our driveway (and we wanted a cohesive look). Plus we like that it looks sort of like organized chaos. It appears random but there's really a method behind it all. We're nerds for that stuff. The lady at the stone yard warned us that it can be more difficult than some of the truly random patio patterns, but we honestly found it pretty straightforward once we got our first few pavers down. We just constructed one or two of those H-looking shapes and built out from there.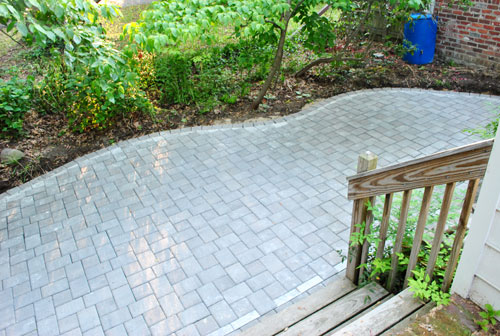 When Monday rolled around, I prepared for the final step by breaking out a broom and some leftover bags of paver sand (when I ran short on Friday and grabbed sand at Lowe's, I must've overcompensated a bit so I still had a lot left). The purpose of this top application of sand is to fill the cracks between the pavers so they don't shift. The process was pretty straightforward. Step one: dump sand on pavers.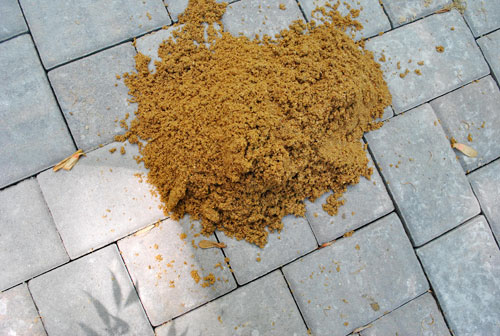 Step two: Push it around with your broom 'til all of the cracks have sand in them (this was just from one bag so far):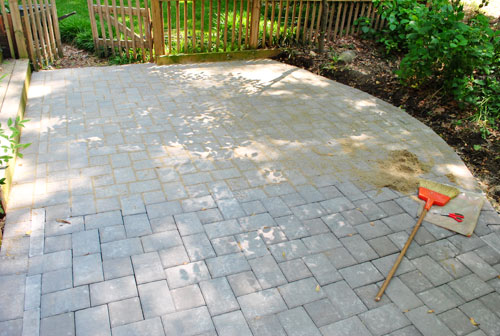 Step three: lightly mist the surface with water so that the sand slides down into the cracks.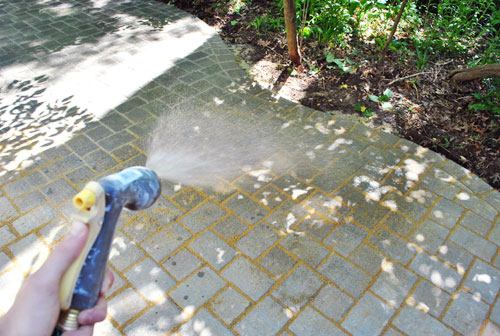 Though it really is more like a twenty step process, because like shampoo-ing, it's one of those "rinse and repeat" situations (or at least it was for me). See, my wet crack sand (wait, that sounds gross) did a lot of sliding between the pavers – making things not so pretty on top.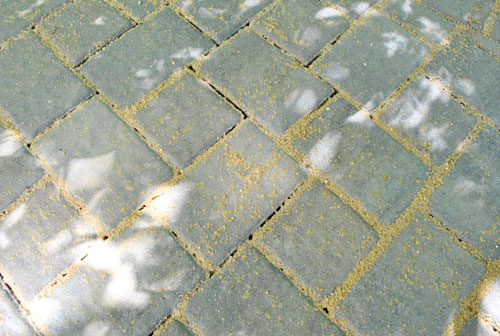 So I repeated. And repeated again. And then did some touch ups. This step seemed to take longer than I expected (consider it to be the theme of this whole project) but by Monday afternoon it all seemed pretty settled into place for a consistent and even look. And happily the yellow-orange tint to the sand disappeared when it dried out (it was really wet and clumpy when we applied it but it thinned and dried to a nice complementary gray tone).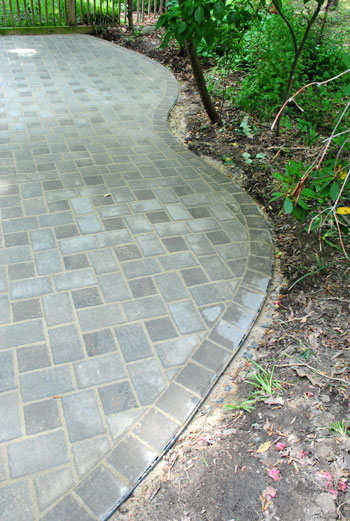 Oh and here's a note for all you fancy patio DIYers. If you have it in the budget you can splurge for Polymeric Sand (which basically gets brushed on and then misted with water, which turns it into a concrete-like consistency so it sets up hard to discourage weeds and all that good stuff). But thanks to our bursting patio budget, we opted to use standard paver sand which was about $100 cheaper (it was used on the patio at our last house which we enjoyed for 3+ years without much more than very occasional weeding so we knew it would work for now). And we can always upgrade to the good sand later (if we have $100 to spare down the road, it's as simple as spraying the sand out of the cracks with the highest hose setting and switching to the fancy Polymeric stuff).
Anyway, with my sand step done, I jubilantly (yes, I was beyond excited to be almost done) moved on to my last task before handing things over to Sherry, which was backfilling the edges of the patio with dirt (since exposed plastic edging is akin to VPL). I forgot to take an "after" of my borders all filled in with dirt, so let's fast forward to the real after afters. But first, let's enjoy a look back at two liriope-filled before shots: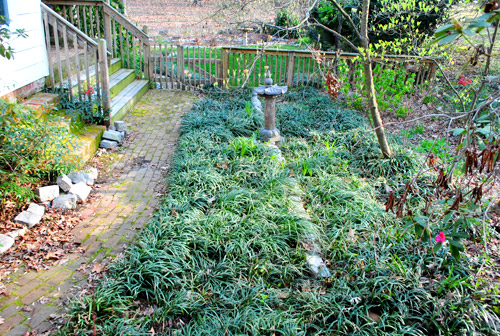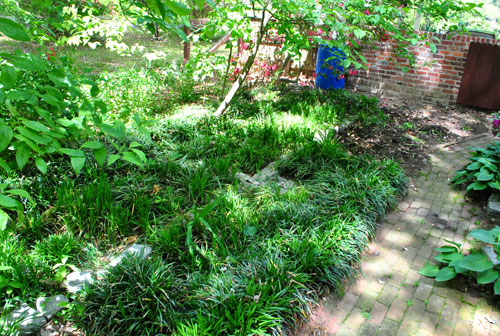 And now the patio-tastic after fest- complete with totally temporary furniture: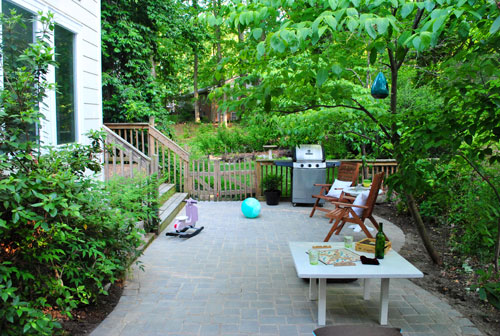 Since we sold all of our old patio furniture before we moved (which wouldn't have worked well in this layout anyway) this is all random stuff that we had in the sunroom/basement/cluttered playroom. Actually a lot of it isn't rain-proof at all, so Sherry just dragged it out there for fun (yes, after pics with temporary furniture is her idea of a good time because she thinks an empty patio reveal would have been "a real wop-wop"). I definitely agree that it helps with scale and stuff (and who am I to deny my wife of an hour of playing with already-owned pillows and random furniture?). I think we both just liked the idea of beginning to picture various ways that we can enjoy our new 300 square feet of added outdoor living space. And of course it'll look a lot better with not temporary furniture when we can invest in some down the line.
Our long-term dream is to have some sort of daybed/loveseat with a coffee table to create a casual "outdoor living room" along with a spot for a sandbox slash baby pool for Clara. Because we have plans for a big outdoor dining zone somewhere else (but with an "outdoor living room" situation on the patio, we could still enjoy casual meals there).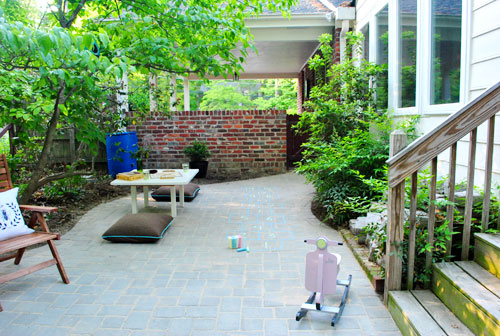 Of course Sherry went nuts with the whole fantasy world and played scrabble with herself to conjure up this cozy scene (and even got two water glasses to suggest that she wasn't out on the patio alone playing against herself). Busted.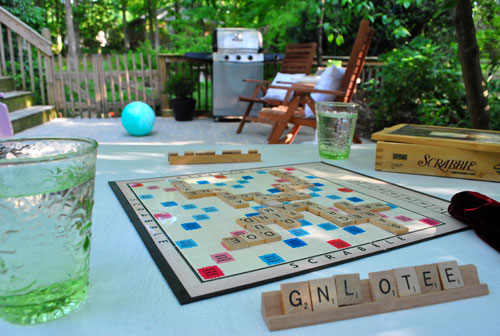 But speaking of playing, we do seriously hope this is a space that Clara gets a lot of use out of. Since we no longer have that huge driveway behind our old house, we've wanted a spot where she can be outside, minus the fears of her running into the road. So this gated-on-all-sides area is perfect for whenever she doesn't feel like playing in the grassy backyard beyond. Because chalk just isn't as much fun in the grass.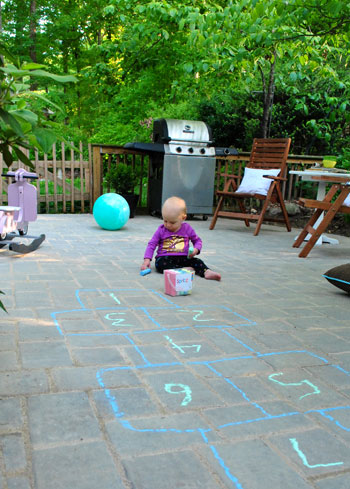 Although Clara may be a few developmental milestones away from actually enjoying a game of hopscotch, at least it's not too soon to tap sticks of chalk together.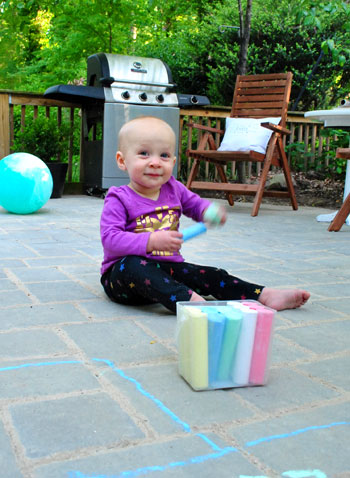 And she only tried to eat it twice. That my friends, is progress.
The only item in our 100% temporary patio layout that will be permanent is the grill. It's been hiding in my basement workroom since we moved because I had no other spot for it (it lived in the carport for a while but that was just weird). So from the moment we first started talking about Project Patio I had an area all planned out for this baby. And although I'm talking like I'm some big macho grillmaster, I've probably used the darn thing less than a dozen times. Hopefully its beautiful new home will inspire us to get better acquainted. Especially when we get some permanent outdoor furniture to go with it.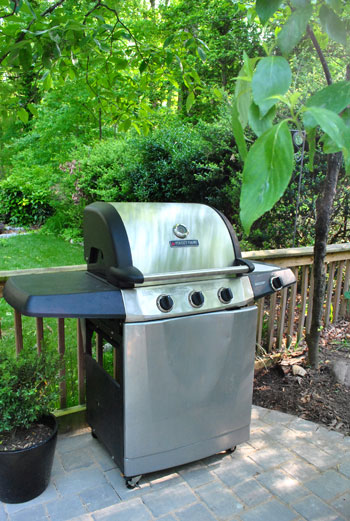 As for Sherry, she's more excited about the "crowning jewel" of the patio as she likes to call it: a ceramic bird feeder that she snagged at Marshall's for $9.99 a few weeks back. It's been sitting on the counter next to our bathroom sink (away from roaming Clara hands) just waiting for a new patio to preside over. And it looks a heckova lot better out here than it did near the sink.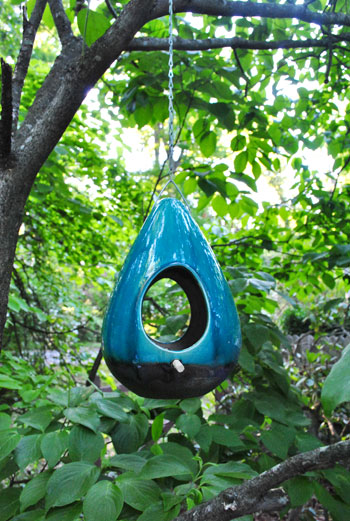 So there you have it, the end to our patio-building party. And it's just in time to start setting up for the real party (Clara's birthday on Saturday). Perhaps we'll challenge our guests to some hopscotch?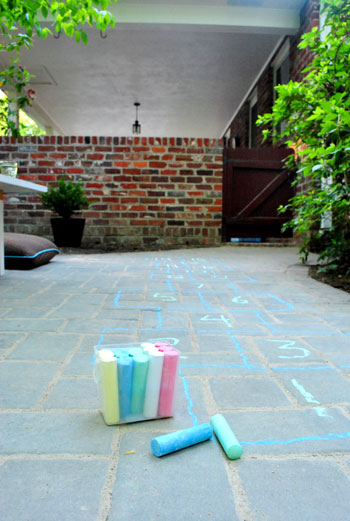 We wouldn't mind a few crossed fingers for good weather this Saturday. It rained on Clara's birthday last year so we unscientifically decided that it couldn't rain again this year (although the odds are probably the same every year). And as soon as we finished the patio I turned to Sherry and said "You know what this means right? We finished the patio in time so it's going to rain on Saturday. We jinxed ourselves." Here's hoping I'm wrong.
Oh and here's a rarely seen angle taken from the new lower patio looking up at the upper patio (which was always there) and the sliders in the living room and sunroom that lead out to it. That area was too small to accommodate our grill (let alone any larger seating arrangements) so we're so glad that we expanded our outdoor living space with the addition of the paver patio below.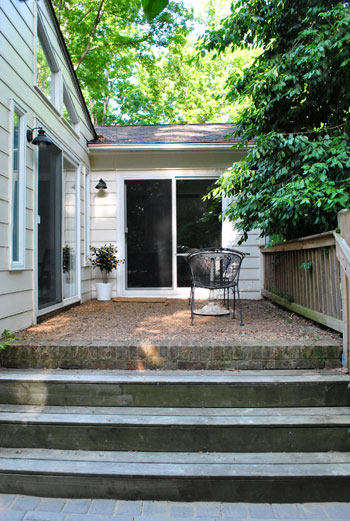 We estimate that we spent about 30 hours on the whole patio project, from planning to clean-up (but we did mess around with lots of curves and hit some crazy concrete during the demo phase, so it won't necessarily take everyone that long). And now for the big ol' budget breakdown:
300 square feet of Cottage Stone pavers (from Southside Building Supply): $621
Heavy duty plastic patio edging and spikes (from Southside Building Supply): $69.00
Paver sand (from Southside Building Supply & Lowe's): $107
Gravel (from Southside Building Supply): $240
Delivery for pavers, sand, and gravel (from Southside Building Supply): $145
Miscellaneous supplies (wood stakes, line levels, nylon string, and hand tamper from Home Depot): $40
Weed blocking fabric & crampons (from Home Depot): $30
Grand (ouch) total: $1,252*
*We actually paid $1,332 but got an $80 deposit back when we returned the bags that our gravel and sand came in.
We already chatted about how our original under 1K budget was blown here (well, in the waaay beginning Sherry proclaimed that this would be a two-day-under-$500 project, how wrong she was). But in the end we're happy to have spent what we did and to have worked our buns off to save nearly 4K instead of hiring a pro (estimates for a patio with curves of this size started around $5,000). Totally worth the blood, sweat, tears, and creepy orange glove-stained hands. But if you're asking me if I'd do it again tomorrow, the answer is: chiiiill. Let me relax for a hot second.
Psst- Want to look back on the entire patio process from beginning to end? Here's the first post (about planning), the second post (about prepping the area), the third post (about unexpected budget breakage), the fourth post (about further prepping the area), and the fifth post (about adding the gravel & sand along with the majority of the pavers).
&nbsp&nbsp&nbsp