Archive for April, 2011
As promised, here's the more detailed scoop on how we got our pristine store-bought whitewood from Home Depot to look worn and aged on our completed console. This was our first time really going for a weathered look, so it was a kind of an exercise in "we've seen this done before, so let's hope it works out for us." The good news: it worked.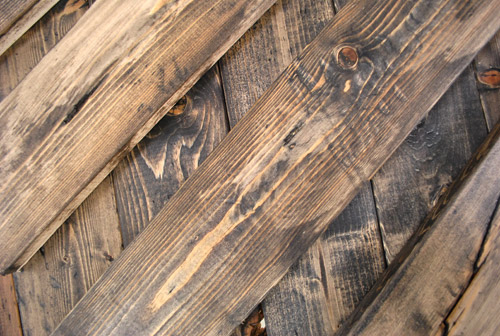 The better news: it was pretty easy to do. It was sort of a one-two punch of distressing + staining that really did the trick. So let's start with the first punch – courtesy of my fists. Well, at least my agression. The starting point, as you probably recall, was a pristine pile of freshly bought 1 x 4″s that I cut into 2 foot lengths.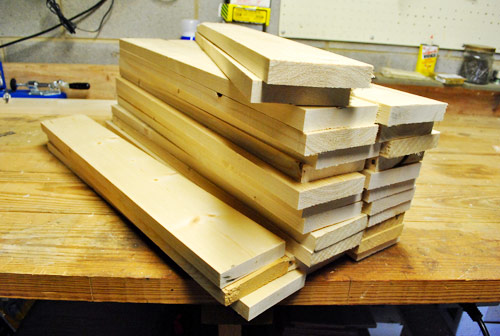 Knowing that I had some extras, I tried a bunch of things on a spare plank before really landing on a process (well, "process" is too strong of a word in this case, since it was pretty much a random exercise in let's-see-what-happens). Basically, I winged it by trying a handful-ish of techniques that looked cool and then used them sporadically throughout my pile. That way I'd end up with a mix of weathered looks, almost as if the boards had been scavenged from a few different sources after lots of character-creating trials and tribulations.
Oh and if you're someone who likes all the details, I managed to capture a lot of my weathering "process" on video (so watch this if you want the "bonus stuff" that's not all outlined below):
For those who can't watch the vid (perhaps you're at work and trying to keep things on the down low), here's a quick rundown of the various tricks that I used. For starters, I picked out as many pieces of wood from Home Depot that already had flaws or interesting details to them – knots, chips, dark stripes, whatever.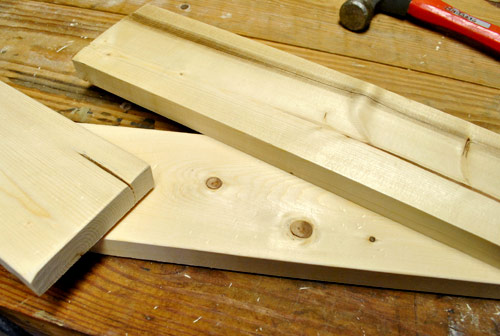 But before I got to beat any of them up, my first step was sanding the four edges on the top of each board using my palm sander. This wore down the crisp edge into a rounder and smoother one, so they looked older right off the bat.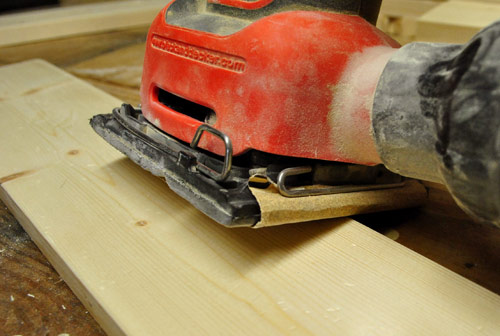 Then I smacked it with a bag of screws. I actually did this to each piece (besides sanding, it's the only thing I did on all of them). It gave each board some very subtle dings that I thought wouldn't hurt across the board (literally, har har). I must admit that throwing a bag of screws against the wood was kinda cathartic. Oh and I've heard that some people do this with chains, which sounds equally fun.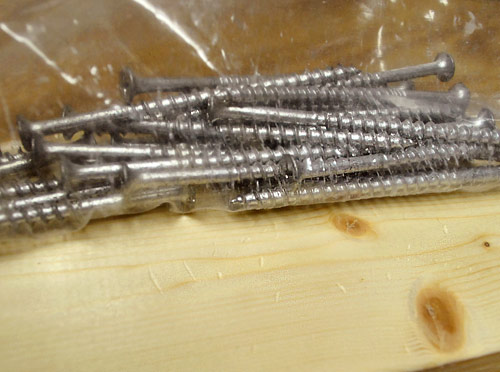 Because I know it's a bit tough to see the damage being done, I thought I'd show you what these distressing techniques looked like once the boards were stained (aka: punch #2) so you can see them more clearly. Since stain catches and collects in all of these dents and dings, it tends to accentuate them (which is a good thing, in this case). So here's a board that I hit with the ol' bag of screws a bunch of times so you can see the final effect: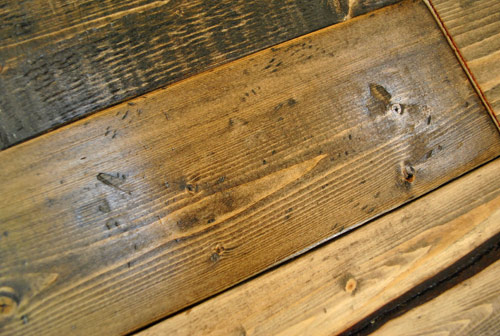 On some boards, I also hit them with my hammer. Whitewood is relatively soft, so it's easy to leave some dents with just a few light bangs. I liked to concentrate my hits in one spot because it looked more organic than having a few evenly spaced out hammerhead impressions. I was all about the cluster.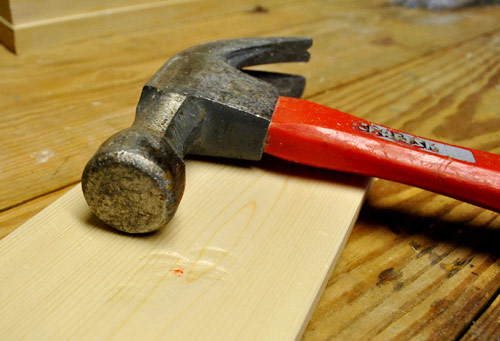 Once stained, they looked a little something like this: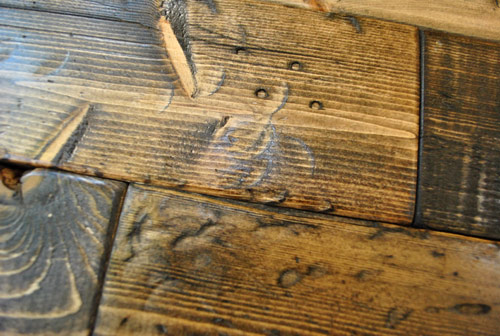 In the shot above you can also see some of the fake nail holes that I made using an improvised nail punch (check out the video for more clarification on that method, which I couldn't photograph since it took two hands). I also used the same tool to make some line impressions across the boards. I just laid it down and hammered on top of it to create a nice long ridge. I though it created the effect that some hard edge had bumped into it over the years.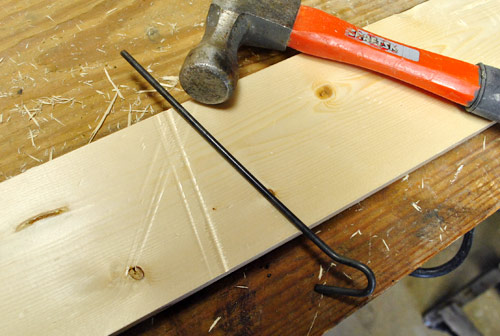 I especially loved this effect once it was stained because it was so distinct. Why hello character, nice to meet you.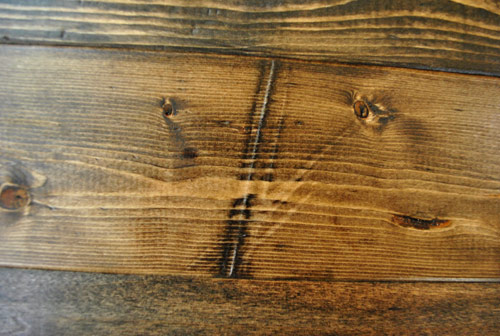 Using a big screw that I found in the basement, I dragged the thread across the board which roughed up the grain. After sanding it down again it really started to look like the wood was slightly rotted, just like some of the spots on the pallets that we couldn't use (more on that here).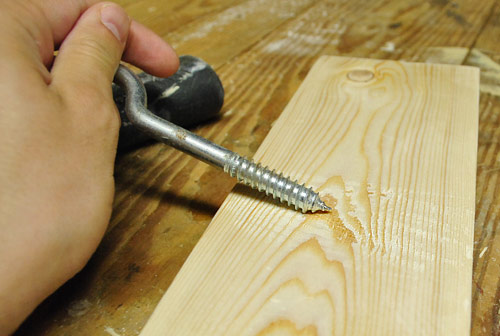 On a couple of boards I did this all the way up and down the length of the board, giving them a really cool and distinct look. Definitely far from the store-bought feel that they started with: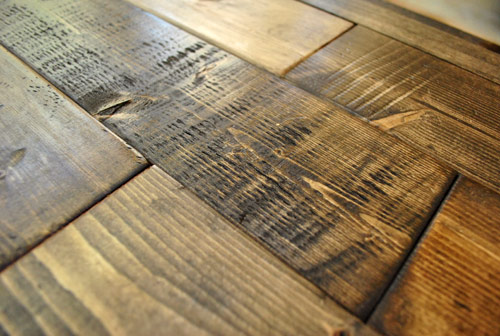 If you watched the video, you can also catch a couple of techniques that I forgot to photograph: namely dragging a paint can opener to make long smooth scrapes down the length of the board (another effect that I really liked after stain was applied) and making those nail punch holes that I mentioned earlier.
I'll be the first to admit that I probably overdid it when it came to trying so many different tricks – not to the detriment of the final result, just my own time. But since this kind of thing is my idea of fun, I'd do it all over again in a heartbeat. And after I had taken out all of my aggression worked my new-to-old magic and had given everything one last light sanding (to ensure a smooth and not splintery finish), it was time for Sherry to take over for the staining portion of The Console Table Show.
Our materials included rubber gloves (because stain is messy), a cheap $1 paint brush (because stain is messy and tends to ruin good brushes) and spare rags to wipe up excess stain (because stain is… well, you know). And for more of that varied and timeworn feeling, Sherry tag-teamed the boards with two different stain colors – Ebony (which we picked up for $4 in a tiny can at Home Depot) and Dark Walnut (which we already owned and had used for staining the bottom of the console). After it all dried, we sealed it with with an eco water-based non-toxic poly alternative that we had on hand (Safecoat Acrylacq).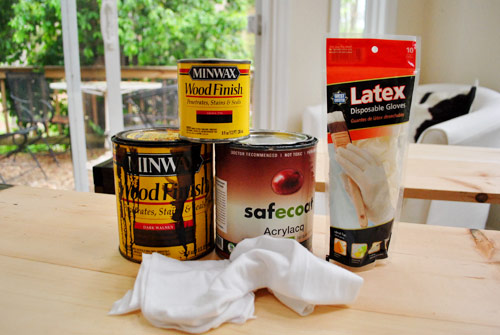 We made a video of this process too, in case you'd prefer to save yourself all of this pesky reading (and want all the deets instead of just the highlights). Plus Sherry's gloves make a fart sound, which is always a crowd pleaser.
But if you can't watch the video (or you prefer words to moving images), here's a quick rundown. Keeping in mind that we wanted a fair amount of variation from board to board, Sherry did a few tests first to see what each of the stains looked like with a light coat of stain (wiped off quickly) and a heavy coat (which was allowed to penetrate for a bit longer). Here are the test boards with the light coats on the left and the heavy coats still soaking in on the right: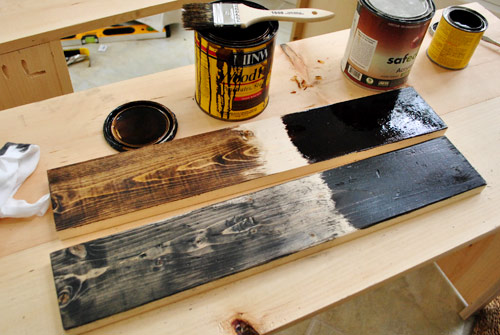 We actually ended up liking both stain colors. We thought the dark walnut would help it relate to the bottom of the console (as well as some of the other dark woods in the room) while the ebony would be a closer match the the gray pallet boards that originally inspired us. In reality, on a lot of the boards Sherry actually ended up using a layer of each color to achieve a tone somewhere in the middle so nothing looked too jarring.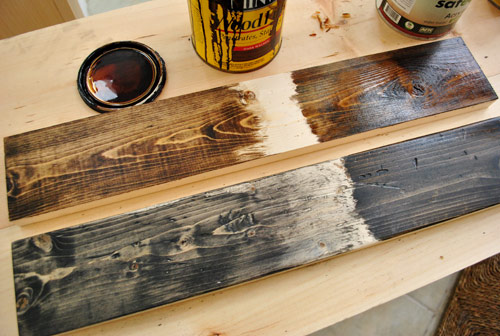 The only thing we didn't like was that we wanted to get some boards even lighter than the stain seen on the above left (which was applied thinly and then wiped away immediately). So Sherry pulled some weird technique out of her you-know-what and it ended up working perfectly. Basically she pre-washed the board with a light coat of plain water, let it soak in for a couple of seconds, and then went over the still-damp board with a light coat of stain (that way it soaked up less color thanks to the water that it absorbed first). For those who'd like more info, you can see this entire technique in action on the staining video.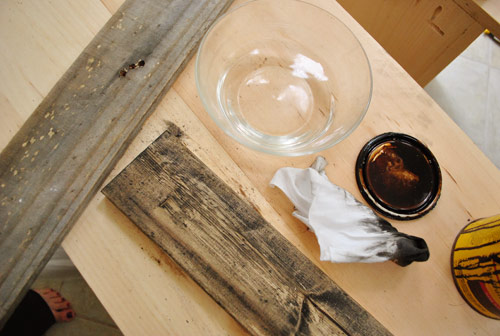 It was by far the closest that we got to replicating the look of the pallets (you can see a random pallet board on the left in the picture above for reference). But we're glad that it wasn't a perfect match, because we realized that the pallets were too blue-gray for our living room (since it's already dominated by a huge gray sectional with gray walls and gray beams we wanted to add some warmth and balance). So we were thrilled with the colors and the variations that we landed on, thanks to staining some and allowing the stain to penetrate a while, wiping it down right away on other boards, and using the water technique above to get some lighter variations. In the end, those brandspankin boards were all looking nice and old.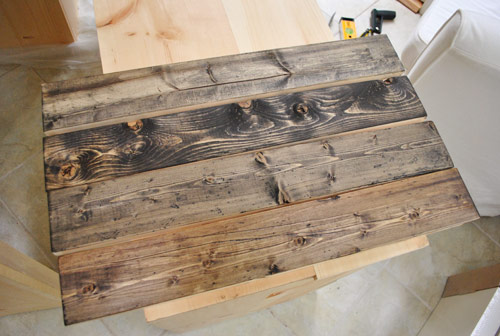 Do you guys have other staining and distressing techniques to share? We've heard of some pretty cool aging methods with household items like vinegar and baking soda. Anyone try those?
Psst- Sherry wants me to tell you that we're going lamp hunting this weekend. So we'll hopefully have pics of the fully styled console by early next week (and by styled I mean full of stuff that we actually use like coasters for Sherry's tea and a box for remotes along with those aforementioned lamps – and maybe a ceramic animal because my wife is crazy for flair).
&nbsp&nbsp&nbsp
Sherry, Clara, Burger and I took our little home-improvement-hungry hands on the road this past weekend to help out a few family members in Northern Virginia who, by coincidence, have also moved recently. There must be something in the water – or at least in our gene pool – that has us all relocating lately. First up was my little sister Carrie, who we managed to get zero pictures of so here's a random shot that she sent me after the fact (that guy on the left is her boyfriend, Robert, who will be making another appearance momentarily).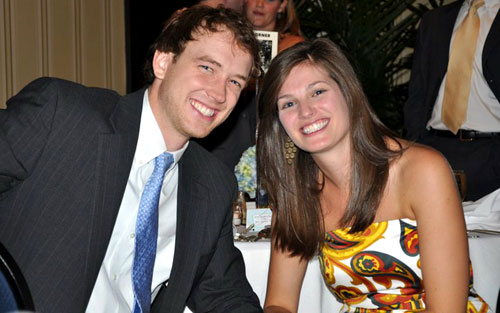 Carrie just rented a new apartment in Northern Virginia last month (you may remember us helping with her first apartment in Philadelphia and her second one in NoVa). She'd been planning the move for a little while, so back around her birthday in February she hinted that she'd like help painting as her actual gift. So Sherry and I wrapped up this little token of our commitment (a painting stir stick with a paint can opener on the end) as her official "present." It reads: Redeemable for 1 gallon of Olympic Premium Paint And Painting labor – may be exchanged for a Starbucks gift card at any time (since we figured Carrie deserved an out if she decided to forgo painting – or if her moving plans fell through).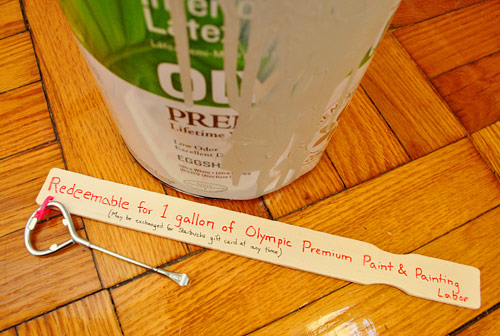 But all systems were go, so we arrived early on Saturday morning to look at the space with her and help pick colors. She and Sherry had chatted about how she wanted a taupe-y tan with a smidge of gray for the bedroom (to match the curtains that Carrie already owned and would later hang). The verdict: Benjamin Moore's Ashen Tan, color matched to zero-VOC Olympic Premium Paint. We gave her that brand as a gift because we love how pure it is (even the colorants are VOC free) since the bean was with us (we switched off watching her in another room while others got their paint on). We landed on Ashen Tan because it would cozy things up and add some warmth to the otherwise basic white box of a room without feeling too dark or crazy (since Carrie wanted something soothing and classic). Here's a pic of the space before we arrived: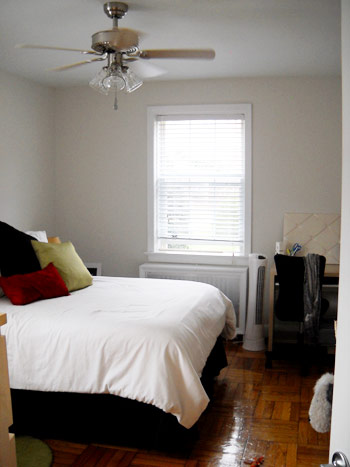 And here's Robert and me in full on painting mode on Saturday. Robert earns major points for helping me roll the room while Sherry cut in and switched off with Carrie as "babysitter." Forgive this terrible iPhone picture that Sherry grabbed in progress: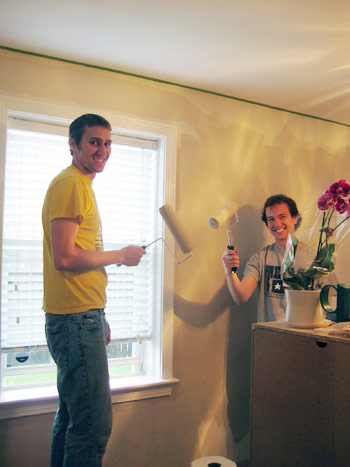 The two coats of paint that the room needed took about two hours to apply – almost less time than it took us to navigate rainy day traffic from her apartment to the nearest Lowe's (which, lucky for Carrie, was next to a Starbucks) and back. When we came back the next morning to help put the room together again (once the walls were dry) the freshly painted room was looking much, much homier thanks to the warmer walls: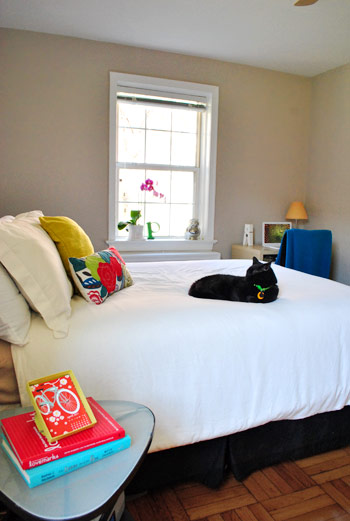 Carrie would be annoyed with me if I didn't emphasize that she still has art, pictures, and curtains to hang (maybe we'll share an update pic in a while). She also plans to gradually replace some of the Ikea furniture down the line with pieces that are a bit less common (perhaps a craigslist find or two). But we still think it looks quite nice for just moving in a few weeks ago. Isn't it amazing how even something subtle on the walls can take a room from "generic rental" to "cozy home"?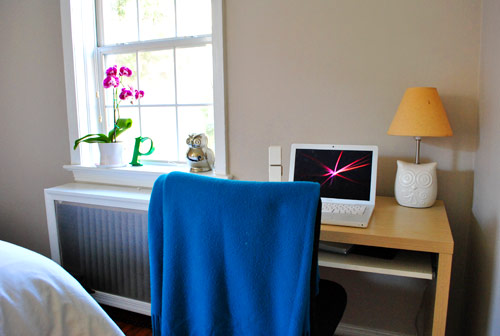 Carrie also already owns a lot of great accessories that help add a happy splash of color here and there (with more to be hung, like art and curtains) so the room still feels vibrant despite the muted wall color. Because you know Sherry went nuts feathering the heck out of Carrie's nest with things like the blue throw over the chair and the pillows on the bed and these colorful accents on her side table before we snapped any after pics. The girl can't help herself.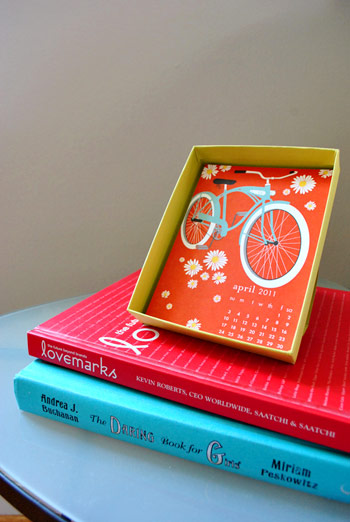 Even Carrie's cat Duncan seemed to be digging the cozier vibe. Something he didn't dig very much? Having to be trapped in the bathroom while we painted. Thanks to his keen interest in the process (he kept trying to rub up against the paint can and tiptoe through the paint tray), it seemed like the best plan (but not to him, of course). As for Burger, he voluntarily camped out in his crate (aka, his home away from home).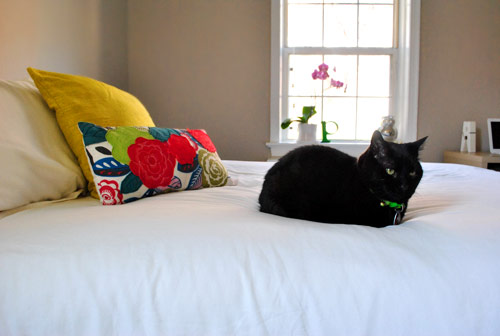 Of course, my favorite picture from the day is this one – which I jokingly snapped while Sherry adjusted the side table. When she heard the shutter clicking and asked what I was shooting, I lied and said "just white balancing." I figured I'd get a laugh (or at least an eye roll) when she spotted her less-photographed end in the day's photos when we uploaded them. Never did I suspect that she'd let me put it in the post. Her response "oh why not, we'll keep it real." Best wife ever.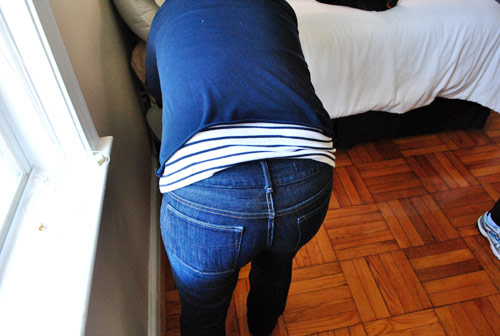 Carrie's still planning to paint her living room, but the size of the apartment kept us from being able to clear two rooms at once. So it's gonna have to wait a bit. But we did use this trip to help Carrie select a cheerful artichoke-y green color for those walls.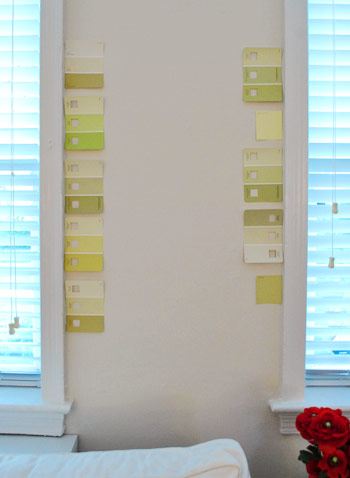 While Robert and I rolled (and rolled, and rolled) the ladies settled on Fennel Splash by Valspar (sorry, I've got no clue which one that is in the pic above). And when I say "ladies" I do include Clara in that group. Look how much interest she takes in paint swatches. That's my girl.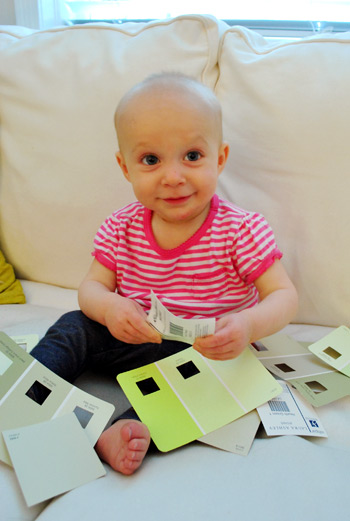 After all of the Saturday painting adventures at Carrie's new apartment, we headed about 15 minutes away to my cousin Travis' house. Travis and his wife Cat and their almost-2-year-old daughter Elsa also moved last month (Cat is Sherry's best friend of 11 years who we introduced to Travis, then they got married, and the rest is history). They needed a larger house because baby #2 is expected to arrive any day now (although Cat's hiding it well in this pic we snapped, she's actually due next week).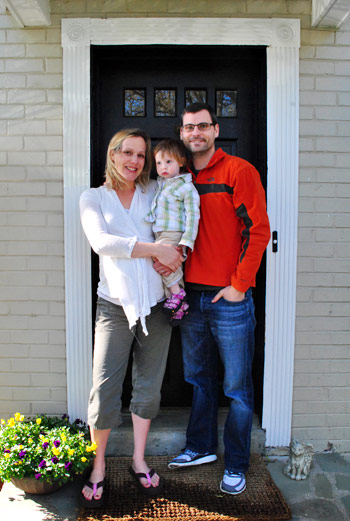 They're a stylish bunch, so we're excited to see them get more settled so we can eventually officially House Crash them. Even though they've only been in their new place about four weeks, we were already loving things like their new yellow and gray bedding (from Target) and the fun yellow rug (from Garnet Hill).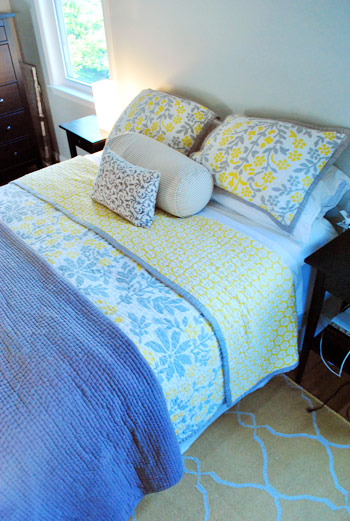 Sherry even found herself helping Cat with a small house project on Sunday morning – hanging a collection of frames in one of their spare rooms. Leave it to my wife to happily take a hammer to someone else's walls.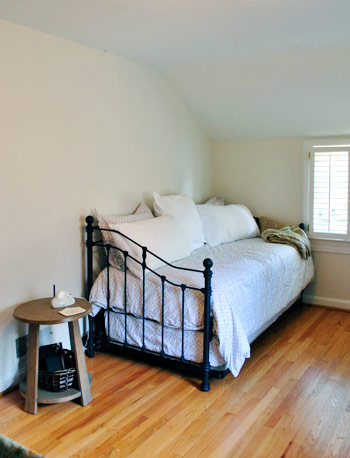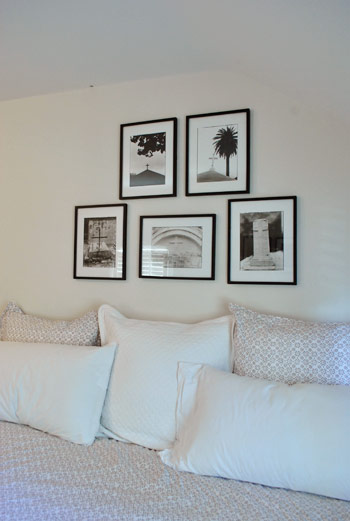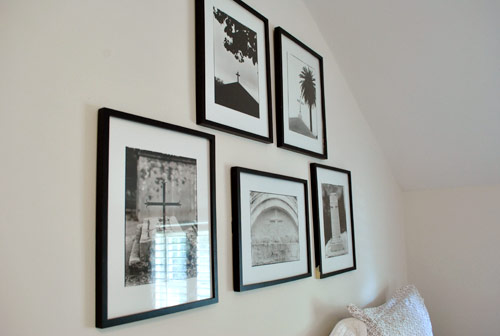 Since it's the last visit we'll have with those three before they become four, Sherry also used it as a chance to deliver her homemade baby book for Myrtle (the placeholder name they've been jokingly using throughout Cat's pregnancy). They haven't found out if it's a boy or a girl, so the book had to work for either one.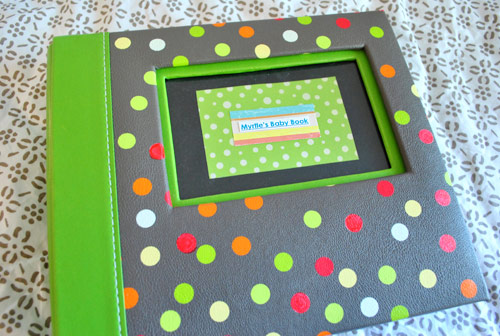 Sherry made it the same way that she created Clara's homemade baby book (the template is free for you guys to download here). It's basically just colorful scrapbook paper (from Michael's) slipped into a sleeved scrapbooking album (also from Michael's) with home printed labels on each page (from this template Sherry made) for listing lots of memorable moments. Like events and trends from the day he or she is born (for Clara's we put The Snuggie and Justin Bieber hair)…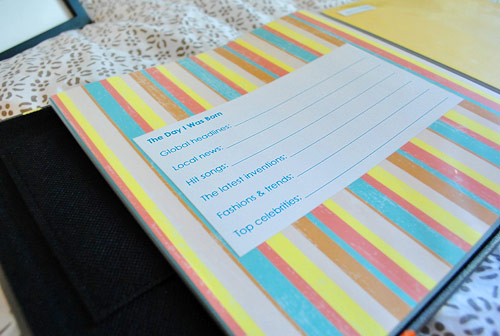 … and mom and dad's predictions for baby's features, firsts, and favorites (which we witnessed Cat and Travis fill out right then & there) – among other things like developmental milestones and all that good stuff.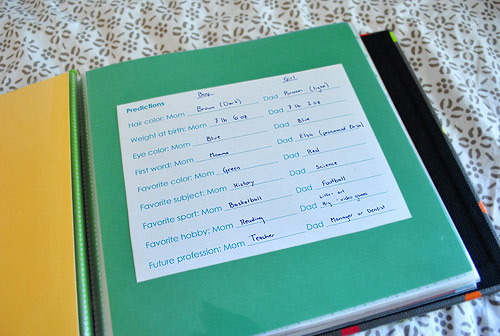 We didn't assemble all of Clara's book until after she was born, which meant that creating one for a bun that was still in the oven required a few placeholders – like these little footprint cutouts that Sherry made (which will be replaced with the real thing once the baby arrives).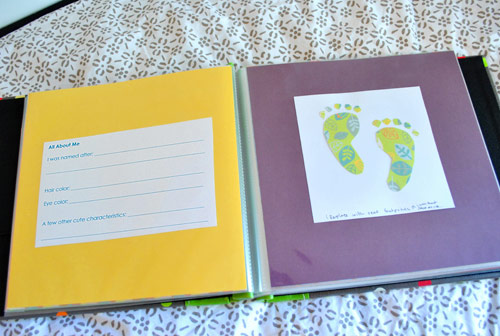 Despite how much we enjoyed all of the painting, picture hanging, food eating, baby watching, and competitive board game playing* – this was perhaps our most favorite moment of the weekend: when Elsa snuggled Clara and Clara leaned over and nuzzled her right back. And how miraculous was it that I actually had the camera on hand? Maybe that's why I got to put Sherry's butt in this post. I earned some major daddy points for capturing this cute Clara-Elsa cuddlefest.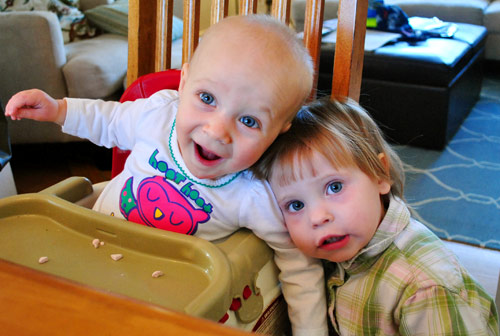 *We mentioned board games as one of our oh-yeah-we're-wild weekend activities with the fam (there's nothing like blowing off some room-painting steam like a rousing game full of smack talk and competition). This time our game of choice was Apples to Apples, and we accidentally invented a fun slash weird variation that we thought we'd share. In each round we blindly threw in an extra red card from the deck for the judge to consider (we started calling this non-existent extra player "The Computer"). It's surprising how many times the random card was chosen over the ones that us human players thought long & hard about (which created a fun everyone vs. The Computer rivalry and a few "I can't believe that was random" moments when The Computer played the best card). In fact, The Computer nearly won the entire game but Travis narrowly beat it in the end by just one round. Crazytown. Do we know how to let our hair down or what?

And speaking of keeping it in the family, we'll leave you with this video of Clara and Burger that we took after we got home. Just because it's our favorite thing ever. Could our kids (both of the four-legged and two-legged variety) be any cuter? I don't think so.
&nbsp&nbsp&nbsp