Archive for April, 2011
Well, it took us 3+ weeks, but our 12 foot long DIYed living room console table is officially D-O-N-E.
Before I get into any more pics of the final piece in place, let me back up a bit and recap some of the most recent constructions steps that got us there (since the last time you saw our console table it was stained but still topless). As you know, we had to turn to Plan B for the top since the pallets didn't play nice (more on that here) so after lots of driving around town in search or something reclaimed that we could use (where sadly nothing was the right width or available in enough bulk) Plan B ended up being "buy new wood and make it look old." Hence this pile in my basement:
After trying out a few different combinations of boards on the floor of Home Depot, I discovered that I could achieve a near-perfect width by placing four 1 x 4″ boards (in plain whitewood) sandwiched between two 1 x 2″ boards (in poplar). This arrangement, by total accident, ended up looking great since the poplar 1 x 2″s around the perimeter inadvertently added a nice border that would match the 1 x 2″ poplar framing that I used on the front of the bookshelves. Score.
Since we wanted to lay the boards on top in a staggered almost brick-like pattern, I cut all of my 1 x 4″ boards into two-foot lengths to start.
The next step was to distress each of the boards to make them look more aged and less straight-from-Home-Depot. This process, as well as staining them, is a whole story in itself so we're going to do a follow-up post with an avalanche of details (it'll have some video, which I have yet to edit – so that's why you're getting this reveal post first). But here's a glimpse of the whole distressing process to tide you over (it involved a variety of things from hammering dents and dropping a bag of screws to making line imprints and roughing things up with pointy objects).
Once I had distressed all 27 pieces of wood (yep, over two dozen) Sherry worked her stain magic on them. Again, we'll get into this more in a follow up post full of details (yup, there's some staining video to edit too) but it basically involved doing a variation of applications using Minwax's Dark Walnut and Ebony stains (some light, some dark, some mixed, etc). We ended up with a bunch of boards that looked aged and kinda beat up, like they were collected from a few different sources – instead of just purchased at the home improvement store a week ago looking all shiny and new.
Then it was time to attach them together to create one big solid tabletop – well, actually three tabletop pieces (two long ends and one small "puzzle" piece that would cover our hidden storage compartment in the middle, which can be lifted out). After doing some math, we decided to stagger the boards by four inches so that when it came to the open part in the middle there would be a small lip on each edge for the puzzle piece to rest on when it's closed so it all looks flush (I promise this will make more sense once you see the final pics at the bottom of the post). The point is, my first few cuts looked something like this.
To attach the boards, I again used my beloved Kreg Jig to screw holes that would tightly join each piece to the one beside it.
After joining the end boards, I drilled the rest of the holes and continued screwing them together, one-by-one. It probably took me about 40 minutes to create each of the two long sides of the wood countertop (and then about twenty to build the smaller "puzzle piece" cover for the storage space in the middle).
Here's what one side looked like when it was mostly complete (it was still missing the 1 x 2″ poplar border around the edge). You can see how I tried to vary the color on adjacent boards so the change in tone looked intentional and added lots of nice texture and character.
Once the second side was done I double checked everything by placing the tabletops on the console bases – making sure that my measurements were still accurate and I didn't need to make any adjustments before attaching the poplar 1 x 2″s around the perimeter. Luckily, all was good. Big phew.
Let's fast forward (past attaching side borders and screwing four staggered boards together to create the middle puzzle piece) and show you our final step before putting the whole darn thing together: touch-up staining and poly-ing. We realized that it would help to stain some of the cut ends and part of the middle storage piece so that no raw wood would be seen. Once dried, Sherry applied a coat of Safecoat Acrlacq polyurethane over everything that was stained to seal it all in and protect our beloved console baby (and our beloved real baby since Safecoat is non-toxic and water-based so it doesn't off gas like regular oil-based poly does (read more about staining and sealing the consoles here).
Oh and before I forget, do you see the white fabric around the middle console piece in the pic above? That was just an extra sheet that we had which Sherry stapled neatly around the entire wooden frame to create a nice little fabric compartment so nothing that we attempt to store can slyly slip behind the sofa. Then those two baskets that you see stacked on the chair (that we also already owned) can be contained inside the fabric "box" for storing everything from board games and books to remotes and other stuff that you might want to put on a coffee table (since we have an ottoman instead). More pics of that in a minute.
After that last bit of staining and sealing (and a few days of drying) everything was finally ready to come back into the living room. We brought things in one-by-one (bases first, then the tops) and after we had everything lined up the way we wanted it, I drilled a few screws up through the bottom of the two bases on the ends to secure the wood tops in place. And with that, our nearly 12 foot console (with a hidden middle storage compartment and some sweet bookcase-sides for even more stash space) was officially complete.
Maybe we're biased because it's our creation, but we're both convinced that it came out even better than we had imagined. In fact, we think the DIY distressed wood top looks way better in the space than the grey-ish pallets would have (we're the first to admit that the room has enough gray going on already). Hallelujah for happy accidents.
It also made us really happy that we opted for a rustic warm wood look with lots of imperfections and character (since the room was beginning to skew a little more modern than we had intended). It definitely brings some much needed balance to the overall vibe (especially once we add a heftier TV stand and some table lamps to finish things off).
Oh, but I can't forget to show you how the hidden storage compartment turned out in the middle. It's my favorite feature, probably because it makes me feel like James Bond. Can you spot the removable puzzle piece there in the pic below?
Clearly it's not 100% disguised, but when you're looking at the console as a whole it doesn't scream at you (just scroll a few up a few photos to see what I mean) since it's flush and the ends are still staggered instead of being cut into a big obvious removable rectangle. Once we've actually got some stuff on the table (lamps, a lacquer box or two, some books, etc) we think it'll call even less attention to itself. We were just proud to get such a snug fit without making it difficult to remove (miraculously it slides right out and drops easily back in).
Speaking of which, I did end up drilling a small oblong hole (about 4 John fingers / 5 Sherry fingers wide) to make lifting it out as simple as possible. Three cheers for the sanding bits on my Dremel (Sherry got me a Dremel Trio for Father's Day last year) which helped me make the hole even and smooth. I was nervous to puncture my took-three-weeks-to-make-it creation, but it all worked out in the end.
When lifted out completely, we gain access to those two storage baskets that I mentioned a while back (we'll eventually fill them with more games, maybe some DVDs, not-often-used remotes, and who knows what else). Oh and you can see below what I meant by staggering the boards to leave a lip for the puzzle piece to rest on for a nice flush look:
We don't expect to use that storage on a daily basis, so for the most part it'll maintain its secret identity as one solid piece except once or twice a week when we dig in there for a movie or a game or something.
Of course we still have to put the darn thing to use – aka add some table lamps to the top, store some items on the shelves on each side, and generally load that baby up with function and a little form (maybe a ceramic animal for the wife). But to give you a sense of what it might look like, here are our two bedside lamps playing stand-in for a minute. It reminds us why the 16.5″ width is perfect for us – it's wide enough to fit a chunky table lamp without having to worry about knocking our heads into them (since we're both guilty of over-exaggerated laughing spells during particularly funny moments of Modern Family).
And no reveal post is complete without – say it with me – a budget breakdown. So here it is:
Wood (white wood & poplar from Home Depot) – $98
Screws & Tools – $0 (already owned everything)
White sheet – $0 (already owned)
2 storage baskets for middle compartment – $0 (already owned)
Minwax Ebony Stain – $4
Minwax Dark Walnut Stain – $0 (already owned)
Safecoat Acrylacq Sealant – $0 (already owned)
Cheap paintbrushes for staining – $2
TOTAL:  $104
Clearly wood was our biggest budget hog, but for a nearly 12 foot piece of furniture made from solid wood, we can't really complain about the just over $100 price tag. Especially since this extremely similar piece from West Elm goes for $379 – and we would've needed to buy THREE of them, to the tune of $1,137. Yowsa.
So another big thanks to Ana White for inspiring the design and giving me the confidence to tackle it myself (with the help of my stain slingin' wifey). Did anyone else out there complete any builds this week? Who's still in the basement/garage/shed/workroom finishing something up? Speaking of finishing up, I have some videos to edit and a big post to write about our wood distressing technique, so here's hoping I can get that up in a day or two. In the meantime I'll leave you with this shot of our new "old" boards before we screwed them all together to make the console top. Is it weird that it gets me all hot and bothered? Whatever, my wife likes leopard heels and I like distressed lumber.
Psst- Wanna see all the past steps that went into building this beast of a console table? Here's the first post, the second one, and the third one.
UPDATE: CHECK OUT THE ACCESSORIZED CONSOLE TABLE HERE.
If this post were a fable, its moral would be – when something in your home just doesn't feel quite right, do something about it. Or wait for it to randomly die on its own accord and take it as a sign. We'll use this light hanging in our living room as our story's lead character.
You may remember that there's always been something "off" about it – it's the only permanent fixture in that huge room, and it's placed awkwardly in a corner (which is why Sherry tried to distract us from the annoying placement by adding a bit of color to the glass shade to cheer things up while I was out for a run).
But soon enough we both agreed that was not the solution. The blue tint was nice and soft in "real life," but whenever we snapped photos of that side of the room (which is often thanks to this ol' blog), it would cast an odd blue tint over that half of the room. I affectionately called it our alien invasion corner. So I eventually nagged convinced Sherry to wipe off the paint, which is why many of you noticed that it was naked again. Three cheers for reversible projects.
Returning it to its natural state was a big help, and we even talked about spray painting the chain oil-rubbed bronze (to match the curtain rods that we'll eventually bring in and Karl the sectional's legs) but we always ultimately admitted that it wasn't our style. In other words, we'd eventually like to replace it with a nice drum pendant or maybe even recessed lights that we'll get installed throughout the room. So we wondered how much effort and time it was worth to keep attempting to pretty up something that we eventually wanted to replace or remove.
Then the light fairy took care of everything for us. Because the light stopped working. I'm not even kidding. It just up and died about seven days after Sherry's big wipe-down. At first it flickered a bit. Then it wouldn't turn on at all. We futzed with it a few times (changing the bulb, etc) but had no luck – it had given up on us. Maybe it could hear us complaining about how oddly it was placed (you can see just how randomly it was plopped into the ceiling in this house tour video that Sherry shared a few weeks back) and just lost the will to live. Poor guy.
We definitely weren't devastated by the premature death but it was kind of a surprise. How dare it die (the nerve!) before we had a chance to nix it on our own terms. But since fixing the wiring wouldn't fix the whole off-center placement issue (it's neither centered in front of the window nor between the ceiling beams), or the fact that it just wasn't a light that we'd pick for ourselves (and eventually wanted to replace) we decided to call off any further resuscitation efforts and let the darn light rest in peace.
As I began to remove the light once and for all, my autopsy uncovered the cause of death. It appears that a wire had torn or became disconnected right near the base. Which is something I probably could have fixed, but by this point we were set on removing it entirely. Smell ya later good for nothing not centered old broken brass lamp in the corner of the room.
We took the fast route in terms of concealing the junction box and installed a white plastic ceiling cap over a metal junction box cover to the tune of $2 (50 cents for the metal cover and a buck fifty for the white cap to help it blend in). We'll get the whole junction box removed, or more likely shifted a bit to a more centered location in front of the window by an electrician at a later date).
Not the prettiest thing ever, but it's certainly less intrusive and noticeable than the oddly-placed, non-functioning, outdated fixture that preceded it.
The best part is that we now get an unobstructed view out the window. No more gazing at the backyard and being distracted by thoughts of "I really wish I could yank that light two feet to the right so it made sense in front of the window instead of dangling over the left corner of the view." Seriously, it takes a lot of energy to lament bad lighting placement. But now our ol' pendant light is in a better place. Literally. All light fixtures go to heaven, right? Either that or the Habitat For Humanity ReStore (which is actually where we sent it).
It does make that corner a bit dark at night, obviously. But that will be remedied once our this-thing-is-taking-forever console table is finally completed and we've got a table lamp on that side of the sectional. And someday we'll probably get an electrician to wire some new lights in all the right places (maybe some recessed ones, perhaps a crisp hanging pendant that's centered in front of the window, etc).
R.I.P. Weird Light. You will be missed. Okay, not really. It just sounded like the polite thing to say. And speaking of lights, here's Sherry's all time favorite light related commercial ever:
Anyone else have serious issues with light placement in their house? Sherry's BFF was telling us how much she despised the location of a hallway light that practically brushes against the wall on one side of the hall in her new house. So strange! What's up with that? Who can we blame for all of these strange light scenarios of the 40′s, 50′s and 60′s?
…and we'll DIY invitations if we want to. You would DIY them too if it happened to you if you were us. After all, our wedding invites were homemade…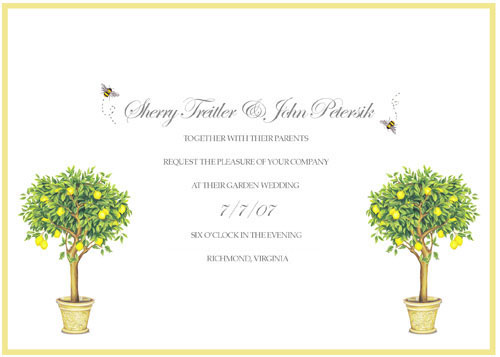 … so how could we phone it in for our daughter's first birthday party? Even though much-more-talented-invitation-designers like Mrs. Limestone generously offered to lend a hand (so nice), we stubbornly set out to attempt to create our second party invitation ever on our own (well, with the help of a cute baby and a computer). I guess we just have a thing for doing it ourselves (ya think?).
So we started out with a very familiar set-up to our weekly Clara photos like these (see how we make them here)…
… which look a little something like this when they're not all small and tiled like the ones above:
Except this time we just placed Clara in her usual white onesie on basic white fabric (a plain white bed sheet that we already had on hand):
Since Clara's weekly photos have become somewhat of a theme for her first year of life, we decided to borrow the idea to introduce her big one year old b-day bash in the form of an invitation (her whole party will have a colorful fabric and number theme inspired by her weekly photos, so the invite really sets the tone). The main difference from other weekly pics was that this particular photo required more Photoshop work than most, because we basically created the "fabric" from scratch (since you're not likely to find fabric with specific party details on it at your local craft store).
I'll spare you the Photoshop play-by-play (in short: we added type, reduced the opacity so it looked more like it was printed on the fabric, rasterized it so we could erase whatever was "under" Clara, and added some asterisks for "pattern"). Here's the final result (minus a few private details that have been blurred):
We originally intended it to be all text – just the party details by themselves as the "pattern" behind her. But it felt a bit empty, so we added the colored asterisks.
PS: How awesome is it that her actual birthday falls on a Saturday? Well planned, universe.
As for printing the invite (since you can't put a stamp on a JPG), it actually took a bit of hunting. We didn't want to print them at home (or a place like CVS) on photo paper because we wanted a more matte stationery effect (like a real invite as opposed to a picture dropped in the mail). And although we did print our wedding invites at home on cardstock, we worried that printing a more image heavy design like this at home might yield subpar results since they wouldn't look as crisp and bright as a professional job. So we looked into an online service that could print them for us cheaply but better than we could at home (you'd be surprised how many of those go-to sites for invites and holiday cards don't give you the option to print something entirely of your own design). Fortunately we stumbled upon Winkflash.
We opted for the 4.25 x 6″ postcard option (in the middle of the bottom row in the screenshot above) because we thought a postcard invite would be a fun twist, plus it would give us the chance to write a personalized message on the back of each one in scribbly kid handwriting "from Clara." We figured that wasn't asking for a hand cramp since we're only sending out about a dozen invites (it's virtually a family-only party of about 20 people total). But we ordered an even 20 invites just so we'd have some extras for posterity (and the baby book, the hallway frame wall, etc).
The best part was that by googling around for an online coupon code, we scored 60% off (!!) of our order. So the grand total with shipping came down from over 20 dollars to $10.11, which factors out to around 50 cents per invite. Not bad (and possibly cheaper than ink and paper for home printed cards would have been). As for the coupon code, we ordered them a couple of weeks ago, so we can't guarantee that the "cards60″ code is still working, but it did the trick for us.
But that savings must've impaired our judgment (call it "discount goggles" if you will) because we realized after receiving our order that postcards don't always survive a trip through the mail in great shape (no offense, USPS) – especially when they're white. And since we thought the grandparents might want to hang on to Clara's invite without any dark smudges or folds, a jacked-up postcard just wouldn't do.
No biggie though, we just hunted down some envelopes that would shield our postcards on their harrowing journey to nearby VA and even to NY and beyond. It was a bit tough due to the weird postcard size, but eventually we did find a set at Target that would work (for just $4). The funny thing is that the envelopes came packaged with some pre-designed party invites. The invite theme? Tools. How funny is that? Maybe we should've just used those in the first place. Except that we're too DIY obsessed to use DIY themed (but not actually DIYed) invites. Go figure.
Even though our postcard was more like a traditional flat invite now, Clara (aka Sherry's shaky left hand) still wrote some personalized messages on the back.
The invites went out a little over a week ago and have already been received by all – and they seem to be a hit. Woot. We're psyched that we did it all for a grand total of under $20 (which includes postage, envelopes, and custom printed postcards) – which would have been what we paid for the printed postcards alone had we not found that lucky 60% off coupon code online before ordering. Thanks google.
Speaking of DIY-ed party details, we've got more on the subject over on BabyCenter today. Here's a sneak peek:
That's right we DIYed our own Clara fabric for her last weekly photo and a fun birthday party activity that we have planned. Good times. Check out those details here.