Archive for February, 2011
Believe it or not, the mattress we just purchased for our guest bedroom is the first one either of us have ever really "shopped" for in the traditional sense. Everything before was a hand-me-down from family or purchased for cheap from Goodwill (that's actually where we got the two daybed mattresses, which were bought pre-bed bugs days – although they did claim to sanitize them before reselling 'em). Oh and of course there's our organic mattress, which we bought online (amazingly enough, they helped us find the perfect "fit" without having to be there to test things out). So admittedly the task of in-person bed-shopping was a bit daunting at first.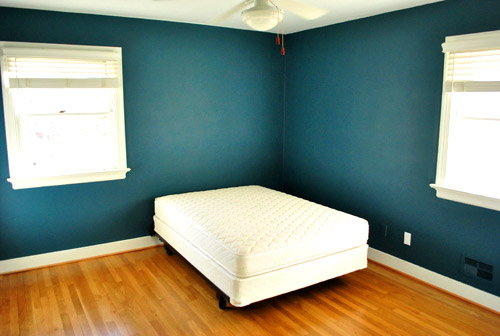 We wanted to do lots of research so we could make the "best" purchase, but time didn't really allow for weeks of pavement pounding. So we decided to go easy on ourselves and do enough to feel like we were making a smart decision without going overboard (after all, it's not like this will be anyone's full-time mattress). Plus, a bunch of you had already weighed in when we mentioned our bed hunt on this post, so we already had some good starting points.
Ultimately we ended up buying the new guest bedroom bed at The Original Mattress Factory. They weren't even on our radar until my mom sent me a Consumer Reports article that put them in 2nd place, right under Tempur-Pedic. We decided pretty quickly that we wanted an innerspring mattress instead of something from Tempur-Pedic since we read a bunch of articles about how memory foam can be polarizing (it's too hot for some people, and only comfortable for around half of the people who try it- and since this bed should be a basic crowd pleasing model that hopefully appeals to the masses, we decided to keep things classic, which is how we landed on the whole innerspring mattress + boxspring configuration). So after eliminating Tempur-Predic and identifying The Original Mattress Factory as the first place we should check out, I remembered there was a store located just a couple of miles from us. Score.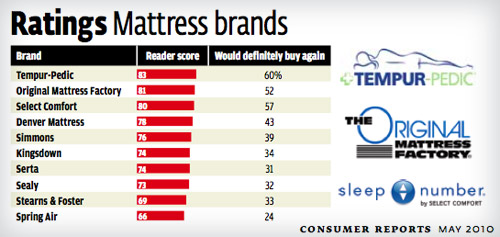 Pretty much as soon as we walked into the door they won us over with how straightforward the process was. As Sherry (or Jerry McGuire) would say, they had us at hello. The three things that wowed us right off the bat were:
1. They only carry one brand, their own, and all mattresses are locally made right there at that precise location (which is actually a mattress factory, hence the name).
2. They display cross-sections of all of their mattresses (and several of their competitors) so you can see exactly what you're dealing with and compare materials, wire strength, filler thicknesses, etc.
3. They never offer sales or promotions (making their own mattresses locally and then selling them directly to people means they've essentially cut out the middle man, so they don't play pricing games and don't need to add in any markups). It was nice to know that we didn't have to wonder if a better deal was a day or two around the corner since their prices are always consistent. Which was refreshing since Sherry noticed that a bunch of fliers put out by other mattress companies were playing serious mind games and saying that things were available for a "limited-time-only" at "rock-bottom prices" when their mailers would come out every week saying the same thing (with big dramatic slashes through the numbers which seemed to just be puffed up to be marked down).
But although they wooed us to no end with their straightforward approach, we still didn't purchase anything on the spot. Instead, we checked out a couple of other discount mattress stores (plus Ikea) and our other experiences were pretty much the polar opposite. Understanding the various brands & models while attempting to decipher which promotions/sales applied to which mattress sets was actually really confusing, so we left every other store before even laying down on anything (although we did sit on a few Ikea models but quickly learned they couldn't be delivered in time and were actually more expensive than the one we liked at The Original Mattress Factory, which was ranked higher by a few independent sources). So after some less than stellar shopping experiences at other stores, and finding this article in favor of The Original Mattress Factory and their A+ Better Business Bureau rating, we were finally 100% sold.
The next night we went back to TOMF and bought a full-sized Classic Luxury Firm mattress set for $379 (this price included the box spring). It wasn't the base model (we wanted something with a little extra cushion for our guests) but of course it wasn't one of those top of the line amazing pillow topper mattresses either (because we're not independently wealthy enough to hook our guests up like that- hah). Once the frame ($50), delivery($38), and tax ($21) were added into the mix, our grand total was $488 – coming in just under the $500 limit that we saved up for before embarking on our crazy mattress hunting journey. And thank goodness for quality control. Here's Burger testing things out. Thankfully he seems pretty comfortable.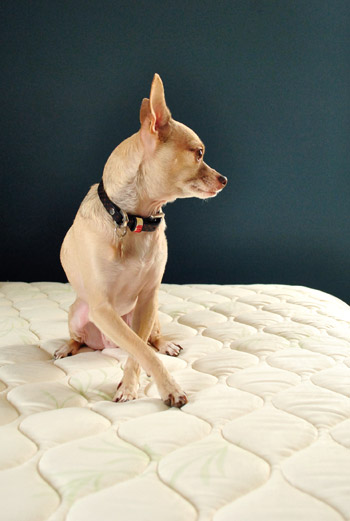 Oh, and we went for the full sized mattress because it fits best in that room and means we don't have to rebuy all of the bedding that we already own (plus we already have a full sized headboard). And since the bulk of our friends and family members have full sized beds in their own guest bedrooms, we figure it's what they'll expect to see in ours. Maybe they'll even be extra enamored by the brand-spankin-newness of this guy. That is, if we can toss the rest of the room together in two short days to make it feel less like a mattress party of one (and more like an actual bedroom).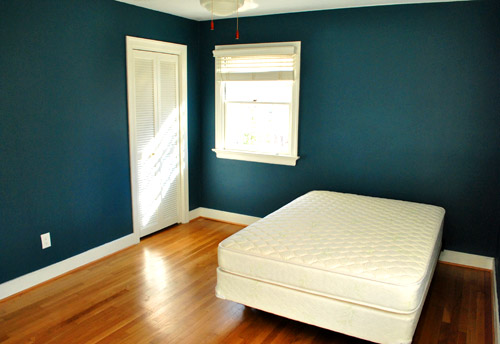 Here's hoping. Better get cracking…
Psst- We're giving away our favorite video camera ever over on BabyCenter today. It's a Flip Ultra HD valued at $199 (which is what we use to make all of our videos, like the super exciting cutting in vid from yesterday). Plus there's a new Clara video over there to enjoy, and it involves a tambourine. I know, it's exciting. Click here to enter.

&nbsp&nbsp&nbsp
We finished painting the guest room. And boy is it bold. Seriously, it's like no room we've ever painted before. And we luuurve it. With a capital urv. This is probably the most accurate pic (well I guess it's as accurate as your monitor) of the dark teal that we went with: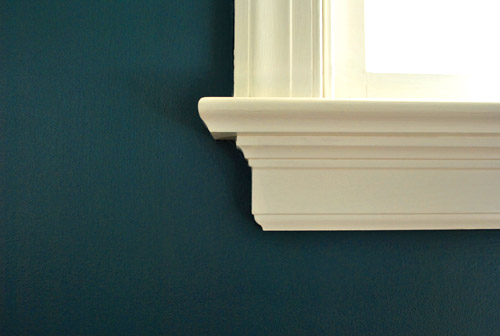 The color was of course inspired by none other than Sue the Napkin. It's kind of similar to Dragonfly (the color that we painted the backs of the built-ins in the future dining room) but when we held up a ton of swatches in the guest room we preferred this color (Dragonfly was darker and greener).
It's called Plumage by Martha Stewart, but of course we got it color matched to Olympic Premium paint since it's No-VOC (even the colorants they add are now VOC free). We went with an eggshell finish (so it's a bit more wipeable and durable than flat but not too shiny since it's such a deep tone, which can show lots of flaws and imperfections when it's glossy). Lowe's actually had a bit of trouble getting a good match, so if your paint pro can't get it close enough – our lady finally got it within .03%  accuracy – Olympic's Azalea Leaf is an extremely similar alternative. Of course you can also just go with Martha's Plumage and not color match it to any other base to avoid matching worries completely.
But back to the whole room painting process. Let's just say that as soon as we started rolling it on there were some oh em gee moments. And a fair amount of melodramatic nail biting.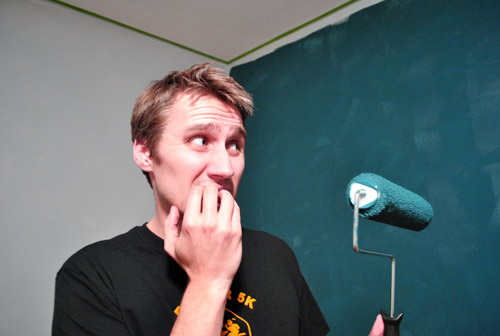 But after we got to the second coat, the coverage was great and it was looking deep and rich and bold and fun. See how much more coverage coat two gave us below (the wall on the right has two coats while the wall on the left just has one). Pardon the semi-odd coloring in this shot and the one above, they were taken at night so the rest are more accurate thanks to daylight.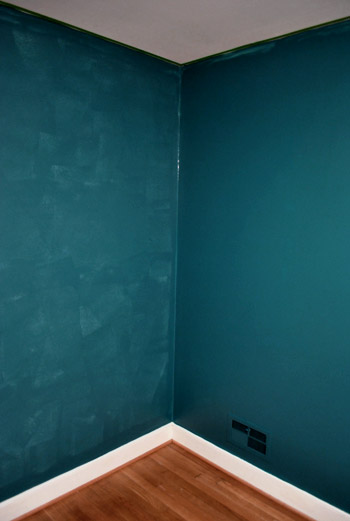 After we completed that second coat we were sold. Seriously. We got all hyper and slap happy. There's just something about pairing in your face color with crisp white trim that makes you giddy. And amazingly enough, we got 'er done with just one gallon of paint (with some to spare actually) since it only called for two coats – probably thanks to the tinted primer we used beforehand.
The first thing we did this morning was run into the guest room to admire it in the daylight. How can a $22 paint job make such a difference? It's amazing. We were about to snap some after pics for you guys when the doorbell rang. It was our new guest bed arriving 30 minutes early. So it ended up in the pics since we didn't have a moment to take any without it (more details on our mattress buying adventures later). Anyway, here's the view of the room from the adjoined guest bathroom: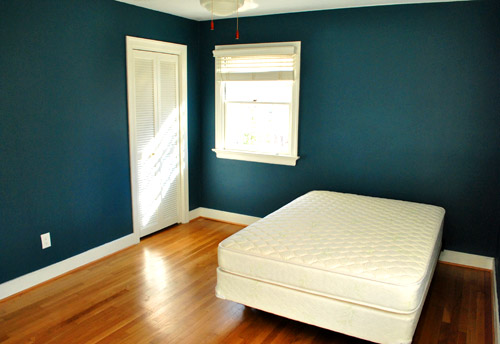 And here's a shot of it from the hall: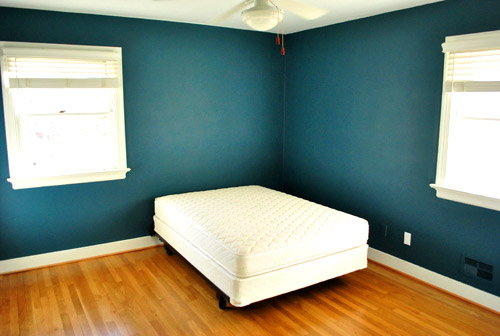 The off centered windows are definitely going to make the floor plan interesting, but we'll share how we land on our final layout when we, uh, land on a final layout. We're just going to play around with things until we figure out what we like best.
Oh and you'll notice that we painted over some of the wall warts (as they so lovingly call them) like the vents and an old Bell Atlantic phone jack to the left of the white outlet plate above. They were already painted over by the previous owners so we repainted them to match the new wall color. We did keep all of the unpainted outlets unpainted though.
Speaking of painting over things, after a surprising number of requests I finally remembered to make a cutting in video, so you can enjoy the riveting play by play below and see how I use my favorite brush to get a nice clean line next to baseboards and trim (watch it below on YouTube or here on Vimeo):
As for down the road projects, we'd love to add crown molding and possibly paint the ceiling a lighter tone than the wall (or at least freshen it up with crisper white paint along with the trim). But that's definitely not something we have time for with my mom & stepdad rolling into town this Thursday.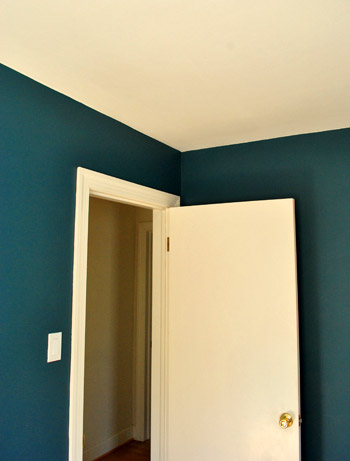 So there you have our dark teal guest room. Now we just have to hang the headboard, dress the bed, get a shower curtain and bath mat, change out the toilet seat (it's old and rusty), hang curtains (if we have time), and figure out the side table & lamp sitch (might not get to that either). Should be an interesting few days…
&nbsp&nbsp&nbsp