Archive for February, 2011
Update: We brought in a few of the items on our to-do list below and it changed everything! Well, not everything, but a few things came out (the brown blanket is history, at least in this room) and a few other things moved around. Gotta love those last minute tweaks. Check out the whole shebang here.

Here's what things are looking like right now (well, as of an hour ago when we snapped these pics and uploaded them):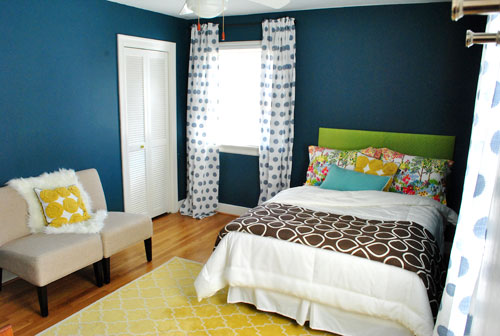 Which is definitely an improvement on Monday's more spartan look…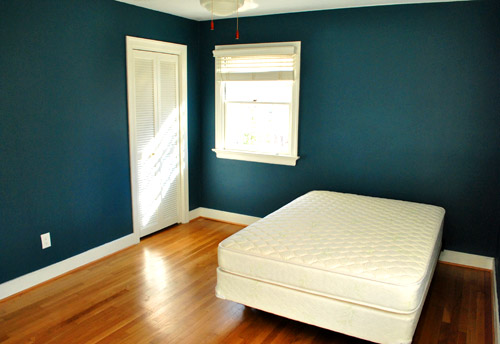 … but we still have lots to do (an quite a few things aren't in their "final resting place") but here's what we've checked off so far:
Get all of the junk out of there (thanks to a Habitat for Humanity ReStore pickup & moving stuff into the playroom)
Buy a mattress & boxsping along with a cheap-o bed frame
Dress said bed with already-owned bedding
Add shower curtain & other bathroom essentials (towels, new toilet seat cover, etc)
Paint the room
Hang curtains
And here's our outstanding to do list:
Hang something above the bed to balance out the big window to the left (probably a large round mirror to soften the harsh angles)
Add a nightstand & table lamp (here's hoping we actually get around to this one)
Put something on the empty bookcase between the bathroom door and the bedroom door (which will eventually be switched out for a proper dresser that we can use to store a ton of stuff)
Wash and hem the curtains
As for the room's layout, we tried about a million different things (bed placed diagonally in the corner, bed on the other window wall, bed centered on the back wall, etc) and this is the configuration that we loved most. Especially once we added in things that we knew we'd be including, like our green headboard (see how we DIYed that here) and our old yellow Pottery Barn rug from the living room (since we're due to get a rug much bigger than 5 x 8 in there for Karl).
The off-centered, foot-of-the-bed rug placement wasn't exactly intuitive, but we loved the rug so much with the walls and the bedding that we vowed to make it work. Bringing in those two slipper chairs that used to live in the living room (and squishing them together like a loveseat) helped to make sense of the rug placement and add balance to that side of the room. And once we introduce a night table to the left of the bed we think it'll look even more balanced and make more sense in the space. Speaking of balance, we can't wait to hang something above the headboard as we mentioned up in our little bulleted list. It'll help balance out the window to the left of the bed, and a large round mirror is at the top of our list (for the nice curves it'll add to a room with so many rectangles and squares).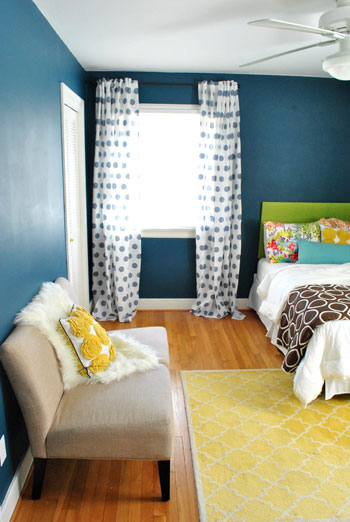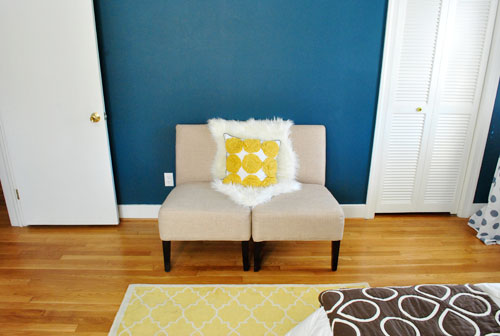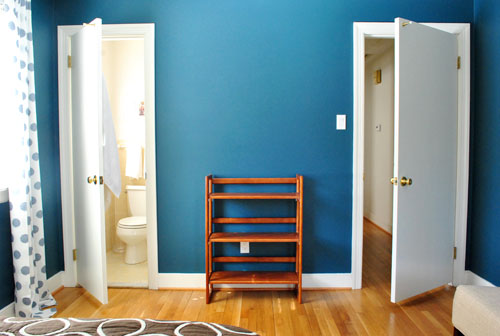 We also added a $10 white bedskirt from Target to complement all of the existing bedding that we already had from our old guest room (the brown and white blanket is from Bed Bath & Beyond back in the day, the white comforter is from Ikea, the printed pillow cases are from Pottery Barn, the yellow pinwheel pillow is from Target, and the long blue pillow is from TJ Maxx a while back). The bedding isn't 100% finalized, we just threw everything that we already had on and though it looked kinda fun. Who knows where we'll end up tomorrow after we finish those last few to-do list items though…
Psst- There's already been an update and a few of the bedding items have been switched out – check out this post for the room as it looked when our guests arrived.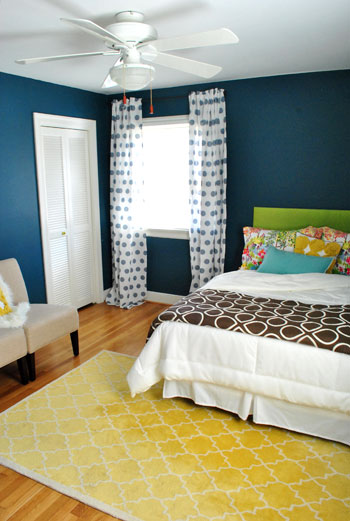 Oh and the curtains are from Ikea.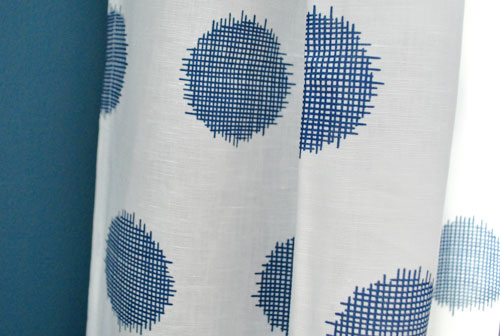 They were $39 for two, which makes them $19 a pop. Not bad for extra long 95″ curtains (86″ ones never quite do it for me since I like them hung extra high to make standard ceilings like ours feel taller). Of course I still have to wash and hem them. Ack. And add crown molding above them – but that'll have to wait a while.
When it comes to the little things, we even switched out the hardware on the closet door from this basic brass pull…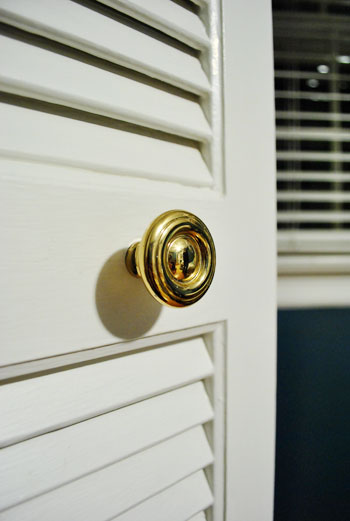 …to this cute lime greeny-yellow one (with oil-rubbed bronze hardware to match our curtain rods) for $1.25 at Hobby Lobby. Oh and speaking of those curtain rods, they're from Target for just $9.99 a pop.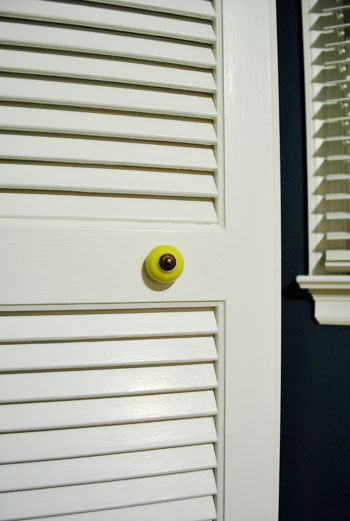 I'm off to finish those last few items on our to do list (and move things around for the 100th time), but I'll leave you with this pic of what the room looked like just eight short days ago: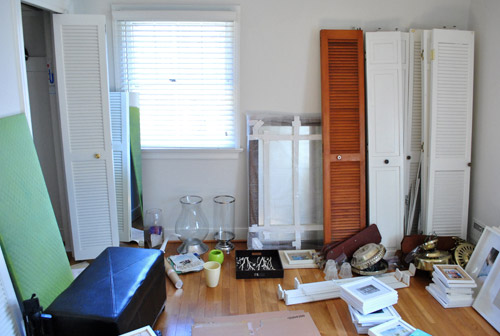 How crazy is that? You've come a long way baby.
&nbsp&nbsp&nbsp
Progress has been made in the guest bathroom, folks. Which is good news since we're less than 30 hours away from the arrival of Sherry's mom and stepdad. Our first score was finding a shower curtain. Despite being burned by pattern in our last shower curtain attempt, we bought this guy at Target on Friday for about $20.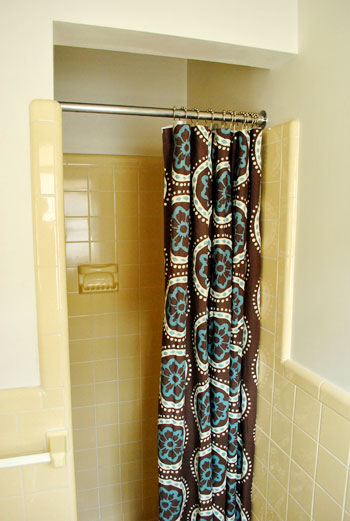 It definitely still looks kinda rough in there (still have to paint the walls and hang art, but we don't think we'll get to that before the inlaws arrive, uh, tomorrow). But getting back to the shower curtain, we think the pattern works much better because it's bigger when it comes to the scale. The large medallions don't compete with the tiny square tile on the walls and floor like the smaller scale yellow pattern in the last one we grabbed. The dark brown also introduced some nice contrast since the yellow tiles and off-white walls were sort of washing out the rest of the space. And because our old guest room bedding – which we plan to reuse – includes brown & white, while the walls in there are blue, this curtains sort of ties things together.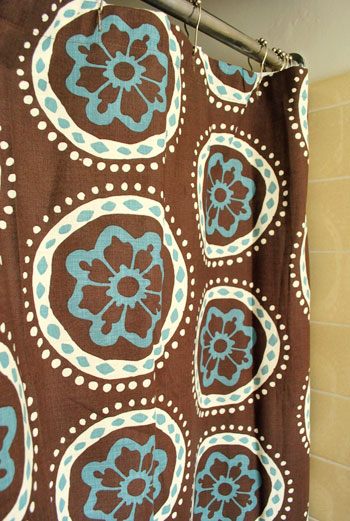 Then once we had the curtain finalized (and picked up a cheap white fabric liner to keep this guy from getting drenched, also from Target), we turned our attention to the bathmat – or the lack thereof. We originally brought home a brown one that matched the curtain but it was waaaay too dark. And walking into a bathroom to see a big brown spot on the floor wasn't the most, um, clean looking choice.
So we went back to Target and picked up three other options for a little bath mat fashion show (Sherry may or may not have clapped and chanted "fashion show, fashion show" as we made our purchase). First we tried this square one that almost blended right into the floor completely.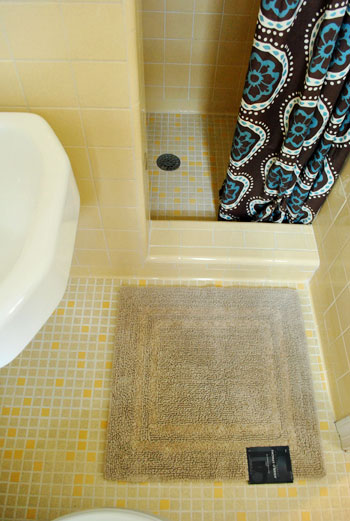 No dice. It just looked kinda dirty and blah.
Our next choice was the polar opposite. We decided to try a more colorful rectangular mat to pick up those blue tones in the curtain (and the adjoining deep teal guest bedroom).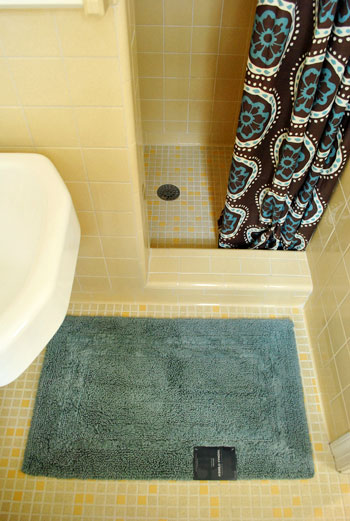 We didn't really mind this one. It matched the curtain nicely and certainly would help us achieve our goal of bringing more color into the house.
But when we saw the third option we knew it was "the one." It just felt crisp and tailored without being matchy-matchy. The stripes are a fun counterpart to the circles in the curtain (the white and brown tones in each one keeps them related in a fun mixed & matched way).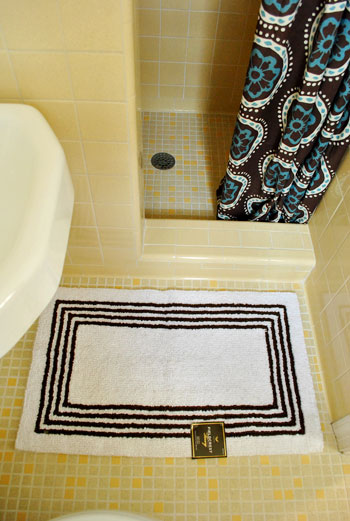 What can we say? I guess even though we're embracing more color, we're still suckers for crisp white stuff from time to time. Especially with there's a white toilet, sink, and mirror in there (so it automatically ties right in). I guess when it comes to bathrooms, nothing trumps clean white linens for us (99.9% of hotels that we've stayed at always have plush white towels and bathrobes, so we want our guests to feel like Casa Petersik is just as spa-like and inviting). Long story short, we had a bath mat fashion show winner. So we hoisted it up and sang For He's A Jolly Good Fellow, removed the tag, and returned the others.
We also accomplished a few hardware updates yesterday. The most needed of which was a new toilet seat, since the old one boasted several chips in the lid and tears in the soft seat (and we're not really fans of the soft toilet seat thing anyways). Here's the least offensive shot of the old toilet seat that shows off some of those chips on the lid. We refrained from sharing the open lidded shots since we know some of you eat breakfast slash drink coffee while reading. You're welcome.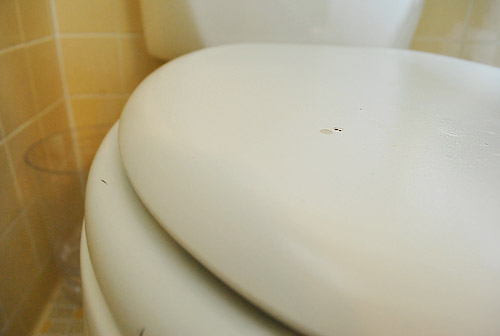 Replacing a toilet seat isn't rocket science, nor is it a very glamorous job. But I did my best to enjoy the process, and even flashed a thumbs up at the wife as she snapped this pic.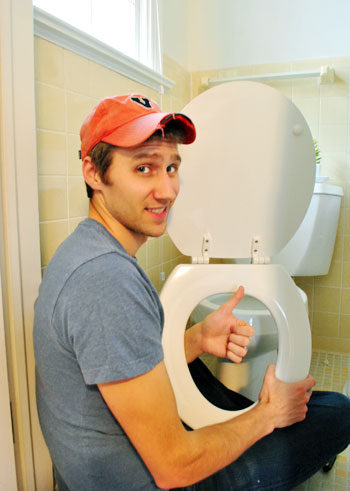 The whole switcheroo brought back memories of when I used a toilet seat for a 9th grade science project where I had to illustrate the anatomy of a mollusk (i.e. clams). In case you were wondering, toilet seats take well to dry erase markers. Yes, I really am that dorky. Go Team Mollusk.
We also replaced the old rusted shower head. It functioned just fine (the water pressure was great and there were thankfully no leaks to deal with) but it just didn't look very nice.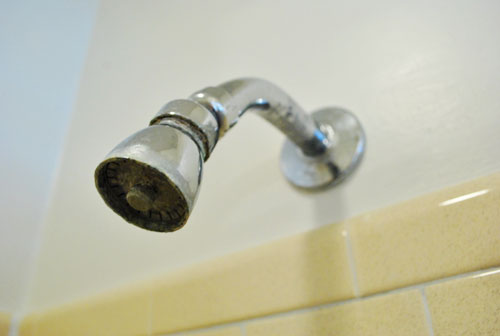 So we sprung for the cheapest multi-setting shower head at Target (it was $14) in an effort to fancy things up a smidge.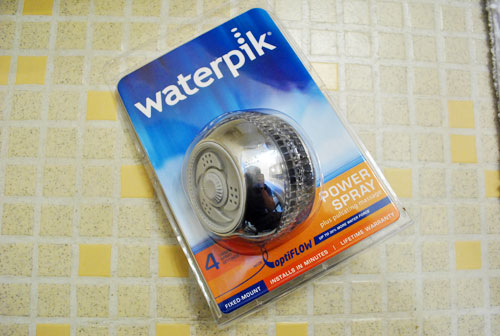 And after using some serious elbow grease to get the old one off, the new one went on within 60 seconds. So shiny, right? I can even see myself in it.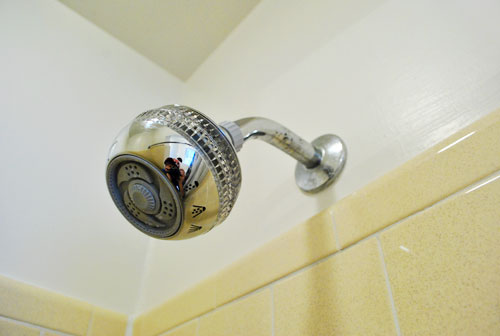 Speaking of being in it, I actually took the shower for a test run shortly after this installation. I figured if anything weird or gross was going to happen in the first use of this shower, I wanted it to happen to me and not my mother-in-law. Fortunately things were all good. In fact, the water pressure is better in there than our master bedroom. Lucky guests.
Last but not least was a quick zero-cost change. After removing the mirror on inside of the bathroom door (awkward!), we realize we were missing towel hooks… 'til we discovered them on the other side of the door while painting this weekend. Seriously, in the two months that we've lived here we never once closed the door to the guest bathroom to discover those towel hooks hiding back there until a few days ago. So I just unscrewed them from the back and reattached them to the inside of the door where they'll actually be seen and used (and Sherry spackled and painted the leftover holes on the lesser seen back side of the door).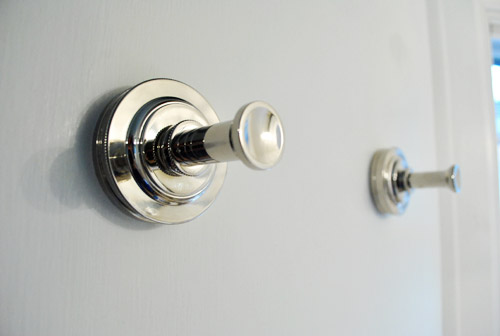 We've still got a few other things (like towels, and maybe some art) to make the room look more complete and guest-ready, but at least it's completely functional now. Stay tuned for pics of the whole room after Sherry gets her kicks by adding a few accessories. And we still have to share our progress in the guest room. Which we're most likely working away on as you read this post.
In the meantime, have you guys made any recent bathroom upgrades? Or do you have any tips to share about how you get a guest bathroom ready for guests (besides buying some shampoo, conditioner and toothpaste – which is already on our to-do list along with fluffy towels and a few washcloths)? This is our first time having to furnish a devoted guest bathroom that we don't regularly use ourselves, so we're definitely feeling kind of JV about the whole thing.
&nbsp&nbsp&nbsp