Archive for January, 2011
When we're painting we talk about all sorts of weird things that we probably wouldn't otherwise get around to. And while painting the bedroom we got to the topic of "names that our parents almost gave us." Get this. My mom wanted to name me Gina. We would have been John & Gina. That made us titter. Not sure if it's a had to be there thing though. Either way, John's dad's choice of names takes the cake. He wanted to name John… wait for it… Lars.
Lars Petersik.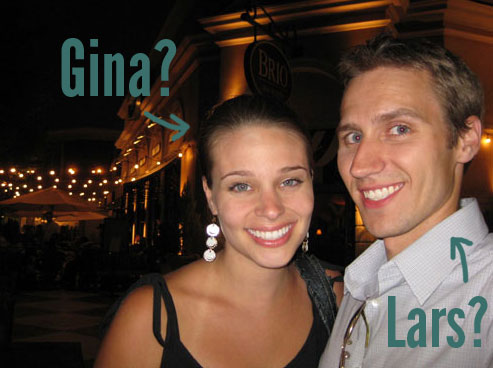 How funny is that? If I had seen tall dirty blond John at work and asked a coworker "oh who's that?" and heard them respond with " that's Lars Petersik, he's an account manager." Let's just say I would have been all "niiiiice to meeeeeeet you Laaaaars" with that over-enunciated-because-I'm-not-sure-you're-great-at-deciphering-super-speedy-NY-talkers connotation. The same long drawn out delivery I use with my only-speaks-Italian grandmother. It would have been hysterical. John probably never would have let me live it down. Or asked me to marry him a year-ish later.
But that's not all. Apparently John's dad also wanted to name John "Vector." Because he liked math. How I was able to continue painting with tears of laughter streaming down my face is beyond me. So it got us wondering what you guys were almost named. Come on… someone out there can beat Vector and Lars, right?
&nbsp&nbsp&nbsp
Our recent flurry of mirror-related projects means my repertoire of pun-riddled mirror references is growing thin. Our latest victim was the guest bathroom. We figured after swapping out the medicine cabinet in our master bath, that we might as well do the same in the guest bath. Especially since our guests won't exactly need a medicine cabinet. At least we hope not.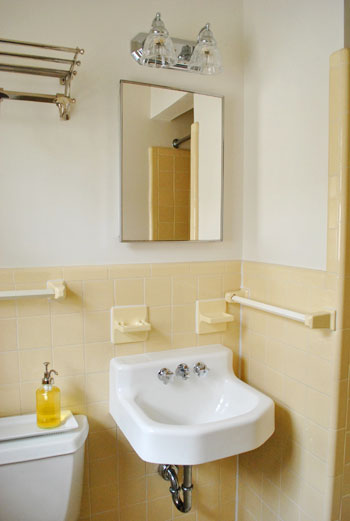 It was still functional, but had definitely seen better days (the interior metal cabinet was starting to rust- we think it was original to the house, which makes it almost 50 years old) and we figured we could do better than the plain silver frame. So two screws later it was off the wall and after another two minutes (ok, maybe I'm exaggerating, let's say five) we were back in business: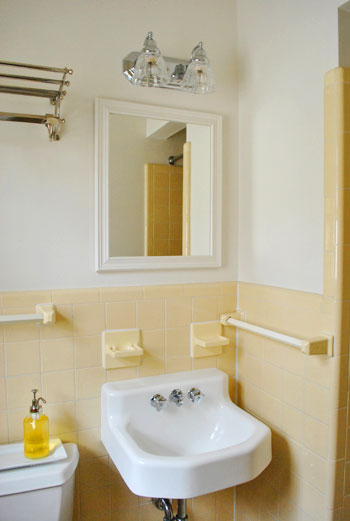 It's clearly nothing elaborate, but at least it was free (it was an old Target mirror that we've had for a couple of years). And we figure once we get some paint on those walls (we're thinking some sort of muddy gray will hopefully add some sophistication with the yellow tile) the white frame will pop nicely off the wall and go hand in hand with other clean white objects like the trim, sink, toilet, etc.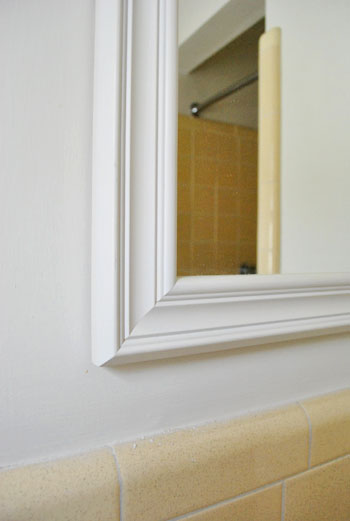 We also took a moment to remove the large room-encroaching metal shelf & towel bar. You can see it gone in the photo below and scroll back up to see it in action above the john. We figure we'll add two clean looking hooks to the inside of the bathroom door for guests to hang their towels, and the room might benefit from some crisp art on the wall, just so it feels a bit less utilitarian. Oh and speaking of the inside of the bathroom door, we decided to remove the full length mirror that you see in the pic below. Not just to free up space for those towel hooks that we mentioned…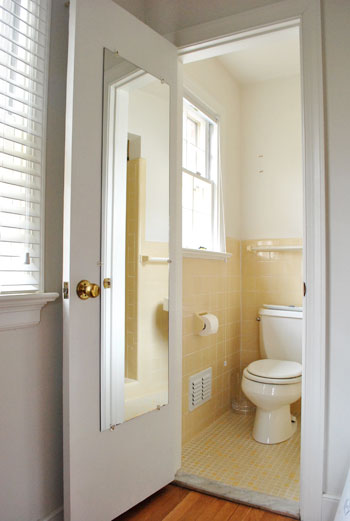 … but also to remedy the uncomfortable placement. See, if our guests went in there to do their business, they'd get a view similar to this one. Minus the jeans. Awkward.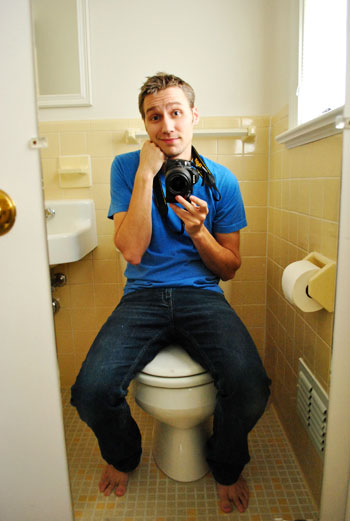 Removing it was a cinch. Since it wasn't glued to the door, I just had to remove the single clip on the right side, and then carefully slide that baby out (it had two clips on the top and the bottom, and one on each side). Once it was off the door, I removed the rest of the clips. Here's the best one handed "in progress" shot that I got.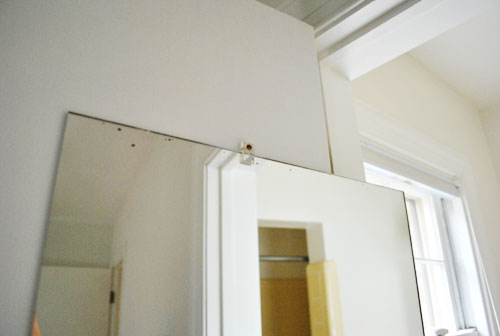 And here's the door as it stands now. We've still gotta putty over the screw holes left by all of the mirror clips and then hang our towel hooks but we feel pretty good that we've saved our guests from having to experience their very own "John on john" moment. If they happen to be named John. Otherwise switch the first John out with their name (like how I overexplained that for you?).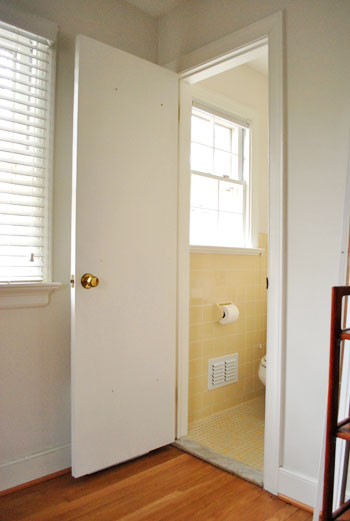 Oh, and you probably remember that we've got another one of these mirrors on the master bathroom door (on the outside, fortunately). We were thisclose to taking it off moments after finishing this project, but suddenly started second-guessed ourselves. We're now thinking that instead of removal, we might leave it be and someday upgrade it with a nice frame of molding around it so it looks built-in. We'll see…
&nbsp&nbsp&nbsp